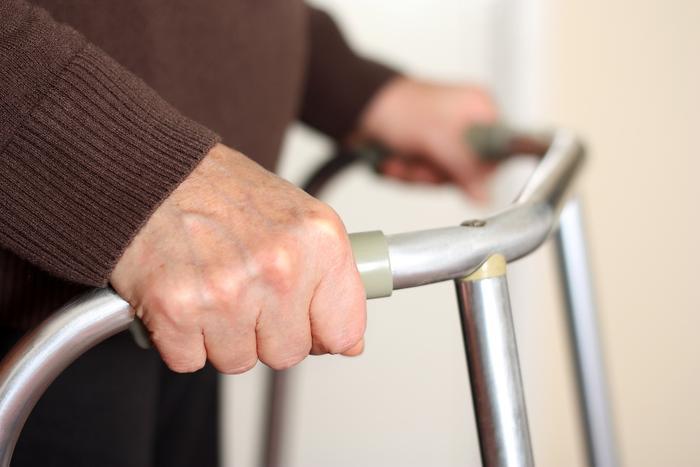 You perhaps are aware of it more in places like Walmart or large supermarkets. Amidst the sea of shopping carts is a growing number of shoppers riding around on a scooter.
In fact, walking aids like scooters are proliferating among the senior population. Nancy Gell, assistant professor of rehabilitation and movement science at the University of Vermont, has studied the trend and found the use of walking aids has increased by 50% in the past decade.
Her question is why. Gell says the first answer that came to her mind was the fact the aging population is growing. There are a lot more seniors now and will be in the future.
As she drilled down into the number she found 25% of older Americans now use canes, walkers, wheelchairs and scooters. She wondered if people are just lazier these days or whether doctors are over-prescribing walking aids.
Maybe, she writes, it could be the underlying problems that led to the use of mobility aids in the first place. Obesity rates are skyrocketing. Being old and obese is not a good combination since it places stress on aging joints.
No link to increased falls
Previous studies have linked the use of walking aids to an increase in falls, but Gell says her research does not bear that out. She says someone using a cane or walker is not more likely to fall than someone not using one.
"This study is the most in-depth since 2004 and shows no link between mobility devices and falls as previously thought," Gell said.
What Gell did find was a surprisingly large percentage of the older adult population uses more than one mobility device. More than 9% now rely on multiple devices.
Gell's breakdown of overall individual device use in America shows that 16.4% of seniors use a cane; 11.6% use walkers; 6.1% use wheelchairs; and 2.3% rely on scooters. The fact that many people use more than one concerns Gell.
"It's important that we consider why people are increasingly using more than 1 device and ask related questions," she said. "Are they being trained on 1, but using 2 or 3? Do people get one device paid for with insurance and then have to pay for 2 or 3 out of pocket? Are they safe on 2 or 3 devices?"
Insurance covers it
Health insurance, including Medicare, does pay for some walking aids. But in 2010, Congress tightened restrictions in the wake of heavy marketing campaigns pushing expensive power wheelchairs and scooters, with the promise that "you won't pay a penny."
Gell has concerns beyond the financial aspects of the trend. She worries that seniors who over-rely on walking aids are limiting their physical activity to the point that it has a detrimental effect on their health.
"Staying active is a key component to staying healthy and maintaining mobility and function," Gell said. "For many people, a cane is the appropriate device for their circumstances to stay mobile. However, if worry about falling continues despite using a cane for support, it is worth considering a different device in order to be as active as possible."
Gell says it's possible seniors who remain physically active do run a higher risk of falling, simply because they are engaging in physical activity. But she argues the benefits may outweigh the risks.
Her home state of Vermont is fourth best in the nation for active seniors but also in the top 10 of states with most falls.
"The question is if it's better to be active or sedentary and not risk falling," Gell said. "We think it's better to be active."