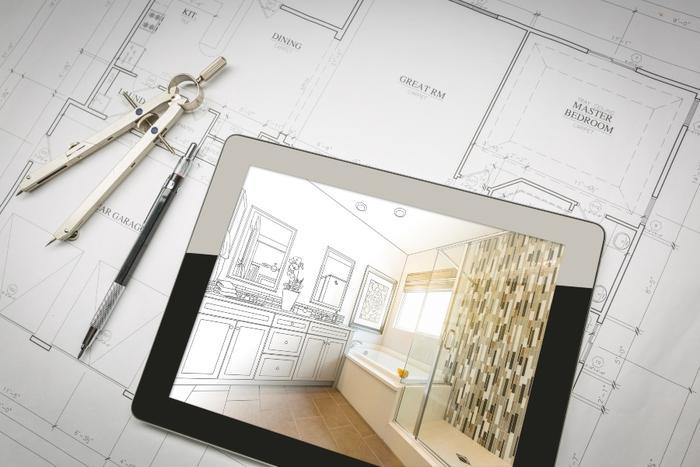 One might think that with millions of people remaining in their homes every day, consumers would begin to notice things they want to change and contact a home remodeler.
So far, there's no indication that's happening, at least not yet. A survey by the National Kitchen and Bath Association (NKBA) shows contractors have seen a significant negative impact on their business since the coronavirus (COVID-19) began to shut down the economy.
The survey found that potential customers are putting off projects because of financial uncertainty and concerns about social distancing. The April employment report showed the loss of more than 20 million jobs, and more than 30 million people have filed for unemployment benefits.
Bathroom remodeling still necessary
When contractors are working, they are likely remodeling bathrooms. Joseph Brown, a remodeling contractor working in the Richmond, Virginia market, says he does many more bathroom jobs than kitchen makeovers. Often, he says, it's a matter of necessity, not choice.
"Because of the water that's in a bathroom a lot of damage can occur to flooring and fixtures so very often a bathroom is the room that needs attention," Brown told ConsumerAffairs. "I'd say that 90 percent of bathroom remodels stem from water damage."
Brown said his business has yet to be impacted by the coronavirus. He said he just completed a bathroom remodeling job for a retired couple.
"They had an extremely small master bathroom with two extremely small closets and they wanted to make it a 'couple's' bathroom instead of a bathroom a single person could hardly fit in," Brown said.
Part of the job involved adding a second vanity so both could have their own personal space. But to do that Brown had to increase the bathroom's square footage. He removed both closets to expand the size of the room.
"We also increased the size of the shower, installing a low curb, full-size shower with a seat so, as they get older, they'll have a safe and accessible shower, without stepping over a two-foot bathtub wall," he said.
Forty-four percent of projects delayed
Brown may be one of the more fortunate remodeling contractors. Social distancing and financial uncertainty are the primary reasons kitchen and bath retailers are reporting that 44 percent of their current or upcoming projects are delayed and 16 percent are canceled.
A recent study by the Joint Center for Housing Studies at Harvard University found consumer spending for home improvements to the owner-occupied housing stock is anticipated to decline in most of the nation's largest metropolitan areas this year in response to the severe economic impacts of the COVID-19 pandemic.
"With the pandemic exacerbating localized slowdowns in house prices, existing-home sales, and homebuilding, many metros will see even more pronounced erosion of home renovation activity this year," said Abbe Will, associate project director in the Remodeling Futures Program at the Center. 
On the other hand, it's entirely possible that spending will surge once some economic certainty returns. People confined to their homes for weeks on end may have a rather long project list of things about their homes they'd like to change.
ConsumerAffairs has collected thousands of reviews of the top national remodeling contractors. Check them out here.