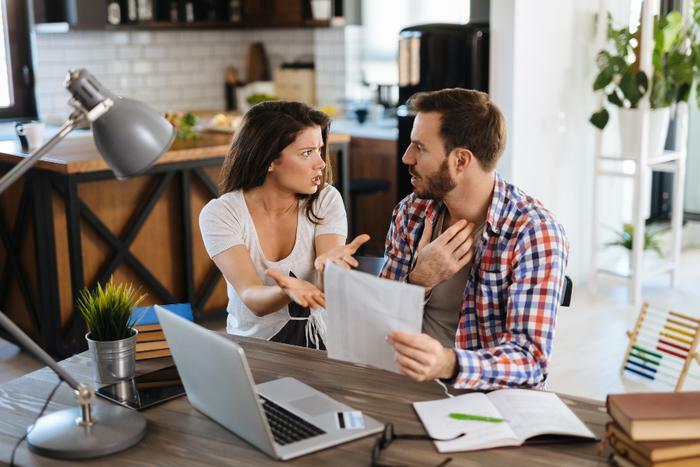 Buy now, pay later (BNPL) services gained popularity during the coronavirus pandemic as Americans made major purchases and began home remodeling projects. 
It was supposed to be a more affordable way to finance purchases than using a credit card. In most cases, a consumer doesn't pay interest and divides payments into four equal parts paid every two weeks.
But new research from Credit Karma shows a lot of consumers have had trouble meeting those requirements.  A survey conducted by Qualtrics on behalf of Credit Karma showed that 44% of Americans have used a buy now, pay later plan. Of those consumers, 34% said they have fallen behind on payments.
Those missed payments have had significant consequences. Of those who admitted to having missed at least one payment, 72% said they believe their credit score declined as a result. Nearly a third said they experienced "significant" declines in their credit score.
A deeper dive into the data shows younger consumers may be more likely to miss payments. More than half of Gen Z and millennial respondents who have used BNPL services say they have missed at least one payment, compared to 22% of Gen X and just 10% of baby boomers.
An alternative to credit cards
A number of companies have gotten into the BNPL space, saying it offers consumers a more attractive alternative to running up a high-interest credit card balance. In most instances, the consumer pays no interest and the purchase is paid for in a matter of weeks.
PayPal recently began offering BNPL purchases through select merchants. Last month it announced that it would drop fees for late payments, citing a recent study showing that a third of consumers believe having no late fees is a big draw when choosing a BNPL option.
Forbes reported this week that BNPL purchases are expected to total $100 million in 2021. The payment system is largely favored by younger consumers who are more likely to already have accumulated sizable credit card debt.
Forbes reports the percentage of Gen Zers in the U.S. using BNPL has grown from 6% in 2019 to 36% in 2021. Millennials' use of BNPL has more than doubled since 2019 to 41%.