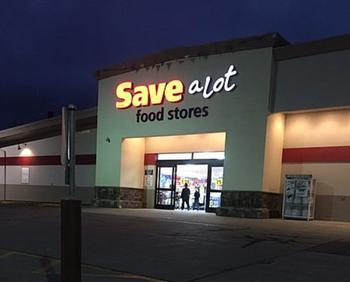 Save A Lot, a discount supermarket chain, is teaming up with Amazon to allow its customers to make Amazon purchases at its stores and pay with cash.
Amazon has taken a huge share of online sales, but there is one customer segment it has difficulty reaching -- consumers who don't have credit cards. Save A Lot's customer base is largely made up of low- and modest-income consumers, many of whom are unbanked and don't have credit.
The grocery chain says its new services will allow shoppers to pay for and pick up Amazon packages in stores through Amazon PayCode, which shoppers can use to pay for their Amazon purchases.
The new service will roll out first at several Save A Lot locations in the St. Louis market. Those participating stores will also offer Amazon Hub Locker, a place where Amazon customers can receive and pick up their purchases. It can also be used for returns. Save A Lot said it plans to expand both services to more than 400 stores by the end of next year.
"We are focused on improving our customers' lives through innovation," said Ian Bone, senior director of Corporate Development at Save A Lot. "Our work with Amazon is only the first example of how Save A Lot is delivering unmatched value to our local communities with leading-edge technologies and strategic partnerships."
Trying to reach consumers without credit cards
This is not Amazon's first time reaching out to consumers who lack debit or credit cards. The online retailer currently offers Amazon PayCode at 15,000 Western Union locations. Consumers can go to these locations, look online for the Amazon product they want, order it, and then pay for it in cash. When checking out, customers can click on "Amazon PayCode" when asked for a payment option.
Amazon will also ship purchases to Amazon Hub Locker locations at no extra charge. Consumers may pick out a locker at the most convenient location, which will then be used as the shipping address. When the purchase has been delivered, the customer will get an e-mail and a barcode that they'll use to pick up their package during store hours.
Save A Lot says it is embracing the partnership as a way to add services and convenience to its customers. For Amazon, the arrangement opens the door to a market that is mostly unserved by online retailers.
That market could be quite large. The Federal Reserve has estimated that 55 million consumers are unbanked in the U.S., meaning they lack credit or debit cards. That accounts for about 22 percent of U.S. households.