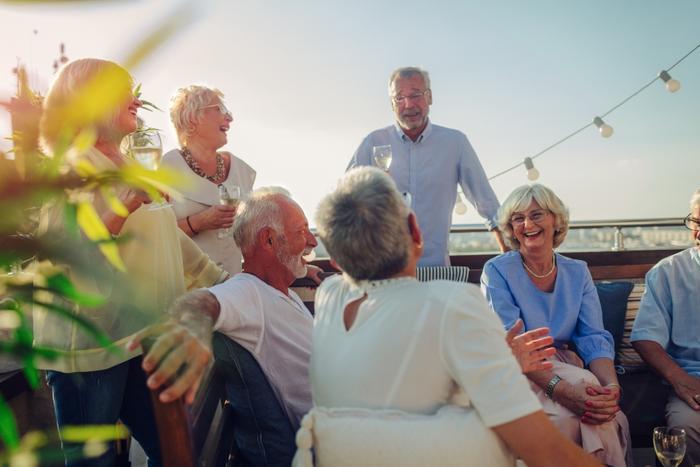 A new study conducted by researchers from University College London found that seniors can help reduce their risk of dementia by staying socially active. 
The researchers found that when adults have a solid social circle and regular social outings in their 50s and 60s, their risk of dementia in their later years is significantly reduced. 
"Here we've found that social contact, in middle age and late life, appears to lower the risk of dementia," said researcher Dr. Andrew Sommerlad. "This finding could feed into strategies to reduce everyone's risk of developing dementia, adding yet another reason to promote connected communities and find ways to reduce isolation and loneliness." 
The benefits of socializing
To see how social interactions can help fight off dementia in later life, the researchers followed over 10,000 participants from the Whitehall II study. All of the participants were between the ages of 35 and 55, and they reported on their social life several times over the course of the study, which tracked participants from 1985 through 2013. 
The researchers had the participants complete questionnaires on a regular basis starting in 1997 to better assess their cognitive functioning. They also collected a final tally of participants' medical records in 2017, at which point the researchers could determine how social lives affected the likelihood of developing dementia. 
On the whole, social interactions between the ages of 50 and 70 benefited consumers' cognitive functions and helped reduce the risk of dementia in later life. However, the researchers learned that staying socially active at age 60 showed the greatest reduction in dementia risk, with a 10 percent reduction in risk for those who spent time with friends on a daily basis.
"People who are socially engaged are exercising cognitive skills such as memory and language, which may help them to develop cognitive reserve -- while it may not stop their brains from changing, cognitive reserve could help people cope better with the effects of age and delay any symptoms of dementia," said researcher Gill Livingston. 
Benefits of a healthy lifestyle
While this study highlighted the importance of socialization on reducing the risk of dementia, recent studies have discovered how consumers' health habits could also play a role in the risk of the condition. 
Researchers recently found that not engaging in regular physical activity can increase consumers' risk of both dementia and Alzheimer's, while changes in weight -- either weight gain or loss -- can also impact consumers' likelihood of developing cognitive problems. 
"Both weight gain and weight loss may be significant risk factors associated with dementia," the researchers wrote. "This study revealed that severe weight gain, uncontrolled diabetes, smoking and less physical activity in late-life had a detrimental effect on dementia development."