---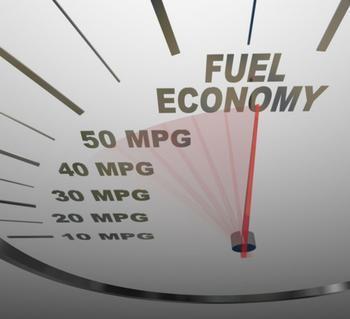 U.S. regulators are backing off their 54.5 mile per gallon fuel economy target for the 2025 model year. It's not that car manufacturers can't hit the target but rather that consumers keep buying SUVs and pick-up trucks that pull down the average fuel economy figures.
In a joint report, the Environmental Protection Agency (EPA), National Highway Traffic Safety Adminitration (NHTSA), and California Air Resources Board (CARB) said automakers are adopting new technology "at unprecedented rates." But, unfortunately, at the rate consumers keep buying bigger vehicles, manufacturers likely won't be able to reach the "corporate average fuel economy" -- or CAFE -- targets by 2025. 
Some consumer advocates say the feds are letting automakers off the hook too easily. After all, who is it that advertises all those big tough trucks and hulking SUVs?
"The question remains as to what vehicles automakers are heavily promoting.  Many of the high profit trucks and SUVs happen to get lower MPG ratings than less profitable smaller vehicles," said Jack Gillis, director of public affairs for the Consumer Federation of America. 
"We are calling upon the EPA and NHTSA to ask the automakers about their promotion efforts and compare the fuel efficiency ratings of heavily promoted vs. less promoted vehicles. The industry spends about $15 billion on advertising which has a great deal of influence on what consumers actually buy," Gillis said.
Mark Cooper, director of research for CFA, said the organization's most recent survey finds that more than four out of five consumers said gas mileage will be an important consideration the next time they shop for a vehicle.
"Staying the course on fuel economy standards is what American drivers want -- whether it's a pick-up, SUV or hybrid, they want vehicles that go farther on a gallon of gas," Cooper said. "Even in a year when gas prices are low, consumers understand that buying a fuel-efficient vehicle saves money and, most importantly, protects them from inevitable gas price spikes."
Stay the course
Consumers Union also said automakers have shown they can meet the tougher mileage standards. 
"Car technologies improve every year. Robust fuel economy standards help to ensure that advances also are deployed to improve fuel economy and help consumers keep transportation costs down." said Shannon Baker–Branstetter, energy policy counsel for ConsumersUnion.
"[T]he federal government should stay the course on improving fuel economy standards for model years 2022-2025. The data show that improving fuel economy puts money in the pockets of consumers even in times of low gas prices," said Baker-Branstetter.
Could be, but government officials say the 54.5 mpg goal is off the table. They put most of the blame on lower gas prices, which have kept demand SUVs and pickups higher than expected.
On a conference call with reporters, senior Obama administration officials said the 54.5 mpg goal was never a mandate but more of an estimate of where the industry could be by the 2025 model year -- based on an assumption that 67 percent of hte market would be cars and 33 percent would be SUVs and trucks.
---