---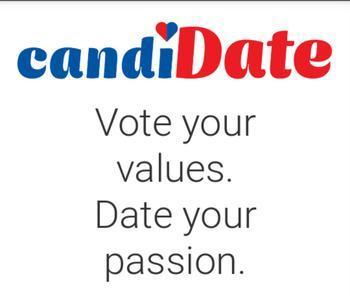 Differing political views can put a strain on any relationship, but romantic partnerships may struggle the most under the weight of a political divide.
Heated debates and politics-related tension may leave couples wishing they could have preemptively directed cupid's arrow to a more politically compatible match. Now, a new dating app may be able to help singles do just that.
CandiDate, a multi-platform app by HelpsGood, can help couples lay the groundwork for a harmonious partnership by ensuring their political beliefs are aligned from the beginning.
Shared beliefs
The dating app's main goal is to help those looking for love find someone in their area who shares their views on important issues like gun reform, abortion, gay rights, environmental issues, and the economy. 
By helping singles choose someone with a compatible belief system rather than an eye-catching profile photo, the app seeks to create couples who are a better match over the long haul. 
In addition to helping you find someone whose passions and politics match your own, the app can help you hone your political beliefs. Using questions sourced from Vote Smart, the app will show you which politicians' voting records are in line with your views.
And ahead of this year's election, the app's release may be well timed. 
"We're excited to launch candiDate on mobile devices and online in the midst of this very unique presidential election cycle," Michael Bellavia, CEO of HelpsGood said in a statement. "All around the world, Republicans, Democrats and Independents, Millennials and seniors, are using candiDate to find their own running mate and feel the burn of love."
The app is available for free on the App Store and Google Play, as well as online.
---