---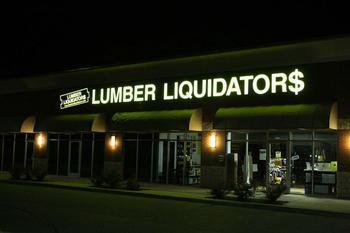 Lumber Liquidators in cooperation with the Consumer Product Safety Commission (CPSC) has agreed to not continue sales of laminate wood flooring that it had imported from China.
In addition, as part of a recall program that affects consumers who purchased Chinese-made laminate flooring during a three-year period, the company also agreed to continue conducting a comprehensive testing program.
The company has pledged to remedy issues that consumers may face with their Chinese-made laminate flooring if it is emitting elevated levels of formaldehyde.
The announcement is not intended to cause consumers to pull up Chinese-made laminate flooring installed in their homes, CPSC said. Doing that could expose residents to increased formaldehyde levels. Instead, consumers should contact Lumber Liquidators to take part in the testing program.
Lumber Liquidators has tested the air quality in more than 17,000 consumer households and has utilized third-party certified laboratories to conduct further formaldehyde emissions testing for an additional 1,300 consumer floors. However, none of those floors has tested above the remediation guideline.
From 2011 to May 2015, Lumber Liquidators estimates that approximately 614,000 consumers purchased Chinese-made laminate flooring from its shelves. However, the company suspended sales of the products after reports surfaced about dangers connected to formaldehyde. This left the company with around 22 million board feet of flooring they couldn't sell. As part of an agreement with CPSC, any future sale, disposal, or transfer of the product can only take place with the agency's approval.
What to do
Lumber Liquidators will continue its program to test for formaldehyde emissions in consumers' homes. Consumers who purchased Chinese-made laminate flooring from the company from February 2012 through May 2015 are encouraged to request a free badge kit and screening test.
Lumber Liquidators will contact consumers who have elevated levels of formaldehyde in their homes for more extensive testing of their laminate flooring. Based on these test results, the company has agreed to work with consumers to reduce the formaldehyde emissions levels and improve the indoor air quality of the home.
If those efforts are unsuccessful, the company has pledged to pay for a certified industrial hygienist to examine the home and suggest an additional remedy for the homeowner. The additional remedy would be free to the consumer and could include replacement of the flooring or repairs to the home.
Consumers may contact Lumber Liquidators to request a free testing kit at 800-366-4204 between 8:00 a.m. and 9:00 p.m. (EST) Monday through Friday, between 9:00 a.m. and 7:00 p.m. (EST) on Saturday, or between 11:00 a.m. through 7:00 p.m. on Sunday; or online at http://www.lumberliquidators.com/ll/testkit.
---