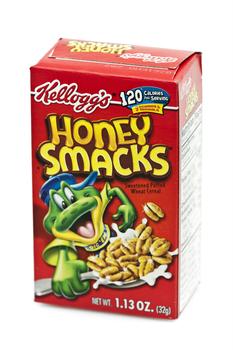 The Centers for Disease Control and Prevention (CDC) released information on a salmonella outbreak that has affected 31 states. The culprit? Kellogg's Honey Smacks cereal. 
On Thursday, the Kellogg's company announced it would be voluntarily recalling 15.3 oz and 23 oz boxes of the cereal; it reports that no other cereals were affected by the infection.
According to the CDC, the illnesses from the outbreak started March 3 and lasted through May 28. Twenty-four people have been hospitalized, though no deaths have been reported. The majority of the outbreaks have occurred in Massachusetts, New York, California, and Pennsylvania.
Investigation of the outbreak
To find the source of the outbreak, CDC officials used epidemiological evidence, including patterns in the geographic distribution of illnesses, the time periods when people got sick, past outbreaks involving the same germ, foods or other exposures occurring more often in sick people than expected, and clusters of unrelated sick people who ate at the same restaurant, shopped at the same grocery store, or attended the same event.
Based on their findings, the Honey Smacks cereal was the likely cause of the infection. The CDC reported that 30 of the 39 people interviewed about the foods they ate in the week before getting sick all ate cold cereal, and 14 specifically reported eating Honey Smacks. Additionally, those who were sick reported eating Honey Smacks cereal more than any other cereal.
After the CDC and Food & Drug Administration (FDA) contacted Kellogg's about the outbreak, the company immediately conducted their own investigation with the third-party manufacturer who produces Honey Smacks.
What to do next
While this investigation is ongoing and the CDC will provide updates when more information is available, both Kellogg's and the CDC are encouraging consumers to throw away any boxes of the cereal with the affected UPC codes/dates: 3800039103 or 3800014810 dated from June 14, 2018 through June 14, 2019.
Kellogg's also urges customers to contact the company to receive a full refund for the cereal.