---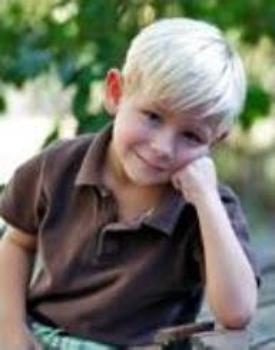 A jury in Georgia has awarded $150 million to the family of Remington Walden, 4, who died in 2012 when his family's 1999 Jeep Grand Cherokee was rear-ended and burst into flames, creating an inferno from which he could not escape.
Safety advocates say that at least 269 others have died in similar accidents. They blame the placement of the fuel tank, behind the rear axle in the part of the car generally known as the "crush zone."
It is the same placement that earned the Ford Pinto the reputation of being a death trap and led to a massive recall sparked by the revelations of Ralph Nader, who in 2011 termed the Jeeps a "modern day Pinto for soccer moms."
Read a partial timeline of the Jeep fire-death scandal
The jury in Decatur County, Ga., found that Chrysler -- now known as FCA US LLC -- was liable for Remington's death because it had failed to warn customers that the tank's placement increased the risk of fire in rear-end collisions.
It found Chrysler acted with "reckless and wanton disregard" for consumers' safety and ordered it to pay 99 percent of the damages in the case. The driver of the car that rear-ended the Walden family was ordered to pay one percent. Chrysler's lawyers had claimed that it was not the fire that killed Remington but rather the driver who struck the family Jeep.
FCA US LLC CEO Sergio Marchionne was ordered to testify at the trial and in videotaped testimony said he had "no way of knowing" whether newer Jeeps, with the gas tanks in front of the rear axle, are safer.
Marchionne also said he is "not an engineer" and could not say whether it was dangerous to have a gas tank located between the bumper and rear axle.
"The $150 million verdict will not bring back 4­-year-old Remi Walden who burned to death in a child booster seat or any of the other victims in the 395 fatal fire crashes of the 1993­-2004 Jeep Grand Cherokee, 1993­2001 Jeep Cherokee and 2002-­2007 Jeep Liberty covered by NHTSA's
now closed investigation," said Clarence Ditlow, executive director of the non-profit Center for Auto Safety.
Ditlow called on NHTSA and the Transportation Department to reopen the Jeep fuel tank investigation that was closed mysteriously after a secret meeting involving officials who have since taken lucrative lobbying jobs.
A recall that wasn't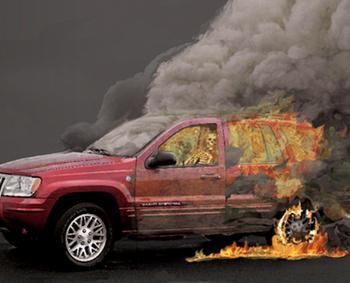 Beginning with Nader in 2011, safety advocates called on the National Highway Traffic Safety Administration (NHTSA) and Chrysler to recall Jeeps with the unusual fuel tank placement. The government "studied" the matter for years while Chrysler stonewalled.
Eventually, after a secret meeting at Chicago O'Hare International Airport, Marchionne and then-Transportation Secretary Ray LaHood announced that Chrysler would install bumper hitches on hundreds of thousands of Jeeps, in the hope that the bumper hitches would protect the fuel tank from damage.
The notion was never subjected to rigorous scientific testing, as is the usual practice before a recall is approved by NHTSA. The agreement was generally regarded as a political band-aid rather than a scientific solution. LaHood "retired" a short time later to go into private practice as a lobbyist and public affairs executive. NHTSA head David Strickland took a senior position with Venable, a D.C. law firm that public records indicate did $1.1 million worth of business with Chrysler over a recent five-year period.
A hitch develops
The recall itself dragged on. At first, Chrysler said it was short of parts, then it began blaming consumers for not bringing their SUVs in quickly enough.
But those who heeded the recall were dismayed to find that they were not even getting a full towing package on their vehicle. Dealers installed the hitch but not the wiring or other heavy-duty components needed to tow a trailer safely. Dealers received a memo asking them to tell customers the hitch was not suitable for towing.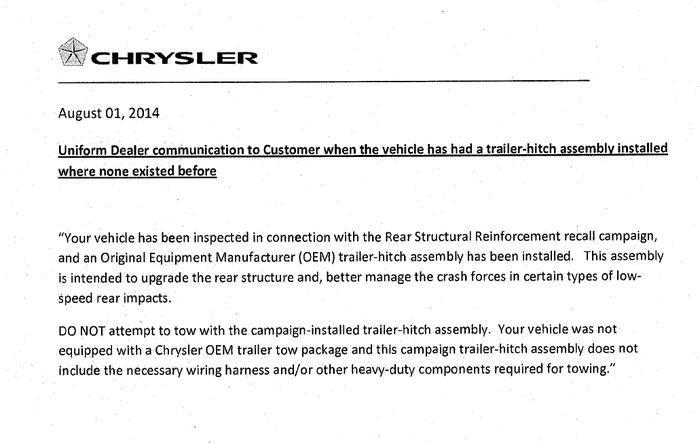 In other words, the hitch can't be safely used for towing and has not been proven to provide effective protection in the event of an accident.
More disturbing to some is the likelihood that future owners of the vehicles will not know that the hitch is not usable for towing, which could create an additional safety hazard.
"Who's going to tell subsequent owners?" asked an attorney who represents other Jeep families. "They don't even put all the bolts in. It's not just a fake remedy; it's a fake tow hitch."
"The $150 million verdict in Walden vs Chrysler rebukes the deal cut by former DOT Secretary Ray LaHood, former NHTSA Administrator David Strickland and Chrysler CEO Sergio Marchionne in a secret meeting in Chicago to conduct a sham recall using a fake trailer hitch that can't even tow," Ditlow said. "Strickland, who arranged the deadly meeting in a series of 23 emails that excluded NHTSA professional staff from participating, is now a lawyer with a law firm that represents Chrysler and failed to recuse himself from the Jeep investigation even though he planned to join the law firm."
---