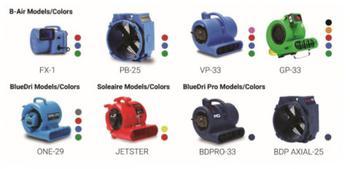 Intertex of Azusa, Calif., is recalling about 197,000 B-Air, BlueDri, BlueDri Pro and Soleaire Blowers in the U.S., and Canada.
The utility outlets on the side of the blowers are not protected by a circuit breaker. If the outlet becomes overloaded or short-circuited, it could overheat, posing a fire hazard.
No incidents or injuries are reported.
This recall involves several models of centrifugal and axial blowers sold under the B-Air, BlueDri, BlueDri Pro and Soleaire brands.
A list of the recalled blowers may be found here.
Each blower has convenience outlets on the side of the unit to allow the blowers to be "daisy chained" (several blowers plugged together in series) or other devices to be plugged in.
These blowers were sold in a variety of models and colors. Model numbers can be found on the rear of the products.
The blowers, manufactured in China, were sold at Home Depot and Lowes stores nationwide and online at www.aerindustries.com, www.amazon.com, www.ebay.com, www.homedepot.com, and www.lowes.com from January 2008, through July 2020, for between $120 and $300.
What to do
Consumers should immediately stop using the convenience outlets on the side of the recalled blowers and contact Intertex for a free repair.
Consumers with recalled units will receive a free cordset adapter with an integrated circuit breaker.
Consumers may contact Intertex at (800) 465-7300 from 8 a.m. to 4:30 p.m. (ET) Monday through Friday, by email at recall@b-air.com or online at www.b-air.com for more information.