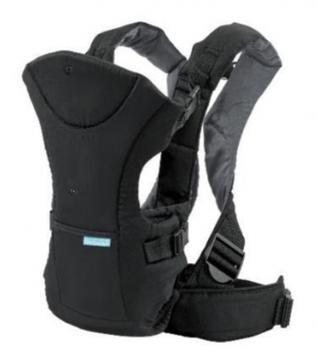 A major recall has been issued for three infant carriers that were shown to have faulty buckles which can break and, potentially, cause the child to fall out.
How big is this recall? By the Consumer Product Safety Commission's count, 14,000 of the carriers are affected. Those products were sold at Target and other stores, as well as online at Amazon, from November 2019 through December 2019 for between $30 and $50. Thankfully, out of those 14,000, no injuries have been reported yet.
What to look for
If you -- or someone you know -- has bought a new infant carrier in the past 4-5 months, it would be smart to check to see if it was made by Infantino and, if so, is it one of the following models:
Infantino Go Forward 4-in-1 Evolved Ergonomic Carrier Item# 200-207 - Lot Codes 2018 0619 & 2018 0719 

Infantino Flip Front2back Carrier Item# 200-103R - Lot Code 2018 0719 

Infantino Up Close Newborn Carrier Item# 200-193A - Lot Code 2018 0719
If the answer is yes, Infantino says that, first and foremost, "we ask that you immediately stop using your product because it may present a potential fall hazard. Infantino would like to replace it for you so you can continue to safely enjoy our products."
Infantino is asking product owners who believe their carrier is subject to the recall to cut a portion of the waist belt, which will render the carrier unusable. After that, they can send that belt piece in so the company can send out a replacement, which should take no longer than four weeks.