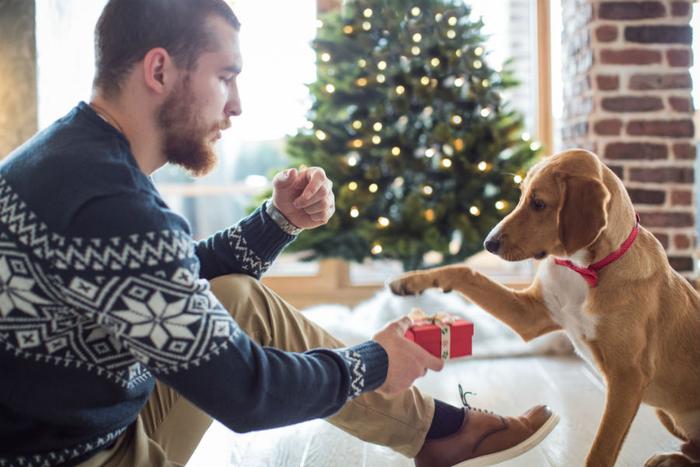 The holiday season can be a stressful time, but many pet owners have found a way to combat holiday-related anxiety. Eighty-five percent of dog owners say their pooch helps them cope with stressful events during the holiday season, according to a new study by BarkBox (an Authorized Partner).
Almost half of pet parents said their furry sidekick helps them deal with being around difficult family members, 33 percent said their dog helps them cope with arguments among family, and nearly a quarter of respondents said their pup makes visiting extended family feel a little less stressful.
Whether it's by taking a walk with their dog or playing with them, nearly half of dog parents (40 percent) admitted to using their pooch as a way to escape family during the holidays.
Humanization of pets
The study also found that a majority of dog people (90 percent) plan to include their dog in holiday celebrations in one way or another. From stockings and special meals to inclusion in family holiday photos, many pets are treated as if they were children.
Findings from the study suggest the trend of humanizing pets is still going strong, especially among millennials. In fact, more than half of millennial respondents said they get more excited to see their dog (or their family dog) during the holidays than their human family members.
One in six dog-owning millennials even admitted they've coordinated a matching outfit with their dog over the holidays.
"The Internet and social media have been like lighter fluid on a fire when it comes to the trend of humanizing pets," Stacie Grissom, head of content for BarkBox (an Authorized Partner), tells ConsumerAffairs.
"Because we are sharing our dog stories, photos, and favorite products with each other more frequently on every platform, we're able to see that treating dogs like family isn't something that's a niche eccentricity -- it's becoming the new normal."
Gifts for dogs
The millennial-driven trend of humanizing pets will likely affect holiday spending. The BarkBox (an Authorized Partner) study showed that 80% of dog parents will buy their dog a gift this holiday season, and 81 percent would be excited to receive a gift from someone else that is really meant for their dog.
"Consumer pet spending is growing every year and expected to break $69 billion this year," Grissom said, adding that "the days of relegating pups to a tiny house in the backyard are gone.
Grissom also notes that 74 percent of dog parents across a broad spectrum of demographics (young and old, urban and suburban) now say that some of their most significant holiday memories involve their dog.