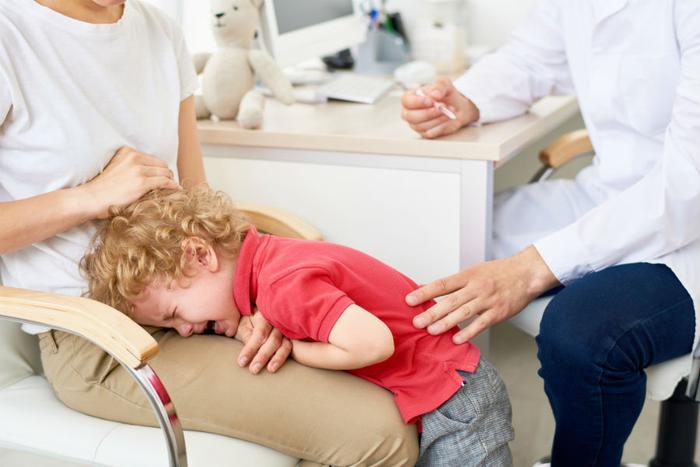 Doctors visits can be incredibly stressful and anxiety-provoking for young children, and those nervous feelings have also been found to spread to parents.
In an effort to see the effect doctor's visits have on both children and parents' nerves, researchers at Michigan Medicine - University of Michigan evaluated responses from the C.S. Mott Children's Hospital National Poll on Children's Health. The team also examined several ways parents can go about alleviating their children's nerves before a visit to the doctor.
"Regular checkups are vital during early childhood, not only because of important preventive services like vaccinations, but because they provide parents an opportunity to discuss health concerns with their pediatrician," said Sarah Clark, co-director of the Mott Poll. "If a child fears the doctor's office, health visits can be a challenging experience for the whole family."
Fear of shots and sickness
The results from the Mott Report included responses from over 700 parents who had children aged two through five years old.
Fifty percent of all children expressed some kind of fear related to doctors' visits, with the majority of children -- 66 percent of two- to three-year-olds and 89 percent of four- to five-year-olds -- saying they were scared of getting shots. Over 40 percent of two- to three-year-olds had a fear of strangers, while 14 percent of four- to five-year-olds had the same fear. Thirteen percent of the older group were also nervous based on memories of being sick at a younger age.
"Parents say the biggest source of fear is 'needle phobia,' which can be especially tricky for younger children who require vaccinations more frequently," Clark said. "Children's fear of shots can be exacerbated when they pick up on their parents' anxiety, and it can often be difficult to calm children down during these services."
Alleviating nerves
Another section of the poll had parents report on the ways their child's fear or anxiety compromised the doctor's visit in any way.
Three percent of parents reported cancelling a visit, and four percent delayed a vaccination because the child was scared. The child's fear also made nine percent of parents feel uncomfortable about bringing up concerns or asking questions so as not to further upset their child, while 22 percent found difficulty focusing on anything the doctor said because of the intensity of their child's fear.
Additionally, parents reported on the ways they try to alleviate their child's nerves, which was broken down into two main methods of preparation: educate or placate.
Over 60 percent of parents chose to educate their child before a visit, which included having a conversation about what the child can expect when they get to the doctor's office. This helped the children feel prepared and confident in the people they'd see at the doctor's office, why they were going, and what would happen. Twenty-five percent of parents opted to introduce a toy medical kit, and 23 percent watched a doctor show or read a doctor book to help produce the same levels of calm before the doctor visit.
Those that chose to placate the child either told them they wouldn't get a shot at the visit (21 percent), or promised a reward following the visit (31 percent). According to the Mott Poll report, promising a child a trip to the candy store or a special toy is beneficial in that it leaves the child with something to look forward to if they can make it through the doctor's visit.
However, according to Clark, telling the child they won't get a shot when they will be getting one can "backfire" and "only increase anxiety ahead of future visits." Clark suggests parents discuss their child's fear with their pediatrician, as the doctor may have helpful methods of creating a calm atmosphere for the child.