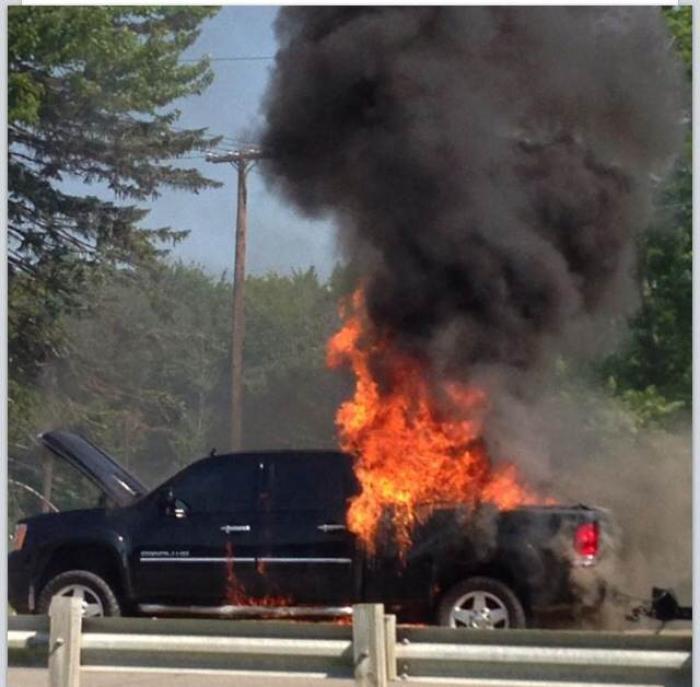 General Motors may be in danger of becoming synonymous with ignition switch defects but there's a group of GM truck owners who are more worried about unexplained fires in recent-vintage trucks.
"[M]y brother's 2013 Denali 2500 Truck (with less than 15,000 miles logged) burst into flame while he was driving down the highway on June 28th, 2014," said Dave of Meadville, Pa., in a review posted to ConsumerAffairs. "Luckily fellow commuters flagged him down as they saw the smoke and flames coming from the rear end of his truck."
Dave said the truck lost power moments later. His brother was able to coast into the median and he and a passenger scrambled out before the cab was engulfed in flames.
"Luckily nobody was in the back seat (adult, or small child) for they would have been severely burned at best, and at worst would not have made it out alive," Dave said.
GM spokesman Alan Adler told ConsumerAffairs the company had "no open safety investigation for fires on the vehicles about which you inquired."
370,000 recalled
In January, GM recalled about 370,000 2014 Chevy Silverado and GMC Sierra trucks because of a software malfunction that can allow idling trucks to heat up to dangerous levels. Adler said that recall "is now 95% complete."
Many of the reports received by ConsumerAffairs and other sites, however, involve other models, including one submitted to the National Highway Traffic Safety Administration in July 2013 by the owner of a 2012 GMC Sierra:
WHILE THE VEHICLE WAS BEING DRIVEN, IT JUST WENT DEAD, NO ENGINE, NO ELECTRIC, NO NOTHING. THE VEHICLE WAS LEFT IN PLACE AND AT SOME POINT, CAUGHT FIRE AND BURNED. A TOTAL LOSS. TO DATE, THE INSURANCE COMPANY HAS NOT PAID ME FOR MY LOSS BUT RATHER HAS GONE TO GREAT LENGTHS TO INVESTIGATE ME PERSONALLY, LOOKING FOR ANY REASON TO NOT PAY. SO, I'VE BEEN MAKING TWO VEHICLE PAYMENTS FOR THE LAST 8 MONTHS. AS A RESULT, I AM STRUGGLING FINANCIALLY.
It's toast
In another case involving a 2012 Sierra, Michael of Overland Park, Kan., had loaned his truck to a friend, who later called and said the truck had "suddenly shut down and everything went off. It would not start or nothing."
Michael, who works for the railroad, was riding the rails at the time. When he returned home, he found the truck was gone from the street where his friend had left it.
"I couldn't find it so called the Police Department and was told it had been towed and where it was. I called them to say I was on my way to pick it up. The lady on the phone laughed and said, 'Sir, your truck is burned (toast).'"
Michael said the truck had only 2,000 miles on it at the time and so far no one has found the cause of the fire. OnStar was unable to provide any advice and GM "won't even comment," Michael said.
Collateral damage
Sometimes it's not just the GM truck that goes up in flames.
"My daughter's Chevy Silverado pickup truck 2011 caught on fire in the front yard destroying the truck, her brand-new Toyota Camry and melted siding on the house next to them," said Susan of Tucson, Ariz.
The elements conspired to make things worse for William of Watertown, Conn., when he climbed into his 2010 GMC Terrain and went out to rescue his daughter who was stuck in a blizzard last year. He and his wife retrieved their daughter and turned around to head home. 
"It was snowing at a rate of about 3 inches an hour. We got to about a mile from home and we weren't able to get up the hill, so we diverted to a flatter route. I turned the traction control off, but the dash light kept flashing anyway. All of a sudden, the interior of the car was filled with thick black smoke," William said. "The entire car was engulfed in flames in a matter of minutes. ... The fire truck was not able to make the hill to the car and had to wait for a plow escort. The car was already fully engulfed in fire. There was nothing left, but at least, we got out alive."
William emailed GM. "They called me, put me on hold and made me listen to a bunch of advertisements for new GMC vehicles, got back on the phone and said no one was available to talk to me!"