---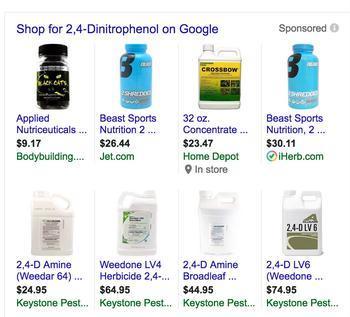 The internet may be a little less congested today. The U.S. Food and Drug Administration (FDA) has taken action against 4,402 websites that it says are selling potentially dangerous, unapproved prescription drugs to U.S. consumers.
The agency sent formal complaints to domain registrars requesting the suspension of the 4,402 websites. Included are 110 websites that sell the chemical 2,4-Dinitrophenol (DNP) as a weight-loss product. DNP is most often used as a dye, wood preserver, and herbicide and has never been approved by the FDA for use as a drug.
DNP is highly toxic. Exposure can cause nausea, vomiting, sweating, dizziness, headache, and weight loss. It can be fatal in high doses and chronic use can cause cataracts, skin lesions, and effects on the bone marrow, central nervous system, and cardiovascular system, according to the U.S. Environmental Protection Agency (EPA).
The National Institutes of Health reports that there have been 62 known fatalities resulting from DNP. Some have been from occupational exposure, but most have involved consumers trying to lose weight. The drug is popular with bodybuilders who want to lose fat while retaining muscle. 
The DNP round-up was part of Operation Pangea IX, a global effort led by INTERPOL and involving law enforcement agencies around the world. 
"Preventing illegal internet sales of dangerous unapproved drugs is critical to protecting consumers' health," said George Karavetsos, director of the FDA's Office of Criminal Investigations.
Customer died
The FDA said a recent task force investigation into the distribution of DNP resulted in a May 9, 2016 guilty plea from Adam Alden of Bakersfield, California, for introducing an unapproved drug into interstate commerce.
A Rhode Island customer who purchased DNP via the internet from Alden, among other sources, died in October 2013 as a result of DNP ingestion.
Besides the shutdown requests for the 4,402 websites, warning letters were sent to 53 other sites and FDA and Customs inspectors seized 797 parcels suspected of containing illegal drug products in San Francisco, Chicago, and New York.
Preliminary findings of the seized parcels found that U.S. consumers had purchased certain unapproved drug products from abroad to treat depression, narcolepsy, high cholesterol, glaucoma, and asthma, among other diseases.  
FDA cautions consumers against buying drugs online unless they are certain the pharmacy is legitimate and licensed in the United States. The agency publishes guidelines for consumers.
---