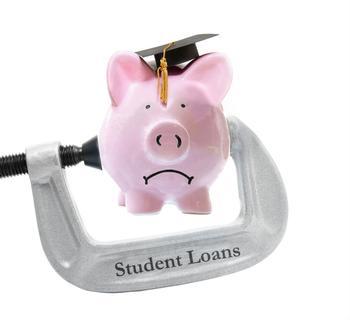 A report by the Consumer Financial Protection Bureau (CFPB) shows student loans -- and especially those backed by the government -- remain a major source of consumer complaints to the agency.
The report documents a surprising increase in complaints about federal student loans, generally regarded as more consumer-friendly than those from banks and other private lenders.
Federal loan complaints rising
According to the Department of Education, federal student loans include many benefits not typically offered with private loans, such as fixed interest rates and income-driven repayment plans. In contrast, private loans are generally more expensive than federal student loans.
The annual Student Loan Ombudsman Report found that over the last year, the CFPB received nearly 23,000 complaints involving all types of student loans. More than half were complaints about federal loans.
Whitney Barkley-Denney, a policy counsel and student loan specialist with the Center for Responsible Lending, says the increase in federal student loan complaints is disturbing.
"When 56 percent of consumers filing complaints are frustrated by an inability to access options such as income-driven repayment (IDR), these new findings help to explain why so many borrowers are in default," she said.
Many of the complaints focused on loan servicing and debt collection policies. Barkley-Denney draws a comparison to the foreclosure crisis, when she says many homeowners unnecessarily found themselves in foreclosure.
"There are now borrowers who are unnecessarily defaulting on student loans when alternatives exist to protect their payment affordability and their credit ratings," she said. "These unnecessary defaults, in many cases, contribute to the debt collection complaints involving student loans.
Optimistic results
Despite the increase in federal student loan complaints, the CFPB report strikes a more optimistic tone when it discusses results. The agency said it was able to produce more than $750 million in relief for borrowers and improved loan servicing for millions more.
The CFPB says it was able to provide automatic interest rate reductions for eligible military personnel and eliminate "surprise defaults" from the majority of new private student loans. But the agency said the large number of complaints from student loan borrowers shows widespread student loan servicing problems persist.
"As borrowers continue to fall through the cracks of our broken student loan system, the Bureau's work to date offers a roadmap for consumer-driven reforms," said CFPB Student Loan Ombudsman Seth Frotman.
More work needed for a better market
Frotman says giving borrowers the power to bring these problems to the attention of government regulators is a positive, but says regulators have a lot more work to do to produce a student loan market that works better for consumers.
The CFPB keeps track of how much money has been loaned to students to attend college and puts the current balance at more than $1.4 trillion. It says about 44 million consumers now owe money on their student loans, in some cases reducing their spending power.
The CFPB report shows more than eight million student loan borrowers are currently in default and more than 1.2 million borrowers defaulted on their student loans last year.