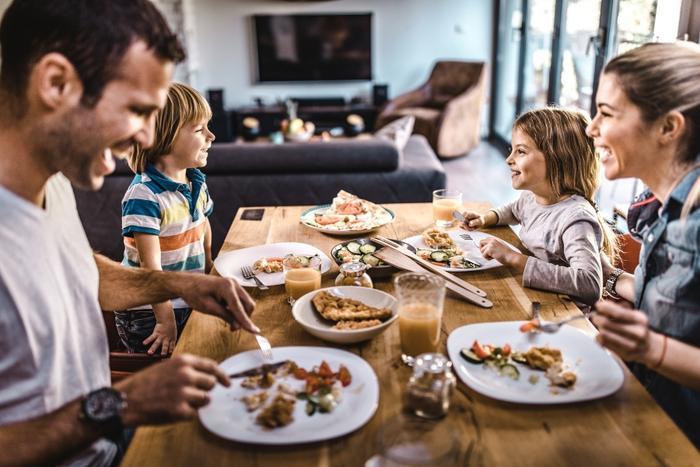 While recent studies have explored different ways for parents to encourage healthy eating, including leading by example and getting kids involved during mealtime, a new study found that family meals are equally as important. 
According to the researchers, having regular family meals can work to not only improve the family dynamic, but it can also help kids incorporate healthier options into their diets. 
"There are thousands of individual studies that examine the impact of family meals on nutrition and family behavior, but this new meta-analyses looks at the relationship between family meal frequency and family functioning outcomes," said researcher David Fikes. "It is particularly fitting that as we celebrate National Nutrition Month, we can confirm that family meals are a valuable contributor of improved nutrition and family functioning." 
Making healthy choices 
The researchers conducted a review of previous studies, all of which had been designed to understand the benefits associated with family meals. 
"This study employed a comprehensive approach to explore the direction and magnitude of the relationship between exposure to family meals and dietary and family functioning outcomes in children," said researcher Shannon M. Robson, PhD. 
The two biggest takeaways from the study were that family meals encouraged healthy eating for young ones and facilitated stronger family bonds. The study revealed that kids were more likely to eat more fruits and vegetables when family dinners were a consistent part of their routines. 
Similarly, more family mealtimes made communication stronger and improved the way families approached problem-solving. These findings were so significant that Fikes believes that families should actively commit to trying to eat together on a regular basis. 
"Even more impressive than the positive behavior changes we have seen over the past five years is that 89 percent of Americans believe it's important for families to have as many meals as possible each week, and 84 percent are willing to commit to doing so throughout the year," said Fikes.