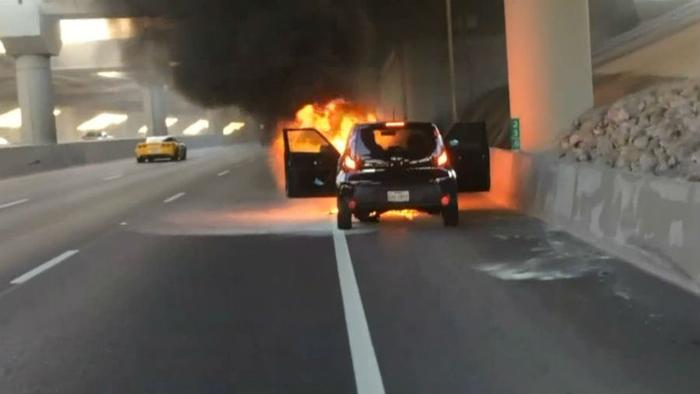 The Center for Auto Safety is asking Hyundai and Kia to launch a major recall of late model cars and SUVs to address what it says is a fire hazard.
The consumer group says all 2011-2014 Kia Sorento, Kia Optima, Hyundai Sonata, and Hyundai Santa Fe, and 2010-2015 Kia Soul vehicles are vulnerable to the risk of an engine fire. The group points to a total of 220 consumer complaints regarding fires submitted to both the Center and the National Highway Transportation Safety Administration (NHTSA).
"Since our call for an investigation into these Kia and Hyundai non-collision fires, we have seen reports of almost one fire every single day across these five models," said Jason Levine, executive director of the Center for Auto Safety. "The number and severity of these complaints, when people are simply driving their cars on the highway, is frightening. It is long past time for Kia and Hyundai to act."
Company says there is no defect
In a statement to the media, Hyundai said in rare instances -- a rate of less than 1 percent -- some engines have caught fire. But the automaker said an "exhaustive" study showed there is no systemic defect that would cause the fires.
Among the complaints compiled by the Center was one from a consumer in Clarksburg, Mass., who was driving a 2011 Kia Sorento on the Massachusetts turnpike one morning and noticed the rear window was cloudy.
"I washed the rear windshield and kept on driving," the consumer reported. "A few minutes later a man pulled alongside me and signaled that I should pull over. I stopped the car and smoke started to come out from under the hood."
The consumer said by the time she pulled off the highway and called 911 there were flames coming from beneath the hood.
Just a bare metal frame
"By the time the police and fire department arrived at the scene, about 15 to 20 minutes after I called, the entire car was engulfed in flames and the tires had started to explode. When the fire was finally extinguished all that remained of the car was a bare metal frame. The car was totally destroyed."
Levine says the manufacturers have been less than responsive to the scores of fire reports. In light of that, he says a recall is warranted.
This issue might sound familiar to Ford owners. In 2007 the automaker recalled 3.6 million cars, truck, and vans because a switch that deactivates the speed control sometimes overheated and produced fire.
The recall covered 16 brands of cars, sport utility vehicles and trucks from model years 1992 to 2004.
The Center for Auto Safety says most, if not all carmakers sometimes produce vehicles that catch fire under normal driving conditions. However, the Center says the number of fire complaints involving Kia and Hyundai suggests a recall is in order.