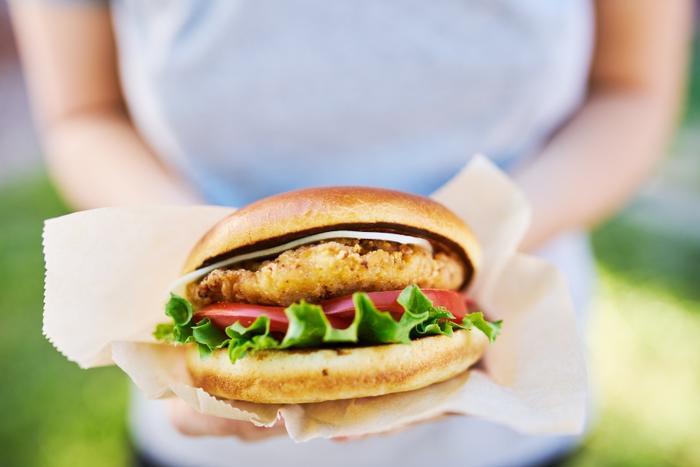 The great winged migration of 2019 continues -- chicken has moved from the frying pan at home to the drive-in window.
In a market segment once dominated by Kentucky Fried Chicken (KFC) with only a handful of hopefuls picking up the scraps, there's now 37 chicken-centric restaurant chains and 73 chicken-lickin' fast food franchises. And with a failure rate only in the single digits, life in the hen house appears to be good.
McDonald's thinks that clucking-up is the thing to do, and it wants back in on the action. Yep, hot on the heels of Popeye's chicken sandwich bonanza, McDonald's is jumping into the chicken sandwich wars…again.
Mickey D's has lined up franchises in Houston and Knoxville to see if its Crispy Chicken Sandwich can steal some action from Popeye's, Chick-fil-A, KFC, and an ever-growing list of competitors.
Different, yet the same
McDonald's is no stranger to chicken. By our count at ConsumerAffairs, the chain has tried its hand with the bird at least a dozen other times, ranging from nuggets to wraps.
However, in this specific test, the fast-food king is going right after Popeye's and Chick-fil-A by seemingly copying the best of both sandwiches, down to the foil bag the sandwich is served in. The only differentiator ConsumerAffairs could find is that McDonald's is offering a deluxe version that adds in tomatoes, lettuce, and mayonnaise.
The consumer didn't ask for this, but the franchisees sure did
The meteoric rise of Chick-fil-A has not only caught the fast-food world by surprise, but the chain is muscling in on everyone's turf, recently becoming the third-largest restaurant chain in America (behind McDonald's and Starbucks). 
With McDonald's corporate brass busy with adding ordering kiosks and remodeling, they may not have heard the footsteps going elsewhere, but its franchisees certainly did and made no bones about how the chain's chicken-centric competitors were stealing customers.
"Chick Fil A's results demonstrate the power of chicken," wrote the National Owners Association (NOA) board (a group of McDonalds' franchisees) in an email sent to their operator peers back in July. 
"Yes, we have great Chicken Mcnuggets and our McChicken is a very good product. But we do not compete in the premium chicken sandwich category, either grilled or crispy. A Chicken Sandwich at McDonald's should be our top priority. We don't have to reinvent the wheel. We didn't invent the drive-thru, we perfected it. Chick-fil-A invented the Chicken Sandwich, but we can do one better."
Been there, done that
Particularly painful is the fact that McDonald's rolled out its own "Southern Style Chicken" sandwich back in 2005 -- one remarkably similar to Chick-fil-A's. But the chain took it off the menu in 2015.
"Our Southern Style Chicken sandwich was very close to category-leading," the NOA claimed. "It needs some tweaks. We need to serve it in a foil bag and we need to butter the bun, but the patty recipe was excellent. It can be served in our existing kitchens within our existing service times (even faster). We should test it in the south and if successful, we should put it on OPNAD (Operator's National Advertising Fund) as soon as possible!"
How will consumers cast the deciding votes?
The big questions for consumers are pretty simple: can the McDonald's version of the chicken sandwich be that much better than Chick-fil-A's or Popeye's? Is McDonald's so late to the party that the consumer is going to even notice? Can McDonald's pry away some of Chick-fil-A's disenchanted customers who are looking for an alternative because of the chain's previously alleged anti-LGBTQ views? We'll have to wait and see.
Responding to McDonald's opening volley about the new sandwich, consumers were having a field day. Many complained that McDonald's didn't offer a spicy version, with one tweeting back, "Without a spicy version you just brought a knife to a gunfight." 
Others purely mocked the chain for its lack of authenticity. "Where did you get that pickle idea? @ChickfilA would like to know," piped one. And, questioning the age-old trick of cutting corners to save a few pennies, another projected that, "...over time, (McDonald's will) start looking for ways to cut costs and pick the cheaper ingredients over the higher quality, tastier ingredients."
Others make moves to try and create uniqueness
Not to say that Chick-fil-A has others scrambling, but it has. Chicken start-ups and product spins are happening all over the restaurant world. Because some are regional and some are in the testing phase, consumers may not see them in abundance. However, QSR went inside fast food's fried chicken takeover and discovered these moves:
Chick'nCone is a fairly new fast-casual restaurant that decided to renew chicken and waffles' marriage vows by putting the chicken in a waffle cone and letting the customer pick their sauce.

KFC is also mixing things up and trying its hand at bowled meals such as a Mac & Cheese Bowl -- a concoction made of mac and cheese, popcorn chicken, and topped off with a three-cheese blend. Consumers can also choose to add a Nashville hot sauce as an option. 
"The KFC food innovation team is constantly looking at food trends to bring craveable offerings to our customers, and we know bowl food is a trend that isn't going away," says Vijay Sukumar, chief food innovation officer at KFC U.S.
By virtue of six chains either starting from the ground up or going the franchise route -- all centered around "hot chicken" -- that particular taste slant apparently hasn't run its course, either.
What does chicken's rise to stardom mean for the consumer?
In doing our research for this story, ConsumerAffairs found several pro and con arguments about chicken. Here are the things we found that can impact the consumer in one way or another.
Is there enough chicken at the grocery store with all the fast-food'ers grabbing all they can?
The short answer is "yes."
When ConsumerAffairs put that question to Terrence O'Keefe, the Content Director at WATT Global Media, a company that provides business intelligence to the global Pet Food, Poultry and Animal Feed markets, his reply was emphatic. 
"Yes, the U.S. broiler industry has been in an expansion mode and 6 new complexes are opening over the next few years," he said, adding that the chicken craze has zero impact on availability at the grocery store since there is "plenty to go around."
Other industry observers agree with O'Keefe.
"There have been a series of production investments, some of which came online in 2019 and more to come in 2020," Dr. Thomas E. Elam, President, FarmEcon LLC, told ConsumerAffairs. "McDonald's new chicken offerings should help absorb some of this added capacity. In the big picture it's welcome news to a broiler sector that has struggled with historically low prices for the past year."
Will chicken prices rise?
The short answer here is "probably" if history is any indicator.
Over the last 19 years, chicken's average annual inflation rate has been lower than overall inflation -- 2.02 percent vs. 2.10 percent. But the difference between 2000 and 2019 is considerable. According to the U.S. Bureau of Labor Statistics, prices for chicken were 46.15 percent higher in 2019 versus 2000. 
"In other words, chicken costing $20 in the year 2000 would cost $29.23 in 2019 for an equivalent purchase" is how In2013Dollars boiled down inflation's impact. 
Does this mean that the burger is dead?
All this poultry frenzy may have you asking if the bird has killed the burger.
The autopsy says no. Even though chicken has eclipsed beef as the "most consumed" meat -- 94 pounds vs. 57 pounds per capita according to the National Chicken Council -- one food industry advisor says that chicken gained that advantage because most of that consumption happens in the home and that, outside the home, the burger still rules.
"(Chicken is) a center-of-the-plate protein, in a casserole or a baked dish. We don't consume them at home as chicken sandwiches," David Portalatin, vice president and food industry adviser for NPD, in comments to the Washington Post. "I assure you the burger is alive and well and will be for the foreseeable future."