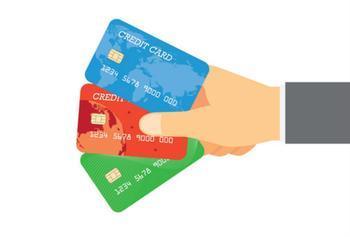 The national average credit card interest rate has climbed to 15.59%, according to CreditCards.com. That's the highest level since the card comparison site began keeping score.
The move was highly anticipated, especially since the Federal Reserve this month raised the Federal Funds Rate for the second time since December. That key interest rate has the most direct correlation to what credit card customers pay.
CreditCards.com arrived at its record by averaging the rates on 100 of the most widely-used cards in the U.S., representing every card category. For example, the average rate on "low interest" cards is 12.44%, up from 11.98% six months ago.
Cards for customers with bad credit carry a much higher rate. The average is now 23.04%, up from 22.86% six months ago.
What rising rates mean for consumers
If you pay off your credit card balance in full each month, you really don't have to worry about what the rate is. But if you are carrying a large balance, rising rates will increase the cost, and usually the time it takes to pay off the debt.
For example, a 1% increase in interest rates on a $10,000 credit card balance will increase interest payments by $8.33 a month. That might not sound like a lot, but if you are already paying as much as you can each month on your credit card balance, you would need to add that amount to your payment just to stay even.
Credit card defaults rose last month
As rates rise, it might not come as a surprise that credit card defaults are also going up. The S&P/Experian Consumer Credit Default Indices, which tracks consumer credit defaults, shows the default rate rose two basis points to 0.94% in February. But the default rate for credit cards was higher, 3.22%, rising one basis point from January.
At the same time, consumers did a better job of paying their auto loans last month, with the default rate in that category dropping to 1.05%. Mortgage defaults ticked up slightly, to 0.74%.
David Blitzer, Managing Director and Chairman of the Index Committee at S&P Dow Jones Indices, says the hike in the Federal Funds Rate may put additional pressure on consumers trying to pay off credit cards.
"The quarter percentage point increase will be gradually passed through to the charges faced by those borrowing with their credit cards," Blitzer said. "Based on the projections made by members of the Fed's policy committee, we could see three or possibly four additional increases this year."
With rates probably going up even more, Blitzer said he doesn't expect to see improvement in the bank card default rate in the near future.