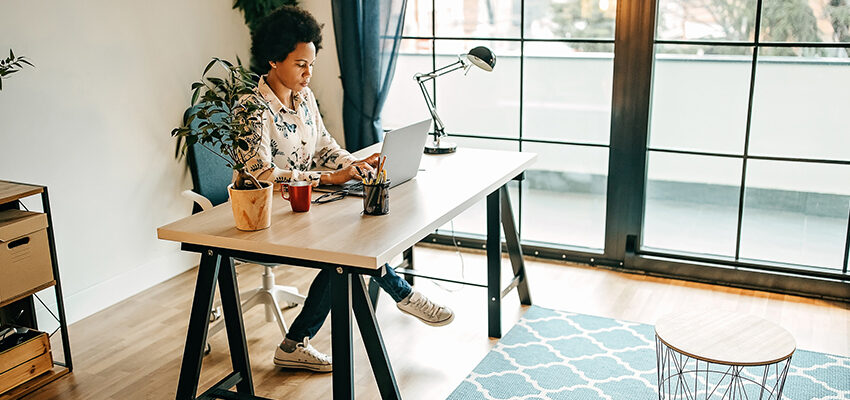 Working from the comfort of your own home should be a breeze, right? No more getting up early to get dressed for the office, no more commuting and no more working underneath uncomfortably bright fluorescent lights — it all sounds great. However, working remotely also comes with challenges that can be detrimental to your productivity.
Being at home all day can add new distractions, especially for parents and pet owners. Not everyone has an office door to shield them from what's going on in the rest of the house, and you might need a signal to let everyone in the house know when you're occupied. The right tools can be essential to creating a healthy home office environment that enforces boundaries, practicality and, of course, productivity.
Productivity Tools to Boost Your Performance
Below are a variety of tools to help you meet the challenges of a remote work environment. Each product represents a different aspect of working from home.
Deluxe Lap Desk for Laptop and Writing
The Sofia + Sam Multi Media Memory Foam Lap Desk provides a compact workspace for those who might not have enough room for a separate home office. You can participate in Zoom meetings on your laptop, check your email from your phone, switch out a laptop for a tablet and charge all of your devices from your lap.
This product is also portable, so you can work from anywhere within your home. If the kids are getting rowdy in the living room, you can move your work area to your bedroom or your patio.
SimpleHouseware Mesh Desk Organizer
Store and keep up with smaller office supplies and work files with the SimpleHouseware Mesh Desk Organizer. This compact sorter can be useful to those with a very limited workspace, and its see-through mesh allows you to find smaller objects, like paper clips, more easily.
This mesh desk organizer also helps to distinguish your office space from the rest of the house. Keeping your office supplies from being mixed up with your personal items or your child's school supplies can save you time and hassle when you need the right tool for the job.
N/X USB Headset
This N/X USB Headset can make Zoom meetings a little less awkward and cut down on outside noises, like rowdy kids or a barking dog. Your voice will also be clearer thanks to the audio-enhancing microphone. All you need to do to install this device is plug it into a USB port.
This headset should make your remote meetings more productive, with easier conversations and reduced background noise. While it won't stop your pets from climbing behind you or the kids from running in front of the camera, at least you won't have to suffer through noisy distractions.
HADIGU Do Not Disturb Hanger Signs
Want to prevent your kids or housemates from walking in on your Zoom meetings? Try hanging these "Do Not Disturb" signs from your door. Whether you're on a conference call or working on a task, these signs should keep your work area quiet and peaceful.
However, these signs aren't just for keeping people out. You can also guide people in with the green side — for instance, when your workday is winding down and you want some visitors.
BestOffice Mesh Task Chair
Good back support is essential to staying productive at a desk job. Poor posture can cause aches and pains that distract from your work and affect production. With the BestOffice Mesh Task Chair, you can sit straight and stay comfortable while working from home.
These types of chairs have traditionally been common in offices, but many people are now looking to gain these benefits at home. Unfortunately, this has resulted in occasional shortages and shipping delays.
ComfyScience Foot Rest
This footrest by ComfyScience helps improve your posture even more by providing a place for your feet to rest comfortably. This can also help you avoid back, hip and foot pain.
Pain can be a major hindrance to completing tasks to the best of your ability. A healthy, distraction-free work environment is conducive to a healthy, pain-free body. Keep that in mind the next time you are twisting and turning your feet at awkward angles underneath your work desk.
NiiMbot Label Maker Machine
Organize your workspace a step further with the NiiMbot Label Maker Machine. This device lets you design a label on your phone before printing it onto adhesive tape.
If you have a messy home office, a label maker can help you get the clutter under control by making sure everything has a place. You can also label your files and office tools for quick identification.
LNEKEI Blue Light Blocking Glasses
Looking at screens for hours at a time puts your eyes under a significant amount of stress, which can cause them to become red and irritated. Strained eyes can also cause migraines and headaches that make it nearly impossible for you to be productive.
LNEKEI's Blue Light Blocking Glasses can help. These nonprescription eyeglasses block glare and blue light from computer screens to reduce eye strain and bring much-needed relief.
GREATSSLY Video Conference Lighting Kit
Ring lights aren't just for Instagram selfies. The Video Conference Lighting Kit by GREATSSLY lets you look your best in front of the camera during meetings and video conferences.
Installation is as simple as clipping the device onto a surface, plugging it into a USB port and adjusting the lighting to match your preferences. There are 10 brightness settings available, and you have your choice of three color temperatures.
Pingpi Motivational Mouse Pads
Help yourself get through the workday with a little motivation from a Pingpi Motivational Mouse Pad. This product features a positive daily affirmation that you can look at anytime you're stressed or overwhelmed.
If flowery illustrations aren't your style, Pingpi offers a variety of other designs that lean more toward vacation vibes. You can get a mouse pad featuring a beachfront, a sea turtle or the Eiffel Tower.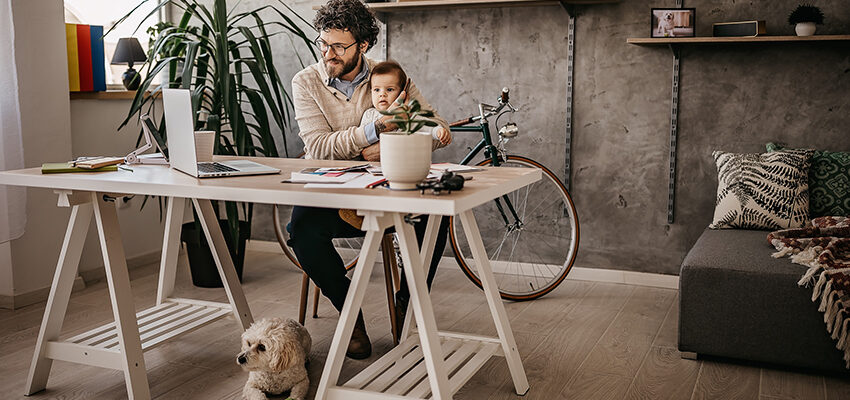 These products can help you create a healthier, less stressful and more productive work-from-home environment. Being productive when working remotely involves more than enduring distractions. It also requires you to be proactive and prepared for the unexpected. The right tools for working from home can help you save time, money and energy in the long run.