How much does it cost to ship a car?
Expect to pay between 53 cents and $2.30 a mile



Written by

Edited by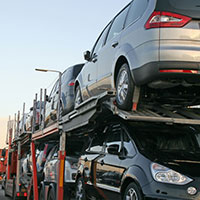 The cost to ship a car usually ranges from $500 to $1,700. Most of the time, cars are shipped across the U.S. by truck. These vehicle carrier rigs can carry nine or 10 vehicles at a time  — if not more —  and make a trip of several thousand miles in only a few days.
We've gathered quotes from some of the leading auto carrier companies in the U.S. and provided a full rundown of how to ship your car like a pro.
---
Key insights
Shipping a vehicle costs anywhere from 53 cents per mile to more than $2.30 per mile.
Auto shipping costs depend on several factors, including the distance, time of year, type of carrier, location, vehicle size and requested time frame.
It typically costs at least $500 to ship a car a short distance, but it's likely to cost more than $1,700 for cross-country shipping.
Average cost to ship a car
Although car shipping costs depend on a number of factors, you can expect car transport rates to vary from about $500 for short, cross-state trips to more than $1,700 for cross-country transports.
We created these estimates based on the price of shipping a Toyota Camry between major cities on an open carrier (the most common method of transport). You can see the quotes that informed our research in the table below.
Cost to ship an operable 2023 Toyota Camry in an open carrier
| | | | |
| --- | --- | --- | --- |
| Boston to LA | $1,339 | $1,300 | $1,445 |
| Chicago to Boston | $869 | $825 | $895 |
| Chicago to LA | $1,049 | $1,100 | $1,195 |
| Miami to Boston | $1,059 | $1,100 | $1,170 |
All prices are accurate as of the time of publication.
Bear in mind that average prices will be higher if you have a larger vehicle, opt for more expensive shipping options or want to ship a car internationally.
» MORE: International car shipping costs
How to calculate the cost per mile to ship a car
If you want a rough estimate of how much it costs to ship a car, just multiply the distance your vehicle will travel by the approximate cost per mile in the chart below. This should give you a good idea of how much to budget for.
| Distance | Average cost per mile | Pricing examples | Example |
| --- | --- | --- | --- |
| 500 miles | $1.25 | $625 | Chicago to Kansas City |
| 1,000 miles | $0.75 | $750 | Phoenix to Dallas |
| 2,000 miles | $0.50 | $1,000 | Pittsburgh to Phoenix |
| 3,000 miles | $0.55 | $1,815 | Seattle to Miami |
What affects car shipping costs?
While we've provided some guidelines above, it's hard to accurately estimate what shipping a car will cost — multiple factors influence the final price.
Factors that affect car shipping costs include car size, distance and time of year — read below to see where you stand in relation to our average rates.
Vehicle size
The size of your vehicle affects the average car shipping costs. For instance, our quotes above show a cost of $650 to $825 to transport a sedan between Massachusetts and Florida, but the same companies may charge $850 to $1,200 to transport an SUV, van or pickup truck an equal distance.
Larger vehicles cost more to transport because they take up more space on a carrier and weigh more. The more vehicles the truck can carry, the lower the rate per vehicle will be.
Time of year
Expect to pay more during peak months when companies are busier, and space on shipping trucks is more limited. Prices for shipping a vehicle in the summer months can increase as much as $200 to $300 per trip.
However, booking a shipment during the winter in areas that experience inclement weather can also increase vehicle transport costs. If a carrier has to deal with snowstorms and other potential weather delays, that extra hassle will likely be reflected in the price.
If you're in the early stages of planning your vehicle transport, ask about peak rates and find out if the shipping carrier or broker offers discounts during the offseason that lower the average vehicle shipping cost. These discounts can add up to significant overall savings if you can time your shipment accordingly.
Shipping distance
It shouldn't be a surprise that the farther your vehicle needs to travel, the more it's going to cost you. Mileage rates might fluctuate depending on the transporter you choose, so research several companies to find out how much they charge based on distance.
Carriers also often charge less money for long-distance transport over open highways. For example, going between Miami and Boston forces the carrier to go through several metropolitan areas where traffic may be heavy, which might affect travel time.
From Boston to Los Angeles, however, the vast majority of the travel takes place at high speeds free of city traffic. The more ground a carrier can cover during the course of a day, the cheaper the per-mile rate will be.
Carrier type (open vs. enclosed)
Shipping your vehicle on an open car carrier is cheaper because these carriers can generally hold more vehicles than enclosed carriers, lowering the shipping company's cost per vehicle.
Jacob Carter, the founder of EngineRevUp.com, a maintenance and repair site for car enthusiasts, explained that enclosed carriers tend to be best for cars that are rare or have high monetary or sentimental value, "If your readers have a car they consider their 'baby,' they may want to consider enclosed transport to protect against the elements and road debris."
These enclosed trucks provide extra protection for classic or expensive automobiles but carry fewer vehicles, which can nearly double the shipping cost. "It might cost a pretty penny, but for some car enthusiasts, it's priceless peace of mind," Carter said.
» MORE: Open vs. enclosed car shipping
Delivery time frame (rush or standard)
Much like other shipping services, you'll end up paying more overall if you want your vehicle transport rushed. Expect to pay anywhere from $200 to $500 more for rushed shipping. On the other hand, if you're flexible about when your vehicle can show at its final destination, you'll pay less.
Generally, you'll be given a three-day window for pickup, followed by a reasonably accurate date for delivery. If you need your vehicle picked up by a specific date, most companies can store it in their facility for an additional fee.
Delivery location
Having your vehicle delivered door to door (from its current location to your exact destination) is convenient, but terminal-to-terminal delivery (shipping your car between nearby pickup and drop-off locations) is generally more affordable.
Whether your car runs
Inoperable vehicles cost more to ship because they're harder to get on and off the carrier. This extra charge might not outweigh the cost of getting your car running again, but it's something you should keep in mind if your vehicle can no longer move under its own power.
Carrier bidding process
Because carriers bid on how much it costs to ship your car, prices can vary depending on how many carriers are available. One reviewer on our site, Lance from Arkansas, said of the bidding process, "You gotta find the right driver that represents the company and may be going on that same route too." This is something to be aware of since it also affects pricing.
What is the cheapest way to ship a car?
In most cases, terminal-to-terminal open transport is the cheapest way to ship a car. Open auto transporters can accommodate up to 10 vehicles, which allows operators to save on fuel, oil and transport costs.
Open carrier transport with terminal-to-terminal service is typically the cheapest way to ship a car.
Terminal-to-terminal service is generally cheaper than door-to-door service since the driver doesn't need to deliver the car to your home or office. Occasionally, though, door-to-door service might be the cheaper option due to storage fees.
If you want to save more money, try to ship your vehicle during the offseason (late fall to late spring). The most popular time to ship a car is during the summer and early fall. Prices generally rise at that time to reflect the increased demand.
Find out if you're approved for discounts
If you're looking for cheap car shipping, be sure to find out if you qualify for any savings or promotions. Common auto transport discounts include the following:
Military discounts: Many auto transport companies offer discounts to military personnel to help with frequent moves and to recognize their service.
First responder discounts: Certain auto transport companies provide discounts for first responders.
Student discounts: Many auto transport companies offer discounts in the summer and fall if you're a student moving to or from college.
Senior discounts: Because many older people live on fixed incomes and have to abide by strict budgets, some auto transport companies offer senior discounts.
First-time customer discounts: Some auto transport companies offer a discount if it's your first time shipping a vehicle with the company.
Returning customer discount: Certain auto transport companies offer discounts for shipping with them a second or third time.
Multicar shipment discounts: Most companies offer a discount if you're shipping multiple vehicles at once.
Early-bird discounts: Some companies will reward you with a discount for signing up with them within 48 hours of receiving a quote.
Check payment method fees
While most shipping companies accept all forms of payment (including cash, checks and credit cards), some employ a 2% to 3% surcharge when you use a credit card. Be sure to find out what payment methods your shipping carrier accepts and whether you'll be charged extra to pay with a credit card.
What you need to know to ship your car
Whether you're shipping your car across the country or across the state, how you go about this process will affect your final cost.
1. Decide how you want your car delivered
Your pickup and drop-off method often affects the cost of shipping your car.
Terminal-to-terminal car shipping: This type of transport requires you to take your car to a designated drop-off location and pick it up from a predetermined pickup location near your destination. While this is often the less expensive option, you'll need to make arrangements to get to and from each terminal location.
Door-to-door car transport: Probably the most convenient option, door-to-door shipping means the carrier picks your vehicle up from your preferred location and delivers it to your final destination. Because it involves extra time on the road for the driver, this shipping method tends to cost slightly more.
2. Determine what type of carrier you need
Most auto car shipping companies let you choose between open transport and enclosed transport.
Open car transport services: Most people choose open transport carriers to take advantage of cheaper rates and more flexible shipping. This kind of shipping does expose your vehicle to damage from debris and the elements, but the risk of damage during transport is very low.
Enclosed car transport services: Enclosed vehicles can cost up to 50% more due to limited space on the carrier, so this is a better option if your car is highly valuable — e.g., if you're shipping a classic car.
3. Find out how much it will cost (in writing)
Pricing is a crucial part of the car shipping equation. Since prices fluctuate throughout the year, securing a shipping estimate in writing is critical.
Here are some considerations when looking at quotes:
Insurance: A reputable shipping company typically includes insurance in its quote. Make sure you know whether the company's insurance is primary or secondary to yours, and see if your personal insurance company covers any damage during shipping.
Shipping rates and fees: Some companies charge by the mile. Rates are often lower if there are multiple cars going to and from the same cities.
Delay policy: Ask whether the company refunds some or all of the shipping cost if the automobile is delivered late.
4. Schedule when your car will be picked up and delivered
Scheduling your car transport service around eight weeks in advance lets you be more flexible and can lower your shipping costs.
The more flexible you can be in general, the more you save, but as one ConsumerAffairs reviewer, Dawn from Florida, mentioned, "It's a little scary waiting until the last minute to know for sure if they're gonna pick it up, but that's just how the industry works." Consequently, a lower cost may mean you won't have a firm time for your car's pickup.
» MORE: How to ship a car
FAQ
What is the cost for in-state vs. out-of-state car shipping?

State-to-state shipping costs usually don't differ from in-state shipping costs. Factors like distance and time of year affect your shipping cost more than whether state lines are crossed.
How does a car shipping company determine my price?

A shipping company determines the cost to transport your car based on the size of the vehicle being shipped, the distance involved, the type of carrier you want, the time of year and how quickly you need your vehicle to reach its destination.
Can you put stuff in a car when you ship it?

Most shipping carriers strongly prefer that you don't ship a car with items in the vehicle. Those that do allow personal items in your vehicle often have a weight limit (usually about 100 pounds) and charge extra for anything above that.
How do I prepare my car to get shipped?

Take before-and-after photos of your car from all angles in case it's damaged on the trip. Edmund Wilson, a public relations specialist with DRG Solutions, a company that specializes in many types of shipping, recommended removing all exterior accessories and checking your car alarm, "If your car has an alarm, be sure to disable it as well as deactivate your electronic toll pass (if applicable)."

Also, ensure your emergency brake is working. "It's possible that some car transportation companies may refuse to transport your vehicle if your brake doesn't work," Wilson warned.
Did you find this article helpful?
|
You're signed up
We'll start sending you the news you need delivered straight to you. We value your privacy. Unsubscribe easily.