Consumer Complaints and Reviews

I had the worse experience with Penske on 5/7/17!! Let me start at the beginning. I rented a 22 foot truck going long distance and when I left the place, the truck immediately was losing power and shaking. I turned back around to the location in Greensboro North Carolina to inform the guy this was happening. He tells me this is normal for a diesel vehicle, not knowing that I have a CDL and I have drove commercial vehicles that require diesel fuel and this is not normal!!! But he is adamant that it has to do with diesel and once I get going and driving at a higher speed this should not continue. So I proceeded (which I should not have BIG MISTAKE) to my POD to load the 22 foot Penske truck. It still did the same thing, the truck was losing power and it was shaking.
I called customer service to inform them of the situation, at this point I'm in Virginia. I have to wait for a service guy to come out which I was told would take 70 minutes which ended up being longer than that. The service guy/mechanic gets there, I ask "Are you going to get in or drive the truck so you can see it's losing power and shaking?" He informs me that no he will just follow me and he should be able to tell that I'm losing power and the speed it drops to!! Now I'm not a rocket scientist and I wasn't born yesterday but driving behind me you can actually tell the exact speed that it drops to, losing power and the vehicle shaking, THAT'S BS!! Why the mechanic did not get into the vehicle. I don't know but he proceeds to tell me that his shop is only 8 miles up the road, while I've been sitting here for over 70 minutes waiting and your shop is 8 miles up the road. What the hell!!!
Get to the shop he still never drives the truck, all he did is hook it up to a little black box and says "Oh, nothing showed up and let me call Penske to see what they want me to do." He says Penske said just get back on the road, REALLY even though the truck is losing power and is shaking and I'm driving long distance from NC to Ohio with a 22 foot truck through the mountains!! To top it off the mechanic tells me all of this is NORMAL for these type of trucks to lose power, down to 45 mph which is a bunch of BS!! So I get back on the road and the truck still continues to shake and lose power throughout the whole trip.
I called back customer service to let them know I am still having a problem with this truck and it's a hazard and dangerous when you have a flow of traffic that at some point going 65 mph to 70 mph and all of a sudden the truck am in loses power and it starts to drop to 40-45 mph. The guy on the phone tells me well I could pull over again and wait for service guy to come out, I don't have this it do, to be told more BS!!! No thank you!! This trip was supposed to be seven hours, this trip took over 10 hours!! Ridiculous and unacceptable. So I guess since I'm a female and I'm telling you the truck is losing power they don't seem to take it serious and think it's a big deal!!!
I finally made it to Ohio, by the grace of God!!! I call Penske on 5/6/17, to explain the horrible experience that I had driving long distance with your truck!! The guy of course apologizes because when you're providing customer service that's the protocol. But didn't seem to get that I should be compensated in some way for the inconvenience. Keep in mind I have rented trucks several times from Penske and didn't have any problems!! He says, "Well I could take off $75.00, which is taking off 25% since you already received 22% off having AAA/using a code off-line!!" Wait a minute, this was with no issues, no problems and no inconvenience!!! So to me this was the ultimate slap in the face your 25%!!!
Then he kept asking me, "Well what do you think is fair?", so I threw it back on him, "What do you think is fair if this was someone you knew, a family member or yourself that experience this, what would you do???" He says "Well I can take off another $25 which is a total of $100 being taken off!!!" Then he asked "Well is this fair?" It's not a question if it's fair, the question is what is the right thing to do if someone has experience something like this!! I get things happen but for Penske to downplay the situation and the severity of a truck losing power, is unacceptable.
The bottom line is Penske YOU DROP THE BALL!!!! If I could have had another company bring me a truck, I would have gladly unloaded the Penske truck and left it on the side of the road, this is how bad the truck was driving!!! I am leaving this comment/review because I do not want, (especially a female) to go through or anyone else renting a truck, especially long-distance, to experience this. I will NEVER USE PENSKE TRUCK RENTAL AGAIN!!!! Terrible experience.

I purchased a company that unfortunately leased Penske trucks and trailers. Penske will only lease to you if they can draw the payments directly from your account (ACH) so they can charge you anything they want for "damage". I have been around the truck and equipment business for 25 years and one thing I have learned is that trucks break. It just happens but to Penske everything is damage. I just had a truck break a drive shaft. The truck is an automatic and was on dry roads. We were hauling 47,000lbs. Well within the 80,000 gross the equipment is rated when the truck shifted into 3rd gear it broke. To me and all the truck shops that I talked to this just happens but to Penske it is damage due driver error.
Michelle ** the operations manager for Penske Reading lied to me and said my driver told her he was stuck in a snow bank. When I called her out on the lie she admitted that she lied and that she just heard being stuck can break a drive shaft then they tried to take 2,000 from my account for that repair. The trailers are about 9 years old and the wood floors are starting to rot but to Penske their wood never rots (if I had the secret to this I would sell it and be a very rich man) so everything that happens to them is damage.
They told me that they have an "expert" look at it and it's damage when we get a hole in the floor because we overloaded it. I can guarantee that expert has never seen any of my loads or has any idea as to how much we haul. So I stopped the ACH payment and sent them a check for the legitimate amount but that is not good enough so they sent District Manager Brian ** to threaten me that I am in breach of the contract and their attorney will attack me.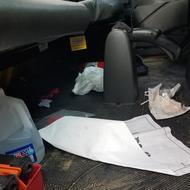 Never again will I rent Penske. I chose to use them because I thought they had more reliable equipment than Uhaul. I have used Uhaul 5 times in the past 6 years and never had this many issues no matter how minute. I had to drive 4 1/2 hours with no damn A/C. When I roll down the windows I have someone else's trash, cig butts, coffee cups blow around. No wash fluid. Inspection done wrong and incomplete.
I contact district office and all they want to comp is cleaning fee of 30$ because they say they can't prove the things were wrong. I said, "Can't you call the Home depot and verify the A/C is not working." They said, "No, it would have needed to be shown on the inspection report that you already stated was incorrect from the LA Home Depot." I cannot believe this garbage I have to eat the cost of this because the Home Depot didn't do their damn job. Save yourself time, energy, comfort, and money (because Penske costs A LOT more) and rent Uhaul.

I've rented a truck for one day and made sure I filled the gas to the top before return. The company charged me $407 and charge for refueling. I showed them the receipt and said they would credit me, and week later I still don't see any credit. I see why customer don't have anything positive to say.

I'm an independent trucker and last week my truck broke down. I had to rent a commercial truck tractor to complete the delivery of the load I was hauling. I called the Penske office in Pensacola, Fl. and after making sure that my truck's towing and repairs were properly scheduled, I went to the Penske location to get the rental. Because it was my first time renting a commercial truck from them, I had to leave a deposit of $5000.00 over and above the cost of the rental. Four days later I returned the rental to their location in Mobile, Al. which is where my truck was towed for repairs. I had to check in to a hotel until it was fixed, and I was relying on the $5000.00 deposit being returned to my account so I could pay for my repairs when they were completed.
A couple of days passed with no reimbursement so I called the Mobile office and they explained it would take a few days to process, and I would see the funds returned by then. I waited four days with no refund and started calling both offices for an answer. Now I was told a check would be mailed to my residence and I should see it in the mail in a few days. I asked why they didn't just return it to my account and was told this is their procedure. That's not what I was told initially! This sounded like a stall tactic to me so I decided to call their corporate office in Reading, Pa. I told them my story and they said it had to be handled by the original office in Pensacola. So they weren't very helpful. At that point I was convinced that they were going to hold onto my deposit for as long as possible.
I know this situation probably only applies to commercial rentals, and the average consumer may not need to leave a deposit. But just because I own my equipment doesn't mean I'm made of money. That deposit put a massive strain on my being able to pay for operating expenses and the repairs to my truck. Small business that are close to the edge of losing their business, can be pushed over the edge by situations like this. I hope I never find myself in this position again. If I do, at least I wouldn't be a first time commercial renter with Penske and wouldn't be subjected to the deposit, but I would caution anyone else to expect waiting for your reimbursement a long time. And maybe shop around for a company that doesn't have that policy.
How do I know I can trust these reviews about Penske?
766,190 reviews on ConsumerAffairs are verified.
We require contact information to ensure our reviewers are real.
We use intelligent software that helps us maintain the integrity of reviews.
Our moderators read all reviews to verify quality and helpfulness.
For more information about reviews on ConsumerAffairs.com please visit our FAQ.

Three weeks ago I purchased a used 26' reefer truck from Penske from their Miami/Medley office. The process was supposed to take 10-14 days. It took over a month a half. When I asked what the delay was they kept giving me excuse after excuse. I inspected the truck and found minor damages that they fixed. I used the truck locally for over 2 weeks and it was running fine. On my first trip away from Miami, I was traveling to Orlando, Florida, the truck broke down and would not start. I had to tow the truck to a repair shop were they informed me that the DPF filter was too clogged and the regen system could not work properly. They informed me that this filter gets clogged around 280k-300k miles. My truck has 304k miles. He said it had not regened properly in quite a while.
I remember asking the maintenance supervisor Robert what the delay was in getting me the truck because I noticed a weird smell like fumes when I went to inspect the truck. He said nothing was wrong and that I picked a great truck since this one DID NOT HAVE A DPF SYSTEM. I truly believe that they were aware of the damage to the DPF filter. Penske says they are not responsible because it's been over 2 weeks since the purchase date. The repair cost is over 3k plus I'm already out almost 1k between the tow and the cost of being broken down in the middle of nowhere. Use them for rentals but for purchases beware! I purchased from Penske because they offer maintenance records and have their own shops and are supposed to be reliable. At the end of the day they should be considered as any other truck dealership, they need to sell trucks and will screw you if possible!

My sister rented a truck from a Penske agent on ward rd. In Arvada, Co for me to drive her belongings to Virginia. We began our trip and before we made our first fuel stop we had three warning lights and a message saying warn engine. After my sister and I agreed with Penske to drive to Salina Kansas over 200 miles where we would stop for the night and they had a mechanic. We pulled into Salina about 11pm and fueled up again. When we started the truck it said stop engine with all the same lights on. The truck had just enough power to pull out of the way at the gas station. Penske sent a runner about 11:30pm to take us to our hotel. We saw the mechanic before we went to the hotel and it was agreed with the mechanic that he would drop off the keys at the front desk when the repairs were completed.
At 7am my sister picked up the keys at the front desk and we drove just far enough to get stranded on the side of the highway about 15 minutes out. After a phone call to Penske they said the mechanic wasn't done with repairs, so why did he leave the keys at the front desk without even a note. We waited on the edge of the highway in Kansas for repairs a little over an hour. We got back on the road all the lights were off so we were excited to get this behind us and finish our drive. We made it to Kentucky before the same warning lights were back on. We once again agreed with Penske to drive to our hotel that we had booked in Tennessee.
We made it there and the mechanic that came out said it would have to go to the Penske shop. In the morning we took the truck to be repaired, three hours later it was ready to roll. We left for Virginia to finish the last leg of the trip. It wasn't too long before the same lights came on the dash. We finished our trip thankfully. When Penske got their truck to the shop they said we filled up the def tank with diesel fuel. We never touched the def and besides the diesel nozzle is bigger than the def filler hole. You'd have to be a half wit or less to make that happen.
Long story short Penske is calling us liars saying that we put the diesel fuel in the def tank and the repairs are on us unless we can prove it wasn't us that put the diesel in the def. They are unwilling to investigate the true reason the diesel was in the def. They just want to pin the repairs on somebody because it's easier to close it this way than to know the real reason. Penske found their scapegoat now they don't have to care about their small customers. Penske is threatening to ruin my sister's credit because they are going to send this matter to collections.
Penske is an unscrupulous company. I don't know how they're still in business obviously not because of their support for the little guy. What happened to customer service? I will take every avenue to make sure this doesn't happen to anyone else. Unfortunately I doubt I'll even have an impact, if I could save just one person from the crap Penske has put us through then it's worth it.

Rented 12 inch truck keep getting 16 inch truck that couldn't run. I am wanting my money back from my last 2 purchase on truck rental in Indianapolis location. Truck was aligned wheel. Truck ran very horrible and when I drop truck off me and staff the member at location in 37211 on Nolensville Rd. didn't a receipt from purchase, was very rude and was serving friends in front of staff not providing correct customer service. I want my money back from that horrible service. I spent over $1,500 for those service.

We would typically handle this situation the correct way by contacting Penske directly and speaking with management, but it is not possible to find those direct numbers, so here we are putting this out there for the whole world to view. We own a local moving company in the Central Florida area and we actually have a commercial account with Penske that has spanned several years. We're not Penske's largest account by any means, but we have used them often and had established some fairly reasonable commercial pricing.
On December 23rd, 2016 we were in Daytona Beach on a big job when we realized that we needed an additional vehicle to transfer some items 60-70 miles back to our home base of Orlando, so we were in search of a small 17' truck early that morning. After checking with a few different places and Penske competitors we came upon a corporate Penske owned shop that was open early and requested pricing. At this point in time we were desperate to find a vehicle and this location had one that was available right then, which was great. What wasn't great was the PRIDE the rental agent took in sticking us with a $600.00 bill to transfer this truck 60 miles for a one day rental. We attempted to explain that we were a commercial customer and had an account with them but this lady was bound and determined to stick it to us 2 days before Christmas and there was no negotiating with her.
We accepted the vehicle because we had no choice at this point, but we left their property with a nasty taste in our mouths and the realization that we had just gotten completely price gouged... Again, 2 days before Christmas! Way to stick it to a returning customer Penske! We will not be renting from Penske ever again because we don't do business with scammers!!

Rented a truck from them and got down the road and had a flat. Turns out Penske left a foreign object in the tire and didn't replace it. We then were responsible for replacing a 600.00+++ tire that they failed to fix earlier. They will stick it to you!! They say their calls are recorded but cannot verify information I was told to do. Was told to return the old tire by their roadside assistance and we did so along with someone signing for it. They also require you to return the semi truck back to where you rented it unlike some other rental companies. Therefore you must drive hundreds of miles to return it and are out hundreds of dollars more on the rental.

Truck was refilled, 1/4 a mile away from dropoff Penske. We were charged additional $32.58 on credit card. Called, and you don't just fill it till it's auto shut off, it has to be till you see gas, or it's not considered full!!! At $10 per gallon they charge to top it off, BE AWARE. Upon quote, was told they had plenty of free rope at p/u point. It's not free! Now, knowing that, I will use Penske if a truck is needed again. Great customer service, good price, unlimited miles, their rental is for a 2 day compared to other companies 1 day quote. Had an reservation with Budget made a week earlier, had email confirmation. Called the day before to find out what time p/u location opened, just to find out, they did not have my truck and would not for a week. Was told several people in same situation. They did not even warn me, I just happened to call the day before. Budget obviously does not guarantee.

Last time I will use PENSKE. This location is a bunch of thief. I booked a 16' online for four day and was quoted ~$249 on PENSKE website. When I arrived to pick up they stated it was $319 +.79 per mile. After returning it is thought all was good until 3 weeks down the road I was never refunded my deposit. When I came to the store to confront them about it they said it was because we had to charge you $25 to clean, $8 for environmental fee, $8 for licensing recovery, and $194.40 IN GAS!!!
I know that we cleaned the vehicle out it if anything there were maybe a bottle of monster or two and some dirt in the carpet which is normal use... as for the gas I know we did refuel the truck so if anything there were maybe a few gallon from fuel spent from driving to return it. But still $194.40 is crazy when gas is only $2.19 a gallon. All in all I was charged $425 over the actual cost. To top it off these guys were rude and just seem crooked. I've used PENSKE for years because they support Veterans but no more.

I have now used this company 3 times. Each time I was a wreck from the pressures of moving. Every time they fixed whatever problem I had, came up with creative solutions and were patient and kind with my nervous behavior. They will be my truck people for every move I make. It was a wonderful experience.

I had rented the Penske 26' truck before reading the reviews so I was horrified to start off. I found the staff in Apple Valley, CA very helpful. The truck was almost new with only 16000 miles. It weighed in at 37000 lbs total and I was pulling our small 2000 lb camper. I headed west from CA on I-40 and from there to Winslow, AZ averaged 7 mpg (my MPG is all calculated). I knew that route would be tough on the MPG for obvious reasons. My next fill up was around Amarillo and we averaged 11 MPG. I was ecstatic. I am a big fan of the Cummins diesel and this rig was powered by the Cummins 6.7. It was a little slow going up the grades in AZ and western NM but from Winslow east it was a breeze. The driver's seat isn't real comfortable but I am used to driving like I am sitting in my La-Z-Boy at home.
Don't know about the passenger's seat. The ride was comfortable enough as far as road conditions and noise goes. The cruise control was a definite plus. I-40 through AZ can be very rough. Depends on whether you are in the left or right lane much of the time. So... so far as a moving experience goes the truck and Penske crew were right on.

This is a very deceptive company. First, keep in mind Penske is acting here as a broker only. They are using their name only to get you to agree to pay them hundreds of dollars in brokerage fees to hire some small time moving company to move your furniture. They will quote you a low ball estimate based on a square footage estimate of the items you are moving. It is extremely unlikely that this estimate will be what you will end up paying. Once you agree to the broker/booking fee they will keep the money within a few days of booking, even if you decide to use another company later.
The company that Penske used was called Most Valuable Movers, based out of New Jersey. I cannot say enough bad things about my experience with this company. They told me they would show up in the early afternoon. They didn't show up till 7 pm that evening and worked till 2 am loading furniture. After the truck was 3/4 loaded I was told I would have to pay several hundred dollars more than my estimate to load all the furniture I had mentioned in the estimate. I had no choice at this point but to not ship some furniture I had originally counted on shipping.
I was told in writing that it would take 7-10 days to get the furniture shipped to its destination 2000 miles away. After waiting nearly a month I was told that what I was given in writing by the driver/loader was wrong and that the company had the right to ship my furniture within a month. When the furniture arrived several pieces were missing and damaged. I was told I could file a claim for partial reimbursement of the estimated value.
What I later found out was that 3 separate companies were involved in the move, The first "Most Valuable Movers" loaded my furniture and transported it to their warehouse in New Jersey from Boston. The second, reloaded it into their truck and transported it to Colorado. The third reloaded it into their truck and delivered it locally to Durango Co. During this process, various pieces of furniture will inevitably get damaged and misplaced. Again. Don't be deceived by the name. Penske only wants a booking fee from you and they will low ball you with an estimate just to collect that fee. Once they do you're at the mercy of smaller companies like Most Valuable Movers who have awful reviews and who reserve the right to charge you much more than what Penske quoted you upfront once your furniture is loaded.

I recently bought a 26 ft. box truck from Penske for $23750.00. I wish I had looked into reviews from other people first as I usually do with other products. I didn't because I trusted Penske. I had problems from the beginning with it not starting, problems with the pollution control device, which they did repair free of charge. The problems continued almost every time I took the truck out. Finally within 3 months it started using a lot of oil, they said to get an estimate of what the problem is and they would see if they could help repair it.
My mechanic said the engine needed rebuilt, to the tune of 13,00.00 dollars, that oil had been blowing around the valves for quite some time. When I purchased the truck they assured me they go over them to make sure there are no issues. One of their employees who was trying to talk me into a maintenance program, told me they sell their highest maintenance per mile vehicles. I believe Penske sells trucks they know have design and mechanical issues. Never again, buyer beware.

I bought 16 foot box truck from Penske in july 1, 2016. I used that truck not even 1000 mile and suddenly drive shaft was broken. I called them but they refused to help. It looks like "you buy you die". I spent $3700 for repair. My mechanic said whole rear end was broken, they didn't even change rear breaking pads. So it was not a new problem or because you used about 1000 miles. That problem is from the very beginning. Penske don't really check their trucks before they sell them he said. On the other hand they usually sell lemons to people. They didn't even ask me if I would take extended warranty, they gave only 15 days as warranty. Now I am looking for a good lawyer for helping me. Now I am telling everybody do not buy from Penske. Does anybody advise me a good lawyer in new york city? Thanks.

Let me begin this review by stating that, overall, my experience with Penske was fairly favorable. The moving truck that I reserved and ultimately used was in great condition. However, the trailer that I used to tow my car from Maryland to Houston, Texas was subpar. While my brother and I were trying to figure out how to hook the tires straps onto the front wheels of the car, I noticed, written in yellow paint just above the right rear trailer tires, the words "flat tire". I didn't think much of it because we were already behind schedule with leaving to begin the trip. However, we didn't get any further than Interstate 295 just before the BWI airport exit before my other travel partner urged me to pull off the road because he noticed something weird with that same tire that had the yellow words written above it. Needless to say, when we pulled off the highway and onto the shoulder, the tire was shredded. So, I proceeded to call their roadside assistance.
The representative was very helpful and I was told it could take up to about 2 hours before a technician would be able to come to where we were. However, it only took about 45 minutes before the guy showed up. Here comes the fun part: once the roadside assistance guy took the wheel off of the trailer, not only was the wheel and tire loose, the rotor wasn't even secure on the rear hub. And, upon further inspection, there wasn't even a brake pad in the rear brake caliper!!! I also noticed that that same tire was rubbing up against the inside of the trailer frame (there was a clearly visible black groove where the tire was rubbing against the trailer) and I could hear a grinding sound whenever I made a turn to the right but I couldn't figure out from where the noise was coming... until this incident.
Not only was my and my passengers' lives in danger, also the lives of other drivers near us were at risk of being lost due to Penske's poor equipment maintenance practices. Because of this gross oversight on Penske's part, they arranged for a replacement trailer to be delivered to where we were. The second technician who came out was thorough and professional with his service and in about an hour to an hour and a half, we were on our way back on our journey. However, at this point we were already about 4 hours behind schedule. I don't mind that, in the grand scheme of things, because our lives were spared solely by the grace of God.
After that, the trip went off without a hitch. That is, until it was time to return the equipment. When my brother attempted to re-hook the trailer onto the truck, the trailer jack that's used to line it up to the truck's level no longer worked. So, once again, I had to call the roadside assistance line. I was told that the driver was about 15 minutes away but it took him more than an hour and a half to get to my location. Not sure why that is but anyway... within a few minutes of his arrival, the driver was able to not only lift but also secure the trailer back onto the truck. After he was done, he gave me the address to where I was supposed to drop the truck and trailer off, which was different from the address in the contract. I was okay with that because technically, it was closer to my current location. So, we finally dropped the truck and trailer off at the main Hub in Houston and were on our way.
However, when I went to check my bank account for a completely different reason, I noticed a $160+ charge from Penske. I quickly got them on the phone after making the startling discovery and learned that, because I dropped the equipment off later than the original agreement, even though I explicitly expressed to the roadside assistance rep the issues that I was facing w/ the equipment and largely due to no fault of my own, I was charged an extra day. When I explained this discrepancy to that particular location's manager, he was quick to provide a viable solution, which included an approximately $135 refund.
While I made it safely to Houston, I'm very displeased with the quality of the equipment that I received and would like to speak to someone from corporate about this situation. Because, as previously stated, my life was at great risk and in a largely avoidable way that was clearly due to gross negligence on the part of the person who's responsible for inspecting the equipment BEFORE it's rented. Because of Penske's fairly rapid response time to equipment issues, I might consider renting from them again for any future, larger scale moves.

As I write this review I am in tears. My fiancé is driving a 26' truck with a car trailer and 3 dogs from Puyallup, WA to Mississippi with everything we own in it and the truck runs awful! He has been driving for 2 and a half days and he is still in California. They sent someone out to him yesterday and he changed the fuel filters and said it was fine but it's not. So today they had him drive an hour of course to their facility and changed a forgotten third fuel filter and said it was fine but that it was overweight.
No one ever told us that we should weigh it! For that matter no one even told us how to drive it and it is HUGE! They asked us how many rooms we were packing and what kind of car we were towing and they recommended this setup, so we rented it. I'm sure the people at the rental facility were just following protocol. Penske would rent these to anyone with a license and a credit card (not even sure about the credit card). We expected them to be the experts and followed their advice. We were a little alarmed at the size of the truck with no (at least) brief training. There are a million dash lights, air brakes, etc. The truck is misfiring and shaking, but mostly only until it drops below 3/4 of a tank of diesel. This sure seems like a truck engine issue. Why only when it is full of diesel???
A very nice customer service girl at Penske tried to help us, but they are not allowed to think outside the box! The only solution we were offered was to rent a second truck (at a discount) and hire someone to drive it to Mississippi. What??? Really??? I asked if we could park the truck at one of their yards, drop the car, return the car trailer and drive the car to Mississippi and fly back for the truck (which should not be overweight anymore) and they could not do that for us.
So, he is driving this truck the way it is. I am a wreck, so is he I think, the dogs will be in the cab of that truck for many extra days due to the travel time and then they will most likely charge us for the extra days. If it even makes it! I called several places and talked to diesel mechanics and they all said that that truck should not be running like that even overweight. People evidently drive them a lot more overloaded than that! I didn't even mention about how they didn't have the hand truck or 42 packing pads we ordered and didn't tell us until we picked the truck up. I am very disappointed in Penske. We will never rent from them again and will tell everyone our story!

I reserved a 22 ft truck, 24 pads and a dolly, for a one way rental from North Carolina to Maryland. The night before my pickup day they called and told me they had no pads. I had to drive 1 hr to pick them up from another store the next morning. When I arrived to get the truck they told me they only had a 26 ft truck. I didn't want a larger truck since I'd have to pay for the extra gas. When I accepted the larger truck, since I had no choice, I loaded it and found out, when it started raining, that the windshield wipers were crap.
I could hardly see and had to drive 40 mph when it rained, which it did for most of the 8 hr drive. In addition the seat was so worn out it tilted at a 30 degree angle and killed my back. When I unloaded the truck I found out the van roof had leaked water on my teak furniture and mattresses. I told all this to the Home Depot folks when I dropped it off. I complained on the survey I received by email from Penske. No response. Don't rent from Penske.

Glad I didn't read some of the poor reviews prior to renting a truck. I had to move my daughter from NYC to Philly. The truck was great and the service (thank you Jake) couldn't have been better. In and out in 10 minutes. Though the facility on 141st st. was out-of-the way for me, it was totally worth it.

Absolutely horrible customer service. Penske charged me on my credit card 2 months after we returned our moving truck. They provided no notification of this charge and were very unwilling to provide information. Penske truck rental is dishonest and they concoct charges to increase customers' bills unethically.

This is more of a FYI about Penske Truck Rental. I rented a 26 foot with a lift gate to move from So Ca. to Idaho Falls area, after checking pricing of a another truck rental co, and knowing there was NO drop off close to where I was moving too (2 hrs back to Logan Utah), and that it could carry 6000 lbs more than the "other company's truck" and with a lift gate I went with Penske. The truck was in good shape. The seat was comfortable for the drive. I knew that it was going to be a slower drive up there (in a car you can make it in about 12 hrs) but what I did not know was how slow it was going to be! Being fair it did have a good load going, the part that I did not know was, going up any hill over 2% grade and of any length was a SLOW ride. It took 18 hrs to go 950 miles that is a 52.75 MPH avg and it did get about 7 to 8 MPG so about every 4 hrs stop to fuel up and go at it again.
The Penske Truck Rental store here in San Diego people were very nice. The truck was ready the afternoon before the day I was rent it at no extra charge. In short there is no fast or cheap to move! Penske truck was slower than I thought but I have another very heavy load to take and I will use them again because self-moving trucks with lift gates are hard to come by when moving welding tables that weight 600 lbs and other very heavy stuff. O/A 3 1/2 stars.

I am writing this review to provide other consumers with insights on my experience moving from the Atlanta area to Central Florida via a Penske Truck Rental. I secured my rental of a 26' truck via the website, which was a good overall experience. I would have preferred a lift gate and gas but ended up with a diesel and ramp. Not a big deal except diesel fuel is horrifically expensive these days and the truck gets about 7 MPG. The trip of approx 500 miles cost me $152 in fuel. The truck rental including $75 insurance, tax, and discount came to $912 for 3 days unlimited mileage. BTW, rates are definitely cheaper in the spring. We had received a number of verification texts from Penske confirming the rental day, time and location for the two weeks before the move.
The facility was a You Ship It type business in a strip mall in Hiram, GA, west of Atlanta. The people were very nice and even opened the store 30 minutes early for me to get the reserved truck at the requested time. Check out and payment was quick and easy, and I was on my way in less than 20 minutes, including inspection. By comparison, trying to open a US Post Office box was a bigger pain in the neck. The truck was quite new and in good, clean condition. So far, so good. Again, would have preferred gas over diesel but Penske obviously delivers trucks to this location, so they don't have an inventory on site.
The diesel has a remarkably SLOW rate of acceleration. Noisy, nasty, but lots of torque for pulling heavy loads. Diesel fuel runs about 20-30 cents a gallon more than gasoline. The Penske website tries to sell you on diesel with a comparison chart that suggests diesel gets 8 mph and gas only 6 mph, suggesting better fuel economy. Do you really believe that? Maybe under certain circumstances. But then they use the price per gallon as $2.37 per gallon for diesel (pretty close) and $2.23 for gasoline. BUSTED. I don't know where you live but in the southeast (AL, SC, GA, FL) the average prices are more like $1.91- 2.15 for a gallon of gas. Of course prices and conditions vary but keep in mind Penske does not offer gas (as far as I could ascertain) vehicles for the 26-foot truck, so this comparison is a little on the disingenuous side.
But once you are on the interstate and cruising (the truck did have cruise control!!) the vehicle is OK. And the longer the vehicle runs the more well behaved it becomes. Still if you are not familiar with diesel performance and characteristics, it will take time to adjust (Don't forget to not start the engine before letting the ignition system warm up. Turn the key to the first position and wait until the beeping and the six hundred lights on the dash stop sounding/flashing before starting the engine. Best to let the truck idle for a few minutes to warm up the engine).
OK, so I get to the storage location to load up. I had friends coming to assist at 9 am, and I had to be in Savannah (260 miles away) that evening. Truck took A LOT to get used to, especially being a diesel. More on that in a moment. So I go to pull out the ramp (again I wanted a lift gate but didn't have time to quibble) and the ramp only pulls out about 4 feet and jams. I tried multiple times to slide it in and out with no success. In the meantime my help arrived and now I am behind schedule and wasting others volunteer time.
I called the place I rented it from and the referred me to the 1 800 Roadside Assistance number. They answered promptly and were very friendly and efficient. They said they would call me back in 5 minutes and they did. A repair man was dispatched to the site, and I was advised it would take up to 90 minutes. He arrived in less than an hour. The rails the ramp slides on were bent in and corroded. He repaired the unit in under 30 minutes and we were back in business. The rest of the trip was uneventful and truck return was quick and easy. However this is a large truck AND a diesel. I experienced what amounts to a chiropractic back adjustment as this truck communicated every bump, nuance, and irregularity on the highway. And it is noisy. You wouldn't expect a great ride or quiet. But I have driven similar trucks in the military that were much better behaved.
Further, I have rented large trucks from U-Haul and moved household goods and cars hundreds and thousands of miles. This one was the worst I have ever experienced. I haven't driven a large U-Haul in the last 5 years so I won't venture a direct comparison, but I recall they have a advertised air cushion ride. Further, my memory of my U-Haul experience was generally more desirable. Keep in mind while most my drive was on Interstates (20, 75, 16 & 95) it was still nasty. The roads around Atlanta were painful to endure in this truck. However, once running on the flat roads of I 95 in Florida, it wasn't too bad.
So, with all that said, you might ask "Why didn't you rent a U-Haul?" Simple: money. Penske was hundreds cheaper than U-Haul. I called U-Haul to shop the Penske quote and try as they may, I didn't get close. Budget was WAY cheaper than both but did not come close. My son in law fared better months earlier, going from Atlanta to Dallas, and U-Haul really beat Penske's when he shopped the quote at the national toll free site. Again, U-Haul didn't come through for me.
So, in summary, Penske was cheaper but the truck was brutal to endure over most highways. My suggestion is to shop early and often until you find what you are after. If you are moving anything that isn't sensitive to road surfaces, then Penske could be the best bet. But you may be better off with a gas driven U-Haul with a lift gate for household goods moves. This is definitely true for expensive furniture and personal goods.
One final thing, give yourself wiggle room on pick-up date/time. Renting at a large lot that has many trucks to choose from offers replacement options if your truck is a dog. Check the ride, rear door, ramp, or lift gate for satisfactory operation. That way they can effect repair or provide replacement vehicles on the spot. I needed the truck immediately and had a tight schedule, which is toying with disaster. Thankfully, I had a successful move.

Do not rent from this company. I have three complaints. Firstly, they charged an exorbitant amount for "loss of use" while repairing a dent in the roof. They charged four weeks of extra rental for something that was probably fixed in two days. Secondly, when I told them that I would file an insurance claim for the repair charges they charged over $3000 to my personal card instead of billing to the insurance company. Over a month later and I still have not been reimbursed by Penske or my insurance company. I believe that Penske knows that the insurance company would argue down the overpriced fee, and so they thought they would get the full amount from me. Thirdly, they went ahead and charged a fifth week of rental, which they claimed was a "admin error".
At this point I do not believe that they act in good faith and are trying every trick they can to get more money out of me instead of going through the proper channels with the insurance company. I have already filed a fraud dispute with my credit card to try to get this money back, and I will not be dealing with Penske ever again.

** is a charity that helps bring entertainment to our military veterans. In moving to larger facilities, we reserved a 26 foot Penske truck in late May. We specifically asked for and was told we would receive a ramp and not a lift-gate. Even the night before picking it up, they called our director and said the unit with the ramp was not available at the original pick-up location and if he didn't mind driving to the next Penske location, a truck with a ramp would be waiting. Our truck came with no ramp but with the lift-gate and with no instructions. The truck also had extensive ignition problems (it would not start three times while on the road). We then had a nasty accident with their lift-gate when our director had his right foot severely crushed.
When returning the truck, he asked if he could fill out an incident report. The Penske manager told him they didn't have any. When they were asked to please call or email up the chain of command to report the crushed foot, he replied, "Even if I did, corporate wouldn't do anything." Found out after the fact the lift-gate may have been broken from the start. Two weeks later, part of our director's right foot had to be amputated as a result of this accident. But we do credit Penske with showing concern. Five minutes before our director was sent into surgery, a representative called him and asked what he "wanted." We are totally disappointed in Penske.

They say that we will have a truck and most of the time you can't count or rely on them at all. I tried to rent 4 trucks and I did not even get 1 truck from them, saying that "sorry we are overbooked" and this is not the way of doing business.

I spoke with Craig ** - very pleasant, very informative. He gave an extremely decent quote, compared to their competitors. I was informed that a truck would be waiting for me on the date requested, and at a location to our liking. I will remain positive - another family member made an across country move, and were very satisfied. I will base my review upon my arrival experience. As of now, I am highly satisfied. Thank you Craig!

This is not the Penske of years ago, with quality trucks and decent customer service. They just closed the Mom and Pop dealer in town, and now I have to rent through the idiot savants at the Home Depot tool rental department. When I picked up the truck, they were too lazy to do a walk through with me - they told that "it had already been checked out." Midway through the trip it started to rain, and the cab leaked so bad over the seat backs, it was if it didn't have a roof. We both got a cold drenching. When we arrived only 45 miles later, our shirts were so wet we wrung them out.
Called Penske, told us to drive 20 miles back the other way to get a new truck, which we would have to unload and load ourselves (the truck was full). On my return to Home Depot, it literally took an hour to try and check out, and the Depot computer program is so screwed up, they couldn't close my account unless I paid them even more money, even though I had a refund coming. The rental was put on a corporate card when rented online - a card not in my possession.
The mileage was over the estimate, the days fewer than estimated, and the "deposit" processed on the credit card way more than the estimate or the final bill. They owed a refund of $91. However, before they could close the account, they wanted me to charge $58 on my personal credit card to pay for the extra mileage, which they would then transfer to the corporate card in order to give a refund of $150.
It's been several days, and they flatly refuse to close the account and give a refund, much less give any sort of credit for the faulty vehicle they shouldn't have allowed on the road in the first place. Budget and U-Haul have crappy trucks but good service. Penske used to have good trucks, but whoever bought them out a few years ago has run them into the ground. I never had this kind of problem with the old place, although I did show up a few times to find they had lost my reservation and had no truck for me. But now having to deal with Home Depot idiots clinches it. Run, don't walk to find another company.

I just got rip off by Penske and will never use them again! Their customer service is medieval, their trucks falls apart, their price is double of the market for truck rental. I rented a truck from Penske today without lift gate which can cost around $80 to $100 from Budget, Enterprise or even Ryder that is a bit more expensive. But from Penske it cost almost $400 and they lie to you on the phone, giving you the wrong rate. You will just find out the real price when you return the truck!! Go to hell Penske!!!
Penske Truck Rental Company Profile
Company Name:

Penske

Website:

http://www.penske.com/