Charities that offer free donation pickup
Contact one to haul away what you don't use anymore



Written by

Edited by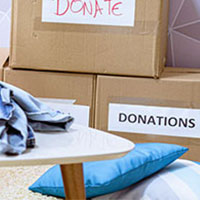 Whether you're planning to move soon or just looking to declutter, you may be thinking about ways to get rid of things in your home. Donating is a great way to get rid of unwanted items and help out others in the process.
Charities accept a variety of donations, including used consumer goods (like furniture and clothing). Some organizations even offer free donation pickup.
---
Key insights
Charities accept most types of consumer goods as donations, even if they're used.
Many organizations provide donation pickup (often can be scheduled online).
Donations that aren't accepted by a charity can be sold, recycled or upcycled.
Consider donating to local nonprofits in addition to nationwide organizations.
What can you donate to charity?
You can donate just about any item to a charity, but the most needed items tend to be gently used clothing, furniture, books, electronics and household items (like small appliances or plates). Most charities provide a list of accepted items on their website. Sometimes an organization has too much of one item and can't accept additional inventory for a short time.
If you donate to charity, you can get a tax deduction if you itemize what you donate.
If you decide to donate, make sure you receive a receipt with the estimated values of each item. You could receive a tax deduction for charitable giving (if you itemize your deductions).
Clothing
Donated clothes should be clean and in wearable condition. Different requirements may apply, depending on the organization's purpose (e.g., resale or direct distribution). Organizations will generally accept clothing in all sizes and styles, regardless of trends, including:
New or gently used apparel like shirts, jackets, pants and shoes
Formal attire such as prom dresses, tuxedos, suits and wedding dresses
Undergarments (occasionally; must be brand-new and in original packaging)
Furniture
Generally, furniture can be donated, depending on the organization. Some charities will even take furniture with cosmetic damages, like scratches and dents.
Sofas, dining room tables and chairs
Desks and bedroom sets
Gently used mattresses and box springs (in some cases, with no stains or tears)
Check with the charity before you show up with heavy furniture — some don't accept mattresses and other household items.
Electronics
With electronics, you may not need to worry about how new or up to date the item is; some nonprofits will take electronics in any condition.
Cell Phones for Soldiers, for instance, is an organization that sells donated phones to electronics recyclers or companies that refurbish and resell them. The nonprofit uses the proceeds from these sales to provide international calling cards to military personnel stationed overseas.
Old televisions, DVD players and gaming systems
Computers
Cellphones
Books
There are many organizations — especially libraries and schools — that will gladly accept new and used books. However, you will need to check with the organization for its donation guidelines. For the most part, books should be in good condition with no missing pages and minimal markings. Some books that may not be accepted are encyclopedias, study guides and outdated textbooks.
Miscellaneous
Other items you may be able to donate are children's toys, home goods (like dishes and glasses), tools, jewelry, artwork and antiques. Some charities even accept used vehicles in any condition and will tow them for you.
» MORE: Where to find moving boxes
What can't you donate to charity?
There are some items charities may not be able to accept for legal reasons — for instance, baby cribs are recalled often due to safety concerns, so many organizations may not accept them. If you own a crib that's been recalled, you won't be able to donate it; you'll probably need to dispose of it. Also, used mattresses tend to be more difficult to donate because they could be a breeding ground for bedbugs. Charities may not have a way to sanitize the mattress and prevent the spread of these pests to other fabrics.
Medications and medical supplies
Broken or damaged items
Weapons or ammunition
Expired or perishable food
Opened or partially used toiletries
Dirty or soiled clothing and linens
Hazardous materials
Car seats and baby cribs
Inappropriate or offensive materials
» MORE: How to get rid of bedbugs
Free donation pickup: What's near you?
Many organizations offer donation pickup free of charge, which is especially useful if you plan to donate heavy furniture. A pickup crew will likely be dispatched to carry the item out of your house and onto a truck.
However, there are some limitations to donation pickup. Some organizations reserve this convenience for furniture donations only — and if the organization is short-staffed, it may pause pickups due to lack of help.
You can check the charity's website or call a local office for more information on donation pickups. You may even be able to schedule a pickup online.
Habitat for Humanity

Habitat for Humanity operates in all 50 states nationwide, so there's likely a location near you. Most of the donations it accepts are household items (e.g., furniture, appliances, decor) or building materials. It also offers deconstruction services, which means a crew will come out and remove cabinets, fixtures and appliances that you plan to donate to the organization.

Donations are resold in one of the company's 875 ReStore locations. Proceeds from store sales are put back into the organization to fund its mission of building homes and communities.

You can drop off items at your local Habitat for Humanity's donation center or request pickup for larger items. You can schedule a pickup online through the organization's website or by calling.
Goodwill

Goodwill is a 501(c)(3) organization that provides job training and employment placement programs for individuals who may not have access to these programs otherwise. It accepts donations that will then be sold in one of its over 3,200 thrift stores nationwide.

Goodwill is made up of 155 community-based organizations across the U.S. Each regional Goodwill may have different guidelines to meet the specific needs of the community it serves, including which donations it accepts.

In general, Goodwill accepts a wide variety of consumer goods, including electronics, vehicles, jewelry, clothing and books, but you should check with your local donation center for guidelines. Furniture, for instance, may be accepted at some locations but not others. Donation pickup may only be available in certain areas as well.

If you have outdated electronics, like televisions and computers, you can also take those items to Goodwill to be recycled as part of the organization's electronic recycling program. Goodwill employs and trains individuals with disabilities to recycle and refurbish those materials.
Out of the Closet

Out of the Closet (OTC) Thrift Store raises money for the AIDS Healthcare Foundation, a nonprofit organization that's the largest provider of HIV/AIDS medical services worldwide. OTC thrift stores are located in nine states, including Texas, Illinois, California and Florida.

If you have one of these thrift stores in your area, you can donate clothing, books, furniture, kitchen appliances and more. The organization provides a list of accepted items on its website, in addition to items it cannot accept (like mattresses and children's clothing). You can drop off donations at a thrift store location or schedule a pickup online for larger items.

» MORE: How to dispose of a mattress
Big Brothers Big Sisters of America

Big Brothers Big Sisters of America provides mentoring services to children and young adults. The organization operates as a network of 240 local agencies that provide various services. Some agencies have partnerships with community-based thrift stores, which means they can accept clothing and other donations as part of these partnerships. Donated items are sold in thrift stores, and the proceeds from these sales go back to the organization.

Check your local agency's website for donation guidelines. You may be able to donate clothing, children's toys, housewares and electronics, depending on the agency. Depending on the agency, it may also provide donation pickup that you can schedule online.
AMVETS

AMVETS, or American Veterans, is an organization chartered by Congress to serve veterans of all branches of the military. It offers a variety of services for veterans, including providing workshops to cope with stress and filing claims with the VA.

Like other organizations, local AMVETS posts may partner with thrift stores to sell donated items. You can check the website for a list of accepted items, which could include clothing, furniture or household goods. You can also complete a pickup form online through the AMVETS Thrift Stores website.

» MOVING? WE'VE GOT YOU: Moving checklist
Pickup Please

Pickup Please accepts donations on behalf of Vietnam Veterans of America, which provides support services to all eligible U.S. veterans. Pickup Please provides a list of acceptable donations on its website, including toys, clothing, household items, books, electronics and small appliances. The organization does not currently accept large items like furniture, kitchen appliances or televisions.

Pickup Please isn't available in all states, so you'll need to check the organization's website for service areas. You can plan a pickup online, often within 24 hours.
Furniture Bank Network

The Furniture Bank Network offers a way to donate used furniture to a network of charities and nonprofits. Furniture is distributed to families in need as part of these organizations' missions.

There are Furniture Banks across the U.S., so there may be a location near you. You can check Furniture Bank Network's website for current locations. Each location accepts different types of pieces depending on supply and demand, so check with your local Furniture Bank for details. You can drop off donations in person or schedule a pickup online.

The Furniture Bank Network also partners with recyclers, so if your donation can't be used, it may still stay out of landfills.
The Salvation Army

The Salvation Army offers a number of services to meet the needs of the community, including disaster relief, job training, homeless shelters and food pantries. You can donate vehicles, appliances, clothing, furniture, electronics and other items to the organization.

Similar to other organizations, The Salvation Army sells donated items in its thrift stores. You can see if donation pickup is available in your area by visiting the organization's website and plugging in your ZIP code. If pickup is not available, you may still be able to drop off items at a donation center.
World Relief

World Relief provides services to immigrants and refugees displaced from their homes due to war, famine and other circumstances. The organization assists in placing individuals and families in homes in the U.S. If you have a World Relief office in your area, it may accept donations like household goods and furniture to help set up new homes for these families.

You can call your local World Relief donation center to schedule a pickup (if available in your area).
The Arc

The Arc is a 501(c)(3) organization that assists individuals with intellectual and developmental disabilities and advocates for inclusion on their behalf. The organization is made up of local chapters that facilitate programs.

Local chapters may accept donations of clothing, shoes, electronics, furniture or other household items to be sold in Arc Thrift Stores nationwide. You can call the chapter in your area to schedule a pickup.
Local nonprofit organizations

Your city or town may also have smaller charities that accept donations and offer donation pickup. You can search for inner-city programs that serve the needs of children and families or homeless shelters to find other options.

Other community organizations, like churches or schools, may also hold donation drives for charities. While you may not be able to schedule an item pickup during these drives, you could collect several donations to give away and drop off at the same time.
What should you do with items they won't pick up?
What you can do with an unwanted item depends on the item and how much effort you want to exert getting rid of it. If it's in good condition, you may be able to sell it on an online marketplace, sell it locally or ship it to a buyer in another area.
Keep in mind that shipping costs can vary depending on the item's size and the buyer's location. You may need to estimate shipping costs and include them in the sale price or plan to add them on at the end of the transaction (it's good to be upfront about this).
If you aren't comfortable selling online, you could organize a garage sale or participate in a neighborhood yard sale. Selling items may take more time and effort on your part. There's also no guarantee that you'll find a buyer for the price.
You can also offer items for free on social media to friends or other individuals that live in your community. Kristina Davis, a home decor and furniture expert at Letti & Co, a home improvement company, said: "Maybe your neighbor could use them, or a friend's child could use them as a toy. The important thing is that you find a way to get rid of these items so that they won't be sitting around collecting dust in your home or office."
» GOT JUNK? How much does junk removal cost?
Social media platforms also have community-based pages or groups for people who want to give away or pick up items for free (often called "Buy Nothing" groups).
Some items, like outdated electronics, may not be fit to sell or give away. You may want to check into recycling options instead. For instance, your local government may operate a recycling center where you can dispose of VCRs, cellphones, televisions, computers and more. Recycling is often free of charge, but there may be limits to how many visits you can make in a year. Some big-box retailers may also accept certain electronics for recycling.
Some animal shelters and rescue centers will accept donations of tattered clothing items — these materials can keep animals warm in winter.
For worn-out clothing or shoes, you may be able to find a textile recycling bin near you. Bins are usually located in retail parking lots. For-profit companies usually operate them, but some nonprofits offer bins as well. The bin should be clearly labeled with the organization's name and what types of items it accepts. Animal shelters or rescue groups may also take tattered clothing to keep the animals warm during the winter months.
As a last resort, you may need to throw some items in the trash. Your city may collect larger items, like furniture, once or twice a year. You can check your city or county's government website to find out when the next bulk item pickup is scheduled.
A benefit to putting unwanted items on the curb, especially a few days before bulk item pickup, is that someone may see your trash as treasure. For instance, your old scratched-up table could be the perfect project for someone who likes to upcycle and wants to sand and refinish it.
You may consider upcycling the item yourself. "You can also reuse your old furniture in creative ways, like turning it into a headboard or bed frame," Davis said. "There are also some creative ways to turn your old furniture into new pieces of art, like turning a dresser into a lamp or even turning an old chair into an outdoor bench."
Bottom line
Donating unwanted items benefits those in need and the environment. You can get rid of goods you no longer have use for, and a charity can use these items to further its mission. Donating can also help keep more trash out of landfills.
Each organization operates differently, so it's best to check with the charity ahead of time for a list of acceptable donations. Donation pickup can be a great way to offload your items all at once (especially if you're moving), but you'll need to verify that the organization offers this service. Keep in mind that nonprofits often have limited resources, so you may want to consider dropping off your items at a donation center rather than scheduling pickup if you're able.
For items you can't donate, you might consider upcycling, selling, recycling or giving them away to a friend. Either way, the more waste you can keep out of landfills, the better the outcome for the environment and your conscience.
---
Article sources

ConsumerAffairs writers primarily rely on government data, industry experts and original research from other reputable publications to inform their work. Specific sources for this article include:

USAGov, " Donating to Charity ." Accessed Oct. 18, 2022.
IRS, " Charitable Contributions ." Accessed Oct. 18, 2022.
Did you find this article helpful?
|
You're signed up
We'll start sending you the news you need delivered straight to you. We value your privacy. Unsubscribe easily.