Publishers Clearing House
Consumer Complaints & Reviews

Publishers Clearing House states you can enter on-line for the possibility of winning prizes/cash. Within their website, they have 'online games' you can play and bonus points build as you play/win that gives you extra entries to win those prizes, etc. Since doing this, I am receiving a TON OF SPAM and some of it PORN SPAM of which I do not appreciate. This means Publishers Clearing house has sold/given my email address to these undesirable companies. This is underhanded and disgraceful. These people should be fined for using the tactics they use!!!

My information was sold to a third party! Right after I entered PCH my once peaceful home was bombarded with telemarketing calls. Thinking I would win I put my REAL phone number down. Big mistake. Both my landline and my cell ring off the hook. Beware, they will disturb your peace and you still won't win anything. I wish I could file a lawsuit. Class action anyone?

I am a combat disabled vet US Army. I have played PCH over 28 years by mall and online. I have spend about 45000 dollars on their stuff with their word of winning prizes and money. Games online and tokens to spend on chances of prizes. I keep trusting them but they just keep taking my money and give back nothing. They prey on disabled vets and the old. Prize grab are the same way but they don't take my money, just time. I have never won a dollar with PCH. I play their game 2 hours or more every day.

I've been trying to win for a long time now. I feel I'm wasting my time with games and such. Just not fair to me and other people who have tried, but still nothing has happened.

I have been entering the PCH sweepstakes on and off for many years. All I get is bombarded with emails to buy things I could never use. I think people that don't make purchases have no chance of ever winning. I get it that everyone can't win, I am now a senior citizen and I know I will never live long enough to see the Prize Patrol at my front door with the balloons and big check with my name on it. Plus the games are confusing, tokens for what?? How many millions of tokens does it take to qualify?? It's not reality just a pipe dream and I have tapped out.
How do I know I can trust these reviews about Publishers Clearing House?
552,954 reviews on ConsumerAffairs are verified.
We require contact information to ensure our reviewers are real.
We use intelligent software that helps us maintain the integrity of reviews.
Our moderators read all reviews to verify quality and helpfulness.
For more information about reviews on ConsumerAffairs.com please visit our FAQ.

PCH is it all just a scam? I can't sign into account. Paths won't connect to play instant win games. Can't redeem tokens. Really frustrating!

I agree with the everyone else that has a gripe with PCH, it's a joke! I too have acquired all these tokens and have submitted them for "rewards" to be used to put your name in for gift cards or prizes, and guess what... No prize. I have had it with their constant annoying emails bombarding my inbox everyday, it is sickening. No one wins... These are actors on the commercials, and they should be shut down. I have had a belly full of these liars telling me that I have won something, and nothing ever transpires. Then when you want to be "unsubscribed", you may as well forget it, they just keep on sending their crap everyday. I have had it with them.

We all know PCH is mostly fraud. No one wins these 50G, 100G, 20G or even the 30G. These are all fraud games to pull you in to buy magazines. They say you do not have to buy to enter the draw games, this simply isn't true. I have received emails after emails that say "One last step to claim money prize." I know it's crap but I check it out anyways. All the lotto games, scratch offs, slot machines, it's all fraud. We all know this. I play just because, I'm weird. LOL. What I can not figure out is why the BBB, ConsumerAffairs does not get involved. Maybe if we all start saving every email, every snail mail for about six months and then send them all at once. Maybe someone would do something.
Someone on this site said PCH was sued. OH yes many times. They have paid out almost one billion in fines to states. But one has to remember this is just a pea in a bucket. They sell mags all over the world. They pull in over multi-billions a year. So a few lawsuits doesn't bother them. And all those paid off corrupt investigators, well! Don't expect any more lawsuits against PCH.

I entered online through PCH and problems started when I checked my email. They asked me through an email to agree that I entered. Then my connection went crazy telling me they were going to delete my contacts and place porn on my phone. That's crazy. PCH needs to go back to mailing at homes or perhaps they should be checked out to see if they are no longer a business. Something is very wrong with PCH's website. Be very careful going on this site. I thought it was just a fun game. Feel free to let viewers see this post.

I've been playing the games for over 4 years and got "you're a vip and you play certain games to win". The problem is I haven't won anything but these stupid tokens which I have 22 million of them. You can't cash them in and I got sick of the fake email on Yahoo and Twitter that I won millions and fake email or tweets from Danielle. l am saying that I won and they would be showing up at my door. Guess what. They never showed up and that they were in my neighborhood at a florist and would be showing up.
They freaking didn't show up and I never heard from them period. I never ordered from them because I know the stuff is junk and they sent me stuff in the past and the truth is I never ordered from them. They even sent me a stupid letter saying I would never win anything from Publishers Clearing House. I'm so freaking sick of this **. I waste my time all day long playing these stupid games only to get the game isn't working due to technical difficulties. What this crap. I blocked PCH on Facebook and Twitter. I don't want to hear from them period. I wish the FBI would shut them down. They're playing on old people's emotions and hopes that never win.

For laughs I submitted my name and email to PCH. They a have to be the most annoying company on this planet and Fl has them all. I now delete any emails from them and tried unsubscribe. The products they are pushing look cheap and are way overpriced. I can't understand with all these complaints they can continue to be in business.

Having scam call about receiving packages on winning prizes, calls coming from (876) number which are Jamaican number (scam artist)... Elderly father playing Publishers Clearing House thinking he gone to win. Publishers Clearing House started this scam. Now we got scam artist calling all the time, and it hard telling elderly father it a scam, we need to shut down Publishers Clearing House for good.

This company makes money by luring people to play their games for a chance to win in the mean time this company is getting rich. The money is not in people buying magazines or trinkets that they sell that is a bonus. This company makes money on every game you play and don't win but they do because you sit there and watch 100 of hours of infomercials. Each is 10 to 20 seconds long and at the end of the day the winning boards says how many people won a $5.00 gift card. If you have nothing to do and want to make this people money keep watching the infomercials. If this company wanted to really help people and double or more their audience instead of having one $2 million winner, they should have 20 $20 thousand dollar winners and more often just my opinion.

Today, May 25, 2016, I received a call from Publishers Clearing House "people"... (they said)... that I have won $2.5 million and a 2016 Mercedes-Benz tax-free. All I had to do was to go to Western Union to collect a Tax Claimers Receipt and send $885 that would be refunded that very day when the prize team arrived. The number they gave me was 1-800-876-590-1542 but the number that the phone ID showed was 676-590-1542 JM. This number shows they are calling from JAMAICA not New York (as they stated)! PLUS they did not speak clearly, but they did speak slowly and repeated anything I did not understand. Do not ever send MONEY TO COLLECT A PRIZE IN AMERICA, IF IT SOUNDS TOO GOOD TO BE TRUE... IT PROBABLY IS A HOAX. This was, so don't fall for it.

I've participated in various PCH games/sweepstakes, etc. since...Well, I can't even remember when. Oh, how I dreamed about the PCH prize patrol driving up, knocking on my door with roses and a million dollar check! I get emails saying they've confirmed my address and have their itinerary planned, stopping at my nearby florist (which hasn't been a florist for 6 years!). They also say someone with the initials KU in my city is guaranteed to win $100. I'm the only resident over 18 in my city with those initials. Their guarantee is about as good as the phony TV clips of superprize winners. If you had a knock on your door at 6 am would you (and your family) all go to answer the door fully dressed in their Sunday best, hair perfectly coiffed, smiles, clothing perfect? NOT A CHANCE!
PCH is a scam, has always been and will always be a scam. I'm on the hook for God knows how much for junk I never ordered sent to me at 5x what the normal shipping rate should be. Can't send it back, because I won't pay the postage. I made that mistake once, only to have the same product resent to me. Only in a new envelope. That's another 6.99 shipping & 5.00 handling for a withered set of lily bulbs.
NY State needs to investigate and shut them down. The Postal IG needs to investigate and charge them with mail fraud and wire fraud. The FTC and FCC needs to investigate for all the scam spam they send. You can't unsubscribe, it doesn't work. Plus, you have all the emails and phone calls from the shady companies they sell your info to. One could make a career out of just unsubscribing and deleting the spam in one's inbox. Thanks to the kind folks at PCH.
The review I read earlier from the lady in NM who says she is a real person who really won, well, doing a US Census database search for her name in her listed city showed no one with that name ever living in that city. So PCH even has its liars post on this site how they've won thousands...ha! So yeah, I'm the fool. Like my momma said, "Fool me once, shame on you. Fool me twice, shame on me". Well, the shame of being sucked in by the dream maker heartbreakers called PCH is all over me like stink on a pig!

I have been playing lotto and all absolutely the games from 5-13 to now. They always say my lotto numbers match and that I won, I enter all their entries and all I ever got from them is $10.00. Why is this company still in business playing with people's minds? Why aren't they stopped? So many prizes to win yet, I have only won $10.00 in 4 years. Why are they being allowed to do this? If it's not a scam why don't people win? They only seem to win during the Superbowl, but they tell you of you winning prizes in May, June, July, and August. This could be very dangerous in a time like this. They should be stopped. Too many prizes and people win nothing. How long must one play before they can win? This is very deceiving to me.

I not once in my entire life have ever seen PCH track down a winner. Sure on their own commercials. Has anybody ever actually seen it aired like they claim they are? I've been part of this since 2001, after I turned 18 and legal age to play. Once in 2004, I won a $15,000 jackpot on a spin wheel game. The screen said I had won. No emails, no calls, no messages and certainly no check. When I contacted them about it they said there was no record of anybody winning that game. Lucky, I had a screen shot of it. They then told me no money was won, I just won an entry. They do what they can to not pay out. I have no doubt that the "winners" they post are paid by the company to act. Has anybody ever actually won anything from these people? I can't find any.

My tokens are being held hostage. I over 14 million in tokens. Yes I earned them and tried to use them for the 500 cash card prize. Publishers interred with my win and I know I had the highest token balance... That is fraud!!! Now YOU are deciding how many I can use each week - it is about 6 or 7 thousand. This is not FAIR. I want all my tokens released and allow me to use them as I see fit. You realize you deciding how much I use is an unfair practice. Release my tokens and allow me to win. I have been a member for 5 years and this practice of yours is fraud.

I have been receiving emails from these people. I have entered into their lame contest. What irates me is that when they send out an email that says to avoid not being a winner, you need to do this. I have done everything and still not picked as a winner. I agree with everyone on this, this is nothing more than a waste of time and a scam that needs to be stopped .

1st of all, I've been a PCH SWEEPSTAKES PLAYER SINCE 2010? I think but the year I started isn't in question. I believe that they are a bunch of scam artists, actually I believe the whole thing is A PONZI SCHEME! They say a purchase doesn't increase your odds in winning, WRONG. I found out through playing the games, you have GEMS as opposed to levels. We start off as Bronze then silver, Gold etc. Well by the time you're close to or should already have PLATINUM, is when they basically start pleading with you to buy something.
Today May 2, 2016 I get an email from PCH inviting me to watch the winner from April 29th & underneath the email was a BIG RED WARNING SIGN THAT READ, "BE CAREFUL, THIS IS WHAT IS USUALLY USED IN STEALING PEOPLE'S IDENTITIES"! I give you permission to look at it. So I've been playing these foolish games, wasting my data on my phone just for what? I got a pkg in the mail with vouchers for $400.00 towards this $2500.00 home theater system. Really? C'MON NOW! I was born at night but it wasn't last night & I've looked up these so called winners & I have yet to come across one of the people who supposedly won their PCH superprize!
Please help us. This is just wrong and I don't know about the others, but I keep playing in hopes of winning so I can eat, and keep a roof over my head and yet they want me to buy something. Consumer Affairs dept, if I could buy something, I would like to think it'd be in a dept store, not to increase my chances of NEVER WINNING A DAMN THING, but I don't like being a pawn in a sinister game of chess where they need to cheat their fellow man in order to line their own pockets. Something has got to be done. TODD SLOANE, YOU CAN'T TAKE US ALL ON. He should at least reimburse people for the lost data on their cellphones or computers. I mean c'mon people, it's wrong and they, my friends, are a bunch of crooks. That's all they are. I just got robbed without a gun. That's how I feel.
And I certainly DO NOT LIKE BEING STRUNG ALONG WITH THIS CONTEST 6900 which seems to be how they get everyone hooked because all the games say a different number until you read the fine print where it clearly states that if you don't respond by 11:59 pm on such and such date you'll forfeit your chance at the superprize giveaway 6900!!! EVERY SINGLE TIME. That's my case and I stand by every single word and if I must go to thank Phillipe Ryan with this in the news media, I have no problem with doing so. I want them to shut down or at least not be able to have gambling on the internet because some people really do have gambling problems, alcohol problems but yet you show up with magnum of champagne. It's ridiculous. Thank you for letting me speak my mind.

I've been playing this game ever since 2008. I never missed a deadline or sent my offers back late & they send me letters saying I won this or I won that & not one time what they say I've won I never received it. So now I'm really starting to think that Publishers Clearing House is nothing more than a scam & a rip off because I notice if you don't order anything from them you won't be picked to win the grand prize & they will continue to send you flyers until you do order something & don't get me wrong. It's things I've ordered from them and the pass & I never received them but I paid for them anyway so that way I won't have them calling me saying I owe them & then I have to deal with bill collectors for something I ordered & paid for. So my question is how come if these people who did won how come none of them are talking about what they won or are on any talk shows like most people who won these big time sweepstakes?!!

Cant honor a 5$ amazon gc. I won a $5 gift card with a zero balance on it. I called tech support and told me I have to call Amazon about this issue. What a waste of time.

I started playing with PCH mainly because I have never really tried to win anything. I don't play the lottery and I thought why not try the PCH which I have been approached with for years. I don't think it is a scam but if you don't have a lot of spare time it can be frustrating because of all the ads (don't get me wrong, my background is advertising so I get it that they need their sponsors which is why I don't cut off the ad) but between them and many other games I am not really interested in I decided it is not for me. I along with everyone else was obviously hoping to win the grand prize, $7,000 a week for the remaining of your life etc. and they do have the ability to get you excited at times. They are in your area right now, you may be next blah blah.
The reason for me writing is I noticed a lady writing in her review she won $250.00 cash. Well about a week ago I received a message I won $2,500 Cash. Mostly I just win tokens so I sort of ignored it and then I thought, "What was I supposed to have done?" Take a picture of the page. I noticed the lady had written to the company and had not heard from them. I tried to put in the question to the Consumer but it didn't work so I'll try again. They certainly have a record of who wins I am sure. I will see what happens.

I see that some have reviewed that they have won big on some of the prizes. How does one know if you are a real everyday person. Or somebody posting for the company? Just a question.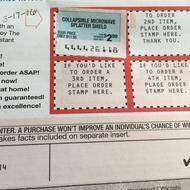 I decided to order a few things from PCH over the winter. About 2 months ago it appeared to me that I was receiving items I hadn't ordered but chalked it up to poor memory. After it seemed to happened several times, I started taking photos of my orders and finally got my proof. Today an order came in in 2 parts, of which there was cost and shipping on both. I opened the packages up and realized that not only did I NOT get the item I really ordered but I also got an item I had NOT ordered. All for a tune of $45.91 compared to what should have been about $16. In fact the microwave covers were a repeat of an item I had ordered a month ago. No way would I have ordered them again. I now know that this has happened to me at least 3 other times. I call this Fraud!!

Today being Easter I won 250.00 (yeah not a big deal) on one of the scratch off sites... which is a win of points or cash. I won $250.00 in cash. Waited for a signal, a sign, a flash of light... something to verify PCH knew I had won. NOTHING HAPPENED. I have written just now a letter to them verifying my win with honesty and integrity but feel I already know the response. There are no instructions I found to determine what or how PCH knows you have won, it is not their obligation to alert you that you indeed have won??? Please anyone reading this if you have verifiable info on what to accomplish I would appreciate...
I am one of those "old timers" who has never lost faith in the PCH contests. I know they did have legal problems at one time. However I have remained faithful and up to date and do not buy anything to win. I knew that long ago. Please again if you know if this occurs to anyone else let me know. I plan to pursue but as you can visualize it is my word against a world of PCH... How would or will they know I indeed did win and would not falsify for any reason... Appears right now it is a no brainer. Letter out... most likely NO REPLY. I am greatly upset and saddened after years of being faithful and competent in entering contest with PCH. Thank you for time and effort in reply.

Sorry, folks, but Publishers Clearing House is real. I've won 3 times and have received all three prizes ($150 and $10 - paid by mail - and a $5 Amazon gift card which I received online). Publishers Clearing House is a marketing company that sells other company's products like magazines or the "As Seen On TV" junk that you see on... well, TV. The prices are usually a little higher than normal plus they tack on slightly higher shipping costs. If you want cheaper deals, then contact the magazines directly or just buy "As Seen..." stuff from Walmart. Keep in mind that they mail out hundreds of millions of pieces of mail, in addition to getting millions of people to play their games online. As a reward for providing this service, Publishers Clearing House obviously gets a cut from each sale they make, which in turn funds their prizes.
Regarding their prizes, if you read the fine print carefully, you will see that they only offer a major prize a couple of times per year and the smaller prizes are spread across many different games. So literally, you might have 100 different games vying for the same $100 prize. The probability figures are right there; just read the papers that you normally throw out or go to the "Odds of Winning" page on the Internet.
So is Publishers Clearing House a scam? I say no. But I think it falls into the same category as political campaigns and even religious fundraising. They're selling HOPE and DREAMS. So it's not really fair for us to not read the fine print and face reality (like reading the "Odds of Winning" pages, political history or even The Bible itself) then get frustrated when things don't turn out as we wish.
My advice: Have fun with it. Read the ads and occasionally treat yourself to ONE thing you can really use now or give as a gift. Give the stickers to some little kid to play with. Make sure that you are registered and signed in when playing their online games. If an online screen says that you have won, then copy the screen immediately and contact PCH for further instructions. And for goodness sake, set limits. Right now I am at 25,000,000 points online with PCH, but I am going to stop at 40,000,000. By then it will be late Spring and I'll have fun working with the flowers, garden tools and sprayers I bought this past Winter. Good luck! PCH customer in Florida. (By the way: I am posting this exact letter in several places, so nothing fishy is going on. I am just a self-employed person who's waiting on a phone call).

My mother has been entering Publishers Clearing House sweepstakes for a long time. I would constantly see her sending in whatever "Enter to win this reward" mail they'd send her. Sometimes she'd send in 3 at a time. One day I asked her, "How long have you been entering those sweepstakes?" She said, "Since I was cleaning houses." My mother was a housekeeper since I was born, over 20 years ago. Then I said, "Have you ever won anything?" and she said no. Not only did I find that odd but I found it ridiculous.
So I decided to open up an account on their website, hoping I'd win something and help my mother out. 2-3 days of constantly playing their online games only to win TOKENS, not cash. I raked up over 300,000 tokens and even entered to win a free gift (a tablet, cash card, gift card, something), even throwing in 30 tickets on one prize just to better my odds. NOTHING, and like others on here, I get numerous emails daily from these people with promises of: "This could be you!," "Publishers Clearing House could be coming to your house!," "Play this to win this!" and I started receiving these emails by the handful when I stopped logging on their website altogether. Maybe some people do win money from this company and have their dreams magically come true, but for people like my mother who's been entering since the birth of her 2nd child, the chances of that are slim to none.

After purchasing items from PCH on and off for 25 years and entering online almost every time, I got tired of the bull when I noticed that the big price giveaway date kept increasing every 2 months for years. I also noticed that the chance of winning the big price odds were 1 in 1,700.000.00 which is an astronomical number, but if you check it now the chance has gone to 2.600.000.000 to one!!! So if you want to waste your time, go for it!!! You have a better chance to win by playing the lottery, and you don't have to go thru all the garbage they send you by mail!!!

Today I received a package contains two items and Bill of $53 total from PCH! I did NOT order ANYTHING and this is a complete ripoff that is totally unacceptable. Look through the return policy and it appears that I have to pay to ship this big package back! What!!! Why will I pay to ship items back that I didn't even ask for? That is a complete scam and totally unacceptable.