Consumer Complaints and Reviews

We made our warranty request well within the 11 month window. The final response came six months later and it was denied. The hardwood flooring boards are warping at the end of each of 70% of the boards in the house. The response was, "This is normal." I quote from the letter; In their December 16, 2016 letter, Armstrong stated, "Growth in the length of floor boards may cause slight end lifting of engineered flooring, which is a natural phenomenon that occurs when moisture at the bottom of the board exceeds the moisture at the top of the board." Warped hardwood is NORMAL??? A person at the township meeting on mold complaints (May 3, 2017) said, "This development was built on a marsh". I have no direct knowledge of this claim but the person lived in this area before Toll started building. If it is true the development was built on a marsh perhaps that is the reason my hardwood floors are warping.

I would like to start with one recent issue, although there are tons of issues I can complain about the "luxury home builder" Toll Brothers. We closed the new house around a month and moved into it 2 weeks. Very soon we found there are 11 nails popped up from the wall of the family room. The height is low where little kids can touch. We think it should be an urgent issue which must be fixed asap. However, after we reported the issue, the builder said it's normal and there will be more nail pops and suggested we wait until 11 months warranty as the builder only provides one complimentary drywall touch up for the nails pop up. We asked how about if the same nail pops again after they fix it. The answer is "unfortunately if they do, it would not be covered" (quote from email).
At first, we have 2 warranty. One is 30 days and the other is 1 year. I don't understand why the builder only fix once. More importantly, I think the builder should give a good quality house. When they fix issue, they should make sure their fix is useful. How come they fix only once and don't give any guarantee if it works. Toll Brothers said it is a luxury house builder. Ridiculous! Look at the customer service. Can you believe it? Last but not least, this is not the only issue. There are tons of issues I can complain about!

We've known Toll Brothers as being a well-respected home builder since we lived in NJ. We were relocated to Florida and had Toll build us a house. Did they make errors? Yes, 2 major ones! Since we had everything in writing per design, we brought it to their attention, and they did follow up with the necessary repairs and changes. Their architects are designing homes which are now form over function. They have models that have a full bath 6 feet across from the dining room. Imagine having company over for dinner and you have to do a number 2 with no window. Or a study with no windows. The company is truly going in the wrong direction.
What is extremely upsetting is that we purchased our home in a Toll Brothers Development of 400 homes to be built, they built 38 and pulled out because their sales were not brisk enough for the corporate ** at their home office in PA. Toll sold out to a single developer who is not capable of building more homes and keeping to the high standard of what Toll once was. We have now learned that Toll has done the same at 2 other Toll Developments nearby. The Toll Brothers company no longer cares about the buyers, it's all about the stockholders. It's sad because the development is starting to look like ** and HOA fees continue to rise along with Toll Brothers Corporate greed. Beware Toll Buyer.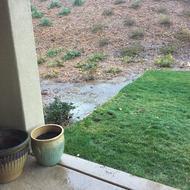 We bought a single story home that was already built and being used as a model. The yard was already landscaped mostly with bark. During the rainy season the downspouts are so small the water runs over the drains like a waterfall. This has caused discoloration on the front of the house. I called service to come out and I was told this was normal. We've owned three other homes before this and have never had this problem before. How could they say it was Normal to have water coming off the roof like a waterfall. The yard was not grated and I have flooding in the back and side of my home. The lighting and cabinet quality are by no means luxury. Just wish we would have went with a different builder for the price we paid!

We built a Toll home and closed on it in April of 2016. We've had a number of shoddy construction repairs fixed typically after long delays. The drywall and paint was done so poorly that after several attempts by Toll to remedy, we ended up contracting with other than the illegal immigrants that Toll sub contracts with. Of course this was at our expense. Our high-end upgraded flooring also had to be repaired by and paid for by our own contractor because the Toll idiot they sent out was incapable of performing the work in a quality manner. My wife actually threw him out, something she's never done before.
Our real issue is the mold issue in all new homes in the development. We've gone through remediation, but after weeks of them finishing the job and getting them to repair the holes in the ceilings and replace our crown molding has fallen on deaf ears. All and I mean all of the new homes have mold. Most of our neighbors have or are hiring private mold inspectors and the majority have discovered mold in the homes. One neighbor is having his entire second floor replaced. Toll's solution - "keep your air above 78 degrees." We live in humid south Florida. That's not an option. They claim to have hired a NASA engineer, but given my mold issues you would think he'd want to talk to me and view my home. I think they lied to me about an engineer and have asked for reports. We've heard nothing. I called the city and they reported that Toll has not reported a mold problem. I had to report it.
I've contacted the media and a group of the neighbors are looking at a class action lawsuit. The benefits of buying into a high-end neighborhood is many of them are lawyers. My advice to others considering buying in PGCC is to hold. The air handling units in my home are 3.5 tons under what the square footage allows for. The problem is these small air handlers cannot keep up with the cool air requirements and are running constantly causing condensation to form and insulation in the attic (and main level too) to get wet. I had ceiling that were mushy.
Be mindful of the people charged with handling your warranty items. They are slow and unresponsive. I had to threaten them with their lives to get them to just show up for routine items. Then the work is always shoddy. We ended up hiring a contractor and spent three months and over $100k in remodeling much of the work that Toll did. Our guy told us there wasn't a square ceiling, wall, floor or anything in any room. This is true of Toll's approach to building your home - they are not square with you.
How do I know I can trust these reviews about Toll Brothers?
761,264 reviews on ConsumerAffairs are verified.
We require contact information to ensure our reviewers are real.
We use intelligent software that helps us maintain the integrity of reviews.
Our moderators read all reviews to verify quality and helpfulness.
For more information about reviews on ConsumerAffairs.com please visit our FAQ.

The workmanship is shoddy to say the least! Kitchen cabinets, bathroom vanities, appliances, and countertops were damaged during installation. Some items we paid extra for were not installed or improperly installed. The Design Center failed to note correct selection made by us and now we have tiles, etc., we did not select! 16 months after moving into our new house and Toll still has not been fixed, repaired quite a few items on, what was quite a long punch list.
Toll also failed to inform us that there would be $120.00 per months sewerage fee and that neither the pool, clubhouse, nor the tennis courts would be usable for more than one year. Dealing with Toll has been frustrating and irritating to put it mildly and despite Toll's continuous assurance that everything would be taken care of, this has not been the case!! So here we are with a Townhouse (for which we paid $700,000 for) that has cracked walls/ceilings, squeaky wood floors, damaged cabinets and appliances, exposed insulation outside, cracked concrete, and numerous other problems.

Me and my family went to visit model on the way to speak to a sales consultant in a neighboring community. Two ladies in office the younger was very pleasant and asked how she can help. The other older lady never said a word. While we were in the model the older sales lady kept coming in and watching us as if we weren't suppose to be there. Was not friendly at all. And kept chastising us throughout the visit. We were not allowed to take any pictures yet there is tons of video and pics of this model throughout internet. And were telling the children that certain drinks in kitchen were for other people. That kind of attitude does not fit well in that industry. Never got that treatment at any other builder community. We will not recommend.

We bought a new home in Regency at Readington in Whitehouse, NJ in May 2016. Toll Brothers failed to disclose a beer distribution warehouse approximately 50 feet from our backyard property. The Hunterdon Brewery Co which has 11 loading docks and spotlights along the outside of building. They operate 24/7 with trucks as large as 18 wheelers coming and going all night and day loading and unloading pallets full of kegs and cases of beer etc. The constant banging, crashing, scraping and peeping continues to occur despite numerous complaints to facility, Readington Township (Mayor Fort and zoning officials) and Toll Brother.
Unfortunately this facility was not mentioned or disclosed in our contract. No one can support that this is zoned or legal to operate in this capacity. Unbelievable!!! Toll declined to buy back our home and The Township just comes up with excuses for their lack of accountability. So, we are left with a home where windows stay closed, fans on high speed and a backyard that has not been utilized. The best part, is Toll still does not disclose this facility in their present contracts as they have over hundred townhouses still to sell in this community.

My husband and I were considering building with Toll Brothers in Weddington, NC. I recently stopped by the subdivision to speak to the sales associate and get more information on the models. The woman in the design studio, let's call her Kate, showed me into the kitchen and had me wait while she went to another room to speak with the sales associate. Let's call her Anna. Kate came back out and told me to wait for Anna.
I stood in the kitchen - no one else there - for over 15 minutes. Then Anna, with the most obnoxious, snooty attitude came out, looked at me like I was bothering her and said, "Do you have any questions?" In shock I said, "Excuse me. I'm a prospective customer. That woman told me to wait here for you. I've been waiting a long time." To which she responded, "Oh, come with me. I told her to tell you to come in the back office."
She showed me some models on paper and available lots. Honestly, I couldn't even pay attention because of how rude she was. She was even rude to a co-worker who walked in while I was with her. I was flabbergasted that TB would put someone like this in their front office to represent them when they are interfacing with customers who may spend $700k to over a million on a house. I'm so glad to have found this site. Now I can see TB has some major problems and I won't waste my time. If they are willing to have this person be my first impression, I'll see my way out. Thank you very much.

We recently attempted to purchase a new home in the Robertson Ranch development in Carlsbad. There was a big hole in the ground next to the lot we were considering. We asked about it and were told it was a water quality basin. The correct term is actually a "bio-retention basin", and it is basically a man-made water collection basin designed to collect rain runoff. There are going to be 29 of them in this community, with one right next to, and uphill from the lot we were considering. The Toll Brothers own disclosure statement had many serious statements about the basin, including warning that the basin could be "unsightly", "smell", and even be a "drowning hazard".
It soon became very obvious that Toll Brothers was not going to help us with even the most basic questions about the basin; questions like, "How deep with the basin get", "How long will water typically remain in the basin after a rain", and "How can we be convinced that water from a heavy rain will not end up in our house?" We independently got details from the city of Carlsbad and convinced ourselves that the risks were low, and continued with the purchase process, including picking exterior upgrades and even dropping off a $50,000 cashier's check. They sent us the final papers electronically to sign, and we signed them.
However, after we signed the final documents, we included a note informing them that it would be a good practice for them to help their customers understand these basins. Apparently, that statement broke the deal, they refused to sign and they sent back our check. We pleaded with them, but they refused to budge, making the ridiculous argument that "we would not be happy there".
After a few weeks of total shock, we swallowed our pride and started down the path of making an offer on another lot in the same development. We made a trip into the sales trailer and were treated badly again, with one of the sales agents effectively telling us that we deserved the way we were treated. That was it for us, we had had enough of the Toll Brothers' rude and disrespectful treatment. A few weeks later we bought a house just down the street in an established neighborhood.

We built a home in Weyhill Estates in 2014. The home took over 15 months to finish. However even after a forced settlement by Toll the entire outside of our home was not complete. The yard was not even rough graded, no driveway, and no outside paint but we still had to pay everything at settlement. No money could be held back to assure that they would complete these tasks due to a stipulation they had on the contract. The settlement date was put through the month before the actual settlement as to save Toll a month of taxes that we had to incur. This is why all settlements happen in Horsham so they can control this.
It took the entire summer for them to finally finish the outside of our house. We had a punch list of over 100 items that they also had to address. With each thing they did an appointment had to be made meaning missed work days on our part. We would do this to find out that the replaced materials we also faulty and they never even opened the box to check item first. The grass was put in, in the first week of July after telling the building manager Mike to not do it now wait till Fall. The yard is still a mess today. Loads of bare spots that still have no grass. In having a professional look at the yard we were told that there is little to no topsoil and that topsoil needs to be brought in and then seeded properly. It was 16 months when they finally finished our original punch list.
The worst however is the way in which Mike building manager and Kelly his sidekick treated us. In the process of all the above happening our existing home did not sell. We were carrying two homes. We were forced to put our new home up for sale too. Our HOA rules allowed for 1 sign to be in the yard. As soon as our sign went in the yard we received a nasty email from Mike telling us the sign had to come out. Him and Kelly connived together to get the HOA changed to say no signs allowed forcing us to remove the sale sign from the property. This alone is scary in that where is this headed? If they don't like something they change the HOA.
When buyers would stop at the sample home and ask if any instant properties were available they would even lie and say, "No, nothing" knowing our house was for sale. The best however is that we had as interested party looking at our house to buy, it is now 2 years of carrying the two houses. The buyers went to Toll and showed them our list of extras and said, "What would it cost to build the house today." Mike went and gave them $40,000 discount off the extras of the house in order to come in under what we are asking for the house so that they would not buy our house but build with them.
Mike and Kelly are the lowest of low. They lied numerous times throughout the building process to us and continued to lie and be deceptive even yet today. A $600,000 + home should not be delivered unfinished with a punch list of over 100 items. In talking with neighbors each of them have their own horror story to tell. Several giving up on having Toll correct the problems and hired other to fix things right. Some of us don't have that luxury and simply feel that it is only right with the money spent that they do what is right. However we are talking about Toll Brothers now aren't we?

I live in an area where Toll is trying to force a proposed development into our small neighborhood. This proposed development is situated directly above a very sensitive river which is being restored to support salmon spawning. In 2012 Toll was required to pay a civil penalty of $741,000 to resolve alleged Clean Water Act violations at its construction sites across the country. Having shown little regard for its customers in resolving issues I fear that Toll will continue to disregard their commitments and potentially endanger our wildlife habitat.
In a recent meeting with the city local citizens learned how close Toll and Master Builders Association worked with our city hall to allow development to occur willy-nilly here in our town. I am seeking creditable input from people who have complaints against Toll that I can use to support my concerns over having Toll build in such a sensitive area.

I had my end of year walkthrough and was very difficult to schedule (after requesting an appt online and calling the office). After someone did call me back, denies getting calls and states it's too late and passed 30 days after 1 year anniversary. I still have a cracked sink (in a brand new townhouse) that I showed the guy in the first walk (at 4 months) that was not fixed. This is a nightmare, worst experience ever. You call and no one calls you back. Good luck!!

This Toll Brothers build has to be the worst house building and buying experience ever (building is not my first rodeo). The construction manager is an arrogant jerk who does not pay attention to details. A worker flooded the kitchen and great room and the CM told us it was "cosmetic" and nothing would be done. When we kept pushing the issue, a moisture test was reluctantly done, which yielded a much different result and ended with new floors and cabinets. We are closing at the end of the month and I have such buyer's remorse and am afraid that I have made the biggest $800,000 purchase mistake in my life.
Not only are there construction issues that range from a cracked foundation to showers/toilets that workers used to urinate and defecate, but Toll, as the sole HOA representative, is allowing the backyard neighbor to keep a permanently installed basketball goal feet from my house. So the attached picture is the view I will be waking up to every morning from my master bedroom window. There is nothing "luxury" about this home and I have more trust that the roaches will survive Armageddon than I have in Toll Brothers. If I had to do it over, I would not have purchased a Toll Brothers house.

Toll Brothers Northern California was a very interesting experience. First, they use high pressure sales tactics. Then, they lie and tell you things that are not supported by the contract. Curious that the construction people say one thing, and specifically say the salespeople are not trained and don't know the product. Then the salespeople say they are "just peons" and can't do anything.
Bottom line, have your attorney read the contract, before you do anything, in spite of the high-pressure sales tactics. You'll be relieved, as our attorney said she had never seen such a one-sided "contract of adhesion", which basically allows Toll Brothers to do anything they want, even against your interests, and then hide behind their contract and "screw you". I can give specific names of salespeople who are particularly dishonest, or very naive, if you would like. So we didn't sign a contract, and happy with the other builder we chose. We figured the housing market is so hot in Northern California, they don't care and it's obvious, and the Toll Brothers construction manager is so inexperienced even the new homes are now falling apart!

My parents have had the worst experience dealing with the sales rep at the Active Adult community at Toll Bros. in Elgin, IL. Interesting how their friends that bought there warned them about her deceitful ways but they wanted to buy there and tried to be cautious when dealing with Debbie **. The truth came out later when they found out how she talked about them unprofessionally when they left and how she lied to them about several items pertaining to the purchase of their home just to make a sale! It's so bad that my parents are pursuing legal action against Debbie **.
I know there are posts about how customers are unhappy with quality or disappointed with other parts of their purchase at Toll Brothers but the deceitful, unprofessional comments and lies from the rep in Elgin, IL named Debbie ** are beyond what anyone should deal with when buying a home. Be cautious of her if you even think of buying a home there! You will be easily fooled like my parents and their friends were but hopefully the legal action will stop her!

If you buy a Toll Brothers Home, you will be very sorry. After four years the drywall cracks are popping up everywhere, and the new project manager tells me it's not under the warranty. The wind blows, the beams move and cracks the drywall. Cracked drywalls will not appear within the one year warranty. The new project manager told me he will only help if the floor falls from under me. Beware of Toll Brothers Homes. They hire cheap contractors to build you house.

You can see all of the problems with my Toll Brothers house at mytollexperience.com - if anyone reading this is willing to share their Toll Brothers experience with the mainstream media or with me for inclusion in my book (anonymously if desired) please contact me: **. Thanks and good luck! You will need it when seeking any kind of quality solution from Toll Brothers.

We recently purchased a new home from Toll Brothers. We were very excited until we received a phone call from Toll Brothers telling us that the plot size was not correct and the fence in the backyard had to be re-aligned. We were told that since it was a model home, the contractor installing fence did not pay attention and just installed it where he felt like. There are 4 model homes that were built by Toll Bothers in this community. All the 4 homes have fence laid down in a straight line. These model homes were sold in AS-IS condition with necessary warranty on homes. The Sales Office never ever made any mention that the plot will be resized. We signed contract, paid our dues and were very happy living here until after 8 months we got this surprise call.
It's just so frustrating. We planted some good fruit trees along the fence, got the back yard landscaped and now they come with this proposal. All what they say is we will replant those tree and if these trees don't survive Toll brothers will replace them. We don't even have sufficient place to replant them after landscaping now. I am sure they will try to squeeze these trees in the small space just so that they are able to save cost. We thought it was our dream home, but don't think it is any more now. Not sure how many more such surprises are in store for us in future. Totally frustrated.

April 2015 was when we paid the deposit for our $1,350,000 Moorpark Masters Community. Kathleen ** was the Sales associate. Comments like "you should have read the disclosures on the wall in the models" or "read the fine print" or "you did not ask" are just some examples of the high handed ways in which this "top sales" executive speaks to buyers. Her first response is always "NO." Then you the buyer of the 1.3 million dollar home need to reason with her. She will make it as tough as possible. If you're up for the challenge, go for it!!
TBI mortgage - division of Toll. Disaster!!! Turned me down at first. Kicked up a fuss. They gave me such hard conditions to fulfill that I decided "no way am I giving them my business." I'm one of the few who have a successful business, several rental homes and enough cash to buy the house outright. Just the way Toll and TBI is. BEWARE!!

I closed on my Toll Brothers townhome in their Marlboro Ridge community in Upper Marlboro, MD in December 2014. Approximately six weeks prior to closing, during one of my weekly visits to the home to check out the progress, I saw that the granite countertops in the kitchen had been installed. Initially I was excited, however, after lifting the blue plastic wrap that covered the granite, my excitement immediately turned to confusion, as I thought that the wrong granite had been installed. I sent an email that same day to the project manager, M.M. expressing my concern. Through the exchange of emails it was determined that the "correct" granite was installed as the name of the granite that I selected at the design studio, Golden Beach, matched the name of the granite that was installed.
I recently revisited this issue with project manager M.M., and later senior project manager C.F., in hopes that Toll Brothers would extend a concession to replace my countertops considering: (1) that my request to pick out my granite slab was met with a "no" (apparently a policy of Toll Brothers); (2) the vendor that supplied the granite sample was different from the vendor who installed the granite, which, according to M.M. ultimately "didn't matter;" and (3) the difference between the 12" x 12" sample is so vast that they are only the "same" in name (see pictures of my design studio selections with the backsplash above the granite sample in comparison to what my kitchen countertops actually look like). In the end, I was reminded that I had signed the granite addendum and that the correct named granite was installed and because of those two things Toll Brothers would not absorb the cost of replacing the granite.
As I am familiar with granite being a product of nature and the fact that variances in color can occur, that is the primary reason why I asked if I could pick my granite slab. I don't understand why Toll Brothers, while allowing customers to select options as small as cabinet knobs, at the same time wouldn't allow selection of something so expensive that is often a focal point in a room, but rather install it sight unseen (to the customer). I am completely dissatisfied. And Toll Brothers doesn't give a rat's a$$ about customer satisfaction because the contracts (and addendum) are written to limit their responsibility, financial or otherwise. However, granite addendum be damned, this all could have been avoided had I been allowed to pick my granite slab.
So, now I will be out of thousands of $ because I have started the process of having the granite replaced. I put down my deposit this past Thursday and measurements scheduled to be taken next week. I would NEVER recommend anyone to purchase a Toll Brothers home because when it's all said and done they really don't give a ** about their customers, only getting homes sold...

We purchased a house for over a half a million dollars to have our sump pit in basement constantly run after barely a huge rainfall and this was after Toll told us that the underground drainage would prevent this from happening. After months of haggling Toll finally realized they cut off under floor drains and had to dig up our yard, still no success. They then dug another huge hole in yard and drilled hole in our foundation wall and still no success. To top it all off the sump pit liner has had a hole in base of it since day one and the way Toll fixed it is with a patch. We have never received an answer on how they will handle this if the patch comes off. Toll is really quite arrogant and never pleasant to you once you have paid for your house. They are really a culture of big corporations and only care about the bottom line. Think twice about purchasing a Toll house.

I recently put a reservation deposit on the Toll Brothers' Media, PA site. After dealing with Brett ** I was so offended by the tone in which I was spoke to and manner in which I was treated that I walked away from the home site. I was constructively called an idiot, there was miscommunication in the emails as to whether I should go to the design studio or the site office. I actually wrote an email to confirm the location, which I explicitly stated as the design studio, and was told that 'everyone else managed to figure out that it was here.' He was also combative when I tried to discuss the possibility of obtaining a buyer's agent. While he battered me with the statements and disclosures, he did so in such an unprofessional manner that I completely shut down.
I was about to spend in excess of half a million dollars and was being chastised and second guessed. Perhaps there are people falling over themselves to drop that kind of money at their property but I will not be one of them. I will never work with an organization that tolerates or otherwise promotes people with this temperament. I expect a minimum amount of respect and decorum in an environment where such a significant life choice of the purchase of a home is being considered.

Toll Brothers were the worst experience as far as building. Their warranty staff are full of it. They do not back up their work at all!!! They should go into fairytale story telling business instead. Lots of lies, no doubt. Makes up stories as why they didn't get to your warranty work. Going on 12 months and they still haven't resolved our floor issue which was at the 4-month walk through. Unbelievable! Do not build from them!!!

My house has flaws everywhere I look. After 15 months of complaining I still have a huge list of undone items. Seems that all they do is rush to meet quotas for quarterly financial statements, and the hell with their customers once they get you on the hook. I was told many times that I should not worry because eventually they fix the problems. Nonsense. Toll Brothers does everything they can to delay fixing problems.

Stole 1/3 of my lot by elaborate false excuses. Rejected providing Army Corp specifics. Unethical, unprofessional, straight out bad business. Took no responsibility in a break-in and robbery due to their faulty doors. Rejected meeting with investigators and local law enforcement. They are in bed with your HOA.

My husband and I have built 4 homes from dirt up. Toll Brothers was supposed to be our last and forever happy home but this builder took away from us what should have been a beautiful and pleasant experience. We built 2 homes with the same builder, would have built our 3 with them as well but they were bought out by another builder. We never had any issues with the homes we built before. Tolls claims to build luxurious homes and to be the builder of the year for many years. Their homes are very pricey but they only use all cheap quality products. On the surface the houses look good but they're not built to last. Please steer away from this builder, they will not do you good. We were asked to put over $35K as a down payment in a subdivision that would not start construction for another 18 months. This should have been our first clue but we missed it.
When our plans had changed and we no longer needed to move in the area, we asked to cancel our contract as NOTHING, no work at all whatsoever had been done. There were no streets yet, no excavations of any kind, no home floor plans had been submitted to the City, absolutely nothing had been done and they told us that we could walk away but they would keep every penny of the $35K plus we put down. We basically were bullied into buying the home but had hopes that it would be a good home, so we kept our promise and satisfied our end of the deal. The same day we purchased the home we entered the house just to discovered badly scratched hardwood floors that had been hidden from us during walk thru. Kitchen cabinets were also severely damaged. A backdoor was installed backwards, door hinges were on the outside so easy for anybody just to remove them and gain entrance to our home.
Within one month of moving in, we found a major water leak in our basement, there was a leak in our roof!!! Our home office was extremely cold so submitted a request to check and "improve" the insulation but they never even attempted to find the source of the problem. They just kept telling us that they had passed inspection and all was good. Consequently, we bought a personal space heater to compensate, and discovered that the lighting and outlet receptacles were in the same circuit and could not handle a small space heater. We'd lose power on our main floor when we tried to warm up with the office. Tired of all the problems we were having we hired a home inspector and among many problems he discovered that there was no insulation whatsoever in the office room. Unbelievable.
This builder only responds to threats. They will push fixing anything until they're caught and cannot longer escape their responsibilities but the aggravation they cause, it's way too much to handle. There are about 25 homes in the immediate neighborhood and all the houses have experienced same major problems. Please cover your bases and protect yourselves, your families and investment.
We will never build with Toll Brothers ever again nor buy an existing Toll Brothers home but if you want to risk it, please do hire a realtor and a lawyer. Do something to protect yourself. They know they have people right at the get go when home buyers put their huge money down deposits. We understand nothing is perfect and things happen but what made our experience even worse was the attitude of the builder. The same project manager became our warranty guy, they were way overworked, very inexperienced and it seemed that they simply didn't know how to fix, what to do and/or simply didn't care.

The development is overpriced, the staff are overworked, and the individual construction personnel are at a minimum deceptive and at times negligent. If you do want to consider these homes, please retain both a residential real estate broker and an attorney, and read everything carefully, as the contract is a "contract of adherence" that they hide behind whenever things go wrong, which is often. Please also carefully inspect houses being built as they are made of very cheap materials. It is expected that the former Shapell properties they bought in Gale Ranch will be made of similar cheap materials.

Toll Brothers overstated total square footage of this home by 293 square feet. Toll also provided false but different square footage information to the tax assessor and building department regarding this property. Toll Brothers did not disclose significant wood flooring damage nor a voided floor manufacturer's warranty prior to sale. Toll Brothers arbitrarily stopped honoring our home warranty claims mid-contract. ABC local news highlighted our story May 5, 2015 and can be forwarded to interested parties.

This builder is a disgrace! Prior to purchase, I made them aware no latex products. My rugs were glued down with latex and the fibers were latex. They would not pay to replace them. I had to rip out the floors because of the glue and replace by myself. I was hospitalized from the latex!! $30,000.00 on a brand new home out of my pocket. The roof shingles fell off and they would not replace. More money. I had six leaks in the basement - they would not fix the sump pump or replace or regrade as water was pouring into basement. I now have a huge 9-foot construction crack because the sprinklers were placed too close to the foundation. They did not fix it! Also, my sidewalk disintegrated and the front railing is broken. Never, never use this builder. The township will not help. The association can do nothing. People have leaks and frozen pipes. Just awful! I also have a cracked unpainted portico. All still from settlement - 3 years ago and never repaired.
Toll Brothers Company Profile
Company Name:

Toll Brothers

Website:

https://www.tollbrothers.com/