Whirlpool Microwave Ovens
Consumer Complaints and Reviews

Just bought a brand new Whirlpool Microwave oven model WM1112D from Amazon.com.mx. Opened the box, plugged it in, it doesn't work. Called the 800 number, it's a joke. We have a Whirlpool manufacturing plant in the metro area. They made me take it there for repair!!?? Why do I need to repair something brand new out of the box. The least I would expect is they apologize and exchange for a brand new one no questions asked. But no, into the shop for check up and repair (no cost). Who is the quality inspector that checked it "GOOD"?? Why does he have a job? No cost? My cost was a 75 minute drive across town and the crappy experience that buying Whirlpool has left on me. Never again. Hope you don't make the same mistake. Judging by the number of units in the repair shop, that model is a piece of crap.

I have a combo Microwave oven/oven GMC275PDS07. When the microwave is finished with the requested program, the end of program chime lets you know it's done. Then, if the door is not opened for at least 3 seconds, the chime will ring again every minute thereafter ad nauseum. This will go on for hours without end. I know because I tried it. I reached out to Whirlpool via a web chat and my question was not even addressed. I was ignored. From reading other submissions, I assume this is de rigueur for Whirlpool. I then called Whirlpool and spoke to Katie in Tennessee. She was not able to bring up any make or model when I provided her the numbers exactly as listed on the inside of the door. She was not able to provide any respite from this annoying feature.
This a Whirlpool Gold model, presumably the top of the line, in my book I will never purchase any Whirlpool product of any type and I will make it a point to let anyone who will listen that Whirlpool is not a manufacturer that takes its customers concerns seriously. Katie then advised that she looked up this feature and told me there is no way to turn the beeping off. I find this amusing since she could not find the model or serial number when I gave it to her.

Purchased a 450.00 Whirlpool over- the-range microwave oven in October 2015 and on January 4, 2017 it is not heating. Timer, light and turntable is working properly. I thought I was buying one of the best products. I was sadly mistaken. So I am a very disappointed senior citizen, is has a fixed income. I still have the receipt from my purchase from Lowe's.

It is a really great microwave, but the door is falling off of it. We can still use it, but try to be careful about it. I honestly and truthfully love my whirlpool microwave as well as my whole set of whirl pool appliances. The door is trying to fall off, but we can still use the microwave. If we get another one we will probably get another whirlpool because I love it so much.

I had it a couple of months and the light stopped working, it's too small. Just not as good as I thought it was. I purchased online, since I could not go to the store. I don't feel it works as well as my old sharp 1/2 pint that lasted many, many years. I doubt this will last much longer, I barely have it 3 years. It says it fits in a corner and it sort of does. From the outside it looks like the inside is higher than what it is and some things just don't fit. The turntable still works, but at times when you take the item off the glass, it comes off with it and you have to play with it until it goes back on.
How do I know I can trust these reviews about Whirlpool?
672,188 reviews on ConsumerAffairs are verified.
We require contact information to ensure our reviewers are real.
We use intelligent software that helps us maintain the integrity of reviews.
Our moderators read all reviews to verify quality and helpfulness.
For more information about reviews on ConsumerAffairs.com please visit our FAQ.

Whirlpool Microwave WMH1164XWS-1 - Well, I'm sure surprised that my almost five year old Whirlpool microwave failed to heat this evening. One minute it worked, next it didn't. Watched countless repair videos, but it seems more aggravation taking the unit out and trying to diagnose the issue than it's worth. Probably the same with enlisting the services of a repair tech. I'll probably think twice about purchasing another Whirlpool microwave. I purchased a Whirlpool French Door Refrigerator a few months ago and now I'm concerned I'll have the same issues. All my appliances were Whirlpool and purchased ten years ago and replaced with newer models, even though I never had any repair issues. Guess they don't make them like they used to!

Microwave didn't even last 2 years. I bought all new Whirlpool Appliances less than 2 years ago & they were not cheap! The microwave won't work until the light comes on inside. Well for some reason now it takes almost 10 minutes for the light to come on & I have to leave the door open until then. Now today I can't shut it because the light won't shut off & if I try to shut it the fans runs constantly. So frustrating as they don't stand behind any of their products! I will never ever purchase anything Whirlpool again.

Poor Customer Service and Warranty. I called 4 days in different times and every time, I heard due to high volume, it may take longer than normal time. I don't know when the Normal Time is. If the products have many issues, they have to increase their number of people or add more reps. I requested the service because of the light, and the rep is telling me it is not covered and I have to replace it myself. I paid for the complete warranty and now they are saying it's not covered.

Whirlpool WMH53520CSO Microwave oven purchased Aug 2014 - The light and fan will not go off when door is shut and not being used. The microwave gets really hot and afraid it will start a fire. I now keep it unplugged and trying to troubleshoot the problem. Not sure if it is worth a repair. Paid $347 2 years ago.

The microwave keypad is worn down after 10 uses making it difficult to read the pad. I just discovered the microwave was missing the front leg and they do not have a replacement part so I am stuck with a virtually new microwave that will not balance. It took 4 phone calls to their "customer service" department to try and sort out the problem. Poor product and extremely weak customer service department.

We bought this product and had only had it for a couple of weeks when I spilled soup on the open microwave door. My mistake, but I would think that might happen to other people once in a while. The soup leaked around the window gasket of the microwave and streaked the interior of the door. It also ran down into the door of the oven and streaked the interior of that door. No way to clean this up that I know of without taking the door apart. I think these gaskets should not allow liquid they leak into the inside of these doors. Whirlpool says it's my problem. They call it a "use and care" issue. I think it's a design issue.

Bought in October 2014. Died December 2015. The previous Whirlpool microwave this unit replaced was 10 years old and carried a 5 year warranty on the magnetron. Imagine my dismay to find out this unit carried only a 1 year warranty on the magnetron. So 2 months past warranty expiration I'm left with a dead unit. I performed elementary troubleshooting. The unit has a fuse on the 120 Volt input. But the unit must be disassembled to gain access to the fuse. So what SHOULD be a five minute job turned into an hour and a half. The fuse wasn't the problem - replacement fuses blew like popcorn. Fuse placement within the unit without regard for service considerations is a poor design.
To their credit, Whirlpool agreed to cover the cost of repairs if I would pay for labor. I agreed. A tech came out and looked at the unit. He said that he would have to order a bunch of parts and that he would be back in contact by the end of the week. Three weeks went by. There was no call from the tech; my messages on his voicemail generated no response. So a couple of days later I purchased a replacement from a competing manufacturer.

I just contacted Whirlpool Co. by online chat concerning the workmanship of their microwave that is less than two years old. The interior top has begun to bubble and peel as well as rusting. This is the 2nd Whirlpool microwave where I am experiencing bubble and peeling paint as well as rusting. Whirlpool informed that the manufactory was 1 year warranty and to contact a technician at my expense. There is a real health issue here and I hope consumer complaints about this company is being monitored by someone who can help all of those with concerns.

I initially purchased all new Whirlpool products as part of my new home purchase in a Pulte subdivision, June, 2011. My WP microwave failed to heat in 2012 and the replacement of the Magnetron and Inverter and service was covered under warranty (would have cost me $493.51). Sadly, the microwave again failed to heat in 2014. I was so disgusted with this second failure, I decided to live without a MW until January, 2016 when I paid for my second service call and learned, once again, I needed a replacement Magnetron and Inverter, to the tune of $400. Both servicemen told me the 2011 magnetron/ inverter mechanisms were "new technology" and did not last long. Again, sadly, when I contacted Whirlpool, they would not admit to their defective product line and indicated they could do nothing since I am out of warranty. It is unconscionable that a corporation is not liable for their defective products.

We purchased this one (Wall Mount Model # WMH76719CS) on July 30, 2015. About one month ago I started noticing that a simple large cup of water to make tea or instant coffee takes more than 2 minutes on power 10 to heat up enough. It used to take about 1 1/2 minutes. Now, I'm no mathematician, but I believe that's about 25% power loss in 6 months. The same applied to any convection dinner I've tried to cook lately. I'm going to say that I'm dissatisfied with the convection feature and would rather just bake the silly food in the regular oven as usual. Any "planned-overs" trying to re-heat is taking much longer as well as "melting butter". I do not have much confidence in Whirlpool microwaves right now, and may never again.

Our new home came with brand new appliances. I love our Whirlpool microwave. It's reliable, quick & has lots of great pre-programmed features to assist with regular. The independent timer is a total bonus too.

The plastic on the outside is very hard to clean and yellows a bit. I wish it had a nicer door handle. We have had it over 10 years and it works fine.

My current Whirlpool Microwave is a replacement to the original microwave/oven combo. I was not pleased when my microwave failed after 17 years and I had to replace not only the microwave but also the oven. The circuitry is shared by the two so if one fails they both have to be replaced.


My microwave is a Whirlpool WMC10511AW purchased in Jan 2014 for $150. It is very light weight and moves around when opening and closing the door. I have to use something behind it on the counter top to keep from moving backward and causing problems getting things in and out. In the first year we had problems with the door latch, but after a while it stopped being a problem. I am used to the stability of Amana Radarange so these very lightweight microwaves seem really cheap to me. It works fine at this point but it seems that these really inexpensive countertop microwaves have to be replaced about every 2-3 years where an Amana which costs a lot more lasts for around 20 years and are very stable not moving around all the time.

The interior features such as turntable, etc are very cheaply made. As is the case with most Whirlpool appliances, this one is way over engineered to focus on appearance and gadgetry. This is not a good microwave for a serious cook who prefers that the design focus on functionality and ease of operation.

Our Whirlpool microwave does everything and more. Very easy to use and the best features of any microwave we have owned. Whirlpool is a brand we trust. This company has never disappointed us.

If I could give Whirlpool products and their customer service zero stars, I would! We built our beautiful home that was complete in June 2015. Our builder was installing Whirlpool products in the homes he was building at the time. So we decided to accept the microwave, dishwasher and drop in gas range that he offered. We had never had Whirlpool kitchen appliances and no reason to respectfully decline the brand. We bought a french door Whirlpool refrigerator as well so the handles would match our open concept kitchen.
In addition to the poor quality overall, the microwave makes a terrible buzzing noise that has been "fixed" two times thus far. The refrigerator is so loud at times that it's difficult to hear the television when sitting in the living room. The dishwasher does not dry the dishes on any setting to include "heat dry" hours and hours after the cycle is complete. This forces us to hand dry our dishes prior to putting them in the cupboard. The cast-iron grates on the drop in range already look terrible because the enamel is coming off. I clean all the appliances as recommended by Whirlpool and like to keep our home beautiful because it is our place of solace and comfort. As stated prior, our kitchen and living room are open concept so I now have to contend with an eyesore in the middle of our home's hub because Whirlpool considers this manufacturing flaw as "cosmetic" and won't cover it under warranty.
To add insult to injury, these poor quality products are the higher end available from Whirlpool. We plan to wait for the year end warranty to expire and replace the four appliances with a brand that has always offered excellent customer service and has been very reliable and trustworthy for us. As a consumer, I would save yourselves the agony of purchasing any Whirlpool appliances!!!

We had our microwave and stove delivered in October, 2015. We had 4 deliveries of the microwave. The first two were damaged, the third needed a new fan motor and the door was not straight. They wanted to send parts to fix but we could not see spending all that money for a brand new microwave to have parts put in. I complained a lot to both Whirlpool who would not replace it and ABC Warehouse who finally agreed to replace it with a brand new one. The 4th is good. (so far).
Our stove has a flaw in the glass top, the drawer doesn't close properly, and there is a piece of metal sticking out from the lower right side of the oven door. ABC says they cannot do anything about it and Whirlpool says it is under a parts warranty so it has to be repaired. I even spoke to supervisor Kimberly at Whirlpool. Got same answer. We are very angry and disappointed. As I told the Kimberly, "Whirlpool got every penny they asked for." We paid for brand new in perfect condition and got a stove that needs fixing. We will never recommend Whirlpool as a Company for appliances and based on all the negative reviews I've read, neither will a lot of other people.

I have purchased two Whirlpool microwaves since 2007. The first unit lasted 5-1/2 years, the second one lasted only 2-1/2 years. I used it at dinner but several hours later it was dead. After reading other reviews I have decided it would be cheaper and less stressful to get a new one. So Tomorrow I will be purchasing a new microwave which WILL NOT be Whirlpool. I no longer have confidence in any of their products.

Home is new construction. Moved into our home in May 2015. All appliances are Whirlpool. The Microwave (model WMH32519CS-1) stopped heating in September 2015, service tech replaced the tube and capacitor. Microwave stopped heating again on Nov 16, 2015. Service tech notified again. Each time it takes 3+ days to get the service tech to look at the oven. This will be the 3rd Magnetron Tube in 6 months. This should not be happening. Contacted Whirlpool direct, asked if we could get the entire oven replaced with a new one. I was informed that this was not a company policy. It was a real waste of time talking to customer service. They are clueless and could care less about what is happening with our oven. I have had microwave ovens for years and have never had this kind of issue. Whirlpool has a real problem here.

My Whirlpool microwave broke. I'm not sure how or why so today I purchased another 2 actually. Both were too big. The model I purchased is discontinued. I had to remove part of my Marble Backsplash - the turntable is tiny however mic is huge. Work on making microwave for smaller areas. Stick to get or Samsung for a nice size microwave not a Mongo mega oven above your oven.

Had kitchen remodeled and purchased this microwave. Now after three years the door cracked in several places and now it will not heat food. Now we will have to replace this mess. Never buy any Whirlpool appliances again!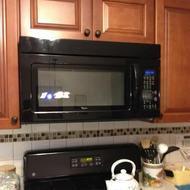 I purchased a new Whirlpool microwave in July, 2011 while totally redoing my kitchen. It worked adequately for most of the first three years but then it began to have problems. It appears to be working when you turn it on but food is still cold after several minutes. One day it occurred to me to unplug it to see if I could reboot it like a computer. I had nothing to lose. Well, it worked for about a day. I turned it on and it worked fine. Only that lasted one day. Returned to being non-functioning pretty fast. I have been debating what to do: call a repairman or what. After reading the other reviews, I think I can see that a new microwave is in my future. However, guess what? It will not be a Whirlpool. No more Whirlpool appliances for me. I live alone and this microwave has not had heavy use. There is no reason for it to just die on me at barely four years of use.

Purchased over range microwave WMH31017AW-2 from Best Buy Mar. 12, 2015 and after installing it noticed code Door appeared and that there also was a dent on side. They replaced on Mar. 19 and we had the same Door code problem. Called Whirlpool and they sent out a Tucson repair tech and he ended up coming out at least six times changing 3 switches, 2 cams, 2 brackets, control board, and line filter. Still had problems and Whirlpool requested he call their tech and he did and they told him to make the same changes and he told them he already did all that and there still was a problem. Then Whirlpool told him to switch some wires on control board which did not solve anything. Then second thing they told him was to file and clean door brackets which also did not solve the problem.
We called back to Whirlpool to tell them we did not want this defective microwave any longer as all these repair trips were not solving anything. They wouldn't give us a answer right then and said they would call us back 24 to 48 hrs and we are still waiting. We will never recommend Whirlpool to anyone nor ever buy from them again.

ConsumerAffairs Research Team
The ConsumerAffairs Research Team believes everyone deserves to make smart decisions. We aim to provide readers with the most up-to-date information available about today's consumer products and services.
Whirlpool has a broad range of home appliances available, including washing machines and microwaves. The company is dedicated to helping its customers take better care of themselves and their families.
Humanitarian aid: Whirlpool has donated a refrigerator and a stove to every Habitat for Humanity house since 1999.
Combination wall oven: The combination microwave and convection oven is built into the wall to resemble a traditional oven.
AccuPop: Using a sound sensor, the microwave detects the correct time to stop cooking popcorn.
Steam cooking: Steam settings let you steam vegetables or add moisture to any dish.
Extra-large capacity: Whirlpool goes a step beyond most large-capacity sizes with this 2.2 cubic-feet model.
Best for Commercial kitchens, large families and small families. The sizes and functions of the range are best for frequent use.
Whirlpool Microwave Ovens Company Profile
Company Name:

Whirlpool

Year Founded:

1911

Address:

2000 N. M-63

City:

Benton Harbor

State/Province:

MI

Postal Code:

49022

Country:

United States

Website:

http://www.whirlpool.com/