Consumer Complaints & Reviews

It is amazing these oven units cost so much, considering they are so poorly made. However, my biggest problem with Thermador appliances is that the authorized repair people are laughably inadequate. Guy came to fix our oven and was beyond insulting to me. I requested a second guy, who fixed the first problem but then did something that incapacitated 3 out of 6 of our burners, which had worked perfectly when he walked in the door. He told me it would be another $1000 to fix the burners. Really? In the last house we rented, we had a Thermador microwave which did nothing but turn food into a slimy mess. Popcorn could not be made in the microwave. Really? This brand seems awful all the way around.

NEGATIVE STAR RATING!!!! We spent almost $6K for a double-oven that is BARELY USED. After 4 years, the top oven burnt food and blew up Pyrex baking dishes within just a few minutes at 325 degrees. Thermador customer service informed us that we would have to absorb any diagnostic and repair costs since the 2-yr. manufacturer's warranty has expired. This is unacceptable!!!!

We paid a LOT of money for this range 15 years ago ($18,000 or more). Eight years ago a burner went out and the service tech told me the part is no longer made. This made me angry but because we had 6 burners I was not too concerned. Now we have a thermostat out and it is discontinued. The range still looks brand new. Now we have junk.

Having considered Thermador appliances, then reading many of these posts, it seems to me that people with Thermador products that are still under the mfgrs warranty should contact a Lemon Law attorney. The Lemon Laws are not just for cars but for everything that comes with a warranty and an expectation of serviceability. I'm sure a couple of "legalese" letters demanding a full replacement or refund will wake the Thermador customer service folks up - Germans hate the US legal system and try to avoid its clutches whenever possible...

We had problems finding the Thermador Control and Timer knobs and the little on off button because they stopped making them. I guess they want to sell their newer less dependable products but we have found them all on eBay as of last month. VOILA!
How do I know I can trust these reviews about Thermador?
574,312 reviews on ConsumerAffairs are verified.
We require contact information to ensure our reviewers are real.
We use intelligent software that helps us maintain the integrity of reviews.
Our moderators read all reviews to verify quality and helpfulness.
For more information about reviews on ConsumerAffairs.com please visit our FAQ.

A few months after the 2-year warranty expired on my $1000 built-in Thermador MBES microwave, it died. The technician tells me it is common for the inverter and a magnetic device to fail in these microwaves and the repair was going to cost, including his visit, $750! I spent $60 on a nearly new Panasonic countertop microwave and it works just fine. Shame on Thermador for building expensive products that are crap.

Spent a lot of money on a built in ref/freezer from Thermador. Now that summer is here I have come to learn the ice maker only makes between 100-125 ice cubes/24hr. I find myself running to buy more ice as everyone wants ice in their summer drinks. This was never an issue with the Whirlpool freezer I basically wore out after 20 years. ALWAYS had plenty of ice as the maker would make ice when the lever was down signaling low ice. If I had known this I probably would have bought something else... cheaper worked well. I called customer service and they said that this was the feature and nothing more could be done.

We are now two months without a working freezer. I cannot stress enough how bad our experience has been. My wife is on the phone nearly everyday with customer service reps, but nothing gets done. They have sent the same incompetent repair people four times to no avail. They cancel appointments and reschedule without informing us. The corporate headquarters are in Germany, so there is no one else to talk to. At the same time, they have wanted to charge us $1,500 in labor costs. Can you imagine paying $1,500 for a job not done? I might add we have seven Thermador appliances in our kitchen! I would not recommend Thermador to anyone.
Updated on 08/01/2016: We have now entered our fourth month without a freezer. It is very clear to us that Thermador's game plan is to frustrate the customer so that he/she will eventually give up. To recapsulate: we had repairmen out four or five times unable to fix the problem. On four occasions, the company cancelled the appointment without informing us and we had to reschedule. This caused additional delays. Without exaggerating, I would say my wife has been on the phone with customer service more than 30 times.
Now they have offered us a new freezer at a discount, but will not provide any kind of installation or delivery into the house; nor will they remove the old, non-working freezer. The installers they recommend refuse to remove the old unit for "insurance reasons." They also refuse to bring the new unit into the house from the curb. So here we are: it will cost us nearly the price of the freezer to have the new one installed if we could find someone to do it.
My wife is in tears with frustration and anger. We have not been able to speak with anyone outside of "customer service". It is a German company with apparently no executives here. I want to restate that our unit remains under warranty. I can't think of a worse example of customer service in my 55 years. Next step: New York State attorney general.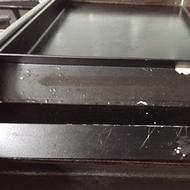 Our drip pan for our indoor grill started bubbling & the paint chipped off. My first impression with the customer service rep was great. Then I received the phone call that Thermador refused to replace the drip pan after owning the stove top/oven barely after 1 year. What a huge disappointment; you spend so much money thinking the product will be high quality and in return they refuse to own up to a defect and provide good customer service. All of our appliances in our new remodeled kitchen are Thermador; I am afraid of what will not work next and what they won't replace!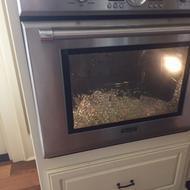 First time using the self-clean function on my Thermador oven. Within 20 minutes, the interior glass shattered. Contacted Thermador customer service - they are not nice people - and after presenting my problem to management, the best they can do is give me 50% off the parts. The internet is filled with customer complaints about Thermador products; especially the oven. Some have had fires using the self-clean function; others have had the interior glass shatter. Stay away from Thermador and their sister companies. They do not back up their products.

When our old Thermador oven gave up the ghost, we looked at Thermador plus two other competitive top-end brands. Picking another Thermador was not a hard decision after twenty plus years of great experience with our old oven. We were really sold by the way Thermador has improved their already beautiful stove top. The new unique simmer feature where the burner actually turns off and on automatically is amazing.
After installation a major quality-control matter was discovered and I had an opportunity to call Thermador's customer service department directly. They were first class all the way. They listened, got the necessary information right away and within 24 hours the matter was set for resolution. Since this quality matter has been resolved we have loved using the oven and look forward to using it for many years ahead. We are extremely pleased with our experience dealing with Thermador's customer service and their management team who responded to our problem.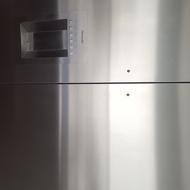 We purchased all Thermador Equipment for a kitchen remodel. After two weeks the refrigerator handle fell off our $9,000 column refrigerator/Freezer, then a couple weeks later the freezer handle fell off too. I contacted Setzer's (who I bought the equipment from here in Jacksonville FL) who contacted the repair center. This was in Mid February, and after several emails and calls it is now Mid May and still nothing! I also call Thermador who really didn't seem to care that their equipment is falling apart. I spent over $20,000 on Thermador Equipment, you would think they would have been somewhat concerned! I'm still working on getting these handles put on but I would not recommend getting Thermador. I will never use them or Setzer's again!

Bought Thermador gas oven, hood and dishwasher last December. I will never ever again buy Thermador and sister brands (Bosch, Wolf) nor will I recommend to anyone. Totally junk quality appliances. In the first week, they had to come back to service the dishwasher as all the settings were on max and melted a bunch of plastic containers. Then the oven - the paint started chipping off the burner tray. Tech came and replaced that. Then the exhaust fan in the hood started making very loud noises and the tech came again, said the fan has to be replaced (luckily under warranty) but no sign of the fan in six weeks.
Called them again and again and it is backordered! For a supposedly top of the line appliances, their customer service is atrocious - very indifferent attitude. They are not allowed to make follow-up calls so you have to keep checking. By the way, their parts are outsourced as is their technical service. Pure garbage. Thermador is made by Bosch so I imagine that Thermador, Bosch and Wolf are all equally crappy. Bought the entire set up late December and still everything not functional! Unreal! Too bad in NJ there is no lemon law for pricey appliances. Sorry there is nothing less than one star in the review category.

In today's day and age, it is clear that Thermador Customer Service does not care enough to adequately train their staff. I just got off the phone with a particularly sour man named Ray **. Not only was he unskilled (not listening to understand the consumer's question, inappropriately interrupting) but he conveyed a genuine disinterest in helping. After calmly asking that he stop interrupting twice, he continued to talk over me. What is particularly shocking is the fact that Ray ** is a supervisor - the person that you think would have the skills and training to perform in his role. I have significant experience delivering customer service on a daily basis and relatively little experience trying to access it; however, I will say that I have never been as irritated by a customer service representative as on this occasion. Thermador - get a clue!

We built our custom home in 2007 which was completed January 2008. We were living in California and spent five months out of the year in our future retirement home in Washington State. In 2014 we sold everything in California and moved permanently to Washington. In 2014 and 2015 we spent nine months of the year in Washington and the rest traveling and in Portland. My control panel went out on my double Thermador oven three weeks ago. I contacted Thermador and requested that they give us a discount on our oven part as we were not here using it as we lived in California and were not retired yet.
The management told us that it was too long since it was installed. This doesn't sit well with my husband and I at all. We have had Thermador products for the past 35 years with a double oven and single in California as well as a stove top. We WILL NEVER BUY FROM THIS COMPANY AGAIN. This oven cost almost $4,000. The appliance people who diagnosed the problem had a terrible time finding this part. This is not acceptable either. Thermador is not a company that we will recommend to anyone with the outcome of this problem. Their management SUCKS.

We spent $20,000 on Thermador appliances in Aug. 2015, and our $8000.00 freezer continuously fails to produce ice or when it does the entire bin freezes into a solid block. We've had the ice maker replaced once already and this one has stopped as well. Now only 7 months old we are informed that we will have to buy a replacement filter for $50.00 for it every 6 months!!! (And no doubt will have to pay an exorbitant service charge every time once the warranty runs out.) We bought a used Kitchen Aid for $200.00 twenty three years ago to use in our basement and have never had to spend an additional cent on it!!! I will never buy another Thermador appliance.

Bought all products (wall oven, range, refrigerator) from Best Buy. Sale items packaged together. Biggest mistake of my life. Fridge did not work from get go. Got no response from either company until I hit their web pages and blasted them. Now, less than four years later, ice maker does not work. Over $500 to fix with a one year warranty. I do not need $500 worth of ice for one year. Wall oven: less than four years old. Close to $600 to replace heating board, again with only one year warranty. Range: sold to me not explaining it was for a center island. Didn't work. Shut down completely when turned on. Had to pull away from wall to get it to work. I've seen several complaints similar to mine with products from Best Buy. I think we should start a class action lawsuit.

Each grate on the cooktop has four rubber 'feet' inserted in a small hole. Cleaning and general use damage these pads and cause them to either tear apart or completely fall out, leaving the grate unstable and out of balance. Thermador did replace missing pads while the stovetop was under warranty, but the poorly thought out design continues to be a recurring problem.

I concur with the previous reviews of Thermador Ovens. Our ovens are 12 years old and they do make the parts that we need to make the ovens work. I did some homework and US companies do not have to make parts after 7 years. We are replacing our ovens with Miele ovens. It is a shame U.S. manufacturers treat their own with such ridiculous laws. I will never, ever purchase a Thermador appliance or product!!

Purchased new for $7500 and has been nothing but a nightmare since. Bake element blew up 3 days after delivery. Control board shorted out 2 weeks after that. All of those 2 problems were manufactures warranted. Bake element has consistently burned out at least once every year since. All costing $128.00 each time. Less than 5 months ago the 2 fuses blew along with the bake element and the control board. That cost over $1200. Turned on the oven yesterday and the bake element blew up again with a loud electrical shorting noise. This time, the back side of the range caught on fire. I have burn damage to my hardwood flooring and wet plaster wall behind the stove.
If I had been some regular consumer that did not have the knowledge on how to kill the power to the stove, it would have burned my house down. The stove is now a total loss. All of the wiring has burned up, along with considerable smoke damage to my home. I am thoroughly disgusted with Thermador. I plan to take civil action against Bosch, and file a class action lawsuit. This is a problem that has the potential to kill someone. Bosch and Thermador are fully aware of the problem and have chose to ignore it for many years. They will no longer ignore me. Please feel to free to respond to my posting if you desire to join the class action lawsuit.

We purchased Thermador double ovens for a brand new custom kitchen about 13 yr ago. We called Eatontown appliance of Eatontown NJ for service since we purchased the ovens there. It was $100 service call to inform us 2 days later that they can't get the parts as Thermador no longer carries them. So I called Thermador itself and they were very polite but totally unapologetic. "You might be able to get them for a parts store on Internet (did not work)." So unless you plan to throw out your ovens if you have a or any Thermador product I recommend you buy some other product. Eatontown wasn't much help either unless you want new ovens. Definitely not from them.

Was excited about getting a steam oven in April 2015. I like to bake bread. Disappointed that top temp is 450 degrees F. Still, it makes nice (not great) bread. But really upset that the light bulb blows out because its glass enclosure has a seal made of crumbly black stuff that lets the steam right in. When I tried to order replacement gaskets, I was told I had to order the entire glass cover, as well. Rip-off! In this century, gaskets like this should last for Years!

Replacement part of oven sensor no longer available which makes the double ovens non-operational when it senses a problem that usually does not exist. All other parts of the oven work and it is poor customer service to leave a total replacement as the only option. Built-in oven replacements amount to thousands of dollars. I cannot in good conscience recommend a company that said they are only liable for the parts for 7 yrs. This is Thermador using Government Regulations to provide poor customer satisfaction and quality control.

I just bought Thermador appliances (Refrigerator, Stovetop, Microwave Oven, Dishwasher, Exhaust fan for stovetop) from Best Buy and they delivered the appliances on Feb 06, 2016 for my newly refurbished kitchen. When they delivered the appliances to my house and I opened the boxes, I noticed the Refrigerator had a dent on the door and the Microwave Oven had permanent marker markings on the sides of the appliance. The Stovetop that was installed started making noises the first day it was installed. Every time I turn the stove on, there is a ticking noise that does not go away and stays on until I turn off the stove. All five burners make this noise. Along with the ticking noise, the stainless steel stove turned dirty yellow upon first use. If I cook anything for 5 minutes, the cooktop turns gets a dirty yellow stain which does not go away.
I complained to Best Buy, however, no one helped me. I used a normal sized pan to cook my food and the entire stovetop around that burner turned dirty yellow! The color does not come off! Since I noticed all these problems I called Best Buy that I want to return the appliances because they are horrible quality and also I received damaged goods upon receiving the appliances whereas I paid for brand new items. I spend about $10,000 dollars on these appliances. I called Best Buy again on the 10th day of my purchase and said I want to return the appliances. I talked to several people from Best Buy, Sam, Stan, Richard, & Jason and they kept putting me on hold but no one was able to help me still.
Eventually, they said they would call me back and no one ever did. Finally, after five days of continuously trying to contact Best Buy, I finally got to the manager and he said it has been more than 14 days to return the appliances because the 14 days return policy had been over. Just to mention, upon purchase, no one had told me there was a 14-day return policy. However, I was trying to reach Best Buy since day 10 and they kept pushing me off. Now I am stuck with appliances I don't want because they came damaged upon arrival. Best buy manager said that he can change the refrigerator door but I do not want it anymore.
I am trying to get in touch with Thermador but no one is able to help me. I am extremely upset! My Sales Number is ** and **. I need someone from Thermador to contact me so I can get things cleared up and I want to return the appliances back as soon as possible. Some of the appliances seem like they may have been previously used and returned by other people. I really appreciate the corporate office if they take notice of the used items and help me. I have not used any of the appliances besides the cooktop; the rest are still sitting there waiting to be installed. Can someone please help me for God sake?

Our home came w/a Thermador three piece microwave, warming drawer, and wall oven. The home is now 10 years old and the microwave has stopped working on the three piece unit. I was shocked to learn that you have to replace the entire unit for nearly $6,000 because they no longer make replacement parts. The rep on the phone was nice but explained that in order to keep up w/ technology they don't make replacement parts for things like microwaves.
I guess when you buy a Thermador you should remember that it is unlikely you will get replacement parts and if you buy a three piece unit you will need to replace the entire thing if one component breaks. The rep seemed surprised that I would be upset about this... I guess they really only expect their products to last up to 10 years. That isn't very long for such an expensive high-end product. No more Thermadors for me or the new home I am building. Will call the appliance store and change my order stat!

In 1993 a 30" dual fuel RDSS30 was installed in a custom home. We bought the house in 1998. Within 2 years the front panel would start to blink. This turned into the panel shutting down. We were told back then that we could not get the computer panel. My husband just happened to find a floor model of the same stove so we purchased another RDSS30 not realizing this was a chronic problem with Thermador. Within a year the computer panel would start blinking then the oven would just randomly shut off. We never even used the self clean feature being afraid the extra heat would make it worse.
Now it is to the point where the number are so dim you cannot see them unless you are in the dark. The oven will not heat beyond around 300. It shuts off without warning. How can a 5 year old $5000 stove not be able to be fixed? There are outside companies that offer the service to rebuild the boards. So why can't Thermador? I will tell you why. They do not give a damn.

The oven stopped heating and the repair company said we need a new control board. Guess what, Thermador no longer makes the part so the oven needs to be replaced. After talking Thermador customer support guy, I was told that I need to replace the three piece combo even the microwave and warmer are still working. Can you imagine the quality and service they provide for such a high end appliance? My old oven kept working for 30 years. They just assuming we can throw everything out and get new ones every few years? I just don't trust them. Does anyone on this board have gone through similar ordeal? Is it possible to only replace the broken oven? It seems to me these have separate controls and why we have to replace all of them when just one thing breaks. Thanks in advance for any help or suggestion.

To make this short, we have had 8 repair visits. The electronic display boards had to be replaced 4 times, the heating elements two times each oven, wire terminals to the elements, and broken door hinges on one oven. When we last experienced having the oven fail to heat, there were no replacement parts (in December), and then the 2nd oven stopped heating just last week (Jan). I have called and written but no one at Thermador at BSH Home Appliances, 1901 Main St. #608, Irvine, Ca. will respond nor have they ever cared. This is the only address I have been able to find to lodge a complaint. All of these visits amounted to more than $1000. Thermador products are junk.

We purchased a new Thermador range 1 1/2 yrs ago and have had serious problems from the very first time we used it. The major problem is Thermador has a "Help" number to call but it is staffed by many young girls who know NOTHING about the range. I asked over and over again to speak with a tech to describe the problems and it was not allowed. (My husband and daughter are Engineers.) One of these "Help" girls actually told me she did not think 2 hrs to warm an oven was excessive and also there is no reason why this range would not last us 4 or 5 years!
The oven would not warm up beyond 100 degrees and I ruined many meals. The repairman finally came and had to replace a couple of parts. He had to replace the computer again (which is located under the griddle and on top of the oven/broiler). Common sense tells me that is not good. Six months later problems again, the computer had to be replaced a second time along with many other parts. This week when we tried to self-clean the oven for the first time the mechanism worked for about 30 minutes and stopped. The repairman came again. Can't find anything wrong, didn't fix the problem.
For the $11,000 range I would not even think of purchasing a Thermador product again. As I said the biggest problem with the company is when the oven would not work and there were 12 people in my dining room waiting for a Christmas Brunch there was no one to call who knew anything about anything (morons answering the phone)! It is extremely important to have a "Help" number with a competent tech person on the other end every day all day because you'll need it and Thermador doesn't have it!!!
The CEO's name is not to be found anywhere so no letters to write either. This unit has too many functions operated by the computer which is located in an area between a HOT oven and a HOT griddle. A computer that does not work because of being excessive heat bound. Fighting a faulty computer in a $10,440 oven while trying to make dinner isn't worth it. My advice buy another brand without computers.

In August 2014, we remodeled our kitchen completely. We replaced our appliances with what we thought was top of the line, high-end Thermador appliances. The cost for the double oven, warming drawer and cooktop was $8000. We have had continued problems. Oven replaced twice, warming drawer once and the cooktop was dumped and replaced with a Wolff. THERMADOR IS JUNK!!! Recently the dishwasher started showing rust spots on the "stainless steel" face panel. Thermador sent a bottle of appliance cleaner - by the way, it did not work. JUNK!!! The following are the model numbers: Double oven ME302JP, Warming Drawer WD30JP, Dishwasher DWHD640JFP, Gas Cooktop SGSX365FS - this is the biggest piece of junk!!! My suggestion - buy Subzero and Wolff. I hopes this helps save you the cost and heartache.