Ring vs. ADT
Compare ADT and Ring on home security features and costs



Written by

Edited by
Find Home Alarm and Security Systems near you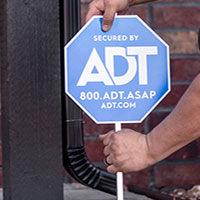 Ring and ADT are two popular home security options, and each has benefits and drawbacks. Ring and ADT both offer security packages with flexible customization options, and both companies also provide helpful mobile apps that allow for real-time video monitoring and alerts. Keep reading to learn more about the two companies.
How are Ring and ADT different?
Ring is a relatively new home security company that specializes in high-tech safety products and support, and ADT is a more traditional security company with more than 150 years of industry experience. Wireless connectivity is available with both companies.
Ring specializes in DIY home security, whereas ADT focuses on a more well-rounded approach to safety. Ring is easy to take with you where you move and offers flexibility if your needs change. But, many Ring owners say this leaves room for theft.
ADT is a little bit more permanent, meaning it's harder to steal and a better option for those who plan on staying in their home for a while. It does come with a long 36-month contract, however.
| | | |
| --- | --- | --- |
| | Ring | ADT |
| Upfront starting costs | $199* | Landline options |
| Starting monitoring fees | $10 a month* | $36.99 a month* |
| Landline options | | |
| Money-back guarantee | 30 days | 6 months |
| Customer satisfaction | Read reviews | Read reviews |
*As of publishing date
About Ring home security systems
With a wide variety of options to choose from, plus additional features like the Neighbors app, Ring offers homeowners the flexibility they need to create a customized security system for their home at an affordable price.
Ring offers hundreds of pieces of equipment on its site to purchase, including corner cameras, floodlights, alarm keypads and more. However, it's best known for its doorbell camera, which starts at $99.
Standard features on most bundle kits include HD cameras, motion detection and mobile access. Cameras also include motion-activated notifications, real-time video, two-way talk and lifetime theft protection. The most expensive bundle, Deluxe Pro, is $846.99 and includes a video doorbell and three video floodlights. Financing is available for up to 12 months with no interest or fees.
Ring Alarm 5-piece kit

Optional monitoring
Works with Alexa
1-year limited warranty


$199.99 on Amazon*

*As of publishing date
DIY installation: Ring was designed to be easily installed by homeowners. There are hundreds of videos online about how to install Ring doorbells and other products. Ring also offers professional installation through its X Line package, an all-in-one solution with equipment, personalized design and installation. Technicians use their local knowledge and security expertise to handle the process from start to finish.
Optional monitoring: Monitoring is an optional feature for Ring products. Ring offers two monitoring options: Basic and Plus. Its Basic monitoring plan ($3 per month) allows for video recording and storage on one device. The Plus plan ($10 per month) lets you record and store video on all devices and includes 24/7 professional monitoring.
Contract: Ring doesn't require a service contract. If customers choose to sign up for a monitoring option, which charges either monthly or yearly, they have the option to cancel at any time.
App: Ring has two apps: The Ring app and its new Neighbors app. The Ring app is how users view their live footage at any time, whether there's a motion notification or they want to check in on the dog. The Neighbors app is a community-based application that connects Ring owners to other Ring owners in their neighborhood for a more well-rounded approach to safety. This app offers real-time updates from neighbors and local public safety officials during disasters or other safety situations.
Customer service: Reviews are mixed on Ring's customer service section. Because most of the security features are managed by either the homeowner themselves or by a professional monitoring agency, Ring doesn't have a lot to do with the day-to-day management. But when an issue occurs, some reviews say that Ring is hard to get a hold of or not super helpful.
About ADT home security systems
ADT offers professional and DIY configurations to fit the homeowner's or business owner's needs. Available options include security cameras, emergency alarms, home automation and more. All products come with a six-month guarantee and 24/7 monitoring for added security.
You can choose from one of its three security packages: Secure, Smart and Complete. Free quotes are available for Secure, Smart and Complete packages pricing. The Starter Home Kit, which includes two door and window sensors and a smart home hub, is $199.
You can also build your own system, which starts at around $160, and select from additional upgrades, such as an outdoor camera or Google Nest Doorbell camera.  Each system includes a digital panel, wireless remote and motion detector. ADT's systems can be controlled from Amazon Alexa.
ADT Pulse + Video Security Package

Monitoring starts at $59.99/month*
$99 installation fee*
36-month contract


Get a quote

*As of publishing date
Professional or DIY installation: All packages include professional installation. However, some customers also have the option to purchase their own products, create their own system and install it themselves. However, this option does not include the six-month guarantee.
Optional monitoring: All purchases include self-monitoring with mobile notifications. For professional monitoring, customers receive their first month free and then pay $36.99 to $52.99 per month after that. This includes three layers of protection and emergency alerts to homeowners and authorities.
Contract: DIY packages don't require a contract. Monitoring requires a 36-month contract in most states. California residents sign 24-month contracts.
App: ADT offers a few apps: ADT Control, ADT Pulse, SoSecure and MyADT. Having this many apps can be confusing for customers trying to figure out how to control their homes. The ADT Control is what you'll use to actually control your system — it lets you perform tasks like watch videos and turn on lights. The MyADT is for account control, like paying bills. ADT SoSecure offers on-the-go security for an individual. For example, if you're running and face an emergency, this app will work through your ADT plan to get help.
Customer service: Reviews are mixed on ADT customer service. Some customers say they're able to reach them no matter what, while others had challenges finding support.
Bottom line: Which is better, ADT or Ring? 
Protecting your home isn't something to take lightly. With so many options, it's hard to know which is best for you. After comparing the ADT and Ring, the ConsumerAffairs research team believes that Ring is a good option for those on a budget while ADT offers more comprehensive systems.
Ring is good for self-monitoring on a budget: For those on a budget or who just want to keep tabs on their home without monitoring, Ring is a better option. Its straightforward approach to safety doesn't exactly do much in the case of an emergency, but it does offer a great way to stay up-to-date with what's happening at your home and in your neighborhood. Plus, it's a fun way to keep tabs on your community.
ADT is good for comprehensive systems with professional monitoring: ADT offers a more complete security system at a higher price. With included installation and monitoring, ADT takes a more traditional approach to security that offers more reliability and security than Ring. Plus, the packages include more in general in terms of benefits and app connectivity. These features come at a higher cost, though.
Did you find this article helpful?
|
You're signed up
We'll start sending you the news you need delivered straight to you. We value your privacy. Unsubscribe easily.