Consumer Complaints and Reviews

We ordered a dining room table from this company. The table was supposed to arrive on September 17th. I have called them six times and every time they tell me that someone will call back. I have never once received a call back from them. We finally got a delivery date from them of October 15th. I called them that morning, now a seventh time, since I did not receive a more specific delivery window as promised. They said that the item is either damaged or missing and they cannot deliver again until the end of December, most likely 2017. They said they would call me back with an update with an exact date. I do not expect a call or a table.

Had a terrible experience with RH. I spent over $10K in home furnishings for my living room. My couches were less than 9 months old when I moved out of my home to another location. In transit all the nailheads fell out of my couches and one of the wheels that was supposed to screw off - the entire wheel fell off leaving a dangerous sized nail hanging out of the couch. RH said they would sent replacement parts and they never came. I waited four months and they kept telling me they were in the mail. I was also told I would receive a refund of $2k. They said they sent two checks to two different addresses - they never came. I am finally trying to return all my furniture and still they are acting so incompetent - wrong contact info on file after its been changed several times and they screwed up my address several times. No tracking #s for the check for $2k either.
I am now returning all my furniture because it is poorly made for the price they charged and I've waited over 4 months for no replacement parts and absolutely no refund check they supposedly mailed twice to two separate addresses that never reached me including my office! They are liars and completely incompetent in replacing defective furniture and issuing refunds. I dealt with a woman named Julie, a supervisor who had an attitude with me because I never received any of the checks they NEVER sent! Do not buy furniture from this place - you're better off with Ethan Allen or another store that doesn't play games with their customers and actually have a competent working staff to help its customers.

I am so deeply disappointed in the quality for my daughter's area rug. I tried to clean up a little stain with WATER and that stained it even more. I then sent it to the cleaner and they said the type of material they used for the rug was terrible. I then called Restoration Hardware customer service and they tried to tell me that it was my fault for putting water on them. They refuse to even give me credit for the faulty carpet. I expect this from a lower quality company, but not Restoration Hardware. They just lost a lifelong customer!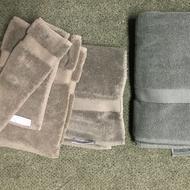 I had purchased a large set of 802 towels (color Iron) and when a new RH store opened nearby I decided to add to the set (three years after). Only after I purchased the new addition did I realize the massive discoloration of the towels I had and trust me I wash them carefully in fragrance/color free Tide in COLD water, nothing else. When I call they deny any responsibility saying it's normal "fading" and wear and tear. BEWARE of this company. You're out $300-$500 every few years to keep a towel set in order. Pathetic. You'll see the new towel next to some of the older ones. Huge discoloration over time. Crappy dyes they're using.

Never ever use this company. Do your own research, don't just take my word for it. There are many folks who are equally unhappy with this company. My family's experience was with a $4K sofa build and delivery. We live in an older condo building. They built us an 84" sofa which could not fit into the building elevator. They did not ask us the size of the elevator at the time of purchase, and unfortunately for us we did not think about the size of the elevator when we placed our order. We rescheduled for delivery to another location. Somehow they were "unable to contact us by email" and our voicemail message boxes became inexplicably full when they tried to contact us by phone.
Interestingly enough, neither my wife or I did not receive any emails from them in spam folders and we did manage to receive voicemail messages from friends, family and co-workers without any complaints of a "full voicemail box." We finally managed to get back in touch with them by email and were told the sofa had been moved to another location and they will no longer deliver it to our preferred location. They "agreed" to refund our second half payment with a $150 "penalty" and to "generously" give us a "store credit" equal to our initial down payment. They also agreed to "build another sofa" and deliver it to our preferred location approximately 2+ months down the road... This was our customer experience with Restoration Hardware. Buyer beware.
How do I know I can trust these reviews about Restoration Hardware?
611,656 reviews on ConsumerAffairs are verified.
We require contact information to ensure our reviewers are real.
We use intelligent software that helps us maintain the integrity of reviews.
Our moderators read all reviews to verify quality and helpfulness.
For more information about reviews on ConsumerAffairs.com please visit our FAQ.

I ordered a piece on May 15, 2016. (I am paying $199 delivery fee). I was told in the email I would be contacted by 5/26/16. I wasn't so I reached out to them. I left a message. 2 days later I was contacted and we tried to choose a delivery date for a week out. I asked what the window was and they could not give me one. I asked to have a note put in my account to say I had a healthy 4 hour window of "x".
I was just called today and told they could not accommodate any time in that window. Now I have to wait for Saturday. I also cannot choose a window till they call me Friday night. What kind of business is this? I will have to wait, and not be able to plan anything for the entire day. I work during the week and need to run errands during the weekend and many service stores are only open on Saturdays, if that.
Back to the window thing. I have now had 3 days I was free within this week, but they could not either meet a large window of time I had or tell me when until the day before. To top it off, I just got a voicemail on my phone while I was typing this that says my window is tomorrow between 1:30 - 2:30, but I already told her I can't do it and that I will want the Saturday time slot. I don't think I am ever going to get the shelving unit I paid way too much money for. Now I have to call them back to fix my delivery day, sure wish I could choose a time window. Ugh!

I am writing this review to share a very positive review of Restoration Hardware. My wife and I recently purchased two large pieces of furniture from RH. After a short wait (much sooner than they stated it would be), they contacted us for delivery. Today, they delivered the pieces, and much to our disappointment, one of the pieces would simply not fit through the doorway. There was an issue with listed dimension versus actual. The delivery crew offered to take our window out which we would not allow. So, we decided to return it. Note, that we purchased a final sale item that we returned. We were very fearful that we would be stuck with the item.
Quite the contrary, we were very quickly contacted 3 separate times by RH customer service to make it right. We decided to exchange the returned piece for two other pieces. Since it was an exchange from an existing order, we also got to utilize our previous unlimited shipping. So, there is no additional shipping charge and we were able to exchange a final sale item that did not fit for two other items at no cost. It is also important to note that I live fairly far outside local RH delivery areas. I have read here on Consumer Affairs that others have not had the same experience but feel it prudent to share a review of being pleasantly surprised with RH customer service. If you have not shopped with RH, you hopefully have the same.

My wife and I have decided we are tired of buying cheap/lesser quality items for our home only to have to replace them every 5 to 10 years, so we purchased a few things at RH. With the new Gray Card which automatically cut the price by 25%, and flexible financing options (genius, by the way) on the RH Card, it made it a hell of a lot easier to shop here. We bought 6 outdoor drape panels and the hotel iron hardware, all beautiful and the quality is top-notch. I will say whoever designed the tiny tool/wrench thing to do the final tightening is a masochist... Not the most user friendly, but the end result is stunning. I had to order 2 more panels and the price had gone back up so I called Customer Service. They were happy to assist me and lowered the price to the same as the other 6 panels, and also helped me cancel another order that was already shipped, and told me they would track it and reroute for me. Excellent. I'll be shopping here again for sure.

Ordered 3 Marais brass curtain rods back on 12/5/15. They finally arrived yesterday (5/18/16!) with no mounting brackets. So, it has taken RH over half a year to produce some brass rods incorrectly. Excuses have included "we didn't have enough raw materials" and "well they are custom". Truly feeble.

We bought our third RH sofa that was delivered around December of 2014; Maxwell Right Arm Sofa Chaise in Perennials Textured Weave Fog, $4591.37. It's now 18 months later and the cushion is sagging, the fabric has loose stitching and pilling all over it. The person with the initials LV in RH customer service told me that this is normal wear and tear for this fabric. I should use a fabric shaver to remove the pilling. Hello it's a $4500 sofa, it shouldn't do this after a year. I'm done with RH. They don't have a quality product anymore.

It was my impression before buying furniture from RH that their customer service sucked. Needless to say, I had a yearning for one of their sofas and I finally pulled the trigger. At the time, they had 12 months no interest financing with an RH card (I believe they still offer this). I purchased an 8' Belgian Classic Slope Arm Sofa in standard (non-down) cushions (on sale for about $2,700). I did this because I had previously purchased a similar RH sofa in down (which I returned), as I found the down sunk down too low and didn't give me the back support I needed. Anyway, so I bought the 8' sofa in the standard foam cushions this time, in Charcoal Belgian linen. The foam sofa cushions seemed to be inferior quality compared to the sofa itself.
After a few months I decided to call RH to see what they could do. I wasn't expecting much cause, as mentioned, I heard their customer service was lacking. To my surprise, they actually offered to replace the entire sofa! I told them I really just needed the 'cores' replaced with down ones (back cushions only). They gladly offered to replace them, though it does take about 12 weeks. Once I got them - this time the down didn't sink down as easily and had better back support for me - I decided I might as well get the lower cushion replaced also. Once again, RH gladly replaced the lower cushion 'core' with down. There was initially an error and they shipped me a 7' cushion (so it's taken quite a while to finally get the down replacement), but, everyone I have ever talked with has been very service oriented and happy to accommodate my requests. At no charge to me whatsoever, I might add.
Yes, RH is expensive. We pay for their huge ass showrooms and elaborate catalogs. But, the bottom line is the quality is far better than West Elm, Pottery Barn, Crate & Barrel and the like. So, if you want furniture that is higher quality and is more of a long-term investment (that you'll want to keep around for a while), go with RH.

I have ordered so many items from RH and almost every single item I have gotten has been damaged or has a defect and I have complained to RH about my problems with damaged products and waiting at home for the delivery company and never shows up. No one calls to tell me why they never showed up. I have to call to see what happen. Nobody from RH will follow up like they say. Now RH corporate emailed me stating that they can't meet my standard and will no longer will being doing any business with me. They canceled my warranty items and pending items.
Now I have items that I'm missing to complete my room as in my bedroom got the bed and nightstands missing the dresser. All I asked them to do is get me the items I ordered and we don't have to business after that and now they won't even work with me to get the items I'm missing. How is it my fault that they can't deliver items in good condition, delivery company not delivering items after setting up appt with me telling me they have the items, RH never following up like they say they are. Can someone give me someone contact info at RH corporate office that can help me get my items.

RH - Nightmare at the Square. December 2015 we placed an order. Sofa, lamps, dining room chairs, fabric to reupholster a few wing backs, curtains. Today is April 3rd and the ordered is still not completely filled. And those items I did receive have required additional work from upholsters due to very poor craftsmanship. BEWARE when the sales associate tells you it's a custom order. Translation: it's made cheaply in China and takes months to arrive. IF it's not lost or you get a Dear Valued Customer email giving you a new ship date that's completely bogus. This has happened to me 3 times. And these poor sales associate working so hard to carry on the name of Restoration Hardware. Which by the way due to nationwide horrible reviews, service, quality and the stock tanking, they now call themselves RH.
The store is alluring. The quality is despicable. Delivery, a nightmare. *Ask a sales rep to take a slipcover off a dining chair. Grade School Shop 101!! But be kind to the sales associate, they have to know it's a crap shoot making promises. Take the time to read RH reviews nationwide. You'll save yourself a ton of heartburn, bogus emails and an accountant to decipher an RH invoice. 5 months later I'm still waiting for my fabric! If I hadn't other pieces in this same fabric I would have moved on a long time ago. PS. There's no white glove delivery! And those aggravated looks when you have items returned due to damages (because you will) are just another example of the RH experience.

I recently bought a Harmon Flushmount light fixture from Restoration Hardware. When it arrived I was dismayed to see how cheaply made it is, comparable to a $20 Home Depot item. While it looks attractive on the outside, the screw holes didn't align, there was a light rust on one part of the interior, it was poorly designed in terms of installation and the quality of material was poor. A complete headache. I could not be more disappointed. I did write the company and received a response but no follow up when I provided the product information they requested. Something to be concerned about when buying a RH light is how much light the fixture will produce. Much of their lighting has a low maximum wattage and you need to install another fixture just to see.

I am an interior design professional. I specify home furnishings for my upscale residential clients. RH normally provides a discount to Trade Professionals below the retail pricing level due to our repeat business. Recently I brought a client into the Dallas showroom to complete a large furniture purchase. The salesperson decided to sell directly to my client and provided my client with my Trade discount. Essentially, I worked for two months selecting furnishings, and drawing room placements and was not compensated.
Also, my previous client that I purchased furniture for at RH was not satisfied with the quality of the furniture that was delivered to her home. The showroom has nice soft comfortable down sofas, but the delivered sofa was hard and filled with something that was very uncomfortable. The tables were stained a much darker color than the ones shown to us in the showroom. It seems to be a switch and bait system. The showroom wows you, but the furnishings delivered are a much lesser quality. Trade professionals may wish to take their clients to other home furnishing stores.

I have been wanting to write reviews on the products I purchased on the RH site, but didn't see how, so figured I would write here. Originally, after I discovered RH via the Houzz, I purchased a velvet duvet cover that I had a problem with. To start off, RH completely made it right with me and beyond. I was actually having a very stressful experience with a different company at the time, and RH restored my faith in basic human reasonableness and caring; true story - I DO NOT work for them nor am I being paid to write this, lol.
Anyway, they were having a bedding sale, so I purchased two new duvet covers and a some blankets. One of my duvet covers was literally over $300, but I have to tell you, even at that price, which for me is high, I am so happy with it. It is truly artisan fabric as was advertised and was made in Italy. I also bought a linen duvet cover and it is soft and the perfect weight. Honestly, every single piece I received I absolutely love (although in hindsight I would have picked a lighter color for the linen, but that's just personal preference). I'm sure they'd allow me to swap it, but I don't like things to go to waste.
The quality of the items is superb, truly. So I just wanted to say that. Each and every item I purchased I seriously love. A+ for the customer service, and A+ for the products!!! I feel really special with this beautiful bedding. Only problem is I now have too much and can't use it all at the same time. They get products from all over the world, I believe, such as this special Italian jacquard duvet cover, so sometimes, you are going to run into a problem, but like I said they went above and beyond to make it right. I was very sad that the fabric on the velvet duvet cover I had was too loosely woven because the rich trendy "graphite" color was gorgeous. Anyway, I just had to write a review somewhere because I love my stuff I got so much! Italian jacquard duvet cover, linen duvet cover and shams, down blanket, faux fur throw, velvet herringbone coverlet, plush blanket.

We are in process of closing on our new home and decided to buy furniture from RH for our living room and master bedroom. Interior designer from Charlotte store Anna ** helped us in selecting and visualizing look of furniture. So far the experience was really good for the first two weeks. But during the time of placing order it seemed like Anna ** was in rush and very rude and was not interested in placing order. She did not even put a note which we requested several times through our conversation that we would not want any items to be delivered until mid-April.
Today one of the furniture accessories shows as shipped without anyone calling us to check if we need to reschedule the delivery. I emailed Anna to make sure to add a note for all orders stating no delivery before mid-April. Sorry to say we haven't received any response from Anna **. Finally we had to call CR and cancel our accessories and reship by mid-April. I am really hoping that our furniture to be shipped shows up in good condition. Be aware of interior designers in RH stores.

I order 3 pieces of furniture and upon delivery, all 3 pieces had damage. The end table came without the top, the dresser had a crushed in corner. Called the local RH store, manager did not want to discuss any concerns. I had to talk with him through an employee. I refused delivery and called the 800 customer svc number. They assured me someone would call in 1-2 weeks with a new delivery date. As of today, I have not received the furniture I paid for about 2 months ago. I would expect better service and product from this high-end store. It was my first experience with them and I will never go back. Such an inconvenience for buying furniture. I've had better service and delivery from low-end places. Good luck if you choose to buy anything from RH. Total disappointment.

We purchased a pair of "high quality" standing swing-arm floor lamps based on marketing representations and the appearance of quality. $716.00 for two. Both arrived defective: the base was loosely attached to the standing part (pole), flimsy and wobbly. Careful inspection and an attempt to simply screw the pole to the base failed: the gap was so loose on one lamp - an inch of separation - that we could see the machine screw and nut assembly inside, but things were not properly attached. How embarrassing and shameful that RH would not inspect items prior to shipment. One bad item could be happily exchanged if the other were as-represented and of good quality. Now we endure repackaging, return shipment, and waiting 3 weeks for return and refund to be completed. Ugh.

I purchased curtains from the RH website. After placing a call to customer service and specifically asking whether I could return the curtains to a store if they were the wrong color, I was assured that I could. Knowing this, I placed my curtain order. Curtain orders from RH incur enormous shipping charges of $75. The reason ordering curtains from RH is difficult, is that a customer is not able to view the actual curtains in any RH store. I was told that I could view color swatches for the curtains at the store in Boston but when I went to look, they did not have any swatches for the curtains I was considering buying (striped Thai silk). Not having been able to see the actual curtain or the curtain swatch, I gambled, paid $75, and ordered the curtains.
Once they arrived, they were not the right color. At this point, I contacted customer service to order a different color and I mentioned I would be returning the original curtains to the store in Boston. Customer service now told me that the stores actually DO NOT like to take returns and that if I returned the curtains to the store, it could be months before I received a credit. My other choice was to return the curtains and pay another $75 in shipping.
Since I was planning on exchanging the curtains and buying another color, I asked RH if they would courtesy ship the new curtains, as some merchants do, and was told NO, that I would have to pay another $75 for the new shipment of curtains. At this point, RH was asking me to pay $225 in total shipping charges. My purchasing process at RH has not been at all customer friendly. This is especially frustrating because I tried to establish BEFORE placing my order how much the curtain purchase would cost, including shipping.
RH has nice ready-made curtains but I urge anyone interested in them, to google ready-made curtains and check out other vendors before placing any order with RH. West Elm, Pottery Barn, Bed Bath and Beyond and online retailers all have ready-made curtains and drapes worth looking at. BEWARE of RH's VERY HIGH shipping charges and EXTREMELY POOR customer service BEFORE doing business with them.

It seems most people only post their "negative" reviews. So I decided to post my "positive" review with RH. We do not have a store here in the Vegas area yet (I hear it's coming). Therefore, we visited the stores while in New York and L.A. last year. The service in the New York city store was exceptional. The service in the L.A. (Melrose) store was a little lacking. Anyway, I ordered the Lasalle Media Console, coffee table, and a sofa. I ordered the items at different times via online and using customer service. I have received my Media Console as scheduled. It is absolutely beautiful, very well made, and in perfect condition. The "white glove" delivery service was exceptional. I am very satisfied so far. I am so looking forward to the opening of our Vegas store - whoohoo!!!

I purchased a glider Sept 2, 2015. I was supposed to be notified Nov. 2, 2015 to let me know the delivery date. No notification. I called Nov. 6 to inquire about the chair. The customer service rep said the fabric was not available anymore. I asked what could I do? The rep said she would look into it and call me back. No return call. Called again in a few days. The rep said the chair fabric was on back order and she would call me back and let me know if I could get the chair. No callback.
Next day, talked to supervisor and after much negotiation and checking with her supervisor, she eventually discovered we could get a loaner chair that we would be charged for and would receive a refund when the correct chair was delivered and the loaner was picked up. Finally got the correct chair January 12, 2016. The customer service people were always very nice on the phone for the multiple phone calls, but it was such a hassle and took so long that I will never buy anything else from RH.

I have had very mixed experiences but as my husband and I discuss the possibility of new furniture, and I was taking inventory of our budget and what we have, my upset over our purchases from this company resurfaced in full force. When my husband and I were first married we purchased - for probably a minimum of $10,000 - a bedroom set. We got two dressers, entire bed set and two dressers. After only a year or so the tops of the furniture pieces began to split and buckle. Now this many years later I still get upset each day when I walk in the room and see the state of these pieces. I have had to touch up the corners of the drawers, which we are very gentle on, every few months because whitish is exposed underneath the espresso finish. The side tables are now looking quite disgusting even though we use coasters and I use the suggested protective elements.
We have leather furniture which has been terrific, and a kitchen table where the table which had quite the price tag is lasting relatively well after about 5 years but the chairs have been replaced twice because the wood has split. RH customer service for the chairs was very helpful in that case. However, for the investment we have made in RH over the years I don't believe we will be buying more because it is really "hit or miss" on quality and the price is just too high to risk it. I was thinking about how in two of our other bedrooms we have full bedroom sets that my parents had purchased from Ethan Allen in the 70s and look 10 times better, near perfect, as compared to the RH set that we spent so much on much more recently. I am disappointed because I love the style they offer but I want to warn everyone who is looking to spend well earned money that your dollars might be better placed elsewhere for sure.

Like many others I have purchased thousands of dollars of RH furniture, bathroom hardware and vanities over the years. Started to notice issues with quality back in 2008 during 2 bathroom renovations. The laminate of two of the cabinets was starting to peel off. Paid to have a furniture repair guy fix 2x in one year. Made the mistake of once again using them for yet another bathroom renovation in our current home. In less than 6 months the vanity door is warped (will no longer close completely) and I just noticed this morning the mirror is starting to fail (black around the edges from moisture). In addition we have had a plumber out to fix the RH faucet which tightens up and prevents proper water flow. Customer service has been hit or miss over the years- sometimes very helpful, other times absolutely horrible (usually on the delivery end). I am done with this company. They should put the money that they spend on their catalogs into making a quality product.

I am infuriated by the discrepancy between the RH mega catalogues and the product/service. I received a catalogue which I think is totally over the top and have since cancelled. I was seduced, however, into buying some of the flameless candles. I ordered them on November 30. I ordered 3 different sizes, plus a remote. Total about $100 or more. So kind of a nice gift. But also, kind of over the top for fake candles. I received the remote first, the one of the candles a week or so later. The others have not arrived. I cancelled one. The other was supposed to arrive today - 4 weeks after I ordered it.
It's not the end of the world, I realize. The one candle I did get, looks cheap and I was embarrassed to give it to my employee today. I had to explain that the other one, or two were - coming soon. Still not sure. This whole thing has been handled so poorly. I spoke with several people including a supervisor and no one really cared, I have to say. They do their job, but they don't benefit or lose from this company so they don't really care. I care. I run a business and I never treat customers this way. I will never step foot in another RH. Nor will I go looking for anything in their online store. I used to love this brand but that is over. Totally. Cheap, overpriced, BAD customer service = out of business soon.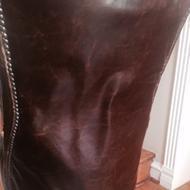 First of all, if anyone willing to shop at this store, my honest recommendation is to stay away for the sake of your credit card. After looking online for leather chairs, I walked into their store in Highland Village and wanted to see their leather chair. They said they can not display every time in online so I had no chance to see chairs. I did trust them and made an order that night on the phone and few hours later I had an email. As soon as I saw the chairs I realized that they were not the one I wanted. I called the customer service and store to cancel the order and make a new order. They said they need to charge me for the new order and then will refund me first wrong order. Even after couple hours later, that product has never been out of the warehouse. They did not cancel it, they even delivered to my house that I canceled it.
On the delivery day they brought 6 bennett roll-back side chairs, plus canceled chairs. Of course they were in a horrible condition. I did return 3 of them. At the same time, I kept 3 of them. After couple of hours I realized those chairs are not tufted, in fact they were made of patched leather. As a result, some pieces looked old some pieces looked new. When you look at the chairs you see the color difference. I called the store and they asked me what I want to do, also at the time I was waiting my 6 parson chairs that I canceled and have never taken them.
Because I was looking for the tufted leather chairs, at this time I went for the tufted (at least clearly says, it is tufted. I assumed it is one piece leather) Martin chairs. That was the worst decision I have ever made. I also made a request for inspection before those chairs out of the warehouse. They were wrapped with the blanket. I thought this time is gonna work. They opened 3 of them and I was in a really shock to see how loose the back side of the chairs. I did not want to see rest of the 3. I thought I am done with RH. I did sign a paper that I am returning 3 bennett roll back side chairs and 6 martin tufted leather chairs and want my refund as soon as possible. After 5 min I called the customer service, also they did call me, I made a clear request that I want all my money including shipping. They said yes.
After a week, yesterday I had a call that saying my order is ready to ship. I called the customer service again and said "I have nothing to be delivered". He said "this was a mistake". This morning I had an email says that my order (I do not have any verbal or written) is ready to ship. At the same time my husband said we were charged for 1 Martin tufted chair. During your order, On the phone, or online, you need to give them your credit card information at the time of order every time, however this time they figured out without any verbal or written order they just charged us. Now I am scared too, so they can do whatever they want to with your credit card information.
Even though I made a written and verbal request for 3 bennett roll back side chairs refund, just this morning they said they did not make a refund. They do not see the chairs were returned. Means my calls and written statement did not counted. Thank god, I took the copy of the paper and I wrote that I return 3 chairs as well. They could say easily we did not take it. Where are we now is that everyday we check our credit card (they charge you in a minute they do not refund you in weeks) for refund and extra unknown charges.
What this store makes you buy is that only the design. I think I love their design and colors. This store locates at the centre of the city, it is always making you happy while you are in the store. On the contrary, they have a poor quality of furniture. Filling backside of chairs and upholstering with a good labor, checking them in china and in Dallas should not be that difficult if you charge people 3 times more than other stores. From now on, I will never step on this store again and I will inform and warn as many as people that I could. Stop shopping from RH.

I had two negative experiences with Restoration Hardware. One seemed like an honest mistake (charging for an extra sham at their outlet store, which they rectified after the fact). Then I ordered a lamp online. When it arrived, it was not suitable for our room. We returned it, which was more than $20 to ship. When our credit card was refunded, the refund was $22 less. I called customer service, and they explained that the reason we didn't get the full credit was because the item wasn't incorrect or damaged. He explained that we don't get a refund on the shipping if it's an item we don't like. So, we are out $42 and have nothing to show for it. It was a pricey lesson, but the lesson was not lost on me. I will never shop Restoration Hardware online again.

MAXWELL UPHOLSTERED CORNER SECTIONAL. DO NOT PURCHASE THIS COUCH. Find something else. For 10k as it being my most expensive purchase I already cannot wait to buy another couch. After waiting 3 months it arrived destroyed. Then we had to wait another 3 months for a new one as these are custom... So yes that is a total of 6 months. THEN after a couple months the fabric has pulled all into little balls and the pillows are so slouchy I have to fluff them non-stop every single day. It's a nightmare. The couch looks so cheap. Yes it is very comfortable for sure, but the look of it is horrible. It is only my husband and I, we are hardly ever home so I can't even imagine what it's going to look like when we have children. Comfort I give it a 4 but everything else minus 0. Go somewhere else!!! Not worth the 10K gamble.

We purchased the St. James Dining Table in Antique Black along with several other pieces in early July 2015. We were promised this furniture by late August and it didn't arrive until Late September. While part of the order was not delivered the dining table arrived and could not be assembled as the bolts did not fit. Another table arrived in mid October and it was damaged, yet a 3rd table was delivered in November --it too was damaged and had been previously repaired--so RH knew it was damaged when they shipped it. Though we kept that table here to accommodate our Thanksgiving dinner a 4th table was ordered out. Imagine my elation when it arrived in perfect condition. The joy was short lived as the delivery people damaged it when bringing it into the house. (They dragged it across a screw that they had left on the floor.)
I've had it with RH. They wanted to give me 10% off the sale price if I kept the table. I said NO. We negotiated back and forth and the final story is that I told them NO. I want my table replaced. RH has my money and though I do have a table, it is a damaged and repaired table. Two of the other pieces I've purchased from them have been shipped damaged and another was shipped to me after it had been repaired. This company is horrible. They set themselves up as a high end, exclusive, destination furniture store and deliver shoddy merchandise. They told me this table was made in the USA and the label on the bottom says it was made Vietnam. DON'T BUY Restoration Hardware furniture. They used to be a great company but no more. I'll stick with Gorman's or buy in North Carolina!!!

We fell in love with the Vintage Toledo Bar stools in Chrome from Restoration Hardware as they were PERFECT for our new kitchen. We received the first order of 5 bar stools quickly and upon unpacking the first one we realized an issue with the seat - it was tilted and as you spin the seat tilts up, then down. We proceeded to open the next 4 boxes and ALL 5 suffered from the same defect, some rocked back and forth as well.
I called RH customer service - got right through and they were unable to tell me if all of these stools will be the same so we agreed to return the 5 and receive 5 more. They also offered to inspect them at their warehouse before shipping but that would take on 7-10 days to the shipping time. I opted to just receive the 5 new ones and judge for myself. The box states: made in India and labeled box 252 of 294, etc. The 5 new ones arrived and were in the same group of 294 as the first shipment, therefore I assumed would suffer from the same defect, so my hopes were dashed. All 5 were opened and this time 2 had scratches across the wood seat and YES, ALL FIVE WERE TILTED again! I've had 5 people sit on them and give me their opinion - all agree that these are NOT RIGHT and at the price point - on sale $220 - we should NOT settle for these.
Another call to customer service went quickly and smoothly and I've asked for a full refund. It will be forthcoming as soon as they receive the stools back in their warehouse. UPS will be on their way AGAIN to pick them up. RH has lost a customer - we cannot trust their quality! My general frustration with RH is related to the fact that a very small fraction of their product is available in their stores to check out before purchasing.
Restoration Hardware Company Profile
Company Name:

Restoration Hardware

City:

Corte Madera

State/Province:

CA

Country:

United States

Website:

http://www.restorationhardware.com/