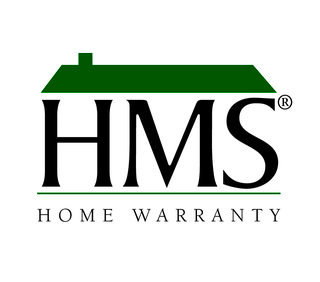 Consumer Reviews and Complaints
We were talking to people about whether it was worthwhile to have something cover certain things being that our house was not new. Our realtor suggested HMS Home Warranty. You just call them up to submit a claim, explain what's going on, they give the claim number and you call and/or they help you contact the actual company that can do the work. And then, they come out and take care of it. Most of the contractors have been extremely professional and they have done what they needed to get the job the done. Everything has worked to what we had expected so it feels like we're getting our value's worth of security and at the same time, we're able to get things done.
When I submit a claim, I call HMS and tell them what the problem is and then they call me and let me know who is going to come out once they find somebody. If there's a part that they have to order, they let me know about it and when they'll be back. Then another company calls me and lets me know when the part's back and when the technician would come. They also let me know the prices, half now and the other half when they come back out or when they finish with doing the work.
So far their work has been beautiful. They do their job, I pay them and they give me a receipt, and that's what I like about HMS. They came for my furnace last year around the time it got cold, and the guy fixed it. I also had a little stoppage in the pipe and they fixed it too. They've been pretty quick with what they do. The only thing I don't like is the $100 deductible, which I wish was a little cheaper but it is what it is. They fix the stuff, so I can't ask for anything else more than that.
We've had a couple of different claims and they all went very well. The reps were very helpful and friendly. The contractors did a good job for every claim we had. Overall, I recommend HMS Home Warranty.
Our real estate agent's customers have been using HMS Home Warranty and they don't have any negative feedback about the company. I had my furnace and air-conditioning replaced in the same week thru them and submitting a claim has been really easy so far. I called and did the automated system then somebody gave me a call back to let me know that the claim has been approved. Right then and there when I called, they gave me the name of the provider that's gonna come out and service my problem. For the two incidents, the contractors have been knowledgeable and reputable. Everything's been really good and so far, everybody has been really helpful.
We've submitted three claims with HMS Home Warranty in the last two and a half year and so far, everything has been good. The service itself is very timely and there's no downtime. When my hot water heater went out, HMS directed me to a company right way. There was a little bit of a downtime but the contractor was the one slowing that down. Once they came out and made the inspection, they didn't turn it in that day or the following business day. Other than that, I'd recommend HMS to a friend.
How do I know I can trust these reviews about HMS Home Warranty?
695,474 reviews on ConsumerAffairs are verified.
We require contact information to ensure our reviewers are real.
We use intelligent software that helps us maintain the integrity of reviews.
Our moderators read all reviews to verify quality and helpfulness.
For more information about reviews on ConsumerAffairs.com please visit our FAQ.
HMS Home Warranty was recommended by the realtor when I was putting the house I was selling on the market. I submitted a claim for the HVAC system and called it in, and they took care of the majority of everything. They connected me with the local provider who got in touch with me immediately. They came out, inspected it, rode it out and sent it in to HMS. Then I got a follow-up telling me what was going to happen and what kind of timeframe there was. I was there on that day and it couldn't have been any easier.
The timeframe was within a couple of days. They even had to procure some of the items and they still had it turned around in no time. It wasn't inconvenient at all and I was surprised at how well it went. Also, the quality of their work was great and they did a fantastic job. It wasn't like they were skimping or trying to cut corners. I had already gone out of pocket and got some other quotes because I thought I was going to end up having to buy this, and my realtor was the one that said I paid for the upgrade so I should talk to HMS Warranty. I got a hold of them and they said they covered it.
I bought a house and the seller got HMS Home Warranty for me. It's been very easy submitting claims which I do online. So far, everybody's been very nice and professional.
I purchased my house from my realtor 20 years ago and HMS Home Warranty was suggested to me so I got them. My interaction with the rep was wonderful when I sent in a claim. I've never had any problem. The service was good and there were good results.
I work in a real estate office and we sell HMS Home Warranty all the time. I'm on my third year having them and I've been pleased so far. I usually submit claims over the phone because I ask them to select a particular contractor. The experience has been fine and we haven't had a problem. A couple of the claims has had a particularly long wait period, like 15 or 20 minutes, but they're fine once they got through. I also have a rep that I can call because they're someone I work with in the business.
The claims representatives have been helpful and they usually can get me whoever I ask for to come out if I make a special request. Because working as I do, I know who I want to service my unit and all the things I prefer and it works fine. I had a broken water pipe in my kitchen and HMS sent someone out on the same day that I called. The technician from MRC Plumbing & Heating was great. He showed up on time and took care of the problem. The quality of the work performed was first-rate. I definitely recommend HMS all the time.
I referred to the documentation I have at house closing and used the phone number to call and submit the claim with HMS Home Warranty. It was a plumbing issue and the rep I talked to was fantastic. She did a really nice job in both taking and doing follow up steps because I ended up involving two contractors. The first contractor was able to accomplish one of the tasks but was not qualified to accomplish the second which is why the second contractor was needed to accomplish the second task.
HMS service has been great. Their people are fantastic. Submitting a claim is very quick and easy. The rep knew her job proficiently and when I called them then, they came the next day. I was extremely pleased. It was the air conditioner and the tech did the job quickly. It was out of freon so he filled it up. He also checked the vents for the temperature before he left to make sure it was cooling off. I noticed the difference almost immediately and it's been working ever since.
We got HMS Home Warranty with the house that we purchased. Submitting a claim was fine and the technicians who came out were respectful and explained what they were doing. Their quality of work was good and adequate.
I had a leak which was repaired and paid. I called twice to HMS to confirm that the drywall repair was covered and both times they said it was. I repair it and send the invoice and now they say it is not covered. I feel so deceived, not buying any product with this guys in my life!
HMS Home Warranty was recommended by the realtor when we bought a property. We just trusted that and we've been very happy with it. We have one claim. The water heater was leaking, I called and they immediately took care of it. No big hassle, they said, "We'll get an appointment... here's the person. We'll have them call you and set up the time." They approved whatever needed to happen and they talked to the people that came out. Their claims representatives were very knowledgeable. They knew what I needed to do, they're really amazing.
The people that installed the new water heater were magnificent and we're really pleased. All the young guys work for Joe Lay Company. I was amazed at their talent and ability to do some plumbing. They were young men, probably 20-something. They didn't waste a lot of time fixing it and they were very respectful of my questions. Just really a great experience. It was definitely a pleasant interaction. This experience makes me want to maintain the warranty. It would be nice to keep in case there is another problem. Overall they really did a fantastic job. You hear how insurance companies run into all kinds of trouble. People talk about that. I've never talked to anybody that had really such a good experience as I had, so I was wowed!
HMS Home Warranty was recommended to us when we bought our house recently. Submitting a claim to them was very fast and easy. I just gave them a call and they called back within the next day to schedule an appointment for someone to come out and fix the refrigerator. I'm very pleased with the technician's quality of work. He knew all about it and he fixed the problem right away. He was very personable and he also cleaned up everything after. Plus their claims representatives were absolutely courteous and knowledgeable. Overall, they were very professional.
I've had a couple of claims in the first year and everything went very smoothly. The technician was very courteous, and explained what was wrong and what he could do to rectify the problem. I'm pleased with HMS at this point. It's a good investment.
We got HMS Home Warranty when we bought our house. So far it's been fairly good. We had a claim against our garage door opener and then also with the heater. I told them what the problem was and they worked on it. It was a very good experience with quick response.
HMS was here when I came 10 years ago and I really like their service and policy. They have been great and easy to deal with. Submitting claims is simple, prompt and proper. The technicians have been polite and cleaned up after themselves.
My realtor uses HMS Home Warranty the most and has the most success with. So, she told me to use them. Claim submission is an efficient process. It's simple to submit claims. Somebody contacts me right away and comes out. The technicians have all been very professional, efficient and did the job. I had one instance where the vendor was a little hard to get a hold of so HMS referred me to somebody else. The reps have been great. Being a single female, it's nice to deal with professional people. I would never know what to expect sometimes when it comes to home repairs or anything that traditionally a lot of men handle. Coming from that standpoint, my experience has been great and positive. Everyone was honest, did a good work, and I didn't feel odd having anyone in the house.
HMS Home Warranty was part of the package when I purchased a house in July. We've only had to submit claims three times, two of which the staff were able to help. It was a little confusing on how things worked at first. But they gave me the name of the service people that I needed to call, which involved Derheimer's in all cases because they were all plumbing issues. Derheimer's came out quickly and performed admirably. They're very personable, professional, and walked me through what my issues were and what they were going to do to fix them. The claim went quite smoothly. I was very pleased.
The third time, I had to make a couple of calls because whoever was on the phone with me at the time was very confused and kept having to put me on hold to get clarifications from a supervisor. There's a good chance that I'll be extending another year at the end of the year of the policy. I'm a single woman and I don't know how to do a lot of things. So, I have to rely on the service.
It was the realtor that offered HMS Home Warranty to us when we bought our home. I seem to have a tendency of buying older homes and so it's always my safety to have a home warranty. I've had American Home Shield in the past and they were okay, but HMS is better. When handling claims, they're always prompt and good to my liking. Everything has been great. I plan on renewing as things will continue.
We bought the house back in April and HMS Home Warranty was provided by the realtor. It's been easy to do the claim online and we were able to contact someone quick to get the problem solved as fast as possible. If you try to call, it takes a while to get through. One time my wife was on the phone for quite a while so while she was there, I went online and had the claim filed in five minutes. The technicians were great and they finished quick. HMS has been good so far and has done exactly what we needed it to do.
I called HMS on 12/16/16 when my tenants notified me that the washer was not cycling appropriately. On 12/19/16 they sent a contractor, PAS, LLC, troubleshoot. The gentleman stated it was probably the timer or transmission but we notify the warranty company and get the part ordered; should take 7-10 business days. Realizing the timing and the holidays pending we expected longer and I set the expectations with my tenant. On 1/10, when neither my tenant or I had heard anything from the contractor I committed to calling HMS back for an update. I called on 1/11 and was informed that the contractor didn't even submit the diagnostic until 1/10. They approved the part that morning and committed to shipping. While I was out of town for work on 1/18, the contractor offered to come by in 2 days and I advised him that was unacceptable due the already unexplained wait.
They showed up on 1/19, installed the timer and told my tenant that it needed to charge for 30 mins then to call if the washer continued to not operate. It did not. As of today, 1/23, I had not heard from anyone and, mind you, my tenant has not been able to wash clothes since at least 12/16 so I call HMS back. The rep tells me that they approved an offer to replace the unit but could not tell me who offered this to me since I had just spoke to them 4 days prior. I accepted but was told that I need to contact GE Appliances to schedule delivery and install but the young lady could not provide me with GE's contact number. So I go to their website and pick 1 of 3 numbers listed. The GE rep tells me that warranty company calls in with model number, not the consumer. So I call HMS back.
The new rep tells me that now that I've accepted the offer HMS will place the order and it should take 4-5 consecutive days (I did ask about business vs consecutive days) for the replacement washer to arrive and be installed. Bottom line, HMS is poor at setting expectations, recognizing the inconvenience their or their contractor's incompetence and resolving, answering basic questions or managing these projects. I've made two claims in the 8 years I've owned this property and neither has been seamless or timely. My realtor questioned why we've kept them so long and this was before we had to make any claims. We told him that they haven't given us a reason to go elsewhere.
Today, after 2 calls into HMS today alone, I have no choice but to look at alternatives. I've spoken to their cancellation department and hope they've provide all that I need to know but my doubts are screaming. So I am setting funds to the side so I can cancel with this poor organization for both of my properties. It's worth it if they can't handle basic blocking and tackling.
When I had an electrical problem, HMS Home Warranty gave me the number of the guy who lives in Kokomo which is about 40 minutes from where I live. But the guy said there'was really no way for him to get to me and that HMS doesn't exist. I told him okay but HMS kept calling me back and kept saying they'll get somebody. But after six weeks it was a little excessive so I called the state attorney general's office to see if they could help get it resolved and an electrician came and took care of the problem. I paid him his fee and everything was fine. It was bizarre.
Then within two weeks, I got a letter saying that I had called and cancelled the policy and HMS gave me the refund on what was paid. I tried three or four times to get the service, to talk to them and all I got was a recording and no one ever called me back. The warranty by HMS was provided by the man I bought the house from and that's why I was so upset when it got cancelled which I didn't do.
I've had HMS Home Warranty since I've owned my home, and that's been over 20 years. They are also our preferred vendor at the real estate company I work for. I have an older home, so to me, it's a peace of mind. I'd rather pay $400, $500 a year than worry about bigger bills and I think there's value to it. I've submitted claims online and in person and I've had several submissions throughout the years. I've had my air-conditioning unit, water heater unit and heating system replaced and a few other minor repairs. My last submission, I couldn't believe how fast HMS reacted and how nice they were. I talked to them right away, and they took care of the problem that day, so it was very quick and efficient. I can only recall one vendor complaining about how they aren't really paid well by the HMS, but other than that, it's been a positive experience for me. I was very impressed.
When I went to purchase my home, the seller gave me a one-year contract with HMS and I stayed with them ever since. I filed a claim for a leaky pipe in my ceiling and it was a pretty easy process. The technician was very friendly and he explained to me what the issue was and what he needed to do to fix it. I'm pretty satisfied with the quality of work.
We were contacted by our home loan lender Ocwen and decided at their suggestion to purchase via monthly payments the home warranty program called HMS National. Also called Total Protect Home warranty. On November 4, 2016 when my husband and I were gone on a trip our children called to report the refrigerator had stopped working. After us telling them to do the usual things and no change the kids moved everything from the fridge to garage freezer we had and our travel trailer refrigerator as well as an ice chest. I immediately reported to the home warranty folks. They initially responded quickly with contact to Sears Home repair service and a technician arrived November 9, 2016. That technician ordered a timer and stated refrig was not cooling due to pitted connections and failed T-stat. T-stat not cooling or over cooling.
She researched and indicated the part was most likely no longer available due to the age of our refrigerator. After waiting, with us calling periodically to the 24 hour hotline for home warranty, were told the warranty company had reviewed the notes from Sears tech stating they were unable to locate part needed for repair on November 26, 2016 and they would give us a resolution in 24-48 hours. With no response back from them we called again and were told they were waiting for more complete notes from Sears. She stated SEARS was not specific as to part unable to locate. I told person I had the receipt from SEARS technician and would scan and email the home warranty authorization department. Which I did, and was told the authorization dept would review. She said their people were better at locating hard to find parts than SEARS and would get back to me which she never did.
Once I called my supposed case manager Lynette back she stated the replacement part was being shipped. Once it arrived I was to call them back to have them schedule the repair. The parts arrived, a thermostat and the wiring harness which were installed by the technician. Within 24 hours the refrigerator quit working again which I immediately called the warranty people to report. They once again called Sears and on January 4, 2017 two months after original claim filed the technician reported to us that the warranty people had sent the wrong part and the part needed WR09X-0450 was no longer available as they had reported to us on November 9. The SEARS technician called the home warranty people at HMS National to ask what he was supposed to do. He put me on the line with the individual and we were told once again 24-36 hours to hear back. We were contacted after two days and offered a replacement refrigerator.
We accepted the offer as after going through the Thanksgiving and Christmas holidays with only the use of a garage freezer and travel trailer refrigerator all that time and temperatures below 20 degrees and snow, and my husband and I 70 years old, just physically could not do it anymore. They agreed on a comparable unit, and asked what color we wanted. We stated black as all other appliances in kitchen were black. The unit had to be shipped. Shipping company delivered on January 10. My husband and I were not home. Our son accepted delivery and the refrigerator was installed. When we arrived home the unit was white! I immediately called to report and the representative from HMS National looked in notes and said yes I see you requested black. Shippers will have to return and pick up white model and we will order a black one. After not hearing back we called again the next week.
That representative was extremely rude and stated since the white model had been installed they could not take it back. I asked to speak to her supervisor or someone higher up in the company. The representative stated she would put in a request. It has been 5 days and we have yet to hear from the supervisor. I think waiting for over two months to get resolution for a daily use home appliance was ridiculous and all because the company was trying to not have to replace the refrigerator, searching for parts they were told were no longer available by SEARS November 9, ordering wrong part, delivering wrong color etc. I see from reading other reviews we were not alone in receiving poor customer service.
I was gonna cancel HMS Home Warranty because I didn't see any need in it but my wife convinced me to keep it. And you won't believe the things that started happening once we bought this house and kept that warranty on here. We've had troubles with our stove, dishwasher, central air-conditioning unit, furnace and garage door, that's a lot to happen in one short time. We knew that there was a $100 deductible and we thought, "Well, that's pretty high for each of them." But when you have many things go wrong as we did, then all of a sudden it's like, "Whoa, we really came out ahead on this deal." They're losing money on us, trust me.
Everyone has been good, even the ones I didn't like did a good job. I have no complaints about anybody they pick except for the technician who did the central air. He didn't let me know what was going on and had a little bit of a sour attitude. I was a little displeased with it. But other than that, everyone has been courteous and professional. Also, since we've tried them and we know what they're like, we've learned to trust them. And we think they're one of the better, if not the best, home warranty people out there. This company has also been very thorough, very honest and they follow through on everything they said. We are really glad that we kept it.
We were very pleased with HMS. Hector and everybody were very nice. When I reported, a person called me back and gave me the information I needed so the process was quick. On the other hand, I wasn't happy with the person who came to install the unit. They told me that he would spend six to seven hours so I took one of my vacation days. The installer came late and only spent one and a half hours. He also left a mess and didn't clean. That wasn't professional. In spite of that, my husband and I will renew next year because I really like the treatment and the service that HMS gives to us.
We purchased our home in mid-November and moved in early December. Two of the toilets were leaking so I called the warranty company that we had via the closing on the home. They sent someone from a local plumbing company who replaced the insides of the toilet tank and told me they were not sure that the other toilet was covered. Apparently one of the screws holding the toilet down had deteriorated and was no longer holding the toilet to the floor and it was leaking. The technician instead wrote that it was put in wrong rather than stating it had rotted, so of course it was NOT covered. I told him that I had company coming in a few days and he said he would call the next day to let me know if it was going to be covered, but I never got called. Instead I called them and found out that it was not covered due to it "being installed wrong".
I spent $100 for the repair they fixed but it still leaked. They never changed the rubber cover that kept water from dripping into the toilet so I had to drive to Home Depot to get the part and fix it myself, and also had to get someone to repair the toilet they would not cover. I had asked if they could cancel the warranty as I had read that I had 30 days to cancel and was very unhappy with service and they said they would check and call me back and again, they never called so now I am stuck with a worthless contract. I think the only reason these companies stay in business is because of these warranties and they do things as cheaply as possible to reap the most money without regard to the customer. I would never recommend this company to anyone, they are horrible.
HMS Home Warranty Company Profile