Extended warranties for cars over 100k miles
Coverage is available for cars with up to 300k miles
CARCHEX, Endurance Auto Warranty, Protect My Car and CarShield

An extended car warranty is a vehicle service contract that helps cover the cost to repair a vehicle with engine or transmission trouble, air conditioning failure, fuel system problems or other issues. You can purchase an extended warranty after a manufacturer warranty expires, which can be a good option for protecting a used or older car.
Are extended warranties on used cars worth it?
Buying a used car warranty can be worth the initial cost, especially if you don't have money to cover unexpected repairs. Even if you only use your extended warranty once, it may pay for itself. It's similar to insurance: You may not use it, but you're glad you have it if you need it.
Let's say your used car needs a new transmission — would you rather be on the hook for $8,000 in labor, parts and taxes to replace it, or would you rather pay a $100 deductible required by an extended car warranty?
If you're behind the wheel of a car with 100,000 miles, you will likely have to contend with some basic maintenance issues. However, an extended auto warranty can help add years to the life of your car without breaking the bank when you're faced with an expensive repair.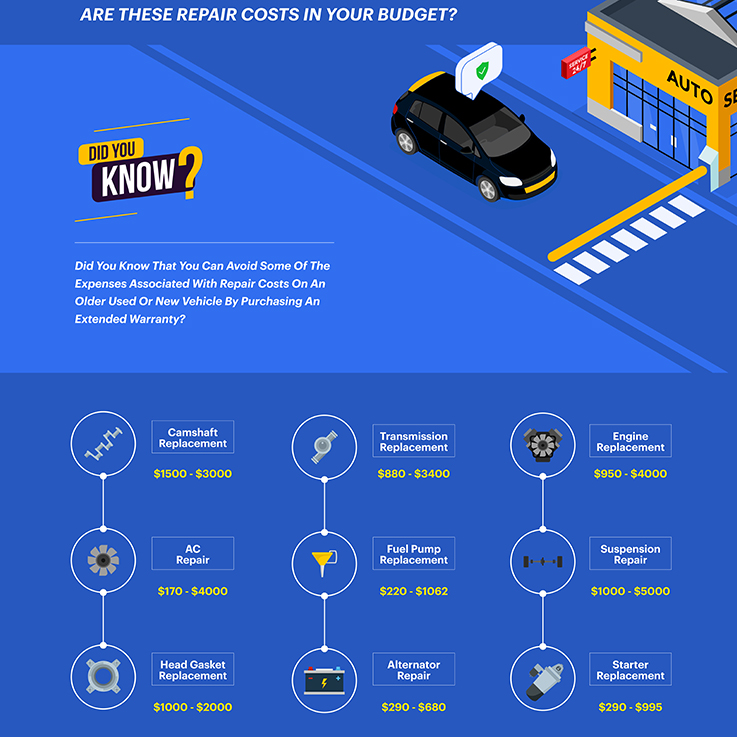 What do extended auto warranties cover for used cars?
While warranty coverage varies based on the extended car warranty company you select, most companies provide coverage for the following on one or more plan levels:
Air conditioning
Audio systems
Axles
Driveshaft
Engine
Electrical components
Fuel systems
Transmission
Vehicle sensors
Wheels
Find the best high-mileage car warranties
Many extended auto warranty companies offer high-mileage car warranties, but not all are the same. It pays to investigate what warranty coverage each car warranty company provides for drivers with cars that have more than 100,000 miles. Some companies offer 24/7 roadside assistance, towing costs, rental car coverage and reimbursement for lodging and meals in the event you're stranded away from home.
Tires should be rotated every 3,000 to 6,000 miles.
To choose our top picks, we started with a list of the 10 highest-reviewed auto warranty companies on our site and researched their mileage minimums and maximums, included and excluded vehicles and additional coverage options.
From there, we narrowed the list down to only include companies that had an overall satisfaction rating of at least 3 stars. Our final five companies all received primarily positive reviews, cover vehicles with at least 100,000 miles and offer additional features, such as towing.
Our pick for personalization
CarShield
Logo

Mileage: Up to 200,000
Number of plans: 6
Features: Towing, rental car reimbursement, money-back guarantee


Learn More
CarShield's Power Train Plus
This contract covers major and minor vehicle parts, including the engine, water pump, transmission, alternator, starter, air conditioning and power windows. It also offers a cancellation option, a monthly payment plan, free towing, rental car reimbursement and a money-back guarantee.
Our pick for higher-mileage vehicles
Protect My Car
Logo

Mileage: Up to 300,000
Number of plans: 3
Features: Roadside assistance, money-back guarantee


Learn More
Protect My Car Ambassador Elite
Protect My Car offers three traditional extended warranty plans and its Ambassador Policy, which offers a different kind of coverage for cars with up to 300,000 miles. The company offers flexible payment terms, meaning you're not stuck with an upfront fee. You can pay your policy off with terms up to 48 months. This flexibility makes Protect My Car worth a look if you're on a budget. All policies include a 30-day money-back guarantee and come with 24/7 roadside assistance.
Our pick for coverage options
American Auto Shield
Logo

Mileage: Up to 250,000
Number of plans: 8
Features: Roadside assistance, rental car reimbursement, trip interruption insurance


Learn More
American Auto Shield Platinum
This plan for cars with 100,000 to 250,000 miles covers all your car's most expensive parts, such as the transmission, electrical system, drive axle and engine. The vehicle service contract also includes roadside assistance, rental car reimbursement and motel and restaurant expense coverage.
Our pick for driver perks
CARCHEX
Logo

Mileage: Up to 250,000
Number of plans: 5
Features: Trip interruption insurance, towing, rental car reimbursement, roadside assistance


Learn More
CARCHEX Silver
This plan provides notable extras for drivers, including 24/7 roadside assistance, towing, rental car reimbursement, gas delivery and trip interruption service. The Silver package covers your car's engine, transmission, drive axle, electrical, air conditioning and steering.
Our pick for targeted coverage
Endurance
Logo

Mileage: Up to 200,000
Number of plans: 6
Features: Rental car reimbursement, discounts, personal concierge


Learn More
Endurance Warranty Select Premier
Endurance's Select Premier coverage protects all the critical components of high-mileage cars. This includes the engine, drive axle, fuel system, air conditioning, electrical system, seals and gaskets.
Compare extended auto warranty mileage limits
Mileage limits vary between extended auto warranty companies. Check your vehicle's odometer for its current mileage and compare it against the table below to see your coverage options.
Car maintenance for vehicles over 100k miles
While it may cover many of the most costly components of your car, a car warranty won't cover everything. Many warranties also require you to perform regular maintenance to prevent voiding your service contract, which may include:
Oil changes at the recommended mileage
Regular tire rotations
Changing filters and spark plugs
Maintaining a regular vehicle service schedule
Changing engine coolant and hydraulic oils
Checking the battery and replacing when needed
Fixing minor issues before they get worse
Each auto warranty may have its own definition of what regular maintenance means, so read the fine print of your service contract carefully.
Extended warranties for cars over 100K miles FAQ
How often should my tires be rotated?

It is a good rule of thumb to have your tires rotated every 3,000 to 5,000 miles. Rotating your tires evens out the wear pattern, helping your tires last longer.

How often should I get an oil change?

With most vehicles, it is a good idea to get your oil changed roughly twice a year. If you want to be more precise, you can time your oil changes by your mileage. Some vehicles need an oil change every 3,000 miles, but many can now go 5,000 to 7,500 miles or longer between services.

How often should I get a tuneup?

Tuneup schedules vary, depending on your vehicle's age and how much you drive. Newer cars require a tuneup roughly every 30,000 to 100,000 miles, while older cars with carburetors might require a tuneup every 10,000 miles or so. Some signs that your car might need a tuneup are poor fuel efficiency, the engine misfiring or the "check engine" light turning on.
Label
Authorized Partner
Company name
Logo
Contact
Summary

AUTHORIZED PARTNER

Get Pricing

Label
Authorized Partner
Company name
Logo
Contact
Summary

AUTHORIZED PARTNER

Get Pricing
Bottom line
If you don't want to spring for a new car and already have a high-mileage vehicle with an expired manufacturer's warranty or are looking to buy a pre-owned vehicle from a car dealership, an extended car warranty may be worth it.
After a factory warranty expires, buying a third-party warranty from an extended warranty provider helps protect your wallet from costly repairs. There are many reputable extended car warranty services — just make sure you understand your extended warranty options and the type of warranty you want, whether it's a bumper-to-bumper warranty, a powertrain warranty, a drivetrain warranty or any number of other options.
We recommend an extended car warranty for cars with more than 100,000 miles if you own a quality vehicle designed to stand the test of time and are dedicated to maintaining it.
Did you find this article helpful?
|
You're signed up
We'll start sending you the news you need delivered straight to you. We value your privacy. Unsubscribe easily.