Consumer Complaints and Reviews

I bought this stove, Frigidaire gas range, model BGGF3045RFA, a year ago and just got around to installing after finishing remodeling of my kitchen. On the first day of use, my 2-year old grandson slightly turned one of the gas control knobs on the front of the range turning the gas on to the burner, but not igniting it. I started to smell gas and went to investigate and found the knob was slightly ajar. Then, later in the same day, my wife used the overhead microwave and bumped one of the gas control knobs just enough to turn the gas on. Again, she didn't notice until I smelled gas in the living room. This is very scary. I will be calling Frigidaire, but others seem to have already and have had not resolve. I immediately went to Home Depot and bought child-proof knob covers. Hopefully this will prevent mistaken knob turning. Frigidaire needs to fix or recall these stoves.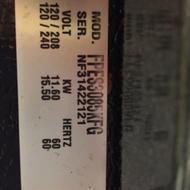 I want people to know that this product is junk! I've had this cooktop range for a few years and it has shattered twice. Luckily, the first time was under warranty and the repairman said I was lucky because it costs a fortune to replace if not covered under a warranty. I thought it must have been a fluke, but now it's happened again for no rhyme or reason. I was just cooking and a big pop which shattered the whole cooktop. I will never, ever buy a product of theirs again. Buyers beware. Also, even under warranty, I had to pay $100 for his services.

Gas Range is very unsafe. Knobs are on front of stove and are easily bumped and turned on. Most times I catch it but the other day I left for work at 6:30 am and my teenage son woke up at noon to a house full of natural gas. Very scary. I will be calling Frigidaire and filing a complaint. I see others have had the same issue with no resolve. I will be taking knobs off the front and only put on when I am using the stove. Thank goodness nothing horrible happened but I could have lost my son, my dog and my entire house. Shame on Frigidaire for not resolving this very dangerous issue which they have been made aware of for years. Wish I would have seen these reviews prior to making my decision to buy this stove. I did a lot of research and never saw the negatives - only the positives. This negative would have definitely made me buy another brand.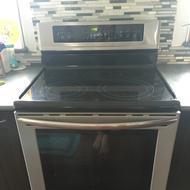 We bought the Frigidaire Gallery 30" freestanding smooth cook top, full touch panel range (FGEF3056KF) back in March of 2010. We just had the touch panel replaced for the FOURTH time, this time along with other components due to them melting together after it arched, in total over $700 in repairs this time. But without fail the touch panel has shorted out ever 14-18 months! This last time being the worst with the arching and melting. Seriously scared to have this thing in my home!
The first two repairs were done under our Best Buy warranty, and the last two have been done under the extended warranty we bought through Frigidaire (best $190 ever spent!!!), thankfully this warranty will go until mid 2018, during which this panel should short out again, and since that will be the third time under 'this' warranty they 'might' just replace the whole unit!!! We paid right around $1100 for this unit in 2010, and thankfully warranties have paid over $2000 in repairs in the past 6 years... DO NOT BUY this range... But if you must, get the warranty!!! And always stay near it when running... Maybe even flip the circuit at night and when you're not home!!!

I specifically bought this gas convection oven with a baking drawer to have gas stove and a secondary stove drawer for baking additional items from the convection main oven. THIS OVEN IS NOT SAFE, DO NOT BUY!! 1. The gas controls are easily turned on/open gas to your house by slightly bumping into them, since they are located in the front and not more resistant to a controlled intentional "turn on." 2. It vents the extremely hot air from the oven into the house from a vent just below the controls on the back of the oven, if not careful while using the oven, you can be burned.
I called Frigidaire to make sure the installers did not miss some venting for the oven and they told me know, it was specifically designed that way, basically there is nothing you can do. I have a very good vent hood on top of the stove, but it cannot take out all the 400 degree heated air coming out. Very bad design!! FRIGIDAIRE SHOULD RECALL THIS OVEN AND REPLACE, SOMEONE'S HOUSE WILL BURN DOWN FROM THIS AND/OR SUFFER A SEVERE BURN.
How do I know I can trust these reviews about Frigidaire?
633,474 reviews on ConsumerAffairs are verified.
We require contact information to ensure our reviewers are real.
We use intelligent software that helps us maintain the integrity of reviews.
Our moderators read all reviews to verify quality and helpfulness.
For more information about reviews on ConsumerAffairs.com please visit our FAQ.

I purchased this appliance approximately 6 mos ago and have had nothing but grief. I was always smelling gas so I had the gas company come out to check it and they found a crack in the pipe that leads into the back of the stove so I was brought a new stove and a gas odor was still prevalent. I finally called an outside plumber and I was shown where the gas was leaking so I had that fixed from my own pocket. Well, lo and behold, now the oven doesn't light and I am told by the electrician that the ignition is not working and they have to order me another one! 2 weeks without an oven! Should have saved my money.

I purchased a Frigidaire gas stove from Home Depot in Feb of 2016. When I used the self-cleaning cycle it scorched the top of the stove. Frigidaire sent someone out and he said it was normal. He also told me not to use the self-cleaner. I have been an owner of gas stove and have never had one do this. I am afraid that this store could burn my house down. I now feel now a ping pong going between Frigidaire and Home Depot. I am 70 yrs old and on Social Security. I cannot afford to replace the stove.

Frigidaire Professional 30 inch dual fuel slide-in range - I love my stove/range. Have had since 2008. The only issue I have is that if you wipe the window inside with a soapy dishcloth to get drips or when it is on self cleaning, drips have managed to get in between the glass.


In 2011 I purchased the Frigidaire range (Gas range FGGS3045KW) from Lowe's. In March of 2013 the oven control center went out and I had it replaced. One month later the control center went out again and was once again replaced. On 3/20/16 the control center went out again. That's 3 times in 5 years. I sent an email to the Frigidaire company and they have not responded. It's over $200 to have this part replaced.

Frigidaire professional stove. Do be care in purchasing this stove. The top stove elements are on the front and when working in the kitchen can be very easily touched with your body without knowing and the burners come on. I have had a small fire and ruined two cookie sheets that were on top of the stove. It is very dangerous. If I had gone out of the house there would have been a serious fire. Very bad if there are children around. The element knobs should be on the side of the top of the stove not on the front. I would never buy this type of stove again. Just a warning to all.

Frigidaire, glass top, self-cleaning. Easier to maintain. Cost. Convenience. (It is sold at the local Sears, the only store in town). It's been a good value and performs decently. The top has stained more than I would like and I don't think all the burners have worn equally. On the other hand, it is 10+ years old. It would have to be self-cleaning and have a glass top. I'm too old to compromise on those features. I expect decent quality and a price I can live with. I don't need any fancy accessories. Budget was a consideration for us. At the time this was in the $500-$600 range and that suited us. As mentioned before, it has the 2 features I will not compromise on -- self-cleaning and glass top.

Frigidaire 4 Burner Gas Stove - It was on "sale" and a floor model was the reason for purchase. The reputation was a factor but we had never had a Frigidaire stove only having had their air conditioners and refrigerators. The price was good as it was a "floor model", but the color, black, was not the first preference and the controls for the oven are on the back-splash and require reaching over the burners to turn it on and set the temps etc. Some of the LED's stopped working in the read-out for the oven temps but it remains usable despite their failures. It was purchased from H.H. Gregg, which seems to sell products and models that, for some reason, have not sold elsewhere.
As style is basically "meaningless", having a safe, durable, and reliable product was foremost in our investment. As the the black color shows every speck of dust it would not be a first choice for future purchases. And after only a few uses, the plastic overlay for the "touch controls" on the backsplash wrinkled from the heat from the oven which is vented just below it. This may have precipitated the LED failure in the oven temp readout. As stated previously, having to reach over the four burners to adjust the oven controls when setting the timer and temps seems unsafe for obvious reasons. As most ovens, one must adjust the desired temps to those indicated to assure accuracy which comes from frequent use.

Frigidaire Professional Series. I like the appearance. The stainless steel and black are very attractive in my kitchen. I like that it has 5 burners which is helpful since I cook so much. Having different burners such as the Power Plus and Simmer is great to cook on. Unfortunately, I have had problem with the burners igniting since I first purchased the range. After 2 visits from a technician they felt there was no problem to be found, yet a few years later, still have problems regularly with the burners. If I have one burner on most times a second burner will not initially ignite. It will take me several tries to turn it on. Also the oven temperature isn't consistent and have already had to replace the element after only a couple of years of use.
What I've learned through the years is to ask service technicians their opinions on which appliances require the most, or least, service. Quality is number one and an attractive appliance with a lot of features does no good if it doesn't work properly or needs constant repair. I don't mind paying more as long as the quality is there. I'm also not interested in too many accessories that I would never use. For instance, my current range has a warming oven that I only use for storage. I paid more for something I have no intention of using. Overall, I'm very dissatisfied with Frigidaire ranges. I also own an electric oven in our vacation home and continue to have heating problems as well as a problem with the seal on the window in the door. I would not recommend their ranges or ovens and in the future would most definitely choose GE or a different manufacturer.

I bought a new Frigidaire wall oven Jan 2015, made the last payment on it and then I used the self cleaner. After that the door keeps popping open. The steam vent is cracked and there is a crack above the door that has been there since we installed it. I have been waiting for over a month for a door latch and still nothing. The service people never call me back. I am getting very frustrated as I have to duct tape the door closed to the side of my cupboard in order for the door to stay shut!!! We were going to purchase another wall oven for my mother but after this experience will go with another brand. Very disappointed.

In July 2015 we purchased this freestanding gas range LGGF3043KFT. We are not new to stoves and cooking, having many years in the kitchen cooking and baking. We liked the 'Effortless Oven Rack System' that included a bottom rack that automatically pulls out when the door is opened. Turns out this is the worst rack in the oven. There are 'arms' that hold the rack to the bottom of the oven door and these arms have a tendency to fall off and fall under the bottom of the oven, a place where only a service tech can go for retrieval. We quit using the arms, but the rack is hard to pull out now, the brackets are still attached to the door so the ways you can use the bottom racks are limited. In short, a poor design not worth the extra money for the feature.
Additionally, the black cooktop is already losing paint and so are the grates - they are mostly silver now. The bottom drawer is very flimsy and difficult to remove or replace and doesn't hold much weight. Also, you need to be very careful when you stand close to the stove because the slightest pressure on the control knobs will release gas into the room. The extra dollars for control knobs on top of the stove would be a wise investment.

4 repairs in a little over 2 years! This last one is the compressor--very expensive, etc. Part has to be order while my food goes bad. Also fourth burner on stove never worked. Have to use a match! NEVER AGAIN!

Purchased a Frigidaire Gallery gas range, model FGGF3054MFJ in July 2015. Since the purchase date we have experienced, on several occasions, where the gas range top control knob had been inadvertently, slightly turned when reaching above the range to get something out of/or cleaning the microwave oven. This has also happened when getting something out of the cabinet above the range. Needless to say the rooms filled up with gas. Fortunately we have not been harmed (yet) by this faulty gas range.
We have discovered that our only recourse and solution to this problem is to remove all of the control knobs and only put them on when cooking and then remove them after all cooking is complete. Perhaps a consumer product liability suit is in order since I am not the only consumer to have experienced this problem and nothing has been done by Frigidaire to correct this problem...

I recently purchased a model FFG3047SH Frigidaire Gas Range. It looked great with a black finish and stainless steel accents, but when I turned on the oven hot air (from the oven) literally gushed out of a vent behind the burners. I was so astonished at the velocity of heat coming out. I thought there must have been a plate missing inside the stove. In five minutes you couldn't even touch the stove top. When I called Frigidaire I sensed the customer care rep had heard about this before and said the 'oven vent' was a design feature. I was speechless and outraged and called the place where I bought this mutant appliance and am going there to arrange a return. Be warned - this is a dangerous range that should never have gotten to market.

In October 2015, I bought a Frigidaire Professional Collection gas range Model FPGH3077RFA. The range has a storage drawer at the bottom. The seller clearly stated it was a storage drawer, not a warming drawer or broiler. Just as I always had with my previous range, I put oversized cookie sheets and baking pans and my folded-up plastic proofing box inside the drawer. After the first time I used the oven, I noticed a big hole had been melted into the lid of my proofing box, and the electronics were ruined. I was upset, but figured the drawer might be too warm for plastic. So I only put metal baking pans in the drawer.
Two weeks later, my 27-year-old son decided to bake a frozen pizza. He set the oven on preheat, and five minutes later reached into the storage drawer to get a baking pan. When he grabbed the pan, it was so blisteringly hot it burned a welt into his right hand, in the web between his thumb and forefinger. I checked, and every pan in the drawer was way too hot to touch.
I contacted Frigidaire by phone and website, and got a total runaround, although they did admit that the lower drawer is designated for storage. They said if I want a service call, I'd have to pay for it if the technician decides the range is operating normally. One rep pointed out that the manual says not to store plastic, flammable materials or explosives INSIDE the oven. I said I would never do that -- I repeated that I was talking about the drawer UNDERNEATH the oven. Another rep told me she would never put plastic in the storage drawer, because the oven vents heat behind it. I said, Okay, how about metal baking pans? She suggested I use oven mitts or something to take things out.
At this point, I'm not storing anything in the storage drawer. I worry about eventually using the oven's self-clean feature. The storage drawer is neither insulated nor fully enclosed, and when temperatures in the oven reach 600 degrees, I fear it could be a fire hazard. My other complaint is that, when the stove was delivered, they handed me a plastic bag containing an "anti-tip" bracket. I was expected to drill holes through my kitchen tile and concrete slab in order to secure the range with 2" bolts. It warned that "A child or adult can tip the range and be killed" if this is not done. I have never seen anything like this with a free-standing range. I spent over $2400 on this range, and ended up with serious safety issues and terrible customer service by Frigidaire.

We bought a frigidaire gas stove, the oven tore up before one year was up. I called and called and called. Finally they told me they had one service guy in this area. He came out and checked the stove. It was well over a month before he thought he had it fixed. The oven would not go off. He would not come back that day, had to disconnect the gas. He finally came back it and worked on it... It has been broken 2 or 3 times since. And we go through the same thing every time. Now it is broken again. Two weeks and he finally brought a part. Said it is fixed, left, I smelled gas. Called him and told him I thought it is dangerous. He said he could not come back for 2 days. I called the warranty dept. They just said if you think it is dangerous just call fire dept. My stove is now unplugged. It came on by itself with a terrible odor and my grandchildren were here.. The smell was awful.. Now I am 70 years old no money and a stove that will not work.

The Range we purchased had a variety of issues including clock would not work, cleaning feature smoked the house up so bad you had to shut it off, and the control panel would not always do the commands as needed. I see online where the model is recalled however Frigidaire denies the recall and also when speaking to them directly they deny any model has these issues. The recall website for Frigidaire shows there are models of ranges that have been recalled for the issues mentioned along with many consumer complaints.
Frigidaire staff in the consumer affairs office refused to discuss any details nor would they offer anything more than a 20% discount on a $400 replacement part. I own 5 Frigidaire appliances and will never buy another one again. Frigidaire does not want to absorb their issues with poor quality manufacturing and this is troubling. Their denial that the problem exists is just a way to avoid responsibility.

1 1/2 yr. range oven would not come on. After phone call to Frigidaire about appliance, lack of efficient service & a 45-min wait, was offered 50% off pt or $389 warranty. Certainly is NOT the product my mother had. Looking at different mfg.

Frigidaire's customer service is horrendous! My parents remodeled their kitchen and installed a Frigidaire double-oven. It hasn't kept temp since day one (anywhere from 50-100 degrees off). After several months and countless hours spent on the phone, at least 12 visits from service-techs, replacing the control board several times and several other parts, they still will not replace the oven even though it is well under the warranty time frame. The run-around they have given my parents is shameful. Frigidaire should be embarrassed! Reading through some of the posts below it seems this is pretty standard operating procedure from Frigidaire. BUYER BEWARE!!

Bought model FFGF3053LSK in Jan. 2015. Oil got spilled in burners that were suppose to be sealed unit. After a month, used oven, forgetting about oil spill because didn't know it went below into insulation, caused the stove to smoke really bad causing our eyes to burn. Was able to turn oven off before flames. Didn't know that there wasn't a drip pan under the burners, but that they set right above insulation. Frigidaire says they won't replace the insulation due to their flawed design. Had to buy new stove, wouldn't want to use their oven even if repaired because of the danger of it happening again. Would never recommend their company again and will spread mouth to mouth if need be. It's going to get someone hurt or killed.

We bought all Gallery Series appliances including the range top microwave in December 2012. The microwave started making a loud noise and doesn't generate heat. A diagnosis estimates the repair cost including the service call at almost $300.00. The purchase price was $477.00 which is outrageous given the fact that it was not used very often and was well cared for. Very poor quality in my opinion . A valuable lesson learned never to buy Frigidaire again after reading various reviews. We bought the fridge at the same time and we are finding that it is very loud at times. We are in the process of changing brands.

In 2003 chose Frigidaire/Electrolux 40" dual fuel range electric oven & gas cooktop. At the 12 year mark the main oven stopped working. Broilers, stove top, and side small oven work fine. Appliance technician came to look it over & informed us it was the relay panel and that for some reason the company no longer made this part. He let us know that this had happened with other families in the area who had selected the same make and model. To replace this type of oven with something comparable would have meant spending at least $4,000. Add to this that there are only a few companies that make a 40" oven -- most are either 36" or 42" which would mean additional costs to redo cupboards and counters.
Called Electrolux/Frigidaire and after several minutes on the phone with the customer support person, she explained that because the company only expects an appliance model to last 10-15 years -once it reaches that time frame they stop making replacement parts. So one small part means we have to get rid of the whole thing -- even though the other portions work except main oven? What a horrible "philosophy" that puts the consumer in a messy situation. Buyer beware. Have never heard of a company/product policy such as this?

It makes me sad that I relied on Frigidaire's "good name branding" when purchasing my range/oven 4 years ago. Only one time was I lucky enough to have the product still under warranty and didn't have to pay. But in 4 years I've had to call a serviceman out to try to fix one of the stove tops not lighting and after that one got fixed, a different stove top unit has the same problem. I've also had: the oven not turn off, the entire control panel die and now the front of the stove top heats up to an intensely hot temperature when the oven is on that you can burn yourself.
So imagine...service man call to decide what the problem is, no use of the unit while waiting for the product to be ordered and then another larger bill when the serviceman is done. How much did I pay for the original oven versus how much I've put into it afterwards... Almost the same. Have gotten in contact with Frigidaire who very generously offered me 10% off any part that I order directly through them...YIKES/nope. Switching ovens as soon as possible.

I purchase a Frigidaire Gallery Stove in Oct. 2013 and the computer had to be replaced costing me a total of $326.00, a very expensive part to last only 1 year 19 months. No warranty after one year. This part should never fail in this short amount of time. Also, the convection oven does not work properly. If I put three sheets of cookies in oven, the bottom rack will burn before others are done! I have sent three emails to Frigidaire and never received a reply. Very poor customer service.

I have never had a stove that you didn't have to push in and turn the knobs to turn on the burners until I bought this stove. These knob turn the gas on at the slightest bump but not enough to light the burner, just enough to turn on the gas. I have to always be mindful of the knobs and make sure they are turned the right way. This is a definite flaw and I see by the reviews that it is still happening on the new stoves. Mine was purchased in 2012.
It happened again tonight. I did the dishes and exited the kitchen and forgot to check the knobs. I noticed a couple of hours later that there was a slight sweet odor coming from the kitchen. It was not really a gas smell but it was gas. One knob was turned slightly and was not really noticeable. This is the third time since we had the stove. I think I am going to get rid of it and buy another brand before it kills us. I don't want to buy child proof knob covers to protect myself. How can they keep making these knobs when it is a definite hazard? We bought it at Lowe's and also have a 5 year warranty but I doubt if it will help.

ConsumerAffairs Research Team
The ConsumerAffairs Research Team believes everyone deserves to make smart decisions. We aim to provide readers with the most up-to-date information available about today's consumer products and services.
Frigidaire's history stretches back to its founding in Indiana in 1916, when many of its most innovative "iceboxes" still used actual ice. It introduced the world's first 30-inch electric range in 1952.
Frigidaire Fit Promise: Frigidaire guarantees that it can help buyers find a model to fit the space available in their kitchens.
Built-in options: Frigidaire offers one of the most extensive arrays of choices for buyers who want appliances that can be seamlessly integrated into countertops and cabinetry.
Coordinated design: Frigidaire maintains design unity across multiple product types, giving buyers many choices when they wish to maintain a consistent appearance for all of a household's appliances, including stoves.
Easy buying tools: Frigidaire's Appliance Selector allows buyers to quickly find the best choice for their needs.
Robust warranty support: Frigidaire makes it easy for buyers to schedule maintenance and receive warranty support online, through mail or with authorized local partner locations.
Best for Users cooking for one, users cooking for families and users cooking for businesses.
Compare Ranges, Ovens, and Stoves
Frigidaire Gas Ranges Company Profile
Company Name:

Frigidaire

Year Founded:

1918

Website:

http://www.frigidaire.com/