Conn's Appliances
We are a specialty retailer currently operating approximately 90 retail locations in Arizona, Colorado, Louisiana, Mississippi, Nevada, New Mexico, North Carolina, Oklahoma, South Carolina, Tennessee and Texas. We sell furniture and related accessories for the living room, dining room and bedroom, as well as traditional and specialty mattresses; home appliances, including refrigerators, freezers, washers, dryers, dishwashers and ranges; a variety of consumer electronics, including LCD, LED, 3-D, Ultra HD and plasma televisions, Blu-ray players, home theater and video game products, digital cameras and portable audio equipment; and home office products, including computers, tablets, printers and accessories. We also offer a variety of products on a seasonal basis and continue to introduce additional product categories for the home to help respond to our customers' product needs and to increase same store sales. Unlike many of our competitors, we provide flexible in-house credit options for our customers in addition to third-party financing programs and third-party rent-to-own payment plans.
Consumer Complaints and Reviews

Do not use Conn's credit because they will call you 3 DAYS before your payment is due and harass you for payment. We were told there is a 10-day grace period before a late fee is assessed to your payment--INCORRECT--we were informed there is no grace period and it's a courtesy 10-day period the late fee--WHICH IS THE SAME AS A 10-DAY GRACE PERIOD!!

I purchased a computer on a fixed income, intending to pay it off in 6 months. Before the 6 months was up, I called to get the final payoff amount and they wouldn't tell me because they said I hadn't made my monthly payment. When I made the payment the same day, they said it was too late to pay it off, as the 6 months had expired by one day. I was making payments directly to Con-job's, and then they tell me to pay at Rent-A-Center, another rip off joint. I've paid much more than the list price for the computer, and yet they continue to come by the residence to harass me. DO NOT DO BUSINESS WITH THESE CON MEN!

I received approval for Conn's Yes Money. I purchased my items and have been paying on them as I am required. Recently I was able to pay off my balance in full and sent Conn's the full balance payment, actually I made a monthly payment also so I overpaid. Anyway, Conn's just sent me notice that my monthly payment is due. Shocked I called my bank and received a copy of the cashed check. I called Conn's and I was told they would put in a request for review which would take 3 days and I would have to call back. The guy did not even ask me for any information regarding the cashed check. I consistently asked to speak with someone in accounting or someone who could contact accounting right away because I had all the information that was needed. Conns' made the mistake and lost an almost $4,000 dollar payment and now I have to continue to do leg work to help them find money.
I am so concerned on how this has been handled so far. I just have this gut wrenching feeling that they are going to give me problems when I do call back and once again no one will be able to help. How so ridiculous is this? Losing my payment is one thing but have the conn's representatives not have any sense of urgency and accountability of fixing this is another. My initial experience was great. My sales guy was awesome, delivery was great, but now that they have me I guess I no longer matter. I was told the only department that can contact me is the collection department. Of course right? If I owe them money they will make sure they get a hold of me, but them losing or owing me money is not important and I have to go through hoops and loops to resolve the issue. I will never ever ever ever... did I say never do business with company? Rent-A-Center would be chosen before Conn's.

I call customer service to make a payment and the young lady took all my credit card information, expiration date and everything and then hung up in my face. I called back and spoke with another young lady that answered the phone laughing and playing and I asked to speak to a manager and she held the phone for a while then a young man named Chris came to the phone stating he was a manager and then he will be taking my payment. And I think that was very poor customer service. Call Corporate Office now and I'm waiting on a call back because I am very upset. I am a paying customer and I should be respected. Wouldn't refer Conn's to anyone.

I bought furniture from Conn's. As soon as the payment was due, I started receiving automated phone calls the next day. Every twenty minutes from 8:00 am to 9:00 pm. I spoke with them and told them that I would be paying the bill late because of some unexpected financial issues that came up. They told me that I would continue to receive the phone calls, emails, and text messages until the payment received.
I am receiving a minimum of 12 calls per day and have received up to 21 calls in a 12 hour period. They also started calling the references they require for the financing despite that I told them they would be receiving the payment on a certain date. The payment was only 1 day late when the harassment began and continues several days after the payment is made. They also advertise 12 months no interest. However if you do not pay off the account in the 12 months, they will go back and put on the interest from the beginning of the financing at 29%. So you are getting interest on your interest making it impossible to pay off the account.
How do I know I can trust these reviews about Conn's Appliances?
788,323 reviews on ConsumerAffairs are verified.
We require contact information to ensure our reviewers are real.
We use intelligent software that helps us maintain the integrity of reviews.
Our moderators read all reviews to verify quality and helpfulness.
For more information about reviews on ConsumerAffairs.com please visit our FAQ.

I have purchased several thousand dollars worth of furniture from Conn's. Never had a problem until April 2017. I made a payment and a few days later I checked to see if I was on target to get my interest free contract. The payment I had made didn't show. I called Conn's customer service and was told they were using a new system and the payment had to be submitted thru it. OK, so I did as suggested. Then the payment I made first went thru the bank. Guess what, so did the second one. I called and was told they would work on it but I went ahead and contacted my bank and stopped funding on it. They their payment on time and I was on target. I called to let them know they double charged me and I had stopped the payment. They said it would be no problem as they could see the transaction.
Now, two months later they informed me I would have to pay and INSF charge for their mistake. Called customer service and they sent a request to waive it because it was their fault. They denied it. Called again and they said they needed to get my bank account statement showing what happened. They have the information in their system but want me to do their work for them. DON'T TRUST THEM!!!! Guess now I will have an attorney sue them for their ignorance rather than argue with them any more. Hope they like his fees over their $30 mistake!

I have an account that has been turned over to legal. I was suppose to have insurance that was suppose to cover my payment in the event I was unable to do so. I filled out the insurance paperwork and had delivered it. They filed suit on me. I have an agreed Order to pay 100 a month but they sent it to a different attorney but none know who it is or where to send my payment to.

I ordered furniture from the store on Thomas Road. The worst customer service I have ever received in my life. I ordered the items and was told it be delivered next day. It came with a big knot on the table and I refused service. Then called to explained I was advised it be delivered again next day. It never came. Day 4 took another day off table comes again with a knot on the table. Then was told they can offer to me at discounted price. Paying delivery and set up fees still no table. Assistant manager stated nothing they can do. Spent 20 hours and missed 4 days of work yet to be told I have to wait another day for them to pick up the chairs they delivered. Never will I buy from Conn's furniture. Don't waste your time and money.

Rip off. I've been with you guys since 2014 and I have been paying on a sofa since 2014 and it won't be paid off until 2019 because you guys combine my account without explaining to me how it works. I will NEVER recommend anyone and I will NEVER deal with you guys again.

Seriously people stay away from Conn's. They will screw you in every way possible. I bought a fridge from these people. I pay every month like I'm suppose to. Two months after getting fridge it broke. They came and refused to fix it. I told them I paid for two years of warranty. One of the guys said "Well we will refund you warranty. All you have to do is sign these papers and you're done. It will be credited back to your account." And my husband and I had to pay someone out of pocket to fix it.
Well two years later we receive a letter saying our warranty is about to expire. "Would you like to renew your warranty." I said "what". I called and they told me nothing was ever credited back to my account. ALSO THEY CAN'T HELP ME!!! Really you can't help me but y'all want y'all's money right? WRONG. I'M NOT PAYING THESE PEOPLE ANOTHER DIME. They can have their shelf back and I'm done. WE'LL NEVER AGAIN BUY A DAMN THING FROM THESE PEOPLE EVER AGAIN. Please people I can't stress it enough. STAY AWAY FROM CONN'S. They are fraud.

We got approved online and within two minutes got a call from Chris. We went into the store, made a purchase and was told by Chris we got approved for the 12 months no interest. Well as we were making our payments it didn't seem to be right. We asked the customer service desk and they stated it was the interest adding up. We came home, started looking for our contract and of course we didn't get a paper contract it was all online. So Chris didn't write on that contract no interest for 12 months. Now we are being charged 29% interest on something that was suppose to be same 0%. Never will we shop at Conn's again!

I'm very upset about an appliance delivery today. We purchased a refrigerator & dishwasher from the Conn's location at 1615 Penn Park Blvd. in OKC, OK, on May 12th. During the delivery of the dishwasher my husband was told they needed the 6ft hose to install our dishwasher but they only brought the 4ft hose. So, he explains they will not install the dishwasher but leave it & my husband can go to Lowe's or Home Depot to purchase the correct hose. THIS IS NOT OK WITH ME! We purchased the dishwasher kit/power cord as part of the dishwasher. Why should we have to spend more money?
I spoke to Store Manager **, & he confirmed this is correct. The delivery guys know what they are doing. So yes we have to make that additional purchase! The delivery guys told my husband this happens all the time. When the sales guys enter the items for sale and assume they will only need the 4ft hose but most of the time they need the 6ft hose. Why is this on us the customer? I am not a satisfied customer! And I will share my dissatisfaction with others.

I purchased a Samsung washer and dryer from Conn's in April of 2015. Talked to the sales person about getting the extended warranty when purchasing, but was later told I did not have one. Last month the washing machine would not power on. I called Conn's to schedule repairs, and was informed I had not purchased the warranty so I needed to pay out of pocket. Reluctantly, I paid for the tech to come service the washer. The tech arrived and told us that he needed to order the part. We then paid 110.00 for the part and waited for it to come in. 5 days after no news I called to inquire about when they would be receiving the part. I was informed the part was already in and someone would be calling to schedule a time for service.
The 2nd tech came out the next day to install the part. He then informs me that the part that was ordered was not fixing the washer. He said it was another part he had to order, and it would be an additional 130 to order it and they would put the 1st 110.00 towards the new part. After I started fussing about the money we already paid and the long wait for the last part, the tech left. I then called the Conn's store I purchased the appliances from (Beaumont, TX - Gateway) and was given the number to the service department for me to complain. They basically pushed me and my problem onto someone else and told me it was nothing they could do in the store. I left a message for the service manager Mr. **, but never received a callback.
A week later the 3rd tech arrives with the part and the washer still is not working. You guessed it... Yes, they have to order another part.??? They are extremely nice to bait you in and sell you, then when you have a problem they pass the buck. Nobody resolves anything. The service sucks. The techs have no idea what they are doing. They are getting paid to come out and simply guess "what could be wrong" but not actually fixing anything. Management in the store and service department is a joke. I will NEVER in life purchase another thing from Conn's! I will also make sure anyone I know or network with, knows how crappy the entire corporation is. They are Con artist and anyone willing to listen is definitely going to hear about it. Long story short my washing machine is still broken!

WOW, NEVER WILL I EVER purchase from Conn's again... This was the most worse experience I have ever had in my entire life. When you are on SSI is only deposited once per month and you need to get the due date changed GOOD LUCK. You have to jump through 784 loops. I refuse to pay any late fees when I am on a limited income and only paid at the end of the month. I honestly feel that there should be a class action lawsuit brought against CONN'S. Is anyone in on this??? Let's band together and nail these bastards.

I bought my washer and dryer in November 2016. I paid the entire amount (or what I was told) was the entire amount. I am in the process of buying a house and whalaaa it shows that I owe Conn's Appliance center 130.00. I called Conn's to inquire of this money that I owe. I was told it was insurance on the items. What insurance??? Nobody could answer my question. I called corporate and the non-English speaking folks there hem hawed around just kept saying that it was my responsibility. BEWARE OF CONN'S. THEY ARE CONS!!! This was a hidden charge that I was only made aware of after I paid my bill in full, 1,888.88. NOW TO SAVE MY GOOD CREDIT I HAVE TO PAY THE OTHER 130.00. CROOKS!!!

These people will seriously cause you to have a nervous breakdown!!!! Stay away seriously!! In the beginning it was great being approved. Worst mistake in my life purchasing from them. I make my payments on time every month. First issue, they put my contract date in wrong which they then told me I had to pay in full 6 months later? After 3 superiors and 20 agents later pretty much calling them everyday to get this fixed, they finally did.
Then, they said I was late because I didn't pay in full? So they caused a late fee and reported to credit agency. Again 5 supervisors, 30 agents and reporting to BBB, and even with BBB they still said I was late. After submitting proof back and forth they finally owned up and said they would correct it and they were wrong. But that takes 45 days, wow so now I gotta wait even longer for my credit to be corrected, which we will see in 45 days??? Trust me, you will get approved with them but you will regret it!!!! If you don't mind calling customer service daily, arguing your point repeatedly and being on hold long periods of time then go for it. If you value your sanity, don't!!!! Conn's is a con!

Peyton Sofa recliner sectionals - Purchase was made on 03/29/2013. In, July 2015, The material started to fade and tear in the head and recliner foot/leg area, for 2 seats on the loveseat sectional. I called for service and was told the "damage" is not covered under the extra insurance I purchased or that is included in the warranty. I was told due to the "everyday wear and tear" the repairs were not covered. We hardly sit on the couches at all. When I called for service from the manufacturer... (because I kept getting the runaround), the service tech only came out to restuff the seats with more cushion due to sinking seats, which were not sinking. They are just poooor quality. The manufacturer is Franklin Furniture, sold at Conn's.
Well, anyway, I just want to say the quality and service is very poor. The sofas are wobbly when the recliners are closed. I now have to place bed sheets over the seats due to the embarrassing, shedding of the material when I have guests over. I was a Conn's customer for over 20 years. Never again will I step into another Conn's store in my life. I guess we got duped because the sofa set came with a FREE TV. I paid up to $4,000 for the set of sofas and I fully regret it. When I buy something I would have liked it to last a little longer than 2 years before turning to garbage and poor quality.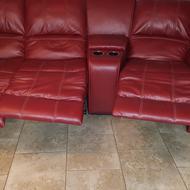 This is the first complaint I made about 3 months ago. I am a customer who purchased furniture with the Conn's April 2016. Five months after my purchase I noticed one of my recliner seats was tilted. I called service, they sent the tech out, the parts were ordered and delivered to my home. The tech returned and could not repair the furniture because all parts were not delivered. The tech had also informed me the furniture had been discontinued in other states and was surprised Conn's was still selling the furniture. The next day I went to Conn's to investigate what the repairman had told me and true enough, the salesman told me the furniture was discontinued after I purchased it. At this time I wanted to exchange the merchandise and was told it was up to corporate because once the furniture leaves the store they are no longer part of the problem or solution.
After the recliner was repaired it broke again within 2 weeks along with another recliner. I then notified service again regarding the two broken recliners and was told the same thing I was told before. This time the tech came out and said he would talk to his manager because the recliners will continue to break due to them being cheaply made, there is no support underneath the seats at all. I never heard back from the tech so I called and was told by a very rude manager that my furniture did not qualify for repairs anymore because it was wear and tear. The woman and I went back and forth and I told her what the tech told me about the furniture being discontinued. She called me, the tech, and the salesman a liar and the tech never should have told me that. I asked what would she do if she had to pay $2,000.00 for some furniture that broke down in 5 months and service didn't want to repair it? She did not have an answer for me.
Now all four of my recliners are broke, one will barely recline the others you have to force and they are lopsided. I called service, the tech came, ordered parts, they came in, he came back and yes all the parts had not come in. This was in January and it is not March and the repair is yet to made. I constantly harassed by billing because I refuse to give them anymore of my money until I get an exchange for something better. In the meantime, I have a relative that purchased furniture from Conn's as well.
Unbeknownst to us, we had no idea we purchased the same furniture just at different times and different colors. She purchased hers in June and had her first problem in October. The same tech came to her home, ordered parts, they were delivered to her home, he came back to repair the recliner and said they did not send all the parts. She waited for the other parts and the repair was made, shortly after the recliner broke again. Service called her and offered her an exchange because the part they were waiting on wouldn't be in until April.
I called service and corporate trying to see why I wouldn't be offered the same thing. I've gotten nothing but "We can't, your situation is different. You don't qualify for an exchange." No one will explain to me why my relative was able to receive one and I wasn't. I've tried contacting the company directly with no call back. I am stressed out and they are harassing me at work. I went to the Conn's on Gessner and 59 713-774-2727, the maker of the furniture is Corinthian Model #9820511RF 662-287-7835.
Update: They called me and told me the missing part should be here by May 15th, this was about 3 weeks ago. I have contacted classactionlawsuit.com so if need be, I can take this horrible company to court. Not to mention, they may have sold me a display without my knowledge.

We purchased a loveseat double recliner. We paid good money for full warranty. One of the recliners broke due to structural damage not cloth damage. There was no foam wrapped around the wood like on the other side and the technician that come out said it was structural damage. Now they are refusing to cover the warranty. They will not return my calls. We have tried to speak to someone several times. I've been hung up on, sent to voicemails, even drove to Greensboro, spoke with the man that sold us the furniture. He even called the service department and they said I would receive a callback within 24 to 48 hour. I still have not received the callback.
Tried to call them back and was sent to an answering machine and left message. Still have not received a call. I don't know what else to other than hire a lawyer or just ruin my credit and not pay. We love our recliner. Out of the 2 years it has hardly been set in. Even the technician said it looks brand new and since it was structural defect from manufacture we are covered so hopefully we can get something done.

Never showing up to repair. They screamed at me on the phone. Let me talk I let you talk. I'm angry they won't fix my washer and dryer. It's under warranty but they expect me to still pay them for it.

First I tried to call in a repair request. I was told that it could not be done without the serial #. I explained that I was at work. I did not have it in front of me. So I went down to the store and I did get help. They called the service department for me and set a request. They would call within 24 to 48 hours. I have not got a call yet. It has been a week. I called the service department today. I was told that it was going to be another 24 to 48 hour before I get any kind of service. I paid for the extra warranty why can't I get my dryer fixed. For a week now I have had to take my clothes to a laundromat. Not a good deal!!!!

I bought a large window unit from Conn's less than a year ago and two weeks ago it stopped working so I called and placed a service request and still nothing has been done. I keep getting the runaround. And yes we purchased the extended warranty for almost $200 and after two weeks of being in a hot house I was asked if I called LG. Really it's not my place to call LG. Why didn't they call LG. I mean if that's the case why they didn't do this two weeks ago. So I called LG and they have someone coming but not till Monday and that's just to come take a look at it. Could be even longer to fix. So I called Conn's to see about getting a loaner and was told, "We don't do that." So my family has to suffer even longer.
I have called the corporate office to file a complaint with the service managers 3 days in a row and still no one has returned my calls. I am so upset and very disgusted with this company. It's easy for them to say of "We are looking to find someone to fix it" when they are sitting in an air conditioned room and their customers have to suffer for weeks on end because someone can't do their job. So fed up.

The place is the worst of the worst. Sales people lie on your credit application just to make a sale. Once they hook you on a sale they manipulate how easy it is to make these small payment. After a few months of making payments if you miss one day the call come in. The calls are so aggressive I kid you not, by the end of the day I had over 25 call from collectors. I even had to change my phone number just because of them. It got me so mad that the more they call the less I will pay regardless of my credit. That's a poor excuse but when you have 25 call from different phone numbers it was very upsetting.

I purchase a LG Gas Range Stove on 11/19/2015, with the 36 Mo. Warranty and upon the selling of the stove and warranty I was told by the salesman (Gerald **) that if any problems everything is covered for repair when Conn's delivered my stove it didn't even work. This was around the holiday time and Conn's could have cared less, Conn's took their own sweet time and came out and fixed a brand new stove.
Months later the inside of the stove glass was leaking in the inside of it, I called open another claim and relate over the problem with the stove and was told, "We don't cover that issue with the leaking glass." Over a period of time with the moister and leaking in the glass it built up corrosion and it spilled all over the door of the stove and window and Conn's wont repair/replace and all this come because Conn's didn't correct the issue when I reported the leaking inside the glass. Conn's still wont honor their warranty. I recently place in another claim. The pilot in the oven doesn't work. I'm here sitting with a practically new stove that I can't use the oven and still paying on it warranty and all.
I spoke with Manager Ms. ** and she stated on the phone she was escalating the issue and I was suppose to hear from VP. This is the Second time that she told me this from previous time and until this very day I haven't heard from anyone and my stove is still unrepaired and Conn's will do absolutely nothing about it. I advise people never to shop at Conn's if you looking for a company that will honor their words and warranty because that's not the case for Conn's. They do stand by that name and honor it well Conn's. I will not even give them a star because it is so sad and hurting to go somewhere and spend your hard earn money on something that is major a stove and it doesn't work and they want fix nor replace. I just have to go out and buy me one from Sears. At least Sears stand by their products and their name.
So please people BEWARE of this Company CONN'S and after reading all these complaints I don't feel so alone. Now this is so sad and bad on so many levels. I never seen, known nor heard of a company so heartless and none caring of people that comes out and purchase from them and they care so less of them that they just spits in your face. I even spoke with the store manager in Mesquite Tx, Alfred and he told me several lies that he sent out emails on several occasion but never give me any kind of responds he gotten nothing. I will keep on praying and trusting God that justice will prevail and be served.

Conn's is a Con Business with deplorable customer service especially in their warehouse. Went to purchase a stove from the Conn's in Tempe yesterday in which Cliff the salesman was amazing. On the other hand the customer service from the warehouse is DEPLORABLE. If you are going to purchase any appliances or furniture PLEASE, PLEASE, PLEASE go to Fry's Electronics, Best Buy, Lowes, Home Depot, Spencers, Ashleys, etc. The following experience is why.
My range went out this Tuesday, so I decided to go to Conn's to purchase a new stove. Knowing that they delivered to my city on Thursday, I rushed from work to the store in Tempe before 4:00 on Wednesday to ensure that the range would be delivered the next day on Thursday. The salesman placed the delivery request in the system for the next day, Thursday, April 6, 2017 guaranteeing it would be delivered then, so my husband could call off to wait for the delivery. When I got home I called the store to ask when the warehouse would be calling me to confirm the delivery. Cliff happened to answer the phone and told me between 5:30 and 8:30 that evening.
Well I waited by both the home and cell phone. Around 6:30 that evening I called the store again with concerns about the delivery call and not yet receiving my receipt via email (due to some new store protocol that receipts are sent by email). The manager told another salesperson who answered the phone to tell me they should be calling and the receipt should come soon. Around 8:00 in the evening I call the store for the third time to inquire about not receiving the call about the delivery and no receipt. The manager told the salesperson on the phone there was nothing he could do about the delivery and the receipt takes up to 24 hours (I'm thinking WOW REALLY). So I asked for the warehouse telephone number and immediately called the warehouse. A voice recording stated they were closed. This was around 8:15 pm. I am really upset at this time.
So I call in the morning around 6:40 a.m. to see if the warehouse is open. I spoke to a person named Laquita that answered the phone. She told me my delivery was cancelled due to no confirmation from customer and will not be delivered until next week. Well how can I confirm if you did not call me? She couldn't answer the question. So I asked to speak to her supervisor because I am very upset due having no stove to cook with for a week and also my husband calling off from work losing pay to wait for the delivery. The supervisor named Naketa came to the phone, after about a 15 minute wait, stating there was no confirmation for delivery from the customer again to me. I asked her, "How can I confirm the delivery if you did not call me on either of my phones," and I have records to prove this. She said, "We have no record of confirmation in our system."
So I tell her that I have my phone records confirming I had not received a call from them on either of my phones in which I kept by me from the moment I got home until 8:30 in the evening while even calling them prior to 8:30 around 8:15 in which no one answered but a voice recording saying they were closed. Her attitude was, "Ma'am that's not my problem". I asked her when was this call supposed to been placed to me yesterday. She stated, "I do not have my records. I will have to look into it". Of course she does not have that in the records because they NEVER CALLED ME. That right there confirmed they are lying.
If you are a supervisor and state that a delivery was not scheduled due to no customer confirmation, then you would definitely record the time of the call to the customer to validate your claim. Only an incompetent person would not do this. Obviously Conn's does not practice good customer service let alone decent. They only want your money, after they get that they can careless about the customer thereafter. This is why this company is a Con-Business only interested in your money. As long as they get your money they can care less about customer satisfaction. They told several lies in my experience. LIE #1: Your receipt should come to your email as soon as the transaction is finished. LIE #2: Your range definitely will be delivered by tomorrow Thursday, April 6, 2017. LIE #3: We did not get a customer delivery confirmation and have no phone records to validate this.
My advice to other shoppers if you are going to purchase any appliances or furniture PLEASE, PLEASE, PLEASE go anywhere else such as Fry's Electronics, Best Buy, Lowes, Home Depot, Spencers, or Ashley's. I have had good experiences with these companies. In example when Ashley's messed up my delivery a couple of years ago, they were honest and owned their mistake while also placing my couch I ordered on the truck that day to make sure it got to me by that night because I had called off work and was losing pay for the delivery. That's what I call customer service.
The situation with the stove is even worse because I need it to cook. Now I have to wait a week to receive a stove which will cost us more than the day pay my husband has lost to stay at home to wait for the delivery but the continuation of having to purchase take-out which is more expensive than cooking at home along with less healthy. This company has no morals, ethics or customer consideration while taking no ownership for their mistakes. As a customer I feel painfully screwed with no Vaseline while given no towel to clean up.

DO NOT BUY HERE or with this company. Worst place to deal with and worst customer service. This place honestly don't deserve a 1 star. It took 4 tries for this place to deliver furniture that wasn't damaged which was a fight to begin with. Now we need to exchange it due the fact it is the most uncomfortable piece of furniture I have ever sat on but the store manager name Derek gave us some BS saying that he most likely be better off getting us a return instead of a exchange which a uneducated person would know that exchange means you keep someone business vs giving them a chance to buy somewhere else! We have made a complaint to corporate twice via email but when ever we look for a update it keep saying that's our issue is resolved which we have had 0 communication about our complaint we filed... So how's this resolved!?!
We have given Derek the chance to make this return happen over a week now and he's has avoided us plus claims he's hasn't got a response from corporate with a yes or no... Honestly it's should NOT take 4 tries to deliver something not damaged especially since I spent good amount of money in that store and being in the retail business this is not how you do business! On top of this nightmare... the DC manager that Derek deals with told us by giving them a 4th try he will credit us $450 and that hasn't even happened yet or in their system showing it will. We got a update from corporate a week ago saying that it's up to the store manager Derek to tell us yes or no for a return or exchange. We have been trying to call Derek for this update (which I guess he doesn't realize that we know that he received this email last Tuesday around 1pm) but he will not take our calls or call us back.
The management here will lie to you and gives worst customer service. I held off for 2 weeks for this review because I wanted to give Derek a chance but sadly he has failed and I don't appreciate being lied to or him avoiding me. We are now 4 months in having this couch and there is a piece of metal sticking out by the corner cushion which had caused damage to the cushion and the same cushion now has discolor to it so we will be forced to use our warranty plan but a 4 month old couch shouldn't have these issues. BUYERS BEWARE!! If for any reason you don't believe my review or any other reviews... look at all the negative reviews on the BBB website which is close to 2200 bad reviews. If you do choose to buy here... Good Luck and hope your experience will be different.

When I went into the store to talk about my options for financing since I had been approved. The guy took me over to get processed again. This time they denied me and with no explanation why the lady picked up her cell phone and made a personal call! Then sales person guy said, "Sorry Elizabeth." and walked away! I never saw him again and no one wanted to answer my questions. Terribly rude! Do not waste your time at this store. They are rude and snotty! Worst customer service ever! I would give them a zero rating if I could.

I was preapproved for $5000 credit at the store in Shreveport La. When I called, they said that I'm approved for $2200 with a down payment of $99. So when I got to the store, they told me that I could pay the $99 today but next week, I pay $250 and my bill would be $275 a month. I told them no Thank you because that $99 advertisement sucks. It's only for a week and that would actually be $350 down!! Conn's is nothing but a rental place and the worst kind. I went right to Aaron's where at least I know what to expect.

I purchased a washer/dryer with a cash option agreement if paid in one year for $2094.?? I meant my agreement and had the washer/dryer paid off in a year. I had to make about 7 phone calls, had to write the BBB and calling their automation phone system to check my balance. Finally when I called yesterday their phone credit system said I owed nothing. Checked my credit karma score today (3/31) and it still shows a balance of $891. I made screen shots of every online statement and screenshots of my bank account payments to Conn's. The minute Conn's tries to mess with my credit copies of all this information is being sent to every credit bureau.
So if you have to shop in Conns which I don't recommend make copies of every payment, make copies of bank info that shows when payments cleared your bank to Conns and write the better business bureau. Don't give the sales people a good credit review like they want because that is how Conns is keeping the good rating at the better business bureau. For now on when I need appliances I will be doing my shopping from stores like JCPenney to Home Depot and small businesses before Conns.

I purchased a TV from Conn's back in September 2016. I didn't have my homeowners insurance but was told to bring in back and they will deduct the difference. Well, I took my policy to the store in Duncanville, TX. and was told to wait 72 hours and call to get an updated balance. After waiting 72 hours I call the automated service to listen for my new balance and the to difference was only $48.75.
I then waited to speak to a customer service rep. for him to explain to me the $397.76 credit that I was expecting was deducted from the total amount due including interest instead of the total amount due no interest of the loan. Example; If I paid the loan off within a year owing $1,000 which I'm ready to pay off the loan my balance should be $603. But, if I paid it off in 36 months I would owe $2,158.00. Guess what they did? They credited the $397.00 towards the $2,158.00. I've heard ALL of the horror stories and was warned not to purchase from Conn's. The name says it all because they're nothing but CONN ARTIST!!!
Conn's Appliances Company Profile
Company Name:

Conn's Appliances

Company Type:

Public

Year Founded:

1890

Address:

3295 College St

City:

Beaumont

State/Province:

TX

Postal Code:

77707

Country:

United States

Fax:

(409) 835-5649

Website:

http://www.conns.com/