Conn's Appliances
We are a specialty retailer currently operating approximately 90 retail locations in Arizona, Colorado, Louisiana, Mississippi, Nevada, New Mexico, North Carolina, Oklahoma, South Carolina, Tennessee and Texas. We sell furniture and related accessories for the living room, dining room and bedroom, as well as traditional and specialty mattresses; home appliances, including refrigerators, freezers, washers, dryers, dishwashers and ranges; a variety of consumer electronics, including LCD, LED, 3-D, Ultra HD and plasma televisions, Blu-ray players, home theater and video game products, digital cameras and portable audio equipment; and home office products, including computers, tablets, printers and accessories. We also offer a variety of products on a seasonal basis and continue to introduce additional product categories for the home to help respond to our customers' product needs and to increase same store sales. Unlike many of our competitors, we provide flexible in-house credit options for our customers in addition to third-party financing programs and third-party rent-to-own payment plans.
Consumer Complaints and Reviews

I am very disappointed with Conn's service department and their customer relation department also. My refrigerator makes a loud noise like something going to blow up. I took off work for the second time in 1 week to have it fixed and the tech didn't show. I have been sitting at home from 6:30 am to 10 pm and no one called or even try to reschedule. When I contact their Customer Relation Department they make you feel like it's your fault the service guy didn't show up. She started yelling on the telephone at me and I was told "if you want your product fixed then you need to called service again and schedule a new service called." I explained to her that Conn's should have called since they mess up in the first place. In fact I should have a tech either at my house or calling at 7 am Monday morning.
I want to explain in detail Conn's failure: 1. This were my second service appointment for the same issue on the same product. 2. Conn's service department says they don't give appointment time or a window on when the tech will show up so you have to just at home all day and the tech will call when they on their way. 3. I called Conn's service department at 3:21 pm the same day to let them know that I have not heard from anyone. I was they know about my appointment and they contact the tech and he will be there that day so stay there. About 7:30 pm to 8 pm I gave up. I finally called the store where I bought the product and they tried to called service to help take care of the customer. Nothing. Service did not answer them. What else can I do?
I filed a complaint with Conn's Customer Relation Department letting know the situation and that everything. I take off work. I am losing money. I am losing $300.00 a day. My time is just important the theirs. I explained to them in a report that Conn's care about their customer and to not even called to fixed the problem is a concern. I offer a solution to fixed your customer problem: either give a gift card or replaced the product with a new one like other competitor stores does. When I did talk to someone from Conn's Customer Relations Department she started making sound like it's my fault and started yelling on the telephone. I asked to talk the supervisor or Rita who contact by email to call her. I was told that I will not be talking with anybody else in this department and I will just have to deal with service if you want the product fixed!!!
I explained to her how I feel that Conn's is willing to sell you a product and a warranty but fixed It. Also, I explain that I didn't know this how Conn's operate and that I would rather pay more money for a product in order to get better service and Customer Satisfaction!!! So, I will cancel my credit with Conn's. Called someone else to fixed their product or buy a new one from a Company who honor their agreement and stand by their Customer and product. This Company are thieves!!!

I bought a living room set on January 31, 2016. When I bought it the salesperson told me that by buying the extended warranty and insurance that I shouldn't have to worry about anything that might happened. In July, I noticed that the chair, the ottoman, and the decorative pillows started to tear it off. The accent chair has a hole in the arm rest and that is because the sewing it's completely bad. I called Service in Sept because it is something that is getting worst on a daily basis, all this with just barely use of the furniture. We are all adults and I have no pets at home.
The technician went home and he said that it was a manufacture issue and that the chairs had to be fixed by re-upholster the whole thing, because even the clips were wrong. He said that I will receive a call to set up the service. Today, 10/5/2016, Conn's called me and said that I do not have an extended warranty, that the manufacture warranty, does not cover issues with the upholstery, and when I inquire to return the furniture that they will report that to the credit because I did not comply with the agreement! WHAT ABOUT THEIR PART OF THE AGREEMENT? THEY SOLD ME A SET OF TRASH for $3,300!!! This store is a SCAM! Also they told me TODAY, that is I have a home insurance, I should not have the insurance that they offer. So they include the insurance that I don't need, but exclude the extended warranty which is what I asked for!!! PLEASE NEVER GET ANYTHING AT CONN'S!!! NEVER EVER!!!

The dishwasher tore up and technician came out several times and couldn't fix. Then they tried blaming it on us. Took me 3 months to get problem fixed. Then finally after fussing with them after 3 months replaced it. The bedroom suite has been nothing but junk chipped every time you clean it. Told them to just come and get it after they call twenty to thirty times a day and text every ten minutes. Worst company ever to deal with.

I bought 4 items from Conn's. I bought a tv, a PlayStation 4, a laptop computer and an air conditioner. All of these items have since broken down and do not work properly. My mother also purchased a couch set which also broke because it was built cheaply. I have contacted them and they sent my computer to get fixed. When I called about it with the number they provided, it was just some guy that answered his phone and not a business. That was alarming considering that all my info was stored on the computer. I feel I was totally taken advantage of because I don't have the best credit and now I owe over 3000.00 for broken items. The tv had speakers that were blown in the first week I bought it and they told me it was a clearance item so nothing they could do. The air conditioner overheats and again nothing they can do. I feel cheated. I need a lawyer.

I bought 2 computers from Conn's on Riverdale Rd in Memphis Tennessee over a year ago. The salesperson said I got two years free interest. I get a letter after paying on it for almost a year stating my free interest for the first year is almost up and to pay it off or the contract kicks in. I freaked out. I called Conn's customer service. They didn't care. I went to the store, and they didn't care. I even talked to the CEO of Conn's, Mark Prior the attorney for Conn's and the CEO's assistant. They didn't care one single bit. Look at the Internet. This company has more complaints against them than you can imagine.
Now, I was wrong for not reading the contract and believed the salesperson so I did sign it, but I also have 3 recorded conversations now with the salesperson with her admitting I didn't have to pay any interest for the 2 years. This is not the first lie this company told me. They can't keep salesmen or managers. Every time you go into Conn's to make a payment, there are different employees.
This company only puts Conn's stores in low income (usually mostly **) neighborhoods knowing they can stick it to you. They look for people with bad credit. Here is a for instance. If a TV at Best Buy cost you let's say $600, then at Conn's that exact TV is usually $200 or more than the one at Best Buy and other stores.
I have over 60 peoples names that have been lied to by Conn's. I have passed out over 50,000 fliers at my expense telling people in the Memphis area what they did to me and not to shop at Conn's. I have met 3 different ladies in person crying their eyes out because what Conn's did to them. Go to hhGregg. At least they won't lie and the prices are cheaper and they can get you the same financing. I will continue to pass out fliers and I will do it until it makes a big financial dent in Conn's profits. Please do not shop at Conn's.
How do I know I can trust these reviews about Conn's Appliances?
608,728 reviews on ConsumerAffairs are verified.
We require contact information to ensure our reviewers are real.
We use intelligent software that helps us maintain the integrity of reviews.
Our moderators read all reviews to verify quality and helpfulness.
For more information about reviews on ConsumerAffairs.com please visit our FAQ.

We are buying a refrigerator from Conn's since June 2014 still owe 1 more yr. to go, still under warranty. It never worked properly. Since we've had it we have called 4 or 5 times for repairs. The ice maker would get stuck and it was freezing in refrigerator and defrosting in the freezer. The first time we called and they sent a tech he said that we had the settings wrong. He changed them. Told us he did not find anything wrong. We called again. Said the same thing - wrong settings, changed. These calls were on different days since we got it in 2014. I then would just reset the settings lower refrigerator and up on freezer, each time we would lose a lot of food. I then tried 1 more time. They sent a tech. He said it had to do with vents. He said he would order parts. I asked tech why didn't they say that the other times. He didn't know.
Finally parts came in. The tech installed 9-13-16. Didn't notice any change. In about 1hr later it completely quit working, called tech back, didn't return our call so we called the next day. He said he would write it off so we could get a replacement. We took it out for Conn's to pick up, left it outside, we assumed they had picked it up. We were busy with a dying relative so we were not at home most of the time. When we did not hear from tech we called him back. He said Conn's didn't let him write it off that he had to try again to fix it. We said no that we were tired of dealing with it that we wanted it replaced. As of yet have not gotten anywhere, no food, no refrigerator.

I bought a nice living room set so I thought it was. I haven't even had the sofa 7 months and the large sofa has broken. The wood used has split in half. I called to get it replaced and they tell me that I must first give the tech a chance to fix it. I don't think that if I'm paying high dollar for something that it should be fixed, I should be allowed to get another one. Poor quality wood was used on these things. But don't be late one day because they will be blowing up your phone for payment. Very dissatisfied.

My family has done business with Conn's for 40+years but it has stopped TODAY!!! We even knew and were very good friends with the founder C.W. Conn (he would be turning in his grave the way they are doing business today!). Watch out for their "insurance and property" rates---they are HIDDEN fees!! We bought a 55" TV, paid it off within the 24 months and they are still trying to get a "balance owed". RIDICULOUS!!!

On Sept 2nd, we went to Conn's to get a washer and dryer. My husband recently retired from the Air Force after 28 1/2 years and moved to Arizona from Guam. A friend referred us to Conn's. We meet Micheal **, the sales manager and he was very informative and we really had a great experience in the store with him. He recommended the washer and dryer that was priced at $1299 each. Mike was confident that the price would go down to $699 each for the Labor Day sales and if it didn't as a manager he would adjust the price himself. At that we choose a back up washer and dryer that cost $699 each because I made it clear to him that I did not want to pay $1299 for one washer and $1299 for one dryer when I can get both at that one price $1299. We went there on a Friday. He said that Saturday night he would know if the prices went down and the new tickets would print Sunday morning.
The delivery was scheduled Sunday afternoon, and he promised to call me before the delivery. That did not happen. The $1299 washer and dryers were delivered to our residence. I called him that day and he said he was working on it. I asked him if I needed to come in and sign a new contract and his response was no, that he would just adjust the price. Then I asked him do I have room for pedestals in my line of credit since the price is being adjust and he said yes. That he would have the 2 pedestals delivered but there would be a delivery charge. I said that was fine. A week later never heard from Conn's. I called and spoke to a Peter who was the manager of Ops and he said he would call Mike to ask him what's the status of my account and Peter would call me back. That never happened. I called Peter again on Saturday Sept 17, and Mike was with a customer and that he would have Mike call me back. That did not happen.
This morning we went to Conn's and spoke to Jeff the store manager. Jeff refused to call Mike today to help rectify the problem because it is his day off. Jeff also made a statement that we left the store with false hope that day that the washer and dryer would go on sale. I corrected him and said it is not false hope, and that we were totally fine purchasing the $699 red washer and dryer. Jeff basically made it sound like we should've known better and that if we wanted to cancel the whole contract there is a restocking fee. I advised him I refused to pay that because I was mislead by his sales person. The biggest problem is that Jeff was nowhere concerned about customer service and there is no way around waiving the restocking fee. At the time this was happening there was another customer paying her bill and she also mentioned they have bad customer service and agree with me they were rude.
All was fine with us and Conn's until we met Jeff. We would of just had them take the $1299 washer and dryer and give us the $699 ones. And if the price cannot be adjusted we would like to cancel the contract with no restocking fee for 2 reasons. 1) poor customer service; 2) misguided from the sales manager. Today Conn's manager really gave us the worst experience ever. My husband has to even tell him, "be careful what you say". The manager called us gullible.

We purchased a washer dryer set to be delivered. We scheduled a delivery date and was told we would be contacted the day before delivery with a time frame of the delivery. We did not receive a call so we went back to the store only to be told that the units were on back order. They scheduled another date for the next week (week two). We received a call with the time frame and we agreed on that time and date. The morning of the delivery, we received a call and they stated the units were on back order again and rescheduled another day for one week later (week three). To this date we are very frustrated and will never shop at this store again.

I purchased a sectional from Conn's in May of 2015. In July of 2016 I noticed a spring pushing against the leather in the rear of the sofa. I spoke to Conn's who informed me that I was out of my 12 month coverage. I took it upon myself to open the bottom dust cover and look in. What I found was one of the springs which was improperly retained. I also found two of the four rear wooden braces broken in half at knots in the wood. Clearly a manufacturing defect. I contacted the manufacturer website which has "No Contact" information other than an address you can send correspondence to.
On the website it clearly states that I must go through my local dealer for repairs and that the frame is guaranteed for life. When I went to Conn's to get assistance I was told that "I came to a police station and what I really need is a Fire station." He went on further telling me they just sell the items... "If I want to talk to the fire station they are in Texas". When I showed him the pictures and described the Manufacturer website requirements he stated "We don't communicate with them."

This company needs to change the name to con-artist. I made a purchase last year, which was ok, but this year I decided to do an add on which the manager of the store made me fill out all the forms, told me not to worry about paying the first account because they were going to close it and merge it with the second one. Three months now, and I am still arguing with them because they want me to pay the first account even though it should have been closed three months ago. Every week, the Manager and I call them to advise them of their mistake and they assure me that it will be closed by "Wednesday". It has been three months now and that Wednesday still has not come. Now I am thinking that I will have to file a lawsuit against them since they are filing against my credit. This is the worst company I have ever done business with. I will never refer anyone to them.

I went in to Conn's to purchase a Samsung Family Hub Refrigerator. Conn's price was $1,000 higher than Home Depot, Lowe's and Best Buy. The salesman told me they would price match and then had the district manager come over to talk to me. He also assured me they would price match but he had to leave the store and asked Damien the store manager to assist me. Damien explained to me that the item had to be in the store's weekly ad in order for them to price match. I clearly showed the prices on the internet but he said he had to go to the store to check.
He left and went to Home Depot and took a picture of the refrigerator with the sales price but said since it was not in their paper, he could not match the price. What a rip off, if you as the manager went to the store to see the exact same item and saw the price difference then why can't you honor the price match? Do not shop at Conn's as they are a complete rip-off and their advertisement is completely FALSE. They had an advertisement about 5 years no interest but when I inquired about that they told me the refrigerator did not qualify for that. Please beware when shopping here.

Warning. DO NOT BUY ANYTHING AT CONN'S. I bought a 75 inch Samsung HD Smart TV. Turned on the TV the following day, unit turns off. You need to turn it back on, then turns off again, 10 times. Salesman advised me a 48 hour return policy, refund/exchange period. I called 12 hours after I bought it, no one returned my phone calls. I called corporate office, they assured me a refund/exchange at no cost. Drove 65 miles one way to the store, all I was told was lies! Had to pay $375.00 restocking fee regardless if I had it returned, exchanged, or repaired. If I had it repaired and they couldn't fix it, I still had to pay. Consumers beware! Do not shop there!

I went to Conn's on July 23rd to purchase a washer and dryer and was told that it would be delivered after 2 days. After almost 3 weeks I still didn't have it. On 8/4/2016 I was told by phone my order had been cancelled and I was never contacted as to why. I drove straight up there and asked for a refund and was told in 10 days I would get one in the mail. I put $440 down and only got back $240 they still owe me $200 and everyone I've talked to in this company will not tell me when or even if I'm going to get my $200. They're very rude and unprofessional and will not just give me what they owe me, that's all I want.

PLEASE READ... THIS COULD AFFECT YOU! Conn's has a policy to add property loss insurance to every purchase. They do NOT discuss it with you during your transaction. If you are a homeowner and have homeowner's insurance, you DO NOT NEED to purchase it. But of course you aren't aware of their policy and much less that the cost has been added to your account. Once you figure it out, they will give you a credit if you provide proof of your own insurance... but guess what?! They apply the credit to their interest instead of your purchase balance! I have been arguing this point with them since Jul 2016... and I am not giving up! They will apply my credit appropriately! Homeowners... beware!

I bought a refrigerator at Conn's in May of 2015 and when I checked my balance I have already paid over 1000 dollars on it and it was only 749.00 and when I asked what my balance was I was told 900 dollars would be the balance and I think that is ridiculous. I was called and told that the refrigerator was on sale and they would rewrite the contract and I think that they did some illegal stuff when they rewrote it and I am paying all this money for a refrigerator that only cost 749. I will never ever shop there again. Once I pay them off I will block them from calling me and sending me anything. They are sending me promotions and I dispose of it and I will never ever shop there again in life. I will go to the Salvation Army to purchase something if I have to but never Conn's again. They have the correct name. "Conns".

Conn's "WAS" once was ethical. I bought my first new TV there. Conn's told me I needed to buy a maintenance agreement for the washing machine. They wanted $27 for a Maintenance Agreement. How could I go wrong! I sent it to them. I waited for the paperwork and finally here! The maintenance agreement I bought was Their account of the $ - they say I owed was now was apx. $170. Maintenance Agreement. The all "bait 'n' switch game" I had already paid it off sooner than expected. I really like the Paper coupons for each month. I'd pay 2 or 3 payments at one time. You can't get confused or wonder,"How much longer should will it take before it is paid off?" I will never shop there again.

Went into Conn's to purchase a particular portable A/C unit on 6/23/16. The salesman ** was told what I was looking for and what I wanted out of the unit. He pushed me into a more expensive unit stating it would do everything I expected and was very energy efficient. The unit was delivered to my house the next afternoon.
The following day I set the unit up with help from family. I turned the unit on and after several hours the room was not cooled at all. The unit was blowing cold air and would cycle through with the air conditioner running, but would continue to run the fan motor which blew out warm air. I consulted the owners manual, but there was nothing there about the fan motor.
On Monday, 6/27/16 I called the salesman (Rusty) and explained the problem and referred me to another number which was supposed to be a product support. I called and they could not help. I called Rusty back and told him the help line was no help. He said he would talk to his manager and call me back. He never called. I called him again on 6/29/16 and left a message with no reply. Over the next week I called several more times and left messages with no replies. I then sent messages to Conn's through their website and waited for replies that again I never received.
On 7/20/16 I called the local Conn's and spoke with the manager, Josh and explained the situation. He said he would look into and call me back later that same day or at the latest, the next morning. I never got a return call. I called again on 7/25/16 and asked for Josh and was told he was out for the next week. This person identified their self as a manager and I explain again what was going on. He was extremely rude and told me there were no return on A/C units period. I explained that I was misled by Rusty and pushed into a unit $200 more than the one I wanted and it does not do what I want it to do. He said it's company policy and there are no returns or exchanges. This unit runs constantly and never shuts off. It is not energy efficient like I told.
My initial complaint was to the BBB and my complaint was responded to by Ms. Dyeiosha ** (Conn's Customer Relations Department) who stated there were no returns on A/C units and Conn's return policy on A/C units is posted all over the store. I decided to investigate that statement. I went into the Conn's location where I purchased the unit and video taped the entire time. Upon walking into the store the first signs you see are two free standing signs just inside the doors that offer the "Yes" money financing. I continued over to the area where the air conditioners are at and there are no signs whatsoever regarding a return policy. Upon leaving I was met by Rusty (salesman who sold me the unit) who acted as if he had no idea of my complaint or the home office being involved in my complaint. (Conversation was also video taped.)
Upon walking out of the store the two signs I saw when I came in had the return policy listed on the back side of it. These signs are about 14" x 20" and are by the doors and can only be seen on the way "OUT" of the store. The desks where the sales are completed are located in the middle of the store and there are no noticeable signs regarding the return policy nor are there any signs at the customer service desk. Ms. ** also stated that I received a copy of Conn's return policy. I have read my entire contract and supporting documents and there is no return policy.
Ms. ** has suggested that I pack up this very large and heavy A/C unit and bring it to the store where I purchased for a technician to check out to see if it is working properly, however she has already stated in an earlier response that it was "working as designed." I am totally disabled and it is not possible for me to move this unit by myself. My effort to transport this unit back to the store would not only be very difficult, but a complete waste of time since Conn's has no intention on doing anything for me.
I have researched the return policies on HHGregg, Lowe's, Best Buy, and several other major appliance stores and their return policy allows for returns on almost anything within certain time restrictions. If you want to make any kind of major purchase, shop one of these stores, Conn's has the worst customer service I have ever seen out of a chain store.

I purchased a new Samsung Dryer from Conn's in Austin, TX on 05/31/2016 and my dryer stopped working on 08/25/2016. This product was less than 3 months old. The tech finally came out on Tuesday and stated he that the idler arm is broken into pieces and it was shipped defective that way, he had to order the part and he would not be back until 09/09/2016. I must say that I am highly disappointed, due to the fact that I have to go to the laundromat when I have a brand new dryer that doesn't work. I have extended warranty and factory warranty and they both are not worth the paper it is written on. I have contacted the repair center, Conn's Corporate office, Samsung, Conn's store and I still have no return phone call. I wanted to share my experience when purchasing certain products.

I am highly upset with Conn's and will never shop again. I had Samsung Washer delivered Aug 5th 2016. The Washer stop working on Aug 25th. I been trying for week to get service from Samsung. I finally called Conn's Monday and received service today. I took off work for the service guy to be there 5 minutes and say have to order pump and board. That will take 6 to 8 days. I am like, "That is terrible and way too long."
The issue I am having is the washer only 20 days old and having major problems like this. I requested a new washer and was told NO. I immediately left and went to store and ask to speak to my salesman and the manager and once again was told NO. I left store and called Customer Service and was told NO again. I am the only one who thinks having a washer 20 days and using 10 to 15 times and it stop working. The issue that pisses me off is I wanted a cheaper washer and let sales talk me into the expensive one. I see where this got me.

I purchased a washer/dryer combo few years ago and the washer messed up a few weeks ago so called the warranty department and they sent out a technician to diagnose and ordered the parts. A technician came out on 27th to fix and realized they were a part short and realized a part must have been left at warehouse which was like 10 miles from my house but he used the excuse that the warehouse already closed at noon. Called Service department yesterday and said they had to order the parts from LG and will take up to 5 business days mind you that they already had the parts at the warehouse locally, and then schedule an appointment to come out. This is going on 3 weeks and still not fixed and looks like I am going to have to wait another two weeks.
If you have the chance to spend a few hundred dollars more get your appliances at Sears or anywhere else. You pay several hundred dollars on warranty at Conn's but takes 4 to 6 weeks to fix it. This is not the first horrible experience I had with Conn's warranty. I had a TV go out and it took roughly 5 weeks to fix as they could not order the right part. My sign not to buy from Conn's anymore.

I should have thought about the name first when I decided to shop at Conn's. I purchased a chair on Friday. Saturday when I tried to assemble the chair I see that one of the legs did not have one of the two bolt holes pre-drilled. I called the store and spoke to my salesperson and store manager both of whom did not offer anything more other than that I was responsible for not inspecting (assembling the chair) prior to leaving the warehouse. Manager solution: I would have to come back to the store (17 miles from my home) just to get another invoice that I am to give to the warehouse. (Why could this not be a phone call or electronic transmission?) Then on the weekend, as the business hours of the warehouse conflict with my hours of business, I am to travel another 25 miles from my home to pick up another chair, which I would have to assemble in the parking lot to ensure that there are no other manufacture defects.
I appealed for consideration of all the driving back and forth, and asked to have the warehouse deliver a chair to the store, and we could make an exchange there. I was told no, as I did not pay the 79.99 delivery charge there would be no consideration to do so. I am very disappointed in the lack of customer care that this store was not capable of providing. It was as though they have memorized a script and are not capable of making an independent decision, or to think at all about the situation. Instead the onus was put back on me, the customer.
Monday, August 22nd I called Conn's Customer Support. The representative I spoke with first also was only able to recite the same script: "Since you did not pay for delivery or warranty you are responsible for taking the defective product back to the warehouse, where possibly they will make an exchange for you, as you did not buy the warranty." At this frustrating point, I asked to speak with a person who would think/listen, take a personal interest, and not just recite a memorized script.
Conn's supervisor Annie ** answered my call. I asked if she had been filled in on my complaint. She confirmed and then I was told that a request had been filed. To my surprise, the prior unhelpful Conn's Customer Support representative had requested that a new chair be delivered to my home, waiting approval/denial. I would be notified 24-48 hours of a decision. Why did it take escalating to her superior to get this action?
So, a week later I still have not heard from anyone at "Cons." During the week I wrote 3 emails to the Customer Helpdesk staff...still nothing. Today I looked online at my status to see that my request was deemed closed. I called the 800 # and learned that leadership had concluded that policy must be followed, and therefore, I would have to go back to the store, get a new invoice, and go back to the warehouse for an exchange. Nope, not wasting my time!
I WILL NEVER SHOP AT "CONS" AGAIN. I am very disappointed at leadership for the decision made on my very simple request. Not only did a manager or supervisor never call to discuss my problem, I learned that my request was deemed closed by checking status online. Poor customer service from the top of "Cons" to the bottom. Conn's you may now consider this customer complaint closed!

I WISH I had read these reviews before purchasing a Washer/Dryer Combo from Houston, Texas Gulfgate Store. Purchased Saturday Aug 13, 2016, delivered Aug 14th. The one thing I did notice is the sale associate kept emphasizing "make sure the appliance work after installation". NOW I know WHY. The installer hooked up appliance, showed me where the water lines were hooked up and were working, NOT. But didn't realize unset until Weds night. We tried to load and wash clothes and washer did nothing. THEN wanted to set service for 1st of September. After call, I am still waiting on a response from management. DON'T BUY AT CONN'S!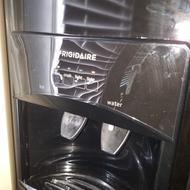 I purchased this refrigerator July 17, 2015 to be delivered the following day the 18th. It was put together wrong. Had to call and have someone come back and correct it. The reps only pass the buck never getting anything done. I was passed around to a total of 17 people over a year trying to resolve an issue with the fridge, and vegetable tray installation. As of today 8/22/2016 it's still not been done. I was told today that they don't carry the product anymore. Wow!!! But I've paid and been calling for over a year. Now you don't carry it anymore. Don't go there. They don't listen, only take your money and feed you lies. Out of the 17 contacts I spoke with 3 were supervisors and reassured me they take care and promised they call back with a resolution. Nope!!! They lied again so I'm writing this review in hopes that it saves someone else the grief I went through. The fridge is crazy loud, and still missing a part that they can't get now! Wow. Smh???

My wife & I had purchased from Conn's before. Since our payment was due we made our payment but decided to look at the Washer Dryers. Told the sales rep Jerry we were considering on buying Washer & Dryer. As we were looking at the items Jerry the sales rep asked if he could see our payment book so he could look up our Conn's account. So I gave Jerry the payment book. He never said anything about doing a Credit Check. After 10 minutes Jerry returned and said everything looked good but he needed my SS# to confirm my account with CONN'S. I asked Jerry why he needed further personal Information, he said it's Company Policy. I thought that was strange he was asking for our SS#. I told Jerry we had not decided if we were going to purchase from Conn's, but Jerry simply said "I need your SS# to look up your Conn's Account," so I gave Jerry My SS#.
After 5 minutes my wife gets a call from the Credit alert asking if we had applied for credit at Conn's. We said NO and explained to Credit Alert Folks we had not applied for Credit and that we were at the Conn's store and that Jerry the Conn's sales rep informed me he needed my SS# to look up my Conn's account. Never informed us about doing a credit check just looking up our Conn's account. So as we approached Jerry asked him about pulling our credit reports he said he did NOT, but he had no clue we were on the phone with the Credit Fraud Alert. The person that called was listening to Jerry denying he had indeed pulled a credit report without OUR consent & knowledge, so my wife gave Jerry the phone unaware whom was on the other end.
When she identified herself his expression, he knew he got BUSTED telling us a lie, so Jerry walked away, went to the other desk, got on the phone, called somebody because within 1 minute I got a phone call from Conn's Credit department telling us we had consented to a Credit Inquiry which I denied. I explained to the Conn's credit rep Jerry simply stated he needed my SS# to look up my Conn's account, the Conn's Credit Department was contacted by Experian and while we were still inside the store with Experian customer service disputes it was a three-way call, we explained to the Experian, Equifax, that we NEVER gave CONN'S nor Jerry the permissions to pull up our Credit Files, SO once Conn's agreed to REMOVE the Credit Inquiries from our files, Jerry continued to deny he pulled our credit, the store manager did nothing.
The very next day we get a phone call from Conn's delivery informing us they would be delivering the Washer & Dryer we looked at the day before. We never signed nothing, never agreed to anything, so I called Jerry the Conn's sales rep, informed him about the call. Jerry set up the purchase & delivery date. He had the nerve to LIE about the reasons he needed my SS# even though this liar still wrote up a false contract and went as far to have a delivery date. 1 month later as I looked up my credit file there it was again another Credit Inquiry from Conn's Experian Rep. Did a 3-way call with Conn's and they did remove that unauthorized credit check from my files. When I called Jerry he never returned my calls. When I went to the Conn's store in Rio Rancho New Mexico, to make a payment Jerry refused to speak to US.
The Conn's Store Manager did not seem concerned about Jerry's actions. He said he was SORRY about my misunderstanding and that Jerry did in fact explain he was pulling a credit BUT that I was the one that was confused, Jerry did nothing wrong. But the Store Manager was NOT around nor did he hear what was said really. I guess folks at CONN'S think we're all stupid. We started getting phone calls from Conn's. They call and HANG up. When you call them back they DO NOT identify themselves nor whom they are. They say you are past due on your payment and how would we like to pay the past due payments. I asked that Conn's collection person first of all "Who are you and WHAT company are you calling for?" Well the CONN'S employee REFUSED to give me her name, so I also hung up on her. I called them several times and also hung up on them.
After 10 phone calls the Conn's Employee did give her name BUT NOT sure if that was her real name. While I was on the phone with Conn's they were calling my wife every 2 minutes and also calling my cell phone as well. I contacted the New Mexico Attorney Generals Offices, the New Mexico Consumer Affairs, submitted the phone records of our 3 phone numbers, I also recorded the phone conversations which is legal in MY State of New Mexico. I gave them NOTICE several times demanding the harassing phone calls STOP. I also emailed them and sent a Certified Letter to the Customer Resolutions of CONN'S DEMANDING these phone call Stop to all 3 phone numbers. But the other problem I had with Conn's was the insurance I submitted. The Proof Of Insurance even had my insurance agent email and mail the Proof of Insurance. I declined the Extended Insurance BUT Jerry still included the Extended warranty after the fact.
I was made aware 2 months after the purchase. I had to contact Customer Service In Texas many times to have the extended warranty removed and also had to re SUBMIT proof of Property Insurance several times. When we contacted CONN'S about the Insurance first they confirmed they did have Policy and proof. 3 weeks later when we called back Conn's said they never got proof of Insurance, even when my Insurance Agent called them to confirm resend Proof of Insurance. The folks at CONN'S insisted we never sent Proof of Insurance, even though Conn's claims they REMOVED additional warranty charges and the homeowners Insurance from my account the balance remains the same. Conn's will not speak nor respond to my many attempts to resolve this matter, and by the way we were never delinquent on any payments. Conn's has never apologized.
My written consumer complaints to the Attorney Generals and other Consumer Agencies, have gotten us some results, but the UPDATE Credits have yet to be resolved. I request a copy of credits and new balances for our accounts. That was 8 months ago. Have never received anything even when I pull up my Conn's accounts online there is still no change and accurate credits applied. So in New Mexico the Consumer can file a lawsuit REQUESTING NO ARBITRATION in writing proof of service delivery USA Certified mail, ETC, other guidelines required by the State of New Mexico, phone calls can be recorded. As a consumer when you call you are informed the phone call is RECORDED. As a consumer you also can record your conversations for future use such as this horrible experience we have had with CONN'S.
Future Lawsuit may be the only way forward, but I am willing to resolve these matters and have a satisfying resolution as a Consumer willing to put this matter behind us should Conn's decide to resolve this matter and do what is right and to our SATISFACTION. We will never purchase from CONN'S again. All I want is a statement from Conn's Accounting showing credits and proof Conn's removed extended warranty charges, and Insurance also deducted from balance, send PROOF of applied credits with accurate balances sent to ME by USA Mail. No more word of mouth or phone calls. I want the proof in writing US Mail.

I bought my computer from there and had been making payments on it and made sure I purchased the warranty. When it broke, since I'm in California and there is no Conn's here I had to pay to mail it. They called to inform me it was not fixable, and I could come in to exchange it. I had to tell them again that I couldn't because there was so no store near me. The closest one was 10 hours away.
They told me, MAYBE, I could get a credit but they weren't sure. So I called and got passed around and found out I could get the refund but I had to be approved. As if to say there's a chance I wouldn't get my money back or a new computer that I've spent 1200 on. I was then told it was only going to take 48 hours for it to come through. It's now been 3 days and I'm now being told 7-14 business days until I see any money in my account. I'm now starting out my semester with no computer. And the service line won't let me talk to anyone about them and have been less than helpful. I would recommend never buying from here, because they don't accommodate you like they make it out initially.

We have purchased several items from this company and are so unhappy with the results. First off, the handle on our recliner couches broke within a couple of days and it took them weeks before sending someone to fix it. Secondly, in order to pay your account without interest, you are only allowed to go over 10 days on your account once, which was not a big deal but when we logged in to pay off our balance, a month later it showed we still owed more than what we originally paid off. I contacted them twice and asked why this happened and they said that our zero interest had finished a month before our pay off. This is **.
We had always been a loyal customer and for them to tell us that our zero interest expired a month prior to the year and not notified us is ridiculous. I will fight this till the end. I have proof that our pay off balance at the time we logged in to our accounts proves what our remainder balance was and what we paid. I will not give them more money. This company is a ripoff.

8/1/16 - I made a purchase of a mattress, box springs, frame and office chair (agreed that I would put it together) with delivery set for 8/6/16 - Salesman Bryan. 8/2/16 - I went back into the Conn's in Lake Worth to see Bryan, purchased a recliner, with agreed delivery with other items in 8/6/16. 8/6/16 - Delivered as expected around 1600 (approx). Drivers were very professional and courteous. Asked me to please answer my phone shortly as someone would be calling to check to see how my delivery was. Conn's called and told them drivers were professional and courteous. I thought all was well.
Around 2015, I sat in my recliner & it would not recline. I immediately called Conn's salesman Bryan in Lake Worth at 2024 and asked him what I needed to do. He told me to call the delivery number back immediately and let them know. I called the delivery office at 2026 & reported that the recliner did not recline and explained that we did not try it before the delivery drivers left. A ticket was written up and I was told they someone would contact me as to when the delivery team can come back out and check it or replace it. Was given ticket #**.
8/11/16 - I called Bryan the salesman to complain that I had not heard from him so he told me to try to contact the delivery office again (972-225-9970) and to also call 877-358-1252. I called the delivery number, prompted to put in ticket number which gave me to the service department. After 20 minutes of being on hold, the call was answered by Sabrina in Service. I explained the situation & was told that since I called within 24 hours of delivery that it was a delivery issue, so she transferred me to delivery. After about 5 minutes the call was answered by Tasha, who told it was not a delivery issue, it was a service issue & she would transfer me back.
By this time I was extremely irritated. I had been on the phone 35 minutes with no resolution. I called 877-358-1252 and talked with Jessican and was given a new ticket number of ** & was told that the issue would be elevated and someone would call me back. I called Bryan again, who told me that when he got to work the next day which was around noon, he would talk with his manager and see if they can get something done on their end.
By 1600, I still had not heard from anyone, so I called delivery (Chris) & asked to speak to a supervisor. I was then passed to Porche, who was extremely rude. She told me I had to talk to service, so she passed me off to Lessy (Libby) in service. After another 30 minutes of still no resolution, Lessy (libby) asked if she could place me on hold. After about 5 minutes, the call was disconnected. I then called the salesman Bryan, let him know what had occurred and that I had better get resolution. He passed me to his manager Matt, who told me NOT to call delivery or service again, that he would try to get something done on his end. This store has been really nice, it is the delivery and service department that is exhibited unacceptable service in resolving this issue.

I had a Samsung tablet. It was stolen. I asked that the warranty and insurance be removed. I no longer had the tablet. I wanted money back. I had someone at Conn's cancel it. I emailed Shannon ** because I didn't want them to put on my account. I don't trust them to do that. I call today. Some lady ask me my phone number. I told her. She said that wasn't my phone number and said the lady's name and I know the lady. I called her too. I have a open account. She couldn't pull me up by name or address. She wanted my social and birth date. I told her I wasn't giving her all of that because I'd been hacked. She puts me on hold. No supervisor. She gets back on the phone and says she can't help me. Some needs to run their behinds out of Texas.
Conn's Appliances Company Profile
Company Name:

Conn's Appliances

Company Type:

Public

Year Founded:

1890

Address:

3295 College St

City:

Beaumont

State/Province:

TX

Postal Code:

77707

Country:

United States

Fax:

(409) 835-5649

Website:

http://www.conns.com/