Consumer Reviews and Complaints

I opened a membership on a month to month, no obligation membership for 74.99 a month, I was charged $94.99 after all the taxes and I was not even going to the gym. I canceled my membership in August 7th. I was directed to a website called Cancelwizard.com that charged me $35 to cancel. Then I Called NYSC to make sure that it was canceled, and they tell me that there is a 45-day cancellation notices, so I was still getting charged $56 for October plus an additional $10 cancellation fee. This is nightmare. I will never again go to an NYSC ever again.

I signed up for NYSC Avenue A membership in June 2016 during a special. My contract indicates $39.99 will come out the first of every month, and my contract also reflected a one-time membership fee. Fast forward to July 2017. I see a $59.99 charge through my bank from NYSC. I called indicating the error, the customer service rep said per my contract, I must pay an annual $59.99. I had him refer to my contract wherein he found no such language authorizing NYSC to debit $59.99 from my account. The money was put back in my account. Fast forward to August 2017. I decided I would move my membership over to Blink since they have better reviews, and you get more for money, and my friends go there. Per my contract, after the one year which ended in June 2017, the contract defaulted to month-to-month, and cancellation per the terms must be 30 days.
On 8/25, I called the membership line and they instructed me to go to the club. I went into the NYSC club on this day on 51st & Lex, the woman working indicated only the general manager could process cancellation, she scanned my tag, and said nothing further was needed. Based on the language of the contract, I decided to do a follow-up call. An hour or so later on 8/25, I called to confirm submission of my cancellation request. The customer service rep indicated there was no evidence of me going in a club, and then she said I must do this with a general manager. I was clearly frustrated, especially because I have a planned trip, and want my cancellation in before 30 days is up to avoid getting an Oct 1 $39.99 fee.
The woman also told me I could only go into my home club which is Avenue A to cancel. I told her there was no language on the contract regarding same, and the exact sentence on their website when you sign into your account, under cancellation it states "members may initiate the cancellation in person at any club location", she was still arguing with me that I was going about this incorrectly without any evidence on her part. I was then told to head to Avenue A and ask for the general manager, Joelle as she is working on Saturday 8/26. I went into the club, and Joelle was not there, and I was told I was the second person that came in asking for her. The girls at the counter were unable to assist me, because, again, only the general manager can handle cancellations.
Today, August 28, I called Avenue A to see if Joelle was in, and I was now told that I must make an appointment with her to cancel my request - this was never told to me, and further, she was not available to meet today (8/28). Given that I'm leaving out of town, and I do not come back until after Labor Day, this would give Avenue A another month of my fees, and they will be charging me $39.99. After calling my bank, and giving them the rundown, I was advised to file a claim. Now my bank is handling this.
I am extremely disturbed by this cancellation policy. With that being said, it appears said policy is geared around inconvenience as a tactic to continue taking membership fees, as well as breaching their own contract by debiting $59.99 annual fee from me, which on my contract says "Annual Fee: $ 0". Lastly, NYSC renewed my contract with them, without consent, no evidence, no signature, no recorded conversation indicating I agreed to same and construed my conversation of asking for my $59.99 back as a renewal. I have been documenting every call and visit with NYSC and am hopeful my bank will determine their tactics as a theft threat.

Yesterday: "It is against the law for us to put up a sign about trans people using the bathroom of choice because it would make people uncomfortable." -front desk at this branch. Partner promptly canceled membership. Experience: I go to the gym every day and am at this particular gym probably 2-3 days a week. I am very disappointed in NYSC and in particular this branch. Four months ago my partner and I approached the gym and requested that they put up a few signs stating NY law that bathrooms and locker rooms in NY are accessible to people who are trans.
Much feet dragging and months later my partner, who is a trans woman, has been harassed every time she has gone in and management has done nothing. This problem has been from staff and other members. They were able to put up signs about a whole host of other thing that were related just to this gym but about ongoing belittling of one of their members they couldn't be bothered. It is just such a shame when other gyms in NY like Equinox are going out of their way to be demonstrating that they are safe for the LGBT community and gyms that are affordable like this one are promoting anti-trans rhetoric from their own employees.

They charge me $60.49 on July 2, after my cancellation went through on June 22. Since I paid that amount of money (it is a lot as a student), I visited the Center yesterday. A receptionist kicked me out. Today, I tried to speak to the Manager, Victor, all day, but he is at the meeting all day. Sounds rather avoiding my calls. Also, I just spoke with the "district manager," but he treated me like an idiot. Overall, the customer service is the worst, and I do not get it at all what is my $60 for. The worst experience in my life. Try to avoid this freaking NYSC as best you can unless you. I believe Victor and "district manager" will get paid this sometimes somewhere. I don't think they won't get away with this!

I joined NYSC (the Section 8 of fitness centers) in Croton, NY because it is close to my home and seemed good enough for my purposes. I was a member for over a year. I don't need to be a member of those high-priced, lofty places full of pompous and pretentious people. That having been said, one must admit that, quite often, one gets what one pays for, and that is indeed the case with NYSC, especially the one in Croton.
Issues: 1.) Dirty and neglected by even the most relaxed standards. 2.) Broken machines go weeks without being repaired, sometimes months. 3.) The staff is young and immature. Sometimes they are well-intentioned, but completely dis-empowered from helping members because they are part of a system of neglect. 4.) The management could not be more disengaged if they were paid to ignore people. (I could list so many examples here). 5.) The regional management is as bad as local management. They do not respond to concerns or complaints at all. 6.) The prices are so cheap that they attract the rabble that scream from the top of their lungs across the gym floor, dropping "**-bombs" left and right and being generally foul. In short, it is NOT a nice place. If you absolutely HAVE to go to NYSC, don't pay more than $20 or $30 tops. Anything else would be a shame.
How do I know I can trust these reviews about New York Sports Club?
883,201 reviews on ConsumerAffairs are verified.
We require contact information to ensure our reviewers are real.
We use intelligent software that helps us maintain the integrity of reviews.
Our moderators read all reviews to verify quality and helpfulness.
For more information about reviews on ConsumerAffairs.com please visit our FAQ.

We joined NYSC and were promised two months free on both mine and my husbands account. To our surprise, the monthly payment of $40 each was taken out in the first month. We immediately contacted our membership consultant via email who assured us it will be reversed and his Manager will call us. No calls were received and no refund either. In 15 days another $20 each was taken out! We were confused again and contacted the membership consultant who had the same answer as before. Another 15 days later, $15 each was taken out of our card! We were now really frustrated and had already contacted the gym several times without any resolution. Again, no response just a reassurance that we will get money back.
I finally called the gym and persisted to speak to the Manager and was told that he didn't leave his business card at the front desk so I couldn't get his number!!! I thought that was unprofessional but I didn't give up and called again. Finally I was put through to the manager who seemed pretty aggressive to start with! I couldn't understand where that was coming from as I was the one who had paid and rightfully should be demanding my money, why would he be angry?! I requested him to look at my account again and I will do the same to ensure we have exact payment details! I then got an email from the manager and thankfully the payment deducted matched my account but I couldn't understand why the money was taken out every 15 days!
On further discussion I realized they had made a mistake and taken out the money from our accounts but adjusted that as a membership fee into or account, without notifying us. On top of that an additional $15 each ($30 in total) was what we were overcharged. The manager said to me that I was trying to trick him and confuse him but it's not going to work! This was really demeaning and rude as NYSC owed us money, not the other way around. We then asked to cancel our membership. Apparently there's a 45 days notification period.
I haven't send that anywhere on the internet and don't recall signing anything that says that. The fight continues as the days they calculated as 45 days is wrong and I'm scared they'll charge us again on 08/01, when technically our 45 days end on 07/31! I would recommend anyone who's trying to join, to stay away! You will be charged incorrectly and it's practically impossible to get your money back. You'll also be treated disrespectfully and ridiculed. So be prepared for the worst at NYSC.

Canceled a year ago but was disconnected on phone so I find out now they've been charging my credit card for membership for past year when I thought membership was canceled and I haven't been to club in years.

I have been going to this gym for a number of years now. However, over the past two to three years, the standards of this gym have been going down fast! Dirty locker rooms together with lockers off their hinges never repaired for months at a time. In addition, the Manager Michael ** is combative and rude. (Supposed to be that way I assume.) The equipment breaks down and is repaired about 6 months later. Do NOT join. Pay more and go to Equinox if possible!!

So let's start off with when I joined. I joined as a passport so I can go by work and go by my house. 1 month after I joined, they closed the club by my job WITHOUT notice! So I called to downgrade my membership, they told me I had to pay $70 because "It's not our fault if the other clubs are convenient for you or not, you can still go." And that's an exact quote from their HORRIFIC customer service! I have yet to speak to someone who is A) knowledgeable and B) actually cares about the customers. Every single person I have spoken to was horribly rude. It must be a requirement. SOOO like an idiot, I go in and pay and downgrade my membership. I decided to do a MONTH TO MONTH! WARNING!!! That does not mean you can cancel whenever OR easily by any means.
So then I move to Queens and could no longer go to the Staten Island location. So I went into the club in person. They told me that there is only ONE person who can cancel the memberships and that person was away for the week! So since I was moving there was no possible way I could get in to cancel again. I once again had to deal with the "lovely" member services on the phone! So it all starts with the first uneducated staff member who told me she would email the club and that my cancellation would be effective as of the date I went into the club. 3/21. So I got charged for April. Fine. But THEN I was charged in May! I called up member services and they said my account was still active, I explained what happened on 3/21 and now this woman assured me it would be cancelled and told me of no other charge.
Well now we're in June and these thieves now charge me 16.99 because apparent it's some sort of cancellation fee on a non contract month to month membership! So I call again! And they told me it was cancelled as of May and the reason why it wasn't cancelled in March was because the OH SO competent manager SUPPOSEDLY called me ONCE and since I never answered the ONE phone call that she definitely DIDN'T place, my membership was just left. Because this woman must be so busy putting weight back on a rack! But the funny thing is, they keep telling me that this is my fault because I never called the club back, EVEN THOUGH I NEVER GOT A CALL AND WAS ASSURED MY MEMBERSHIP WAS CANCELLED AS OF 3/21!!!
All of the sudden in May it got cancelled, without me ever speaking to the club once! I called the new manager who said he did it himself. SO WHY COULD HE DO IT BUT NOT THE LAST ONE?! AND IF SHE DID "CALL" ME, why was it only once?! CLEARLY she didn't do her job and now this is MY FAULT?! They still justify taking my money due to the neglect of their horribly incompetent staff?! I'm still fighting to get my money back because this is insane. These are THE WORST PEOPLE working for THE WORST COMPANY!

I have been a member of NYSC for close to 15 years. I resigned up after Superstorm Sandy at $19.95. This rate was to be for every month. On Feb 2017 I noticed that it was increased to $21.95. My contract that I sign states that my membership is locked in because I pay an annual fee $59.99. I spoke to the Long Beach NY club and they said they can change the membership whenever they want. I then spoke to Corporate which took 4 calls to get someone to respond. They gave me the runaround.
The only way I got satisfaction was to file a complaint with the NY Attorney General's office. It didn't take more that 3 weeks after filing this out I got a call back from the VP of NYSC. He said they have the right to increase every year. But, he said that he would put it back to the $19.95. I also got him to refund me the back increases. This practice with NYSC is done all the time. Friends I work out with have been increased $2 $5 or $10. When you complain they beat you up on the phone with verbal BS hoping you will back down. It is not the money that is the issue it's the principle that offends me.

NYSC Garnerville, NY. These people will sell you anything and everything without telling you what's going to happen when you cancel the membership. I entered a month to month contract and they never said to me that if a cancel after 2 years I was going to get a cancellation fee. Not only did I went personally to the gym to cancelled my membership and I asked the manager if I was going to get any more charges and they told no. I called and now the managers claims that he told everything which is a lie. I will never go back to that gym ever again. They need to better train their salespeople and managers.

I have been a long-standing member of NYSC for 20+ years holding a passport membership and used to look forward to going to the gym. I have noticed in the last few years, the customer service at various locations going downhill to non-existent. They closed the 86th Street location in NYC w/o any written notice - and when I returned from vacation and arrived, I found their doors closed forever. Luckily I have a passport membership and was able to use their 91st Street location. Needless to say this location is over-packed since most 86th Street members are now using this one.
Anyhow, the gym is dirty, they don't clean or clean well, dust balls everywhere and bugs! The front desk personnel are super rude and just miserable - and I have never seen a Manager or Sales Reps there, so I always call Town Sports International directly. The Reps on site can't help with any membership concerns - at least that was my experience. I just cancelled my 20+ year membership - and have it in writing, but for peace of mind after reading the complaints on here with billing after cancellation - I decided to place a stop pay on my checking account from this vendor. My experience with Town Sports was pleasant and she was apologetic on the Club's behalf - but didn't try to keep me as a member.

Terrible liars! Need to join for few months and I did explain that. They said it is month to month basis. Was overseas and was not able to cancel it so just changed my credit card. These people want you to come IN PERSON! Which is insane! So you cannot cancel it by phone. Not a problem, card was canceled BUT they still charging me and keep trying to send it to collection. Bunch of scammers. They have no business. And I hope BBB will go after these scammers.

I have never signed up for gym before and decided to sign up at NYSC. They said I can do "complimentary" personal training session, which I agreed. After the session, the trainer told me verbally that I can do more sessions at 68 dollars and that asked if I want to try and gave me this pad to sign. I thought the dollar was low enough that I can try. Later, I learned that they charged me $680 dollars, not $68 and claimed I signed this contract for $680 for three months where I only had two sessions with the trainer. They showed me this printed version of document where I signed, but in fact, I was never seen those contracts and all I was told is verbally. When they make you sign anything, there is no actual paper form or even electronic form that you can see contract terms. I guess I was naive to trust the trainer's words and suffered for it.
These kinds of practices must be stopped and I even wonder such practices actually constitute a contract where the signee was only given a tiny pad (the kind of pad you see when you check out at groceries). When I disputed the charge with my bank, NYSC presented a nicely formatted paper contract, which I never signed, but I supposed they pieced together from my pad signature. Are they allowed to do that? Is that a right business protocol? I claim that the trainer told me in person that the fees are these and I can cancel this anytime, but they claim that I signed up for $680 per month for three months, which is the first time I am hearing.

I wished I had checked Consumer Affairs before joining. I made it clear during a phone conversation with a member services person in February that I wanted to join NYSC explicitly for two months starting in February of this year through the end of March. When I called about an April 1st charge to my account I then learned about the 45 day cancellation notice policy. I just spoke with a couple of representatives at the desk at a Manhattan location and one claims he talked to me (???) and told me about the cancellation policy. I am beyond upset. I DO NOT recall anyone telling me when I signed up to join for TWO months that I had to make my cancellation explicit. And obviously how would I remember who I spoke with??? He said he should have sent me an email and that perhaps the manager can help me get my refund back. Very upset and will file a complaint with the Attorney General.

Where to begin with your Marlboro branch... The gym is dirty, the equipment is old, the staff is rude, condescending and hung up on me multiple times while trying to get information on how to cancel my membership. My monthly gym fee was changed without any verbal or written notice from $19.99+tx to 29.99+tx. I was also charged an annual fee of $50 for upgrades that I have never seen occur during my entire time as a member. The manager at this location Joann ** was by far the nastiest person I spoke to and she hung up in three times without even trying to hear any of my concerns.
Also, at the time of signing I was never informed of a cancellation fee. All these charges without any verbal or written notice, consent or authorization from the customer. Altogether I was made to pay $75+ in charges to cancel my membership, with no means of disputing the additional charges. Otherwise, NYSC sends unpaid accounts to collections which would then wreak havoc on the customer's credit score, what a nefarious practice. Beware of NYSC's price gouging billing practices!

My wife stopped by the gym to see inside. She was told to show them her credit card to make sure she was "serious", but no credit card charges would be filed. She had not signed anything and walked out without entering into any contract and never stopped by the place again. This did not stop NYSC Marlboro to charge her credit card almost $100 in the space of 2 weeks! When I called, I was put on hold for 15 minutes, and then spoke to a very rude "manager" called Angelo who said that my wife had signed a contract, and they could charge the card so long as she was a "member". This is a complete and utter scam this company is running. I've disputed the charges and cancelled the credit card. Buyer beware!

These guys are thieves. Avoid them at all costs and don't get suckered in by their low advertised monthly fees. Like all the other reports here, they increased my monthly fee without my knowledge or approval. When you contact them about it, they are rude and have a "too bad" attitude. They sent me absolutely no notification about the increase. When I asked them to cancel the account, they refused to do it over the phone (their excuse was they wanted to confirm it was actually "me" who wanted to cancel).
When I went into the office, the manager wasn't in even though I was told on the phone he was going to be. When I finally got a hold of the manager, he canceled the account while acting like he was doing me a favor. He then told me that there is a "30-day notification period" on my account meaning they were going to steal another month's fees before actually canceling. I made a fuss about it but they gave me the same "too bad" attitude. I called my credit card company to tell them any future charges from them are NOT authorized. I am sure however they will try to charge me anyway and when the credit card doesn't go through, they will probably try to send me to collections. What a bunch of crooks... Anyone who's reading this and with the time, please file a class action against these blood sucking parasites.

I was promised 24.99 fee as long as I was a member. Recently they have increased my membership to 34.99 without notifying me. This is insane because most of my friends' membership increased as well. They are promoting one thing and offering another. Another thing that doesn't make sense to me is that the new member that are signing up right now are paying 29.99 and the old members are getting punished for being a long time member with NYSC. Someone should def look into law suit. I am def going to look into it. This is very frustrating because this should've never happened. Also, I am calling corporate and they are telling me to reach out to your gym and my gym is telling me to reach out to corporate.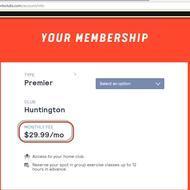 Like many others, I was surprised to see NYSC changed my monthly rates from $29.99 to $39.99 with no prior notification. After numerous attempts at contacting someone in membership over a 3 week period, I was informed that corporate changed the rates for some members, but not all. The local gym claimed they had no knowledge of this action. When I logged into the NYSC website to view my profile, it still had the $29.99 rate listed.
Out of disgust, I threatened to leave and was promised my rate would be returned to the promised rate. It was corrected for a month, now they seem to have increased it again (once again with no notification). I am not aware of any other business that would deem it appropriate to arbitrarily select customers for rate increases on a recurring monthly bill and do so with no prior notification. The local club claimed they had received several such complaints. Note, I double checked my contact info and scoured my inboxes and I am 100% certain that no notification was issued, despite what corporate may claim.

I converted my membership to a "month to month" 29.95 membership with "no commitment." This membership was entirely FALSELY ADVERTISED. I was charged to convert my membership to the month-to-month. The person who signed me up explained that paying to convert the membership to a month-to-month rather than stay on a plan that I was perfectly content with was beneficial because there would be no contract. I received an annual fee for each year which I had no issue with. My membership fee was RAISED $10 per month - and I received a letter regarding this change AFTER I WAS ALREADY CHARGED AT THIS RATE.
When I cancelled my membership I was charged a $30 cancellation fee. The entire advantage of having "no contract" was pitched to me by the gym employees using the fact that you can cancel a membership at any time. There are other options for gyms that are transparent with any fees associated with their contract options - I just joined one. It's really not hard to believe this business' 1 star rating on every review site that I've seen (if 0 stars were offered, I'm sure this NYSC would have that rating). I only wish that I checked these reviews before getting involved with this dump in the first place.

I have belonged to the Mahwah NYSC for many years. I recently noticed my monthly membership fee went from $21.35 to $31.05 with no notice or explanation. I have called your Mahwah location and gone there as well. No one can tell me anything except it was done by Corporate. I was guaranteed the $21.35 fee for as long as I am a member. I pay $35/year for the no increased monthly fee. Please have someone contact me about this issue?
This is the response I got!!!! Unbelievable!!!! "This increase in dues will be reinvested into our clubs for the sole purpose of upgrading equipment, enhancing our facilities and programs. We want to be able to offer the highest level of service and amenities to our members. I apologize for the confusion about your annual fee, as it does not guarantee your rate will not increase. I would be happy to extend you five one-week passes in addition to the 30 day pass on your letter so that you may bring friends or family as you wish.
I'm hoping you can appreciate our intentions behind this initiative. I can certainly understand your frustration but want you to know that we are committed to providing you an exceptional service. Please feel free to reach out with any suggestions or feedback on how you would like to see us reinvest in your club or how we can add value to your membership. We are committed to providing our members with exceptional value. I have cc'd Andrew, the General Manager of Mahwah, so you can reach out to him as well."

I have been a member for almost two years. As of Jan I noticed that they charge me 39.95. My membership was 29.95. I called and talk to Carl the manager and he told me that they up everyone membership up 10.00. I said, "I did get any info on that. No email. No letter. I didn't okay that." He then told me that he would refund me the 39.95 and if he could get it back to 29.95 would I stay. I said yes but if not I want to cancel my membership. This was Jan 3. I call a week later to find out about my refund. I still didn't get it yet. He told me it went through and I should get it soon. Today it's Jan 13 still nothing. Called and for Carl again left a message. Again no callback. They are crooks.

Beware. These people will sign you up for membership which is impossible to cancel and then simply send it to collections. I cancelled in person, but they had no record of it and manager would not return phone calls. They did not disclose an annual fee or a cancellation fee either! Someone must initiate a class action lawsuit. This is outrageous!

I have been a member of NYSC for over 15 years!!! They started this annual fee to lock your membership rate a few years ago, and they charge you in January. It has always been $39.99, and this year they raised it to $59.99. Once I noticed this on my CC statement I called to cancel my membership because I don't use this gym enough to warrant this expense. They WOULD NOT refund the $59.99 or even prorate it, even though it was only a couple of days after they charged me! They said they sent out an email notifying members of this charge but I did not see it! You would think they would understand that everyone doesn't wait for emails from NYSC and they probably go to junkmail. THEY BURN BRIDGES with their members and I WILL NEVER be a part of this gym again in my life. They have gone downhill! STAY AWAY!

I joined NYSC in Mahwah NJ one year ago. I went in for a personal training consultation and was uncertain whether or not I wanted to sign up because it was a contractual signup, you were obligated to pay every for personal training every 30 days. I wasn't sure I could afford it. But I was given a hard pitch for one specific trainer who the manager felt confident I would work well with. She was female and near my age and had similar injuries. I asked if I could train with more than one person and the manager said it was better to work with just one: you build a relationship with that person and over time will get more benefit from your relationship. Your trainer will get to know you and your limits and it really is best to stick to one. Ok, fine, so I signed up. Loved her. I paid for personal training for a year with this person.
A new manager came into the gym and there was massive upheaval. He started firing people who had been at the gym with little provocation, without providing adequate replacements. This Sunday I was called by NYSC Mahwah and told that my trainer is no longer with the gym. I asked for my training sessions to be refunded and to stop payment on future personal training sessions. I was told that I would no longer be charged but they would not refund me for the sessions already paid. I was told I bought a service, not a person, and I was obligated to finish out the sessions I had paid for.
I explained to the manager that I could understand that policy if I had walked in to cancel, or if I in any way had something to do with why my trainer was no longer at NYSC, but the decision for her to leave abruptly wasn't up to me. I was sold the training based on this one specific person and it didn't seem fair. He sighed and told me it was policy, and that he had other trainers (he doesn't: he fired them all and hasn't replaced them). I asked to speak to his superior. The manager told me that he had a Director but wouldn't tell me the Director's name or contact info. "I won't give you a phone number. There is a 'Contact Us' form on the NYSC website that you can fill out and submit." That was his answer.
I don't understand what benefit I will get from working out with a random trainer for three sessions... someone who doesn't know me, is not close in age, and is not the same gender (because he fired all the female trainers). The manager is more concerned with his bottom line than with his clients. Perhaps if he focused on the people he works with and for, he wouldn't have to fire everyone and create chaos in an otherwise nice facility. Lastly, this general manager smokes cigarettes right outside the entrance to the gym and clients and others have complained about that behavior.

Fifteen-ish years ago I joined NYSC with the agreement that they freeze the upcoming summer months since I would be away. "Done" is what I was told. They continued to charge me monthly however, and the same manager who enrolled me played dumb. Foolishly I joined again when presented with a one-time (albeit large) fee with a locked-in rate. Sure enough, they raised the rates anyway, without notice to boot, so we had no opportunity to cancel ahead of time. These people are shady characters and don't have a working business model, thus the need to cheat their customers. No, don't expect customer loyalty here.

NYSC, Garnerville, NY - OK at the beginning of December, I went to the gym, closed my account. The manager said I could use the gym til the end of the month, but cause I moved I said no thanks... But tonight, January 1, 2017... I get a charge on my credit card for $29.99. I was never told anything about a charge and so can someone help me.

I signed my son up for a membership. When he didn't go for 6 months, we wanted to cancel it. I called the club to ask how I go about canceling the membership. They told me that only the manager can cancel the membership... but she is on vacation this week. After I made an issue of it, I was told that there was a regional manager covering, but they didn't know when he would be in. Only after I pushed the issue did the person I was speaking with attempt to contact him to find out when he would be in. The response was "he doesn't know. He is covering at another club right now." I ended up having to call the corporate office, only to get transferred back to the local club, to a sales associate, who was able to cancel the membership. Really?
So I had to waste half an hour of my time on this when it could have gotten taken care of in the first place. However, now they say it's 45 days notice to cancel, so we're paying for another month and a half, PLUS... let's not forget the $30 cancellation fee. Really? On a month to month membership? Who ever heard of such a thing? Absurd. The least they could do is waive that for the aggravation of having to spend half an hour trying to get someone to cancel the membership. Steer clear of NYSC!

Similar to some of the other reviews here I have contact the Mercer Street Gym in New York twice now and the manager is supposed to be getting back to me and still hasn't. I have been a member of NYSC for coming onto 2.5 years. They had a deal for $40 and at the time I was paying $80. In order to get onto the cheaper monthly membership, I had to cancel my contract, pay out $250 and then go onto the new rate. All of which I did. I recently did some digging and it looks like they have been charging me $80.00 ever since. Close to $919.08 in over-chargers let alone the charges I had to pay to get out of the contract. From the reviews I have read, it doesn't look like I will be getting a call back anytime soon. I will be escalating this as far as I can to make sure I get this sorted. I will keep you all posted.
New York Sports Club Company Profile
Company Name:

New York Sports Club

Website:

https://www.mysportsclubs.com/