Consumer Complaints and Reviews

I have been a long-standing member of NYSC for 20+ years holding a passport membership and used to look forward to going to the gym. I have noticed in the last few years, the customer service at various locations going downhill to non-existent. They closed the 86th Street location in NYC w/o any written notice - and when I returned from vacation and arrived, I found their doors closed forever. Luckily I have a passport membership and was able to use their 91st Street location. Needless to say this location is over-packed since most 86th Street members are now using this one.
Anyhow, the gym is dirty, they don't clean or clean well, dust balls everywhere and bugs! The front desk personnel are super rude and just miserable - and I have never seen a Manager or Sales Reps there, so I always call Town Sports International directly. The Reps on site can't help with any membership concerns - at least that was my experience. I just cancelled my 20+ year membership - and have it in writing, but for peace of mind after reading the complaints on here with billing after cancellation - I decided to place a stop pay on my checking account from this vendor. My experience with Town Sports was pleasant and she was apologetic on the Club's behalf - but didn't try to keep me as a member.

Terrible liars! Need to join for few months and I did explain that. They said it is month to month basis. Was overseas and was not able to cancel it so just changed my credit card. These people want you to come IN PERSON! Which is insane! So you cannot cancel it by phone. Not a problem, card was canceled BUT they still charging me and keep trying to send it to collection. Bunch of scammers. They have no business. And I hope BBB will go after these scammers.

I have never signed up for gym before and decided to sign up at NYSC. They said I can do "complimentary" personal training session, which I agreed. After the session, the trainer told me verbally that I can do more sessions at 68 dollars and that asked if I want to try and gave me this pad to sign. I thought the dollar was low enough that I can try. Later, I learned that they charged me $680 dollars, not $68 and claimed I signed this contract for $680 for three months where I only had two sessions with the trainer. They showed me this printed version of document where I signed, but in fact, I was never seen those contracts and all I was told is verbally. When they make you sign anything, there is no actual paper form or even electronic form that you can see contract terms. I guess I was naive to trust the trainer's words and suffered for it.
These kinds of practices must be stopped and I even wonder such practices actually constitute a contract where the signee was only given a tiny pad (the kind of pad you see when you check out at groceries). When I disputed the charge with my bank, NYSC presented a nicely formatted paper contract, which I never signed, but I supposed they pieced together from my pad signature. Are they allowed to do that? Is that a right business protocol? I claim that the trainer told me in person that the fees are these and I can cancel this anytime, but they claim that I signed up for $680 per month for three months, which is the first time I am hearing.

I wished I had checked Consumer Affairs before joining. I made it clear during a phone conversation with a member services person in February that I wanted to join NYSC explicitly for two months starting in February of this year through the end of March. When I called about an April 1st charge to my account I then learned about the 45 day cancellation notice policy. I just spoke with a couple of representatives at the desk at a Manhattan location and one claims he talked to me (???) and told me about the cancellation policy. I am beyond upset. I DO NOT recall anyone telling me when I signed up to join for TWO months that I had to make my cancellation explicit. And obviously how would I remember who I spoke with??? He said he should have sent me an email and that perhaps the manager can help me get my refund back. Very upset and will file a complaint with the Attorney General.

Where to begin with your Marlboro branch... The gym is dirty, the equipment is old, the staff is rude, condescending and hung up on me multiple times while trying to get information on how to cancel my membership. My monthly gym fee was changed without any verbal or written notice from $19.99+tx to 29.99+tx. I was also charged an annual fee of $50 for upgrades that I have never seen occur during my entire time as a member. The manager at this location Joann ** was by far the nastiest person I spoke to and she hung up in three times without even trying to hear any of my concerns.
Also, at the time of signing I was never informed of a cancellation fee. All these charges without any verbal or written notice, consent or authorization from the customer. Altogether I was made to pay $75+ in charges to cancel my membership, with no means of disputing the additional charges. Otherwise, NYSC sends unpaid accounts to collections which would then wreak havoc on the customer's credit score, what a nefarious practice. Beware of NYSC's price gouging billing practices!
How do I know I can trust these reviews about New York Sports Club?
765,713 reviews on ConsumerAffairs are verified.
We require contact information to ensure our reviewers are real.
We use intelligent software that helps us maintain the integrity of reviews.
Our moderators read all reviews to verify quality and helpfulness.
For more information about reviews on ConsumerAffairs.com please visit our FAQ.

My wife stopped by the gym to see inside. She was told to show them her credit card to make sure she was "serious", but no credit card charges would be filed. She had not signed anything and walked out without entering into any contract and never stopped by the place again. This did not stop NYSC Marlboro to charge her credit card almost $100 in the space of 2 weeks! When I called, I was put on hold for 15 minutes, and then spoke to a very rude "manager" called Angelo who said that my wife had signed a contract, and they could charge the card so long as she was a "member". This is a complete and utter scam this company is running. I've disputed the charges and cancelled the credit card. Buyer beware!

These guys are thieves. Avoid them at all costs and don't get suckered in by their low advertised monthly fees. Like all the other reports here, they increased my monthly fee without my knowledge or approval. When you contact them about it, they are rude and have a "too bad" attitude. They sent me absolutely no notification about the increase. When I asked them to cancel the account, they refused to do it over the phone (their excuse was they wanted to confirm it was actually "me" who wanted to cancel).
When I went into the office, the manager wasn't in even though I was told on the phone he was going to be. When I finally got a hold of the manager, he canceled the account while acting like he was doing me a favor. He then told me that there is a "30-day notification period" on my account meaning they were going to steal another month's fees before actually canceling. I made a fuss about it but they gave me the same "too bad" attitude. I called my credit card company to tell them any future charges from them are NOT authorized. I am sure however they will try to charge me anyway and when the credit card doesn't go through, they will probably try to send me to collections. What a bunch of crooks... Anyone who's reading this and with the time, please file a class action against these blood sucking parasites.

I was promised 24.99 fee as long as I was a member. Recently they have increased my membership to 34.99 without notifying me. This is insane because most of my friends' membership increased as well. They are promoting one thing and offering another. Another thing that doesn't make sense to me is that the new member that are signing up right now are paying 29.99 and the old members are getting punished for being a long time member with NYSC. Someone should def look into law suit. I am def going to look into it. This is very frustrating because this should've never happened. Also, I am calling corporate and they are telling me to reach out to your gym and my gym is telling me to reach out to corporate.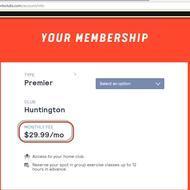 Like many others, I was surprised to see NYSC changed my monthly rates from $29.99 to $39.99 with no prior notification. After numerous attempts at contacting someone in membership over a 3 week period, I was informed that corporate changed the rates for some members, but not all. The local gym claimed they had no knowledge of this action. When I logged into the NYSC website to view my profile, it still had the $29.99 rate listed.
Out of disgust, I threatened to leave and was promised my rate would be returned to the promised rate. It was corrected for a month, now they seem to have increased it again (once again with no notification). I am not aware of any other business that would deem it appropriate to arbitrarily select customers for rate increases on a recurring monthly bill and do so with no prior notification. The local club claimed they had received several such complaints. Note, I double checked my contact info and scoured my inboxes and I am 100% certain that no notification was issued, despite what corporate may claim.

I converted my membership to a "month to month" 29.95 membership with "no commitment." This membership was entirely FALSELY ADVERTISED. I was charged to convert my membership to the month-to-month. The person who signed me up explained that paying to convert the membership to a month-to-month rather than stay on a plan that I was perfectly content with was beneficial because there would be no contract. I received an annual fee for each year which I had no issue with. My membership fee was RAISED $10 per month - and I received a letter regarding this change AFTER I WAS ALREADY CHARGED AT THIS RATE.
When I cancelled my membership I was charged a $30 cancellation fee. The entire advantage of having "no contract" was pitched to me by the gym employees using the fact that you can cancel a membership at any time. There are other options for gyms that are transparent with any fees associated with their contract options - I just joined one. It's really not hard to believe this business' 1 star rating on every review site that I've seen (if 0 stars were offered, I'm sure this NYSC would have that rating). I only wish that I checked these reviews before getting involved with this dump in the first place.

I have belonged to the Mahwah NYSC for many years. I recently noticed my monthly membership fee went from $21.35 to $31.05 with no notice or explanation. I have called your Mahwah location and gone there as well. No one can tell me anything except it was done by Corporate. I was guaranteed the $21.35 fee for as long as I am a member. I pay $35/year for the no increased monthly fee. Please have someone contact me about this issue?
This is the response I got!!!! Unbelievable!!!! "This increase in dues will be reinvested into our clubs for the sole purpose of upgrading equipment, enhancing our facilities and programs. We want to be able to offer the highest level of service and amenities to our members. I apologize for the confusion about your annual fee, as it does not guarantee your rate will not increase. I would be happy to extend you five one-week passes in addition to the 30 day pass on your letter so that you may bring friends or family as you wish.
I'm hoping you can appreciate our intentions behind this initiative. I can certainly understand your frustration but want you to know that we are committed to providing you an exceptional service. Please feel free to reach out with any suggestions or feedback on how you would like to see us reinvest in your club or how we can add value to your membership. We are committed to providing our members with exceptional value. I have cc'd Andrew, the General Manager of Mahwah, so you can reach out to him as well."

I have been a member for almost two years. As of Jan I noticed that they charge me 39.95. My membership was 29.95. I called and talk to Carl the manager and he told me that they up everyone membership up 10.00. I said, "I did get any info on that. No email. No letter. I didn't okay that." He then told me that he would refund me the 39.95 and if he could get it back to 29.95 would I stay. I said yes but if not I want to cancel my membership. This was Jan 3. I call a week later to find out about my refund. I still didn't get it yet. He told me it went through and I should get it soon. Today it's Jan 13 still nothing. Called and for Carl again left a message. Again no callback. They are crooks.

Beware. These people will sign you up for membership which is impossible to cancel and then simply send it to collections. I cancelled in person, but they had no record of it and manager would not return phone calls. They did not disclose an annual fee or a cancellation fee either! Someone must initiate a class action lawsuit. This is outrageous!

I have been a member of NYSC for over 15 years!!! They started this annual fee to lock your membership rate a few years ago, and they charge you in January. It has always been $39.99, and this year they raised it to $59.99. Once I noticed this on my CC statement I called to cancel my membership because I don't use this gym enough to warrant this expense. They WOULD NOT refund the $59.99 or even prorate it, even though it was only a couple of days after they charged me! They said they sent out an email notifying members of this charge but I did not see it! You would think they would understand that everyone doesn't wait for emails from NYSC and they probably go to junkmail. THEY BURN BRIDGES with their members and I WILL NEVER be a part of this gym again in my life. They have gone downhill! STAY AWAY!

I joined NYSC in Mahwah NJ one year ago. I went in for a personal training consultation and was uncertain whether or not I wanted to sign up because it was a contractual signup, you were obligated to pay every for personal training every 30 days. I wasn't sure I could afford it. But I was given a hard pitch for one specific trainer who the manager felt confident I would work well with. She was female and near my age and had similar injuries. I asked if I could train with more than one person and the manager said it was better to work with just one: you build a relationship with that person and over time will get more benefit from your relationship. Your trainer will get to know you and your limits and it really is best to stick to one. Ok, fine, so I signed up. Loved her. I paid for personal training for a year with this person.
A new manager came into the gym and there was massive upheaval. He started firing people who had been at the gym with little provocation, without providing adequate replacements. This Sunday I was called by NYSC Mahwah and told that my trainer is no longer with the gym. I asked for my training sessions to be refunded and to stop payment on future personal training sessions. I was told that I would no longer be charged but they would not refund me for the sessions already paid. I was told I bought a service, not a person, and I was obligated to finish out the sessions I had paid for.
I explained to the manager that I could understand that policy if I had walked in to cancel, or if I in any way had something to do with why my trainer was no longer at NYSC, but the decision for her to leave abruptly wasn't up to me. I was sold the training based on this one specific person and it didn't seem fair. He sighed and told me it was policy, and that he had other trainers (he doesn't: he fired them all and hasn't replaced them). I asked to speak to his superior. The manager told me that he had a Director but wouldn't tell me the Director's name or contact info. "I won't give you a phone number. There is a 'Contact Us' form on the NYSC website that you can fill out and submit." That was his answer.
I don't understand what benefit I will get from working out with a random trainer for three sessions... someone who doesn't know me, is not close in age, and is not the same gender (because he fired all the female trainers). The manager is more concerned with his bottom line than with his clients. Perhaps if he focused on the people he works with and for, he wouldn't have to fire everyone and create chaos in an otherwise nice facility. Lastly, this general manager smokes cigarettes right outside the entrance to the gym and clients and others have complained about that behavior.

Fifteen-ish years ago I joined NYSC with the agreement that they freeze the upcoming summer months since I would be away. "Done" is what I was told. They continued to charge me monthly however, and the same manager who enrolled me played dumb. Foolishly I joined again when presented with a one-time (albeit large) fee with a locked-in rate. Sure enough, they raised the rates anyway, without notice to boot, so we had no opportunity to cancel ahead of time. These people are shady characters and don't have a working business model, thus the need to cheat their customers. No, don't expect customer loyalty here.

NYSC, Garnerville, NY - OK at the beginning of December, I went to the gym, closed my account. The manager said I could use the gym til the end of the month, but cause I moved I said no thanks... But tonight, January 1, 2017... I get a charge on my credit card for $29.99. I was never told anything about a charge and so can someone help me.

I signed my son up for a membership. When he didn't go for 6 months, we wanted to cancel it. I called the club to ask how I go about canceling the membership. They told me that only the manager can cancel the membership... but she is on vacation this week. After I made an issue of it, I was told that there was a regional manager covering, but they didn't know when he would be in. Only after I pushed the issue did the person I was speaking with attempt to contact him to find out when he would be in. The response was "he doesn't know. He is covering at another club right now." I ended up having to call the corporate office, only to get transferred back to the local club, to a sales associate, who was able to cancel the membership. Really?
So I had to waste half an hour of my time on this when it could have gotten taken care of in the first place. However, now they say it's 45 days notice to cancel, so we're paying for another month and a half, PLUS... let's not forget the $30 cancellation fee. Really? On a month to month membership? Who ever heard of such a thing? Absurd. The least they could do is waive that for the aggravation of having to spend half an hour trying to get someone to cancel the membership. Steer clear of NYSC!

Similar to some of the other reviews here I have contact the Mercer Street Gym in New York twice now and the manager is supposed to be getting back to me and still hasn't. I have been a member of NYSC for coming onto 2.5 years. They had a deal for $40 and at the time I was paying $80. In order to get onto the cheaper monthly membership, I had to cancel my contract, pay out $250 and then go onto the new rate. All of which I did. I recently did some digging and it looks like they have been charging me $80.00 ever since. Close to $919.08 in over-chargers let alone the charges I had to pay to get out of the contract. From the reviews I have read, it doesn't look like I will be getting a call back anytime soon. I will be escalating this as far as I can to make sure I get this sorted. I will keep you all posted.

I started with NYSC about 4 yrs ago. Then had to cancel because I was diagnosed with breast cancer. I gave them proof. I decided that I wanted to rejoin once I was cleared from my surgeries. Then realized that I wasn't able to handle it anymore due to my status... I stopped going for a few months & went back to cancel my membership before the month was over so they won't charge me for the following month & was told that I was going to be charged an extra fee of $30 to cancel!!! I told them why I was canceling that I became a breast cancer survivor & couldn't handle going to the gym & I was told "No worries. It'll be taken care of." Now I receive a letter stating that I owe $45... $30 for canceling my membership which btw was a month to month + $15 late for not paying the cancellation fee.
I said but I don't understand why I'm getting charged, that I was told this would be waived & when I called, the rep said to me that I signed a "legal" contract that says cancel fee of $30... seriously who the hell reads the microscopic words!? The person selling you the membership is suppose to tell you that upfront! That's just a legal way of them stealing money from their members bc seriously I was on a month to month which is suppose to be easier for the member to cancel at any time with being charged!!! I was then told there's nothing that can be done other than waiving the late fee!!!
PEOPLE DON'T JOIN THESE GYM! THEY WILL MAKE IT SEEM AS IT IS AMAZING & IT ACTUALLY ISN'T. THEIR PRICING IS RIDICULOUS! With my $20 membership I want allowed to sign up for classes or use any towels. Then my fiance who has a more expensive membership > the passport... which included the use of towels & ability to go to any NYSC gym without extra charge. When he went to the gym there were never any towels available & he was told that he had to start bringing him his own! Oh & the best part there was always a problem with the hot water... smh!
Now that he wants to cancel his membership he's being told that he has to pay more than he pays for his actual membership!!! People go for walks! Make your own weights, run up & down your stairs or around your BLOCK. WHATEVER YOU DO --- DO NOT JOIN THE GYM!!! AT LEAST NOT NYSC BECAUSE THEY will rob you & make it legal!!! #NYSCLegalRobbery

2 weeks ago I came to my club to pay for a babysitting room. I used the card which is not my primary account card, but my second one. I paid 19.99 and this transaction went through. In less thAn 2 weeks NYSC-White Plains charged me for 83.93!!! And I have no idea what was that for! I came to my club asking about this and it appeared that they have no signs of those 2 transactions on my account. They charged me second time from my primary card, saying they will figure that misunderstanding out!
I came again and they still have no idea where a hundred $ from my card came to! They said they will write a letter to financial office to deal with that and will contact me, but I want my money back now! And I really have doubts that they took me seriously! What's annoying is that each time you speak with a new person who have no idea about the situation! Where should I write? Did SMBD have the same problem? I'm so anxious about the possibility they gonna charge me from that card again!!

I joined in July of 2015 for one year and when July 2016 came around they renewed me without emailing, calling or mailing me and proceeded to charge me every month without my consent or knowledge. Now just like all the other reviews I am finding it very hard to cancel my membership. Really wish I had read all the reviews here before joining. No way to cancel online, can't cancel on the phone because the girl who answered doesn't know where the manager... all day long. And the website overall sucks because you don't have any of your membership info, like policies available. In this day and age of technology there is no good reason why I should have to go into the gym to cancel. I'm going on Monday in person. Anyone wanna place bets on the fact that there won't be anyone there to help me?

I signed up to New Rochelle NYSC in 2014. The club had a special promotion $19.95, per month w/ a $200.00 deposit. Great right? WRONG! I was told I could bring a guest (same guest) at any time. I was told I had access to classes for free. I had complete access to all equipment in facility. After 1 month I was told I could not bring my guest (which I never brought anyway). Certain equipment had a code put on it (massage beds etc.). I was told I had to upgrade my membership to $49.00 to use it. The only free classes were sample classes. I reported this switch to a general manager at another facility. He heard similar stories from other members and offered me use at the White Plains location at no extra charge.
I rarely use NYSC, maybe 10x since I joined. Recently went to White Plains location approximately 4x. Got a bill for $60.00 explained to Mgmt. the situation. They told me the Manager doesn't work there anymore and I was stuck with the charges. I realized the franchise is in serious membership decline, so they are going all out to collect $$$. Overall, facilities are falling apart, feels like I'm going into a rathole. Staff professionalism needs big improvement. and membership recruiters should be held accountable for deceiving public. If it is legal, record it.

So before you join I would suggest you do this. Go online and find a way to cancel your membership. Better yet go online on their website and find a way to get a phone number for someone to call. Exactly, a company that has no direct phone number advertised, no way of canceling and when you even type in the search bar of their website "cancel membership" comes up with no relevant results.
There's lots of reviews on here about their business practices, but I've been paying for a gym now for 4 months that I've not used, because I can't cancel it and no one is returning my emails. In any other business this would be considered a scam. Listen to the warnings, don't sign up and don't even get me started on the personal training scam that they pulled on me. Just read the fine print carefully and don't trust what the person verbally tells you.

I have been going to NYSC for over 15 years. I am currently looking for another fitness club as NYSC has steadily gone downhill. The clubs are dirty and dimly lit and the staff at Irving Place (where I usually go) is indifferent. The steam room is often out of order and dirty towels pile up and spill over on the floor in the locker room. I only maintain my membership but I enjoy a few of the instructors but honestly it's not worth it as rates are constantly increasing and service declines.

I am a member of NYSC / Midwood located in Brooklyn, NY. I have being a member for about 3 years. I used to weighted 263 pounds and I lost a lot of weight. Now I weight 128 pounds and I live a very healthy life. So working out means a lot to me and I take very serious. I noticed that there are a lot of guys that not only look at you, but stare at you while you workout. Even though that's is creepy I ignore it. However, now there is a new level of creepiness at the gym. Guys take pictures of you while you are working out. It happened to me 4 times already.
I had complained to corporate management twice about this issue. However they have done nothing to address this problem. This is harassment and an invasion of my privacy. I would go to a women's gym but they don't have enough machines or equipment for strength training and I love weight lifting. This location has a very disrespectful environment and it is full of creepy guys. Be aware and be safe.

This place is disgusting! It's filthy and the staff are good for nothing. I suggest you find another gym to fulfill your needs.

In 2011 my niece, nephew and 16 year old daughter joined NYSC. The three of them cancelled their membership the same time. Never paying attention to my AMEX bill my wife thought the charge was my NYC parking permit. The charge was from NYSC five years after my daughter's cancellation. Once I discovered it was NYSC still charging me I had put a block on my AMEX. I spoke to a number of people who told me the problem would be resolved. NYSC is still calling my daughter and my home phone looking for a new credit card.
I've been to NYSC a number of times. Every time I get there the manager has just stepped out or left early. On my last visit I wrote him a letter explaining my situation and asking him to please call me it's urgent, the receptionist put it under his door. Still have not heard from anyone. The calls are still coming in. Now they're saying I'm going to collections. In 2012 my home and business were severely damaged by Super Storm Sandy. So many valuable papers were lost deeds, social security, marriage license, insurance papers and my NYSC cancellation. They want to see that cancellation paper and still have my daughter as an active member even though she hasn't been there in 5 years. Stay far away from this place it's ROBBERY!!! I don't know how they can sleep at night getting over on so many people. I think it's time to call 7 on your side or Shame on You to expose this game they have going on.

The worst Gym EVER!!! NYSC as a whole has the worst customer service. They will rob you of as much money as they can. You can be a member for 10 years and they could care less. If member prices change and you want to change plans even if you're already a member they make you pay an initiation fee. I had stop going, received calls and emails stating if I don't pay or contact them within the next few days that they will cancel my membership. I called twice and no one answered and I had my bill sent to collections. They charged me for 3 months and late fees what a rip-off... I DON'T RECOMMEND THIS GYM TO ANYONE!!!

I have been a member for over 8 year. I have signed a contract for one year only. NYSC never bother to extend the contract, however they kept raising the monthly membership fee. In December 2015 I have notified the Branch on 94th and Broadway that I no longer wish to be a member. They said, "Okay if that's what you want."
Today I got a letter from a Collection agency, First time in my life, I had no idea what for. I thought I am a victim of identity theft so I called to find out... And I did find out the NYSC is after me, apparently they claim they never approve my cancellation. I try to explain that I have not step my foot in the club since the beginning of 2016... But the collection agency do not care. So Even though they have no contract with me, even though I am not a member there they still trying to give me Hard time. I hope I can see them at court. P.S.: I am not even starting to describe the poor conditions and the bad service this GYM offers.
New York Sports Club Company Profile
Company Name:

New York Sports Club

Website:

https://www.mysportsclubs.com/