Our promise. We provide a buying advantage with verified reviews and unbiased editorial research.
About Embrace Hearing
Since 2011, Embrace Hearing has been providing premium, custom programmed, high performance hearing aids at less than half of the retail price. As an online business that is based in the U.S. with shipping worldwide), the company delivers the latest hearing aid technology starting at $899 per ear.
Pros & Cons
Pros
45-day free trial
Rechargeable and Bluetooth options
Custom audiology programming
Bottom Line
Embrace Hearing offers behind-the-ear and completely-in-canal hearing aids in multiple performance levels and colors. The company is online only and has fair, transparent pricing, three-year warranties and friendly customer service.
Featured Reviews
Verified
CA
I first heard about Embrace online. We went with them because of their price, and the reviews backed the decision. The service, since then, has backed that as well. My favorite fe...
Read full review
Verified
KY
On Saturday mornings, I ride my bike while my friends are jogging … since starting wearing the hearing aids, I've noticed that I'm much more engaged in the conversations. I've als...
Read full review
Embrace hearing aids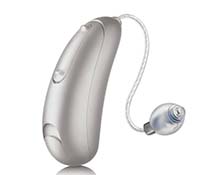 Embrace Hearing
Model X-550
$899 per ear as of publishing date
Performs well at home and in settings with small groups. Embrace X-Series devices connect to all smartphones and Bluetooth devices. Available with disposable or rechargeable battery options. Comes with a three-year warranty.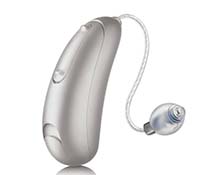 Embrace Hearing
Model X-950
$1,399 per ear as of publishing date
Designed for clarity in restaurants and other challenging settings with ambient background noise. Connects to all smartphones and Bluetooth devices and comes with a three-year warranty. Available with disposable or rechargeable batteries.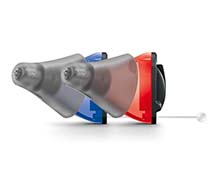 Embrace Hearing
Model C-540
$899 per ear as of publishing date
Almost-invisible completely-in-canal model. Performs well at home and in settings with small groups. Control volume and other settings with a free smartphone app for Apple or Android devices. Comes with a three-year warranty.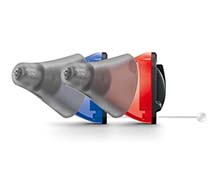 Embrace Hearing
Model C-940
$1,399 per ear as of publishing date
This completely-in-canal model is designed to provide hearing clarity in restaurants or other challenging environments with ambient background noise. Use a free Android or Apple smartphone app that lets you control volume and other settings. Comes with a three-year warranty.
Embrace models
Embrace Hearing offers the two most common hearing aid styles: behind-the-ear and completely-in-canal. All of the company's hearing aids are custom programmed to your hearing and come with a three-year warranty.
The X-Series is a receiver-in-canal (RIC) model suitable for mild to profound hearing loss. This model pairs directly to iPhone or Android smartphones for hands-free phone calls. Tinnitus programming is included on request. The X-Series is available in two performance levels (X-550 and X-950). Both levels come in rechargeable or 312 battery models. Prices start at $899 with a three-year warranty.
The C-Series is a completely-in-canal (CIC) model suitable for mild to severe hearing loss. This model fits entirely into your ear canal, which makes it almost invisible. The hearing aid volume can be controlled by a free smartphone app or an optional remote. CROS and tinnitus programming is included on request. The C-Series is available in two performance levels: C-540 and C-940. Prices start at $899 with a three-year warranty.
All Embrace hearing aids are custom programmed to your hearing test by the company's licensed audiologists. A hearing test serves as your prescription and provides the precise data required to meet your hearing needs.
You can provide a test from any local audiology clinic or take the free online test on Embrace Hearing's website.
| | X-Series | C-Series |
| --- | --- | --- |
| Type | Behind-the-ear receiver-in-canal (BTE RIC) | Invisible-in-canal (CIC) |
| Hearing loss level | Mild to profound | Mild to severe |
| Bluetooth | Included (no remote required) | Not available |
| Power | Traditional or rechargeable battery | Traditional battery |
| Tinnitus manager | Yes | Yes |
| Warranty | 3 years | 3 years |
| Price | From $899/ear | From $899/ear |
Embrace hearing aid prices
Embrace Hearing has straightforward pricing for their hearing aids. Costs range from $1,798 to $2,798 per pair. Models are available in rechargeable and Bluetooth versions. Financing is available.
Every hearing aid purchased comes with custom programming, batteries, wax guards, domes and unlimited customer care for the life of the hearing aid. The chart below shows prices for hearing aid pairs. You can also buy just one hearing aid for half the price.
| | Price per pair | Financing cost (36 months) |
| --- | --- | --- |
| X-550 | $1,798 | $63.12/month |
| X-950 | $2,398 | $98.23/month |
| C-540 | $1,798 | $63.12/month |
| C-940 | $2,798 | $98.23/month |
All prices are accurate as of the time of publication.
How to buy Embrace hearing aids
Embrace Hearing is an online-only hearing aid operation. Read the three simple steps below to see how you can purchase an Embrace hearing aid.
Embrace Hearing requires a customer to have a hearing test in order to program the hearing aids. You can send recent tests for a recommendation or have a new one done locally or online at the Embrace Hearing website. Embrace has partnered with SonicCloud to create an exceptionally accurate hearing test that takes about 10 minutes and can be done from your home with any Android or Apple device and a set of earbuds.
Once you provide your test, Embrace Hearing's audiology team reviews it and provides you with a written recommendation. The team also follows up with you by phone to answer any questions.
Once you purchase your hearing aid, it takes five to eight days to arrive. All adjustments are free of charge (including shipping) for the entire warranty period.
Embrace has a 45-day trial period to ensure you're satisfied with your hearing aid.
Embrace FAQ
Will my insurance cover Embrace hearing aids?

It's best to call the number on the back of your insurance card and speak to a representative to understand your benefits. Embrace Hearing can help complete forms your insurance company provides in order for you to get your reimbursement.
Is there any charge if I return my hearing aids during the 45-day trial period?

No. Embrace will refund 100% of what you paid — no programming or re-stocking fees.
Are Embrace hearing aids custom programmed?

Yes. Embrace's audiology team uses the results of your hearing test to program the hearing aids to match your personal level of hearing loss.
Do Embrace hearing aids help with tinnitus?

Yes. Embrace hearing aids are all equipped with a tinnitus manager white noise soundtrack you can turn on or off as required. In addition, since the X-Series connects directly to your phone, you can stream any preferred tinnitus apps directly to your hearing aids.
How long is the Embrace hearing aid warranty?

The X-Series and C-Series have a three-year warranty.
Do we recommend Embrace hearing aids?
We recommend Embrace hearing aids for anyone who is looking to upgrade their current device. The company's website is clear and lays out all the information you need to know about its products. The company also provides upfront pricing — you won't be surprised by your final cost. For those who want high-quality hearing aids at a low price, Embrace is a strong choice.
A link has directed you to this review. Its location on this page may change next time you visit.
How do I know I can trust these reviews about Embrace Hearing?
4,351,782 reviews on ConsumerAffairs are verified.
We require contact information to ensure our reviewers are real.
We use intelligent software that helps us maintain the integrity of reviews.
Our moderators read all reviews to verify quality and helpfulness.
Review featured by Embrace Hearing Reviews
Reviewed Sept. 1, 2023
My last three pairs of hearing aids came from Embrace. I really like the way they do business. They've always called me back when I called them. I talked with Dr. Pam at Embrace, and she made my hearing aids into BiCROS because my left ear is almost gone. The only problem that I'm having with the hearing aids is they won't stay charged long enough. She said it was because they were too strong. They had to be so strong. Before I got them changed, they stayed charged till I took them off at night. But now, about 8 at night, I have to take them off. So I had to put my new ones in, and the left one won't even stay in my ear. It's just a mess. So I'm having to use two pair of hearing aids at the moment. But overall, Embrace does awesome work.
Page 1 Reviews 0 - 5
Customer Service
Staff
Delivery & Shipping
Reviewed Nov. 5, 2023
I've only ever talked to one person at Embrace and she's the one who called me back the next day. She's also the one who reviewed my hearing tests and programmed the hearing aids for me. She has been absolutely wonderful. Previously, I had just a Bluetooth to connect to my phone and it worked. But it was intermittent as far as being able to hear everybody all the time. With the Embrace Hearing Aids, it's been more than excellent. It's been very helpful.
I got hearing aids recommended by Embrace that would be compatible with an Android phone. Through the hearing aids, I can hear what people are saying and I can also speak back. Hopefully, you'll never be old enough to need them. But if you do, Embrace is a great company. The ones I got from my medical company and the people that did the hearing tests were only one way. I could only hear the person on the phone talking to me. They did not have a microphone in the earpiece, so I would have to literally take the hearing aid out, put my phone on speaker phone or hold the phone to my head to talk back to someone, which was very inconvenient.
Embrace was the only one that got back to me after I submitted my hearing test to them online, followed up with me a week later, and followed up with me two days after that. The only challenge we had was they used the United States Postal Service for delivery and the product was about five days later than expected delivery. I paid $4,800 for these hearing aids and that's a lot of money to be lost in shipping. I would hope that the price would be less expensive than that. It is moderately high but it is what it is. And I'm not wondering about what I paid for. I'm sure I got my money's worth.
Thanks for subscribing.
You have successfully subscribed to our newsletter! Enjoy reading our tips and recommendations.
Reviewed June 2, 2023
I went to an ear doctor to confirm that I had more hearing loss for the second set. And they did a hearing test. I emailed that to Embrace. They asked me a few questions. Within a couple of days, I had my hearing aids. The reps called multiple times after I got the hearing aids just to check on me and see if I had any concerns. There was one question I had. And they answered that. They were conscious about making sure that what they gave me worked to the best possible level that the product works.
The first set that I had were still working fine to the way I felt after almost three years I had them. Embrace called me out of the blue and said, "We'd like to upgrade your hearing aids with the newest technology of the same level for free before your warranty runs out." They emailed me a label. I put them in the box, mailed them off to them. It was an overnight thing. And within two days, I had my hearing aids back upgraded. So, they're all about the customer. This is the second set that I have bought from them over the last four years. These are Bluetooth. I can use it for anything that I can hook Bluetooth up to. It's amazing. I have two people that have gone to them. And they are extremely happy. Enbrace takes care of me and everybody I've recommended.
Reviewed May 31, 2023
I had bought some hearing aids here in town from a regular hearing aid dealer and they were around $6,000. It was under $3,000 from Embrace. I thought that was a good thing to start with because the hearing aids that I originally got for $6000 worked okay, but I had a lot of trouble with hearing in different areas. In a restaurant, people would drop a piece of silverware on the floor and it seemed to magnify the sounds rather than separate them. It made it also hard to understand what people were saying because everything was so loud. So then I bought for half price from Embrace Hearing and they were the same type of hearing aids that I bought from the dealer and they worked better, but I still had some problems with them. Then, Embrace came out with a new hearing aid that fits right in the ear. So, there wasn't anything that went behind my ear that you could see. It was inside, and I find that they're a lot better but I also found that it was hard to keep them in.
I have no trouble with the one in my left ear. It stayed in all day. In my right ear, there's a thing that you put on the bottom of them, where it goes in your ear and it's supposed to fit your ear, and I just couldn't get anything that would fit good enough to hold it in there. Three times a day, I would find it just hanging in my ear. You don't really feel it because you get used to the hearing aids being in there. Naturally, you can't see it and you can't even see it if you look in a mirror because they're hidden. So, I ended up losing the one on the right and I had to order another one. So, I'm still having a little trouble with keeping that right hearing aid in. I've tried all the different sizes, boots, and stuff like that that they tell you to put on them and I can't seem to find the right one.
I'm gonna have to call and talk to them, but I do love my hearing aids. They've got a lot of different settings where, if you're in a different area like in a restaurant or a theater or you're talking to somebody or watching TV, you can go to that zone. You have the control that you can change the mode. So, it does really help a lot. I just got a few little bumps, but I think they will get smoothed out. The people at Embrace are fabulous as far as being friendly and talking to you and helping you. So, I think everything will work out okay.
Reviewed Feb. 16, 2023
I went online and I did a couple of the hearing test. Embrace was the only one that followed up with me. They took time to explain to me what tinnitus was and I knew how it sounded, but they took time to explain to me what the brain was doing to cause that sound in my head, and nobody had ever took time to explain that to me before. The rep told me that she could put what she called white noise, which I had never heard of before. That would counteract that cricket sound in my head when I wasn't hearing other things. It makes a big difference. She asked me the sounds that I like to hear, and I told her I'd like to hear rain but no thunder. So, if I'm in a very quiet place now, instead of hearing crickets, I hear a soft rain fall. It is nice, and I don't get agitated. It's very soothing.
I got the best hearing aids they've got. I got the Bluetooth. They ask you what type of phone you have, if you have an Android or Apple, and I have an iPhone, and they're Bluetooth enabled. I can listen to my music and not bother anybody in the house with my units. When I answer the phone, I just reach out and touch the button on my hearing aid and start talking. If you're going through the grocery store talking, people look at you like you're crazy because my hearing aid's behind my ear but they don't see it. I didn't realize how deaf I was until I got my hearing aids. I was reading lips and I didn't know it. When they told me what was going on, and that they could stop that tinnitus, I cried.
When I take these hearing aids out at night, it sounds like the volume of the world goes down. Embrace has followed up with me, too. They ask if there's anything they can help me with. They've been very good. They have changed my life.
Reviewed Dec. 11, 2022
My hearing was very severely damaged and I contacted Embrace Hearing nine years ago, and got my first set of hearing aids from them. I was satisfied with the hearing aids and the whole process in purchasing them. The new ones I have are much better than the old ones. And it makes a big difference for me. These are beyond my expectations and I'm very satisfied with them. I've got the Bluetooth-enabled hearing aids, so any notifications that I get on my phone, through my security system, Alexa comes into my hearing aids. So I like them. They're clear. I have called Embrace about adjusting the treble on it, which they've done once already. They told me to give them a call back in about a month and they would readjust them. So, they've been very helpful.
The hearing aids are fantastic. I'm hearing sounds that I didn't hear before with my old hearing aids. I had a small water pump I made for a hummingbird bath. I was at least 50 feet away, if not a little further, and I could hear this noise. I didn't know what it was. I thought it was my pool pump running, so I walked back to the pool. As I did, I passed the small water pump and it was then I realized I was hearing the gurgling noise of that little bit of water from 50 feet away. It's amazing. I have them turned down most of the time, because the sound is clear and it is loud. It benefits me because I can hear people in the background talking. These are omnidirectional, so I don't have to be standing there looking at them and watching their lips move to understand what's going on around me.
Reviewed Nov. 19, 2023
I went to current providers in the neighborhood and I was getting appointment times which were a couple of weeks. I looked for alternatives and what was available online and found Embrace. I did some more intercepts research back and forth and decided to give them a shot. The quality and comfort of the hearing aids are fine. There's some jump in technology from my previous hearing aids, which is welcome and kind of refreshing. Being able to kind of program it to some extent through the app on my phone is helpful. But I haven't made too much use of it and I'm still kind of trying to get used to it to take advantage of those features -- the focused hearing, music versus others. Also, I'm not sure that the tinnitus app is really useful but it's not a show-stopper. Overall, I'm satisfied with the product.
Customer Service
Online & App
Reviewed Oct. 26, 2023
My Embrace hearing aids are comfortable. After I take them off, I put it into the little box that they have and it automatically charges. I use the hearing aids in connection with my iPhone because I downloaded their app. There is a Bluetooth connection. When I click on the app and I have my earphones in my ears, it tells me that they're charged. It also allows me to go to three different default settings that they have. I can customize those default settings with them if I needed to. There's a crowded room setting too. If I'm in a crowded room, it adjusts for that kind of situation as opposed to listening to music. There are two music settings. I've tested it and it changes the quality of what you're hearing in your ear slightly.
For a while, the app was not connecting. They said to shut down my phone then power it up again and that will reset the app. That worked. I'm still not persuaded that I need them desperately for the $3,000 investment but considering that I paid $3,000 compared to the anywhere from $4,000 to $6,000 that my separate audiologist recommended, I'm happy with the pricing. Their customer service has been responsive as well.
Reviewed Oct. 25, 2023
I got the X950. It has Bluetooth for answering the phone. It has different programs, like for listening to music or having a quiet conversation. They're several thousand dollars, but they're still quite a bit cheaper than the traditional 6000 that you get from some audiologists. So it was moderately priced considering the quality is pretty good. Embrace is pretty good about getting back to me every couple weeks to see how things are going. They have an audiologist that does the calls.
Reviewed Oct. 15, 2023
I like Embrace because of the cost. They were less expensive and were about half the cost of what I would have paid had I gotten them somewhere locally. I liked the size too. They have the aids that go in your ear and that big thing that goes behind your ear. I wear glasses and I wear my hair short, so I didn't want that big thing behind my ear. I like the fact that mine goes in my ear. I got them over the internet during the pandemic. I live alone so I really wasn't able to test them well until I started going out amongst people. Even though I've had them for over two years, I haven't really been able to test them that much. I took a second hearing test online and found that my hearing declined.
I put batteries in my hearing aids and these are the type that you can charge. Lately, I charge them often. I've been having problems getting them adjusted. I had to send them back a lot. Embrace has been good about sending me labels so I can send the hearing aids back in so they can make the adjustments. But the fact that I can't personally go in and let them check the hearing aids is a disadvantage. I would give Embrace a good recommendation.
Customer Service
Price
Staff
Reviewed Aug. 31, 2023
I got a hearing test from a regular hearing place. I sent that in to the Embrace people and that was how they tuned my first set of hearing aids. Now, they do it online. You could do it with the headset, and they have a hearing test that they do on the computer. I'm happy with Embrace Hearing's service and their product as well. I hear things much better than I would if I didn't have the hearing aids. It's very hidden and in general, it does well. It's very comfortable too. I use batteries because sometimes I need to have these on for two or three days at a time without changing. I like that they operate as Bluetooth earbuds and I can talk on the phone on them. I can hear classes and music on them. I don't have to hold the phone. A downside is when you only have one pair of hearing aids and they don't work, you send them in, and you don't have hearing aids for a couple of days. I ended up buying another pair of hearing aids. In case I have to send one in, I would have the other available.
Embrace Hearing Company Information
Company Name:

Embrace Hearing

City:

Mountain Lakes

State/Province:

NJ

Postal Code:

07046

Country:

United States

Fax:

917-382-2742

Website:

www.embracehearing.com