Our promise. We provide a buying advantage with verified reviews and unbiased editorial research.
About Eargo
Eargo is a health tech company that's destigmatizing hearing loss through innovation. Eargo brings a refreshing brand to an archaic industry overrun by inflated prices, needless negotiations, and complex purchasing barriers. For the first time, there's a brand that provides consumers with a modern buying experience, great technology, and a clear understanding of hearing health. Learn more today about the enhanced auditory experience Eargo has offered millions of people across America.
Pros & Cons
Pros
Lifetime professional support
May be covered by federal benefits
Nearly invisible
Rechargeable hearing aids
Cons
Not for profound hearing loss
Bottom Line
Eargo sells four hearing aid models with an open-fit, breathable design. While not appropriate for those with profound hearing impairment, Eargo provides quality devices for mild to moderate high-frequency hearing loss.
Featured Reviews
Verified
AR
I have moderate hearing loss in the high frequencies. After checking at least a dozen companies, I decided to purchase from Eargo and I have been very pleased. [They called] me to...
Read full review
Verified
TX
I couldn't hear [background noises] and female voices are soft and I had difficulty hearing them. I bought the Max and I like them really well. The interaction with the customer s...
Read full review
Eargo hearing aids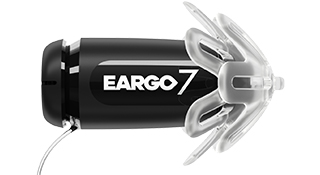 Eargo
Eargo 7
$2,950 per pair as of publishing date
Noise reduction technology minimizes background noise and improves speech clarity. Has four sound profiles for customized listening experience. Made of soft Flexi Fibers, allowing for a snug fit without the discomfort of hard plastic or silicone materials. Comes with rechargeable case and 16 hours of battery life. Financing starts at $86 per month.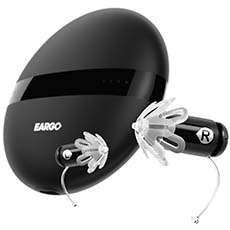 Eargo
Eargo 6
$2,250 per pair as of publishing date
Automatically adjusts to your environment to identify and remove background noise and make speech clearer. Comes with two styles and two sizes of medical-grade, silicon petal tips. Water resistant for up to 30 minutes in less than one meter of water. Comes with portable charging case. Financing starts at $80 per month.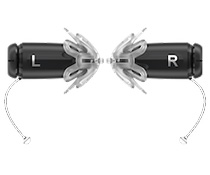 Eargo
Eargo 5
$1,650 per pair as of publishing date
Can be personalized to your hearing preferences and has a battery life of up to 16 hours. Includes two hearing aids, tips and caps, wireless charger, mobile app, telecare access, power cable, adapter and cleaning tools. Financing starts at $90 per month.
Eargo hearing aids
Eargo sells hearing aid devices for individuals with mild to moderate high-frequency hearing loss. All models feature four sound profiles that are easy to save or switch between for the user. Unlike typical behind-the-ear hearing aids, Eargo's devices are nearly invisible and amplify sound in front of you rather than behind you.
Eargo's open-fit hearing aids feature silicone Flexis that allow for increased airflow, letting frequencies pass more easily into your ear and giving you more natural sound amplification. The Flexis also prevent the plugging sensation commonly felt when using traditional plastic hearing aids.
There are four Eargo hearing aid models:
Eargo 5 is designed to provide personalized hearing solutions. The Eargo 5 app includes Sound Match technology, and it lets you schedule a call or speak directly to a hearing professional. You can also choose one of four presets or completely customize your sound settings to your preferences. The hearing aids have a battery life of up to 16 hours and take around 2.5 hours to charge.
Eargo 6 has a 16-hour run time. Sound Adjust technology reduces background noise and automatically adjusts to loud environments. The device comes with a portable charging case that provides power for up to three days and two sizes and two styles of medical-grade, silicone petal tips. It's also water-resistant for up to 30 minutes at a water depth of less than 1 meter.
Eargo 7 The Eargo 7 is a rechargeable, in-the-ear hearing aid designed for mild to moderate hearing loss. It features Sound Adjust +, which adjusts your sound profile based on the environment, noise reduction and feedback cancellation technology. The device also comes with a charging case that provides up to 16 hours of use on a single charge..
The devices are all rechargeable, and purchase includes a charging case that allows you to charge your Flexis on the go, allowing you to go days without ever having to plug into a wall.
Eargo prices
Eargo costs anywhere from $1,650 to $2,950, the total price of the hearing aids will depend on the model selected. Prices are for two hearing aids and include a charger, plus extra Flexis and wax guards. Financing is available, and Eargo offers a 20% discount for veterans and military members and a 10% discount for health care workers, first responders and teachers on Eargo 6 and Eargo 7 models.
| Model | Price | Monthly financing |
| --- | --- | --- |
| Eargo 5 | $1,650/pair | Starts at $90 |
| Eargo 6 | $2,250/pair | Starts at $80 |
| Eargo 7 | $2,950/pair | Starts at $86 |
How to buy Eargo hearing aids
Eargo designs products for individuals who experience mild to moderate high-frequency hearing loss. The company uses safe, remote hearing checks, phone consultations and online ordering so you can purchase Eargo products from the comfort of your home. Eargo does not require outside hearing tests or prescriptions. Instead, the company relies on its own clinically validated hearing check to evaluate your hearing in loud settings. Visit the company's website or call Eargo directly to purchase your preferred device.
In addition to four hearing aid models, Eargo sells replacement Flexis, replacement wax guards and chargers on their website.
Eargo staffs a team of personal hearing professionals (PHPs) that can help you evaluate their products and find the right selection for your hearing needs. Access to a PHP continues after purchase, for as long as you use the device. These professionals can help you with the fit and feel of your device, settings, and any questions that come up along the way. After purchase, your PHP will set up a welcome call to help you get started.
Eargo FAQ
Will my insurance cover my Eargo hearing aid?

Possibly. Eargo does not provide insurance reimbursements, so you'll need to check with your insurance company in advance to see if you qualify for coverage.
What is Eargo's return policy?

If you're not satisfied, you can return your Eargo hearing device or any unopened accessories within 45 days for a refund.
How long do Eargo batteries last?

Eargo batteries are rechargeable, and a charger is included in the price of purchasing the hearing aids. A fully charged battery should last for 16 hours.
Do Eargo hearing aids help with tinnitus?

While Eargo hearing aids were not created to treat tinnitus, hearing aids may help reduce symptoms. According to Eargo, some users have reported a decline in tinnitus perception after wearing the devices.
Do we recommend Eargo hearing aids?
If you or a loved one is suffering from mild to moderate high-frequency hearing loss, Eargo devices may be a great option. Their simplified ordering process cuts out the middleman and makes for a straightforward experience. Eargo also provides Personal Hearing Professionals that are on call to help you with any questions that arise before, during and after your purchase.
A link has directed you to this review. Its location on this page may change next time you visit.
How do I know I can trust these reviews about Eargo?
4,351,318 reviews on ConsumerAffairs are verified.
We require contact information to ensure our reviewers are real.
We use intelligent software that helps us maintain the integrity of reviews.
Our moderators read all reviews to verify quality and helpfulness.
Page 1 Reviews 0 - 5
Reviewed May 30, 2023
It took about a week to get used to the new Eargo7s. I have reduced hearing in the mid to upper frequency ranges and I also suffer from Tinnitus. I've been to many "specialists" and all they can do is tell me I have to live with it or buy these ridiculously expensive hearing aids to "mask" the noise. We are talking about $7000 each. Lately, I had tried the Nano brand because they were a gift from my wife. But the Nano's did show me what an in-ear canal aid could do. Plus they were larger than the Eargo and NOT as clear or comfortable. But for $300 a pair, they were much less expensive. All others were external and interfered with my glasses, plus the battery changing nightmare. My mother had big buck hearing aids. She was always changing batteries and they always had "feedback." She was so deaf that she couldn't hear the noise, but everyone else did.
So, I researched it because I knew I needed something better than the Nano's. So I returned them for refund. I came across the Eargo's and researched them on U-tube and social media. Even though these are expensive, I decided to give them a try and why NOT with the 45 day money-back offer. YOU GET WHAT YOU PAY FOR!!! It took a while to find a comfortable fit, but I settled on the medium open florets. After 2 weeks of use, while using the factory settings, I did the hearing test. Twice because the first attempt wasn't in a totally quiet environment. THE SECOND WAS AT NIGHT WHEN EVERYONE WAS ASLEEP, IN A CLOSED ROOM. Wow.
Well, LET ME TELL YOU.! These are fantastic. I enjoy the different settings and filters for the different environments. Plus the fact that these ACTUALLY DO LAST ALL DAY FOR UP TO 16 HOURS. How do you get that much battery in such a tiny device? (You should partner with Samsung, so my phone would last.) LOL
Plus now that I've been wearing them every day, all day, I don't even notice them. I actually have to reach up and make sure they are still there! The charging case is also way cool. How inventive! I happy with my investment. So in closing I WILL get back to you down the road with updates. Please keep up the GREAT WORK!

Response from Eargo
Wow! What a GREAT Eargo review! Thank you for sharing.
Thanks for subscribing.
You have successfully subscribed to our newsletter! Enjoy reading our tips and recommendations.
Installation & Setup
Price
Reviewed April 18, 2023
My recent 5-10 year memory was always asking my family to turn up the TV volume or asking them to repeat what they said or to start annunciating or projecting their words. Repeated heeds to get my hearing checked fell on deaf ears. As a project engineer in the expanding biotechnology industry, I found myself having daily Face-To-Face project team and staff meetings. Soon I developed the strategy to arrive to the conference room early, stand, and when the most soft-spoken person arrived, then I would sit opposite them. Soon I realized that this strategy didn't always work well as sometimes meetings would involve multiple others who never learned to project their voices when speaking? My company HR Department had invited a local audiologist from Hearing Life on site for people to sign up for hearing screenings. I was invited to the office for a more comprehensive examination.
Functionally the hearing devices made a big difference in my ability to hear and comprehend conversation. However, my holdback was that all they offered was over the ear devices. I have short grey hair, wear glasses, and a mask when I work in our cleanrooms. The average age of our workforce is 35, and I wasn't ready to begin fighting the ageism battle yet. I then realized my need, but as an engineer, I decided to look for better technology. I then received a mailer from Miracle Ear for an inside the ear canal device. I made an appointment, had another exam and then was told that I would not qualify for an inner canal device, because it was not programable and only served as an amplifier. I felt that this had only been a "Bait and Switch" to get me into the office? They also offered a device that fit into the ear canal, and was molded to the outer ear, but stuck out of the ear like a cancerous growth.
I then tried Starkey Manufacturing, but their inner ear canal devices were only battery powered and I was told that I would need to change out the battery weekly. I was determined to keep looking. Then I either received a postcard, an email, or saw an ad somewhere from EARGO touting their Neo HiFi hearing devices. I ordered some dummy devices to try them on for fit. I tried them on for size and wore them for weekend days at a time (in spite of having no electronics nor hearing benefit) to determine how my ears would adapt. This was the best I found in my better hearing search, if the actual functioning devices provided any hearing benefit? There was a 30 or 60 day return policy, so I figured that I'd have nothing to lose?
I ordered my devices, and they came within the week. I charged them up and first tried them over the next weekend. Immediately I could hear my steps shuffling across the floor and the doorknob clank as I went outside. It was spring on Cape Cod and I could not believe it? For the first time in 5 years since moving to the Cape, I heard the birds chirping. I continued to use my EARGO Neo HiFis for the next three years without incident. I personally produce a lot of ear wax and oil, so I developed a nightly cleaning routine that went above and beyond EARGO's cleaning recommendations. Every night I would use a damp (not dripping wet) Q-Tip moist with 70% rubbing alcohol and wiped down all 16 electrodes on each device and charger to ensure the best contact between the hearing aids and the charger.
Even this thorough cleaning did not always ensure immediate charging success. So I would brush, wipe, and Q-Tip clean with alcohol again. I learned that if my devices were not adequately charged over the night, they were useless the next day. I received a postcard advertising the newest generation EARGO7 devices. As soon as I saw inductance charging, I knew that alone would save me 5-10 minutes a night in my cleaning routine. I have been using my latest generation for EARGO7 hearing devices for 2 weeks now and I love them: The induction charging, the finger taps to change the hearing programs (compared to the hand taps with the Neo HiFi devices), the enhanced functionality of the EARGO7 cell phone app, and the On-The-Go personal customization of the devices. The EARGO7 devices are more functional than I ever imagined.
Eventually when technology catches up, I hope that EARGO can introduce WiFI to the hearing devices; but for the present time they still provide the best value on the market. I especially like driving with the windows down during springtime on the Cape. Now without fear of the program of my left ear device repeatability changing, as it had with my Neo HiFi devices. I must also add that the new EARGO hearing test Sound Match is way more thorough than any hearing test that I ever had in the audiologist's office.
The only thing it is missing is a soundproof booth. Compared with the technology offered by other players in the hearing device industry, EARGO is hands down the best. Their devices are the most concealed (no one knows that I wear hearing aids, but my family and others I know that struggle with hearing loss and I have shared my EARGO experience with). EARGO 7 devices are the most functional and programmable and are 2-3 times lower cost of others in the hearing device industry.

Response from Eargo
What an excellent testimonial and review. Thank you for sharing your Eargo experience!
Customer Service
Price
Staff
Reviewed March 20, 2023
My experience with EARGO 7's. I have mild (lower frequencies) to moderate (higher frequencies) hearing loss that I ignored for years and got my first pair of CIC's at 48; something I wish I did many years earlier. Having been a Lyric CIC user for 3 years, and an Oticon CIC user for 10 years, both of which I was very happy with, except for the cost, I was excited to see EARGO come to market, mainly because of the cost difference.
I trialed the EARGO 6 and liked the small size, rechargeability, and but for me, it fell short in making the sound adjustments quick enough or not at all when I'd change the environment I was in (for example, from home to a restaurant). In addition, there were too many times when I couldn't get enough sound volume to hear the higher frequencies of a family member speaking in the house, so was asking for people to repeat themselves. I was ready to give up on EARGO and go back to prescription CIC's until I saw the EARGO 7 coming out. I inquired with EARGO about trialing these and was given that option.
The EARGO 7 has been excellent so far. I've used them for a month now and have experienced a vast improvement in sound quality and the ability of the 7's to adjust quickly to different sound environments. I'm not experiencing the warble sounds I'd hear when turning on the microwave or opening the car door. The EARGO app is a huge improvement with the addition of the sound adjust+ feature, which I use the emphasize speech option periodically when at meetings or noisy restaurants. The sound quality of the 7's seems to be very close to what I was experiencing with my prior prescription CIC's, so I am keeping the 7's.
A couple of other things to note: The EARGO customer support team has been fantastic, working with me through some earlier issues with the 6's and the extended trialing of the 6 to now the 7. The clinical team assisted me in setting up my EARGO's to match a prior hearing test that I had done by an audiologist which I thoroughly appreciated.

Response from Eargo
We appreciate this thorough and honest review. So glad you are happy with your Eargo 7s!
Customer Service
Online & App
Staff
Delivery & Shipping
Reviewed Jan. 12, 2023
I must admit that I was a little apprehensive about which hearing aids to purchase. In the past I purchased what I call cheap hearing aids or hearing amplifiers. The cheap ones were terrible they sounded like two tin cans stretched between a string. I did a lot of research before purchasing my EARGO 6 hearing aids. The purchase was easy, and the shipping was fast. The sound quality I get from the EARGO 6 hearing aids is just amazing. The rechargeable batteries me all day. I don't have to worry about fumbling around to change batteries.
At first, I had a problem with hearing my own voice, but it went away in a few days. The app for my hearing aids is perfect, I love the control that I have. I can control my hearing aids to fit the environment I'm in. Now when my wife speaks to me, I can actually hear what she is saying. Before I was always saying HUH all the time or she had time. Before she had to be facing directly at me for me to understand her. I can have conversations with my grand kids now, before it was very difficult.
The first time I went to a restaurant was amazing. Before in a restaurant I could not have a conversation with anyone because the noise made my hearing scrambled. Not now with my new EARGO hearing aids. It was so nice to go there and be able to hear what everyone was saying. Now I know which setting I need to match the environment I'm in. I am a avid bird watcher and feeder. Before I couldn't hear most of the birds singing, my wife would say can you hear that bird singing? And of course, I couldn't but now I can with my new EARGO hearing aids. I can't say enough good things about my new EARGO hearing aids they have changed my life. Thank You EARGO. EARGO support is very helpful and genuinely concerned about any problems I might have, I know I can count on them.

Response from Eargo
Thank YOU for sharing your life changing Eargo experience!
Reviewed Jan. 10, 2023
I grew up in the country, shooting extensively. As a result, I have moderate high frequency hearing loss and significant tinnitus as diagnosed by my ENT. I'm 64 now, and my hearing has grown worse over the years. I bought over-the-ear hearing aids years ago, but they are problematic because I wear glasses. I also wear a mask often because I'm susceptible to Covid (due to lung damage from pulmonary emboli). Wearing my hearing aids with glasses and/or a mask was very uncomfortable.
So, when quality hearing aids became available over-the-counter, I started looking for an aid that was entirely in-the-ear. I found several options with a Google search. After that, I relied most on reviews from BBB, Consumer Reports, and CNET to narrow the choices. In the end, Eargo was the obvious choice based on the technology, support, and user reviews. I did the online hearing screening, spoke to a sales representative at Eargo, and placed an order.
It's very fair to say that Eargo 6s have changed my life. I can hear all the outdoor sounds I've missed for so many years…bird songs, crickets, frogs, squirrels rustling in the leaves. I no longer say "What?" constantly to my wife and friends. I keep the TV volume at a low 8 to 10, compared to the 25-30 that ran my wife and two dogs to the other end of the house. I can hear and participate in conversations. And my tinnitus isn't as noticeable. I suppose that's because my brain is receiving sounds that weren't making it through before.
I had no adjustment period, as far as fit or discomfort, because I've worn hearing aids before. The support calls I've received from my Eargo audiologist, Cheryl, have been friendly and helpful. Within a week, I recommended Eargo 6s to my brother-in-law, who also has hearing loss. He purchased a pair and is wearing them daily. He opted to do so without Eargo support and is happy as well.

Response from Eargo
It's great reading that the Eargo hearing aids have been life changing and you're hearing so many sounds that you have been missing for years! We appreciate the recommendation and you sharing your Eargo experience!
Reviewed Oct. 31, 2023
The large petals are a little small, but one technician gave me a tip to try to keep them from moving around....Eargo should consider creating an extra large petal for us big ear canal guys. Overall I am satisfied and will keep them. I have a list of questions for tomorrow's appointment.
Reviewed Oct. 24, 2023
I have been a Eargo customer for approximately 5 years. The original model I owned was called the Hi Fi. I was happy with this model but when it went bad, I upgraded to the new 7 model. The new design was a straight cylinder instead of the original that had a slight curve on the end. The new design does not stay in the ear canal and constantly slides out into the bowl of the ear. Because I went beyond the 45 day period they said I could not return them…even though I had been in constant contact with their professionals to try to figure out what to do. So beware and make sure to test whether the units will stay in your ear. They did admit many customers have been experiencing similar problems. I now have to find another alternative and discard a very expensive set of hearing aids.
Reviewed Oct. 23, 2023
My Eargos were great. Worked well, discreet and good customer service. Now after a year the batteries are only lasting a few hours. They are not replaceable. I emailed Eargo 2 times. No response. I guess when there are more serious issues they are no longer willing to address. The batteries are supposed to last approximately 3 years. I obviously made a bad decision purchasing this product. "Let the buyer beware."
Reviewed Oct. 17, 2023
The Eargos perform exceptionally well. They are virtually invisible. The customer and technical support are also very good. My issue is that my pull cord has broken, and without the pull cord, you can't get the device out of your ear canal, and there is a risk of damage if you shove the Eargo further into the ear canal. I called Eargo support to replace the pull cord, and they advised me that they could not fix that and that I would have to pay full price for a new device. This alone has turned my 5-star review into a 1-star review. The Eargos are quite expensive but if your pull cord goes out you're on your own isn't a good selling point.
Reviewed Sept. 15, 2023
I'm about to pass my 45 day trial period with my Eargo set, first time hearing aid user. I was drawn to the Eargo because of the small size and the inside the ear option vs a bulky behind the ear device. I received the dummy set and was happy with the fit, etc. so went ahead with the purchase. The customer service is/was extraordinary all throughout the process. I followed along with the suggested prompts and reminders, etc. and everything couldn't have gone any smoother. I am really happy with the result - I wear them almost every day with a few exceptions. I mostly notice that I never have to ask people to repeat themselves - TV doesn't have to be turned up so loud and the sounds I hear in nature are fabulous. I also notice a big difference in an office setting where there is a lot of "white noise" in the background. I was missing more than I realized.
One of the best parts of the Eargo product is the phone app customization and ease of moving through various settings - a double tap on the ear to reset is very cool. I have the volume set on the lowest setting most of the time but anticipate that as the years go by, that might change. I'm glad to have a device that can change with me. Another great feature is the charger - no separate battery to fool with getting in/out of the unit. I charge it at night as I do my cell phone and I'm done. Cleaning is easy and I intend to follow the simple habit daily as suggested. I highly recommend this product for anyone who is getting signals from their world that they need a little lift hearing conversation - TV, etc. Bottom line - quality of life is better. Thanks.

Response from Eargo
Thank you for sharing your Eargo experience. The highest praise we can receive is that our hearing aids have improved your quality of life!
Eargo Company Information
Company Name:

Eargo

Website:

eargo.com