This company is not yet accredited. See reviews below to learn more or submit your own review.
Purple designs its mattresses for pressure relief with layers of support form, comfort foam and hyper-elastic polymer to accommodate all sleeping positions. Each mattress comes with a 100-night trial, and shipping and returns are free. The Purple Mattress starts at $649, the Purple Hybrid starts at $1,299 and the Purple Hybrid Premier starts at $1,899.
BOTTOM LINE
Purple offers an alternative to memory foam mattresses with its smart grid technology. While the original model doesn't allow you to choose a firmness level, they're designed to be medium-firm, which should suit most sleepers.
PROS
Designed for pressure relief
100-night in-home trial
Alternative to memory foam
Supporting products available
CONS
Original mattress has less edge support
Mattresses are heavy
​
How do I know I can trust these reviews about Purple Mattress?
2,737,892 reviews on ConsumerAffairs are verified.
We require contact information to ensure our reviewers are real.
We use intelligent software that helps us maintain the integrity of reviews.
Our moderators read all reviews to verify quality and helpfulness.
For more information about reviews on ConsumerAffairs.com please visit our FAQ.
jennifer of Grantsburg, WI
Verified Reviewer
I sleep all night without tossing and turning. No more aches and pains. My back quit hurting. I'm feeling great. I sleep so much better. I have enough energy that help me get through my day without taking naps.
Read full review
Steve of Washington, Illinois
Verified Reviewer
Had issues with shoulder pain. Purple reduced pressure points. It sleeps cooler and made me sleep more restfully. Price was more than I wanted to spend, but love it so far. We will see how it holds up over time.
Read full review
What is Purple mattress?
Purple mattresses are marketed as an alternative to popular memory foam mattresses that are designed specifically to relieve pressure. Purple operates entirely online and offers free shipping and returns, plus a 100-night trial and the Purple mattress warranty is 10 years. In addition to two mattress models, Purple sells pillows, bedding, mattress protectors, mattress platforms, power bases and pet beds.
| | | |
| --- | --- | --- |
| 100-night risk-free trial | Free shipping & returns | 10-year warranty |
Purple mattress materials and construction
Original Purple mattresses are made with layers of support foam, comfort foam and Purple's unique Smart Comfort Grid technology made of hyper-elastic polymer addressing pressure points and providing extra support to areas like your shoulders and hips.
The New Purple mattress combines its Smart Comfort Grid technology with support coils, making it more of a hybrid mattress offering.

Purple mattress comfort
Both models from Purple offer pressure relief and motion isolation while also designed to sleep cool. Some individuals may find more support on a spring mattress, which the New Purple mattress provides as the brand's hybrid model. All Purple mattresses are non-toxic and hypoallergenic. Unlike traditional memory foam mattresses, Purple mattresses' top grid layer provides sleepers with firmer support, so they don't feel as if they're "sinking in."
Firmness: The Original Purple mattress is a medium-firm mattress, generally ranking around 6/10 on the firmness scale. The New Purple mattress comes in three firmness levels: soft, medium and firm.
Sleeping position: Purple mattresses are designed for all sleeping positions, including side, stomach, and back.
Motion transfer: Purple's Smart Comfort Grid is motion-isolating.
Edge support: The New Purple mattress has improved edge support.
Sleeping hot: Unlike traditional memory foam mattresses, the Smart Comfort Grid allows for consistent airflow and helps draw away body heat while you sleep.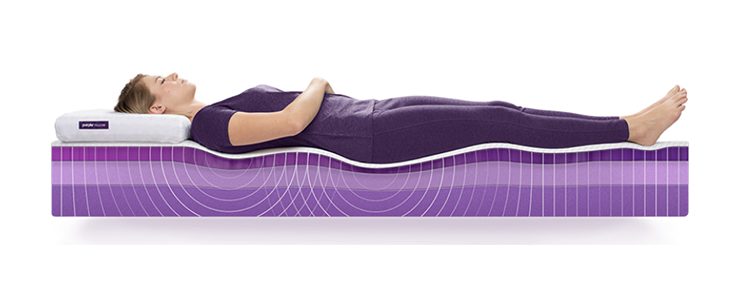 Purple mattress prices
Purple sells two mattress models: the Original Purple mattress and the New Purple mattress. Price ranges from $649-$1899, but the average Purple mattress cost is $999 for a queen. Financing is available.
| Mattress Size | Original Purple | New Purple |
| --- | --- | --- |
| Twin | $649 | $1299 |
| Full | $899 | $1499 |
| Queen | $999 | $1599 |
| King | $1299 | $1899 |
| California King | $1299 | $1899 |
Are Purple mattresses good?
Purple mattresses may be a great choice for anyone looking for an alternative to memory foam or traditional spring mattresses. The advanced Smart Grid Technology provides a lot of promise in the areas of pressure relief, body contouring, support and cooling. While prices are a bit higher than traditional middle-of-the-line innerspring mattresses, they're about on par with foam mattresses, hybrid mattresses and other bed-in-a-box brands. With a 100-night risk-free trial, we think Purple mattresses are certainly worth trying.
A link has directed you to this review. Its location on this page may change next time you visit.
How do I know I can trust these reviews about Purple Mattress?
How do I know I can trust these reviews about Purple Mattress?
2,737,892 reviews on ConsumerAffairs are verified.
We require contact information to ensure our reviewers are real.
We use intelligent software that helps us maintain the integrity of reviews.
Our moderators read all reviews to verify quality and helpfulness.
For more information about reviews on ConsumerAffairs.com please visit our FAQ.
Page 1 Reviews 0 - 10
Mary of Austin, TX Verified Reviewer
Original review: Aug. 3, 2020
After sleeping at my sister's one night I realized the next morning I had slept more soundly than I had in many months. The next morning, I exclaimed that I had much less arthritic pain than usual, and learned I'd slept on a Purple mattress. I took the Purple quiz and purchased just the right mattress for my home and have reaped the benefits of better, longer sleep and far less leg pain.
5 people found this review helpful

Jen of Longview, WA Verified Reviewer
Original review: July 29, 2020
I have suffered from low back pain for about 15 years, I've been to chiropractors, physical therapy, and pain doctors. We just got our Purple 4 Mattress 6 nights ago, and I absolutely love it. I sleep all night, and when I get out of bed in the morning I can stand straight up with very little pain... I do still have some but I think with a few more weeks using the purple mattress it will be gone. Also, my hands used to fall asleep at night, and haven't once since I've been in the Purple Mattress. In my opinion, it was worth the money! I wish we would've bought it a long time ago.
6 people found this review helpful
Thank you, you have successfully subscribed to our newsletter! Enjoy reading our tips and recommendations.
Laura of Aiken, SC Verified Reviewer
Original review: June 25, 2020
Starting looking for the right mattress in Nov 2019. We tried 4 different ones. Layla, Beautyrest, Foster & Stearns and DreamCloud. Then we decided to give PURPLE a try after a friend referred it and long conversations with several different sales folks who actually answer the phone and respond to emails. We got the Hybrid 4, the one with the 4" crate due to the fact we are a little on the heavy side and did not want to sleep on the coils. It is perfect.
With memory foam you will sink in, and when you move it takes a few minutes to expand back to shape. NOT the case with PURPLE. That crate comes right back like it's trying to support your move. Also it cool! Like not hot kinda cool. It addresses all of the pressure points and my arms no longer fall asleep and my hips aren't slipping out. We are side, back and stomach sleepers. The price is steep and it's not a long trial or lifetime warranty however after one night we knew it was well worth it. I hope I can still say that in 10 years.
Read full review
12 people found this review helpful
Roberta of Bellingham, Washington Verified Reviewer
Original review: May 9, 2020
The purple mattress was recommended to us by a friend. My husband and I had been trying to find a good quality mattress that was comfortable for both of us. We had tried pretty much every brand of mattress at several different stores, laying on all of them and couldn't find one that we both liked. We decided to try the Purple Mattress, knowing that we had a one hundred day "trial" and if we weren't happy with it the Company would pick it up and refund our money. We have loved our mattress since the first night we received it, we feel well rested and do not wake up with back aches. We highly recommend this mattress.
11 people found this review helpful
Andrea of Powell, Wyoming Verified Reviewer
Original review: April 30, 2020
This is the first new mattress my husband and I have purchased since we were married in 2001. Our first mattress was the one he already owned prior to our marriage. Over the years, we have both suffered from injuries/illnesses that effect our spines and joints. After a failed back surgery in 2010, I was unable to lay flat in a bed. I also have rheumatoid arthritis which caused me to need a total hip replacement in 2014. Due to complications, I ended up having to have my entire right leg and hip joint amputated. Between the back and the hip issues, until we purchased the new Purple Mattress in 2018, I had been only able to sleep in a recliner, thinking that wound be my only option for the rest of my life. My husband did a lot of research on mattresses and decided to buy a Purple, primarily for himself due to his shoulder and back injuries.
Once it arrived, I laid down on the bed just to try it out. To my complete surprise it was so comfortable and supportive I fell asleep! I have been able to sleep in our bed since we bought the Purple Mattress for the first time in 8 years! My husband also says it allows him to sleep well, comfortably and without added pain to his shoulders and back. We HIGHLY RECOMMEND the Purple Mattress! The prose is affordable and the comfort and support are amazing!
Read full review
13 people found this review helpful
Amanda of Sewell, NJ Verified Reviewer
Original review: Dec. 14, 2020
We've had this mattress for 6 weeks and the off-gassing odor is nearly as intense as when it first arrived. It makes our throats scratchy, our bedroom stink, and we have to change sheets every other night. It's truly awful! We've taken to sleeping in the guest room until we can get it replaced. The grid, while comfortable from a supportive standpoint, is at the same time too noticeable. You actually can feel the squares under your body through your sheets; it's odd. The motion separation is excellent, and it is much cooler than sleeping on a Tempur-Pedic, for which I'm giving the 2nd star.
5 people found this review helpful
Juan of Seattle, WA Verified Reviewer
Original review: Sept. 23, 2020
I tried both the Purple 2 then the Purple 3. Both gave me deep lower back aches and when I tried to return the second mattress they would not accept because it was less than two weeks over the timeframe but did not offer any solution either! Terrible product. Does not distribute pressure better than competition as claimed. Total gimmick, not developed by NASA scientists as claimed according to a sleep expert I consulted. Was actually a different company before it was Purple. Has a firmer waffle material and Purple does not last as long either, guess you get what you pay for, next trying Tempur-Pedic. My experience is already better with their product!!

12 people found this review helpful
Raymond of Tallahassee, FL Verified Reviewer
Original review: Aug. 12, 2020
I ordered the Purple Hybrid Premier King for $2799. The website lead me to believe with the purchase of the mattress the company was offering a free gift deal with a value of $193. (Free set of king sized sheets and a free king plush pillow.) So I order and addition King Plush pillow for $64 as well to make it a set. I also purchased the mattress protector for $109. My total was $2972 without tax. I was very excited because I have wanted a Purple Mattress for years. Like many online shoppers I searched for any promo codes that may be available to apply to my purchase and found one that gave me an additional $150.00 off the $2972 plus tax total. Which matters even more because my purchase would be "cash" outright not financing or charging on a credit card.
When my PayPal receipt came to my email I realized that I was charged a total of $3241.14. A difference of $287.14. I called customer services to get it worked out. I was told it was because I "stacked coupons". They used the coupon and did not honor the deal from the website which I argued was NOT a coupon but a price from the internet purchase. The lady told me in a nice way that is your policy. No stacking coupons and that the "free gift" was a coupon. I then requested my purchase be canceled!!!! I would have never thought applying the "Promo Code" would increase my purchase total. I find it very disheartening that a company would advertise one thing then not honor it! PURPLE is not the company to purchase a mattress from!


Read full review
23 people found this review helpful

Tisha of Afton, OK Verified Reviewer
Original review: Aug. 6, 2020
It's a great mattress. Never dips or holds heat. An awesome full night of sleep every night. Have been through so many mattresses in the past 8 years. Finally got the right one! Son slept on it when he came for a visit. He's a big fellow and said he sleepy great.
3 people found this review helpful
Gregory of Denham Springs, LA Verified Reviewer
Original review: July 24, 2020
Purple's comfort level is poor to very poor. A foam topper is needed to alleviate the aches and pains it causes and to make it bearable. It is so poor at heat dissipation that you'll be dripping with sweat by morning in spite of keeping the room at 72 degrees F. It may not break eggs falling on it but it WILL break your back. It is a regrettable purchase.
16 people found this review helpful
Purple Mattress Company Information
Company Name:

Purple Mattress

Website:

purple.com
You're signed up
We'll start sending you the news you need delivered straight to you. We value your privacy. Unsubscribe easily.