Purple Mattress
Purple designs its mattresses for pressure relief with layers of support form, comfort foam and hyper-elastic polymer to accommodate all sleeping positions. Each mattress comes with a 100-night trial, and shipping and returns are free. The Purple Mattress starts at $649, the Purple Hybrid starts at $1,299 and the Purple Hybrid Premier starts at $1,899.
Overall Satisfaction Rating
5 stars

4 stars

3 stars

2 stars

1 stars
Pros
Designed for pressure relief
100-night in-home trial
Alternative to memory foam
Supporting products available
Cons
Original mattress has less edge support
Mattresses are heavy
Bottom Line
Purple offers an alternative to memory foam mattresses with its smart grid technology. While the original model doesn't allow you to choose a firmness level, they're designed to be medium-firm, which should suit most sleepers.
Top Purple Mattress Reviews
How do I know I can trust these reviews about Purple Mattress?
4,027,984 reviews on ConsumerAffairs are verified.
We require contact information to ensure our reviewers are real.
We use intelligent software that helps us maintain the integrity of reviews.
Our moderators read all reviews to verify quality and helpfulness.
For more information about reviews on ConsumerAffairs.com please visit our FAQ.
jennifer of Grantsburg, WI
Verified
I sleep all night without tossing and turning. No more aches and pains. My back quit hurting. I'm feeling great. I sleep so much better. I have enough energy that help me get thro...
Read full review
Steve of Washington, Illinois
Verified
Had issues with shoulder pain. Purple reduced pressure points. It sleeps cooler and made me sleep more restfully. Price was more than I wanted to spend, but love it so far. We wil...
Read full review
What is Purple mattress?
Purple mattresses are marketed as an alternative to popular memory foam mattresses that are designed specifically to relieve pressure. Purple operates entirely online and offers free shipping and returns, plus a 100-night trial and the Purple mattress warranty is 10 years. In addition to two mattress models, Purple sells pillows, bedding, mattress protectors, mattress platforms, power bases and pet beds.
| | | |
| --- | --- | --- |
| 100-night risk-free trial | Free shipping & returns | 10-year warranty |
Purple mattress materials and construction
Original Purple mattresses are made with layers of support foam, comfort foam and Purple's unique Smart Comfort Grid technology made of hyper-elastic polymer addressing pressure points and providing extra support to areas like your shoulders and hips.
The New Purple mattress combines its Smart Comfort Grid technology with support coils, making it more of a hybrid mattress offering.

Purple mattress comfort
Both models from Purple offer pressure relief and motion isolation while also designed to sleep cool. Some individuals may find more support on a spring mattress, which the New Purple mattress provides as the brand's hybrid model. All Purple mattresses are non-toxic and hypoallergenic. Unlike traditional memory foam mattresses, Purple mattresses' top grid layer provides sleepers with firmer support, so they don't feel as if they're "sinking in."
Firmness: The Original Purple mattress is a medium-firm mattress, generally ranking around 6/10 on the firmness scale. The New Purple mattress comes in three firmness levels: soft, medium and firm.
Sleeping position: Purple mattresses are designed for all sleeping positions, including side, stomach, and back.
Motion transfer: Purple's Smart Comfort Grid is motion-isolating.
Edge support: The New Purple mattress has improved edge support.
Sleeping hot: Unlike traditional memory foam mattresses, the Smart Comfort Grid allows for consistent airflow and helps draw away body heat while you sleep.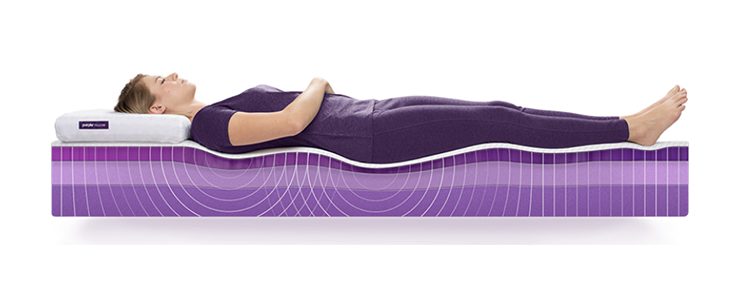 Purple mattress prices
Purple sells two mattress models: the Original Purple mattress and the New Purple mattress. Price ranges from $649-$1899, but the average Purple mattress cost is $999 for a queen. Financing is available.
| Mattress Size | Original Purple | New Purple |
| --- | --- | --- |
| Twin | $649 | $1299 |
| Full | $899 | $1499 |
| Queen | $999 | $1599 |
| King | $1299 | $1899 |
| California King | $1299 | $1899 |
Are Purple mattresses good?
Purple mattresses may be a great choice for anyone looking for an alternative to memory foam or traditional spring mattresses. The advanced Smart Grid Technology provides a lot of promise in the areas of pressure relief, body contouring, support and cooling. While prices are a bit higher than traditional middle-of-the-line innerspring mattresses, they're about on par with foam mattresses, hybrid mattresses and other bed-in-a-box brands. With a 100-night risk-free trial, we think Purple mattresses are certainly worth trying.
A link has directed you to this review. Its location on this page may change next time you visit.
How do I know I can trust these reviews about Purple Mattress?
How do I know I can trust these reviews about Purple Mattress?
4,027,984 reviews on ConsumerAffairs are verified.
We require contact information to ensure our reviewers are real.
We use intelligent software that helps us maintain the integrity of reviews.
Our moderators read all reviews to verify quality and helpfulness.
For more information about reviews on ConsumerAffairs.com please visit our FAQ.
Page 1 Reviews 0 - 10
Paula of Albuquerque, NM

Verified Reviewer Verified Buyer
Original review: Aug. 14, 2022
I spent $3200.00 on the Purple 3, 2 and a half years ago. It was great for about 1.5 years. For the past year, my husband has been sleeping in our recliner because it's more comfortable for him. I've decided to stick it out by sleeping in the bed and I wake up aches and miserable. The bed has permanently sunk in about half an inch and has lost its luster. Now we're trying to get our money back or at least a replacement from Purple, and the results remain to be seen. For the cost of this mattress, I'd expect it to last much longer than 2.5 years. Do yourself a favor, run and don't look back.
10 people found this review helpful
Al of Jacksonville, FL

Verified Reviewer
Original review: Aug. 1, 2022
I bought the weighted blanket from Purple and when I ordered it they told me if I refer someone to buy the same weighted blanket using my Purple referral link and they complete their 100 night trial period without returning the product we both would be sent a $70 Amazon gift card from Purple each. Well guess what? I referred the weighted blanket to my sister, which she bought WITH MY LINK, and on her 101st day of owning her $300 weighted blanket... I contacted Purple to claim our $70 Amazon gift cards each... to my surprise, they told us both to pound sand... no Amazon gift cards for us... why? BECAUSE BOTH ORDERS WERE SHIPPED TO THE SAME RESIDENTIAL ADDRESS...
What a COMPLETE nonsense of an excuse to weasel out of a reward payout. I argued with them for a whole hour that my LINK was used as a referral to generate business for them and my sister DID buy it (with HER name and HER credit card), but NOPE, they wouldn't honor their Amazon gift cards deal because both orders were shipped to the same house... Mind you, this was NEVER mentioned on the offer's fine print OR details when we made the purchases. My sister could have easily shipped it to a friend's house if we knew this detail. What are they really thinking here? Do they think that we're going to spend $600 on weighted blankets to scam the company out of $140 worth of Amazon gift cards by shipping 2 orders to the same address? LOL! What an asinine experience...
Since then, my policy is to avoid Purple. I will not give this company a single dollar now or in the future. We were treated badly over a dumb $70 Amazon gift card. I probably would have considered buying a Purple mattress (as I need a new mattress soon), but honestly, after my experience with the weighted blankets, I'm not giving them any business at all. They literally lost $1000s of dollars worth of future business from me over a dumb Amazon gift card. Avoid Purple as a company, they feed on the YouTube hype machine, I don't mind the weighted blanket that I bought from them, but it's nothing special really. You can buy ANY weighted blanket from ANYWHERE and it'll do the same exact thing. In fact, the purple model is really hard to wash and maintain. Taking it apart to wash it is very difficult and takes an hour+. Overall, very disappointed with their business practices, bad company and bad customer care.
Read full review
5 people found this review helpful
Thank you, you have successfully subscribed to our newsletter! Enjoy reading our tips and recommendations.
Daniel of Boise, ID

Verified Reviewer
Original review: July 28, 2022
Had less than 2 years, side of mattress is separated, leaving a ridge that is uncomfortable. Purple said manufacturer defect, had to contact where purchased for warranty, now they tell me It's not, but will replace it or credit the amount of $1400 for different mattress or the cost of the mattress. (Was marked 100% + $2999.) I have to pay difference, still paying on the one I purchased. Purchased from Denver Mattress. What a rip off, warranty useless...
7 people found this review helpful
Thomas of Ambler, PA

Verified Reviewer
Original review: July 12, 2022
Customer service is poor. Purchased a mattress from Purple in 2019, delivery service was poor. They just dropped it off at the house (I was home) did not set it up. Powerbase for mattress dropped working within a year. Purple will not issue any warranty service as it was manufactured by Reverie. Reverie does not respond to inquiries either by phone or e-mail. The name "Purple" is all over the powerbase frame. It was purchased through Purple. My experience with Purple and Reverie customer service has been poor. The bed is okay but I would advise trying another mattress company if you want good customer service.
6 people found this review helpful
Emily of Brandon, MS

Verified Reviewer
Original review: May 11, 2022
This is ridiculous service for the amount of money spent. I ordered 3 things, a mattress, seat cushion, and sheets. Seat cushion arrived randomly without any tracking info, dirty, opened, and stepped on, I have yet to hear back from the warranty claim dept from 6 days ago. Sheets were ordered almost 2 full weeks ago, haven't shipped. The mattress HA who knows if it will ever arrive.
The "pilot freight company" never contacted me about WHEN I would be available for delivery, I just got a text message with the details saying "Your delivery will arrive on May 10 between 10am and 6 pm" - It is now May 11th and I have not heard from anyone from the freight company or from Purple. "You will receive a response within 24-48 hours". Ridiculous and unacceptable when you spend $4,000 with a company. They gave me a free pillow for "my inconvenience" - reviews are everywhere online with the same experience. Do yourself a favor and find another mattress company, DO NOT USE PURPLE.
Read full review
13 people found this review helpful
myra of Olney, MD

Verified Reviewer
Original review: April 4, 2022
I purchased a king size purple bed. On the website I was told that the company was going to install it. When I came home, I found the mattress outside (over 400 lbs) on the sidewalk. I am pregnant and I am petite. How was I supposed to bring that thing inside. Thank goodness it didn't rain. The next day, I didn't want to experience the same problem so I called the company. They couldn't give me a time frame on when the base was going to be delivered. Later on, it just appeared on my front porch. After getting help to take the huge box inside, I found out that I was sent a wrong piece. They sent a wrong size bar. When I get a new bar in the mail, I will have to pick up the heavy bed and remove the purple plastic plank and try to place that bar inside.
This is the worst product and delivery. It makes it more frustrating when you have to call the company and explain your issue and then have to answer an automated email and repeat yourself more than once about what you are complaining about. I should have just purchased another Tempur-Pedic or a Sleep Number where people actually come out and help you.


Read full review
20 people found this review helpful
Rick of Kitts Hill, OH

Verified Reviewer
Original review: March 9, 2022
My teenager bought a purple mattress and frame. I know she really likes the way the mattress feels. The frame was "neat", extends, amazingly light. But in just over a year the middle metal bar across frame snapped off. Since bought directly from Purple was easy online to give email, address etc. and get warranty process started. But disappointed with strength of frame at this point in time. Very happy with customer service etc.



11 people found this review helpful
Edward of Pasadena, CA

Verified Reviewer
Original review: Jan. 14, 2022
So I bought the basic $1000 mattress. At first I thought the mattress and pillow were awesome. But it could have just been my excitement. It's been about a year now and it's impossible to sleep on my stomach or side. After laying on my side or back for about 3 minutes my spine starts to hurt. This is possibly the worst bed I've ever had. So far sleeping on my back I'm fine. But I'm personally not a back sleeper, so I have to force myself. DO NOT BUY THIS BED.
33 people found this review helpful

April of Lake Dallas, TX

Verified Reviewer
Original review: Dec. 27, 2021
I have NOT been happy with this purchase. Right after the sleep warranty was over it started to get hard and flat. Hurt my neck so bad I couldn't move it. I reached out to Purple. It has been over 2 months and I'm still getting the run around. I think they know these pillows are just a big scam. Over 150.00 for crap!! Crap!!! 10.00 Walmart pillow is better. DO NOT PURCHASE ANYTHING FROM THIS COMPANY. THEY DO NOT STAND BEHIND THEIR PRODUCTS. HORRIBLE QUALITY. NO CUSTOMER SERVICE.
33 people found this review helpful
Frances of Philadelphia, PA

Verified Reviewer
Original review: Dec. 22, 2021
On 12/19/2021 I left Mattress Firm (Cottman Ave, Philadelphia) feeling like I had been robbed. On 11/22/2020 I spent $5053.96 plus $404.32 in taxes on 2 Purple 3 Premiere Mattresses size TWIN XL, 2 adjustable bases, two sets of sheets, 2 pillows and 2 mattress protectors to complete my split king. I was very excited about my purchase because I believed the Purple Mattress to be of excellent quality. After approximately 7 months I noticed that the side of one of the mattresses was sagging. On October 5th, 2021, I decided that the sagging was too much to ignore and that I needed to file a warranty claim. I went online and found the process a bit confusing so I decided to pay the $79.99 advertised to have someone come out to file the claim for me. The money quickly left my account & I waited to be contacted with an appointment.
Days went by & I didn't hear from anyone about my inspection. On October 25th, I called the store and was advised that they have nothing to do with the inspection and could not help me. They did not provide me any contact information of where I needed to call. I searched the internet & found the phone number. I called and was advised that they don't send people out to my area (zip code 19152) and that I would have to file the claim myself. No explanation was given as to why they never contacted me. I was given a refund of my $79.99 which reflected in my account on 11/1/2021. I filed the claim myself, and on December 13th, 2021, I received an email that my warranty claim had been approved for the full purchase price of my mattress.
I went into the store this morning excited about finally getting a replacement mattress. The gentlemen working asked if I had decided on what mattress I wanted. I advised that I needed the same mattress because it was part of a split king that I had purchased a year ago. He processed everything and advised me that I had to pay $668.52. I knew I would have to pay the delivery fee, but why $668.52 extra? The associate, Earl explained that the warranty only covers the purchase price of the original mattress which was $1799.99 but that the mattress had gone up in price and was now $2,299.00 and I was responsible for the difference. I could understand if I had selected a different mattress, but I was exchanging a defective mattress for an identical mattress.
Since I needed the mattress, I paid the money. After leaving, I decided to check the advertised prices for my mattress. On Purple.com the mattress was on sale for $2069.00. On the Mattress Firm website it was also on sale for $2069.00. At this point, I was really feeling ripped off. I got on the phone and called Earl at Mattress Firm and asked him why I was being overcharged for the mattress when it was supposed to be on sale. He advised me that they cannot use the sale price on a warranty claim. It is easy for them to tell me that I have to pay the difference in price because the price went up but they had the nerve to overcharge based on the sale price at the time of the exchange. It felt like complete thievery.
As for the idea of not being given a one to one even exchange on a warranty goes against what most people would expect from a warranty. When I purchase a new car and something goes wrong, the warranty covers the repair regardless of the price. This is what one expects from a warranty. A change in price of the product should not be pushed onto the consumer or impact my warranty. I was sold a defective mattress that I purchased in good faith because I thought Mattress Firm was a reputable company. I should have received an identical mattress as a replacement at no charge.
I will never go back to Mattress Firm, never recommend the Purple Mattress, and I want to let everyone know about my experience so they think long and hard before stepping foot in a Mattress Firm and spending thousands on merchandise that may be defective and end up costing them stress, time, and possibly hundreds of dollars. Mattress Firm blamed it all on Purple Mattress saying that have to follow the rules Purple Mattress has in place. This is their response: Response from the owner 5 hours ago - "I am sorry but we must follow the manufacturer's warranty, which comes from Purple."
Read full review
65 people found this review helpful
Purple Mattress Company Information
Company Name:

Purple Mattress

Website:

purple.com
You're signed up
We'll start sending you the news you need delivered straight to you. We value your privacy. Unsubscribe easily.