Consumer Complaints and Reviews

After owning two Pottery Barn sofas for 17 years I felt very comfortable buying new replacement sofas from them again. Unfortunately I feel that I was robbed of the money spent. I am ready to drag them outside and set them on fire. These have been the most horrible sofas I have ever sat on. So bad that I have had to get medical treatment for all the pain, aches and daily pain from sitting on them. The problem seems to be the Down material used. It's created such extreme hardness that you might as well be sitting on concrete. It's taken me two years to finally get someone to help me but I need to pay for new inserts. I am crossing my fingers that the new insert will make the difference. I don't think it should have taken so long to get some attempt to correct the matter.
All in all I feel that Pottery Barn failed me as a customer and that they did not take my complaints seriously nor did then try to offer me a different product. Buyer beware stay away from their down seat product as well as the Carlise sofa and the PB English arm. Both just horrible. I am still hopeful for a good end to this but I currently am not holding my breath.

PB advertised a sale on the product we wanted to buy and then argued with us that it was not part of the sale. They eventually admitted they were wrong after hours of conversation. What upsets me more is the quality of the table. When you pay close to $2800 for a product you expect quality that they advertise about. I use trivets, placemats, and tablecloths to protect my wood and the wood still developed a bubble shaped ring from a bowl of hot vegetables. The edge of the table also puckered and peeled off. How did THAT happen? This table has been used 5 times in one year. I can never recommend PB. Their displays are outstanding but I think their products are poor quality.

These reviews are laughable. The first three reviews summed up my experience in a nutshell. I can't believe I even created a log-in and am on here doing this. Pottery Barn Kids is a total joke. Spent $1000 on the Cameron Wall system - took me a month and many calls and emails with customer service to get it returned. I finally had to carry the huge box a country mile from my parking garage to my office so UPS could pick it up at my office. They are trained to say sorry and that is it, there is no flexibility with returns or protocol.

Reese Crib, Midnight Navy. I bought this crib for my baby and used it for 5 months before the crib legs broke while my baby was still IN the crib! This alone was outrageous! I called Pottery Barn thinking they would be extremely apologetic and have the problem solved in no time! However, I was very wrong! The customer service is beyond appalling! I had one thing (I would say lady but she was far from that) hang up on me because I told her the original form of payment I used to make the purchase was no longer valid and asked her to return on to another card. Instead of explaining their policies she patronizingly told me it's common sense and I should know that this is not possible and hung up on me.
I called back and the next thing told me a supervisor would call me within 24 hours, 4 days later no call. I called back and waited on hold for 30 minutes for a supervisor who then hung up on me without even a hello. Instead of calling me back she 'left notes' on my account! Eventually I was told UPS would come pick up the crib which they did but wouldn't take the crib because it wasn't in a box and that Pottery Barn needed to send me a box. So I called them back and after an hour on hold they told me they can not send me a box and I have to go buy a crib size box from UPS... most awful and hideous company ever. I would never shop there again or ever let anyone I know shop there again.

I ordered a wicker basket in early March. I was charged and told it would ship in one week. It is now April 10th and I can get no answers. I tried to cancel the order, and I am told I can't because it shipped. It never ships! I call everyday and everyday I get the run around. They refuse to credit my account or ship me my product. I just want to cancel my order and never do business with this company again! Oh, I have multiple order #'s for one little basket. They keep assigning me new ones.
How do I know I can trust these reviews about Pottery Barn?
743,097 reviews on ConsumerAffairs are verified.
We require contact information to ensure our reviewers are real.
We use intelligent software that helps us maintain the integrity of reviews.
Our moderators read all reviews to verify quality and helpfulness.
For more information about reviews on ConsumerAffairs.com please visit our FAQ.

I will never order anything from Pottery Barn again! I love their products but have been so disappointed with ordering anything online. When you order, they give you a delivery date, once the order is placed it becomes an estimated delivery, which is drastically different from your original date. It took almost 4 months to get a bedroom set I had ordered, the date changed from week to week! Now I have ordered a clock and the delivery date keeps changing, just got an email that estimated delivery is now a month away. I'm done! Never will I order again! Customer service apologizes and that's it! I wish I had read from everyone else about their terrible delivery, I would never have placed an order and I never will again! In this day and time everyone knows their stock, if you don't have something don't take the order or at least be honest regarding the delivery date!

I'm reviewing here since PB doesn't allow customer reviews on their website. I wanted a metal drum table and after a few months of shopping, I couldn't find anything that met my criteria as well as PB table (#1613231). I thought the price was high, not to mention the high shipping cost. But, after finding nothing else in the size, finish, etc I was looking for, I finally gave in and popped for it! Besides, I had ordered from PB before and thought the quality was worth the price paid. It arrived within a week, which was well in advance of the advertised 3 weeks, so all was good. Until I opened the box and looked at it in the light of day. Big disappointment! First of all, worth nowhere near the $400.00 price tag (on sale - original cost $500). Never mind tax and almost $65.00 S&H!
The hand -rubbed bronze finish is really just brown paint. No just any brown paint, but turd-colored brown paint. There are two giant weld seems 180 degrees opposite each other down the entire length of the side that pop out from the sides - no hiding that mess no matter how you turn it! There is no reason to have 2 seams on a metal tube, especially for this price. The etching is clearly not hand-done. I maybe understand the machine work, but it's sloppy. It's just gross! Not really as represented in the pictures that looked fresh and authentic for a metal drum accent table. If I didn't have to eat the full cost of shipping - both ways, I would immediately return it. Don't buy this! I'll probably just end up putting a cover over it, which I could have done a lot cheaper using a cardboard box.

On march 26, 2017, I ordered online a decorative airplane wall panel. On march 28, 2017, instead of receiving the ones I ordered, I received on my front door 2 bar stools from them. So I called the customer service and the guy was polite and apologetic about what had happened. He even offered $25 gift card as a gift for the inconvenience that happened. He said my order will be delivered on April 3. However, I did not get any email confirming the new delivery date.
I got worried so on April 1, I called customer service again and a rude old woman named Teresa got my call. She was far from the first agent that helped me. She was not helpful and her tone of voice sounded irritable all the time. As she was checking the transaction she didn't say anything so I thought I was left unattended. So when I said "Hello, are you still there?" She shouted back and said "yes I am here, can you wait!!?" I'm like really?! I told her "you don't have to shout at me!!!" It's so ridiculous!! This is the most horrible customer service I've ever encountered. I won't do any more business with Pottery Barn again!!

For my husband's 60th birthday gift, I purchased a recliner online. It was supposed to be shipped on 3-25-17. I received a phone message saying the recliner supposedly being put on the delivery truck wasn't up to standards. I was told they would contact me with more info in 24-48 hours. I have called them three times to ask what was going on. Nobody seems to know. Nobody calls me back. Pottery barn deducted the money ($1808.31) from my account on 3-16-17. I still have no answers, and when I called for a refund, I was told by the furniture sales person that they would need to call shipping first to figure out what is going on. Supposedly, they will be calling back tomorrow. My husband's 60th has been ruined.

I have no problem with the Pottery Barn mirrors I ordered. However, their parent company, Williams Sonoma, hires delivery contractors that are careless and unprofessional. Chris and Artur delivered a large mirror, disposed of the packaging, and did not leave the product information or hardware. I asked about the hardware and was told it was attached to the mirror. It was not. Now there is no way to contact the delivery company because customers have no idea who they are. Do not order from Pottery Barn unless you can take the products home in your car.

I purchase a $3200 loft bed from Pottery Barn Kids. The bed was back order for 3 months and when they delivered it a portion of it was damaged in 3 places. That was bad enough but the process of getting this piece reordered, received and delivered has been ridiculous. I was told by the delivery guys and by customer service the piece would be in the following week and the delivery guys told me they would come right out and assemble. Then I was told it would be the following week, and then again another week. It finally arrived and delivery can't get it here for nearly another week. Customer service can't do anything but apologize - they have nothing else in their toolbox. I would love to know their turnover rate.
Additionally, I purchased a desk chair and it was back ordered. Every week they tell me it will be another week. It finally started showing up yesterday - we received two pieces to the chair. I have no idea when we will receive the rest and if they will be shipping one piece at a time. Fingers crossed nothing in the chair is damaged. I also order a desk lamp - the base had a big dent in it. That was returned and reshipped immediately. In the meantime I have an empty room, a disappointed little girl and boxes of the remaining furniture in my way in the garage. My mistake is not checking online reviews before the purchase because they are very consistent about the quality of this pricey furniture.

I bought the Graham Secretary Desk, which has a drop-leaf writing surface. Despite very light use, the hinges that hold the drop leaf surface together broke in two. I spent hours on the phone with Pottery Barn "customer service" personnel, who were clearly working out of their homes (home-like noises in the back, long hold times while they "looked something up", etc.) and had no idea what to do. Finally, one sent me a "repair kit" with replacement hardware, none of which matched nor fit the desk. I also wrote to their CEO, after reading about Pottery Barn's well-known customer service problems in the New York Times consumer column, The Haggler. No response. The desk is basically unusable, as the writing service cannot be used. $700 for a really bad piece of furniture, and worse (no) customer service.

I purchased a sofa from the Pottery Barn in December 2016. It was the Turner grand in the velvet fabric. It took about six weeks to receive the sofa and I had no problems with the delivery. After I sat and looked at the sofa I noticed that one of the back cushions looks a little smaller than the others. I also noticed that the top cushions were very wrinkled and the corners seemed like they didn't have enough stuffing. After trying not to notice I couldn't stand to look at the poorly made cushions any longer. I bought a sofa from PB 10 years ago and it looks better than the new one.
I finally called customer service and I explained my concerns. The lady told me to send pictures. I did. She then got back to me only to tell me that after a second opinion there is nothing that can be done. She said that the only thing she could advise me to do was to steam clean the couch. I didn't call about a stain! Plus it's velvet. I asked to speak to a supervisor and she told me too bad no returns and that she can't help me. Wow! After many years and thousands of dollars spent at the PB this is all I get? I thought maybe they would offer to fix the cushions I come from a family of quality upholsterers who owned their own business. I will never do business with PB again. What a disappointment!

I run a guest cottage in the swanky water town of Saint Michael's MD. Our guests expect great linens and I like to give them everything they want, including wonderful linens and ones that wash or dry, or dry clean well, hold up well, and are reasonable enough that I can change them out quite frequently, thus I always look for Pottery Barn to run their specials. They did, Code "weekend", worth 25% in discount. I made the trip up (which is a chore in itself!) to Pottery Barn, ask to buy the Jasmine pattern which is not on sale, it is regular price just like the coupon ask for the item to be... but guess what... That pattern along with a few others that I was interested in were... get this... EXCLUDED.
OMG... This is their own product! I wasn't trying to buy another person brand with a discount coupon. It's their own product. How stupid is that, that you have a buyer that follows the rules of your coupon and makes the trip up, only to hear... "Sorry, that regular priced product that you want happens to be EXCLUDED." What a farce. Pottery Barn, you have some beautiful products but you have a BIG problem of customer service. Not only did I go away from there not happy and go to another top store to do my buying that by the way, was great! You need to step up if you are going to want to stay in business for the long run. Great products and horrible customer satisfaction do not bode well for your future.

We ordered a sectional from Pottery Barn in December and were told that we would receive it in 30 days. 70 days later, still no sign. We've called customer service over and over and this operation is so bad that they can't even tell you where the product is. They have no clue. We ended up canceling the order after waiting months. Pottery Barn is as bad a retail organization as you will ever see. If you order from Pottery Barn, you've been warned. Forget their flashy catalogue. Their operations and distribution models are so bad it is amazing. Don't order from Pottery Barn, you'll be sorry.

I ordered a leather recliner and after two months (backlog can happen), the delivery day was yesterday. My son signed for the delivery having no idea. I got home after work and was surprised to see a leather couch in my room. At this point, their delivery office was closed. They called and left a message that the order was wrong, but still too late to call back. I called the morning after on a Saturday and was told by the rude person that they couldn't deliver until Wednesday. I said to call the delivery driver, and change the schedule, they should make me whole today. The woman, who would talk to co-workers while I was speaking, sternly said that I didn't call yesterday so they CANT delivery today. Terrible delivery group, workers, flexibility in their process, accountability, and leadership there.

Charged CC without delivering item - Placed an order on 12/24/16 for furniture and accessories for our nursery. The order stated the chair would be delivered in 1-3 weeks and the other items in 2 weeks. That's fine. The baby is due in March so we have time. The anticipated delivery date kept getting pushed back (6 times). Finally we received a call that the chair and dresser would be delivered on 1/27.
On 1/26 we received a call asking if we could accept delivery 1 day early. We said sure. The "white glove" delivery arrived on 1/26 with the dresser. The 2 delivery men said they had the picking slip for the chair but could not find it in the warehouse. This is concerning because our credit card was charged for both pieces. In addition, the delivery guys asked that I sign and date for a 1/27 delivery and if I have a complaint to not call until 1/27 because they were not supposed to be working on 1/26. So not only was there no chair and my CC was charged, the delivery men asked me to lie for them about the delivery because they were working when they weren't supposed to be.
It is now 2/16/17 and only the dresser from the original order has been delivered. The chair, curtains and night light are still not delivered and the anticipated delivery date keeps getting pushed later and later into March. It is ridiculous that curtains and a silly nightlight take almost 3 months to be delivered (assuming they are actually delivered in March). We called again on 2/6/17 and were told the chair would be delivered on 2/13/17. Nope. Called again on 2/16/17 and were told 2/22/17.
I have now learned my lesson so I asked to speak to someone in the warehouse. The warehouse informed me that they did not think the vendor would still be supplying this particular chair so we might as well just cancel the order because they doubt it will ever arrive which is funny because customer service told me 5 minutes earlier that their screen was showing a 2/22/17 delivery so clearly another lie. So we cancelled the chair order. However, the website continues to carry this very chair and claims a 1-3 week delivery. Clearly false advertising and questionable practices since they charged my CC for an item they do not have. They also continue to sell the nightlight and curtains on the website but are unable to tell us if/when they will ever be delivered.
We placed an order of over $3,000 in furniture and accessories for the nursery and have had to cancel nearly all of it because they are unable to tell us if/when the items will ever be available. Good luck if you ever order from this company. They charge CC for items they don't have, delivery people ask you to lie for them, and when you call they make up fake delivery dates to string you along.

Apparently Pottery Barn has instituted a new return policy. I have been a customer of theirs for 20 years and have never experienced such terrible service from them before. I purchased a duvet and shams which upon receipt did not match the product I'd seen online. It happens. So I re boxed and noticed there was NO return label provided. So after trying unsuccessfully to request one online I called customer service. Wow!!! Nightmare! The woman was curt and abrasive, and when put on hold by her, she dumped me back on their "hold for help" queue to wait another 15 minutes. This time I ended up with a man who said he couldn't send me a return label online because my order was over $50!!! WHAT! ARE YOU KIDDING ME! Asked for address to use to return myself... was told no, they can't do that. Too many outlets to return to, and so wouldn't release that info.
So I asked how the heck do I return this??? Guy said he'd mail me a label. So fine. Well 2 weeks later, still no label. Called again. Was put on hold for another 10 minutes, said he couldn't see where any label had been requested! Geez!!! Put me on hold again to speak to someone. They decided I should put my return out on porch and let UPS come with label and pick up my box! Bottom line... horrendous service, ridiculous procedures, terrible service reps, and the LAST TIME I SHOP THERE unless they revamp their return procedures and deal with the inept people answering their phones. Don't know what happened to this company, but they've seriously declined! As of now, UPS has NOT picked up my return. Please help!

I received a gift at Xmas. It didn't work out for me, and I went to return it. On the gift receipt that I had, said I could get cash refund, within so many days which I was in. When I went to store they refused to give me cash refund. They only would give me store credit, because they said purchaser used a credit card when they bought it. Nothing on receipt states that is how it works. This was a $150.00 present. I will never go in this store again. I can't believe they can get away with this.

I ordered furniture and other items from PB on December 30. Received confirmation that the items had been ordered. Two of the items were white glove items, the other could be mailed. The first item, a $500 mirror was dropped off at 848 PM and Sat on our doorstep all night. Two other items arrived. I called on the 11th and to inquire about delivery. Called again on the 26th and was told both remaining items were in warehouse and would be called about delivery the next day. NO call the next day. I called and was told to call delivery-am 1/2 hr. on hold. Called a supervisor. Supervisor called 2 days later and informed me that bed had never been ordered from their end. Dresser had been ready since Jan. 12. No apology. Told me that if I reordered I would have to wait until late March. Tried to give me number to call shipping. This company HAS to get it together!!

Pottery Barn doesn't have record of return and won't refund. I ordered two rugs for $448 - the rugs were too long (2.5 x 9); then next day ordered two 3 x 5 rugs which fit. Then, using Pottery Barn's online return system, I printed out two return labels. The rugs were dropped off with UPS. I did not keep the tracking info nor did I have to pay for the return. Months went by and I was not refunded. When I called to inquire, I was informed that Pottery Barn did not have a record of a return, nor did they have a record of having issued any returns. As they don't have a tracking number (and I didn't write it down), they will not refund me for the rugs.
The rugs were brand new, in the original packaging and were sent back to Pottery Barn. I was told that "It's too much money to refund without the tracking number." I find it unbelievable that I am supposed absorb this cost. This is a company that claimed to pride itself on good customer service. Clearly, something went awry with their returns system, but the customer shouldn't have to take it on the chin. I am now a very unhappy customer - and I would caution all customers to be wary of returns.

While Pottery Barn has really tasteful and well-made furniture, their rewards program is a joke. First off, I made two purchases against the 12 financing option. These items were subsequently returned. Unfortunately they were returned as rewards points ending in a negative point balance. When I reached out to Comenity Bank, they referred me to Pottery Barn, who referred me to Comenity bank, who referred me to the store of purchase, who referred me to Comenity bank. I had to give up. There are limited hours in a day.
2 months ago I made a purchase and forgot to provide a $25 certificate code. I called the following day and the customer service agent said it was possible to add it after, and proceeded to take the information. I never saw the credit appear on the account, so subsequently called in. I received an apology and told it would be corrected in 24 hrs. It wasn't. Called in again after I received my statement, told it would be fixed in 24 hrs. And finally today, after 4 calls, I am told the rewards code cannot be applied after the purchase is made. I am sorely disappointed with the lack of knowledge and cohesion between Pottery Barn and its rewards program. It doesn't work. It should not have had to spend hours to get assistance on issues, that I never ended up getting resolved. I will be moving on to another retailer.

DO NOT BUY THIS SOFA!!! It is the most uncomfortable sofa I have ever sat on. It is not available for return or exchange if you buy it. The back cushions are too small, I had to remove them completely and buy 6 pillows for across the back and 2 on the side to make it marginally comfortable. I have to see my chiropractor every time I sit on it for more than 1 hour. I bought the chair and sofa under the recommendation of an interior decorator and chose the Sunbrella performance weave fabric in grey, down option (which was a total waste because I had to discard the down back cushions) and the single bench seat cushion on the couch.
I wanted to be able to use the couch as a guest bed because I am in a tiny 2 bedroom condo. It is comfortable as a bed because the seat is very deep, I think this is why it is so uncomfortable to sit on. I was also disappointed in the fabric, I chose the Sunbrella performance because it was supposed to be the most durable, but my cat's claws (which I trim regularly) snag the fabric very easily. The quality of the build seems to be OK but for the price and due to the no return or exchange policy, I would avoid this purchase!!! I spent well over $3000 for these two items and could have got a very similar product at Living Spaces for 1/2 the price. Sadly Living Spaces opened after I order this sofa and chair.

DO NOT BUY FROM THIS COMPANY!!! On January 5, 2017, after receiving e-mails from them advertising a furniture sale, I went online and carefully chose from various options. (This can be a daunting task if you've never picked out a sofa before). After finally deciding, I purchased a sofa. I was so excited because it was listed for a great sale price, which is why I was there, after being lured from receiving e-mails, and I've been wanting to get rid of my sofa and love seat due to sizing. Once I made my purchase, I started making arrangements and found an interested buyer of both my sofa and love seat. Because of the discount I received on my Pottery Barn purchase, I was able to offer my buyer a very generous price, far less than what they were both valued at.
On 1/16, I received a phone call from PB stating that my order was cancelled due to a pricing discrepancy. They were cancelling my order, due to a mistake THEY made. I spoke with 3 different customer service reps and the only thing that offered to do for me was give a 30% discount on a full priced item. THIS IS A STANDARD DISCOUNT PERCENTAGE AND IS NOT UNIQUE. I am outraged by this company. I have contacted their corporate office, Williams-Sonoma and have even have gone as far as filing a consumer complaint. Next will be a lawsuit This is FALSE ADVERTISING. This is the worst company and I will spend the rest of my life warning people to not spend their money with them.

I recently purchased a beautiful love seat and matching fabric. Was told that I would receive double rewards for the purchase at that time. I opened a credit card and agreed to the terms even though I had another credit card which I should have used. I received my bill and only the 10% was sent back in rewards. After calling multiple time to the customer service and bank was told that the purchase was not under the double rewards since the purchase was not actually charged until it was delivered. Strangely enough they did send the single rewards. At that point I went to the store and we spent 45 minutes on the phone with various people who did not have a clue about their policy. Needless to say I will spend the rewards that I was sent but even now they told me they would charge my card and then credit it back. I really do not know if that will be the truth but at least hope to get the rewards they sent.

I noticed that there was a free shipping offer so I attempted to order the faux fur futon cover and was told it was out of stock. I asked for a rain check and was told that I could not get a rain check. I explained that I felt that it was unfair that I was being punished because they ran out of stock. She said once it was back in stock I could order it but, not use the free shipping offer. I decided to go elsewhere to purchase one. This is a horrible policy. I am finished purchasing for myself and my family from Pottery Barn and Williams Sonoma.

During the PotteryBarn Primer Sale we purchased a sectional sofa for our family room. Today, I received an email stating that our order had been canceled because of an error, on their end, with pricing. I figured that it was a mistake, as I have a confirmation for my order. There is nothing on the confirmation that would indicate that for any reason, my order could be canceled.
When I called customer service, they held the position that they have every right to cancel a customer order, if for any reason they find that they have made a mistake or need to make a change to an item. As a customer who has purchased several pieces of furniture from Pottery Barn had my wedding registry with Pottery Barn, and have countless items from Pottery Barn, West Elm, and Williams-Sonoma, I am beyond disappointed with the response that I have received from their customer service department.
I explained that if I had come to the store to purchase an item, and then left the store with my item, they certainly would not come to my home to take it back. When a company makes an error and the customer benefits, I strongly believe that it is in the company's best interest to honor their prices and respect that consumers have a choice in where we spend our money. I explained to the customer service provider that to lose a customer over a mistake on their end, only confirms that Pottery Barn has truly forgotten that it is the consumer that matters most. I can only imagine that when Pottery Barn began to boast themselves as having the finest customer service, they did not mean only sometimes, based on their discretion. As a consumer with many options, I will never spend another penny of my money at Pottery Barn, West Elm, or Williams-Sonoma.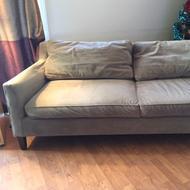 We are extremely disappointed with both the Beverly sofa and love seat. The sofa came with stains on it and had to be returned for service. After only a couple of months, the right seat cushion is noticeably sagging, as are the back cushions. The love seat back and seat cushions are uneven. You slide towards the middle when sitting on it. Both are very uncomfortable!! We thought that perhaps, they needed to be worn in a little... because the store model seemed comfortable. Not so!! It's been months and they are actually more uncomfortable. They are very poor quality. We feel like we got ripped off!!

Our family spent time to pick out several pieces of furniture for our daughter. Uses the zip code to ensure items could be shipped to Hawaii. Got reference code saying standard shipping. Then we went to shopping cart to check out and received message saying item Hampton Storage Bed & Vanity Tower Set, Bed, Hutch, Left & Right Tower, Simply White, Queen, Item #: 2-8000630, Price$3,775.00.
Received following Message: "ORDER DIFFICULTIES. We're sorry, but item 8000630: Hampton Storage Bed & Vanity Tower Set, Bed, Hutch, Left & Right Tower, Simply White, Queen cannot be shipped to HI, the state you have selected in shipping address. If you choose to continue, this item will be removed from your shopping cart. Or you may click Edit Order, and choose a different shipping address." So I called customer service and lady was clueless as to why item could not ship to Hawaii... did not even check with management to find out. Well Pottery Barn, not that you care, but you just lost a $10k to $20k order!!! Terrible service by another large corporation that does not care about customer service.

We have ordered 2 couches, 8 dining chairs, a coffee table, 2 rugs, a bed, etc from PB... Every single time we placed an order the expected shipping date was WRONG and every single item we initially ordered was WRONG. They tell you the item is "available" then you purchase, they charge your card (even before shipping), then say "item temporarily out of stock".
When you try to return the incorrect items, they only provide store credit instead of a full return!!! Their rewards program is a SCAM too... Ex: We had $675 in rewards that never was mailed, so we had the clerk at store look up to use. We bought the coffee table for $800 using our PB credit card. The charges were immediately applied to the card, no rewards money has been credited, and now our statement is due PLUS we still don't have the table!!! We literally have 4 PB gift cards sitting here with 2 rewards because they have screwed up so many times and we are terrified to continue to use them. PLEASE STAY AWAY...
Pottery Barn Company Profile
Company Name:

Pottery Barn

Website:

http://www.potterybarn.com/