Martha Stewart Outdoor Furniture
Consumer Complaints and Reviews

Purchased my set from Home Depot in 2014 and today June of 2017 I heard a splintering sound and there was the table top glass in a heap under the table. The clean up was intense since I have dogs and cat who could hurt their paws walking around out there and I have stepping stones. Bad vendor, poor workmanship etc... Will never buy another one of her products again despite the look or style which is usually well executed. Also waiting to receive a part for chairs from the set that the company says might collapse and needs a stronger post. It has collapsed for some evidently and that is why they are doing this. Terrible experience all around.

We purchased the Martha Stewart Living Cascade Valley 7-Piece Patio Dining Set three years ago. After being stored from one Winter, the table and chairs exhibited minor rust. What was worse, the after the first rainfall, rainwater that had gotten into the furniture came out the drain holes in the bottom of the pieces as a nasty black liquid. This material stained our deck and could not be washed off.
Year two, after Winter storage, rust is now significant on several chairs and especially on the table. Once again, when it rained, pure crystal clear rainwater getting into the furniture (somehow) was oozing from the weep holes at the bottom as nasty black, deck staining liquid. This happens every time it rains! Year three, after Winter storage, there is so much rust on the table it is to the point I must either sand it all down and repaint this "Durable "Powder Coated Finish" or scrap the whole thing and buy a new set. We are not happy. This was not an inexpensive purchase.
Final note, there are holes all over this furniture in hidden locations. They not only let rain water in, they also let hornets, wasps and other stinging creatures into nest within the furniture frames. This is one of the most annoying issues I have with this product. I am allergic to these little bastards and every year, I have to spray the pieces down with bug killer several times throughout the season. Martha Stewart, you should be ashamed to put your name on such a product. Moreover, you should buy back this fabulous exhibit of poor craftsmanship.

We purchased a Martha Stewart set of patio furniture - 6 swivel chairs and rectangular glass top table about 4 years ago for a large amount of money as we felt it looked like a quality set. All of the joints started rusting after a year or so and the plastic clips became brittle & broken and to make matters worse the glass top exploded this spring!!

I purchased this beautiful set at my local Home Depot as I thought it would make a great patio table (Octagon patio set) for my large family which consists of 6 children. Well, after only having the patio set for about 6 months I arrived home to see the table shattered into a million tiny pieces all over my deck. At first I thought one of the older kids must have accidentally cause it to shattered when play outside but as they all have me their word that they didn't do it. I thought from some fluke of nature a rock must have fell on it and caused it to break... (Did not find any rocks) or someone had vandalized my home... (But nothing else was damaged).
Anyway, I decided to look into replacing my $500 table and while entering the info for this specific table saw other purchasers experienced this same thing. Just Horrible! I'm so happy I was not sitting out there with none of my little ones!!! Does anyone know if there's been any type of reimbursement for this? I can really use another patio set which I do not have the funds for at the time. Any help will be great.

How do I know I can trust these reviews about Martha Stewart Living?
792,868 reviews on ConsumerAffairs are verified.
We require contact information to ensure our reviewers are real.
We use intelligent software that helps us maintain the integrity of reviews.
Our moderators read all reviews to verify quality and helpfulness.
For more information about reviews on ConsumerAffairs.com please visit our FAQ.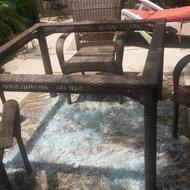 I had the patio set less than three months and had just gotten up from the table leaving my cellphone and drink there. I turned and walked a few steps away and heard an explosion and looked and the glass had exploded in a million pieces straight down on the outdoor rug. One minute earlier and it would have landed in my lap. The patio set had been in the shade the entire morning. The set presents a huge liability factor for Martha Stewart and given the reviews regarding this issue I am very surprised it is still on the market!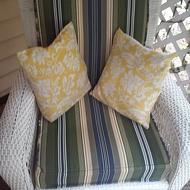 Bought these chairs about 3 yrs ago. Was initially pleasantly surprised. However, within a year the cushions were molding (on covered patio) and seams were giving way. Replacement covers were only available in a few colours. I eventually had them covered by an upholsterer friend of mine at a cost of $300 labor. I unfortunately bought the not-so-expensive outdoor fabric (7 yds) and they molded too. Don't despair! You can buy wide thick cushions without the wings and they still look great. Many online sites have these approx 23 x 21 x 4" cushions.
We also found that within a year my chair had seriously bent to the right (I tend to lean that way) because the metal downrods on the base are weak. I went online and finally found the manufacturer of the chairs, sent photos, and got 2 new bases because I was in the warranty period. No fight and no surprise on their part! Wish I could find details of them but can't. Google and be patient!

We bought a Martha Stewart patio set two years ago. In 4 months it started to rust, paint peeled off, leaks rust on our patio... Today the glass tabletop exploded into a zillion pieces. What can we do?

I received my Martha Stewart wicker dining table as a gift. Never used it. Glass shattered into a million pieces after 3 months. No satisfaction from Home Depot. Their answer was - "oh too bad". This product is terrible. Do not purchase Martha Stewart products.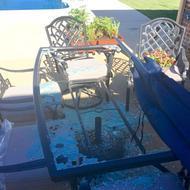 We have owned this set for a few years. While inserting a new umbrella into the hole in the center, the top shattered. I had shorts on and was barefoot. I had blood streaming down both legs from the shattered glass. Overall, we have been happy with this set until this point. After reading reviews, this seems to be a problem. Had I known the dangers prior to buying, I would not have purchased this set. Now, I am recovering from scrapes and a long laceration on my right ankle and foot. This is a beautiful but very dangerous if the top shatters when someone is near. Buyer BEWARE!!!

Three years ago we purchased the Martha Stewart Living Cascade Valley 7 pc Dining Set at Home Depot and paid $500. We felt the chairs were nice and sturdy compared to most others. After 2 yrs the bottoms of the chairs started rusting so I lightly sanded them and painted them. We pulled them out of winter storage this year making 3 yrs. They are in just hideous condition from all the rust on the chair arms and legs. Now the straw that broke the camel's back was after
setting up table and glass top and pulling all chairs out, and trying to figure out what we are going to do with chairs, the glass table top imploded. What a horrible noise and mess, but thank God it didn't happen when my husband was carrying it. Shame on Martha Stewart. To only get 3 yrs use is pathetic. It will all go to the dump will all the other Martha Stewart junk she put her name on that is now in the landfill.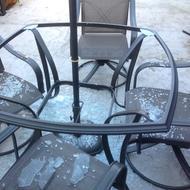 Early this morning we found the glass tabletop of our patio table shattered into thousands of pieces. We initially suspected vandalism but absolutely nothing else was harmed or missing. One daughter suspected a micro meteorite. The other sent a link to this and other websites, all of which discussed spontaneous shattering. Patio set bought at Home Depot three years ago. Comments on websites indicate little or no satisfactory responses from any entity which may have responsibility. Am shopping for new table!

We bought the conversation set and 2 chaise lounges. The fabric is the absolute worst! Fading, ripping for no apparent reason, rough texture. Didn't make it through one season. The line is now discontinued (no surprise) and it is more than frustrating to find quality replacement cushions that don't end up costing more than new furniture! Yikes, I would like to start all over but somehow this didn't right. It appears that everyone else had the same experience. Anyone have any suggestions??!

I have already given a review on my patio set (June, 2014). After reading all the reviews on the shattering (mine hasn't) of glass inserts I took the measurements of the opening without the glass, went to Home Depot and had them cut a sheet of plywood to those exact measurements (got two insert pieces from one sheet). I then bought a sealer for wood and outdoor paint to match the set. The plywood insert fits perfectly and with a tablecloth on one cannot tell. If you use an umbrella, a hole would have to be cut. I actually don't use the glass now and am much more comfortable as the fear factor is gone.

Purchased a complete set of quarry red Martha Stewart Wicker furniture, put loveseat out for one week, under my top patio. One day of rain and now mold on all four cushions. We purchased this in Portsmouth New Hampshire last fall at Home Depot, (we were building a new home) put it together, kept it indoors, now I can not get a answer in Canada. They saying green is available. This is not right for items classified as OUTDOORS. What can I do?

We have had our 7 piece set for 3 years and we came home to find the glass shattered. By doing some online searching, this seems to have happen to a lot of others. Can't find how to get a replacement glass for it. Very disappointing.

Heard a loud bang. Thought it was a dump truck driving by. Later in the day I was letting my cat in from the deck and the table glass was shattered into a million pieces. I could not believe it. I tried to figure what had happened. Maybe something fell from the sky (Lol).

I purchased the Martha Stewart Miramar II patio furniture, including table with 6 chairs, conversation set with bench, table and 2 chairs, and the set with 2 chairs and table. I have had them outside this summer, and only half of last summer. All the cushions are falling apart, tearing and stuffing coming out. I am unable to find where to get replacement cushions, and feel they should be replaced for free. This is unacceptable!

Purchased 3 chairs, a love seat and ottoman 18 months ago. The fabric of the chairs and ottoman are shedding. Overwintered in garage and subjected only to sun. Replacement covers have been discontinued. Have requested Martha Stewart to replace.

We had left the house for about an hour and returned to find the patio table completely shattered. The chair fabrics is also of poor quality and has begun to shred.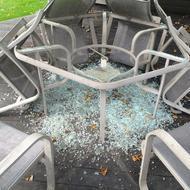 We've had this patio set for some time. The other day, for no apparent reason, we found the glass top shattered into thousands of pieces. The ConsumerAffairs.com and other websites confirmed that this is a major problem that has been occurring for years. Nobody, not Martha Stewart, not Kmart (where we purchased the set), or JRA Furniture, the manufacturer, will take any responsibility.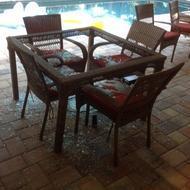 Charlottetown dining set 1 year old glass table top 42" square shattered this week. Weather not an issue. Glass everywhere and may have compromised our swimming pool. Called Home Depot and it is not covered for replacement. The cushions from the seats, $1,200 set, are staining and cannot remove the stains.

On July 10, 2015 the glass top on our patio set shattered. Glass was all over the chairs and on the patio as if it had exploded. Thankfully it had happen sometime during the night and no one was hurt. We have had this set for several years and I do not have the receipt. I did however save the broken glass.

Our 2 year old Martha Stewart Octagon Patio Table top shattered into a million pieces. Looks like it was blown over in a storm while we were away. My problem is that I'd like to replace the tabletop and do not know how to. I would even consider buying a new table but they are only sold with the chairs which I do not need. Two problems... dangerous situation with the glass shattering and also second, if this has been a problem as I have read, how come replacements are not available? Please help.

I purchased my set of Martha Stewart Charlottetown 5 piece set and was very happy with the look and comfort of the set. My Father told me I'd better spray the cushions to protect them and I said they are for outdoor use. Within 2 months they had bad fade marks on half of each cushion. My set sat under a large covered patio gazebo. The sun hit them just at the bottom half. They look terrible! I looked into getting new replacements but they are so expensive. Not happy and unless you put them out of the sun they don't last 1 summer season.


I purchased Martha Stewart patio furniture- patio table set, 2 lounge chairs, 2 side tables, chat set & bar table set. Frames have a 5 year manufacturer warranty. One of my chairs broke at a weld in the frame but no one will help me with the warranty to get it repaired or replaced. So what good is a warranty if no one will honor it? Who is responsible, Home Depot, Martha Stewart or Casual Home? Order Number: ** Order Date: Aug 11, 2012 -sent email to 'custserv@homecasual.net' but it is undeliverable!

It seems like the same story over and over again with many customers who purchased the Martha Stewart Outdoor Furniture from Kmart. I have read all the complaints and to my surprise I am in the same situation. We purchased the complete set and the glass table top shattered the same way everyone has explained. The temperature today was 76 degrees and when I came home at 2:00 I found my table shattered. I am also very disappointed and it looks like there is no help for any of us.

We purchased a three-piece wicker set from Home Depot about two years ago. The cushions started to shred away just after the first year. I don't know what avenue to take to get this taken care of as Home Depot won't do a thing.
Martha Stewart Outdoor Furniture Company Profile
Company Name:

Martha Stewart Living

Website:

http://www.marthastewart.com/