Consumer Complaints and Reviews

Delivery was scheduled for Thursday and time window was given from 12.00 to 2 pm. My husband took half day leave from work to wait for the delivery. He waited until 4 pm and no one turn up. No phone call to explain delay or problems. I called the customer line and was told Ikea could not contact the transporter!!! They promised to call me in half hour time. Again waited till 5.00 pm. No call or email. I called again at 5.45 pm (which took me 15 minutes to be connected!) and I was told that there was system problem and they can only deliver 2 days later. You would think people have no other better thing to do than wait for Ikea to deliver??? HORRIBLE SERVICES. This would be the last I'll time we'll buy from Ikea!

Order a black cabinet instead of white so I called back to correct the mistake. 1st call to the call center= "Our computer is down. Call back tomorrow." Call the next morning = "cannot help you, go to the store." At the store the next day, I was told "cannot help you, your order is out of the store somewhere. You have to purchase new cabinet and refuse the one you order when they deliver in 2 weeks." The customer service at the store told me they did not care about what the call center told me, most of the time they do not know what is happening at the store. The service people at IKEA are not well trained and don't work as a team. Also the delivery process is given to a third party not well connected to the store. I am surprised they are still in business.

On 10/14/16 I purchased 3 products from Ikea, Tampa. I live about 45 miles away. #1-Resin sink 302.261.73 for 200.00. #2-Cabinet 801.955.36 for 199.00 and #3-Faucet 102.400.28 for 99.00. Total of 498.99. The sink is either missing parts to attach to the wall hung cabinet or I was not told to purchase the parts. Either way I need parts to attach the sink to the cabinet.
Attempting to seek help from Ikea all roads lead to the same customer service support. No one, absolutely no one has picked up the phone in 4 total hours. I called twice. I have attempted to reach a local number to the Ikea in Tampa and again told to contact the same number over and over. All other attempts to circumvent the system have failed. Do I have to drive 45 MILES to speak to this ** COMPANY. My strong advice.... If I am not able to resolve this matter I will NEVER BUY a PRODUCT from this company AGAIN. I suggest you listen to what I have just told you.

Ikea is a wonderful website, but if you were to get it delivered don't do it! I ordered on 12/25 and they said that the delivery should be here by 1/4. I had to call about 3 different agents as IKEA uses third parties for delivery. Now they are saying it will not be here until next week. It is very inconvenient when a website does not tell you when your order will be here. And on top of that they say that it takes 2 days for processing and no more than 5 days to send it out. Well it will be three weeks IF it comes next week. Never ordering from here again. I will next time just go to the store to buy items.

I ordered 2 sets of Malm drawers on Dec 9. I received the first set within 2 weeks however it's been almost a month now (Jan 3) and I have yet to receive the second set of drawers. I called Ikea and it took 30 minutes to get a live person on the phone only to be told my order is in transit. Which is what I've been told since the order was placed. CUSTOMER SERVICE NOT THEIR TOP PRIORITY. It would've been quicker for me to drive over to pick it up from the store. I WILL NOT BE USING IKEA EVER AGAIN FOR ONLINE ORDERS.
How do I know I can trust these reviews about IKEA?
667,311 reviews on ConsumerAffairs are verified.
We require contact information to ensure our reviewers are real.
We use intelligent software that helps us maintain the integrity of reviews.
Our moderators read all reviews to verify quality and helpfulness.
For more information about reviews on ConsumerAffairs.com please visit our FAQ.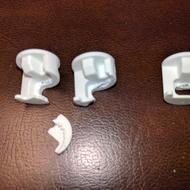 I have purchased 3 identical BESTA 60" tall cabinets over the past 6 or 8 years, along with dozens of other storage solutions for incidental and occasional use. I have a small construction company and have even sold 2 Ikea requested complete kitchens (less countertops and appliances), with very good success. On Dec 30, 2016 I purchased a white BESTA cabinet, with matching double glass doors, and 8 shelves, to store various table linens and placemats on low accessible shelves, in lieu of totes on closet shelves. This unit was a catastrophe waiting to happen!
In the past, the cam locks have always been aluminum (of varying grades), but at least accepted a turn to TIGHTEN the cam onto the post as required. NOW, the cam locks are brittle PLASTIC, which was not able to be snugly installed. Instead, of the first 4 of 8 needed to be secured, 2 of them broke readily, long before they were snug. This required a trip to Lowe's to purchase their aftermarket equivalent, at a cost of just over $10.00 for the full set of 8 needed. Instructions have always been "buyer beware", with minimal instruction on where hinges are to be set relative to adjacent doors, without first checking half-installed hinges against the frame, then marking, then confirming with the second door (or third, if it applies).
In view of recent unfair lawsuits singling out Ikea for unsecured shelving and other furniture being unsafe for climbing children, some changes have occurred for the common lay-person to install and secure them to the wall. Every manufacturer out there has similar issues if someone climbs on a dresser or bookcase if it isn't secured, so why Ikea? Regardless, the liability concern also removed casters from the options available for "feet" for this furniture. I had to steal them from another previously assembled piece, leaving it fixed where casters would have been preferred on the older furniture.
Bottom line, panels seem to be more sloppy in their consistency of finish, slotted holes cleaned out of sawdust, and VERY poor fastening hardware. To save 2-3 cents per unit by making the cam assembly pieces plastic, and thereby unable to properly assemble, Ikea INCREASED LIABILITY for those who are not smart enough to go get aluminum replacements. If I had done like so many would, and assemble it with the plastic cams, it would be much more susceptible to failure and injury. STOP SAVING PENNIES, AND MAKE THE ASSEMBLY PARTS USER AND SAFETY FRIENDLY!
STOP ALLOWING ACCOUNTANTS TO MAKE PRODUCT AND QUALITY DECISIONS BASED ONLY ON COST! I will be returning legs that ended up not being used and will be bringing the receipt for Lowe's where I was forced to purchase the metal cam locks. I truly hope my request for being refunded for that cost will not be met with anything but a cheerful refund when I return to the Canton, Michigan store. Please everyone... BUYER BEWARE and make sure you DON'T use the plastic included parts to assemble your cabinets or shelving!


There were agents everywhere in the store. It took about 3 minutes, and someone showed me the area I wanted to look at.. Bedrooms. I love going to Ikea. It's a nice atmosphere.. smiling agents.. and lots of awesome furniture selections! Know what you want, when you go furniture shopping.. take your time, ask the attendants for help, make sure you check their prices, sometimes there are sales! I think Ikea is very innovative, it's a great place to shop for your house!

I was intending to buy a £100.00 gift voucher for a Christmas present and was bemused and annoyed by the fact that a standard delivery cost increased according to the value of the gift card I wished to purchase. Rather idiotically in fact, the higher the value of the gift card, the higher the delivery cost (an interesting way for a business to encourage higher spending from their customers!). The way in which they are posted still remains the same (standard delivery). I then called Ikea to ask for an explanation and was told it is "down to the picking in the warehouse process".
They could not tell me why it was more difficult for them to pick a £100 voucher than a £50.00 voucher. According to their delivery charges, it is cheaper for them to have to pick two £50.00 vouchers than or a £99.99 voucher than a single £100.00 voucher!! It seems they are simply looking to profit on the Royal Mail delivery charges! I then asked them if they could email me the gift voucher (which is a pretty standard option in the 21st century), but of course, this was not an option (they are quite determined to profit on their delivery charges!). Needless to say, on principle and determination not to support such greed, I shall be taking my custom elsewhere.

Delivery was scheduled for next day and time window was given from 1 to 5. I waited till 5 and then received call from driver that address is wrong and as per contract with IKEA he is canceling the delivery. There was nothing wrong with address!!! I had to go to store for rescheduling and I was told that delivery will be done two days later for same time window.... Again waited till 5, got email and call that delivery is delayed to 5 to 7, waited and then 8pm I called customer service of delivery company and I was told that delivery guy could not find merchandise from store!!!! DON'T PAY FOR DELIVERY... HORRIBLE SERVICES. Get furniture... hire someone for that much money to deliver if you are buying lots of furniture or cannot pick in your own vehicle or don't have friend to help!

Coat rack, bench and shoe rack for mud room. Never needed to use customer service. Everything came with easy instructions, all the parts. I had trouble picking what I wanted because all the different choices. It was very easy to place my order online after I finally picked what I wanted. I had to go back in and make a second order for the coat rack and bench because my daughter loved both and had a perfect place for them. The next time maybe I'll show her first and order 2 right from the start.

Queen-size bed & mattress. Delivery on-time. We love the bed and fast service. When it was delivered it was easy to assemble with clear instructions included with the product. We are very pleased with our purchase.

I went to Ikea for an inexpensive couch. Found what I needed. Went to fill out the forms and handed over my Amex. I was told that I could not pay there but that I had to go to the checkout. "Well where is that," I asked. I was told to go down the stairs and follow the arrows. Well the arrows just kept going and going. I understood quickly that I was being FORCED to go through the whole store AGAINST my will, so I turned around and got myself back to the beginning. Then I tried to exit. I was at this point NOT going to buy from IKEA.
I could not out. I started to feel imprisoned and claustrophobic and I started to have an anxiety attack. I walked over to a counter with Ikea employees and asked if I could get out because I was feeling trapped. They pushed a button and I was out. "Whoa...!" is all I can say about this horrific experience. I believe Ikea is Swedish owned and that Sweden is a socialist country which basically dictates how people should live and that's totally against my American idea of being to enter and leave an establishment at my will. I will NEVER set foot into Ikea again!

Buying from Ikea is like buying from a yard sale. Looks cheap, but the terrible customer service, the time you spend assembling and fixing errors, and the loss due to a horrible warranty program make other option much better. If you want cheap furniture, buy Craigslist.

I am disgusted with my experience in the restaurant. The hot dog I had had mold on it and my chips were cold. The service time was very long and the hygiene was not up to standard. I am very disappointed.

After being delivered the wrong items in the boxes (items were labeled wrong), I have been trying to get IKEA to replace the item. They never returned my email. I have spoken to 2 customer service people who have both given me case #'s which one of them said the first case was already closed, even though I had not done anything with the merchandise. They suggested I drive 75 miles to the nearest store and bring the boxes back (I had paid the $150 delivery fee). I told them no, I'd like to have them pick up the wrong box and replace with the new box.
They told me that there was a system error when trying to arrange this, and I have to wait for someone to call me back. I asked if I could just dump the desk back on them and get a total refund, and they said, "Yes, you can bring it to the store and someone will help you." No guarantee on what that means. I think they are the worst, most unhelpful, or apologetic people in the industry. Never shopping there again. Buyer beware.

We spend 40 minutes discussing our order in this store, paid for everything, scheduled an appointment for delivery. However, when our order came, we found out that everything was wrong: the size, the color... Calling them and trying to resolve this problem is an impossible task. Will never buy there again. The only good thing is that we can get credit card involved.

I purchased a kitchen and countertop through IKEA Canada in Montreal. They subcontracted the countertop to a Quebec company called Summum Granit. This company has changed my delivery 3 times in a row without even informing me. Every time I called them they gave me a new delivery date. I don't know when I will have my counter yet and it looks like they have a contagious memory loss with Mr. ** who forgot he had given me an appointment on this Thursday Nov. 17, then forgot another appointment for me on Friday Nov. 18. Now he has given me an appointment on Nov 21. But who knows if he still remembers?

Thankfully, we had no issues with delivery, arrived on time and everything we ordered. We ordered from Burlington, Ontario store. But putting some of the pieces together takes some who likes Sudoku. It's not that the work is hard, it is the instructions that are either hard to figure out or don't make sense. I was putting together a cabinet with five drawers. The instructions for the cabinet do not show any drawers. You have to open all the drawer packages in order to get out the drawer guides and attach them to the sides of the cabinet BEFORE you finish putting it together. Otherwise, it is a real pain in the butt trying to attach them after. You also have to guess where you attach the drawer guides.
Hinges they sent with a couple of the cabinets are 150 degree hinges so they open wider but they are not fully adjustable and wouldn't work. Return, replace.
Same with metal support brackets. Countertop company said they are not strong enough, return, replace for other strips of metal at a scandalous price. I would have used wood had I known.
Corner cabinet. Again, instructions backwards. Best to assemble left side then move in place, assemble turnstile, then assemble rest of cabinet around it. I glue every wooden connection especially if you are putting a heavy countertop on it. Metal hanging brackets -- we used them for upper cabinets but you will need them for lower cabinets unless you want to block back of lower cabinets with wood and screw into studs. Plastic legs -- ridiculous -- don't stay. Every cabinet door seems to have extra holes which are confusing and unsightly. I glued them. Even then will come off cabinets. Only thing on a plus is they are adjustable. Sink cabinet too weak for most sinks. Kitchen island, you are on your own. We built wooden platform for ours.

Mind me for swearing - but this is the most horrible ** delivery service I have ever experienced in my entire life. I would've given 0 if I was able to. It's surprising that whichever delivery service IKEA is partnering with in Chicago area is still able to maintain the partnership and their business. I would never ever pay for their delivery service again.

I went to my Ikea location a few weeks ago on Saturday afternoon to find out that one of the pieces of furniture I wanted for my bedroom was sold out. The associate working in the department showed me on his screen it would be restocked and in stock on the following Tuesday, (only 3 days). I had to come back on Wednesday instead and was then told it's out of stock until Saturday. I had foot surgery the previous week and was already exhausted from my unnecessary 2 trips, now finding out I would need to take a 3rd. When I came back on that Saturday the item was in stock and I placed my order for delivery & assembly service. I placed the time slot for 1-5pm on the following Monday.
Around 1pm the items were delivered and I expressed to the delivery man they needed to be assembled as I was charged $159 for assembly. The delivery man expressed he was only there to deliver there will be another person doing the assembly Service. After waiting at home from 1-6pm (giving them an extra hour to show up) I finally called to check my assembly service ETA. I was then told there was no assembly service on my order, although I was charged, the assemble team was never notified. I was then told I had to wait an extra 2 days for them to assemble the merchandise because it was too late to have it assembled the next day. This being none of my fault, I expect some sort of refund for my time spent sitting around waiting & for the close to $200 I spent for them to assemble my merchandise.

Customer is servicing is appalling - paid $1500 for goods and installation and installer would not come - would call and if no one answers in his first call would leave and then not answer your call so you have wait again. Called customer service and they forgot to put me on mute and could hear full conversation with her manager and she was terrible - back biting the customer for not answering call and talking crap of me with her colleague while waiting for manager... absolutely terrible. I asked them to pick all stock back and she was so happy to do that - she could not care less for her company reputation for the customer.

Ordered my sofa online from Temp, AZ on 10/29. Was to be delivered 11/6. IKEA never sent the parts to the delivery company so my sofa could not be shipped. Spent 2 hours on the phone with Alexis ** from IKEA to no avail and had to cancel my order. IKEA said it would take 7 to 12 days for them to refund $842.00 dollars, and they still tried to charge me for shipping on a sofa I did not receive and challenged that. This by far has been a horrible experience and will never use their online store. Just note when using online services, the order does not even come from the State or distribution center you buy it from. Learned my lesson, spend the extra money and get the furniture from a more reliable company.

I was told that my delivery would arrive between 1:00 P.M. and 5:00 P.M. They called me at 3:00 and said that they would be there in 25 minutes and then they ask me for my address again. They had been told the wrong address from the shipping department. I can't figure out how he would have the wrong address because the lady at Ikea asked to see my driver's license and then asked if the address on my license was the correct one. I said that it was. So now it's after 5:00 P.M. and my delivery is still not here at my home. I called the driver back and he said because of the mix up he would be here at 5:25 P.M. and still he has not arrived. This is really poor service. I wont be going back again. When I pay for good service I expect good service.

I placed an order for a full size bed for my daughter's apartment. It arrived in five boxes but my daughter wanted it returned (unopened) as the size was wrong for the room. It was impossible to reach a customer service representative at the Brooklyn store and the website had no portal for returns. After two consecutive days of being on hold; first day two hours and I had to hang up, second day two and a half hours when I finally reached a human, I was given a phone number where I could pay $126 to have someone pick up the return.
I was told the return would be picked up on Tuesday and if no one was home, there would be two other attempts on Wednesday and Thursday. I had to find someone to sit and wait from 9 to 5 as my daughter was on assignment in another state and would not be home. They never showed up on Tuesday and not on Wednesday. They did finally show up on Thursday and were prepared to pick up only 4 boxes. They were convinced by the waiting friend to take the fifth box. I will never, ever order anything from this company again. Their customer service is horrible.

Item ordered and delivered to wrong address even though correct address is shown on order. IKEA is not refunding the delivery charge and I do not want to re-order until they do. Waiting 45 minutes for a supervisor to advise.

Ikea changed their cabinet system and pulled all after market support for their old line. All parts are different. They never kept any interchangeable features. Repairs and replacements can't be completed. An ongoing project can't be completed unless we start over and buy all new again. During purchase of our set of the old line, even informing the kitchen rep that we wanted the soft closing features he did not include these parts in the order. We found some on eBay. The Ikea staff will not offer any suggestions as to how to proceed except tell us again that the new cabinets can't be installed with the new, or parts can't be interchanged, "too bad". This customer service is the worst of the worst.

MY ONLINE ORDER IS DELAYED BY MORE THAN A MONTH! I have been scheduled for 4 different delivery dates now and I still don't have my sofa because of different mistakes of IKEA. Worst service I have ever experienced and I am from a 3rd world country. IKEA SERVICE IS DISGUSTING. Timeline of events:
9/2 - Order date. Scheduled for 9/11. 9/10 - Call to inform delivery 1-5 PM. 9/11 - (1st delivery date). 9 AM - box is lost, they will let me know if they can make the order. No call afterwards at all. 9/12 - Nothing was scheduled at all. Have I not called they were just going to ignore the delivery. 9/17 - 2nd delivery date scheduled. 9/19 - ** 5 - 7 business days Jasmine. 9/23 - Order # **. Dynamex - Rebecca will send an email - no feedback after at all. 9/27 - Dynamics Customer Service - Amy.
10/3 - 3rd delivery date - received the delivery call 5 8:55 AM to inform me delivery is 9 AM-12 PM same day! Re-scheduled to 10/8. 10/8 - 4th delivery date
picked up wrong box. Still no 3rd box. 30 mins in phone. Called IKEA - Ref # ** - Cristina. Warehouse search for my order. 10/9 - Called IKEA - Kiara. They are saying it is a failed delivery. 10/12 - Called DYNAMEX - Still no order in record.

Bought the Micke Desk from Ikea online, they shipped it, it was late and damaged. The corners of the desk where jacked up and there was a puncture, so I called and had them send a new one, it also showed up damaged. The problem is Ikea does not package their product well and since most of their furniture items are partial board with a thin outer covering they damage easy.
I needed this desk for my business and so now we are going on two months of working without the desk I need and no compensation from Ikea for the time and trouble so I will not be shopping with Ikea ever again due to their poor customer service and cheaply made products. I have not left my real name or address on this site as I don't feel that should be required to give this site my information to file a complaint. However I have left my real order number.

Let me start off by saying that I have been screwed over multiple times by many different companies, but have yet to purchase from a company with as little respect for their customers as IKEA. First, I ordered almost $6000 worth of furniture from IKEA. I dropped off a shopping list at the store, they charged me $200 for the "picking fee" for two separate orders, and then another $200 for two separate delivery fees. Now, the part where they went very wrong is that for my first order, they never delivered 3 items on my list and neither told the delivery driver nor me about it. So now I have a half assembled couch taking up half the space of my living room waiting to be assembled for weeks on end!!!
After calling in and waiting 2 hours on the phone for some service on two different occasions, they told me that the items were not in stock. When I asked (yes, they do not offer if you don't ask) for compensate for the inconvenience, they offered me a cheap $50 gift certificate (that's not even cash!!!). Who wants to buy anything from this crappy store anymore anyway? Which brings me to my next point. The furniture is extremely low quality. They do a great job masking this with paint, but when you look at the furniture carefully, you'll notice that it's all made of cheap wood shavings that are glued together. Every tiny little scratch (you could use your fingernail) shows up on the cheap and low quality furniture. My guess is that the intrinsic cost of a $60 chair would be $2. You do NOT get what you pay for at IKEA.
My second order was even worse. First off, the delivery guy did not even show up. I was scheduled to have a delivery from 2-6pm and the delivery company stops working at 10pm. That makes them up to 8 hours late! Of course, you have to sit at home all day waiting for these ** to arrive, so I called in three different times ask where the hell my delivery was. The driver kept making excuses about why he couldn't come. I strongly suspect that the driver was too LAZY to assemble 5 different items (I paid almost $500 to get these 5 items assembled), which include a bed frame, two dressers, a crib and a desk. Instead of being honest and upfront that he was too lazy to do this (he obviously is a lowlife who can't get another job and doesn't want to get fired), he makes excuses and decides to make somebody wait all day as if they have nothing better to do.
My next scheduled delivery was a WEEK later, which means that I had to sleep with my mattress on the floor for another week (not that they care, of course)!!! When I call in, waiting 2 hours for customer service, they tell me that they can only give me the delivery fee of $99 back as if I should be thanking them for that!!! The stupidest thing is that you have to pay UPFRONT for the delivery and assembly, even if they don't show up!!! AND, on top of this greedy policy of theirs, they also have another greedy policy where the assembly fee refund is ALL or NOTHING. So in other words, you can only get the ENTIRE assembly fee refunded and have nothing assembled, or you can get them to assemble the whole thing and risk getting another lazy delivery and assembly lowlife who doesn't want to do their job!!!
I also signed up for their utterly useless "Family Card", which did not give me a penny off even after spending over $6000 on furniture and cutlery and other miscellaneous items. The card is simply a waste of the earth's resources and a waste of space in my wallet. I can honestly see why IKEA does not have a rating system on their website. They would obviously have the lowest possible ratings and get bombarded with complaints! It's also no wonder why you have to wait 2 hours in line to speak to a representative to resolve your case! There must be TONS of these cases every day! IT JUST GOES TO SHOW HOW LITTLE IKEA CARES ABOUT THEIR CUSTOMERS. IKEA's policy: Take full advantage of your customers, and abuse and squeeze every penny out of your customers while you can. Ikea has no regard for human life! It's all about squeezing every penny out of their customers!
Company Name:

IKEA

Year Founded:

1951

Country:

Sweden

Website:

http://www.ikea.com/