Consumer Complaints and Reviews

I bought this couch about a year and a half ago and it is falling apart with minimal use. I contacted customer service and they were unable to help because it is out of the 1 year manufacturer's warranty and I didn't purchase the extended warranty which from other posts sounds like it wasn't worth it. I only want to help prevent someone else from making the same mistake that I did. Won't ever return.

Years ago Haverty's furniture used to put out beautiful advertisements. I fell in love with the pictures of seemingly high-end furniture and hoped that one day we could afford it. Well, we finally were and when it was time to replace the living room furniture we went straight to Haverty's. We purchased a rather expensive sofa and matching chair. Soon we noticed a distinct fading on both pieces. New seat covers for the sofa were ordered but they were not the same color. They also delivered another chair but that didn't match the sofa. We paid thousands for these two pieces but we will eventually have to replace both within a few years. They wanted to give us a store credit, but I didn't see anything that I liked and the credit would not have covered both a chair and sofa. We would still have lost money. I have never seen the level of fading in such a short time that will eventually get worse. Never again will I set foot in their store again.

I have been waiting on my customer furniture for over 3 months. I have been waiting on samples of my fabric for over 2 months. I have constantly called to see if samples have been shipped and I receive the same response "I am sorry. Thought it was send the last conversation". Really this is so old and I am over the whole experience. No Follow up and No Furniture. Just excuses.

We purchased Prestige Furniture in late 2015, 2 Loveseats and 1 Single Recliner. Just out of the 1-year warranty period we had 2 of the seat cushions come loose from the frames. This condition allows the cushion to collapse into the frame when sat on. Now the leather dye is coming off of the foot cushion exposing the raw leather below. Customer Service told us that the cushions cannot be fixed and I should just redye the area where it's coming off. Poor Quality Furniture... Poor Customer Service. Let me add that we were 30-year customers with Havertys but no longer.

The furniture we purchased for our granddaughter, so far, is fine. Was just delivered Feb 3, 2017. However, when purchasing, we were told that any special sales that come up within 30 days of delivery or free delivery - we would just have to call to get. So I called for the $100 savings on an amount that was within limits and got that - no problem. Then Free Delivery came up and I called for that - they said that I could only get partial because the furniture is no longer on sale??? What does that have to do with Free Delivery? Disappointed by the "fake" sales pitch! They need to explain their policy much better. They told me today that they just try to be nice and help their customers. LOL Get their promotion offers in writing.
How do I know I can trust these reviews about Havertys Furniture?
722,349 reviews on ConsumerAffairs are verified.
We require contact information to ensure our reviewers are real.
We use intelligent software that helps us maintain the integrity of reviews.
Our moderators read all reviews to verify quality and helpfulness.
For more information about reviews on ConsumerAffairs.com please visit our FAQ.

Bought this recliner in Sept 2015 and the under manufactory Year warranty. They have been to my house to 4 times. Just as soon as the Manufactory warranty goes out so did the MOTOR. The extended warranty was with (Guardsman). It is now Feb and they told me they couldn't get parts. My expensive chair don't work and neither does either one of these company's 24! HAVERTYS OR GUARDSMAN Don't waste your time or $$$. I let them know I was handicap and the chair was of important assistance to me. OH well... YOU LIVE AND LEARN.

Very disappointed in the time it takes to repair my recliner. The motor went out and the recliner cannot be used for over a week because the leg rest is out. They are not accommodating on timeframe of when they can come. My husband and I both work and cannot take off to be at home at their assigned times in the am. My recliner has sat with the leg rest kicked out because it doesn't work. I was hoping to see a fast result. Very disappointing.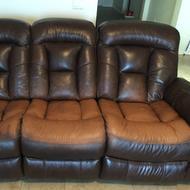 We purchased two leather sofas from Havertys along with the "Gold" protection plan less than two years ago and over that time, the dye in the leather has simply disappeared. They appear as though they are decades old and have been left outside despite being in our living room the entire time. This seems to be the status quo for Havertys as evidenced by the other reviews. They have refused to help and the "Gold" service plan is a complete waste of money. PLEASE save yourself from the hassle and just shop elsewhere.

Spent $8000.00 on bedroom set. Sales staff very pleasant & professional. My wife was home on day of delivery & I told them to call wife's phone# as I would be out of state. I was walking off jetway from airplane & got call from delivery truck crew very smart & arrogant saying that I didn't answer my phone & they were leaving. I called them within one minute when I got into concourse. They were smart with me. I told them to cancel order & stick it up their **. At that time my wife was at the gate & let them in. Very cocky & rude delivery crew. Won't shop there again. Furniture is great though!

I purchased a Payton Leather Recliner Set from Havertys Furniture in Charleston, SC less than a year ago. Within the first 3 months, the color was coming off of the recliner pillow to show an ugly orange color underneath. The color was not peeling, cracking, or flaking, it was simply... disappearing. I called Havertys and they had a technician come to inspect the problem. While at my home, the technician stated that the recliner should be replaced as the color removal appeared to be a manufacturer issue and not environmentally related. He then took pictures of my entire set. When the Customer Service department followed up with a call, they initially stated that the recliner would be replaced based on the technician's findings. I thanked them and then asked about the rest of my set.
Could I expect the same thing to happen to the other 2 pieces of the set as I paid roughly $4K for it and expected a better quality product than that which I apparently had received? In short, had they received similar complaints about this product? My question escalated the issue to management level, so the representative politely asked me to hold while she consulted a manager. A short time later the customer service representative returned to the line to inform me that the manager, who couldn't actually come to the phone at that moment, had reviewed my claim again, and I would need to call the supplemental insurance company as the problem I reported was not related to a manufacturing defect.
I was shocked at this turn of events (especially that a simple question about whether they had received similar complaints in relation to my particular furniture set had totally changed the conversation) and insisted on speaking with the manager myself. I was promised a return call that day which never came. I called back a few days later when I realized no one was going to return my call. The manager I spoke with on that occasion reviewed my call notes, and then referenced a photo the technician had taken at my home that showed an area on one of my sofas that my pet had scratched. The scratch was not related to my complaint of the color coming off of the recliner pillow, but she wanted to lump the colorfastness together with a scratch on a separate piece of furniture although one had absolutely nothing to do with the other.
I literally had to spend an hour on the line with this person, with her wanting to override the technician's finding that the recliner should be replaced, based solely on her viewing the photos taken. I was given every prescribed "excuse" for why the colorfastness had failed in such a short period of time including hair product (my husband uses the chair exclusively and has no hair), cleaning product (I only used what they provided to me), and sunlight (the chair is in the middle of a room and does not face the light source). I persisted in my questioning of the validity of her ruling that my particular complaint was not a manufacturer issue based simply upon her viewing a picture, when she FINALLY slipped up and said that only a certified technician having physically viewed the furniture in person could deem an issue to be a manufacturer defect... and what do you know, mine had done just that.
With the air of DOING ME A FAVOR, she agreed to replace my recliner. She concluded our call with the warning to immediately cover the recliner pillow when I receive the new recliner or the color would likely fail again. This statement appeared to effectively answer my initial question as to whether this furniture set was prone to colorfast failure. To no great surprise, and still less than a year after purchase - I have at least 3 new areas on the sofas where the color is coming off to show an ugly orange color underneath - not, as Harvertys Furniture advertises, any "handsome semi-aniline, top-grain leather," I have ever seen before. This leather furniture is of the poorest quality fabric/finish I have EVER encountered. I have received better quality from wholesale outlets for half the price.
Based upon my previous encounter with the customer service department of Havertys Furniture, I have no expectation that they will stand behind their product. Given that all indications show that the quality of this leather finish is sub par, and that the finish will continue to come off to reveal the horrible orange sub-material beneath it, only one of two options would satisfy my complaint to my satisfaction. I would consider my complaint satisfied with the offer of allowing me to trade in my entire set for its purchase price for a new, non-leather alternative (with the hopes that their actual fabric is better constructed than this "painted" leather offering), or a refund to total at least half my purchase price (which generously accounts for the fact that I have now had the furniture set just less than a year, but would allow me to replace this set with a comparable - but likely superior in quality - set from another vendor).
As I have detailed in this review, I have already spent considerable time being led in verbal circles by this company and do not wish to spend further time in a similar situation. The product that is the leather Payton recliner set is so far below the quality of anything the former company of Havertys Furniture would offer its customers that it should be shameful. At this juncture, I am a former and highly dissatisfied customer.

3 years ago, my husband and I purchased 2 top grain/full leather (?) sofas from Havertys Furniture Va Beach Va. After about 6 months we noticed that the sofa most used was fading on the seat cushions, but not on the back cushions, so I filed a complaint and they replaced the sofas. About 8 months later the same ugly faded thing happened only worse, so they replaced the sofas again. About 8 months into the new sofas... the same thing happened... So we were told that they would send a leather technician out to repair the faded cushions.
The "leather technician", brought with him a magic bag filled with spray paint to recolor the sofas. It's been 1 1/2 yrs, and it is just HORRIFIC TO LOOK AT!! We barely use the second sofa because we don't want it to fade!! I will NEVER USE THIS COMPANY AGAIN AND WILL BE SURE TO SHARE MY STORY ON FACEBOOK FOR MY COMMUNITY TO SEE. Sincerely Disappointed Customer, Shannon **.

After purchasing a sofa, chair and ottoman in 100% leather in Feb of 2014 in the Ft Walton beach, Florida Havertys and paying over 3,000 for the 3 I thought that I had purchased a very good quality living room furniture. It will be paid off in Feb of 2017. Last August I noticed that there was some water on the arm of the chair and wiped it off and the color came off. Also noticed that the same is happening to one of the cushions on the sofa. I called Havertys and told them.
They asked how old it was, they asked if I had gotten the extended warranty and told them "no, I did not." They said "Sorry. We can't do anything for you. If you want someone to come and look at it it will cost you I think 65.00," and then to have it fixed unknown amount. I said "Are you kidding!!! You don't stand behind your product." They said it was hand rubbed color and that is "you rub too hard the color will come off." Another "are you kidding." I told them I didn't rub that hard and the color came right off. So the leather is not dyed and just on the top layer. No wonder all of it is coming off here and there.
Never again will I buy anything from them. They are suppose to be a higher end store, but not so. The prices they charge are higher than normal, but their service is below normal. I have read the other reviews and saw the same problem. I won't recommend them to anyone and tell them not to go to Havertys if they are looking for good quality furniture. With what I paid for the furniture it will be my last purchase and I will just have to live with the way it looks. Thanks for letting me vent!!

We bought a group of oversized couch, loveseat, chair and a half from Havertys. One year later a seam split. Havertys took the whole set back and replaced at full price a year later. Replacement set lasted 25 years and through 7 moves up and down East Coast. Set still looked new and we only sold it because we downsized. We've purchased other furniture since. The quality and service are great. Very patient sales people. No hard sell. Knowledgeable sales people. Havertys sells quality furniture, great service and reasonable prices.

I arrived in MN from CA with almost no furniture. My daughter died after surgery and my small Chevy could not pull a large U-Haul. **'s let me re-furnish my apartment without even asking for ID. They have very nice stuff and reasonable prices. The final item I purchased a month ago was a lift chair. I had a complete knee replacement in July and was having difficulty getting off the couch. They have actually furnished my entire apartment, little by little. If you are looking for a no-pressure furniture store in the Springfield area, this is the place for you. Family owned and operated.
I arrived in Springfield, MN, just over 2 years ago, with my bed and chest of drawers and little else. My daughter-in-law took me to **'s and we asked if they had any used living room furniture in good condition. We went upstairs and I saw a couch I liked and Mr. ** said it came with a swivel chair, a coffee table, and a hexagon table, all for $200.00. He let me pay $50.00 a month and when I paid that off I went for a new small dining room table with 2 chairs. After I had paid that off I got a new bedroom set (Ashley) and finished off with the lift chair. Friendly folks. No pressure sales.

Purchased a patio set and discovered it didn't fit. They let us return it for a full refund. No hassles. Gave us a full refund when we couldn't find anything else we liked. Very easy to do business with, unlike Baer's!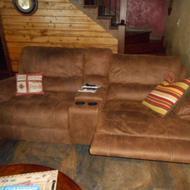 We purchased a new living room suite when we remodeled our home. Bought the Guardsman Gold Protection Plan. One automatic recliner broke at Christmas 2014. They could not fix the recliner so we were sent a new one... When it got there it was a manual recliner and so they took it back the and a month later (March by now) received the recliner. This July 4th, 2016 the other automatic recliner broke and it is Nov. 2016 and I called to check what could be taking so long and the protection plan told me that was only good for one time. "No problem. We hadn't needed it for this side until now," and they told me they had already paid HAVERTY'S FOR A FULL REPLACEMENT OF 2 AUTOMATIC RECLINERS & A CONSOLE WHICH DIDN'T HAPPEN.
Haverty's has furnished me with 2 exchange tickets that looks like we received 3 automatic recliners and a console but WILL NOT furnish a copy of a ticket where we signed for all of these pieces. Now we have a $2500.00 - $3,000.00 furniture set that one side will not work and is stuck in the reclined position. IF YOUR PURCHASE FROM HAVERTY'S WHATEVER JUST DON'T BUY AUTOMATIC ANYTHING. The repairman is a nice qualified guy from Louisiana and will only come to the NE Texas area if he has more than one call in this area.

I purchased the Nevada Sectional. It is very pretty and good quality however when the armless seat is reclined it feels like I am sitting on a bar. There is a large gap between the cushions. It's is very uncomfortable and appears to be a design defect. When sitting for any length of time the lack of support makes my back hurt and I have no back issues. Havertys came out and acknowledges the defect. I have to put a pillow behind me when sitting. They have ordered me new ones that are taking a month to come in. Hopefully, the next ones will be ok.

We bought several rooms of furniture of at Havertys in the last 6 months and they have the worst customer service I've ever seen! The leather couch arm and cushion the leather color is wearing off after less than 6 months. They sent someone out today and then called me and told me they would do nothing because it was done at home. We have done nothing to this couch to make the leather wear off! We also purchased the extended warranty on all the furniture. I could've gotten furniture that lasted longer than this at Walmart! I will never step foot in another Havertys furniture store!!

Buyer beware!!! Purchased a very expensive leather sectional 3 yrs ago. Recently, noticed tears where the leather folds, discoloration of leather, and mechanical problems with the recliners. Talked to customer and found out that they only guarantee their products (including leather) for 1 year. Little or no concern for the buyer. Very poor customer satisfaction. Could not recommend & will never go back.

Purchased this couch and within a short time there was a big discoloration where you place your head on the back, and the seat where I sit most of the time has sagged quite a bit. Warranty doesn't cover anything. Will not return.

We purchased this set in 2011. Had the Guardsman protection planned but cancelled after a year. That was a joke. As you can see in the pictures below, we take care of our furniture. The second picture shows the distinct crack around the backside of the chairs. At least four of the chairs have this crack. The decorative "wood looking" piece on the back is not wood. I called Haverty's and they recommended I call furniture doctors. We have thousands between this set and the matching buffet. We will never buy from Haverty's again.

We found a couch, chair and ottoman on the floor we liked. We ordered the couch in a different fabric. We received after 8 weeks. The fabric was not on smoothly but billowing out on the back of the chair and half. They sent a tech out who said that he will report this problem and most likely I will receive another chair. Later I was called by customer service. Best option they offered was they could take it back and give me 75% of what I paid. This is poor business and a high cost! Trust me, stay away and find a better furniture store to spend your hard earned money.

We ordered our furniture on August 15 and was delivered a week later. Furniture was cracked, glass was broken, and drawers didn't work. We called Havertys and they made us submit pictures. Technicians were scheduled, and replacements were ordered. In the mail the day before our delivery we received a free shipping coupon from Havertys so we called. Even though we already purchased our furniture we thought since it hadn't been delivered they could apply the coupon. Havertys said they wouldn't so we said we would cancel the order and just re-buy to get the free shipping. The customer service rep got a manager and he approved the free shipping.
A week later I called to see about my refund. Havertys had no clue. After arguing with the manager on call, we just cancelled our entire order. Havertys accepts and instead of refunding us the $150 delivery charge they promised, they took the whole order back ($3,000). Ridiculous to say the least. We will never shop at Havertys again. Customer service goes a long way and the truth means more than a few pieces of furniture. I would rather spend more and get wonderful service than spend less and get crappy service.

We purchased from Havertys Furniture Store in Bluffton, SC three Stellar Power Rocker Recliners costing a total $2,623.47 for our home. The three recliners were delivered on 6/28/2016. Within a couple of weeks we noticed that springs were sagging and could be felt with our butts when we Sat down. The material of the bottom cushions and the backs accumulated wrinkles, indicating that the padding of the backs and the seat cushions simply collapsed and had no support. As each day went by it all became more obvious the springs and the cushions and backs were not living up to the representations made when purchasing these recliners. The representations made by the salesperson and on the Internet were that the Recliners had Sinuous (No-Sag) Springs. A No-Sag spring system offers support and a padded, tight back with 1.8-density foam test cushion.
On Monday August 8, 2016 after only six weeks since the delivery of the recliners I went to the local store to advise them of our problem. The Manager was not in that day. The next morning I called and spoke with the Manager whose tone was very rude. I offered to come to the store to show him pictures of what was occurring but he wanted no part of this and said call Customer Service. On August 9,2016 I called Customer Service to complain and spoke with a person named Becky. She arranged for a technician to come to our home on Friday, August 12, 2016.
The technician arrived and inspected all three recliners. At the time I showed him a part of the spring that I had found on the floor under one of the recliners. He turned over the same recliner and found a second similar part from the same spring. He Sat in all three chairs and observed how you could feel the springs in your butt. He also noticed the wrinkles in all three seats and the wrinkles in the backs of the recliners. He took pictures of the parts he and I had found and of the wrinkles in the seats of the recliners and their back. He took the back off of one recliner and stuck his hand inside and commented that "there is not enough batter that is why you have the wrinkles."
Not having heard from Customer Service I called again on August 16, and spoke to a person named Athena. After some waiting she advised me that the technician had written a report that he found the recliners met specification, whatever that means. In any event that was not the impression neither given to me by the technician nor spoken to me at the time of his visit. She indicated that nothing would be done as respects all the recliners except for the one recliner that would have to be taken to the shop for repair.
She did not deny that she saw in the photos that the technician had taken showing the parts that had come loose and the wrinkles in both the seat cushions and backs. Athena said she would get back to me but I have not heard from her as yet. I did what I had to do, went to Magistrates Court and filed a Summons and Complaint seeking a full refund for the defective chairs that did not meet up with the representation given by the sales person and published on the Internet.

I purchased a living room set from Havertys and in two years they had to send a tech out 3 times and replaced the entire cushion set 3 times. The set is still falling apart and now Havertys is stating there is nothing they can do because it is out of warranty. I advise no one to purchase anything from Havertys. The furniture is junk and I have to continue to make my payments. It is ludicrous.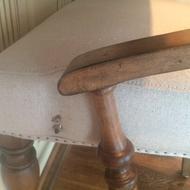 We have made many Havertys Furniture purchases over the years. The last purchase was for three (3) barstools - wooden in construction with linen fabric. Beautiful chairs, but hesitant about getting linen fabric for kitchen area. We were persuaded by the salesman for the first time to purchase the Guardsman protection plan to cover ANY PROBLEMS including if the "dog eats the chair." We have had to use the plan 1st for one of chairs which was delivered with a greasy fingerprint on it (should not be a protection issue since it was delivered that way), 2nd for a stain that would not come out.
When the delivery person delivered the replacement chair one of the arms of the chairs was loose - I had to point that out. He said, "No problem, I can tighten that right now." Well over several months time (these chairs are rarely sat in) a family member came to visit and was sitting in the chair when the arm literally fell off one end. This happens to be the chair that was "replaced" because it came in slightly different color than the other two. I filed a claim and guess what, "it is not covered." NEVER, NEVER, NEVER again will I purchase this scam!
First of all, I am so very disappointed in the quality of the chairs - have never had such bad experience with a Havertys purchase. Second, Guardsman makes it so very difficult to even file a claim. You first have to go online - fill out questionnaire, attach photos of the damage, then photo of the furniture in its "natural environment" and then print out a form to mail in - after they receive the mailed copy you wait another 10 days for a response. Guess what, NOT COVERED. PLEASE DO NOT LET THEM TALK YOU INTO THE SCAM!!! Very disappointed in quality of Haverty's furniture - obviously not what it used to be!

My first time shopping at Havertys has went from one of the most exciting experiences to one of the worst. I purchased a queen bed frame but decided to upgrade to a king. I called the store to initiate the change and was told my sales rep would get back to me. He never did, so I decided to go into one of the other Havertys stores specifically because they had the bed on display and I wanted to see it again. That was probably my first mistake.
My new sales rep insisted that I buy one of their mattresses even though I declined more than once and clearly stated I already had a mattress in mind I wanted to purchase from online. I was told I could not possibly find a good mattress online. Needless to say I decided to purchase the mattress from Havertys. The mattress when tested at the store was fairly comfortable and the price seemed right considering the one I wanted to purchase.
Come day of delivery, my bed frame could not be completely assembled because some of the pieces that came were the wrong size. About three days later the delivery team returned with what should have been the right parts but arrived with the wrong parts yet again. The first time the error was made was not so bad, but the second time put me at a complete inconvenience. Not to mention customer service made no effort to speed up the delivery of the correct parts nor provided an explanation as to why there was no rush on the issue.
I had family coming so we had no choice but to use the mattress as is without it sitting properly on a bed frame. At this time I discovered the mattress did not have the same feel as it did in the store. I even wondered if they delivered the right mattress. I called customer service to return the mattress and was told the mattress would feel different once the missing parts arrive and the bed is properly put together. Additionally, I was told to test it out for 30 days to break it in and so that I will not be charged a restocking fee for returning it too soon.
Well, the delivery team returned a third time and finally came with the correct parts for the bed frame. 30 days later and the mattress still feels uncomfortable. I called customer service to make the return and was told the return would be processed and that I would get a call back to let me know the date the mattress would be picked up. Instead I got call back from my sales rep who sold me the mattress and was told that it stated no returns AT ALL on the receipt for the type of mattress I bought. Her solution was for me to purchase a mattress pad. I believe if a mattress is any good, or the is the right mattress, it should not need a mattress pad.
Seeing as though I was not getting anywhere with the sales rep, I called customer service again. I was told that it says on the receipt that the mattress had a 3 day return policy and since it is past then it cannot be returned. Now that statement and the sales rep's statement was contradicting. So did the receipt say no return at all or was there a 3 day window? Let's not forget my bed wasn't even fully assembled for over a week and for that reason I was not using the mattress initially to even make a decision within 3 days. Plus considering customer service telling me weeks ago to test the bed out for 30 days then I can return it after. Given all of that makes this situation a mess.
Had I been aware beforehand (obviously I did not read the receipt to know what it actually said) that there were supposedly no returns allowed PERIOD on the mattress, that would have been a red flag and I most likely would not have purchased the mattress. Given the issues with the bed frame and my original conversation with customer service regarding the mattress, I was hoping to still get the bed returned and receive a full refund. Which would have been the RIGHT thing for Havertys to do.
I ended up with a store credit to pick another mattress within 20 days. However, I am completely disappointed and unsatisfied. Instead of being left with the feeling that at least Havertys satisfactorily rectified the situation so that I would have no issue shopping there in the future, I am now being forced to shop at Havertys for another mattress that I do not want which I possibly may not be able to get a refund on if I do not find it comfortable.
So say so done. I went to the store to pick out another mattress. The two I found somewhat comfortable, both had a $2000+ price difference. I had to get an increase in my Havertys card. Which means more and longer monthly payments. I am so stressed out over this mattress situation that I left the store without one. I just want my money back! (In this case credited back to my Havertys credit card) and for Havertys to pick up the mattress. Is that asking too much?
Also I have learned there is no such thing as a refund on the mattresses. They will just keep doing a store credit for you to go pick out another mattress. Unacceptable! I am done with Havertys. Obviously Havertys does not care about losing customers though, or at least this one. They just care about money and sales. Customers should hope nothing ever goes wrong when purchasing from Havertys because they probably won't be satisfied with the outcome. The mattress was/is Posturepedic Planters Grove Plush Euro Pillowtop. I highly do not recommend it.

I was a Havertys first time customer and this will be the last time that I purchase from this furniture chain. My spouse and I purchased a bedroom set after moving into our first new home as a married couple. We made the purchase 2-3 weeks prior to delivery. On the date of delivery which was Saturday, July 23rd, we were informed that the warehouse had put the incorrect on the truck. The driver stated that he needed to complete his deliveries for the day and would return later that day with the correct rails as they were likely improperly tagged. After waiting a few hours, I called customer service and was informed that they needed to wait until the delivery truck returned before they could do anything. They stated that they would call me back later that evening.
I decided to call them when I didn't receive a call back only to find out that the office was closed and would not reopen until Monday. I called on Monday morning and was informed that the correct bed rails would be delivered on Wednesday. In the meantime, we slept with the mattress on the floor which intensified my back problems. Delivery was confirmed for Wednesday between 5-7PM. We waited and waited and at 6:45, I called customer service because I now know that they close at 7PM EST. Customer service reported that the rails were not on the truck and would not be delivered on Wednesday. She did provide another date of August 2nd to deliver the bed rails. Really? 10 days later and 10 nights of sleeping on a mattress on the floor? Unacceptable.
At the very least, we should've heard from customer service to explain the delay but no, we initiated each call ourselves. We offered to pick up the rails ourselves and assemble the bed but we were informed that the rails had to ship from Atlanta. We reside in Maryland. Next time we will take our business elsewhere. Steer clear of Havertys. (Picture attached shows the incorrect rails sitting against the wall in our bedroom and the headboard and footboard.)

I bought a sectional and coffee table from Havertys in Memphis to be delivered on a Wednesday. My wife took the time off and stayed home to accept the delivery. Delivery arrived on time but the sectional they brought was not the same color we ordered and the coffee table was missing the glass top. My wife texted me the picture of the sectional they brought and I told her to reject it. When she try to explain them that they got the wrong color I hear them arguing with her over the phone. I finally get one of the guys on the phone and told him to leave my home with the items he brought.
Since the salesperson gave me his card when I made the purchase, I called his number to tell him what happened. The phone went straight to customer service and after a long wait a lady answered the phone. Gave her my phone # and address and she told me that there was nobody at home to receive the delivery. After I explained what happened she put me on hold for an awfully long time and came back with apology that the driver made a mistake. She took my information and told me they will contact me in 24 hours. Now I will be sitting on the floor till this guys get my stuff home. You may see what I ordered and what I have received from the pictures.
Havertys Furniture Company Profile
Company Name:

Havertys Furniture

Website:

http://www.havertys.com/