Consumer Reviews and Complaints

I visited the Havertys store in Alliance, TX and purchased a marble dining table set (table + 4 high chairs) few months ago. Few weeks later we noticed that the table started to deteriorate very rapidly even though we were using it to a minimum. We started seeing streaks, marks and heaving stains as if we were putting hot items and burning the table which of course we weren't. We always use coasters and never put anything hot directly on the table, yet there were circles and marks everywhere which could not be cleaned. I tried many cleaning products but no luck. Few weeks ago I called their customer service to report the issue and sent them pictures but they were very quick to conclude that it was wear and tear. I did not accept that answer and told them that I purchased many other items from other places that were much cheaper and they never deteriorated this quickly and considering this is a marble and expensive item.
Shouldn't the quality be even better? I also asked them how could they tell that it was wear and tear without doing a close inspection? After the call was escalated they finally agreed to send a technician to my home to look at it. A very rude guy showed up few days later, walked in very fast and again quickly turned very negative and started telling me immediately that this is not covered and that they will not replace the table (took about 30 seconds for him to come up with this conclusion!!!). No testing, no close inspection and he left quickly afterwards.
I called Havertys back to tell them about my experience and they didn't seem to care. I went back to the store to buy an additional 2 high chairs and told the manager about the issue. He promised to contact corporate and have another technician come out but that never happen. I'm stuck with a damaged item which obviously was bad quality, had a bad finish or material and maybe even defective but this company refuses to provide or discuss any options with me.

We went to the store, picked out the furniture we want and chose the 36 month financing. We asked for a Saturday delivery, but we were told there were no appointments available. Fine. We scheduled for today, 8/30, with an understanding that we would get a 4 hour window and then a 2 hour window (the day before delivery). Our appointment started out at 5:15 to 7:15. At the time I checked the status, it showed (at 5:30) there were five other stops ahead of us. The estimated delivery time got pushed back twice, and finally we got a call stating we would not get the delivery today at all. Instead of their bumping someone else from tomorrow's delivery, they said we MIGHT get it delivered Saturday (mind you, it was Saturday that we asked for in the beginning!) Then... We were told "If not Saturday, it MIGHT be Tuesday". Might be? How do we go from a Wednesday delivery to the Tuesday of NEXT week... MAYBE?
Furthermore, in anticipation of getting our new furniture, we gave all our old furniture away. This is TOTALLY unacceptable after we've paid a down payment and signed a contract to pay for said furniture. I have bought furniture from Haverty's seven years ago and got EXCELLENT service and quality furniture... That is the reason we returned to them. But after THIS???? I will have to reconsider if I will ever spend more money with them. This is totally SHODDY customer service... Or lack thereof. UPDATE - As of today 8/31/2017 - we've gotten a call (after 2 emails and a fax trying to get someone's attention in customer service) only to be told we'll get a free delivery (that's illogical because the delivery fee is already free). They told us we would get delivery on Tuesday (they don't do Saturday deliveries in my city... Which means they gave misinformation yesterday).
They cannot confirm the time. So... We buy furniture, put 10% down and finance the rest only to be told we can't get it when scheduled and at this point NO clear scheduled time (after telling them I'm out of town next week and my wife cannot take off work that day). This is the sloppiest lack of service I have ever seen! Had I paid cash, I would be in the store DEMANDING a full refund! My issue is NOT that they made a mistake or that circumstances may have happened beyond their control... MY issue is the lack of empathy, NO explanation as to why this happened and NO concern from management to go BEYOND their policy and make this right! So, the bottom line: you sign a contract, give them money and they deliver when THEY get ready to... And well, if they have to reschedule... Oh well. That's the customer's problem. We need to rearrange our lives to work around THEIR schedule!

I was pressured into buying Guardsman Gold warranty after paying 1600.00 for two swivel gliders. Well, the chairs are junk and nothing is covered! I went back to speak with Havertys' sales manager and he didn't offer me anything. My chairs are only 2 years old and look worse than any I have ever owned. Poor quality and poor customer service. Plus I was lied to. I was told the Guardsman Plan would take care of ANY problem. The seams are frayed and ripped. They claim NORMAL WEAR! Don't shop here. Not reputable at all!

Outstanding customer service at the Mall of Georgia, Buford, GA store. We replaced two leather recliners that we were unhappy with. The warranty had expired, but the store replaced them without any hassle. I would not hesitate to recommend this store, the sales staff, and management for whatever furniture needs you might have. We will use them again without hesitation.

Purchased 2 sofas just over a year ago, over $2k in cost. Both sofas showed leather color fading in seat cushion on each, as well as cushion foam breaking down. Submitted claim to Guardsman, they denied claim. Contacted Havertys. After they requested photos and docs, they denied claim and only offered to refund warranty price ($350). This is unacceptable and I now have to replace 2 sofas. Very disappointing. Salespeople push the warranty program and claim it covers any type of damage, grossly oversell the benefits.
How do I know I can trust these reviews about Havertys Furniture?
883,201 reviews on ConsumerAffairs are verified.
We require contact information to ensure our reviewers are real.
We use intelligent software that helps us maintain the integrity of reviews.
Our moderators read all reviews to verify quality and helpfulness.
For more information about reviews on ConsumerAffairs.com please visit our FAQ.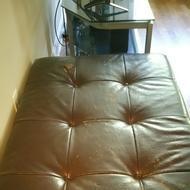 Purchased product in good standing as I have purchased other Havertys Products. The wear of this particular leather ottoman left me wondering if it was really leather. After I took pics and still had my original receipt, I contacted Havertys. Unfortunately they did not stand behind their product. Nothing was offered.

Would never buy furniture from these people again. Ordered an entire house of furniture & half of it was damaged. After 2 tries to get one piece right I just got my money back. Another piece still remains to be seen what will be done about it. The rest that I kept was not in the best shape. All they do is get this crap in from overseas, mark it up & sell it to you. Get your furniture elsewhere. These people are a joke.

I have had the same experience as many on here. Maddox leather couch faded. Broke down. Have the gold warranty. They won't do a damn thing to help. Just deny every claim. Now after filing a BBB complaint on Haverty's they are going to give me a near full store credit but minus my Guardsman money and my delivery fee. So I get to go get more free junk that won't last. I want to put this place out of business. There are more than enough people that have issues to sign up for a class action and sue the crap out of both companies.
Some lawyer will want to take this on and it will be an easy win as all the furniture they sell is total Chinese junk. ** is my email if someone wants to take this on or everyone just start getting together. We can start a Facebook page for others to join. Enough is enough. It won't end unless we stop them. My 2800 credit means nothing when what I get is the same crap. Please if nothing else go file a BBB complaint and no matter what they do do not let them off the hook. That A rating is fooling others into buying their crap.

Approximately 2 1/2 years ago we purchased a sofa and chaise (12/22/2014). Metropolis Model 0-2500-6974 and 0-2500-6978. In April 2017 I filed a claim with the warranty company because we were under the understanding the warranty plan would cover anything, Guardsman Gold. Needless to say they advised the warranty was only for accidents. Then I talked with Havertys which they said they would only give us $250.00 credit because they could not do anything. The parts were not available. How can you have parts for a leather sofa and chaise?

Upon purchasing my sofa set at Haverty's I was told a specific delivery date and then received a phone call on the day of delivery, asking to set up my delivery date. I was forced to wait an additional week to receive my furniture. When the furniture arrived it was not the same texture or comfort. Nor was all of the pieces with the furniture. Haverty's then rescheduled a delivery date for the rest of my furniture a week later. I was given a delivery time, and waited all day. When I called Haverty's about my delivery, I was told it would be late. I didn't receive my furniture until well after 7 pm and was not notified by customer care, I had to contact them to enquire about my delivery.
Upon speaking with Haverty's personnel I was treated as if my concerns were not important. I am very disappointed in the service I received. I was under the impression that Haverty's was a well established business and assumed I would receive professional service. However, the services I received was far from professional.

Sectional all leather sofa includes 2 consoles, 3 recliners, 1 chaise. Poorest of quality furniture. The recliners are impossible to close, the seat cushions are sunken in, very uncomfortable and Guardsman is a painful joke. I have complained all I could. Truly, no one cares. I think many years ago it was a nice store but I will never buy from them again and just consider my 4200$ a learning lesson. Please take the time to read the horrible reviews about Havertys before you buy. So sad, they won't last long at this rate.

I recently visited Havertys to purchase furniture. During our transaction the sales representative acted as if she was offering me this wonderful deal by taking $100 off the inflated $300 delivery charge for 2 sofas. What a rip off! Since when does it cost $300 or even $200 to deliver furniture less than 15 miles away. During this time I also requested to replace a piece that was missing from my previously purchased Havertys furniture set. I received a call from customer service the following day stating they don't have the parts. I asked if they could let me know when they receive the part back in stock. Customer service said they won't be receiving the parts. Havertys is still selling the item, yet they can't replace the a part from the furniture. How is that possible? Havertys is not a reputable company. I will never purchase from them again!

I contacted Havertys that my couch was coming apart. They would not do any thing about fixing it. I have spent more than 10,000.00 with them in the past 10 years, that didn't matter to them, customer loyalty means nothing to them. I will never buy from them again. Be careful when dealing with these people, they will not stand behind their product. I am not one to write reviews but I hope that people take notice and don't get burn like I did.

I was looking for a couch that reclined on both ends. I sat in several couches in a few different stores in the area. In Havertys I found exactly what I was looking for, or so I thought. The couch in the showroom was comfortable and fit the style I was looking for. I discussed the softness of the couch with the salesperson and asked if the couch in the storeroom was a good representation of the couch once broke in. I was assured that it was and I purchased the couch. I waited for the couch to break in and sit as comfortable as the one in the showroom.
I finally decided to call the store to discuss returning the couch. I would do a restock fee and store credit. The couch is in perfect condition just uncomfortable and nothing like the showroom model. A technician was sent out and said that there was nothing wrong with the couch, that Havertys no longer make soft furniture because they received too many complaints. This couch is stiff and hurts my back when I sit in it. I asked how long a customer has to determine if the furniture is right. I was told 3 days. How do you determine if a piece of furniture is going to break in in only 3 days? Havertys has lost my business for life.

After months of shopping, we decided on the Option I Amalfi Sectional with a custom fabric. We felt good about the product and the people who helped us. The contract said 8-10 weeks, but it took almost 12. THE SECTIONAL WAS DELIVERED TODAY, BUT ONE PIECE CAME WITH THE WRONG FABRIC! We are working with Havertys customer service to get it right, so I will update when we have success.

I am extremely upset with Havertys delivery service. I had a scheduled appointment for the delivery of a china cabinet and hutch. I literally had to tear my home upside down to make space for my new furniture. I took a day off without pay just so that I could receive my new furniture. My appointment was confirmed several times either by email or through telephone. Late in the evening on May 29th, I was sent an email that I did not see until May 30th that there was something wrong with the furniture and that it could not be delivered. So now there is no provision for delivery at my convenience. I have to wait for a date that suits Havertys schedule. My concerns above do not represent the superior delivery and service as promised.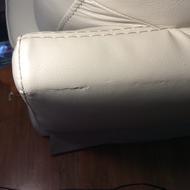 I purchased a floor model recliner last July. This April, I notice the chair which is leather is trying to rip, the chair has never had anything behind it wall, other furniture, etc. I called store was told to contact the Guardman's policy, contact Guardsman, filled out form, mailed pictures. Then had a person call to set up a date to service chair, I told service person I have a steep driveway, that they would need 4x4 automobile to get down here, service person told me that the man that does the work drove a van, I said I would be glad to pick them up at the top of my hill, it ended with the service person saying they would call me back.
More than a week went by so I called Guardsman back, got the slight runaround from person to person, the repair technician seemed to repeat my name at least twice, then ask for a number of some type. I ask if it was on my claim form. He said no then rerouted my call back to Customer Service, got a very helpful person that said, would look into my claim, that it could take up to 10 days.
Later that same day I got a message on my phone saying since chair hadn't ripped at a seam they couldn't help me to call my store, which was in Rogers, Arkansas. Since I haven't had the chair over a year... so I called the store. They told me I bought a as-is chair. They also told me when I purchased my as-is chair that it was COMPLETELY COVERED for anything that would happen several times while I was purchasing said chair. Just be warned all their talk of coverage, warranties, everything is covered, isn't worth a dime, even though it cost you a hundred dollars. I was about to purchase a new couch from them but not now. They have seen the last of my money...

We purchased the Laramie sectional 2 years ago and it gets progressively worse day after day. During the first year, we had to have a technician come out to repair loose frames. Then, we had to fight them to repair the cushioning that had broken down-this was within the year warranty, but they said it was normal and to be expected! Over $2000 spent and it was to be expected for the cushions to break down before the first year was up??? It took them weeks to come and take those pieces, restuff them and return them. Those cushions have already broken down again. The salesperson pushed that it had the newest and best cushioning-total lies!! You can feel the wood when you're sitting. Add to that, the side arms and curved piece have loose joints and the material on the seats have stretched and wrinkled. The quality is atrocious and I would love to see a class action lawsuit started. We will NEVER purchase from Havertys again.

I enjoyed my first time shopping at Havertys looking for a bedroom set. 1st stop at Havertys, then to Ashely, then to Rooms to Go, then Matress Firm. Plus the online versions. Went back to Havertys to meet up with Tracey **. She was excellent in showing me 'Coastal & Beachie' Light in color to work with the house at Nocatee. I bought the Forest Lane Storage Bed + night stand + dresser in weathered grey.
Promised a delivery on a Friday and all was achieved. Truck and two gentlemen arrived, put the units together not a problem. Turns out that units are very well made, very heavy and solid. Tracey also helped in selecting a good mattress, knew about the construction of the springs-boxes-hybrids and the all foam. Ended up with a Beautyrest Black. Then she pointed out a great recliner - not those big fluffy overstuffed monsters, but a 'Deco Retro' leather with wood arms. I will be going back to see if Tracey can work a deal on a living room and outdoor furniture.

Furniture order not received. I ordered a China Cabinet on 03/21/17... the money was charged to my account. I have never heard a word for Havertys. They advised when I ordered that I would be contacted later for a delivery date. I have never been contacted. I paid $1,340.60 for the China Cabinet.

Beware of their Guardsman protection plan. It's a ripoff. The salesman will promise you the world, but if you ever need to use the protection plan, it's a lengthy and painful procedure to submit a claim. I followed the claim instructions word for word and submitted it online and by mail (they want you to just give up) and never heard from them. 4 months later, I called to check on the claim and after 30 minutes on hold listening to products they're trying to sell you on the phone they told me that the claim was denied because it has to be submitted within 14 days of reporting the damage. I had bought the Havertys Gold 5-year Furniture Protection Plan when I bought my furniture, and it's been 3 years and never used it until now. DO NOT BUY the Guardsman furniture protection plan. You will be throwing your money away!

I went to Havertys in Rogers, Ar today and was displeased with the service. There were three staffers. One of which chilling on a sofa and none of them bothered to give me information. They said "HI" when I came in and then I never heard from them again. I shopped the whole store and no one said anything. I left without anyone noticing. It was a very gloomy atmosphere. No customer service or personality applied from the employees.

Furniture quality is good... for the items I have. If you're okay with getting your items FOUR MONTHS (or more?) after you place an order, by all means shop here. I placed a large order **JANUARY 24th** to be delivered no later than *MID FEBRUARY*. It is NOW *MID APRIL* and two of my items still aren't here, and the date of arrival to the local warehouse is April 28 for one of the missing items and "unknown" for the other (I'm told to expect sometime in MAY).
In late March, they attempted to deliver the sectional I ordered, but it was the MIRROR IMAGE of what I ordered in the store and wouldn't fit in my house. I refused the delivery. (This is after the store came out twice to measure my living room.) They did offer to let me keep/trade out the stuff that wouldn't fit at all. (You know, so I can start making payments on it NOW.) No, thanks, it won't fit, it would be ugly at best and a fire hazard at worst. Of note, the sectional I ordered was not a custom fabric.
Also, one attempt to correct my order resulted in Havertys placing an order for two right-hand ends to my sectional! How does that even make sense?? Who would order *two of the same end*??? And how is it that the CUSTOMER has to catch their error when calling to confirm delivery? THE STAFF DOES NOT LIFT A FINGER TO EXPEDITE THE ORDER - AND THESE ARE ALL THEIR MISTAKES, NOT MINE. There is not another way to put it- they are careless and they seem to have little concern for customers and only care about making orders. Multiple phone calls, nothing but "I'm sorry the process takes so long" and a small order credit that I have yet to receive. My living room is half complete now and it's embarrassing to have people over. Thanks, Havertys - you don't have your stuff together, and now it looks like I don't either to anyone who visits. NOT HAPPY.

I was almost hit by a Havertys driver at 1604 and Green Mountain four way stop. Driver ran through intersection behind car in front. Then laughed and flipped me off. Spoke to several people. Mgr Johnny of that store never returned my call. This is serious. I could have been injured and my passenger. And for this guy to laugh and Flip me off is ridiculous.

I bought this couch about a year and a half ago and it is falling apart with minimal use. I contacted customer service and they were unable to help because it is out of the 1 year manufacturer's warranty and I didn't purchase the extended warranty which from other posts sounds like it wasn't worth it. I only want to help prevent someone else from making the same mistake that I did. Won't ever return.

Years ago Haverty's furniture used to put out beautiful advertisements. I fell in love with the pictures of seemingly high-end furniture and hoped that one day we could afford it. Well, we finally were and when it was time to replace the living room furniture we went straight to Haverty's. We purchased a rather expensive sofa and matching chair. Soon we noticed a distinct fading on both pieces. New seat covers for the sofa were ordered but they were not the same color. They also delivered another chair but that didn't match the sofa. We paid thousands for these two pieces but we will eventually have to replace both within a few years. They wanted to give us a store credit, but I didn't see anything that I liked and the credit would not have covered both a chair and sofa. We would still have lost money. I have never seen the level of fading in such a short time that will eventually get worse. Never again will I set foot in their store again.

I have been waiting on my customer furniture for over 3 months. I have been waiting on samples of my fabric for over 2 months. I have constantly called to see if samples have been shipped and I receive the same response "I am sorry. Thought it was send the last conversation". Really this is so old and I am over the whole experience. No Follow up and No Furniture. Just excuses.

We purchased Prestige Furniture in late 2015, 2 Loveseats and 1 Single Recliner. Just out of the 1-year warranty period we had 2 of the seat cushions come loose from the frames. This condition allows the cushion to collapse into the frame when sat on. Now the leather dye is coming off of the foot cushion exposing the raw leather below. Customer Service told us that the cushions cannot be fixed and I should just redye the area where it's coming off. Poor Quality Furniture... Poor Customer Service. Let me add that we were 30-year customers with Havertys but no longer.

The furniture we purchased for our granddaughter, so far, is fine. Was just delivered Feb 3, 2017. However, when purchasing, we were told that any special sales that come up within 30 days of delivery or free delivery - we would just have to call to get. So I called for the $100 savings on an amount that was within limits and got that - no problem. Then Free Delivery came up and I called for that - they said that I could only get partial because the furniture is no longer on sale??? What does that have to do with Free Delivery? Disappointed by the "fake" sales pitch! They need to explain their policy much better. They told me today that they just try to be nice and help their customers. LOL Get their promotion offers in writing.

Bought this recliner in Sept 2015 and the under manufactory Year warranty. They have been to my house to 4 times. Just as soon as the Manufactory warranty goes out so did the MOTOR. The extended warranty was with (Guardsman). It is now Feb and they told me they couldn't get parts. My expensive chair don't work and neither does either one of these company's 24! HAVERTYS OR GUARDSMAN Don't waste your time or $$$. I let them know I was handicap and the chair was of important assistance to me. OH well... YOU LIVE AND LEARN.
Havertys Furniture Company Profile
Company Name:

Havertys Furniture

Website:

http://www.havertys.com/