Ghostbed
This profile has not been claimed by the company. See reviews below to learn more or submit your own review.
GhostBed's cooling mattresses work well for every sleep position. The original GhostBed model is an affordable mixed-foam mattress. The Luxe offers heightened comfort and Medium firmness. The Flex is a hybrid model that offers the coolest sleep of the three mattresses. 101-day sleep trials let users take their time when making a decision.
Overall Satisfaction Rating
5 stars

4 stars

3 stars

2 stars

1 stars
Pros
Virtually silent
20- or 25-year warranty
Good motion absorption
Cons
30-night break-in required before return
Bottom Line
GhostBed's line of three mattresses provides a medium to medium firm sleep with cooling technologies at a reasonable price. All sleeping positions are well accommodated.
GhostBed mattress construction and materials
The original GhostBed models are eleven inches thick, while the GhostBed Luxe and GhostBed Flex are thirteen inches. The GhostBed has 1.5 inches of aerated latex foam, two inches of gel memory foam, seven and a half inches of high-density foam, and a cover made of viscose and polyester. The GhostBed Luxe has a "Ghost Hug" topper to keep sleepers cool, an inch of gel memory foam, two layers of phase-change material, gel memory foam, a bounce layer and a thick base of high-density memory foam. The GhostBed Flex is a hybrid mattress with a cooling cover, several layers of memory foam and a layer of reinforced support coils.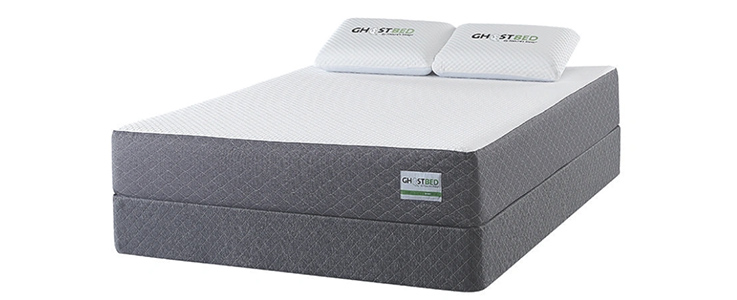 GhostBed mattress comfort
GhostBed prides itself on providing one of the coolest sleeps around. Cooling materials used in all three mattresses help even hot sleepers feel cool during the night. The GhostBed and GhostBed Flex are a Medium Firm, or 6, on the traditional mattress firmness scale. The GhostBed Luxe is a 5 or Medium. The original GhostBed is notable for its conforming memory foam with some added responsiveness from latex. The Luxe has the highest conforming ability and is great for those with aches and pains. The Flex is the most cooling option.
Firmness: The original GhostBed and GhostBed Flex are classified as Medium Firm. The GhostBed Luxe is Medium on the firmness scale.
Sleeping position: The GhostBed Luxe is the most accommodating model. It sleeps most weights in any position. The GhostBed and GhostBed Flex sleep most weights and positions well, but lighter weights sleeping on their stomachs might not sleep as comfortably.
Motion transfer: All three models from GhostBed do a great job absorbing motion on the mattress.
Edge support: The GhostBed and GhostBed Luxe have good edge support, although you can still expect some sinkage when sitting on the edge of the bed. The GhostBed Flex, like other hybrid models, has very good edge support.
Sleeping hot: The GhostBed Flex is the best choice for hot sleepers, but the GhostBed and GhostBed Luxe also allow for cool sleep.
GhostBed mattress prices
The GhostBed has a low cost when compared to mattresses with similar construction and materials. The GhostBed Luxe, as the name implies, is a bit pricier but offers some premium components that are worth the higher price tag. The GhostBed Flex is fairly priced when compared to other hybrid mattresses.
| Mattress size | GhostBed cost | GhostBed Luxe cost | GhostBed Flex cost |
| --- | --- | --- | --- |
| Twin | $445 | $995 | $895 |
| Twin XL | $645 | $1,200 | $1,100 |
| Full | $720 | $1,320 | $1,225 |
| Queen | $895 | $1,375 | $1,285 |
| King | $1,075 | $1,685 | $1,585 |
| California King | $1,095 | $1,725 | $1,625 |
| Split King | $1,290 | $2,400 | $2,200 |
Are GhostBed mattresses good?
All three GhostBed mattress models are good. Each offers a cooling night sleep with a high level of comfort at a fair price. The GhostBed Luxe is a good choice for those with aches and pains. The Flex is a great hybrid choice and has the coolest sleep. The original model's mix of memory foam and latex creates a comfortable sleep at an affordable price.
A link has directed you to this review. Its location on this page may change next time you visit.
How do I know I can trust these reviews about Ghostbed?
How do I know I can trust these reviews about Ghostbed?
3,528,120 reviews on ConsumerAffairs are verified.
We require contact information to ensure our reviewers are real.
We use intelligent software that helps us maintain the integrity of reviews.
Our moderators read all reviews to verify quality and helpfulness.
For more information about reviews on ConsumerAffairs.com please visit our FAQ.
Page 1 Reviews 0 - 10
Darrell of Edmonton, AB Verified Reviewer
Original review: Jan. 24, 2022
The typical size of a queen flat sheet is 90" in width. The set of GhostBed Sheets by Nature's Sleep we received were over-sized at 98". When contacted, the Ghostbed representative insisted we send pictures, which we provided. Even with a deep mattress of 15" the overhang on these sheets is excessive. Ghostbed's response was that a 90" width was not an industry standard size and that Ghost Sheets were an industry standard 95". Even though the sheets did not meet their own specifications, Ghostbed refused a return, stating that the sheets were are not returnable as the package had been opened. We had a reasonable expectation that the sheets we purchased would conform to industry standards, they do not. For the price of these sheets, this customer is disheartened. If you are considered purchasing these sheets, buyer beware.




Be the first one to find this review helpful
Denis of Port Saint Lucie, FL Verified Reviewer Verified Buyer
Original review: Jan. 22, 2022
Ordered 1 king and 1 queen, but received 2 queen. Was advised not to open the second queen mattress until they correct their mistake. Subsequently, will be sleeping on the floor until then. One "manager" was rude, and unprofessional. Stated it was my fault I threw my old mattresses out. Haven't tried the mattresses yet, but very disappointed in customer service and relations.
2 people found this review helpful
Thank you, you have successfully subscribed to our newsletter! Enjoy reading our tips and recommendations.
Heather of Calgary, AB Verified Reviewer Verified Buyer
Original review: Jan. 18, 2022
This is the hottest thing I have ever slept on, in fact it amplified body heat, and the only remedy was to leave the bed to cool off. The only thing that made it worse was the mattress cover that accompanied it, which only seemed to accelerate the heat retention and reflection. Apparently the warranty doesn't extend to completely false product claims. There was no refund offered.
Be the first one to find this review helpful
Marty of Manteno, IL Verified Reviewer
Original review: Jan. 15, 2022
Stay far, far away from Ghostbed. My order was never shipped to me, but I am still being charged $1,200 for shipping and restocking fees. I have talked to over 20 different people in their organization and they are just rude and demeaning. They literally laugh at the fact that you will pay thousands of dollars for ABSOLUTELY NOTHING. When you keep contacting them, they will just ban you from communicating with them. I never thought that there would be such a corrupt and dishonest company in the United States. The CEO and board should be ashamed of what goes on at Ghostbed. Steer clear of this company and advise your friends and family to do the same.
Be the first one to find this review helpful
Sweta of Pittstown, NJ Verified Reviewer
Original review: Jan. 9, 2022
Scammers! Ordered mattresses two weeks ago and we were told they would be shipped in 24 hours. After two weeks…They never notified us of delays. When we contacted them, we are told the delays were due to FedEx and pandemic issues. I contacted FedEx and they confirmed that they don't have the order in their possession. The mattresses are sitting in GhostBed warehouse! I then requested to cancel the order. But now GhostBed is charging us 15% total order + $25 each for pillows and sheets + $150 for each mattress. (2 twins). Even though it hasn't been shipped or they can't even confirm to us when it will be shipped. Scammers. Stay away. Refund our money GhostBed!!!
2 people found this review helpful
Sarah of Amherstburg, Other Verified Reviewer
Original review: Jan. 7, 2022
Before I get into the details, I would highly suggest going to a store to purchase a bed. I would not trust online companies. When you think about sleep, it is so important. It affects your livelihood, your day-to-day life, and your health. If the bed that you have to sleep in is one that you don't love, it makes your life very hard. I've had very many nights where I have been in tears because I've had to sleep in a bed that just was not for me, and when that causes me pain. This company itself I would not trust based on our communication, issues, and our hassles. I really hope that this review can help somebody make a different decision, because I really wish I would have seen one like this before we purchased the GhostBed.
So, let's get into it. My husband purchased one of the GhostBed pillows, and after falling in love with it, convinced me that we should try the GhostBed. We had been looking for a king size bed for a while, so after looking up other reviews and using their sleep quiz on the website, we purchased the Flex with the bedframe. They also sent two free pillows as a promotion. The shipping was very quick, and it arrived in less than 5 days.
After being really excited to try a new mattress with so much promise, after 13 days of having to sleep on it, I was frustrated. I had no idea how anyone could find this mattress remotely comfortable or even well made. There is a 30-day policy before you are allowed to return, but I did write the company on their website to initiate a return as soon as I could because I knew this mattress was not for me.
The company never responded to that initial request on their website. We did phone them about a week later, and they offered to send us a free foam topper, but I did not want that because it would really defeat the purpose of having a comfy mattress, especially for my husband who wanted the cooling features. We declined that and asked if we could return, but they said to call back after 30 days. About a week later, we called back because we had reached the 30-day mark. At this point, they told us to fill out the form on their website, and we said we had already done so but hadn't had a response. They said the person that dealt with returns was not in and to call back another time.
After playing phone tag and having to call MULTIPLE times, we were finally able to speak to the person to return the mattress. They told us that they would set us up with a charity in our area and once the mattress was in the hands of the charity, they would refund us. The bed frame was non-refundable, which was fine. We also asked about the "free pillows" and said that we would like to return those too, because they were not comfortable (terrible, actually), and said we didn't want to get charged for them because they were supposed to be "free." They told us we paid for the pillows, which we didn't, but we said we would return them. They then told us we would have to pay for shipping back for the "free" pillows, because apparently they said we paid $214 for them (we definitely did not).
To make a long story even longer, the charity that was supposed to pick up the bed didn't service our area. When we called Ghostbed to tell them that, they asked us to call charities in our area to try to get one to take the bed. WE actually called three places, and none of them took used mattresses. They then asked US to find a friend or family member to donate the bed to and to take pictures to prove that we actually donated the bed. This 100 night free trial does not come without any hassle. Why would it be OUR responsibility to figure out what to do with this mattress to get a refund when there is a 100 night guarantee?
We told them we just wanted them to return the bed because nobody we knew would want it and we didn't want to go through that hassle. After ANOTHER MONTH of playing phone tag, they tried to offer us some money back if we kept the mattress. We figured we might be able to sell it if we did this, so we were able to negotiate them giving us back $2000 CAD (we paid $2300 for the mattress). They told us it would take 14 business days to receive the refund.
After 14 business days, we hadn't received the refund, so we had to call back AGAIN. They then told us that since we got the mattress on sale, they could not give us a refund of that amount and offered us $500. We told them we absolutely did not want $500 for a mattress that we do not want to keep, and said we would like to return it as PROMISED in the 100 night free trial. They again said they were going to get back to us and have someone come to pick up the bed. Mind you, this entire time, I have been sleeping on an uncomfortable mattress which affects your sleep, livelihood, and day to day life when you do not get a good night's rest.
After about 2 months of phone tag and having to be a little stern with their customer service, we were able to get a full refund, but Ghostbed was unable to pick the mattress up from our house. To make matters worse, they sent us the WRONG BRACKETS to attach a headboard to the base. When we finally got a mattress that we wanted, we attempted to attach the headboard with the brackets they sent, but they sent the wrong ones. We knew it would be a hassle to contact them again, so we didn't bother.
Overall, I would highly suggest going to a store and trying mattress. I no longer trust beds that come in a box, especially after having this Ghostbed. We were unable to sell the mattress and we still have it, and after sleeping on it for for more than 60 days, you can tell exactly where somebody sleeps because there is an indent where a body would be. Doesn't seem like a mattress that would be supportive at all with that type of permanent dent (and we are not very large people). I also don't understand how anyone could find this mattress comfortable in any way. It seems cheaply made, and I much prefer our old mattress that was only 7 years old. This is a mistake I have learned from and I will never purchase from Ghostbed again.
Read full review
5 people found this review helpful
C of Flemington, NJ Verified Reviewer Verified Buyer
Original review: Jan. 6, 2022
I bought this very expensive Ghostbed topper based on the description on their website. They say 3", but this is closer to 2". They say cooling, but I have never slept hotter. This topper is more an egg-crate piece of foam than a memory foam. I am a side sleeper and this topper does not help with hip or back pain. I have spent half the money for a better topper. I feel as though I was completely deceived by this company. They also DO NOT make their return policy clear. Stay away from this company, as they are not honest and do not stand by their product.
2 people found this review helpful
Joshua of Naperville, IL Verified Reviewer
Original review: Jan. 3, 2022
What you'll have a hard time finding while you are shopping for a GhostBed mattress is the EXACT return policy if you are unsatisfied with their mattress. Couple of things before you waste your money:
1. You cannot return any frame purchased with the bed if opened.
2. If you do not open the frame and want to return, that'll cost you 20%, even if you refuse at door.
3. If you need to make any changes to your order, including cancel, within an hour of placing, you cannot.
4. If you do return the mattress, GhostBed will less the value given any promotion, including additional promotions applied to other purchases - like frames and pillows.
5. If you do want to return your mattress, you'll need to call or email them, then wait 3 or more days to receive a call back/email back. This is all assuming the representative you speak with actually submits a return (first three calls did not).
6. Good luck with them ever finding your order number - you'll need to provide your email each time.
Saatva was SO much easier to deal with and they have a "plain as day" return fee and policy.
Read full review
5 people found this review helpful
Robert of Everett, WA Verified Reviewer
Original review: Dec. 23, 2021
Had problems with shipping. Ghostbed's customer service didn't do anything after being asked repeatedly. Then when I did get it it was left on the street in the rain 3 stories from my condo door. Worst online Experience Is I have ever had.
3 people found this review helpful
Alisha of Peterborough, Other Verified Reviewer Verified Buyer
Original review: Dec. 2, 2021
I decided to try out their memory foam pillow after I saw it recommended on many websites that review "the best" pillows available. It didn't end up working out for me as I have issues with neck pain and did not find this pillow helped with my neck pain after doing the 30 day trial. I sent the pillow back and kept a receipt for tracking. They received the pillow back on November 17th and since then I have contacted their customer service department 3 times by phone and 3 times by email. Every few days I would call to try to get them to give me a solid answer on how long it will take to get my refund and each time they said it would take up to 30 days, yet each time I called they kept adding to how long that 30 days would be and when the 30 days actually starts. They wouldn't give me a straight answer.
It's been 3 weeks and when I called tonight they said it would be 30 up to 30 days for the refund again, until they submit a ticket to the financial institution or something like that. I asked if I could have a deadline to write in my calendar as to when the 30 days is up so that if I do not receive my refund, that I can contact them again on this day, and they refused to give me a deadline. They never give straight answers and every customer service person I speak to seems to make up new rules on refunds as they go along.
I also haven't been sent an email to review the pillow I tried out back in the beginning of October and I'm assuming they're not going to allow me to leave a review because they know I returned the product. I also asked customer service about this and they gave a vague deadline of eventually sending me an email to write a review after my 30 day trial which I've already obviously completed since I've returned the pillow 3 weeks ago. They also take a long time to get back to you when you email in and sometimes don't respond at all. I've never dealt with such a shady company, they seem to be stalling giving me my refund for some reason and it's been a ridiculous and stressful process to try to get my money back. I would not recommend this company to anyone.
Read full review
7 people found this review helpful
Ghostbed Company Information
Company Name:

Ghostbed

Website:

www.ghostbed.com
You're signed up
We'll start sending you the news you need delivered straight to you. We value your privacy. Unsubscribe easily.