Ghostbed
This profile has not been claimed by the company. See reviews below to learn more or submit your own review.
GhostBed's cooling mattresses work well for every sleep position. The original GhostBed model is an affordable mixed-foam mattress. The Luxe offers heightened comfort and Medium firmness. The Flex is a hybrid model that offers the coolest sleep of the three mattresses. 101-day sleep trials let users take their time when making a decision.
Overall Satisfaction Rating
5 stars

4 stars

3 stars

2 stars

1 stars
Pros
Virtually silent
20- or 25-year warranty
Good motion absorption
Cons
30-night break-in required before return
Bottom Line
GhostBed's line of three mattresses provides a medium to medium firm sleep with cooling technologies at a reasonable price. All sleeping positions are well accommodated.
GhostBed mattress construction and materials
The original GhostBed models are eleven inches thick, while the GhostBed Luxe and GhostBed Flex are thirteen inches. The GhostBed has 1.5 inches of aerated latex foam, two inches of gel memory foam, seven and a half inches of high-density foam, and a cover made of viscose and polyester. The GhostBed Luxe has a "Ghost Hug" topper to keep sleepers cool, an inch of gel memory foam, two layers of phase-change material, gel memory foam, a bounce layer and a thick base of high-density memory foam. The GhostBed Flex is a hybrid mattress with a cooling cover, several layers of memory foam and a layer of reinforced support coils.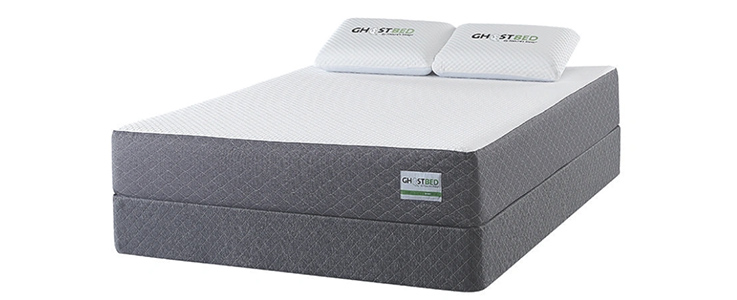 GhostBed mattress comfort
GhostBed prides itself on providing one of the coolest sleeps around. Cooling materials used in all three mattresses help even hot sleepers feel cool during the night. The GhostBed and GhostBed Flex are a Medium Firm, or 6, on the traditional mattress firmness scale. The GhostBed Luxe is a 5 or Medium. The original GhostBed is notable for its conforming memory foam with some added responsiveness from latex. The Luxe has the highest conforming ability and is great for those with aches and pains. The Flex is the most cooling option.
Firmness: The original GhostBed and GhostBed Flex are classified as Medium Firm. The GhostBed Luxe is Medium on the firmness scale.
Sleeping position: The GhostBed Luxe is the most accommodating model. It sleeps most weights in any position. The GhostBed and GhostBed Flex sleep most weights and positions well, but lighter weights sleeping on their stomachs might not sleep as comfortably.
Motion transfer: All three models from GhostBed do a great job absorbing motion on the mattress.
Edge support: The GhostBed and GhostBed Luxe have good edge support, although you can still expect some sinkage when sitting on the edge of the bed. The GhostBed Flex, like other hybrid models, has very good edge support.
Sleeping hot: The GhostBed Flex is the best choice for hot sleepers, but the GhostBed and GhostBed Luxe also allow for cool sleep.
GhostBed mattress prices
The GhostBed has a low cost when compared to mattresses with similar construction and materials. The GhostBed Luxe, as the name implies, is a bit pricier but offers some premium components that are worth the higher price tag. The GhostBed Flex is fairly priced when compared to other hybrid mattresses.
| Mattress size | GhostBed cost | GhostBed Luxe cost | GhostBed Flex cost |
| --- | --- | --- | --- |
| Twin | $445 | $995 | $895 |
| Twin XL | $645 | $1,200 | $1,100 |
| Full | $720 | $1,320 | $1,225 |
| Queen | $895 | $1,375 | $1,285 |
| King | $1,075 | $1,685 | $1,585 |
| California King | $1,095 | $1,725 | $1,625 |
| Split King | $1,290 | $2,400 | $2,200 |
Are GhostBed mattresses good?
All three GhostBed mattress models are good. Each offers a cooling night sleep with a high level of comfort at a fair price. The GhostBed Luxe is a good choice for those with aches and pains. The Flex is a great hybrid choice and has the coolest sleep. The original model's mix of memory foam and latex creates a comfortable sleep at an affordable price.
A link has directed you to this review. Its location on this page may change next time you visit.
How do I know I can trust these reviews about Ghostbed?
How do I know I can trust these reviews about Ghostbed?
3,848,927 reviews on ConsumerAffairs are verified.
We require contact information to ensure our reviewers are real.
We use intelligent software that helps us maintain the integrity of reviews.
Our moderators read all reviews to verify quality and helpfulness.
For more information about reviews on ConsumerAffairs.com please visit our FAQ.
Page 1 Reviews 0 - 10
Katherine of Round Rock, TX

Verified Reviewer
Original review: June 19, 2022
I'm not one to say yes or no to product reviews but believe it is important when the reviews seem to be the same response and nothing is liked about the product. Ghostbed touts that the topper is temperature driven and will stay cool when you lay in it... WRONG... The waterproof mattress cover is even worse. Other mattress protectors a little purple rain have got Ghostbed beat by a mile.. I will give them credit as the mattress topper was comfortable to lay on but if you want to lose weight and sweat while doing, by all means, then buy the topper.
I will also say that it does clearly state no returns but how do you know if it is going to work for you if you don't get to try it first?? I do get the hygienic thing but for god's sake, I hope you at least have a sheet on top of the topper to cover it???? Well, not to ramble on but I do not agree with their videos on how it has a cooling effect because it does not and adding the "plastic" but not "plastic" waterproof cover is just more heat on top of that. No pun intended but yes I did intend it. I would not ever buy from this company again. Got stuck with a Queen sized bed I had to pay for because of their "policy" of returns and I missed the deadline to return it. What fun to get stuck with a bed I don't like... But it was given to charity and I am out almost $1,400.00...
Can't state it enough, not good either way. I would definitely look into other Competitors first before buying again from the above mentioned company. I am stuck with a product that I care not to be with and out $200.00 + but I didn't listen to my inner conscious scream at me to run the other way.. The only other trick I can try is to find another mattress pad that is cooling enough so that I can use the topper without sweating to death.... Thanks for reading!
Read full review
Be the first one to find this review helpful
Amber of North York, Other

Verified Reviewer
Original review: May 25, 2022
The worst company I had to deal with and the biggest scam company. Their return policy is rubbish. You have to wait 30 days until you get your refund and its not the full amount. They give back only a small percentage of the amount you paid. And the refund is only for the mattress. When I was on the phone with the guy who does the refunds, he kept trying to sell me stuff and tried to talk me out of returning the items. I had the foundation for the bed that I never opened out of the box. The guy 'you can't return items that ever opened and use other than the mattress'. After I already stated that I didn't opened it. Him 'if you want to return it you have to take it it to so-so (a FedEx that is not in my city), then pay for the $75 transport fee and the 15% restock fee'. It would come out be getting almost half the money back, I said, "Yes I'll still do return." Him getting all defensive about returning.
Be the first one to find this review helpful
Thank you, you have successfully subscribed to our newsletter! Enjoy reading our tips and recommendations.
Jamie of Kingston Springs, TN

Verified Reviewer Verified Buyer
Original review: May 7, 2022
Mattress does not provide what they advertise. Website says try for 101 days if not satisfied return for full refund. Slept on this product for 30 days, no different than before I put the Mattress Topper on the bed. When I emailed about how to return for a refund I was told this is a personal use item and is non-returnable. All mattresses are personal use items, not sure what else you would use them for. They are false advertising, I would not purchase from this company. They do not stand behind their product and it does live up to what they advertise!
4 people found this review helpful
Ricky of Badin, NC

Verified Reviewer
Original review: April 28, 2022
Bought Ghostbed Lux and Power Base after months of research. I suffer from extreme back and neck pain due to bone disease and broken bones in neck and back. I had not been able to sleep in a bed for over a year and slept sitting up. I purchased this bed and am very glad I did. Have been able to sleep so much better and it only took a couple nights to adjust to sleeping in my bed. Love my bed and will definitely recommend to anyone that has back issues. Thanks so much.
Be the first one to find this review helpful
Ben of Atlanta, GA

Verified Reviewer
Original review: April 2, 2022
The 3D Matrix is listed as medium-firm, but it lacks any real definition of firmness. The construction of the mattress and pillows seems to be quality, and I am happy with the industry standard 101 night return policy. The minimum 30-night policy was not helpful - it was clear within a week this was not the mattress for me. I was happy to have taken a chance on a mattress and not had it work out - I would not have left a negative review for something so personalized. However, engaging with their customer service to initiate the return process has been a nightmare.
They are unresponsive and seem to be overwhelmed. They are also requiring that I return pillows that were a free gift as part of the mattress promotion. I have yet to hear a formal response from the return department over a week after requesting a return/refund well within the 101 night return window. Underwhelming is as kind a word as I can give to the mattress and the service. I would avoid this company as there are so many competitors in the field.
Read full review
6 people found this review helpful
Flece of Wallsburg, UT

Verified Reviewer
Original review: March 31, 2022
Ghostbed took the return as stated. But what they don't tell you is you actually don't get back all your money. We only received about 1/4 of our purchase price back. Do not buy. Company will scam you.
9 people found this review helpful
Dave of Laval, QC

Verified Reviewer Verified Buyer
Original review: March 16, 2022
I am both a consumer under laws and a licensed lawyer in Quebec. I have purchased a mattress from Ghostbed through their website and on delivery, they left the mattress in the public lobby of my building even if there were clear indications that parcels shall be left in a secure lockbox which was clearly indicated. As a result of their gross negligence, the parcels got stolen and a police report has been duly completed. Under consumer law, the vendor has the obligation to ensure that the mattress was properly delivered to the consumer, otherwise, the mattress is deemed not to have been delivered. It is clearly the case here.
Consequently, I duly sent legal notice pursuant to the consumer protection act to cancel the purchase and, even after 1 month following the theft of the mattress, Ghostbed refuses to issue a refund even if it is their legal obligation to do so. Ghostbed is INTENTIONALLY INFRINGING CONSUMER LAWS and has no consideration whatsoever, to consumers' rights. Their customer service is impolite, rude and does not care at all about my case. They do not answer my emails and when I call them, they offer no explanation whatsoever even if they have been put on legal notice.
Read full review
8 people found this review helpful
Christina of Cardington, OH

Verified Reviewer
Original review: March 3, 2022
Do not for one second believe their claim about a 101-night hassle free sleep trial where you can return the mattress. I purchased the mattress as part of a bundle. Upon deciding to return the mattress because I did not find it comfortable or cooling, I was informed they were adjusting the cost so that the bundle I purchased for $3815 would be "adjusted" so that the entire discount (the cost was apparently 40% off for every item) would be COMPLETELY applied to the mattress, and they would only refund me $242 for returning to mattress and charge full price for every single other item, none of which are returnable.
This is not described anywhere on their website and not in line with their claim of being able to make free returns. I'm disputing the charge and have already filed a complaint with the BBB. They are a corrupt company that clearly misleads and lies, with horrible customer service. Avoid them unless you like wasting thousands of dollars on a subpar product from a company that tries to purposefully mislead and rip off consumers.
Read full review
14 people found this review helpful
Hans of Snow Hill, MD

Verified Reviewer
Original review: Feb. 22, 2022
It took weeks for the various bed parts to arrive, one at a time. We like the bed itself, but it is smaller than standard so actually fit inside our current frame. We had ordered the extra headboard brackets but did not need them. The website does not say how to return anything except the mattress, so it took a few emails to find how to return them for refund. They had me spend $14.90 to ship it back with tracking and they received it on Jan. 31. 2 weeks later still no refund, several more days to finally get a reply and then they replied saying I would get only $64 back out of the $74 I spent on the cheap sheet metal parts. AMERICAN EXPRESS just informed me the refund was actually $63.84. The website gives the impression that returns are free if not satisfied. That is apparently not true with us and according to other reviews on the web we are not alone with their sleazy marketing. Buyer Beware!
8 people found this review helpful
Todd of Phoenixville, PA

Verified Reviewer
Original review: Feb. 15, 2022
DO NOT BUY FROM GHOSTBED!! Don't believe the reviews on-line as they have obviously been filtered by Ghostbed. See Consumer Affairs - ** or see the 300+ complaints on Better Business Bureau **. "Lounge, nap and snooze on your GhostBed mattress for 3+ months. If you don't love the comfort or feel, return it for free with our money-back guarantee." Ghostbed's money back guarantee is a SCAM. We purchased their Split King XL with adjustable base in October 2021 for $4,600 ($4,800 less the $200 white glove shipping charge) and tried them for 35+ days until both our backs were so sore my wife had to see an orthopedic surgeon and I had sciatic pain for several weeks afterwards.
We followed the return instructions, the mattresses were picked up by Sharetown – a charity arranged by Ghostbed, and received both email and text acknowledgments from Ghostbed that we would receive a $2,480 refund for the return of two TWIN XL mattresses. This seemed low but reasonable as we kept the adjustable frames, sheets and pillows that came with the $4,600 bundle. 16 days later and after making several calls to GhostBed inquiring about our refund, they refunded $1,100 back to our credit card – less than half the sale price of a single Twin XL mattress.
When we called about the discrepancy, the customer service representative told us there had been an accounting error, and that $1,100 was all that was owed after deducting the total bundle discounts of $2,800 (from the ridiculous bundle list price of $7,000) on $3,900 price of the two mattresses. So, we were scammed out of $1,380 on our refund and still had to purchase two Twin XL mattresses from a reputable company at an additional cost of $3,000. This was a very expensive lesson that ended up costing us over $6,000 for a new bed. Please do not let GhostBed keep getting away with this deceptive rip off. Do not trust the five-star reviews. Notice that there is no way to add your own review to their website. Read the real complaints on the links above.
Read full review
11 people found this review helpful
Ghostbed Company Information
Company Name:

Ghostbed

Website:

www.ghostbed.com
You're signed up
We'll start sending you the news you need delivered straight to you. We value your privacy. Unsubscribe easily.