This company is not yet accredited. See reviews below to learn more or submit your own review.
GhostBed's cooling mattresses work well for every sleep position. The original GhostBed model is an affordable mixed-foam mattress. The Luxe offers heightened comfort and Medium firmness. The Flex is a hybrid model that offers the coolest sleep of the three mattresses. 101-day sleep trials let users take their time when making a decision.
BOTTOM LINE
GhostBed's line of three mattresses provides a medium to medium firm sleep with cooling technologies at a reasonable price. All sleeping positions are well accommodated.
PROS
Virtually silent
20- or 25-year warranty
Good motion absorption
CONS
30-night break-in required before return
​
Thank you, you have successfully subscribed to our newsletter! Enjoy reading our tips and recommendations.
Unsubscribe at any time.
Are you this business?
GhostBed mattress construction and materials
The original GhostBed models are eleven inches thick, while the GhostBed Luxe and GhostBed Flex are thirteen inches. The GhostBed has 1.5 inches of aerated latex foam, two inches of gel memory foam, seven and a half inches of high-density foam, and a cover made of viscose and polyester. The GhostBed Luxe has a "Ghost Hug" topper to keep sleepers cool, an inch of gel memory foam, two layers of phase-change material, gel memory foam, a bounce layer and a thick base of high-density memory foam. The GhostBed Flex is a hybrid mattress with a cooling cover, several layers of memory foam and a layer of reinforced support coils.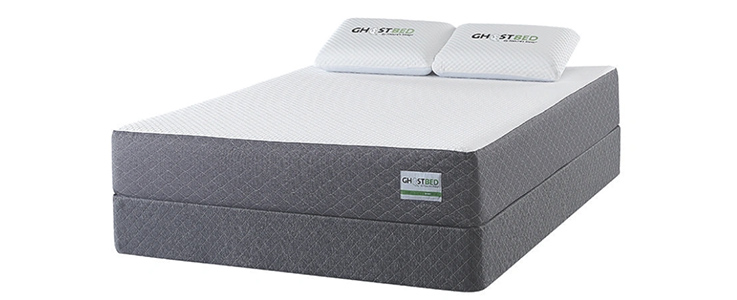 GhostBed mattress comfort
GhostBed prides itself on providing one of the coolest sleeps around. Cooling materials used in all three mattresses help even hot sleepers feel cool during the night. The GhostBed and GhostBed Flex are a Medium Firm, or 6, on the traditional mattress firmness scale. The GhostBed Luxe is a 5 or Medium. The original GhostBed is notable for its conforming memory foam with some added responsiveness from latex. The Luxe has the highest conforming ability and is great for those with aches and pains. The Flex is the most cooling option.
Firmness: The original GhostBed and GhostBed Flex are classified as Medium Firm. The GhostBed Luxe is Medium on the firmness scale.
Sleeping position: The GhostBed Luxe is the most accommodating model. It sleeps most weights in any position. The GhostBed and GhostBed Flex sleep most weights and positions well, but lighter weights sleeping on their stomachs might not sleep as comfortably.
Motion transfer: All three models from GhostBed do a great job absorbing motion on the mattress.
Edge support: The GhostBed and GhostBed Luxe have good edge support, although you can still expect some sinkage when sitting on the edge of the bed. The GhostBed Flex, like other hybrid models, has very good edge support.
Sleeping hot: The GhostBed Flex is the best choice for hot sleepers, but the GhostBed and GhostBed Luxe also allow for cool sleep.
GhostBed mattress prices
The GhostBed has a low cost when compared to mattresses with similar construction and materials. The GhostBed Luxe, as the name implies, is a bit pricier but offers some premium components that are worth the higher price tag. The GhostBed Flex is fairly priced when compared to other hybrid mattresses.
| Mattress size | GhostBed cost | GhostBed Luxe cost | GhostBed Flex cost |
| --- | --- | --- | --- |
| Twin | $445 | $995 | $895 |
| Twin XL | $645 | $1,200 | $1,100 |
| Full | $720 | $1,320 | $1,225 |
| Queen | $895 | $1,375 | $1,285 |
| King | $1,075 | $1,685 | $1,585 |
| California King | $1,095 | $1,725 | $1,625 |
| Split King | $1,290 | $2,400 | $2,200 |
Are GhostBed mattresses good?
All three GhostBed mattress models are good. Each offers a cooling night sleep with a high level of comfort at a fair price. The GhostBed Luxe is a good choice for those with aches and pains. The Flex is a great hybrid choice and has the coolest sleep. The original model's mix of memory foam and latex creates a comfortable sleep at an affordable price.
A link has directed you to this review. Its location on this page may change next time you visit.
How do I know I can trust these reviews about Ghostbed?
How do I know I can trust these reviews about Ghostbed?
2,433,504 reviews on ConsumerAffairs are verified.
We require contact information to ensure our reviewers are real.
We use intelligent software that helps us maintain the integrity of reviews.
Our moderators read all reviews to verify quality and helpfulness.
For more information about reviews on ConsumerAffairs.com please visit our FAQ.
Page 1 Reviews 0 - 10
Teresa of Scottville, MI Verified Reviewer
Original review: Sept. 6, 2020
We ordered our king size GhostBed just over a year ago. This order was placed on a Saturday night, by late Saturday night/middle of the night/ in the very wee hours of Sunday morning, we asked to have our full king order to be our to be changed to the the ** twin mattresses for our king bases (literally within hours of the order, no chance in that time it was shipping, in the middle of the night just hours later). We were told we could only do so by paying a restocking fee to change our order, ok whatever. The two twin XL bases for our king bed were delivered about a week later, but no mattress. We waited approximately 2 months for our mattress, no mattress. Calls and emails only told us it was not yet manufactured or ready to ship. This was not relayed to us in any way at the time of order.
During the time of order, my husband who works out of town for very extended periods of time, was home so we could have gotten it installed. With the very extended amount of wait time, by the time it finally arrived, he was back out of town for work and I could not get in moved and installed by myself. Calls to the company resulted in promises of free sheets and pillows to make up for their issue, neither ever showed up!
Now that we finally have had it installed months later, I can say we both are very unhappy with it and cannot sleep comfortably in it. Even after giving plenty of time to acclimate it. I now totally sleep on the couch and he has trouble sleeping and wakes up with extreme back pain. While we love the adjustable base, the mattress is not at all impressive. We would appreciate at the very least, our promised items for our inconvenience. I am going to reach out again to see it we can try a different style of GB mattress. I have found this to be an expensive disappointment ???? In addition the "massage" (very light vibration feature is extremely disappointing). Ghost Bed, would you like to make this right? I don't know why we did not receive our items which were were promised, our sheets and pillows at the very least? We wanted really LOVE this bed and gave it our best shot, but sadly it gets no better with time. GhostBed, would you now like to make this expensive transaction right?
Read full review
Be the first one to find this review helpful
Shelby of Jarrell, TX Verified Reviewer
Original review: Aug. 18, 2020
So my husband I did a lot of research on box bed and decided on Ghostbed. We thought why not, if we don't like it we have 101 days to send back. Well we got it and was awful. Felt like we were sleeping on the floor, it was so hard. We tried to give it two weeks but just couldn't do it anymore but they make you wait over 30 days to return and try to entice you to try it longer by saying they'll give you a "free" mattress topper and sheets BUT if you still don't like the bed you have to pay and keep the topper, can't be sent back. We said no and went through with the return process.
Where it feels like a scam is when originally purchasing the bed they throw in two "free" pillows and again if you don't keep the bed they either charge you for the pillows or make YOU pay to send them back. I think it's shady when I didn't ask or want the pillows but I have to pay to ship them back and we only found this out when we said we want to return the bed. You can only find where it states this towards the bottom of their terms and conditions page. OH and keep in mind they own the Nature's Sleep brand so expect the same experience. You're better off going to a mattress store and trying out a bed you like and buying there bc most have the 100 night trial as well.
Read full review
3 people found this review helpful
Thank you, you have successfully subscribed to our newsletter! Enjoy reading our tips and recommendations.
Unsubscribe at any time.

Glenn of Medford, MA Verified Reviewer
Original review: July 10, 2020
Ghostbed refund process is a nightmare. The bed was extremely hot trappings body heat waking me up every night. I called to return their toastbed. Because of Covid 19 the mattress sat in my room against a wall for 4 months before they would send someone to pick it up. Finally when the truck came, The driver gave me a receipt that said Nectar. I told him it was a ghostbed mattress he said it is the same company?? Two weeks went by, no word on my return. I called several time without being able to talk with anyone. I left messages And sent emails. No response. They suck at customer service.
This is the message they sent me. "However, upon reviewing the donation receipt from our partner Sharetown, they noted on the receipt that they picked up a Twin Nectar mattress and not a Twin GhostBed." This is done to be sure the GhostBed is donated and not another mattress therefore, I cannot accept your donation receipt with another mattress name for the donation. This is total **!
Read full review
4 people found this review helpful
Mark of Manhattan, KS Verified Reviewer
Original review: March 2, 2019
This mattress seems to be very comfortable and it seems to be adjustable to my body. They must improve the size of the mattress and include all sizes possible because I have a wide family that use different sizes. But I like the comfort, all the positions in bed and seems simple but I think I would sleep tight.
Be the first one to find this review helpful
Paris of Yuba City, CA Verified Reviewer
Original review: Feb. 24, 2019
This mattress had the best reviews out of all of the other mattresses that I was looking up and this mattress had a lot of YouTube video reviews and I trust those more than written reviews. The shipping was very affordable and fast. The mailman even helped bring the mattress inside. I also like how durable it is and it seems to be very stain resistant. But I wish the price was a little bit lower and affordable.
Be the first one to find this review helpful
Amy of Roseville, MI Verified Reviewer
Original review: Feb. 18, 2019
Ghostbed was on sale at a very good price and I've heard good reviews on this mattress. I love my new mattress. I enjoy sleeping on it each and every night. I mainly love the gel memory foam that is in the mattress that has more of a cooling effect. I'm so happy that I've made this choice and I told many people that I know about the comfort I get. I would highly recommend it to everyone I know and to anyone that has an affected night's rest because nothing worse than waking up every couple hours. If I had to choose another mattress I would definitely choose another one of these.
Be the first one to find this review helpful
Ghostbed Company Information
Company Name:

Ghostbed

Website:

www.ghostbed.com
You're signed up
We'll start sending you the news you need delivered straight to you. We value your privacy. Unsubscribe easily.