Ghostbed
This profile has not been claimed by the company. See reviews below to learn more or submit your own review.
GhostBed's cooling mattresses work well for every sleep position. The original GhostBed model is an affordable mixed-foam mattress. The Luxe offers heightened comfort and Medium firmness. The Flex is a hybrid model that offers the coolest sleep of the three mattresses. 101-day sleep trials let users take their time when making a decision.
Overall Satisfaction Rating
5 stars

4 stars

3 stars

2 stars

1 stars
Pros
Virtually silent
20- or 25-year warranty
Good motion absorption
Cons
30-night break-in required before return
Bottom Line
GhostBed's line of three mattresses provides a medium to medium firm sleep with cooling technologies at a reasonable price. All sleeping positions are well accommodated.
GhostBed mattress construction and materials
The original GhostBed models are eleven inches thick, while the GhostBed Luxe and GhostBed Flex are thirteen inches. The GhostBed has 1.5 inches of aerated latex foam, two inches of gel memory foam, seven and a half inches of high-density foam, and a cover made of viscose and polyester. The GhostBed Luxe has a "Ghost Hug" topper to keep sleepers cool, an inch of gel memory foam, two layers of phase-change material, gel memory foam, a bounce layer and a thick base of high-density memory foam. The GhostBed Flex is a hybrid mattress with a cooling cover, several layers of memory foam and a layer of reinforced support coils.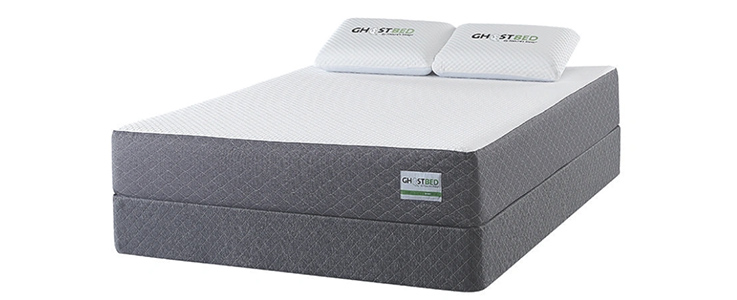 GhostBed mattress comfort
GhostBed prides itself on providing one of the coolest sleeps around. Cooling materials used in all three mattresses help even hot sleepers feel cool during the night. The GhostBed and GhostBed Flex are a Medium Firm, or 6, on the traditional mattress firmness scale. The GhostBed Luxe is a 5 or Medium. The original GhostBed is notable for its conforming memory foam with some added responsiveness from latex. The Luxe has the highest conforming ability and is great for those with aches and pains. The Flex is the most cooling option.
Firmness: The original GhostBed and GhostBed Flex are classified as Medium Firm. The GhostBed Luxe is Medium on the firmness scale.
Sleeping position: The GhostBed Luxe is the most accommodating model. It sleeps most weights in any position. The GhostBed and GhostBed Flex sleep most weights and positions well, but lighter weights sleeping on their stomachs might not sleep as comfortably.
Motion transfer: All three models from GhostBed do a great job absorbing motion on the mattress.
Edge support: The GhostBed and GhostBed Luxe have good edge support, although you can still expect some sinkage when sitting on the edge of the bed. The GhostBed Flex, like other hybrid models, has very good edge support.
Sleeping hot: The GhostBed Flex is the best choice for hot sleepers, but the GhostBed and GhostBed Luxe also allow for cool sleep.
GhostBed mattress prices
The GhostBed has a low cost when compared to mattresses with similar construction and materials. The GhostBed Luxe, as the name implies, is a bit pricier but offers some premium components that are worth the higher price tag. The GhostBed Flex is fairly priced when compared to other hybrid mattresses.
| Mattress size | GhostBed cost | GhostBed Luxe cost | GhostBed Flex cost |
| --- | --- | --- | --- |
| Twin | $445 | $995 | $895 |
| Twin XL | $645 | $1,200 | $1,100 |
| Full | $720 | $1,320 | $1,225 |
| Queen | $895 | $1,375 | $1,285 |
| King | $1,075 | $1,685 | $1,585 |
| California King | $1,095 | $1,725 | $1,625 |
| Split King | $1,290 | $2,400 | $2,200 |
Are GhostBed mattresses good?
All three GhostBed mattress models are good. Each offers a cooling night sleep with a high level of comfort at a fair price. The GhostBed Luxe is a good choice for those with aches and pains. The Flex is a great hybrid choice and has the coolest sleep. The original model's mix of memory foam and latex creates a comfortable sleep at an affordable price.
A link has directed you to this review. Its location on this page may change next time you visit.
How do I know I can trust these reviews about Ghostbed?
How do I know I can trust these reviews about Ghostbed?
3,426,016 reviews on ConsumerAffairs are verified.
We require contact information to ensure our reviewers are real.
We use intelligent software that helps us maintain the integrity of reviews.
Our moderators read all reviews to verify quality and helpfulness.
For more information about reviews on ConsumerAffairs.com please visit our FAQ.
Page 1 Reviews 0 - 10
Christine of Franklin, TN Verified Reviewer
Original review: Oct. 14, 2021
Truly awful product and company. I have not found the gel bed cool or comfortable. When I wanted to return the product because the sides of the bed collapse and you slide to the floor, the company wanted to know what temperature my bedroom was. My $150 mattress I bought at Costco for an extra mattress is just as comfortable.
Be the first one to find this review helpful
Kim of Florence, OR Verified Reviewer
Original review: Oct. 8, 2021
I purchased a mattress topper from Ghostbed mostly because they advertise that their product doesn't have any chemical smells. It reeks and you will not be able to use it right away due to the strong chemical odor. They also advertise returns for any reason up to 100 days after purchase. I wanted to return the topper because it is really firm and I was looking for a product that would soften up my already firm mattress. The return policy only applies to mattresses, not toppers because they classify toppers as personal items. That makes me wonder what a mattress is since it is about as personal as it gets. BUYER BEWARE.
2 people found this review helpful
Thank you, you have successfully subscribed to our newsletter! Enjoy reading our tips and recommendations.
Matthew of Palm Desert, CA Verified Reviewer Verified Buyer
Original review: Oct. 7, 2021
The moment I tried to return my GhostBed, they "Voided" my "101-Night No-Risk" sleep trial. Their "no-hassle" return policy is a lie. The customer service process was adversarial all the way up the managerial ladder. Do not do business with this company. Maybe their mattresses would be comfortable for you, but there are plenty of mattress companies out there with more integrity who will honor their advertised guarantees.
Be the first one to find this review helpful
Charlotte of New Orleans, LA Verified Reviewer
Original review: Oct. 5, 2021
WORST COMPANY EVER! If I could give them ZERO stars I would. DO NOT BUY ANYTHING FROM THIS COMPANY. I wish I had read the reviews on here before making my purchase. I purchased a mattress after mine was damaged in Hurricane Ida because the delivery time was short. Even considering the delays in shipping due to the storm and the pandemic, I STILL HAVE NOT RECEIVED MY MATTRESS. I tried calling the company to have them track it down, and they can't figure out why it hasn't been shipped to me.
After a month of not having a bed and sleeping on my couch, I decided to try to get a refund. They told me that there's nothing they can do until the package is delivered and if I want to cancel/return my order I would have to refuse the delivery. I asked them how I would refuse a delivery THAT NEVER ARRIVES. (I've also talked to FedEx about it and they're just as horrible). No one will give me any answers, NOR WILL THEY EMAIL ME INFORMATION I'VE ASKED FOR REPEATEDLY.
Someone from Admin Support finally emailed me and told me that they were going to charge a 15% restocking fee when I refused the order THAT I NEVER RECEIVED and wanted to charge me to keep the pillows THAT CAME FREE with my $1300 purchase. They will not send me a prepaid label to send the pillows back but want me to pay for them! I've called multiple times and keep getting told that a supervisor will call me back. One week later, NO ONE HAS CALLED ME. Absolutely HORRIBLE "customer service" and an even worse company. I'll be posting this review in multiple places.
Read full review
Be the first one to find this review helpful
Kevin of Redlands, CA Verified Reviewer Verified Buyer
Original review: Sept. 28, 2021
I ordered the GhostSheets. "The Coolest Sheets in the World," which is nothing short of a load of **. I made this purchase simply on their misleading idea that they were supposed to be cool sheets, and they did the absolute opposite. These sheets were pooling my sweat to the top instead of soaking in, making it even more impossible to sleep. They also wrinkle like no other sheets I've ever seen, right out of the washer and dryer (followed direct instructions). I contacted their support to get a return and refund, who told me to take specific pictures for them, in which I did. Afterwards they replied after and informed me that they have a NO RETURN policy; STAY AWAY AT ALL COSTS! I ordered the Sleepnumber stay cool sheets and they were a world-of-a-difference better!

Be the first one to find this review helpful
Julia of Horsham, PA Verified Reviewer
Original review: Sept. 11, 2021
After ordering the product, several weeks passed before I found out it was going to be delivered late. I had to call them several times, it was one lie after another…call every single day nightmare, on top everything I tell them I don't longer need the mattress because I need a mattress SAP… And I was sick and tired of all the liar… Even I never received the mattress I have to pay 15% stocking fee which is over $300. I will never never recommend this horrible company. I had a really really bad experience... Just makes me sick to my stomach just talk about it. Never never again…
5 people found this review helpful
Sandra of Fort Stockton, TX Verified Reviewer Verified Buyer
Original review: Sept. 8, 2021
I ordered mattress topper on Aug. 3rd 2021. Shipping was suppose to take 15 days. After I didn't receive product called and was told 30 days. Left emails and called. Was told not shipped. I cancelled and was told I would receive cancellation #. Never received. Called again and was told cancellation numbers are not given. I would receive email in 15 days. I financed through Affirm and they have already pulled 1st payment. I wish I had never purchased from Ghostbed.
2 people found this review helpful
Jennifer of Roseland, NJ Verified Reviewer Verified Buyer
Original review: Sept. 4, 2021
Ghostbed needs to restructure their return/refund policy or this will be their demise. I purchased two sets of twin sheets from them and unfortunately I have to return them. When I contacted the company they responded back and told me that I had to pay a 15% restocking fee along with shipping charges. I was blown away so I contacted them back and told them that I don't believe the restocking fee or shipping charges are fair to charge the consumer. Their refund/return policy is inconspicuously hidden on their website. If I had seen this policy before purchasing the sheets I would've never made my purchase.
After I contacted them for the second time their response turned into a pity party. The representative told me that they are a small business of only 60 employees and they cannot afford to take on any further expenses. What an odd response to give a customer. If you don't have the financial means to run your business efficiently and give your customers the best possible service then don't open your business. Also their website is misleading. After you place your products in your cart and scroll down to their secure checkout button, it says free shipping and returns. Really not a good look Ghostbed.

Read full review
5 people found this review helpful
Amber of Napoleon, OH Verified Reviewer
Original review: Aug. 27, 2021
We ordered a split king adjustable base and mattresses. White glove delivery ended up being cancelled and it was forwarded to our house (per our request because we would have had to wait another 3 weeks). FedEx only delivered two of the packages and the other two never arrived (after waiting over a week from the assigned delivery day). Ghostbed refused to offer any help except to tell me to keep waiting. We decided to cancel and send back the two packages we had received. Those packages were received by Ghostbed on the 19th and 24th of August, but they refuse to issue my refund until they receive the items Fedex has lost, the items that were never delivered to my house.
I was told to make my Affirm payment for an item I do not have and wait for them to get the packages from fed ex that were never in my possession or take the hit to my credit. How can I be responsible to get packages back to you that were never in my possession? This is an issue between them and fedex, but they are holding my money hostage. If you value your time, money, and sanity do not even consider this company. RUN.
Read full review
3 people found this review helpful
John of Milwaukee, WI Verified Reviewer
Original review: Aug. 19, 2021
I'll start off by saying I am not a person who has written a review in the past, but my experience with this company was horrible. I placed the order and they took the payment and they sent a confirmation stating my order would ship shortly. After 7 days I contacted them and asked when I could expect my order to ship, they responded t 2 days later and said that they did not know because they were experiencing production and logistic delays, which certainly would have changed my placing of this order had I known that. 7 more days go by and I sent another email (because the number they gave me no one answers) inquiring again about the timeframe of shipping my order, they responded and told me that it would at least 2 more weeks before my order was available for shipping.
I told them to cancel my order, 2 days later I get an email, stating that they would cancel my order and that it would be up to 15 days for them to give me my money back.. As far as I am concerned this company is a joke. I should have done my homework and read other people's experiences which it turns out there are many with a similar experience. Product might be good, but buyer be careful, because if you need this product don't expect it anytime soon.
Read full review
6 people found this review helpful
Ghostbed Company Information
Company Name:

Ghostbed

Website:

www.ghostbed.com
You're signed up
We'll start sending you the news you need delivered straight to you. We value your privacy. Unsubscribe easily.