This company is not yet accredited. See reviews below to learn more or submit your own review.
GhostBed's cooling mattresses work well for every sleep position. The original GhostBed model is an affordable mixed-foam mattress. The Luxe offers heightened comfort and Medium firmness. The Flex is a hybrid model that offers the coolest sleep of the three mattresses. 101-day sleep trials let users take their time when making a decision.
BOTTOM LINE
GhostBed's line of three mattresses provides a medium to medium firm sleep with cooling technologies at a reasonable price. All sleeping positions are well accommodated.
PROS
Virtually silent
20- or 25-year warranty
Good motion absorption
CONS
30-night break-in required before return
​
Thank you, you have successfully subscribed to our newsletter! Enjoy reading our tips and recommendations.
Are you this business?
GhostBed mattress construction and materials
The original GhostBed models are eleven inches thick, while the GhostBed Luxe and GhostBed Flex are thirteen inches. The GhostBed has 1.5 inches of aerated latex foam, two inches of gel memory foam, seven and a half inches of high-density foam, and a cover made of viscose and polyester. The GhostBed Luxe has a "Ghost Hug" topper to keep sleepers cool, an inch of gel memory foam, two layers of phase-change material, gel memory foam, a bounce layer and a thick base of high-density memory foam. The GhostBed Flex is a hybrid mattress with a cooling cover, several layers of memory foam and a layer of reinforced support coils.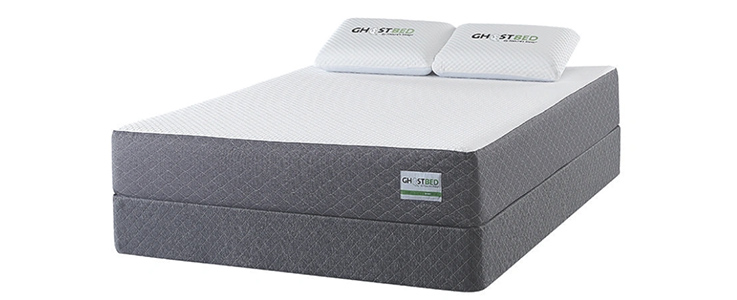 GhostBed mattress comfort
GhostBed prides itself on providing one of the coolest sleeps around. Cooling materials used in all three mattresses help even hot sleepers feel cool during the night. The GhostBed and GhostBed Flex are a Medium Firm, or 6, on the traditional mattress firmness scale. The GhostBed Luxe is a 5 or Medium. The original GhostBed is notable for its conforming memory foam with some added responsiveness from latex. The Luxe has the highest conforming ability and is great for those with aches and pains. The Flex is the most cooling option.
Firmness: The original GhostBed and GhostBed Flex are classified as Medium Firm. The GhostBed Luxe is Medium on the firmness scale.
Sleeping position: The GhostBed Luxe is the most accommodating model. It sleeps most weights in any position. The GhostBed and GhostBed Flex sleep most weights and positions well, but lighter weights sleeping on their stomachs might not sleep as comfortably.
Motion transfer: All three models from GhostBed do a great job absorbing motion on the mattress.
Edge support: The GhostBed and GhostBed Luxe have good edge support, although you can still expect some sinkage when sitting on the edge of the bed. The GhostBed Flex, like other hybrid models, has very good edge support.
Sleeping hot: The GhostBed Flex is the best choice for hot sleepers, but the GhostBed and GhostBed Luxe also allow for cool sleep.
GhostBed mattress prices
The GhostBed has a low cost when compared to mattresses with similar construction and materials. The GhostBed Luxe, as the name implies, is a bit pricier but offers some premium components that are worth the higher price tag. The GhostBed Flex is fairly priced when compared to other hybrid mattresses.
| Mattress size | GhostBed cost | GhostBed Luxe cost | GhostBed Flex cost |
| --- | --- | --- | --- |
| Twin | $445 | $995 | $895 |
| Twin XL | $645 | $1,200 | $1,100 |
| Full | $720 | $1,320 | $1,225 |
| Queen | $895 | $1,375 | $1,285 |
| King | $1,075 | $1,685 | $1,585 |
| California King | $1,095 | $1,725 | $1,625 |
| Split King | $1,290 | $2,400 | $2,200 |
Are GhostBed mattresses good?
All three GhostBed mattress models are good. Each offers a cooling night sleep with a high level of comfort at a fair price. The GhostBed Luxe is a good choice for those with aches and pains. The Flex is a great hybrid choice and has the coolest sleep. The original model's mix of memory foam and latex creates a comfortable sleep at an affordable price.
A link has directed you to this review. Its location on this page may change next time you visit.
How do I know I can trust these reviews about Ghostbed?
How do I know I can trust these reviews about Ghostbed?
2,891,014 reviews on ConsumerAffairs are verified.
We require contact information to ensure our reviewers are real.
We use intelligent software that helps us maintain the integrity of reviews.
Our moderators read all reviews to verify quality and helpfulness.
For more information about reviews on ConsumerAffairs.com please visit our FAQ.
Page 1 Reviews 0 - 10
Nichole of Columbia, TN Verified Reviewer
Original review: Feb. 7, 2021
We purchased and the day it was delivered called because all of the screws on bottom of bed were stripped out. Bed frame worst cheapest quality available, particle board. I had to file cc fraud for not product ordered as they would not return or refund without restocking fee when we never even got to set up. When I said I would explain about not receiving product as described and cc lawyer would contact them she said as soon as lawyer is brought up they can no longer speak to me. No manager available. Do Not Buy Beds!!!

3 people found this review helpful
daniel of Denver, CO Verified Reviewer
Original review: Jan. 16, 2021
I recently tried asking for a return from Ghostbed. Somehow because they did not like my thoughts on their company they banned me from getting a refund. Their policy on the page says hassle free returns. 101 night trial. you do have to keep it 30 days. It turns out they can just say no return.
3 people found this review helpful
Thank you, you have successfully subscribed to our newsletter! Enjoy reading our tips and recommendations.
Clayton of Slave Lake, AB Verified Reviewer
Original review: Jan. 6, 2021
Tried to return the mattresses after 30days, won't let me, just full of reasons, they voided my 101 sleep guarantee, because I said the mattresses moves around, because it is not comfortable, they promise if you are not happy, and they cannot make it right, you will get a refund, they lie, they won't even return my messages or emails just said no return and 101 night guarantee voided, this company is a horrible, so now I have a expensive bed sitting in the closet because we can't sleep it because it's that uncomfortable, I would avoid this company like the plague, I even tried to get the bbb to help but nothing.... Run is all I can say.
5 people found this review helpful

Ruvim of Auburn, WA Verified Reviewer Verified Buyer
Original review: Dec. 18, 2020
This company has the absolute worst customer service I have ever encountered. I bought mattress because of the 101 day money back guarantee. It took month to get the company to honor my request to return the mattress. After picking up the mattress, it took them more than a month to issue a refund. And that is only because I have emailed them constantly and posted a negative video review online. The Luxe cooling mattress sounds good, it really is not. It was so squishy. Nothing cooling about it all from what I noticed. I tried filing a complaint with BBB but they had so many other negative 1 star reviews. Worst company I have dealt with and I will not ever purchase anything from them again.
8 people found this review helpful
Elizabeth of Markdale, ON Verified Reviewer
Original review: Dec. 15, 2020
The delivery people are fine but then they are not Ghostbed employees. We have had these beds (2 xl twins) for 10 days. We ordered one night and the beds and free pillows came about 6 days later. The trouble is we ordered The Head to Toe Bundles (2), which come with 1 pillow and a set of sheets each (and at the time 2 more free pillows). So there should have been 4 pillows, 2 sets of sheets and I would assume instructions and a warranty card. When the beds were delivered we received 2 pillows with them and 2 sets of French instructions and warranty cards. So we were missing 2 pillows and 2 sets of sheets.
I immediately went on to chat with customer service and they said the items missing would be coming from a different location and that they would be here within a week. I also asked if I needed the boxes in case of return and they told me to discard them, so I did. The instructions were not necessary except for the fact that when I chatted with them about the above missing items, I decided to ask for a set of English instructions, in case, I moved or became dotty over the years. They sent me to a website to download them which is fine. So when I went to register I didn't know where to get the serial #, which is necessary. I made the mistake of chatting with them again.
When I asked where I would get the number for the warranty, she curtly chatted back that it is on the box, (which I had already thrown out) on the instruction booklet (which was in French and also thrown out as I don't speak French) and under the bed (which I had someone set up for me and I (at 73 yrs. old) would have to lay on the floor to find).
All in all, it was an absolutely horrible experience. It has been 10 days since delivery and today I received 2 more pillows this afternoon. Instead of being mistreated by the people on the chat option I phoned. The girl that answered was not rude but definitely didn't seem to enjoy her job. She said that the sheets were supposed to come last week but she didn't know why they didn't. She assured me they would be delivered this coming week sometime. So I agree with one of the other reviews that said, that they thought they may make delivery on some things harder just because they may view the customer as a bit of a pain. The beds so far, are fair. I have had an automatic bed before and it isn't any better, but it is what it is.
I am writing this review to let you know that if you are looking for a bed, it isn't the worst but don't expect all items at the same time or any kind of customer service, if you run into problems. I would take the time to look around for a bit, even though I did not take my own advice. Go to consumer reviews and not the wonderful ones posted on their site, as with anything you are purchasing online.
Read full review
4 people found this review helpful
Patricia of Seattle, WA Verified Reviewer
Original review: Dec. 11, 2020
We purchased an Adjustable Ghostbed from Costco a year ago for my senior mother.. Everything mechanically has worked thus far and it is what you get for your money, because at first the bed was pretty comfortable, but after a year, she started to complain, so we ended up getting a memory foam topper, which has been much better. Now let's get to the Customer Service Part of this... We ended up moving and misplaced the retainer bar, so started with the chat before Nov. 11, 2020 on their website and then it went to emails from there. They ask for order# when purchased bed, and the serial #'s under the bed to make sure we are receiving the correct retainer bar, which makes complete sense, however in my case, this was not what happened. (Mind you, there is a specific dept. of Ghostbed if purchased your bed through Costco, which only can help you.).
First time person was nice, but seemed very scattered and when I did talk to her over the phone, she seemed very unclear about product replacement parts. I received bar, it was totally the wrong one, I again contacted and they told me that Ghost bed changed their items numbers and did not let her know about it. I was very sympathetic, because I know things happen and mistakes can be made. So now I print a label they sent to return the wrong retainer bar (their mistake) and have to drive to FedEx to drop off. This is weeks in the making.
She then sends 2nd retainer bar out and does not give me a tracking number, so then I wait a week and then check my emails to see if she sent a tracking number with out my knowledge and she did not, so I contact her through email & she says that it already was received first week of December. I then tell her that I did not receive item, asked what address she sent it to and she sent it to our old address, when the first retainer bar was sent to our current and right address, (changed it when I talked and emailed her the first time) so how can there be a mistake? This was 4 days after the item was received to old house which was being sold, so did not know if the item would be there.
Ran out of work same day I contacted her, to old house and found nothing, had to contact Realtor to see if maybe she grabbed it, and she did not, but she said buyers were at the house and maybe they put in the house. Next day found out that buyers did find it on porch and put it in house, so then I was able to go track it down again and pick it up, only to find out, that IT WAS THE EXACT WRONG RETAINER BAR! At that point I contacted Ghost bed again, asked for a Supervisor, when they told me the person I was talking to is a Manager.. UGG.. I told Customer Service person that I did not want to talk to the same person and to please give my issue to someone else. Did I add in this review, that I PAID for the part!! She said she would send an email to another person with my complaint..
Next day, I received an email for a male and he basically told me that he is sending out the right retainer bar and sent pictures of it, which happen to be chrome and the one we had was black, so I asked if I was getting a chrome, there was no reply. I am assuming that it will come in Chrome.. UGG again if that will be the case. I asked for it to be overnighted, after just emailing him, he said he could not do it, because he already sent it out. I then asked to get a label to return the again wrong retainer bar, and he said that I could just dispose of it how I would like. Now I am afraid they might charge me for it, if I do dispose of it, even if I have proof through email.
I then asked for credit on the retainer bar, which you would think some compensation should of been addressed with the over a month of dealing with this issue. He told me that he could not give credit for a nonreturnable item, but yet the wrong retainer bar received can be disposed of? Makes you think??? He also told me that we are still able to use adjustable bed without bar, which is untrue, the bed slides forward when the head adjusts to up position. Hence have the retainer bar at end of bed to catch it. What a joke! I then wrote an email back telling him of their very poorly ran customer service, not for the fact that I didn't get credit back, but for the runaround on this and the lack of correction the second time and the dismissive comments on their part. His response "Thanks for the reply, have a great day". What I received the whole time on this process.
I WILL NEVER PURCHASE AGAIN FROM THIS COMPANY! Steer away from any part of their customer service!!! They definitely need to do some work internally!!! I will be sending this same review to Costco, hoping they think differently about carrying their product. Just a side note.. Their reviews on their website are very suspicious, they are all mostly 5 stars, this can't be correct, and there is no place to write a review, so I wonder where the reviews are coming from? Still waiting for Correct Retainer bar, said it should arrive by the December 17th, 2020.
Read full review
Be the first one to find this review helpful
Shaffer of Brookline, MO Verified Reviewer Verified Buyer
Original review: Oct. 20, 2020
The instructions are incorrect. The middle beam to the "all in one foundation is built backwards". They are sending them out this way in mass. Customer service will not fix it or compensate for these foundations going out incorrectly. You won't be able to register for the warranty they claim you can. I have yet to hear from them on the 101 day sleep trial which I have claimed and will send back because the foundation makes it extremely uncomfortable. I highly suggest you go with another mattress and company altogether unless you like feeling like you are sleeping on the floor.
3 people found this review helpful
Fi of Atlanta, GA Verified Reviewer
Original review: Oct. 16, 2020
I don't have a review of any of their merchandise-didn't get that far. I actually had a horrific experience with Ghostbed customer support. I ordered a mattress and pillows in the wee hours on 8/30 on a whim, but hoping there was something to the cooling features. I also opted to pay through an installment account with Affirm since there would be no interest.
However, I had a change of heart later that SAME day and decided I would cancel my order. After struggling to find a way to contact Ghostbed customer support and waiting on hold for at least 45 minutes before I had to hang up, I sent a request for a response via email and of course there was no immediate response. I finally found the chat feature less than 24 hours after my purchase and sent my request. I was told by the first rep that it would be no problem; my order had not been processed so it wasn't too late to cancel.
About 8 hours after I had this conversation with "customer support," I got an email that my order had shipped.?? I contacted Ghostbed again via the chat feature and got a different rep. This one CONFIRMED that she saw my cancellation request, but "This sometimes happens because we ship so fast." She also said that they would try to stop the delivery before it got to me, but if FedEx still delivers, "please refuse the delivery and it will be returned to us." She even went so far to say that I should leave a note on my door to let FedEx know not to leave the packages if I missed them. I work from home so I intended to be there. She also assured me that I would not be charged. I alerted her that I had gotten a text message that Affirm was texting me about my installment agreement. She falsely assured me AGAIN when I asked if I would need to be concerned about this correspondence that "No, we'll make sure they're aware."
All of these were blatant lies. I think the people conducting customer support are working from home too and have no access to anyone who could have actually taken care of this. FedEx attempted to deliver the box of pillows twice and the 2nd time the driver refused to take them back. The mattress came about a week later and I insisted that the driver take both the mattress and pillows - both boxes so badly damaged they looked like someone had used them for batting practice.
I tried calling Ghostbed again around 9/2 and stayed on hold for an hour this time before giving up. They NEVER answer the phone. They give you an option to leave a message (but "not more than one if you've already left one"...an indication that they have a LOT of customer support issues), but to this day I'm still waiting for a phone call.
It finally occurred to me on 9/10 to see if they had a Facebook page and lo and behold, someone answered a private message, only to give me an excuse that they receive "over 1000 calls a day"- as if that's MY problem - and that they would give me a call the next day. I was so frustrated I didn't even give them any more information, hoping that I could actually return the merchandise and be DONE with them and they would have no reason to charge me anything--especially since the chat customer support rep told me the steps to take. I received confirmation that the mattress and pillows arrived in Florida by 9/16 and 9/29 respectively. I finally thought I was done.
However, Affirm began sending me notifications this month that I now owed my first payment--on merchandise I did not have or want. When I contacted this phantom and apparently ONLY customer service person on Ghostbed's Facebook page again on 10/6, she had clearly taken my frustration personally and had absolutely no concern for my issue. She told me that they had to "receive all the items back, inspect, reinvtory [sic], create the RA, send to finance and then cancel the loan." When I expressed my concern that the loan company was telling me my payment was past due and I didn't want it to end up on my credit, especially for a CANCELED ORDER and returned merchandise, her response was "any payment made will get refunded to you."
So, today, 10/15, Affirm sent me an email that I STILL owe them money because Ghostbed didn't pay the whole loan. They left me a $196.31 balance. How nice. BACK to Facebook private message to tell them that FedEx damaged the packages - not me - so if I'm being charged a restocking fee, it should be waived. The response was: "We only ship new merchandise. The restocking fee apparently is all you are being charged, as we typically would also deduct $100 for the mattress and $25 for the pillows. I'm not sure why it is only a restocking fee. But the order has been refunded." Still, because I was frustrated with this complete lack of concern and unacceptable resolution, I asked if there was ANYONE there interested in making this situation right but the final response was: "We do have policies that we apply equally to everyone. You can read the full terms of our policy at our website."
So what if I wanted to make an impulse purchase at 1:00 AM and change my mind. I'm glad I didn't have to cancel for a REAL reason that was unavoidable like a family emergency or military deployment. But now I just paid a company that I never intended to do business with for the inconvenience they caused ME. I guess they're doing so well they don't care if a potential customer was happy. They obviously don't care to have my business in the future. Great business model.
Read full review
7 people found this review helpful
Michael of Acworth, GA Verified Reviewer Verified Buyer
Original review: Sept. 29, 2020
As I described in an earlier review, I liked the GhostBed mattress itself but didn't keep it because my back was sore each morning after sleeping on it - a problem I don't blame on the mattress quality, but my back. So I returned it while rating the mattress itself with 5 stars. However, the return process gets 1 star. Here's my story behind why.
I purchased a GhostBed mattress in July 2020 and initiated a request to return it one month later. While making the return request, I was first offered the opportunity for a free topper to be sent to me to help with comfort. I appreciated that, but still opted to return the mattress instead. I became dismayed to learn that despite GhostBed's "No-Hassle Refund Guarantee" isn't accurate at all. Their website says, "Tried GhostBed for 30 days, and realized it's just not right for you? No sweat. The GhostBed customer service team will work with you to arrange pickup of your mattress. All you need to do is be home when the pickup crew arrives."
Contrary to that assurance, I was informed because of COVID-19 that I would need to PERSONALLY locate & coordinate a mattress pickup with a charitable organization local to me. That is not "no hassle" and does much more than require me to "lift a finger." That chore all by itself wouldn't have been an issue to me if it had been clearly stated on the GhostBed website prior to my purchase. But it didn't. That's either dishonest or lazy website maintenance.
In addition, I was also informed that I would need to return the two free pillows received. Ok, no problem. Except that the cost of returning them was on me. THAT is a problem. So, along with my mattress purchase I was sent two pillows that I didn't request (they were a default bonus with the mattress), had to return them, and bear the brunt of that cost (as it turns out, $24 through the cheapest USPS option). And as with the mattress return, there's nothing on the GhostBed website stating that bonus pillows received with the mattress would need to be returned at all, much less AT CUSTOMER EXPENSE if returning the mattress.
If I opted to keep the pillows, their cost would be subtracted from the final refund. So I spent the $24 to return them. I eventually was able to coordinate a mattress pickup and then sent a copy of the required pickup receipt to GhostBed support on Aug. 21. Over the course of the next several days, I sent four separate inquiries to GhostBed support via the same email address I had earlier coordinated the mattress & pillows returns. My inquiries were simply to ask how long the refund typically takes. The support person had previously been very quick to respond to me. Concerning my "how long does it take" inquiries, I never once received a reply. Never once. Even to this day.
I then began calling their support line. Found out each time I was somewhere around caller 15 waiting in line to get through. Each time, the phone voice message keep me on for roughly 20 minutes before simply dropping me. Interestingly the voice holding message periodically came back saying, "Wow! You're still holding. We are sorry..." as if THEY couldn't even believe a calling customer would actually wait that long on the phone.
So finally on Aug. 31, I tried their online chat function to see if I could communicate with anyone. First time, I was somewhere around customer 17 waiting for a chat agent to respond. While waiting, I simply stayed busy with other work. About an hour later when I was getting close to being first in line, I discovered that I was timed out of chat and got dropped. So I tried again. Went back to being customer 14 and decided this time to periodically send the chat session a keyboard character just to keep my session from timing out again.
Finally a couple hours later, I actually connected with a chat agent. (Yes, a couple hours later.) So without exaggeration, I spent a total of 3+ hours on their chat software until I had someone interacting with me. Keep in mind, it's now been 10 days since I submitted my mattress pickup receipt. All I wanted to know is how long it typically takes to get a refund. During this chat session, I was informed it usually takes "up to 15 business days" to process. Sigh...
Ok, so I mapped out 15 business days on the calendar from my original receipt submission date of Aug. 21, including skipping weekends and Labor Day, plus one extra day just to make sure. I re-chatted that day (Sept. 15) that we were beyond the 15-day process period and I still hadn't received a refund. The first thing this chat agent (different person this time) wrote back was "Who informed you of 15 days?" Oh no... here we go. "The tickets are viewed in the order they are received by Returns, and THEN it takes up to 15 business days to process." Sigh... I asked, "So another week? A month? Any idea at all?" Response, "I don't want to give you inaccurate information... They will contact you with the time to expect it and the amount." Sigh...
I finally received the refund notification on Sept. 24, five weeks after I had sent support a copy of the mattress pickup receipt on Aug. 21. So my conclusion about the return process is this:
1. Despite what the GhostBed website says, if you buy one of their mattresses and opt to return it sometime after 30 and before 101 days, you will get stuck locating a charitable organization to haul it away.
2. If free pillows come with the mattress, you will get stuck paying for and coordinating the return of the pillows separately from the mattress.
3. It is likely to take an enormously long period of time to finally secure your refund. That alone tells me one of four things:
a. GhostBed returns & support are severely understaffed, OR
b. GhostBed returns & support processes are severely inefficient, OR
c. GhostBed has many, MANY more mattress returns than they let on, OR
d. GhostBed is in financial trouble and hangs onto your refund as long as possible before finally letting it go.
There may be other possibilities, but I can't think of them. In sum (as noted in an earlier review), I did like the mattress itself, even though it didn't resolve my back problem. However, if you buy one and decide to return it, just be aware of the amount of work, expense, and wait you will incur in the process. Clearly it would be an understatement to say that process was a significant disappointment to me. I gave this two stars instead of only one because at least the people I did interact with were polite and tried to help within the context of what they are permitted to do and say.
Read full review
13 people found this review helpful
Michael of Acworth, GA Verified Reviewer Verified Buyer
Original review: Sept. 29, 2020
I purchased the most basic GhostBed mattress in July 2020. So this isn't their Flex, Luxe, or 3D Matrix. Just the basic. I'm giving it 5 stars because I found it to be supportive, on the more firm side (which is my preference), and - as primarily a back & stomach sleeper - pretty comfortable. Plus it has a 20-year limited warranty, which is 5-10 years longer than most of their competitors.
Also, the price was right (under $600 when I bought it), and it came with two free pillows. Despite all that, I ended up returning the mattress within their 101-day trial period because I would wake up each morning with a sore back. Though that sounds bad, I actually don't blame the mattress. I seem to have a sensitive back and was hoping a nice mattress would help. In the end it didn't, but (to me) that is not a reflection on the quality of the mattress. That's why I rate it so well and would still recommend it to those who prefer a bit more firmness in a mattress. If, however, you purchase a GhostBed mattress and aren't convinced prior to the purchase that you're going to keep it, I have very different feedback regarding that service process. So I'm making that a separate review because my star rating is different.
Read full review
Be the first one to find this review helpful
Ghostbed Company Information
Company Name:

Ghostbed

Website:

www.ghostbed.com
You're signed up
We'll start sending you the news you need delivered straight to you. We value your privacy. Unsubscribe easily.