Ghostbed
This profile has not been claimed by the company. See reviews below to learn more or submit your own review.
GhostBed's cooling mattresses work well for every sleep position. The original GhostBed model is an affordable mixed-foam mattress. The Luxe offers heightened comfort and Medium firmness. The Flex is a hybrid model that offers the coolest sleep of the three mattresses. 101-day sleep trials let users take their time when making a decision.
Overall Satisfaction Rating
5 stars

4 stars

3 stars

2 stars

1 stars
Pros
Virtually silent
20- or 25-year warranty
Good motion absorption
Cons
30-night break-in required before return
Bottom Line
GhostBed's line of three mattresses provides a medium to medium firm sleep with cooling technologies at a reasonable price. All sleeping positions are well accommodated.
GhostBed mattress construction and materials
The original GhostBed models are eleven inches thick, while the GhostBed Luxe and GhostBed Flex are thirteen inches. The GhostBed has 1.5 inches of aerated latex foam, two inches of gel memory foam, seven and a half inches of high-density foam, and a cover made of viscose and polyester. The GhostBed Luxe has a "Ghost Hug" topper to keep sleepers cool, an inch of gel memory foam, two layers of phase-change material, gel memory foam, a bounce layer and a thick base of high-density memory foam. The GhostBed Flex is a hybrid mattress with a cooling cover, several layers of memory foam and a layer of reinforced support coils.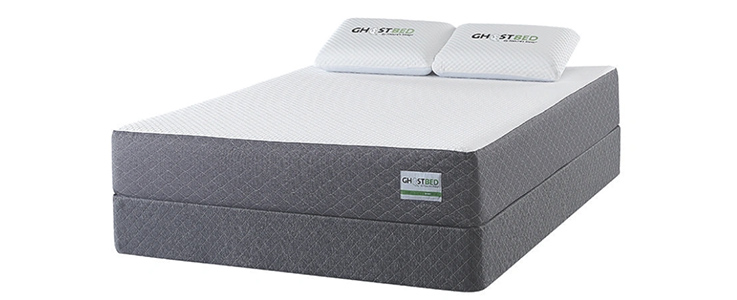 GhostBed mattress comfort
GhostBed prides itself on providing one of the coolest sleeps around. Cooling materials used in all three mattresses help even hot sleepers feel cool during the night. The GhostBed and GhostBed Flex are a Medium Firm, or 6, on the traditional mattress firmness scale. The GhostBed Luxe is a 5 or Medium. The original GhostBed is notable for its conforming memory foam with some added responsiveness from latex. The Luxe has the highest conforming ability and is great for those with aches and pains. The Flex is the most cooling option.
Firmness: The original GhostBed and GhostBed Flex are classified as Medium Firm. The GhostBed Luxe is Medium on the firmness scale.
Sleeping position: The GhostBed Luxe is the most accommodating model. It sleeps most weights in any position. The GhostBed and GhostBed Flex sleep most weights and positions well, but lighter weights sleeping on their stomachs might not sleep as comfortably.
Motion transfer: All three models from GhostBed do a great job absorbing motion on the mattress.
Edge support: The GhostBed and GhostBed Luxe have good edge support, although you can still expect some sinkage when sitting on the edge of the bed. The GhostBed Flex, like other hybrid models, has very good edge support.
Sleeping hot: The GhostBed Flex is the best choice for hot sleepers, but the GhostBed and GhostBed Luxe also allow for cool sleep.
GhostBed mattress prices
The GhostBed has a low cost when compared to mattresses with similar construction and materials. The GhostBed Luxe, as the name implies, is a bit pricier but offers some premium components that are worth the higher price tag. The GhostBed Flex is fairly priced when compared to other hybrid mattresses.
| Mattress size | GhostBed cost | GhostBed Luxe cost | GhostBed Flex cost |
| --- | --- | --- | --- |
| Twin | $445 | $995 | $895 |
| Twin XL | $645 | $1,200 | $1,100 |
| Full | $720 | $1,320 | $1,225 |
| Queen | $895 | $1,375 | $1,285 |
| King | $1,075 | $1,685 | $1,585 |
| California King | $1,095 | $1,725 | $1,625 |
| Split King | $1,290 | $2,400 | $2,200 |
Are GhostBed mattresses good?
All three GhostBed mattress models are good. Each offers a cooling night sleep with a high level of comfort at a fair price. The GhostBed Luxe is a good choice for those with aches and pains. The Flex is a great hybrid choice and has the coolest sleep. The original model's mix of memory foam and latex creates a comfortable sleep at an affordable price.
A link has directed you to this review. Its location on this page may change next time you visit.
How do I know I can trust these reviews about Ghostbed?
How do I know I can trust these reviews about Ghostbed?
3,301,606 reviews on ConsumerAffairs are verified.
We require contact information to ensure our reviewers are real.
We use intelligent software that helps us maintain the integrity of reviews.
Our moderators read all reviews to verify quality and helpfulness.
For more information about reviews on ConsumerAffairs.com please visit our FAQ.
Page 1 Reviews 0 - 10
Joan of Bonney Lake, WA Verified Reviewer
Original review: July 12, 2021
I purchased the bundle, Luxe mattress and adjustable bedframe. The mattress arrived defective and did not expand to full 13" (ever). It is liking lying in a bowl of mush and by the way the Luxe is NOT cooling as it claims. I contacted the company and was told to take pictures of the damage, the law tags and take measurements, which I did. The tags were not accessible as they told me wrong locations twice (until I crawled under the bedframe, found them and awkwardly took pics with my cellphone in a 2" gap between the wall and bed). Note the mattress and frame together weigh around 300+ lbs, so no moving it.
After several communications back and forth, GhostBed did not replace the defective mattress as part of their 101 night false advertising trial. I did receive an email from support early on stating that "replacement" is not part of the 101 night trial. I had to go through my credit card company to get a credit back and I will have to pay to have the mattress hauled away. DO NOT BUY FROM THIS COMPANY! There are plenty of competitors who have great product and fair consumer policies and customer service.


Read full review
Be the first one to find this review helpful
Gail of Trenton, MI Verified Reviewer
Original review: July 6, 2021
This was a terrible experience. I was bullied into placing an order before I missed the special they were running for 40% off a bundle only to find out they always have that special. The salesman told me they never run that special and it was a great deal. I was also told he would gift us two pillows. After trying the mattress and adjustable base I wasn't happy with either one. I called to process a return. Well the 101 night guarantee they have plastered all over their website doesn't show that. It's just on the mattress and the base isn't included in that. They do not offer returns on the base. I was told you find that out after you read the FAQ page... I don't read FAQ. I read reviews which were all great on the website.. I found out later why all the reviews are good and it's because they review them and only place the ones on their website they want on there. My review still is not on their website.
I wish I would have done more homework before I made this purchase. The massage function on the bed is not quiet at all like they state on the website and the light flickers at night randomly under the bed so I have to have the bed unplugged because I am afraid of a fire. When I contacted the company about this I was told they would send me out the equipment to change myself and see if that fixes the problem. When you are gifted pillows they will charge you if you do not return them at your own expense when you return/donate the mattress. Also the base goes up to full price so you now pay almost double for the base and get a small refund for the mattress.
After looking a bit more into this company I had no way to contact management, customer service is awful. When I waited for a call all I would get were emails from a "Manager." One email even stated for the supposedly manager to call me from customer service with a note at the top that read "Beware of this lady!" Nice of the "manager" to forward that on to me the customer or "that lady". I reviewed BBB and was shocked by the complaints. I really wish I would have reviewed their website before I made this purchase. So sad I work as a nurse during this whole pandemic and was just hoping for some relief with my back and hip pain only to have a mattress that didn't help and a purchase I wish I never made. So sad now I need to go back and search for a new mattress and keep a base that has to stay unplugged because I'm afraid of a fire. Thank you to GhostBed.
Read full review
3 people found this review helpful
Thank you, you have successfully subscribed to our newsletter! Enjoy reading our tips and recommendations.

Jordan of Riverwoods, IL Verified Reviewer
Original review: July 5, 2021
After ordering the product, several weeks passed before I found out it was going to be delivered late. They never sent me updates. I had to call them several times before they told me that. They did tell me that since it hadn't even been the shipping process, they don't give updates. BUT AT LEAST TELL ME THAT IT'S GOING TO BE LATE. THAT'S TECHNICALLY AN UPDATE. Bad customer service.
Be the first one to find this review helpful

Mark of New Port Richey, FL Verified Reviewer
Original review: June 28, 2021
I purchased a GhostBed Luxe King Bundle with the adjustable base. The mattress was very uncomfortable so we decided to return it under the 101 night trial policy. Although we were aware that we would have to keep the base, GhostBed stated they would remove all discounts and we would only receive a $415 credit for a mattress that is normally $2545.00 but is currently discounted to $1782.00 if purchased separately. We paid $2980.00 for the bundle meaning they stuck us with the base for $2565.00.... Their sleep trial is a SCAM! Not to mention the cheap parts for the adjustable base are made in China!
5 people found this review helpful
Erika of Lincoln, NE Verified Reviewer Verified Buyer
Original review: June 22, 2021
I've had my GhostBed mattress for three and a half years, and we already had to buy a new mattress (from another brand). For the last six months, my partner and I have had awful back pain, and only after sleeping on a blow-up camping mattress did we learn that it's our mattress. We get better sleep on an $80 air mattress than this bed. The warranty is a joke. Since it's been over a year, I can only get a replacement mattress, and even then I would have to pay shipping costs. I don't want another one of these mattresses! It's wild that they only guarantee that their mattresses will stay intact for a year. What a scam.
Don't believe the reviews on their website either. I tried to leave a review using the review link GhostBed emailed me, but it's been too long and the link has expired. When I tried to leave a review directly on their website it's hidden since I'm not a "verified buyer." So basically, all the great reviews on their website are from people who have only had their bed for a few months or a year at most, but the mattresses start to break down within a few years.
Read full review
2 people found this review helpful
Thomas of Plant City, FL Verified Reviewer
Original review: June 11, 2021
Ghostbed is a scam! My wife and I ordered the best quality that ghost bed had to offer, only to learn their service and product is subpar to other brands. After placing the order, we received the incorrect size pillows and bed protector that they never did replace. After assembling our new bed, we realized that after several nights of sleep that this was the worst bed we had ever slept on. Ghostbed makes you keep the mattress for 30 days before you can replace or receive a refund. During that time we slept on our couches in the living room just to get a decent night s sleep.
Their money back guarantee is an absolute joke. After finding out their firm mattress is really not firm at all, we decided to return ours. This is where it really goes down hill. Customer service says they will put in ticket for manager to call back, still waiting for that call after 4 weeks. Customer service will hang up on you after you say you'll stay on the phone for a manager, then when you call back that agent will block your number. Buyer beware, Don't believe the amazing reviews on their site. You can find much better quality products for less money at Sam's Club and Mattress Firm. We would never recommend Ghost bed to anyone.
Mike and Diane **
Read full review
6 people found this review helpful
Jake of Olympia, WA Verified Reviewer
Original review: May 25, 2021
First I would like to state that I also should have read reviews before purchasing this product. I am 24 days in and still waiting for my refund. They take about a week to return emails with generic, non-helpful sayings like, "processed, relayed concerns". Every interaction I have had with customer service they have raised their voice and been rather rude. I supported them because many DOD and military do, that was a mistake they do not deserve my business with their proven record and communication style. For 1700 dollars I expected more! Very disappointed.
9 people found this review helpful
Theresa of Ormond Beach, FL Verified Reviewer Verified Buyer
Original review: April 28, 2021
I am going to start this by saying I really wished I would have read the customer service reviews prior to making this purchase. I was hesitant to purchase a bed online and it ended up being a worse experience than I could have imagined due to their customer service. First off, do not expect to get the bed in 2-5 as advertised. In fact, do not even expect a tracking number in that time. I contacted Ghost bed a couple times about why it was taking so long and received the corporate answer about logistics issues and it will ship "next week." It took 18 days for the bed to arrive at the logistics company so they could set up delivery for the white glove delivery I purchased. It was two days later when I finally got the bed (no fault of theirs, scheduling issues).
The second part of the nightmare with this purchase began with their return policy. I ordered the headboard brackets and the 6-inch legs for a total cost of over $300.00. When I ordered the headboard brackets I accidentally ordered two boxes and am stuck with them since they are not eligible for return. I now realize I do not need the 6-inch legs and am stuck with them as well. Their return policy states ONLY the mattress can be returned for a full refund. I didn't read the fine print (All other items are final sale and can not be returned) and assumed this meant if you were not satisfied with the bed after the trial period all you could was return was the mattress and not the base.
I did contact Ghost Bed and they said I could return the items if I paid for shipping and they would tack on a $25.00 freight fee and a 15% restocking fee. I am pretty sure I would lose money if I did return the items so I spent $300.00 on items that will go in the trash since I didn't even need the one set of headboard brackets I purchased.
Overall, the bed is fine for the money I spent. I will not recommend Ghost Bed to anyone I know that is looking for a bed due to the customer service. I have never heard of a return policy as strict as theirs and most companies will usually make exceptions to policy when a customer spends as much money as I did. I really hope the mattress/base works out and I do not need to contact Ghost Bed for any other assistance.
Read full review
6 people found this review helpful
Debby of Omaha, NE Verified Reviewer
Original review: April 19, 2021
I ordered a king split adjustable bed frame and 2 twin XL mattresses from Ghostbed. I spent over $4400. When I was in process of checking out something popped up offering me additional % off. I selected the additional discount, completed my order and saw the amount had changed by over $400. I figured I accidentally selected "Head to Toe Bundle" but was ok with that as it included sheets, etc. that I was going to need so I was ok with that. The bed arrived but no sheets. I got on my computer chat with a Ghostbed rep who informed me I didn't order sheets. I said I am also missing the free "pillows". He said the "extra discount" caused me not to get pillows but never explained why my price changed so drastically during the checkout process.
After I disconnected with the rep on chat, I starting researching to see what exactly happened and discovered that by accepting the "extra discount" that showed up when I was checking out, I lost option of getting free pillows and it added an extra $412 to my bill. I immediately emailed customer service. I received an email back several days later. The best they could give me was an in store credit of 7% which was equal to $412. By this time I was too mad to accept any of their offers. I called them on phone and was told by a rep, they couldn't do anything else. I told them everything is still in box and I will be sending it all back. I was then put on hold and the rep came back and said she would be able to credit my card $412. Of course it would take 30 days but never the less, I was getting my refund.
I then ask her to cancel the extra legs I ordered and the headboard attachment. Even though those 2 items hadn't been sent yet, she couldn't stop the order since it had already been sent to their warehouse. However, once I receive them, I can return them and just pay shipping and a restocking fee. At that point I was over it. Whatever.
A few days later someone else from Ghostbed must have seen my original email and felt like fighting so I got another email from Ghostbed telling me that I can send everything back and pay a 20% restocking fee but they aren't going to give me any money back. However they were able to cancel the headboard connector and extra legs. At the point of reading this new email I had already seen the request for $412 refund from them come over in an email so I wasn't worried about that and I was thrilled to know the extra legs and headboard connector was officially canceled. I was also laughing at the thought of just how screwed up their support staff must be. One rep can't cancel an order but another could make it happen.
To close, I got everything I requested but as you can see it took a while and the right hand doesn't appear to know what left hand is doing. I do love my bed but there has to be a similar bed company with way better customer service. If you do order from this company, don't accept the extra discounts that may pop up while checking out because it will take away from their standard 40% discount. It will not be added on as I thought it would be and to get it refunded is a hassle.
Read full review
8 people found this review helpful
William of Oak Ridge, TN Verified Reviewer
Original review: April 17, 2021
I was ignored and had to repeatedly contact them about the fact that the seams were coming apart on the mattress. Finally they tell me they have a great warranty but mine expired so after 2 years and over $1000 I have a mattress that I get to watch fall apart.



7 people found this review helpful
Ghostbed Company Information
Company Name:

Ghostbed

Website:

www.ghostbed.com
You're signed up
We'll start sending you the news you need delivered straight to you. We value your privacy. Unsubscribe easily.