American Signature Furniture
Brandon, FL
Consumer Complaints and Reviews

The warranty protection service when you buy American Signature is horrible. It does not cover what it says it covers. I and my sister bought furniture from both and spent thousands of dollars on the furniture and it peel and tore and the frame cracked and the warranty place found a way not to cover it. So I recommend the best this is to buy at your own risk and expect your purchase to last about a year. After reading the past reviews and when the problems started with me and my sister. So, don't buy it.

I purchased a leather sofa and love seat recliner set from American Signature Furniture as well as a dining set and king and queen bed frames. First I purchased the sofa set in 2016 and was told that the warranty (5-year warranty) covered EVERYTHING that could happen to the material. I now have a sofa arm that is ripped and the leather is peeling. I sent email with pics and then they sent out a repairman to see the damage... None less to say he tells me that the best he could do is sew the arm! I said I could do that! You're here because this is under warranty.
Well after being given the run around for 2 weeks I get a call from ASF stating that THEY decided that the damage was not done a manufactures defect and we are out of our 1-year coverage with ASF. WTH!!! If that's not enough when they delivered my king bed frame there were screws missing and when I called to tell them that I could not finish putting the bed together they started asking me questions like did I look at the back of the frame... I said, "Of course. That's where I got the rest of the tools from!" So the bottom line is that after going back and forth about the doggone screws I ended up buying some from Lowe's to finish the bed so I could get my mattress delivered... NEVER AGAIN will I purchase ANYTHING from this SHEISTY establishment again!! I would NEVER refer anyone for anything from these people who DO NOT stand behind their products or merchandise.

After purchasing furniture and arranging for a delivery date, I received 2 phone calls prior to delivery confirming the address and time of delivery. On the morning of the due delivery I received a phone call that the delivery truck went to a wrong address and although only 10 miles from my home, they would not be delivering the furniture. In speaking with the store they scheduled the delivery for the next day and said I would receive a call as to the time of delivery. I did not receive a call so I called the store at 10 am when it opened. I asked when the furniture would be delivered and was told the delivery truck would call me shortly.
After waiting another 2 hours I called the delivery phone number and spoke with customer service. They said my furniture was not even on the truck and now would be delayed another 3 days. When I asked why I was told the delivery truck was to call me with a time, I was told a clerk at the store probably just said that to get me off the phone. Bottom line is this company has no ethics, no customer service skills and cannot be believed.

I purchased the warranty agreement with my leather sectional sofa. We are 2 adult family with no children. The chaise part of the couch is fine but the regular section where I always sit started bubbling & finally ripped. I called them exactly in the date it happened. They came out to look at it & sent a denial letter even though the terms say the issue is covered under warranty. I have 30 days to repeal it. I have to fax copies that have faded even though they have me on file in their system. ** company crap furniture & useless warranty. Before anyone thinks it I'm 120lbs. So my little weight should not be causing the issue. The receipt is faded to the point of almost unreadable. That is how they purposely made it. Invoice #**.

I ordered a beautiful living room set from American Signature on 05/10/2017. They scheduled delivery to my home for Saturday 05/13/2017. I received several phone calls over the following days to confirm the pieces that were to be included with my order. I was given a window of time that the delivery would be made on the promised day. That morning, I got a phone call from American Signature stating that the delivery truck left without some of my pieces so they would be sending them out in a van. After some time the van never came and I got a call back stating that the pieces had actually never made it from the warehouse and they wouldn't be able to get them delivered from the warehouse until Wednesday 05/17/2017.
I was upset but agreed because I want my furniture. I got a call later the same day asking me which pieces were missing, shouldn't this be information they knew already? I was out of town at the time of the delivery, so when I returned on Sunday I realized that one of the accent tables that did make it to our house did not have the glass topping for it. I called Monday morning, was told the warehouse was closed and they would follow up with me the following day. Got a call on Tuesday and was told the table was now on back order and they wouldn't be able to get me the glass piece until the beginning of June. I was livid. Got a call back that afternoon saying they found the glass piece and it would be included with the rest of my delivery on Thursday, 05/18/2017.
Yesterday evening it was brought to my attention that another piece, a chair, didn't have the legs that were supposed to be attached to the bottom. I thought with the style of chair that it was, it could just sit straight on the ground... Not the case. Called back, they will try to find the legs to my chair. Delivery is set for today, never was given a window of delivery time. I got a phone call from them stating they were 45 minutes from my house. I managed to get a hold of my husband so he could meet them there, then they call back 7 minutes later saying they are outside. Meanwhile, my husband is 15-20 minutes away. It has been a nightmare from beginning to end. If I get home and don't have the rest of my living room set, I'll be calling back for them to come pick everything up and I'll go elsewhere.
How do I know I can trust these reviews about American Signature Furniture?
790,852 reviews on ConsumerAffairs are verified.
We require contact information to ensure our reviewers are real.
We use intelligent software that helps us maintain the integrity of reviews.
Our moderators read all reviews to verify quality and helpfulness.
For more information about reviews on ConsumerAffairs.com please visit our FAQ.

My significant other and I purchased 2 dining room chairs (item # D00280DAC arm chairs-Esquire Cherry) at $200.00 a piece on 01/01/2017 at, AMERICAN SIGNATURE FURNITURE, location is in Bear Delaware, 301 Governors Square, 19701. Their phone number we've had to call several times here (302) 838-5188 // 888-751-8553 since 01/09/2017 at 12:32:14 about the assemblyment problem we encountered. In addition, we were going to go back for 2 more matching chairs in 2 months, but this experience I'm going to describe will make your head spin.
On my initial phone call to order the arm of the chair that peg broke off while assembling took 40 minutes on the phone. Moreover, I was told it would take 2 week, then 12 weeks, and we have not received the arm to date 04/27/2017. Today in just inquiries on how to file a complaint with Adam **, I'm told is the district manager it took me 2 hours and finally I just received his email address as **. I will give him a try, but if you're smarter than a 5th grader, Don't shop here because "all that glitters isn't gold"! Dang I wish we stayed away from this store.

Delivery guys for American Signature made absolutely NO EFFORT at all to deliver my furniture. They came in with a measuring tape and simply said "Too big". In the meantime, I had hired delivery professionals to move my personal furniture, and they brought it into my house without damaging the furniture or my residence. The delivery person(s) representing American Signature furniture are a DISGRACE!

I purchased sectional couch. They sold me warranty and said it covered everything. I was told I could puncture a hole with belt and it would be covered. Sounded like a good deal. Well couch is peeling like crazy and the stitching is coming apart at all the seams. Called today and was told not covered. Warranty states Covers leather but it doesn't state it covers Pure Leather which is what it states on my receipt as Pure leather. The furniture is obviously junk but the warranty is definitely not worth the paper it is written on. Anyone else having same problem? Have appointment with attorney next Tuesday to review and would like to know others w/ same issue.

Do not purchase the warranty on anything, if you use wrong descriptive term they will say it is not covered - scratch is a tear but don't use word scratch as they will say it is not covered. Word scratch is not listed as not being covered but other terms are. I have written the manager of the store in Madison TN, the owner of the warranty company and the owner of American Signature Furniture. No one responded. They do not care about customer satisfaction only making the sale. Do not purchase from them in any state, from reading previous reviews they are all bad. My chair costs $299, but with markup I bet it did not cost them $75.00.
Can you imagine denying a claim based on a word, this just tell us all something. They won't even follow what the warranty says about arbitration to settle if you are not happy about settlement. Warranty is a fraud, waste and loss of your monies. The warranty company is Uniters but this is what you purchase from American Signature Furniture. Now you have 2 companies ripping you off and nobody will fix the problem. They already have your money and mine. Stay away from American Signature Furniture and Uniters warranty. Too many other places to shop for furniture, like in Goodlettsville TN with BF Myers, free delivery next day... That is where we just bought more furniture... Now they know how to treat a customer...

I had placed a bedroom set for my daughter on layaway and I was offered a 10% discount since the amount exceeded $1000. I asked if I could still get the discount as I paid items off the list individually and I was told that would not be a problem. I have company coming over and I need the bed upfront. It looks like employees will tell you anything to make a sale. In the end when I went to get the bed the manager twisted things around to their convenience and had no interest in fixing and trying to understand the situation. American Signature refused to refund me but they did after a long argument and I didn't get my daughter's bedroom set. I left there with the worst experience ever.

Purchased a 3 pc living room suite. In only 2 years, with very little use the cushion seams came apart. I also purchased the 5-year warranty. Reported the problem over 2 months earlier. Still trying to get furniture fixed or replaced. Have stayed home for scheduled delivery. Still waiting.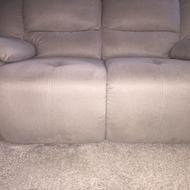 I had picked out a sofa and love seat from American Signature Furniture in Plymouth Meeting, PA and it was delivered. I primarily sat in one spot on the love seat to watch TV. After a while, the foam would not support me. I would sink low, and you could feel the springs. I'm only about 190 pounds mind you. I had purchased a warranty on the furniture, so I made a claim. Well they were supposed to send a repair person out a few times, but it never happened.
Finally a repair man came out, but was unable to fix the issue, and said it could not be fixed. Signature Furniture took both the love seat, and sofa (which was still in new condition due to no use) based on my extended warranty I purchased, and offered me reduced pricing on a new set. I picked out a set, paid quite a bit, and had it delivered. About a year later and I have the same problem. The foam doesn't support me and I can feel the springs. Again. Although the furniture looks nice, the quality is terrible. I would recommend buying any sofas from this company as they use subpar foam.

The sofa and loveseat I got from this place peeled so fast I didn't have a chance to get comfortable! Warranty did not cover, only cover accidental issues. They won't tell you that your sofa will peel like a plague and will not cover that (wear and tear). Was I not suppose to sit on it? I understand it wasn't genuine leather but come on at lease give heads up.

I purchased a couch and loveseat along with a warranty from American Signature Furniture. The material on the couch started to wear unusually. I had purchased it and was told it was leather. It even came with a leather kit. The company decided to replace both items (using the warranty) and I selected a new couch and new loveseat. The same thing happened and after having it for about 2 years I paid to have this furniture removed. It seemed like the (faux) leather was kind of painted on. This was with both couches. This furniture received no harsh punishment of any sort. The furniture in both instances was not of an acceptable grade. Both times it was about a 2,000.00 purchase for inferior furniture. The people from the Salvation Army removed it but did not find it acceptable to resell in their store. I purchased this from the St. Petersburg store in Florida.

This is the second time going into your store American Signature and have been treated unfairly. However I will never go to your store again. I went back for the second time thinking it would be a better experience against my better judgement. I went into your store in January for the 2nd time and was told if I pay in full I would get my furniture delivered on the date requested March 2, 2017. I paid in full back in January. I also received a email saying my furniture would be delivered that date and when I called for a time 3/1/2017 only to find out I would not be getting my stuff delivered on that date, the date I move in 3/2/2017. But now I have to run around to find something me and my family can enjoy...I will not recommend anyone to go to your store ever.

Delivery. I purchased over $2000.00 for a bedroom suite January 1st. They didn't have all the items in stock and said they wouldn't have it until February 7th. I had no problem with a delivery of February as it was my day off. On the 6th they called to confirm a window of 2-4 pm on the 7th. I scheduled my day around that. On the morning of the 7th they called and again confirmed 2-4 pm and told me the delivery would call a 1/2 hour before arrival. It is now 4:31 pm and no call. I checked the status of delivery on the website and it is now scheduled for arrival at 7:52 pm! Totally unacceptable as I have other errands I have to take care of. BUYER BEWARE!

I ordered a sofa, chair, and sofa table and took the day off to receive the merchandise. The chair wasn't delivered and nobody notified me other than the delivery guy to say it wasn't on the truck. I called and wasted 45 minutes of my time asking to speak to a manager. I was told by the Carol that it couldn't be delivered for another 3 weeks, when I asked for a manager suddenly the chair could be delivered on Saturday.
Here we are Saturday and no furniture! I received a call confirming my delivery from 8:30 am to 10:30 am. Today's story is that it won't be delivered until Wednesday because there is a "note" stating they couldn't reach me! I spoke to someone and confirmed my delivery, I have a record of the call! I didn't receive not even an "I'm sorry" until I spoke to the store manager Maria. Even then, nothing was offered to make things right other than "We can pick up your sofa and refund you or deliver next week." I am so beyond irate for the service, waste of my time and money. Don't buy from this company, not worth it!

I purchased a living room set, sofa, love seat and chaise, coffee table and two end tables. A high rise dining room set with the high chairs... Ok where do I begin... Ok within the first few days, the high sitting dining room table was wobbling, so I tried to fix that and it got a little better but it still was wobbling. The chairs that go with it, the screws CONTINUOUSLY fell out with the slates that hold the chair together.. so I have been CONSTANTLY screwing these screws in... and they STILL come out!!! The footrest on the two of my chairs have broken, the bolts underneath the seat of the chair CONSTANTLY come out... it's ridiculous!!! When I bought the furniture, I purchased the warranty. I think it expires this year. The lady told me that they didn't have my type of furniture anymore. It's discontinued. And for the warranty to work, the furniture has to have damage that's irreparable...
My cushions in the sofa are SOOOOOO low and this furniture is still practically new. The arm of the sofa cracks and moves really bad... My coffee table and end tables have skid marks on them where the wood paint came off... The love seat and couch pillows always separate... I WILL NEVER EVER IN MY LIFE WASTE MY MONEY AT THIS PLACE!!! The stuff catches your eye when you walk in, but the QUALITY of the furniture is HORRIBLE!!! If I could rate it 0 stars I would!!? I should have spent my money at Rooms To Go because I KNOW that their furniture is awesome. I have had theirs before but lost everything I had because of a best friend's doing. I know next time... You live and you learn.

Purchased living room set for $2053.00 February 2014. Was told had lifetime warranty and receipt stated so. The headrest "leather" is now peeling off and the local store and home office have offered $880 store credit. That is totally unacceptable to two old people on social security.

I purchased furniture from ASF for my family room December 23/2015. When deliver there was defects. They switched it out. Less than a year the middle part of the sofa collapses. I switch out this furniture for a new set because it had been discontinue. Pick out a new set had it delivered the couch, loveseat, chair defected. Called ASF, loveseat has been discontinued. They had the nerve to tell me that the first set was being offered by a new manufacturer. If ASF is behind it no way on earth would I want that. This company sells absolutely junk. And they don't want to give your money back. I am going to hire an attorney. And if you are not careful they will cheat you out of your money. I will never shop with them again. I would buy from the thrift store before I buy anything from them. If they offered me free furniture I would gladly turned it down. If you are looking for good furniture do not shop from ASF!!!

When I first went into American Signature I was told if I buy the warranty I would receive a whole new set of chairs. So I bought the warranty... who wouldn't. So as time went by the trim in ALL the pillows broke like a little stick would break. I went to American Signature in Nov. 2015 at Lithonia GA at Stonecrest mall location. I showed them pictures of the pillows trimming. They tell me that they can only change all the pillows after I told them that the salesman told me if something go wrong I get a whole new set... so I said OK come change the pillows. About 4 months go by I had to call corporate which is Value City because I did not get my pillows... so I took off work cause they sent someone to bring new pillows BUT he did not have everything. So 3 more months went by I called Value City again which is American Signature corporate office and complain again.
I was told a manager was going to call ME BACK... I'm still waiting on a manager to call me back... still nooooooo call from a manager. So a couple weeks later the American Signature store at Stonecrest mall call me on a Monday to say they sending someone to my house tomorrow on that Tuesday. Thanks for the notice. I was not able to be home that next day cause my type of work is... I don't go to work I don't make money. Here it is A YEAR LATER I'm still waiting on my pillows. American Signature/Value City Furniture will NEVER EVER get money from ME or my family again!!!

On Sept 27, 2016 I purchased a living room and dining room set from American Signature Furniture in Madison, TN by Rivergate Mall. They scheduled the delivery for Saturday October 1. On that Friday Sept 30, I got a call from Brittany, a worker at the store I guess, and said that my living room set had came in damaged and it wasn't their fault. First, that's not what a customer wants to hear. I asked Brittany so what can be done to accommodate me since I had spent over $2500.00 for this furniture. She said they would order a new one but it wouldn't be in for another 2 weeks. I told Brittany that is unacceptable and that I would be in to get my money back for the entire order. The store manager called me back about 30 minutes later, and said they could deliver the display, and on October 5, my new living room set would come in and they would deliver it, and pick up the display.
I told them I was fine with that. We had scheduled a gathering at our home for that Sunday so that would work for me. Well. Oct 5 came, and no delivery. The weekend came, no phone call or delivery. So I called them on Sunday, yesterday, October 9, and of course Brittany answers the phone. I asked her about my furniture. She said no one never ordered my new living room set. I said WHAT??? That should have been ordered when the damaged one came in. So you mean to tell me, you all were trying to leave me stuck with the display. She placed an order and said they could deliver Saturday. I am so disappointed in American Signature, and the way they treated me. I will never ever purchase anything from this company again. That's a bad way to treat your customers.

I bought over $4,000 worth of furniture in that store. All delivered damaged, waited weeks that turned into a month to get replacement between all of the changes in the scheduled deliveries which were every other day. Had I read the review on this store I would have never bought anything from them. They are horrible and the customer service in there is worse. Keeping you on the phone waiting, promising to call back and not. Making excuses after excuses and apologizing. I would never send someone to this store or company. Not even If I had a worse enemy I wouldn't send them in that store.
Last incident that really did it was requesting replacement for the pole lamp and after weeks waiting for delivery they brought two table lamps. They make you wait all day before they arrive with your furniture. Twice we waited and they didn't even come. Called and they stated "Someone should have called you. Can you get to that". The worst store I have ever experienced in 42 years.

We purchased a couch from American Signature Sawgrass, Florida & 2 years later it was completely falling apart. The material is literally peeling off in chunks. No animals are in the house & they are not frequently used. In fact they are now in the garage since they became so bad. We called customer service & were told that they were no longer under warranty. We questioned the quality of the product since the couches should not be falling apart already & we were told that they realized that it was a bad product & discontinued selling it but there was nothing they could do for us. Really? Is that how it works?
Further, we also paid for an extended warranty on our coffee table seats & when they were stained we called the company to set up a meeting. They called us back, we called them back & then they never called again. When we called to find out why they had not come out to repair them yet we were told that 14 days had gone by (that they did not return our call). So now in order for the warranty to be valid we have to pay to have them professionally cleaned & then they will reinstate the warranty.
Basically, this company from our experience produces very poor products & then refuses to stand behind them. We have called multiple times & have gotten nowhere. We will not buy products from them again unless, they were to somehow prove that they are an upstanding company. For now I warn you to AVOID these products. Very disappointing.

I do not know how this company manage to stay in business. They are by far the worst company ever!!! I bought a chest on hire purchase 6 months same as cash. I asked the CS what was my pay off and when she told me the amount of pay off but did not stress the date, which would have been a mere five days later, had I known I would have paid it off so it ended up costing me an additional $540. When I tried to dispute it the CSR was so rude. Recently I bought a dining table which came damaged and without the leave. I sent that back and then I bought a desk that came damaged and parts missing and it is just one story after another so now I'm having them pick that up too. Long long story. What is the recourse for companies that bait and switch? They are the worse!!! I feel like speaking to an attorney to see how you have companies like this close down and reorganize or something because they are in the business of pissing people off.

I made a purchase of about $6500.00 with this company and all with zero interest since I paid it off early. This was a couple of years ago. Today I want to make another major purchase and they have closed my acct. I called to ask why and she said "No idea". This was a bad decision on their part. My FICO score is over 800, so it's not like I am a risk to them. Well, guess what folks. I will now buy my furniture at another store. Next time you close an acct have a reason to do so and then the common courtesy to advise us. I don't need your store... You need me.

My daughter and I purchased the fabric protection plan and both our bonded leather sofas are deteriorating and they don't cover this even though WE are within the insurance time period. The insurance told her that they only cover non-seating areas. Why would American Signature even use this Insurance?? BAD BAD BAD. Orlando Store.

I purchased a leather sectional in 2005 and two foot stools for around 2500. Within 5 years they started peeling. Now I have to keep the couch covered. This can't be real leather. I have another leather sectional from the seats outlet that I purchased 3 years before the American Signature piece and it still looks new. I contacted American Signature and no response because it Is out of warranty. See pictures.

I bought a dresser and as soon as they delivered I notice it was damage in the front. I contacted them and they order another one. That what I thought but when they delivered the second time I realize they fix the one I had first and which I told the owner that I want a new one. They sucks. I'm never coming back to this ** stores.

When making a purchase from American Signature Furniture beware of bonded leather and the warranty offered! I purchased a sectional with chaise at $1000 in 2012 and within 2 years the seats and seams began cracking and peeling and now we need to keep them covered in blankets! We cared for the furniture as directed and still do to maintain what we can. One cushion is completely peeling and we will soon be just sitting on under cushion. Uniters (the warranty company which we paid $185) came to check the sofa and claimed it was a manufacturer's defect and needed to be replaced, but the store we had purchased it at closed.
We went to the store in Allentown and were told to contact corporate who could help us, and the manager assured us that it would be taken care of as they have been having problems with this. To our surprise, ASF is only willing to give us a $199 credit (20% of purchase price) towards new furniture! That covers the warranty - why would we buy there again?? This company needs to own their shortfalls and reimburse all consumers who have purchased these pieces! There are numerous similar complaints regarding this issue. Our furniture is still under warranty (for 3 years) and something needs to be done.

ConsumerAffairs Research Team
The ConsumerAffairs Research Team believes everyone deserves to make smart decisions. We aim to provide readers with the most up-to-date information available about today's consumer products and services.
American Signature Furniture stores are concentrated mainly in the Eastern half of the country. The company offers traditional furnishings, as well as home decor accessories and outdoor furniture.
No credit financing: When you're ready for a new dining room set but your budget doesn't quite agree, American Signature Furniture offers a 90-day, no credit leasing option. You pay as you go after the furniture is delivered.
Direct shipping: Many areas qualify for "direct to your home" shipping, saving you a trip to the store and delivery costs.
Double the difference guarantee: If you find the same item at a different store for a lower price, American Signature Furniture will refund you twice the difference if it's within 30 days of your purchase.
Easy Pass shopping: Easy Pass shopping lets you browse and select items online and then see these same items when you visit in-store. Just give an associate your email address to pull up your cart.
Large in-stock inventory: American Signature Furniture keeps a large inventory of in-stock items so you don't have to wait for weeks to get your new furniture.
Best for Cost-savvy shoppers, families and professionals.
American Signature Furniture Company Profile
Company Name:

American Signature Furniture

Year Founded:

1948

Address:

4300 E. 5th Avenue

City:

Columbus

State/Province:

OH

Postal Code:

43235

Country:

United States

Website:

http://www.americansignaturefurniture.com/