Consumer Complaints and Reviews

First let me say I know most Taco Bell's are owned by Franchises. Went to the Taco Bell in Arvada Colorado at 7 PM on Saturday. The store was not very busy inside. The drive thru had about 7 vehicles from what I could see. I was made to wait ordering because the employee's (3 of them) were talking about Taco Bell's college assistance program. Mind you they were not making orders or doing any kind of labor related to working/Helping customers. I can deal with their excitement! My issue was when I came home with my son, We started to eat the food that was ordered. That's when I noticed the burrito was very small! I ask my son when Taco Bell changed the food size (he eat's there much more than I do). And as any teenage boy would say, I DON'T KNOW! We had a Soft Taco also, So we deconstructed them both and they were the same diameter in size? Sure this is not the norm.

HORRIBLE service and food at Taco Bell/Pizza Hut on 66th St N in St Pete Fl. Walked in to order and 4 people behind the counter continued to talk among themselves totally ignoring me. I asked if I had to go thru the drive thru to order. When a girl responded "oh are you ready?" So I ordered pizza and they said 10 min wait. No problem. Meanwhile, people coming and going with orders. 15 min later I go to the counter and one lady asks me "are you still waiting for food?" 10 min later I get my order. Dude behind the counter walking around with his pants down around his butt so my young daughter gets full view of his underwear. Sorry, not the place for your ghetto fashion. Horrible service and lazy employees. Fyi - the pizza wasn't done in the middle. Stay away from there!

I stopped going to our local Taco Bell around a year ago because of how horrible the food was (cold grillers are like eating cardboard, nasty) as well as their absolutely horrible/rude customer service. So I left a 1-star review on that location. Now what's weird is just a few days ago, I got a call from Taco Bell corporate. apparently, they are "hunting down" everyone that is leaving 1-star reviews and trying to strong arm them into removing or revising the reviews. They even resorted to trying to tell me I must be one of those "Impossible to please people"... just wow. I'm like dude, it was from a YEAR ago and your restaurant sucked MULTIPLE times before I left that very honest review.
Then he tried to buy me off with free coupons. ROTFL. I'm like wth. I told them they need to learn from their mistakes, re-train their obviously low-IQ employees and start taking some classes in customer satisfaction AND cooking food properly. I doubt he will listen to anything I said, he just didn't seem to get it and was more interested in me either revising or removing my review. I am floored at Taco Bell's new bully-ish tactic of stalking down reviewers. Just sad and NOT the way to do business!

I have been sitting in this line on a Friday night at about 12:00 AM and I am the 14th car and have not moved in over 23 minutes. I called and complained. They said there's nothing they can do that they are waiting on product to cook. If that is the case I would've never came here and sadness line. Mind you I've been in it for 23 minutes and I am the 14th car from what I can count. l am not happy about the service or the way that they conduct business. I have my own construction company and I know all about timing and these individuals demand they get $15 an hour. That is absurd. Their excuse for the now 33 min wait I'm 2nd from next in line is Taco Bell only scheduled three people for the night shift prior to closing and "we cannot keep up with the orders".

When I walked into Taco Bell, the brain damaged goob behind the counter told me it would be a 10 minute wait. I was fine with that, so I ordered and sat down to chat with my coworker while we waited. 10 minutes passed, 20 minutes passed, and we finally hit 30 minutes with still no sign of food. I kept my eye on the counter and began noticing that people that had ordered after me were being called for their food, so I went up the counter and inquired where my food was. "We don't have your name on the list," the braindead halfwit responded. "I ordered food. You took my money. Where is my order?" I asked. I was obviously mad.
The goober stared at the register for a moment, then said "She's making it now," which I suppose was his way of informing me that he had found my order, was sorry about the misunderstanding, and my order was going to be made immediately. "I'll wait," I said with my arms crossed. I then proceeded to stand in front of the register as the gourmet chef behind the goober whipped up my 'food' and handed it to me. I'm guessing it took fewer than two minutes for her to slap some of what Taco Bell passes off as food into a crunchy tortilla shell and toss it my way.
I ate quickly, walked back to the counter and asked someone with 'manager' on his name tag for the phone number to corporate. "Uh, sure," he responded, turned, and walked back into the kitchen. I waited for a minute or two, but that was the last I ever saw of 'manager'. I approached the goob and asked for the number to corporate. He proceeded to scramble around behind the counter trying to find a receipt or piece of paper to write on, audibly complaining about my desire to contact corporate to some mystery person just outside my field of view. In the end though, he managed to hand me a receipt with the store number and address on it. No number for corporate though... Hmm.
Fortunately for him I have more than 5 brain cells so I was able to find a complaint line number online. In all I spent 45 minutes in Taco Bell. 30 minutes waiting, 5 minutes eating, and 5 minutes trying to squeeze a phone number for corporate out of the incompetent, rude, vegetables behind the counter. I'll never go back to that Taco Bell again. Store number 2442. Time: 12:02-12:47 on 6/27/2017. The goob was some guy with a speech impediment. Manager wore a blue plaid shirt and was balding or had a shaved head.
How do I know I can trust these reviews about Taco Bell?
849,102 reviews on ConsumerAffairs are verified.
We require contact information to ensure our reviewers are real.
We use intelligent software that helps us maintain the integrity of reviews.
Our moderators read all reviews to verify quality and helpfulness.
For more information about reviews on ConsumerAffairs.com please visit our FAQ.

On June 20, my period had just recently started on the 18th, so my boyfriend texted me wondering what I wanted to eat from Taco Bell. I told him a beef burrito, nothing else. He comes home with two, one of them half eaten by him. I said okay and started to eat the one he didn't eat. I felt perfectly fine. June 21, 6 am. I woke up to my boyfriend wandering around my room getting ready for work when my stomach felt churning and my head was pounding. I assumed it was just my period cramps and asked him to get me some **. I took one of them and went back to sleep. At 2 pm I wake up, feeling just a bad as I was at 6 am. But I was gonna stay up and do stuff but every time to stood up I felt woozy. My sister told me to just go back to sleep, which I did. I woke up at 5 pm, my boyfriend was home and gave me my usual period belly rubs. I had dinner later that night and fell asleep.
June 22, feeling a lot better than yesterday. I woke up around noon and started getting things done around the house. Around 9 pm I started to feel my stomach gurgle, still not no avail. June 23, body feeling hyper. I got things done. One problem was I was sweating profusely but everyone in the house told it was freezing. I shrugged it off and went to my room and turned on the fan. Around 10 pm my stomach was aching, I finally went to the bathroom and out came diarrhea. I kept having to go from my bed back to the bathroom. I was in so much pain but I eventually found a way for me to sleep and slept almost peacefully through the night. Boyfriend had a small nightmare and I had to console him. June 24, Today at 8:20 am I had gone to the bathroom around 15 times throughout the night. Feeling a little bit better now. My stomach has just continuous dull pain now but so does my arse. I don't think I'll let my boyfriend get Taco Bell for me or himself ever again.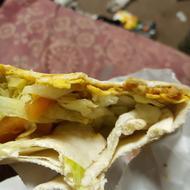 What a horrible place. I went to my local Taco Bell to try it out. I've had it a few times in the past but didn't remember why I didn't go back. Now I do. Talk about a ripoff. Ordered dinner for my family of 5. It wasn't too expensive but still paid a fair amount. Got a range of things. Got it home. Found almost no meat not even the taste of meat. What is going on? Lots and lots of fresh lettuce and tomato a few is. Burritos were overfilling with rice but where is the meat. They asked me at window if I wanted beef, chicken or rice... Why bother asking... Am also shocked that KFC is part of this franchise. Never, never again.

I am not looking for compensation or to vent frustration. I just have a couple complaints. I have tried Tacobell's newest items, and they leave me disappointed every single time. I really like the Crunchwrap, so after seeing the Double Crunchwrap I was pretty amped to try it, so I get it, and my first bite is sour cream lettuce and taco shell, okay? Second bite is the same, eventually I get halfway through and to the smallest amount of beef, needless to say I am hungry an hour later due to no protein. I thought it was a fluke, but have since tried 2 more double crunchwraps, from different locations! Equally disappointing every single time!
So out of desperation tonight I tried the location listed, simply trying to get a meal to hold me over, I decided to get the chicken POWER Burrito. Okay this must have some meat in it! Well no, it didn't, I opened it up and COUNTED six tiny chunks of chicken in a pile of lettuce and sour cream. I usually don't complain, but it is so extreme that you ought to make your menu more honest because these meals do not represent the product on your menu. YOU ARE CHARGING EXTRA AND PROVIDING LESS. In summary, I have tried different locations through Orlando, Florida and each one delivers food that looks nothing like the product on the menu. If it has double the meat on the menu, it should at least resemble that in the actual product.

Instead of meat with sauce on the Nacho Bell Grande, they put a dollop of cold hard refried beans on a couple of the chips and put barely any cheese at all on it. It was the worst meal I think I've ever had. Very disappointed. They must be trying to cut corners and save money. My husband did not keep the receipt.

Excellent customer service and really tasty food. They go beyond to satisfy customers and everything is done very fast. It is the best compared to the other food chains in US. I had an awesome experience in West Waters Avenue in Tampa, FL.

The nastiest Taco Bell ever! Most Taco Bells do not look very clean but this Taco Bell beat all the rest for uncleanliness! On the scale of 1 to 10 it was a 12... the worse! To start with, the Pepsi machine area was horrible I honestly did not want a drink because the caps where the drink flows out are filthy, needing more than wiping, needed to be removed and put in Clorox water and scrubbed and rinsed with scalding water... the area was filthy! The containers holding condiment sauces were filthy, when you put your hand in to get some sauces they felt sticky and dirty! Every table in the store was filthy we had to get some napkins and wet them to clean a table to sit at! The floors were filthy with food all over them! No one working seemed to be concerned!
This store needs to be remodeled, modernized and cleaned up! We had to be at a meeting at 7:00 pm and did not have time to go anywhere else! The bathroom smells old and dated, the filth was unacceptable! We have patronized this store before and it is never clean! I will not be back! We had friends that got sick eating there a few years ago... now I know why!!! I am going to report it to the FDA!

My son went in store 694 in Oklahoma City. He plugged his iPhone 6 up to be charged and comes back it's gone. One of the employees stole it. After speaking with one of the managers Justin the phone was brought back. It will not be returned until the police picks it up and it's processed. Also he stated that the serial number had been scratched off the back. The phone wasn't damaged when it was stolen and I don't believe it should be returned damaged. Justin has done an awesome job with communicating with me and being very helpful. But the store should be liable for any damages done to the phone.

I went to Taco Bell a month ago around 8 at night on a Sunday. I pulled up to the drive thru and there was 5 vehicles between myself and the order speaker. So I notice vehicles are barely moving. 30 minutes later I pull up to the order speaker. I place my order. Another 25 minutes until I get to the window and I am pissed. The lady states my order and I ask what the hell is taking so long. She states they only have 2 cooks in the kitchen. This is not my problem that you do not have proper staffing. She tells me how much it will be and I tell her I want my meal for free or I drive away since I had to wait almost an hour.
She tells her manager I wanted my food for free. He comes to the window and says no. He gives me the same excuse of not having enough workers. So I put my car in gear and drove away without getting any food. You would think they would close their drive thru if you are that short of help to prevent a situation like that. They also could compensate the customers for the inconvenience. You lost a customer Taco Bell!!!

They never get it right. Charged for beef burrito and always get bean. I am tired of calling and tired of having to go back a week later to get what I wanted. They never get it right. I get charged for beef and get bean every time. The order is always the same, 3 taco supremes and a beef burrito and my husband order. Time and time again. My husband's called tonight and ask them, "Does bean go on a beef burrito?" He thought it was the way they come. Really this store service sucks. I am tired of paying and not getting my food. Sincerely disgusted.

I live very close to the Taco Bell on Condit Road in Morgan Hill and so I get take out frequently from this location. At least once a week, for my family of 7. They almost never include the "extra cheese" which I pay for. It happened again tonight and I'm fed up and frustrated. There was actually less Cheese than a normal which was SUPER frustrating. Called the Manager and he actually muttered some nonsense about how that was impossible because everything is "portioned." Nice.

Horrible burrito. Whatever it was it was not meat. I opted to have no sour cream, I got some sort of rice and beans and none of the meat I ordered and it was strange. I would suggest when people ask for beef they get that.

The staff during the day are quite nice and helpful, but whoever the manager that runs this place during nighttime should be fired. The location is listed to be open until 3 am during night. Recently I went at midnight, 3 hours before closing, and they were closed, with lights on and several employees standing around. This is not the first time this has happened. This last time I decided to walk with my cane up to the front door (I'm currently disabled with an ankle injury) and knocked on the door to ask why they were closed. Two staff came up to the door, pointed at my walking cane AND BEGAN LAUGHING. Laughing at me, for being disabled?
So, I call corporate, who tells me that the district manager will call me back. I've not only waited OVER A MONTH to get this phone call, I never got called back. I called to mainly try to improve my local Taco Bell's service and to provide constructive criticism, and now I'm past this point. Way to make a long time customer feel completely appreciated Taco Bell. I come to get tacos, but instead get laughed at for having a disability.

1/11/17 10:30 am. Order breakfast burrito, got home, opened up to put sauce on it. And it was a big tortilla, with 1/2 teaspoon of egg, and 1/4 teaspoon of very small crumbled sausage that looked like sprinkles you use for your salad toppings. After reading reviews about food poison, my family will not be eating there again. Especially after today, what a rip-off. So, I pray I didn't get food poison as well. Very gross!!!

Twice went to Taco Bell on 188th in SeaTac, Washington and twice the order was wrong. I ordered a box of 12 hard tacos, 6 chicken and 6 with hamburger all with sour cream, lettuce, cheese and tomatoes. The gentlemen informed that would be extra. I said ok. Even when picking up our food I reminded him and he said yes all toppings on tacos. Go home and hamburger has all coverings but chicken no. This is crazy.

As an employee of Taco Bell we are allowed to eat lunch free, so today (like any other) I take advantage of this and order a steak DoubleDilla. Today (2016.11.14) as I slowly begin to eat my lunch, I realize an odd aftertaste. Well I thought it was just 'cause I was really hungry, so I just kept eating ignoring the taste then the odd taste could no longer be ignored and forced me to toss the other half of the DoubleDilla. I just blew it off and clocked back in, not too long after I began having hot flashes (mind you I'm only 18), and cramps that cannot be explained by words while trying to work drive-thru and perform to the best of my abilities. When I finally got off a few hours later I rushed home to relieve myself which consisted of vomiting and diarrhea. At this point with symptoms getting worse my mom took me to the hospital where I was diagnosed with SHIGELLA FOOD POISONING!!!
As an employee at Taco Bell for a few months I am honestly shocked they are still in business. They are the most unprofessional workers I know. Employees take breaks whenever they want to for more than thirty minutes, they steal food and money, they have loud arguments preventing success in drive-thru, the manager cries when she's overwhelmed and always underbooks the day, forcing us to work like slaves or have her call us in on our off days. They don't wear gloves when making food, they are always on their phones, never correctly clean the lobby, always running out of items (medium cups, hot sauce, napkins etc. - we have to wait for the next truck day), close early, and the thing I hate the most is they put on a show for the "head boss/inspection" whenever they come and every day other than that it's a living hell.
Honestly, I feel you should come dressed in regular clothes one day for a surprise visit and see how the store is really run (I know we don't do the cash register process right since I read the handbook). Also, our costumers are disappearing, not gradually, I mean in plentiful numbers and I feel this all falls under the management. I know now so many "secrets" about this Taco Bell, that I honestly feel it's nothing but a corrupt business. As per this and other circumstances I feel I was "forced" into resignation, and now have received backlash for not wanting to make this a career path.

Ate at Taco Bell November 7 at around 12:00. By 2:00 I was burping up a rotten egg taste. I started having severe stomach cramps around 5:00 with explosive diarrhea that lasted well into the morning. At first I was going to the bathroom every 15 minutes then it was about every 30 until I finally got so weak I called 911. I was taken by ambulance to the ER where I was given 2 bags of fluids, a morphine shot for pain, a shot for nausea and a stomach CAT scan. It was determined from the above symptoms that I had food poisoning! I had eaten a taco that day and that was all! I will never go back to Taco Bell!!!

The worst Taco Bell ever. I went today at around 5:00 pm, no line in the drive thru. The speaker at the drive thru is not working since last few days, no notice about it at the drive thru, the screen at the drive thru is not working either. I could hardly hear what the employee was asking me. Somehow I placed the order, went to the window to pay, tried to tell the employee about the hearing problem at the drive thru. She had the guts to slam the window thrice on my face without bothering to hear what I wanted to say. Finally comes back, tells me my amount and waits for me to pay. I still wanted to tell her but she again slammed the window and went away.
Came back telling me 30 other customers before me had already told her about it. How do I know if she had been informed already? I am not a mind reader. They have no notice put anywhere. Another employee comes to take the money, I asked for the manager. The manager was as rude as her employee and threatening me with calling the police. Ooh I forgot mentioning, the employee is ** while the manager is a ** lady and I am none of that. Could this be a racist issue?
I asked the manager to tell me her employee's name, she hesitated giving me, eventually did but without last name telling me, she did not know her employee's last name. What kind of people become managers who do not know their employee's last name? At the end she did give me the employee's full name. I call the customer service. They tell me the district or area manager will take 3 business days to call. Employee and managers take less than 30 seconds to insult a customer but the heads take 3 days to call back.
My husband goes at midnight and still has to wait about 1 hour to get his food with only about 3 - 4 cars in the drive thru. At the end he finds out that the employees are playing with food, throwing it over each other, or either sleeping in the customer area. Ooh btw, I am a regular customer at that place - 4 / 5 times in a week. They know me by the order I place and still get treated this way. I only order veg food / no kind of meat ever and most of the time my food is contaminated and I have to go back to get it replaced. No apologizes for any kind of inconvenience they cause me. I am pretty sure Taco bell lost my business.

Upon arrival to the Taco Bell I was told to look over the menu and someone would be with me, 8 min later I was able to give my order only to approach the window my money was taking immediately. As I wait for my food 11 min later the manager came to the window and asked what did I order, followed by 3 employees that took the same action. The fourth time I was asked what I ordered I demanded to have a refund and was told, "Take your money. No one told you ** ass to eat here." I have never been disrespected in such a manner being a paying customer.
Two weeks prior I visited the same Taco Bell on Saturday Oct. 22 at 3:27 am and was denied service. Spoke through the speaker box, knocked on the window and no one ever came to serve me. I went as far as calling the police to make sure everyone was OK only to find out that the workers were there they just want to serve me. Based on their actions I'm only forced to believe it is the color of my skin.

Food Poisoning. Friday October 28, 2016 I bought a #9 which is a Soft Taco and Crunchwrap Supreme. 2 a.m. that night I was so sick at both ends for 12 hours. I knew it had to be the tacos because I hadn't eaten anything else. This is now the second time this year. Never going back.

I went to taco bell tonight with my family. When I got home and had eaten about half of my food I saw plastic and hair in my nachos. I went back to the store to show the manager, when she came to talk to me she threw the food away and said that I was there 2 days ago trying to say the same thing. I have not been to taco bell in weeks. I was so pissed at this point. It was bad enough to know I possibly ate someone's hair and/or plastic, but to be called a liar and a scam artist by the manager was infuriating. Taco bell's management needs customer service training and they need to drug test the manager, they are obviously hallucinating. They have cameras all over the building, where is the video of me trying this 2 days ago? There is no one because I had not been to taco bell in weeks and will never be back. Horrible customer service and managers are on drugs.

On Sunday night October 23rd, I drove to Taco Bell and ordered some items from the menu. When I arrived home, I noticed that I had received a completely different item than the one I ordered. I notified an employee on the drive through intercom that I did not receive what I ordered and she cheerfully told me to pull forward so they could fill the order correctly. First, the clerk asked me what I ordered. I told her and showed her the receipt. She looked at it and admitted that she may have misheard and instructed me that I would "Have to pay for the new item" which technically, I got charged for an item that I did not order, but I paid for what I actually ordered. No big deal. Ok so I asked if they would redo the order because I had to drive back and by now, the order which was for 2 people was cold. The manager, Brendon ** said "I can't redo your order". He gave me no reason. Imagine my shock. I will never eat at a Taco Bell again.

I ordered the XXL Grilled BEEF burrito, expecting beef to be in it. Instead, I was given a burrito with not one tiny piece of beef in it. It was purely composed of refried bean and rice. Refried beans in excess make me nauseous, therefore I had to throw it out halfway through. I opened the burrito after a few bites because I assumed that maybe the refried beans made up only the part that I bit into, and that maybe there would be beef in it somewhere, but found nothing. There was absolutely nothing in the burrito aside from the beans and rice. No cheese, no sour cream, nothing at all. I am disgusted with the fact that I had to pay extra for something that wasn't in the burrito, and the fact that it is falsely advertised and poorly made. I also asked for strictly hot sauce, and was given a bag full of mild sauce and fire sauce, with only one packet of hot. Never received a receipt for my order, either.7

I have recently experienced pretty extreme drive-through wait times. Is there a secret strike going on? No human should have to wait 32 minutes for a burrito. It's just too much. My car was overheating and almost shut off. I deliberately attend many different locations, as a "self-test" to determine whether or not a certain location is worth the time to eat there. I have been incredibly disappointed as of late. I expect nothing more than a chicken power and a misc (whatever's on sale today) burrito. Nothing amazing or special at all, and yet... It takes them 25 ** minutes to assemble... Please... Just please... I can't be late for work one more time.

Feeling hungry on my way in to work, I thought, "Hey, what about just grabbing something cheap and easy from Taco Bell?" No problem, says I, and in I go to the Emeryville, California Taco Bell in the East Baybridge Shopping Center (3839 Emery St #700, Emeryville, CA 94608). Three crunchy tacos ordered, and even a little donation to some scholarship program "just because," and before I could finish writing my name on the presentation cards for the program, my order was ready. Awesome, because I'm in a bit of a hurry! So, grab the bag, hop back on my bicycle, and away I go! I get to work, and all is well and good. I shove tacos into face and feel better now. That lasted about an hour. After that, I felt a little... "off". A half-hour after that, and I started vomiting a little bit here and there. Not much, just enough to basically make me feel like garbage and ruin my day.
It's now 5 hours after that incident, and I'm still throwing up Taco Bell. Seriously, it was just three crunchy tacos - nothing extravagant, and nothing I hadn't had a zillion times before from other Taco Bells. I've bought from this Taco Bell before, and have overindulged and wound up paying for it later, but never anything like this... from just three crunchy tacos. They also didn't have that classic "Taco Bell" taste I had grown up with... have they changed their ingredients (again)? I don't know... all I know is that I am not pretty much put off of Taco Bell for the rest of my life now.

I ordered a ground beef chalupa and a bean burrito. I actually measured out the beef and it was 1 1/2 tablespoons and the burrito had 1 tablespoon of beans on it. I am not joking or exaggerating. I stopped at the late night drive up as I was coming from visiting my wife at the hospital. I had such a craving for what I ordered and would have returned the food but it was after 12:30am and I was already at home. I will never use another late night drive thru at any Taco Bell anywhere ever. I cannot believe the help actually had the nerve to send these out. If the company does not respond to this, I may very well never eat at this taco bell (or even others) ever.
Taco Bell Company Profile
Company Name:

Taco Bell

Website:

https://www.tacobell.com/