Consumer Complaints and Reviews

I ordered the two pizza for 6.99 each for the game pan pepperoni lovers and a veggie but I got home to watch the game and start eating my pizza and realized there's hardly any cheese but I figured I'm not eating a pizza for 6.99. I'm eating a 6.99 pizza as I'm watching the game. Pizza hut has a commercial for two pizzas for 6.99 each and as they pull a slice from the pizza it has cheese stretching from it and it looks meaty. Why can't my pizzas look like that? Next time I'll get a picture of it.

Do not order from the PH on Peachtree St in Atlanta GA. The pizza was on time and it was correct. However, it was cold. The driver offered me a receipt. I said no thank you and gave him a $3.82 tip on top of the $2.99 convenience fee. He proceeded to throw the receipt outside our unit in the hallway. The driver looked like he had not shaved or bathed in 4 or 5 days. His hair was long and greasy. When I called to voice my concerns I was kept on hold for over a hour. Customer service and cleanliness is not a priority for this restaurant.

This is my first time ordering the Stuffed Grilled Cheese Pizza. My mouth was watering for it when I saw a picture of this pizza. I am a cheese lover and I love pizza and I loved grilled cheese sandwiches. I took one bite and I tasted nothing but pizza sauce because the crust is so thin. I took a bite out of the stuffed crust and I was totally disappointed! The cheese didn't taste like a real cheddar cheese. Please change the flavor of the cheese. I will never order this pizza again. A huge waste of my money!!!!

We rarely eat at Pizza Hut and cannot complain about service at all but the chicken supreme was horrible, dry, little sauce, little cheese, peppers and onions raw. I hope you consider stopping this pizza. In 1970 Pizza Hut had wonderful pizza, where is that recipe?

I'm in this restaurant as we speak. Talking to the manager hasn't done anything. I've been here since 5:00. It is now 7:00 pm. There are 5 waitresses here and my waitress is the only one running tables. She's also taking online orders. It seems like she may be new. Nonetheless I waited 15 minutes for her to come take our drink orders (myself and my husband). Then we already knew what we wanted so we put the order in. Took about 45 minutes for us to get our pizza. About 30 for us to finish eating.
I needed a refill for 20 minutes but the other waitresses looked around while my waitress did ALL the work. She literally had 5 tables. I never saw any of the other waitresses go to any tables. I've been waiting for my change since about 630. I asked another waitress who was standing at the front talking to someone to grab my change for me. She said my waitress is the only one that can get my change. So here I am still waiting for my change. Manager doesn't care. This Pizza Hut is 3 minutes from my house. But from now on I'll go to the one 45 minutes away if this is how they treat their customers.
How do I know I can trust these reviews about Pizza Hut?
611,030 reviews on ConsumerAffairs are verified.
We require contact information to ensure our reviewers are real.
We use intelligent software that helps us maintain the integrity of reviews.
Our moderators read all reviews to verify quality and helpfulness.
For more information about reviews on ConsumerAffairs.com please visit our FAQ.

I got my order of pizza tonight and felt like tomatoes sauce and cheese. What a ripoff. I got 2 paper thin slices on each slice of pizza. At least put some meat on the damn thing. Come on. I wanted to send that ** back but who knows what people think after a complaint. I tipped my driver. It's not his fault but make me want to buy your product. Never buy Pizza Hut again. Why do I have to give a star for a zero star review?

I placed an online order today, August 28th 2016, at roughly 5:15 pm. I wanted the order ready at 6:30pm and changed the time for future pick up. I do not usually have an issue but as I had to go to a different because the PH closest to me was temporarily closed, I headed to the south side of town. Oh look, a drive thru window, coool!
I get up to the window and ask for my order and the girl has a look on her face like "oh crap". She tells me that my order is almost ready and if I could park in front of the store and someone would bring it right out. I told her I had already given them more than enough time to prepare my order and she then stated that they were just starting to prepare it!!! So I'm not happy but I wait. Mind you, I had arrived at the PH store exactly at 6:30pm. At 6:50pm I decide to call the store from my car. As I start to speak with the manager the girl from the window is coming out with my order. I quickly explain to the manager my problem and she starts saying how she's been busy all day with big orders and what not! I tell her my order was just brought to me and hang up on her. She was quite rude to say the least!
So the girl who brought me my order overheard my conversation with her manager and starts with the same crap; busy all day, big orders, delivering for 2 locations, again NOT my problem!!! I am the customer. I expect good service, not excuses. My order was placed 1 hour and 15 minutes before it had to be ready! Now if I had not wanted my order at a specific time I probably would not be complaining; however, because I made my order for a later time I in NO way expected to wait another 25 minutes for my order to be completed! Really Pizza Hut, 1 hour and 40 minutes for a pick up order??? UNACCEPTABLE!!!

I just recently started work in their "Virtual Call Center", so in order to Upsell their items, I always order online to be delivered as I am handicapped and picking things like that up is challenging with a walker. So one night I ordered a personal pan ham and pineapple and one of their new "Hershey S'mores Cookie". This thing was not a cookie! It was more like a cake and super sweet. I wrote a complaint and they sent me a coupon for a free large Pizza. The next time I ordered for delivery, I ordered 2 personal pan pizzas, one pineapple and ham with Garlic Butter Blend and a BBQ Beef with Hut Favorite. Well when they arrived, they weren't hot and neither one of them had crusts on them (glad they don't charge for the flavored crusts). But the BBQ beef looked like someone had pooped on my pizza. There were 4 little black blobs on the pizza. Both pizzas were nasty tasting.
I finally got the coupon in the mail, so I invited my friends to go to Pizza Hut one night for dinner to use the coupon. We ordered a Large, Hand Tossed Supreme with Garlic Butter blend on the crust. The waitress was horrible - a little, bitty voice and wasn't really sure of what she was doing. She definitely doesn't know how to wait tables. There was another couple in there eating the buffet (Tuesday nights are family night) and we were in there about 7:30-8:30 pm. I had to keep asking the waitress the questions she should have been asking us (to upsell Pizza Hut). Anyway, the pizza came out about 10 minutes later and she asked "do ya'll need silverware?" That should have already been on the table. Well, she brings out wrapped plastic ware.
We start serving up the pizza and it's not even cooked all the way. To be Hand-tossed, it was very thin and very raw. Of the toppings the cheese was hot and everything else was cold. The flavoring on the crust, you couldn't even taste the garlic. The other night I decided to try their pasta from the $5 Flavor Menu. I ordered the Meaty Marinara and Garlic Stuffed Knots and Cinnamon Sticks (not on $5 Flavor Menu). When I placed my online order it said that it was going to be 2 1/2 hours (10:56pm). While I was calling the store to change to a carryout, the store called me to change my order because they were out of Meaty Marinara. So, despite the fact that I don't do milk, I went ahead and changed to the Chicken Alfredo. and it was delivered within 30 minutes of my phone call (8:45pm). The pasta was hot, but the Garlic knots would've been tastier if the cheese had stayed in the knots and not stuck to the pan.
I also had requested not Marinara Sauce but to sub with Garlic sauce. I received 2 tubs of Marinara Sauce, no Garlic sauce. PH doesn't make substitution, just wants to sell; but I thought I'd give it a try. The Cinnamon sticks were okay. I want to add that I worked for Pizza Hut many moons ago as a waitress and Yes their recipes have changed greatly. They use to put shredded cheese as the last topping to encase the ingredients so they would cook while in the oven. I guess it's their way of cutting corners. I also have worked for other Pizza chains as well (Godfather's, Domino's, Ted's) and I am a Die Hard Domino fan. If your Pizza Hut is a WingStreet location - their products are fried not baked and this includes the Traditional Bone-In Wings. Hope this helps other!

I ordered 2 pizzas for delivery for dinner at 9:00 PM, and the delivery time was mentioned as 10:00 PM. Until 10:30 PM I did not receive anything. On calling the employee said that they have run out of the product and would not be able to fulfill my order. Is it not their duty, to call and inform the customer if they are unable to complete the order!!! I was simply waiting, and I went forward and placed an order with Domino's, and they delivered within half an hour. PERMANENT CUSTOMER OF DOMINO'S.

I ordered take away pizza on the 13/7/16 from a Guildford store who took the money from my card straightaway (keep that in mind). 5 mins later I received an email saying they didn't deliver to the address. I wanted the pizza to go to and the money would be back on my card by the Monday 17th. Go forward to today the 18/7/16 and after ringing Pizza Hut complaint dept for the 15th time it's a free number so no cost there. I was told I would probably get my money back next Thursday 25th. Now to a big company like them 20 pounds may not be important but to a mum on a budget it means a hell of a lot but I'm so angry because there are no comebacks for these large companies who make mistakes and take forever to rectify them. The lack of my custom will not dent their profits but if they keep testing their customers as they do then I will not be sorry to see the administrators at their door.

Order box meal for 20 plus bucks and gave me wrong dessert and pizza was cold.

I have ordered a pizza online as we don't have so much time to order and wait at the restaurant. And after receiving the order we started eating at the Pizza Hut restaurant as we always do. This is not our first order. But after starting having our pizza in the middle the Pizza Hut one waitress came and asked us to leave the
place without having another bite as she said as we ordered online we cannot have it in the restaurant. And the restaurant was half vacated still she don't have the patience. She can wait at least for someone to finish their meal. I am completely dissatisfied with the Pizza Hut experience. My order details are: Placed on July 24 at 3:36 PM. 1 Large Original Pan Pizza, Fiery Red Pepper Crust Flavor. Whole Ingredients: Creamy Garlic Parmesan Sauce, Green Peppers, Jalapenos, Double Onions, Diced Tomatoes. 1 Lemonade Bottle.

I had not ordered anything from Pizza Hut for more than 5 years because my orders were then continually late or wrong altogether. Yesterday evening (7/22/16) I once more attempted to try ordering a pizza from the local store in Bellevue PA, just 2 miles from my residence. The call went well, or so I assumed. The delivery was promised in 45 minutes to an hour. I gave them my name, address, and phone number; carefully spelling out the street name (Russellwood Avenue).
An hour and a half later, I was beginning to wonder where my dinner was, expecting cold pizza at worst. Then the phone rang. The voice of a frustrated young man announced that he was from the Allison Park Pizza Hut (some 20 miles away) and was having trouble finding "Rustling Branch" on his GPS because it was coming up as being in New Stanton PA (some 50 miles away). When I explained that I had ordered from the Bellevue store, only then was I informed that I had most likely been speaking with the corporate call center, should call back, insist on speaking directly with the local store, and reorder.
When I recalled the local number I had used before, they answered again as if I were actually speaking to the local store. I asked to be connected directly, at which point the employee at the local Bellevue store (2 miles away) informed me that they didn't deliver in my area. By then, more than 2 hours had passed since placing the original order. I ordered and received a great pizza from the local Fox Pizza Den within 30 minutes. I will NEVER buy anything again from Pizza Hut. How can a business be so blatantly disorganized and continue to exist?

Ordered a gluten free pizza from the location on Sheldon Rd in Channelview, TX. The pizza was terrible. Crust was crunchy and very overdone, and the toppings were burnt. Called to complain, and the "manager" basically said too bad, that's just the way gluten free comes. I know better. I will never order pizza there again, and I do not recommend this location. It's bad enough to have to pay more for less pizza without having burnt food passed off as just the way gluten free comes.

This was one of the worst pizzas I have ever eaten. Very salty pepperoni, poor quality sauce... More like tomato paste. Crust was soggy and undercooked. Very disappointed. PH used to be much better. Never again. I live in Asheville, NC and store is on New Leicester. I am out of $20.00+ bucks. Damn.

Terrible pizza. Looks like old plain pizza and had sprinkles topping on it! First and last time I order! Pizza Hut on Jabez St in Newark NJ is not good!

Every single time I have ordered from the Pizza Hut on Reisterstown Road in Maryland the order has been incorrect and I have waited over an hour for delivery. I usually do not submit a complaint but I decided to get pizza another chance and order however once again the order was incorrect. This is unacceptable. When you pay for food you should be able to get what you ordered.

1.0 star rating 7/5/2016. Ordered a pizza last week for my boss. It was wrong (partially my fault) but called to correct the issues. Was told "all is taken care of", they will deliver the correct pizza. The pizza came and was not correct... so we called and were told "We will get your next one" (in so many words). Today I call to place the replacement pizza and wow... I had to pay for it (discounted 1 topping for 9.99 large) which you can get better deals anywhere for that price but the boss loves(d) Pizza Hut... This pizza just got delivered and 1/2 of the pizza does not even have cheese. We have thrown the pizza away and vow to stay away from this TCU Pizza Hut!!! So now there goes more money for a horrible pizza... calling Domino's now (who is known for great customer service on this side of town).

I have attempted to order "deals" from them such as the triple treat bundle. There is the basic price stated, but as you go through the ordering process you realize you're getting scammed because even ordering the regular ingredients with nothing extra or even ordering the items you want in smaller sizes doesn't add up to the first price stated. They do not list what's included in the deals they offer. When you ask why this price by clicking on the button it explains that you have ordered extra items or extra toppings.
I have removed desired toppings and it is still overpriced. The online order display is very misleading also. The triple treat bundle offers you three things but the total is well over what the base price stated is. The online ordering process takes you to two pizzas and a dessert and then more and makes it look like it's still part of the deal. In summary, the online ordering process is confusing, misleading, and very vague.

On June 10th after 10 pm, while leaving my wife's job I made a call to Pizza Hut Glendale dr Wilson nc. A guy answered and said "can you hold please.", so I proceeded to drive towards thinking he would answer and take my order. Well no one ever came back to phone. I even stopped in parking lot and waited a couple minutes. Still no one came to phone. I drove to window apparently still opened from last car. I stayed on phone while looking through window at a guy drinking soda from a clear cup and the waitress having conversations with a few laughs. He spots me looking at him and comes to window asking "how can I help you." I said "dude I being on the phone holding for over 6 minutes."
He runs to phone picking up phone asking "how can I help you". Not at all funny. So a girl comes and I explained how upset - that the Customer service was awful and she says He was the cook and sorry she was. I still didn't think it was handled because I watch a tall white guy working while these two were talking. She takes order and suggest I wait there 15 minutes until a car comes and I can circle around and inputs how busy they are. I received my order but no manager came to speak to me about the matter so I paid my 12.48 after order came up for 12 Cajun dry rub wings. So when she gave me my receipt I looked for home office number. So I left. I pondered on this subject matter thinking I may have overacted so I called back while leaving Wilson. On the out parts of sims I placed the call.
This time I was on the phone for well over 7 minutes and 48 secs. Pulled into my yard before anyone came back to phone. I asked for a manager who was jasmine. She tried to defuse the situation by telling she will handled then she places me on hold to call Gabrielle to explain the situation. He offered a meal. I declined. I told him "we - my business often uses your store for events. Of course no more because the customer service is awful."
He replied. He left around 8 pm and he will see to this getting better. I told him I wanted to hear from a regional or district manager because my wife previously the following week had the same issue. I worked in fast food and your biggest area is service as quick as you can every place as a rule of thumb. He said his boss was on vacation in which I didn't believe. I told him I am writing a review and expecting to speak with someone on the issues of why it takes any person who is spending any amounts of money to hold for over 6-8 minutes to place a order to have done hopefully upon arrival.
I shall Not spend not one quarter at this location or any other Ph location until someone gets this corrected. As I explained I didn't want any discounts nor free food but Customer service I do expect so you have lost my business and my families to add my business and churches because I take customer service as the first line to gaining your customer and if make us feel unworthy then my hard earned money will go to somebody who values giving a service to everybody. Save your excuses because I've managed over 20 years and this here is nothing more than a mess u need to fix. Good bye.

Order pizza from numerous Pizza Hut. On my last order my food was cold. Driver said he had come to my door and knocked but I didn't answer, however he called to tell me that, which I was waiting on him so I never heard him knock. But my pizza was cold and sloppy looking and my wings hearty had any sauce on them. I called to complain and was given only a 10 dollar credit for my troubles. It took them 3 times to bring my order because the 2nd time was completely the wrong order. Pizza Hut lost a loyal customer to Papa John's. Better pizza, better service. That's what Papa John's does give you.

I've received nothing but great food and delivery from Pizza Hut for 20+ years. But these "new" black pseudo-styro containers are awful! Food acquires awful taste and smell (whether wings or sides). Tried 2nd time before posting to ensure I wasn't jumping the gun but 2nd delivery proves these containers are AWFUL! Going to Domino's until PH goes back to cardboard...

Well we sent back our original 2 pizzas for the dough being raw, only for them to send us back 2 more with the dough being raw. We called them and told them the new ones were raw also and they said they disagree. They got angry and refused to give me my money back for the food we couldn't eat. The other items that came with the meal made us sick. Needless to say 30 dollars spent on food that in the end couldn't be eaten and had to be thrown away and they refused to give our money back.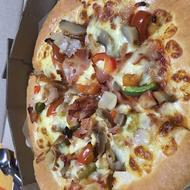 My husband and I were craving pizza so we headed to the nearest Pizza Hut. It was a full house so we decided to just buy a box of pizza to go and eat it at home. We ordered a regular size of the bacon supreme flavor. The picture of that pizza flavor on the menu looked like it was really loaded with bacon and meat. Lo and behold, when we got home and opened the box, there were just little bacon and meat and there were more of the bell peppers, mushrooms and onions which were not seen on the picture on the menu. Pizza Hut, you should be ashamed of what you are selling to people! We deserve so much better than this!

I have ordered and ate in in at least 2 different Pizza Hut locations in the past 8 months. On location the sauce is fine at one the other the sauce taste like pie filling. I have always chosen Pizza Hut or the other pizza places because they have awesome taste but now I really feel that Pizza Hut is doing too much!! Pizza should taste like pizza not pie!!! Today's order was not only wrong but tasted horrible and stop forcing that horrible garlic butter on everyone pizza unless the customer asks for it, please and thanks.

I think Pizza Hut's greatest contribution to the pizza industry here in the Philippines is their "Stuffed Crust". It revolutionized the way pizza crust is seen. Before, most people would see it as plain bread, or worse - something that could just be thrown away. But by upgrading your pizza to "Stuffed Crust", it becomes a bread stick with mozzarella cheese in it. Amazing right?! I guess a testament of its impact to the pizza industry here, another pizza brand is offering this option as well... Pizza Hut, makin' it (the crust) great indeed...the crust that is!

Order no. ** placed at 8:55 delivered at 10:25 that too cold pizza. After 9:30 I called them 4 times for my status of delivery. They told it has left and will reach within 10 minutes or we will surely call back in 5 minutes and they were not having any answer where the delivery boy is. Finally they give me store landline no. that you only call and ask them only. When I called in store (Profit Centre, Mahavir Nagar, Kandivali W), they don't even know how many digits the order no have and then they just kept the phone on and were not replying.

It really is a shame that after all this time that Pizza Hut in Antioch Illinois is being shut down by the corporation. We need this business open. Many many of us even here at Cartridge World next door to Pizza Hut need Pizza Hut. Many people run the stores by themselves. They're small businesses. Our food gets delivered. Where else would we go and get such good service? This is the only store or business I have ever known up in the 50 years of my life that delivers pizza on foot to the nearby businesses extremely fast most of the time within 7 minutes. This is quite a shame that this is happening. This business was doing fine. How much do you need for a business to keep going? I look out my window all the time at the store here at Cartridge World and see them on the goal studying delivering pizzas. But yeah you want to close this very important store.
Pizza Hut please hear my request to leave the store open. I'm just one person in this whole community and I hope you hear me out because if you need the whole Community we can work that out too. We need the store. Can you give it a chance? Summer's coming the business will pick up. If you think it's not doing good I assure you we need this business in this mall and for the surrounding areas.
The workers at Pizza Hut on Orchard Street are kind and friendly fast and courteous. What more do you want from your workers? That's what I asked. They did the best they could and you you're going to shut them down for doing the best they could. I'm wondering if some of the policies you have on getting in the way of your progress because I see these gentleman working non-stop, serving their community, getting pizza there hot fresh and fast. Isn't that what you require of a store? please consider keeping this business open. Like I said summer is coming hear me out.

We've just ordered pizza and chicken wings from Pizza Hut. Deliver time given was an hour. At first I though it's outrageous to have our orders delivered that long. They have a branch that is near as so to wait for an hour is a bit too long. I thought they guarantee delivery for 30 mins so I was wrong. The customer service agent said she will try to have it delivered the soonest possible time. To our surprise, our order came in 30 mins. Pizza was hot and they gave us the extras we requested. We've always loved pizzas and I'm satisfied how the cs made it possible to have it delivered fast and hot. I just wish that they come up with a standard delivery time so customers will not be confused as to what exactly is the delivery lead time.

Pizza Hut gives that comfy cozy dining experience plus I love their caesar salad, their mushroom soup and their crab salad roll. Their staff are also very very warm and accommodating. However, I couldn't give their pizza the thumbs up. Over the years, the dough has become dry and oily. Their toppings dry and lacking. You will enjoy the pizza a bit if you eat it right there in the restaurant but once you eat it later, it tastes stale and plain. Their pasta also tastes uncooked and hard at times, and though I love their soup recipes, more often than not it taste burnt. They should really look into what they are doing wrong. I have loved Pizza Hut more than our local pizza place before but not anymore. I am still satisfied with them but I do not wish to be only satisfied. I only dine out once in a while and so if I dine out I wish it to be a HAPPY experience.
Pizza Hut Company Profile
Company Name:

Pizza Hut

Website:

https://order.pizzahut.com/home?