Consumer Complaints and Reviews

They need to change the menu up. The Sausage McMuffin and McGriddles sound like the same thing and I get them mixed up. I always want a Sausage McGriddles but say I want a sausage McMuffin because they are so much alike. It would be greatly appreciated thanks!!!

Date of incident: February 23rd. Time of incident: 4:10 PM CST. I am REPULSED. Famished beyond belief, I ventured to my local McDonald's in the hopes for a good meal. I spot the quarter and exclaimed, "I must have two!" And so I ordered two quarter pounders with NO slivered onions, and their beloved shamrock shake. It took practically EONS for my food to even reach the counter, to start it off. I was so flustered I simply snatched the brown paper sack and was out the door in a jiffy. After devouring the first pounder, I reached into the bag and much to my disbelief and disgust there was not another quarter pounder awaiting my grasp. I immediately grabbed my receipt, and it was the jack of all trades! I HAD ordered two and was charged just so. Mcdonald's will never receive another PENNY from my leather clutches EVER. AGAIN.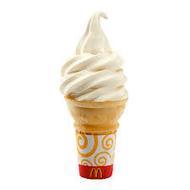 Whenever I ask for a nice, sweet, and creamy ice cream OF COURSE I would ask for some complimentary sprinkles. BUT NOOO and I know I am not the only person who has this problem at their friendly neighborhood "McDonalds". Now, I know some people don't like them BUT I DO! And I have gone to the very facility and they still have not changed their horrid ways. Just like in this photo. Hopefully this review will change the blind eyes of this terrible problem.

Saturday, February 11, 2017 11:10 A.M. McDonald's. 2362 N. Main St. Warsaw New York 14569. After having to fast for a medical test, I was really looking forward to McDonald's for lunch. I entered the store at approximately 11:10 am. Upon walking in, there were about half dozen people waiting. I waited my turn as their orders were taken and fulfilled. As I stood there waiting, and the other customers proceeded to take their food and leave, I was never asked by anyone if they could take my order. I continued to wait. Patiently waiting for someone to ask to take my order, another customer walked and was immediately asked for his order.
Again, being patient, I walked up to the counter and waited. And waited. And waited, as people walked back and forth. Feeling embarrassed and very uncomfortable, (I was the only customer standing there) I was looking at my phone. It felt like forever. Finally, a lady asked if she could help me. By then, I was done. And wanted to leave. Such lack of basic customer service. I don't know if my disability played a part in how I was treated? I don't understand how I can stand there and not one person behind the counter can ask to take my order and ignore me? To not even acknowledged me? As a customer. As a person. But the other person was immediately taken care of as he walked in? That's wrong. All I wanted was lunch. I left feeling horrible. I will never set foot in that McDonald's again. I will do appropriate reviews for this particular store.

Well, where should I start? First, as soon as I walked in McDonald's, on February 8th 2017, I noticed ONE manager running a crazy shift. She managed to get everything done! GREAT JOB! The dine in was incredibly clean and she seemed to be ready and on fire!, However then around my arrival time which would have been around 6:25 pm. I walked in McDonald's I felt this manager was extremely stressed out.
The other manager Latino man was there I believe he was the actual store manager. He seemed mad or unhappy not quite the appearance for a friendly restaurant. He was talking in a very disrespectful was to the young lady with the white shirt. She seemed very fed up with his BS, and I would probably snapped at him but she kept her cool. All I have to say is that this Man should start respecting his employees and not scream and demand like he owned the place. Dude you work there as well and as far as thinking you're higher and better you're not. Get this restaurant a better store manager one who help and listens carefully to the needs of their people.
How do I know I can trust these reviews about McDonalds?
717,175 reviews on ConsumerAffairs are verified.
We require contact information to ensure our reviewers are real.
We use intelligent software that helps us maintain the integrity of reviews.
Our moderators read all reviews to verify quality and helpfulness.
For more information about reviews on ConsumerAffairs.com please visit our FAQ.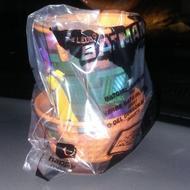 After I had gotten my food I had ordered I looked at everything in the bags and the mighty kids meal. I found out they gave my son which is 10 years old a freakin toddler cup which looked like a sippy cup. I asked them if they had a Lego Batman toy, they said, "all we have is the cup." Also they told me to go to another McDonald's to trade it out for something else. The girl I talked to had a totally unacceptable attitude. I am not done with them yet.

I really should blame myself for giving this location a 3rd chance but it's less than 3 miles from my house and we were supremely hungry! If only the service was bad I might just have given up going there and would go to another McDonalds location, however, the food was also sad. Ordered two Quarter Pounder meals, medium soda, small fry, and 20 piece chicken nugget with BBQ. Lastly ordered 3 hot fudge sundaes for dessert. Nothing was special order and we were the only people in the location (inside) at that time. I had to interrupt the conversation about a cell phone they were looking at so I could place my order and even while placing my order the ladies were carrying on their conversation as if we weren't there.
As the cashier was about to cash us out, finally, another worker said not to sell us the hot fudge sundaes because the machine was not ready yet and it was still runny (yuck). No apologies were made and nothing was actually conveyed to us as it was assumed we wouldn't want to know the situation they were talking to each other about! Plus we were never given the opportunity to order something else. We were tired of being ignored while they kept up their super important conversation about the cell phone and were ready to just get what we ordered and take the rest of our order to go. It had already been a long day!
Since we lived so close we were home in a matter of a few minutes (six) and finally ready to eat. The food was cold (didn't look bad though) and you could tell hot and fresh had happened some time ago. The nuggets were hard, fries cold and over salted, and the burgers were so cold they looked like plastic replica's of burgers. We ate cereal. The store would be fine if they could just get the employees attention! We do not expect four star services at McDonalds but simply good hot food and decent service. It's pretty sad at most locations so we are actually surprised when it turns out good!

Every time I go to McDonalds and I mean every time they mess up my order. I am sick and tired of them and then when I say it's wrong I get an attitude... Once I received wrong order and asked to speak to manager and got an attitude from her too. They are slow and once when I had to wait for food they had me wait by the door well they forgot about me. I had to call after 15 minutes of waiting to see if I am getting my food and then waited 10 more minutes. Horrible.

I paid with my credit card at Ewing NJ McDonald's. Two days later, someone made an unauthorized telephone purchase at Nike for $196.00 delivered to an address in Ewing. The card never left my possession except for when I handed it to the McDonald's cashier.

Just take what they give you and don't ask questions... or they will call the police. Seriously. So I ordered four cheeseburgers with only cheese. I got one cheeseburger with only cheese and three with ketchup onions and cheese. Clearly they just didn't care. It wasn't that they thought I just wanted only one with just cheese or the other three would have had mustard and pickles too.
So when I drove back and told a young ** manager he looked at the receipt and told me I had what I ordered. He was wrong. The receipt was wrong too, but even if it had been right the order didn't match it. So I told him I ordered my cheeseburgers with cheese only. He found the one that was right and said it was right. So I got annoyed and picked up the other three and said "Well what's this then?" and picked at the onions and ketchup?
So then the fool says I'm disrespecting me. I said "What the hell are you talking about? I just want my damn cheeseburgers with cheese only like I ordered. Is that a problem?" Then some ** lady manager said she didn't have to take my crap and called the police. Do what? You probably think I'm leaving out where I did or said some horrible thing, but I'm not. So I left. You think I'm going to hang around and have them lie the ** cop that will show up and say I called them a bad word? Keep your money for the four cheeseburgers McDonald's. Keep hiring idiot ** fools with a chip on their shoulder. I actively hate you McDonald's and pray that you go completely out of business everywhere you are. I ought to sue, but I'm a busy man.

I was writing a complaint about the store manager at the Waynesboro McDonald's. I really feel like she has a very bad attitude. She does not treat customers or employees how they should be treated. She acts as if employees are her personal workers as if she is the owner of the store. I understand that she is the store manager but really feel that she could treat employees a lot better. She really makes McDonald's hard to work at!!! I really think she should really look at how she treat the employees!

The reason I'm making this complaint is because I'm sick and tired of getting coffee cups that leaks. It never fails. I've have try different locations in the DC area. It has come to me buying a coffee cup and pouring the McDonalds coffee into it. Please fix this issue. Thanks.

My son was only 14 (a month away from turning 15) and wanted to show some responsibility and put a little money in his pocket. He filled out an application and got the job within a week. The first red flag came when he handed me his direct deposit authorization form and said he didn't need it anymore, the manager took a picture of the form with her cell phone and said she would forward it to corporate. 3 weeks later, he never received direct deposit into his acct. He told the manager, which told him he would get paid "next time". My son wanted me to let him handle it. So I waited. 5 weeks after starting his job, he still wasn't paid. Okay, I had to intervene. The store had their phones off the hook. Busy for hours and hours. So I called the owners of the franchise.
Within a few hours, he had a pay card for the last 3 paychecks he'd never received. Turns out, the owner says they emailed the hiring manager several times, asking for the correct info to his bank account but they were not answered. They put the funds on a PayCard, an account in which the hiring manager never gave to my son. The owner apologized for the unprofessional behavior. The week after this happened, my son's hours were cut from 12-16 hrs. a week, down to 0. That's right. He wasn't on the schedule. And when he called with the concern, he wasn't given a response. He was told that someone would call him back. Never happened. The following week he was scheduled just 2 hours. So that's 2 hrs. in a pay period.
Since he never gets anywhere with management, I decided to email the owner, in hopes she could do something. She responded to me, saying the general manager told her the reason for the reduction of hours was because after a week of training on the register, my son was unable to catch on, so he was limited to cleaning the lobby. THIS IS NOT TRUE. My son was NEVER, NOT ONCE, trained on a cash register. His job was limited to taking out garbage, sweeping and mopping floors, cleaning tables and the bathrooms and washing dishes. I was also told in the email, that since she is getting conflicting stories, she will allow her store manager to take care of her employees (the same ones she apologized to me for being so unprofessional) and he would need to have a meeting with her.
How could the store manager possibly even know anything about my son when he has never met her? The hiring manager is the only one he has ever seen. And the shift manager. I did look it up through franchise information and it simply states that you must be 16 to work a cash register. I'm appalled that not only is a manager making up blatant lies, but an owner is allowing it. My son will not work for a company that holds managers at such low standards. He was trying to learn responsibility and all he learned was how the working world operates. Big me, little you! Location - 127 N. MIAMI ST, WEST MILTON, OH.

I really upset at the level of disrespect, lack of customer service, and unprofessional way I was handled this morning 1/5/2017 at this location. I called on 1/4/2017 and asked to speak with a manager. Francine answered and I explained to her my frustration. I told her that lately when I come to that location the person making the oatmeal puts so much liquid in it it cannot be eaten. I know that there has been times when it is correct and it is the one thing I can eat for breakfast because I am on a restricted diet. The manager told me to come back the next morning and to let them know at the window.
I did that this morning to be so rudely addressed by Kathy and Carlos. I told them that I spoke to Francine and they denied me because Francine did not inform me to bring a receipt and she did not write my name in a book. I was humiliated that she was denying me to receive it when it cost 1.99 /2.11 with tax. I purchased one today to receive the receipt to get the manager's name. I was unable to eat it because she turned her back to prepare it. It was suspect behavior and I didn't feel safe eating it. I will never visit this location again. Please send to regional director. Thanks.

I got a cut on the top of my index finger that required 4 stitches and severed nerves from a sundae cup. I was offered $100 and food coupons, and was refused a claim with their insurance for it. I was given the runaround and even a phone call requesting info on what happened that when I tried to reach this individual, they didn't exist. I spoke to one of the managers. He tried to talk me into sending the cup. When I decided not to send the cup McDonald's has been ignoring me completely. I am a very concerned person about the safety of these cups and the millions of little hands every year that they end up in. McDonald's doesn't see the importance.

Well I have not stopped at McDonalds in over 5 yrs, and with that only place to stop on my way home from the airport, I stopped to give it a try. Well I know McDonalds is not a gamer's job but it's a perfect start job, I have been there. So with that being said, I went to the drive-through and ordered a number 1 with extra pickles, ok so that is not hard. Get to the window and no one else in line but the truck behind me. Well when I get home I find that I got two cheeseburger sauce. One with a label saying extra pickles. OK so I bit into it to only find ketchup and cheese, no beef patty, LOL OK. Grabbed the second patty to have a label that says no pickles, OK so I take a bit and it's cold and find only pickles.
So all I have to say the food was horrible. What I had to try and the fact the employee can't read and make a burger to what is order. Wow and these are our next generation of grown ups and they want to make more the minimum wage, ahhh not. I will never go back. Plus to add to the fun I got food poison from them on top of it all, nasty people. And nasty food.

250 Whalley Ave, New Haven, CT 06511 - I and my wife went through new haven on a charter trip early in the morning. We did our drop off students then went to Mcdonald's on Whalley avenue; we bought two apple juice, and two sausage egg muffin, no cheese... after we got our order and went outside in the bus to eat, both sandwich has receipt that says no cheese??? But yet still, one of them has sausage with cheese and it was missing the egg... so I went back inside then tall gentlemen took my sandwich, went to the person making the sandwiches gossip something to her, brought back a sandwich. "Sorry, sir", he said... so I went back out to eat again... and noticed the egg was still missing from my sandwich... totally piss me off. These people can't make a sandwich - also charged me full price.... 3 dollars plus, while my wife sandwich cost 1.00 probably also make up the price.
Robbery and bad service... you can contact me by my email. Check the register that day, see how much they probably robbing people and believed they won't noticed. I want nothing to remain confidential. I heard of people in fast foods doing things like this. Now I'm a victim. I use my bank card. I can email you a transaction. Thank you. This was no mistake or accident. It was done multiple times... it was too easy.

14985 US Highway 17, Hampstead, NC 28443, United States. Went and got a medium frappe and a ten piece nugget, was told or would be cooked to order. When I got to the window it was already ready so I forged maybe they had then in the fryer already and they just came up! Negative, my nuggets were hard as rocks and cold. I called them not even 5 minutes later to tell them I wanted a refund or fresh food like they said and she tell me they were cooked fresh she cooked them herself, wouldn't give me a name. I drove back and they're closed. Pulled up to the window and they are all arguing with me. All I wanted was a refund. Mind you I'm pregnant and it is against the law to serve old food so if I would have gotten sick because of that... lawsuit. So I will return in the morning for a refund and to speak to the manager 12/28/16.

This just happened to me a couple of days ago. I don't know where management gets their training. I was hired to work there and my training consistent of watching training videos. And was given the challenge of frying the fries. When you're with someone in the beginning everything is much better. But my second day I was left on my own and it was a total nightmare. The staff managers were ruthless. I had to multitask which was not a problem but we were short of people that day. And trying to fill the big vats of fries and fry them at the same time. I never came across a group of mean spirited individuals in my life. No wonder the service is bad and the reason is because they can't hold on to people let alone able to treat them right.
It's also dangerous especially when pulling out the fries my area would be slippery. So when you get mad at a crew member please be patient and understanding. It's not them. It's management that has them running around like robots. My outlook on McDonald's is disappointing. I quit the end of my shift. No one should endure that type of abuse. Retrain your MANAGERS. Customers I warned you!!!

On my way I passed a freezing cold Veteran. I and I asked if he would like a cup of hot coffee. He said, "Yes, please." I went to get my coffee and then also ordered his. The manager asked if I wanted cream or sugar I said "I don't know. It's for the vet outside." To get to the point no one dictates to me what I do with my money. That McDonald's is very prejudice against vets. He was sitting on the sidewalk not even their property. Doing nothing wrong. Manager telling me, "You can't buy him a coffee." I support our vets. That manager has a job because our vets fought so you could work, not so you could dictate to someone that they can't buy a simple cup of cover. I was a serious customer there. No more, never going back. McDonald at watt ave by bowling alley. Country club. Goodbye McDonald. Starbucks here I come.

I went to the McDonalds next to the Vineland outlets in Orlando, FL. McDonalds has all day breakfast and I went in with a coupon for a free coffee when you buy a breakfast sandwich. The manager comes up, because McDonalds is the only restaurant where the cashiers can't do coupons themselves, and tells me that they can't accept breakfast coupons after 11 and their register will not process it. Despite that they sell McMuffins, the sandwich I ordered, all day and that nowhere on the coupon did it say it was only valid until 11. I don't know maybe that is policy and I'm just the dumbass but since that wasn't on the coupon I feel that instead of breakfast, that manager was serving me some fresh cracked **.


I ordered a double quarter pounder and large fries. I paid at the first window. When I got to the second window for pick up. The female was nasty with me when I asked why I had to park for just a sandwich? She stated "I don't make the food and you need to move over to the number 1 parking spot." First the McDonald's at State Rd. And Lansdowne Ave. was not busy even when I pulled in at 5 pm. There were no lights on outside the business. This location is a big hangout for juveniles and I feel that I should not have been treated that way. The female that brought my food out to me which was about a minute threw the bag at me and walked away when I wanted her name. I will not go there again and will also tell others not to go there. Bad experience with bad employees. I cannot even read the receipt because the printer cartridge has to be replaced. I do have my receipt.

My wife and I visited the McDonalds Restaurant number 17075 at 3 N Wilbur Shaw PLZ, in Rolling Prairie, Indiana, 46371 on 12/03/2016. This store is on the Indiana Toll Rd. I80 West Bound. I would just like to congratulate them on being the worst McDonalds that I have ever stepped foot in. I have been to Africa, the Middle East and Europe and never before have I never been served such garbage. I am keeping the receipt as a reminder to never step foot in another McDonalds.

WE QUIT BUYING AT MCDONALD'S. The fries are soggy, white... not golden brown and never crisp. They are of poor quality compared to BURGER KING, WENDY'S and mom and pop restaurants. No crunch. The fries shown on the Today show today are as far from reality as I am from Mars. Cook them longer or just make thicker, better fries!

McDonald's has a great looking app, but in the Columbia S.C. area looks don't matter. The app works perfectly while I am in my home or not connected to McDonald's WiFi. But as soon as I enter any McDonald's in Columbia I get an SSL error. I even tried writing down the code to one of the offers before entering the restaurant and gave it to the cashier when ordering, but it was turned down by management because I did not have the coupon on my cell phone. I have tried to use the app at multiple restaurants with similar results. Only one Manager gave me the offer without the coupon.

I love pickles on my hamburger so whenever I go to McDonald's I always ask for extra pickle but they only gave me like a few pickles. Sometimes they gave me more pickles but one time I got no pickles at all. So please McDonald's if you're reading this please give me extra pickle because I love pickles on my hamburger.

I am a disabled 57 year old guy. I was treated not good. I was shoved a coffee and sugar nearly in my face from a employee. His name is Adam and the manager at the time had words with him. The few times after that didn't see him. Then when I did I said "I don't want you serving me." He said "well go somewhere else." I asked to speak to the manager and was told to go somewhere else and I was banned. The head office said no one gets banned for life. Well I am. I think it's appalling. I am disgusted as I have been treated as because I am disabled. I have not been to McDonald's since they will not let me speak to the CEO. Appalling.

Around about 9:09 pm, I went to McDonalds on North Slappey In Albany, GA near Fun Park. I ordered a Fish-Filet Meal in the drive thru. The girl gave me the order and told me that they were out of Fish-Filet boxes so they had to place my order in the spicy chicken box. So I left. When I got home, it was spicy chicken in the box. I called to speak to the Manager. That was the one that answered the phone. She sounded as if she was still in high school. I proceeded to tell her what happened and when I was done, there was this long silent on the phone. So I asked how she was going to correct this. She said, "Bring it back and you can get your fish sandwich." I said, "I am all the way on the Eastside of town." She said "Bring it tomorrow if you want your fish sandwich."
I asked "was there another manager on duty?" She said "no, just me." I asked for her name and she told me. I went back. The minute that I came in the store, all of the employees were looking at me as if she had a conversation with them. One of the employees came up to me ask, "Are you back for your Fish sandwich?" I said "yes and to speak to your manager." She finally came out and I told her, "I am the one that is returning this chicken sandwich." She took it and walked off without even "I am sorry that happened." McDonalds hires these young people to do an adult job.

Since McDonalds did away with their Clubhouse Burger what is left are basically burgers with pickle relish or salad dressing! WHY?? What are they thinking?? I'm off to Burger King. They lost a customer!
McDonalds Company Profile
Company Name:

McDonalds

Website:

http://www.mcdonalds.com/us/en/home.html