Consumer Complaints and Reviews

McDonald's has always had a cool mobile app I use every time I go. I go more often because I get deals on my iPhone. Today, was heading there and realized they changed the mobile app and now forced to register. Tried to register in 2 ways, email & Facebook. Both failed with errors. Can't look at deals or obtain. Really bad migration guys. Hire some decent IT developers and test before you deploy!

I'm going to shorten this review because I don't feel that I should have to write another but fortunately I do! I got a drink and noticed the cup was leaking all over. Bottom line an employee taped the inside and outside of the cup back together with stickers which is disgusting! Then when I posted a review w/ a picture they cut out the bottom part of the picture revealing the damage. They will NEVER get my business again! This was messed up but then to screw w/ the picture is just scandal! When I called the corporate office to inform them the woman was unbelievably nasty and rude!

I was visiting your location listed above today and ordered (3) cheese burgers happy meals with yogurt and chocolate milk and a small fry. I chose this location because I was with my 2 great nieces and granddaughter. They were really excited because it had a play area. I chose the seats inside the play area. They were excited about their happy meals and wanted to experience the play area.
We were eating our meals and I looked around the play area with the tubes and noticed feces and urine inside the play area. I was shocked and went inside the restaurant area and immediately asked for the manager. I informed her the play area had feces and urine inside of it. She said "thank you for informing me." I was very upset and I informed her she needs to shut this play area down. She asked one the worker to come and clean the feces and urine out of the tube. I told her that "this area is contaminated and should be shut down because kids are playing inside this area and a spray bottle and removing the feces was not enough."
I was very upset and have NEVER seen something so disgusting and asked her for a refund. She asked me to bring me the food back to her which I did. She then asked me for my receipt which I threw in the garbage can. I told her I lost my appetite when I discovered there was feces and urine inside the play area and wanted a full refund which I spent $15.00 and some change. She said I had eaten the food which I told her yes my kids did eat the food however, while we were eating I noticed a smell and looked around and discovered the feces inside the play area.
This is totally unacceptable for anyone or guest to discover this McDonalds chain. I told her they need to have employee's spot check these areas for cleanliness and sanitation for the safety of children. I was upset and there were patrons inside the restaurant. Please observe your camera around 7:00 pm. today July 23, 2017. I will never be able to feel comfortable for any kid to use the slide or play areas of McDonalds ever again...

I visit a local McDonalds on July the 22nd 2017. I went through the drive-thru to order food for my grandson as just had got surgery on my knee so we decided that he can eat there and as I ordered his food everything was good but when I got home the food was extremely cold. So I called back up there and the manager answer the phone. She said hello. I said "hello is this McDonalds." She said yes. I said, "okay because I didn't know because you answer it hello." And by the time I start to tell her about my food been extremely cold and my bread was also hard she just slammed the phone down and never answered it. I called several times after that and no one picked up. It's just sad that you have to experience such rudeness of these establishments. These people really just don't care anymore.

Yes McDonalds at 1212 Jefferson Davis hwy by college has bad business. Their management sucks. The one manager ** is the one who does not belong in the manager position because she very rude and disrespectful.
How do I know I can trust these reviews about McDonalds?
849,102 reviews on ConsumerAffairs are verified.
We require contact information to ensure our reviewers are real.
We use intelligent software that helps us maintain the integrity of reviews.
Our moderators read all reviews to verify quality and helpfulness.
For more information about reviews on ConsumerAffairs.com please visit our FAQ.

One Sunday evening (18/06/2017) I went to a McDonald's restaurant on Dee Street in Invercargill (NZ). I ordered a latte. An employee and I were having a conversation. They told me that they "had fell into a rosebush and received nasty cuts." I replied, "Yeah those thorns are as sharp as razors." Another staff member went away and told the manager that I "had razors on my purse."
While I was enjoying my latte and talking to a group of people at another table two police officers sat down at my table and told me that management had contacted police and told them that I was carrying razor blades. I assured them that I did not carry razor blades. It was humiliating. The officers went and spoke to management. They came back to me and told me that the manager was asking me to leave in front of everybody. I talked to the group before I went to leave. The manager then approached me and asked me to leave again. I told him that it was some kind of misunderstanding. He refused to acknowledge this and retorted "I respect my staff," I asked if I could use the toilet to which he replied, "No, you need to leave the premises now."
Overall his manner towards me was really patronising and he made me feel really small. He spoke to me as if I had crawled up out of a hole. The group (these were quite respectable elderly women) I had been engaging with showed their solidarity and walked out too by their own accord. They vowed that they would never go to McDonalds again after they witnessed what had happened. I was horrified that I did not get an apology and the manager was unrelenting in humiliating me.
I complained to company that oversees all the restaurants in New Zealand. The respondent to my complaint told me that she supported the actions of the team members at McDonalds in Invercargill because they "were not there to witness the actual event." The respondent also said, "I am sorry for how you felt." I challenged them and told them that they were not apologising for what their staff members did to me. Again, they droned on that they support their staff and they were "...so sorry" that I feel this way. In the end. I pointed out that they were patronising and were in fact refusing to take accountability for their actions. This experience had quite an impact on me and I will never again go to McDonalds. I really do not want to have anything to do with those people who treated me the the way they did.

Okay I love their breakfast. I also used to love their quarter pounders until the last 3 haven't been eatable. I do know several other McDonald's stores and the problem isn't with the company. It's the employees. Some have better ones than others. Here they never get my order right if I get a lunch menu. It's all young kids who don't know how to boil water and I think my store isn't a real busy place so therefore we are getting patties that are old. Not all of them are like that so I will continue to go just not to the one closest to me. I'd rather drive 45 minutes and enjoy my food. I have cancer and so I love their milkshakes after a chemo day but they just slap it together. Lid not on. But again that's the workers.
They need managers to at least be a certain age and what happened to customer satisfaction. If they mess up they just say sorry. You could at least give a discount because I would still order just not the same things. I've never liked the $1 burgers they have. A real funny taste. Anyone else notice if you get a large fry and in reality it's a medium by the time they shake down. It's just disappointing that the company doesn't try and have better customer service. Here they are rude. Rolls their eyes and heaven forbid you complain because you won't have your food or anything else for that matter.

So I go to McDonald's and I'm in a great mood right? Yeah. Then McDonald's ruins my day. I walk in and I think "I'm kinda broke. I don't know if I have enough money for a large fry". So I ask this skinny Asian dude how much a large fry costs. He rudely rolls his eyes at me making me feel like a scrub and a horrible person for asking how much something cost. Like I'm not that poor but I'm pretty poor!! I don't even think he spoke English. Anyways I got the fries whatever. Then I get a small drink but I realize all the drinks are the same price!!! What the hell!!! What a rip off!! Are they trying to give me diabetes??? A large Coke for a dollar??? Then my friend ordered fries too but when she gave him her money he rolled his eyes!!! AGAIN!!! Now you are the scrubby brat. So I get my fries and then I ask if I could get some ranch and he only gives me one??? Like ** I got a large fry. What are you thinking honey!!!
So I sit down to eat and then this ** Satan sized hornet try to cross me like ** Why do you have huge bugs in your restaurant??? Then the next day I go through the drive through with my bike and all they say is "CAN'T SERVE YOU" in a rude voice... No sorry??? And I asked why. He gave us a snobby remark. MAYBE if you don't close your restaurant at 7 pm you wouldn't have this problem??? Like I needed a Oreo shake but I guess I'll take my business to Coldstone where they respect me!!! I am a woman after all... and our food always takes so long!!! Never going to McDonald's again!!! Hate that Satan restaurant.

Arrived at 11 pm est. Left drive through at 11:52 pm. I did not receive my full order and was laughed at because the attendant said he just didn't know what to do. There were over 20 cars in line. No one could get out of the line unless you were last to show up. This McDonalds was 38th Ave N and 4thst St Petersburg Florida. Never have I been in a line at a drive thru for this extended period of time with no way out of line. What a joke. They should have just closed their doors if they didn't want to work.

I went to a McDonalds down the street from me in Corona, and they said they had no carbonated drinks. Nothing but unsweetened tea. Mind that I was walking and it's a hot day and people like to cool down with a nice cold drink with their food.

We're at the 5525 Xerxes Ave N, Minneapolis, Minnesota McDonalds, it is July 8th at 8:40PM CDT. I just want to share with the world! This is the filthiest fast food eatery I have EVER had the displeasure of trying to survive. Fries stuck to my shoes, weird sticky substances on the tables, but amazingly, there's more! We have tables with trays and cups and fries containers, the floors too! We have bloody ketchup stuck to the ketchup dispenser and the table surfaces, hey look! Behind the counter! Even *more* filth at the food preparation areas. I commiserated with the counter person, "gee it must have been awfully busy this afternoon." She did not take the out. "No, it hasn't been busy." Corporate America continues to spray contempt upon the American people because we are apparently too passive to complain loudly and effectively that we demand better.

What can I say about Fairfield, NJ McDonald's. It seems that the people working there don't care what you want. They don't even listen to you. With anything. I have asked for simple things.. ketchup etc... When I get to work there's nothing in the bag. I asked for a ranch salad... I received a southwest salad.. With beans and all. No tomatoes and ranch dressing. I'm not eating carbs. So now I have to dig thru my salad and take it all out leaving me with just lettuce. I'm so tired of them. And when you sit in the drive up to make sure you got what you wanted they yell at you. Also at the drive up it tells you what you're paying. It said 5.45 so I dug out my money to the exact amount. Then when I got to the window.. 5.87 plus its tax. So why don't it just say that at the window 5.87 with tax.

My order was not what I asked for. I got home and had to return for correct order. The staff person did not apologize or say anything. She just corrected the order and gave it back. I told her I was going to complain about the service. She said "Ok."

We live in Harrodsburg, KY and have one McDonalds. The closest other McDonalds is 10 miles away. We usually only get breakfast, coffee or iced tea here. But, every single time we go there they get our order wrong. The owner claims to also own several surrounding stores. But, our local store is the worst McDonalds we have ever been to and nothing is ever done about the problems!! We believe it has to be management and lack of training!! Obviously customer service is not a priority here!!

Went to McDonalds in Takoma Park MD store #728. Service was good but hash brown was awful. Couldn't bite into it at all. Hard as a rock. Been going to this McDonalds since a kid but as an adult spending my hard earn money on food that isn't good quality is not good business practice. If you wouldn't eat it why serve it to others.

McDonald's app: App - locked out. No one can help in stores. Asked who do I contact?? They don't know. You would think the stores would be informed on how to help. What is 1032??? Then it will say password (too many times). Or log on with Facebook or Google. Note it doesn't work. So for the rest of you Don't get the App!!

We have stopped at the location many times over the years and this location has had a rapid decline in the last two years. The women's bathroom is terribly dirty and in need of repairs. The facility in general is not clean! Yesterday, 6/19/17, we went through the drive through just for ice cream cones and today my husband and I both have stomach aches and general flu-like symptoms! The attendant was not wearing gloves and he didn't protect the cones with napkins so I am pretty sure he transmitted some type of germ to us! Please clean up this restaurant so it is clean and efficient so we can continue to patronize it since the choices in that area are scarce!

When I went to McDonalds today on 6-13- 2017 Merrillville Ind. 46410 right off 61 Broadway, I been having problem with cashier waitress name which was told me by one other worker is **. I have been for the past two weeks asking her for decaffeinated coffee, several times she gave me caffeinated coffee. I told her that was okay since she made it. But now that she has been giving me the caffeine on purpose I ask that she did not fix my food because I didn't trust anyone to cook my food with a attitude, so I ask that someone else would fix my coffee and as I was leaving another elder woman said that I said right because she have been treating her that way also.
The worker that gave me her name said that she always treat people like that. But on this morning there is usually two or three workers at the counter, but this morning approx 6:30 to 7:00 am it was just her this time. So I had my phone with me, and turn on my camera to show to the owner what has been happening. The manager came from around the counter and stood behind me little ways watching me so I turned around and tried to film him just in case he would try something like run up behind me for some reason. So then he came back to where the waitress was at the counter and said "you can't film".
I was explaining what been going on with the waitress, but he kept saying that her, "you're filming me now" and said he called the police. But the intention of them both was to set it up where she would be the only to wait on me this morning. Why? I don't know except I told her I did not want her to fix my coffee a day before. They do not wear a name tag, so I call myself trying to take a picture of her giving me the wrong coffee again to send to McDonalds to verify what was going on. Thank You for your concern.

I happen to be dieting & love McDonald's. I can buy HUGE Unsweetened Iced Tea. I combine 2 grilled snack wraps w/ no ranch. I go to 3 WONDERFUL McDonald's (150 Bway Manh NYC NY & Long Beach NY & Oceanside NY) BUT Go to others & it's Russian roulette & Corp doesn't care anymore. McDonald's has a $1 Soft Drink promo & even the expensive stores honor this promo. The McDonald's on 200 block of Bway in Manh NYC NY has a sign saying $1 soft drinks & showing iced tea BUT only charges $1 for soda. They told me after overcharging it doesn't include iced tea. The 800# simply told me to talk to the store. The store doesn't seem to care. Everyone is polite but I have a better chance of a blizzard in July than getting the sign corrected or removed. It's only $1 so it's not worth more effort.
BUT PLEASE BE AWARE. ALL McDonald's are not equal. SOME McDonald's are DISHONEST. Unlike Wendy's, McDonald's NO LONGER MAKES SURE THAT ALL McDonald's have the same Honesty or Cleanliness. I will be cautious patronizing McDonald's I do not know. This is not a matter of a store not participating in a promo. This is a store charging more than the sign by the counter says and no one caring.

I stopped at McDonald's and I had planned to go through the drive-thru, however there were about 7 to 8 cars in front of me and I did not want to wait so I parked and went inside. I waited for about 10 minutes and finally I got up to the counter to give my order. The girl who took care of me had a real bad attitude problem and was nasty for no reason at all. I paid for my items and went and waited to be called to pick it up. While I was waiting I had to urinate and wash my hands so I went to the Men's room. When I opened the door there was a very bad and offensive odor that I almost gagged. I proceeded up to the urinal and started to go and I happened to look to my left and I was in total and complete shock to what I was seeing.
Someone had defecated against the wall and all of it ran down the wall all the way to the floor. I looked again and there was not a trace of toilet paper in sight so whoever did this did not even wipe themselves. This apparently was no accident and was some type of disgusting malicious act for sure. It was the most revolting, repulsive, sickening, nauseating, stomach-churning thing I had ever seen and I could not actually believe someone would be so low to do something like this and leave it behind for someone else to find. Whoever did this is a real low life for sure. It is a good thing I didn't catch who was doing this as I would have shoved his entire face in it to teach him a real lesson for sure. Goodbye McDonalds!

I have a long love affair with McDonalds but lately it's been less than stellar. My lunch time stop has turned into a chore. Instead of zipping into the drive through and ordering and out in 5 minutes it has turned into 15 to 30 minutes. The menu item changes have really slowed things down to the point that I no longer go to McDonalds for lunch anymore. Also, the stupid idea of breakfast all day. I do not want breakfast all day. I don't want breakfast at all. I want to pull into McDonalds at any time and get an old fashioned burger, or fish or Chicken McNuggets and delicious fries. Lately, the fries have been undercooked also. I do not go to get soggy, undercooked fries. I like mine crisp and hot. It has been a while since that has happened. I really think McDonalds is going down the wrong path with trying to diversify the products they sell. I think they should get back to the basics and provide the food that everyone loves.

I have had a series of bad experiences with MCD. The problem is systematic. MCD thinks they can get back to what they were by being a Starbucks clone. The only path back to where they were is Customer interface and speed. The counter staff has become a turnoff. Slow service even more so. Too often the counter person is wearing a headset and handling a drive through order while looking at you. Rude, rude, rude. There is also too much chit chat with other MCD staff. Again rude. When you place your order, the counter person ignores your request and launches into an upgrade spiel. This makes order taking longer, and angers me to no end. You have to wade through the corporate sales routine, and in most cases your order is placed wrongly because the counter automaton did not pay attention. The customer at the counter should be the most important person in the store. He should have your full attention.
The new menu compounds the problem. Too many items and choices. To many opportunities to make a mistake or waste time. The old McDonalds with 6 sandwich choices and 6 drink offerings could get your order, get you fed, and get you on your way in 15 minutes. Now you can wait in line for over 15 minutes. I refuse to. If my order is not taken in 10 minutes I walk out.
If you keep McCafe, quarantine it in another part of the store, like they do in Germany. Get the Starbucks fans out of the ordering line. Bring back the mellow coffee that you used to serve. The vile bitter stuff you have tastes as bad as the cheap over-roasted slop they serve at Starbucks. You have to add sugar and cream to kill the taste.
Trained, alert, efficient, and polite customer service help has been missing from MCD for too long. The counter person can do more for your bottom line than breakfast all day. I buy my gas at a pay at the pump station. I bank by ATM if possible. I loved the MCD kiosks in Germany. I want them in the USA. No more need to wade through untrained rude counter help. Have a robot cook my meal (no more screw ups due to language problems) Deliver my order to a compartment like they used to have in an automat. Let me use a token or passcode to open the door. Fire those counter zombies. Bring back the FAST in fast food. Ray Kroc would be proud if you did.

So since I haven't been able to use their app for over a month since they did something to it, I wrote their customer service department and this is what I was told - "Unfortunately the new version of the McDonald's Global Mobile App is compatible with Android Lollipop (5.0-5.1.1) and higher Android versions. The IOS system should be 8.0 and higher. Please check to see if your device has a system update available." There are no more updates for my phone and I'm definitely not buying a new phone just so I can use their app. That's really smart. Take a perfectly good and working app and make it so that a good amount of people, who used the app with no problems, can't use the app anymore because they've decided to make it so only certain phones can use the app. Has anyone there heard the term "If it's not broken don't fix it"? Or in McDonald's case "If it's not broken, DON'T BREAK IT"!!! The suits at McDonald's are geniuses.

I went to McDonald's this morning and the new recipe sandwich which was chicken bacon and barbecue sauce. When I got home enjoying my breakfast I saw a commercial about the free French fries and drink when you bought their signature sandwich. I wasn't aware of this. It doesn't say it anywhere. Not that I noticed. so I called McDonald's and told him about the situation. The man is just said "Well if you don't ask you don't get it." I said to him what would be supposed to be part of that signature sandwich. Don't you automatically supposed to give it to the customer? He said "no". I was so upset I said "so you cheat the customers and it's alright because you save money on the fries in the drink". He didn't have words for me. I would not buy this sandwich again. It was saturated with barbecue sauce and no taste.

Ordered the snack wrap at 1:00 pm, basic lunch time, the chicken was burned and dried out, it was disgusting. I took in and ask the manager if they even pay attention to what they are servings the customer. I was told they would make me a new one but it would be 6 minutes for them to cook fresh chicken. I was so angry I walk out with even getting a return.

After waiting 5 minutes stuck behind the speaker at the menu board, the line stalled for another 5 or so minutes. I ordered a large 1/4 meal and finally made it to the pickup window to wait another 5 minutes. I finally honked to get the attention of the precious made up girl at the window. She looked at me and turned her back on me. When I finally got my cold food, the fries were dumped in the bag and the girl working the window who couldn't say "Hello" or "Sorry for your wait" just dead glared at me. I commented how PATHETIC the service was. She shut the window. I asked the one taking money why were the cars not being parked? "I don't know" was her response. I worked for McD's for three years as crew chief. This was unacceptable service. The Enka location has gotten ridiculous, rude, and the store is NASTY! No more for me!!!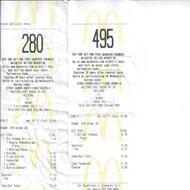 Yesterday, April 30, 2017, I experienced a very disturbing incident at the Milford, Connecticut, East Bound RT 95 McDonald's (store #7461). I was returning home to Rhode Island with a carload of Boy Scouts who had just spent the weekend at West Point. We were all tired and hungry, so we stopped off to grab something to eat. Most of the orders were filled without incident. However, mine was handled very carelessly and rudely. My son ordered his usual; Double Quarter with cheese/plain, and a bottle of water. I ordered a Big Mac, Filet-O-Fish, a hamburger, and a large Coke (see enclosed receipt #280). After ordering, we moved to the pick-up line. When we received our order, my son checked his sandwich. Instead of his Double Quarter Pounder, he received a Double Cheeseburger.
I brought this to the attention of a woman named Maria, who claimed to be the manager, and she accused me of ordering the wrong sandwich ("You must have ordered the wrong sandwich.") I insisted that we did not and asked to receive the correct one. With a sigh and a look of disdain, she took my receipt and refunded my money. She then rang up the correct sandwich and asked me for $6.16. I gave her a $20.00, a $1.00, a dime, a nickel, and a penny. I was supposed to get a $15.00 back. instead, she gave me a $5.00 bill. I told her that I had given her a $20.00, and she snapped back at me with a, "No, you did not. You gave me a $10.00." She then pulled a $20.00 from the drawer and said something about it not being mine because it was upside down.
Other than the $5.00 and the $1.00 bills, which were change from a $20.00 I used to buy some patches and pins as we left West Point, all I had on this trip were $20.00 dollar bills and no change. I was VERY sure I gave her a $20.00. As she and I were discussing the incident, one of the 14 year old Boy Scouts spoke up and said, "Mr. **, I saw you give her a $20.00." She snapped at him and told him that he was wrong. I responded by saying, "I am a teacher and he is a Boy Scout. We do not lie. You mean to tell me that two sets of eyes confirm that I gave you a $20.00 and we are both wrong?" She said, "Yes." I got very mad and asked to see the manager, to which she responded, "I AM the manager!" She then took out her drawer and counted its contents. When she was done, she did not tell me whether or not the drawer was correct.
She then asked one of the other employees to count the drawer for her. He did. He then put the money back and returned the drawer to the register. Neither told me whether or not the drawer was correct. One would think that, if they were right, they would tell me that the drawer was correct and I could not possibly have given her a $20.00. This did not happen. I then asked her for her name and the corporate address of who she answers to. She printed a blank receipt with the web address and put her name on it. I then asked the boys to grab our bags so we could leave. It was at this moment that I noticed I never received my large Coke. I brought this to her attention and she asked me if I had a receipt. I said, "No. You took it from me when I came to pick up my order." She then told me that I needed a receipt.
The male employee that was there asked me if I remembered what order number it was, and one of the Scouts remembered that it was #280. He reprinted one for me, and I showed him where it said 1 L Coke. He poured me a Coke, and we were on our way. I would like to point out that, throughout this whole ordeal, this young man conducted himself with the utmost respect and calm, which was in direct contrast to how Maria behaved. As we were pulling back onto the highway, my son asked me for his bottle of water. At this point we noticed that this too was never given to us, even though it was on receipt #280. We wrote that off and proceeded home. Thank you for your attention to this matter, and your anticipated timely response back to me.

What's just as bad as finding a dead mouse in your food? Discovering someone has been eating on it before you received your order. Here is the report to McDonalds. 5-18-17, 7:59am, Carry Out window attempted to hand me a bag only to take it back stating it was an incorrect order. I was instructed to park to the side and wait for my correct order. I was handed a bag and returned to work. Upon arriving at our office, I proceeded to distribute the food discovering that a Sausage McMuffin had been partially eaten. Our office disposed of all the food and drinks in fear that food safety was compromised. I have pictures of the eaten sandwich and invoice. Incident was reported to the restaurant manager. McDonalds #27062. 990 Greensboro Dr. Gallatin, TN 37066. 615-451-7100.

On May 11th at 17:15pm I went to McDonald's to get change for the bus & I bought something because I'm handicapped and I was shaking. I had a small problem with the male manager's position on giving me change but ignored it. However the guard picked up on the manager's attitude and thought it was okay to talk to me as such. I went to sit down and the guard told me I have my food and I needed to leave. I continued on to a booth and while he sat in his chair the whole time he was having a panic attack. After I sat down he called me poor white trash. And the manager heard guard yell. But the manager wasn't having a good day. I went to counter and the manager looked at me like I didn't matter.
I called Illinois and I put it on speaker and the lady handing over the food said, "Quick she's got home office on phone". I sat down and that manager flew out the side door with a piece of paper and said, "Did you tell on me" & I said, "No I hung up." And he wiped his forehead in relief. He first asked me how far I lived from there and I said 45 minutes but I didn't tell him walking distance. 15 min bus ride. He acted confused, but when I left I saw a woman's shelter & I think he and that guard thought I came out of it. And he took my phone # and offered me a sm soda! And said he'd call me in 24 hours. Now I am sitting there and the guard was still running his mouth. I got up and I walked over to him and I said, "You sat us back 50 years and we are supposed to be united right now and you are not part of the solution". Mind you I was the only ** person. Every ** person said, "Yea, united!" And a frenzy broke out.
And the manager decided he needed to protect him & brought him to the back. I had a ** man who said he fought racism all his life and he was giving me his card. And as I was leaving I backed out the door and the guard gave me the finger in camera view. That manager did nothing. And why he thought a sm soda was good enough. I know why. But the people in McDonald's let me know we are more united than we know so that was the only good thing. My friend without me knowing wrote the main office because she was in the same situation in the 80's when the ** word was still flying out of ignorant ** people and the restaurant kicked him out. And I was not mad because she meant well and I called her on my way home and she heard it in my voice.
I am a 49 year old Jewish/** disabled woman and well-mannered. Even though I have PTSD growing up in Crackertown, GA, in the 70'S I won't even bore you with it. But the mental anguish I went through and am still going through. But I got off track a little. That manager called my friend and left an apology to her voicemail. But I still have not heard from corporate in Manhattan so I am hoping that Chicago will see this. I can't let this go, and I am perturbed about that manager not following through. McDonald's in the South would have pulled that guard off the floor 1st and most. I am looking for a Civil Rights lawyer as I am wanting to sue this company. He thought it was OK for his employees to call someone poor ** trash. They called my friend the next day because she was **. But I have not heard from corporate in Manhattan or Chicago and definitely not the Asst. male Manager. 1531 Fulton Street and Troop, Brooklyn, NY 11216.

I was terribly upset on my visit to McDonalds today to be told they were discontinuing Orange Hi-C as a beverage choice. I will not be purchasing ANY food from there again if they don't return the beverage as a choice. I have not heard of ANY complaints so see NO reason for its removal.
McDonalds Company Profile
Company Name:

McDonalds

Website:

http://www.mcdonalds.com/us/en/home.html