Consumer Complaints and Reviews

I stopped at McDonald's and I had planned to go through the drive-thru, however there were about 7 to 8 cars in front of me and I did not want to wait so I parked and went inside. I waited for about 10 minutes and finally I got up to the counter to give my order. The girl who took care of me had a real bad attitude problem and was nasty for no reason at all. I paid for my items and went and waited to be called to pick it up. While I was waiting I had to urinate and wash my hands so I went to the Men's room. When I opened the door there was a very bad and offensive odor that I almost gagged. I proceeded up to the urinal and started to go and I happened to look to my left and I was in total and complete shock to what I was seeing.
Someone had defecated against the wall and all of it ran down the wall all the way to the floor. I looked again and there was not a trace of toilet paper in sight so whoever did this did not even wipe themselves. This apparently was no accident and was some type of disgusting malicious act for sure. It was the most revolting, repulsive, sickening, nauseating, stomach-churning thing I had ever seen and I could not actually believe someone would be so low to do something like this and leave it behind for someone else to find. Whoever did this is a real low life for sure. It is a good thing I didn't catch who was doing this as I would have shoved his entire face in it to teach him a real lesson for sure. Goodbye McDonalds!

I have a long love affair with McDonalds but lately it's been less than stellar. My lunch time stop has turned into a chore. Instead of zipping into the drive through and ordering and out in 5 minutes it has turned into 15 to 30 minutes. The menu item changes have really slowed things down to the point that I no longer go to McDonalds for lunch anymore. Also, the stupid idea of breakfast all day. I do not want breakfast all day. I don't want breakfast at all. I want to pull into McDonalds at any time and get an old fashioned burger, or fish or Chicken McNuggets and delicious fries. Lately, the fries have been undercooked also. I do not go to get soggy, undercooked fries. I like mine crisp and hot. It has been a while since that has happened. I really think McDonalds is going down the wrong path with trying to diversify the products they sell. I think they should get back to the basics and provide the food that everyone loves.

I have had a series of bad experiences with MCD. The problem is systematic. MCD thinks they can get back to what they were by being a Starbucks clone. The only path back to where they were is Customer interface and speed. The counter staff has become a turnoff. Slow service even more so. Too often the counter person is wearing a headset and handling a drive through order while looking at you. Rude, rude, rude. There is also too much chit chat with other MCD staff. Again rude. When you place your order, the counter person ignores your request and launches into an upgrade spiel. This makes order taking longer, and angers me to no end. You have to wade through the corporate sales routine, and in most cases your order is placed wrongly because the counter automaton did not pay attention. The customer at the counter should be the most important person in the store. He should have your full attention.
The new menu compounds the problem. Too many items and choices. To many opportunities to make a mistake or waste time. The old McDonalds with 6 sandwich choices and 6 drink offerings could get your order, get you fed, and get you on your way in 15 minutes. Now you can wait in line for over 15 minutes. I refuse to. If my order is not taken in 10 minutes I walk out.
If you keep McCafe, quarantine it in another part of the store, like they do in Germany. Get the Starbucks fans out of the ordering line. Bring back the mellow coffee that you used to serve. The vile bitter stuff you have tastes as bad as the cheap over-roasted slop they serve at Starbucks. You have to add sugar and cream to kill the taste.
Trained, alert, efficient, and polite customer service help has been missing from MCD for too long. The counter person can do more for your bottom line than breakfast all day. I buy my gas at a pay at the pump station. I bank by ATM if possible. I loved the MCD kiosks in Germany. I want them in the USA. No more need to wade through untrained rude counter help. Have a robot cook my meal (no more screw ups due to language problems) Deliver my order to a compartment like they used to have in an automat. Let me use a token or passcode to open the door. Fire those counter zombies. Bring back the FAST in fast food. Ray Kroc would be proud if you did.

So since I haven't been able to use their app for over a month since they did something to it, I wrote their customer service department and this is what I was told - "Unfortunately the new version of the McDonald's Global Mobile App is compatible with Android Lollipop (5.0-5.1.1) and higher Android versions. The IOS system should be 8.0 and higher. Please check to see if your device has a system update available." There are no more updates for my phone and I'm definitely not buying a new phone just so I can use their app. That's really smart. Take a perfectly good and working app and make it so that a good amount of people, who used the app with no problems, can't use the app anymore because they've decided to make it so only certain phones can use the app. Has anyone there heard the term "If it's not broken don't fix it"? Or in McDonald's case "If it's not broken, DON'T BREAK IT"!!! The suits at McDonald's are geniuses.

I went to McDonald's this morning and the new recipe sandwich which was chicken bacon and barbecue sauce. When I got home enjoying my breakfast I saw a commercial about the free French fries and drink when you bought their signature sandwich. I wasn't aware of this. It doesn't say it anywhere. Not that I noticed. so I called McDonald's and told him about the situation. The man is just said "Well if you don't ask you don't get it." I said to him what would be supposed to be part of that signature sandwich. Don't you automatically supposed to give it to the customer? He said "no". I was so upset I said "so you cheat the customers and it's alright because you save money on the fries in the drink". He didn't have words for me. I would not buy this sandwich again. It was saturated with barbecue sauce and no taste.
How do I know I can trust these reviews about McDonalds?
790,852 reviews on ConsumerAffairs are verified.
We require contact information to ensure our reviewers are real.
We use intelligent software that helps us maintain the integrity of reviews.
Our moderators read all reviews to verify quality and helpfulness.
For more information about reviews on ConsumerAffairs.com please visit our FAQ.

Ordered the snack wrap at 1:00 pm, basic lunch time, the chicken was burned and dried out, it was disgusting. I took in and ask the manager if they even pay attention to what they are servings the customer. I was told they would make me a new one but it would be 6 minutes for them to cook fresh chicken. I was so angry I walk out with even getting a return.

After waiting 5 minutes stuck behind the speaker at the menu board, the line stalled for another 5 or so minutes. I ordered a large 1/4 meal and finally made it to the pickup window to wait another 5 minutes. I finally honked to get the attention of the precious made up girl at the window. She looked at me and turned her back on me. When I finally got my cold food, the fries were dumped in the bag and the girl working the window who couldn't say "Hello" or "Sorry for your wait" just dead glared at me. I commented how PATHETIC the service was. She shut the window. I asked the one taking money why were the cars not being parked? "I don't know" was her response. I worked for McD's for three years as crew chief. This was unacceptable service. The Enka location has gotten ridiculous, rude, and the store is NASTY! No more for me!!!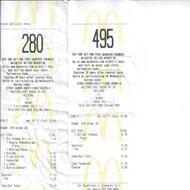 Yesterday, April 30, 2017, I experienced a very disturbing incident at the Milford, Connecticut, East Bound RT 95 McDonald's (store #7461). I was returning home to Rhode Island with a carload of Boy Scouts who had just spent the weekend at West Point. We were all tired and hungry, so we stopped off to grab something to eat. Most of the orders were filled without incident. However, mine was handled very carelessly and rudely. My son ordered his usual; Double Quarter with cheese/plain, and a bottle of water. I ordered a Big Mac, Filet-O-Fish, a hamburger, and a large Coke (see enclosed receipt #280). After ordering, we moved to the pick-up line. When we received our order, my son checked his sandwich. Instead of his Double Quarter Pounder, he received a Double Cheeseburger.
I brought this to the attention of a woman named Maria, who claimed to be the manager, and she accused me of ordering the wrong sandwich ("You must have ordered the wrong sandwich.") I insisted that we did not and asked to receive the correct one. With a sigh and a look of disdain, she took my receipt and refunded my money. She then rang up the correct sandwich and asked me for $6.16. I gave her a $20.00, a $1.00, a dime, a nickel, and a penny. I was supposed to get a $15.00 back. instead, she gave me a $5.00 bill. I told her that I had given her a $20.00, and she snapped back at me with a, "No, you did not. You gave me a $10.00." She then pulled a $20.00 from the drawer and said something about it not being mine because it was upside down.
Other than the $5.00 and the $1.00 bills, which were change from a $20.00 I used to buy some patches and pins as we left West Point, all I had on this trip were $20.00 dollar bills and no change. I was VERY sure I gave her a $20.00. As she and I were discussing the incident, one of the 14 year old Boy Scouts spoke up and said, "Mr. **, I saw you give her a $20.00." She snapped at him and told him that he was wrong. I responded by saying, "I am a teacher and he is a Boy Scout. We do not lie. You mean to tell me that two sets of eyes confirm that I gave you a $20.00 and we are both wrong?" She said, "Yes." I got very mad and asked to see the manager, to which she responded, "I AM the manager!" She then took out her drawer and counted its contents. When she was done, she did not tell me whether or not the drawer was correct.
She then asked one of the other employees to count the drawer for her. He did. He then put the money back and returned the drawer to the register. Neither told me whether or not the drawer was correct. One would think that, if they were right, they would tell me that the drawer was correct and I could not possibly have given her a $20.00. This did not happen. I then asked her for her name and the corporate address of who she answers to. She printed a blank receipt with the web address and put her name on it. I then asked the boys to grab our bags so we could leave. It was at this moment that I noticed I never received my large Coke. I brought this to her attention and she asked me if I had a receipt. I said, "No. You took it from me when I came to pick up my order." She then told me that I needed a receipt.
The male employee that was there asked me if I remembered what order number it was, and one of the Scouts remembered that it was #280. He reprinted one for me, and I showed him where it said 1 L Coke. He poured me a Coke, and we were on our way. I would like to point out that, throughout this whole ordeal, this young man conducted himself with the utmost respect and calm, which was in direct contrast to how Maria behaved. As we were pulling back onto the highway, my son asked me for his bottle of water. At this point we noticed that this too was never given to us, even though it was on receipt #280. We wrote that off and proceeded home. Thank you for your attention to this matter, and your anticipated timely response back to me.

What's just as bad as finding a dead mouse in your food? Discovering someone has been eating on it before you received your order. Here is the report to McDonalds. 5-18-17, 7:59am, Carry Out window attempted to hand me a bag only to take it back stating it was an incorrect order. I was instructed to park to the side and wait for my correct order. I was handed a bag and returned to work. Upon arriving at our office, I proceeded to distribute the food discovering that a Sausage McMuffin had been partially eaten. Our office disposed of all the food and drinks in fear that food safety was compromised. I have pictures of the eaten sandwich and invoice. Incident was reported to the restaurant manager. McDonalds #27062. 990 Greensboro Dr. Gallatin, TN 37066. 615-451-7100.

On May 11th at 17:15pm I went to McDonald's to get change for the bus & I bought something because I'm handicapped and I was shaking. I had a small problem with the male manager's position on giving me change but ignored it. However the guard picked up on the manager's attitude and thought it was okay to talk to me as such. I went to sit down and the guard told me I have my food and I needed to leave. I continued on to a booth and while he sat in his chair the whole time he was having a panic attack. After I sat down he called me poor white trash. And the manager heard guard yell. But the manager wasn't having a good day. I went to counter and the manager looked at me like I didn't matter.
I called Illinois and I put it on speaker and the lady handing over the food said, "Quick she's got home office on phone". I sat down and that manager flew out the side door with a piece of paper and said, "Did you tell on me" & I said, "No I hung up." And he wiped his forehead in relief. He first asked me how far I lived from there and I said 45 minutes but I didn't tell him walking distance. 15 min bus ride. He acted confused, but when I left I saw a woman's shelter & I think he and that guard thought I came out of it. And he took my phone # and offered me a sm soda! And said he'd call me in 24 hours. Now I am sitting there and the guard was still running his mouth. I got up and I walked over to him and I said, "You sat us back 50 years and we are supposed to be united right now and you are not part of the solution". Mind you I was the only ** person. Every ** person said, "Yea, united!" And a frenzy broke out.
And the manager decided he needed to protect him & brought him to the back. I had a ** man who said he fought racism all his life and he was giving me his card. And as I was leaving I backed out the door and the guard gave me the finger in camera view. That manager did nothing. And why he thought a sm soda was good enough. I know why. But the people in McDonald's let me know we are more united than we know so that was the only good thing. My friend without me knowing wrote the main office because she was in the same situation in the 80's when the ** word was still flying out of ignorant ** people and the restaurant kicked him out. And I was not mad because she meant well and I called her on my way home and she heard it in my voice.
I am a 49 year old Jewish/** disabled woman and well-mannered. Even though I have PTSD growing up in Crackertown, GA, in the 70'S I won't even bore you with it. But the mental anguish I went through and am still going through. But I got off track a little. That manager called my friend and left an apology to her voicemail. But I still have not heard from corporate in Manhattan so I am hoping that Chicago will see this. I can't let this go, and I am perturbed about that manager not following through. McDonald's in the South would have pulled that guard off the floor 1st and most. I am looking for a Civil Rights lawyer as I am wanting to sue this company. He thought it was OK for his employees to call someone poor ** trash. They called my friend the next day because she was **. But I have not heard from corporate in Manhattan or Chicago and definitely not the Asst. male Manager. 1531 Fulton Street and Troop, Brooklyn, NY 11216.

I was terribly upset on my visit to McDonalds today to be told they were discontinuing Orange Hi-C as a beverage choice. I will not be purchasing ANY food from there again if they don't return the beverage as a choice. I have not heard of ANY complaints so see NO reason for its removal.

I was eating at Serene Walmart McDonald's on Sunday May 7, a customer made an order then ended up fighting with the cashier which was the Shift Manager. This McDonald's manager was very unprofessional, the way she handles customers was zero rating. She called the customer ugly, telling the customer to shut up. Gosh who does that. I wish I had enough space on my phone I would've recorded her. This manager is a ** in her mid 40's. She's very unprofessional, she has no filter, no respect for customers, she seems to have anger management issues. I hope McDonald's would review their cameras daily to watch her behavior then fired this manager. She wanted to fight the customers, very low life manager.

I went to McDonald's for Breakfast and I ordered the Big Breakfast that is pancakes, Eggs, Sausage, Hash Browns and Butter milk Biscuit. I paid for it but when the lady brought it to me the bag only thing that was in the bag was a piece of Sausage and a Biscuit. I ask her "where is the rest of the food." She says "that is all you ordered." I said "no. I ordered the big Breakfast." She called me a liar in front of 6 Customers and took the bag back to the back room. I stood there 15 mins and got nothing. I asked her "where is my food." She says "you're not getting any." So I ask her for my money back. She said "you're not getting that either."
So I tried to call McDonald's Corp office and I am getting the runaround. So my next move is to put this on TV Nationwide and take the McDonald's to Court all over. $4.32 it is not the money. It is the point of it and the thief of the works in McDonald's. I am a VET and 3 of my friends are Vets and we will never eat at McDonald's again. Also the excuse of the workers at this McDonald's is they don't understand English and Blame the Customers for this. I called McDonald's this morning to reason with them and one of the workers told me to drop dead. How nice.

I visit our local McDonalds several times a week (I have 3 kids and they love it. 12 young and a teenager as well). Last weekend I went thru your drive thru and the nicest young lady handed me my food. In today's world that's hard to find. This past weekend we dined in in play area. The same young lady was working. I was ready to go and my kids of course were not. She was so helpful with my tray and cleaning up so I could get my kids out of the play land. I just wanted to say thank you for having such a nice young lady working. I did get her name this week. It is Hallie. Please tell her that great customer service goes a long way and is so appreciated. Her "Please" and "Thank You" and "have a nice day" was a great example to my kids.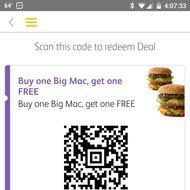 VERY DISAPPOINTED by today's visit to my local McDonalds. Tried to use the mobile app for a "Buy 1 Big Mac Get 1 Free." I ordered a Big Mac meal with upgraded fries and shake, scanned the barcode for the free sandwich, only to be told that I wasn't allowed to do that. Was told that if I wanted the extra sandwich I had to buy each item individually rather than as a meal (At a higher price than the meal deal). The app didn't mention this.
If I'm buying the higher priced meal, then they should be able to honor the free sandwich from your app. I was fed up with the excuses that the clerk was giving me, so I told them to cancel the order and I walked out, drove 2 blocks up the street to Burger King and had an excellent lunch. I'm NOT likely to return to McDonalds anytime soon if this is how you treat your customers. Don't lure them in with offers on your app, only to say "Sorry, you're not allowed to use that offer." That's called bait-and-switch, and it's illegal.

I called McDelivery and placed an order for my meal and received confirmation my order will arrive no later than 45 mins. I waited an hour and tried to contact the McDelivery CS team again to find out what's going on and the agent placed me on hold to call the store where I was advised I will have to wait another 20 mins. to get my order after already waiting an hour. This is madness and I still haven't received my order. This order was referred to the Centurion McDonalds. Horrible service and to think I still had to pay a delivery fee after wasting time and money calling to follow up. Not one person had the decency to contact me when the line dropped.

McDonald's Centereach Wal-Mart - I bought a coffee last night and I asked when was it made. The Manager, an unfriendly frumpy mean faced woman told me it was made an hour and a half ago. I asked if fresh coffee was going to be made and she said: No. I said "I would then just get my coffee in the morning" and I took my cup.
This morning I asked for a coffee and produced the cup and she said I'd have to purchase another cup. She then grabbed the cup I held and tossed it in the garbage. I said to her: What if I want to use that cup for something else now, I did pay for it. She said: "To steal soda?" I asked for an apology and informed her I never stole anything. She said I'll never get an apology and now I can get out of her store. I took out money and offered to buy a coffee and I was told "No. Get out" or she'll call the police. I said: "Call the police. I'd like to see them make sense out of this." She went and got three security guards of Wal-Mart to remove me from the store.

The McMuffin breakfast costs $5.17. The cashier didn't know what that an Egg McMuffin came with ham inside. I told him this was their original signature breakfast. The manager told me because he was in training and he probably had never eaten at McDonalds before he started working, he wouldn't know. Then I asked for just a sandwich and coffee and it still came to $5.14. When I commented on the high price, the manager said it was due to taxes. I told the manager that I would just have coffee, but asked why she would hire clueless workers who had never eaten at McDonalds. The manager flippantly replied that she had never eaten at McDonalds either before she started working there. I told her to just forget the order and walked away. She continued to glare at me.
This particular McDonalds is inside Walmart and used to have some very courteous, fast-food Asian workers but the franchise seems to have let them all go. Now it seems most of their workers look as if they just all males and out of juvenile justice system. I wonder who let go all the nice female workers, or were they costing McDonalds or Walmart too much money in hourly pay? I know I can get a decent McDonalds original breakfast sandwich meal for under $5.00, but not here! Talk about scalping workers for some extra pay!

For some reason something told me to check my bags. I ordered a 6 piece kid's meal but the nuggets were not in the bag. Next he brought out a 4 piece. I ordered the 6. And the fries were cold. Very disappointed.

My husband and 2 friends were hanging around the dumpster area at McDonald's in Rancho Cordova CA late one night when a McDonald's employee on duty starting walking up to dumpster yelling out, "You **... better get your **... asses out of there." Kicks the door open which pushed the door inward knocking over my husband's bike and busting a glass bottle that also next to his bike! My husband leans over to pick up his bike. He is being strike by this employee repeatedly. He reacts by hitting back only to get this person off of him so he could leave after this employee leaving scratches and bruises on my husband face and arms! So my husband leaves.
This employee calls the police and my husband is arrested and his 2 friends told me the exact same thing. The McDonald's employee came at them all foul, so my question is when did McDonald's policies change that the employee take the law into their own hands then lie about it just to save their job and the embarrassment to McDonald's because of this employee's action! Now what about my husband and our lives and me being disable person that requires assistance most of the day!

I stopped at a McDonald's on Duke Street in Alexandria, VA. The air conditioning made it so cold that I did not stay long. The tables were dirty and the food did not taste good; probably a big sign of unhealthy ingredients. I should have stopped at a Wendy's or tried a restaurant. In the past I never even considered going to any McDonald's anywhere. I should have stuck to this.

Picked up a Crispy Chicken Bacon Ranch salad at the McDonald's on Stewart Ave in Garden City today (4/11/17 1:00PM) and was totally disgusted by the fact there were strands of hair baked in the crispy chicken coating, along with in the salad itself. Ended up throwing the salad in the trash. Stay away from this restaurant!! THUMBS DOWN RATING!!

When I visited a McDonald's for a Big Mac, I got some weird experiences. I asked for one Big Mac. But they gave a Big Mac with some mashed torn up meat. They also gave some extra fries which I didn't order. They also charged me for the whole thing. When I told them about the extra fries, they said they will take it back. When I asked them about whether they would reverse my charge, they said they would--but the truth was, they never refunded me. To make matters worse, I was using a Credit Card. How am I going to prove the extra charge was not me? No way! I will have to pay the money that spent plus interest. "Thank You McDonald's for adding more burden on me." I also asked them about the Big Mac, and they said that every Big Mac they serve is perfect. This is so silly. I don't know if all of their locations do this kinds of stuff. But this one did. Also for reference, it was a McDonald's in Chicago or Irving Park.

April 6 2017 I visited the McDonalds on 2472 Aloma Ave Winter Park Fl. I went through the drive in and ordered a small Frappe mocha no whip. I was told to pull through 15 minutes later it shows up with whip. At this point I dont care about the whip. I continued my drive. Some 2 or 3 miles later I take a healthy sip and get these hard thing in my mouth. I swallowed but spit out some thinking it was just ice. Well to my surprise what I just swallowed wasnt ice. It was pieces of hard plastic. I took another mouthful and again the same plastic pieces so I spit all them out. I filled out the complaint online and have never heard a peep. I guess McDonalds just dont care anymore. Oh by the way complaint #** put that in your plastic Mochas.

They are trash and never get orders right. They said they would give a refund and they didn't. Their fries is cold. Their food is as fake as my ex-boyfriend's I love yous. They are worse than Drake's stupid cell phone song.

I went to the local Martinsburg, Pennsylvania McDonald's franchise recently and the service was just absolutely horrendous! I asked for a Large Shamrock Shake and a Grand Mac. I was there waiting, and waiting, and waiting. Finally after about 20 minutes, they shout my number, which was 222, and they hand me a big ole Medium Shamrock Shake and a regular sized Big Mac. I was furious! I was even charged for what I wanted, but didn't get. At this point, I was beyond fuming! I told them I've had enough, I'm done with you, and peeled out of the eatery. The only saving grace for this place was the quality of Shamrock Shake, hence the 3 star review.

After spending time at a friend's house we decided that we should all go get something to eat, so we get into his car and drive to the nearest McDonalds which was located in Rio Rancho. Once getting to the drive thru window we order a 30 piece nuggets and 3 big macs for all 3 of us. Once the order was place we drove to the next window to pay and everything was fine, and the cashier was actually very nice, but when we drove to the next window to receive our order we noticed the bag was pretty small in comparison to what we ordered so we park in the parking lot to check our order. Upon checking our order we noticed that instead of 30 chicken nuggets and 3 big macs there was 20 piece nuggets and four chicken sandwiches which was incorrect so we pulled around to ask them to fix our order but refused because we threw the receipt out the window before checking.

We recently visited two McDonald's stores. The first one was in Washington Court House, OH. We ordered one cheeseburger with mustard, ketchup and pickle and one plain. As we drove away and passed out the sandwiches we discovered that both had mustard, ketchup and pickle. The buns were cracking because the bread seemed too old. We didn't complain as we realize mistakes happen but we then went to a McDonald's in Milford, OH. We ordered a cheeseburger with mustard, ketchup and pickle, an egg and cheese biscuit and two breakfast burritos. The cheeseburger had everything on it including onions so my grandson had no sandwich to eat, the egg and cheese biscuit was cold and the burritos were cold and hard. I almost quit going to McDonald's because many times if you order a breakfast item it is cold and hard. I am disappointed in the attention paid to orders and the freshness of the food items.

They need to change the menu up. The Sausage McMuffin and McGriddles sound like the same thing and I get them mixed up. I always want a Sausage McGriddles but say I want a sausage McMuffin because they are so much alike. It would be greatly appreciated thanks!!!

Date of incident: February 23rd. Time of incident: 4:10 PM CST. I am REPULSED. Famished beyond belief, I ventured to my local McDonald's in the hopes for a good meal. I spot the quarter and exclaimed, "I must have two!" And so I ordered two quarter pounders with NO slivered onions, and their beloved shamrock shake. It took practically EONS for my food to even reach the counter, to start it off. I was so flustered I simply snatched the brown paper sack and was out the door in a jiffy. After devouring the first pounder, I reached into the bag and much to my disbelief and disgust there was not another quarter pounder awaiting my grasp. I immediately grabbed my receipt, and it was the jack of all trades! I HAD ordered two and was charged just so. Mcdonald's will never receive another PENNY from my leather clutches EVER. AGAIN.
McDonalds Company Profile
Company Name:

McDonalds

Website:

http://www.mcdonalds.com/us/en/home.html