Consumer Complaints and Reviews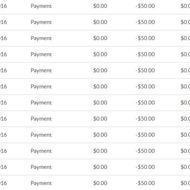 I open my email this morning to find that I am "late" on my payment. I am not quite sure how this could be as I pay my bill early every time. When my payments were started the first payment was due 2/1 and I made that payment in January. Fast Forward to now and I am being told that they did not receive my January payment... How can this be when you clearly received a payment in December for my loans.
Something is very wrong with this company. They are lacking transparency when it comes to how payments are applied. There is nowhere where you can see any balance going down and if you ask for a statement showing this for some reason no one understands what you are asking for. They advise you to look at your payment history which only shows your payment being received not how it is applied or that your balance has gone down. I'm so over this company and their complete disregard for doing business in a reputable manner. It makes me wish I would have never gone to school.

This company purchased my student loan which was being paid efficiently and regularly paid via the ACS website. Then when it went to Navient they split the loan into two separate loans which are impossible to pay online with one payment. When you call Navient their automated system takes roughly 15 minutes of begging to be connected to a human to get past because it cannot help me within the system. Actually it disconnected me once because it "couldn't understand me" and I had to start over. With today's technology, these things should be easy. It has worked so simply and easy since 2004 with ACS. Now it's a source of contention and anxiety just to pay a bill every month. Unacceptable.

I cannot afford my private student loans payments. They want me to pay $264 a month. My area was hit by a hurricane a few months ago so my loans were put on a deferment. I was told that when I came off the deferment that I could do a rate reduction payment. The deferment is over and they told me that there is nothing they can do to lower the payment. I have never worked with a business that has no heart. I was on the rate reduction for 2.5 years a few years back and paid it every month. Now all the 12.25 interest that has accrued it is back to where the original was. My life is totally over with this business not willing to work with me. I hope that others will read all the negative reviews and to get a student loan elsewhere.

Navient has terrible customer service. I make weekly payments. Sometimes I pay on it more than once a week. I pay what I can. I made a payment Dec 15th and the money was deducted out of my acct Dec 15th but did not show payment made on my acct with Navient so I emailed customer service Dec 15th and you know what the response was I got back on Dec 16th? "We saw you have not made a payment since Nov 25th. Please send copy of check or the EFT information from bank." I looked at my Navient acct Dec 16th. There is the payment I made on Dec 15th. I have made 6 payments since Nov 25th and those payments show on my acct?? So what was this rep looking at when she responded to my email? That tells you these reps are not trained or they don't care! I will not call them because they are rude and say they will help you in emails and voicemails but that is not the case. They just want to make your life miserable and ruin your credit.

Since graduating college, I have since defaulted on my student loans due to a variety of reasons. A couple years ago, I enrolled in the rehabilitation program to remedy the situation and get my credit in check and stop the annoying collection calls. Upon completing the loan rehab my loans were automatically transferred over to Navient through the Department of Education. I hadn't experienced any real problems until recently.
I made a payment through their website and checked the balance a couple days later when it processed. Looked like to me that my full $150 didn't go through. I emailed and got a response that actually made sense. My loans were accruing interest each day, so by the time the payment is processed, the overall balance will only go down the $150 minus the daily interest. Ok, so I calculated that interest and figured out that my loans accrue just over 19 cents each day. Fine.
After this I began to check and write down my balance almost daily. That's when I noticed something fishy going on. For the most part, the balance would rise about 19 cents per day as expected, but just earlier this week I noticed a jump of about $2.15 over the course of two days! That would mean my interest would now a dollar a day!! That's about $30/month and $365/year! With no notice and no logical reason.
I contacted customer service with a strongly worded email and got a notification two days later that they had responded. I checked my account, no response anywhere in my inbox. So I checked my balance and of course now my balance reflected the original 19cents/day interest rate. They fixed it, got rid of the communication and just went on like nothing happened. Very shady. KEEP AN EYE ON YOUR BALANCES, FOLKS!!! I try to check mine daily and do the math to make sure it's in line. Currently looking for other options to pay down the debt.
How do I know I can trust these reviews about Navient?
669,639 reviews on ConsumerAffairs are verified.
We require contact information to ensure our reviewers are real.
We use intelligent software that helps us maintain the integrity of reviews.
Our moderators read all reviews to verify quality and helpfulness.
For more information about reviews on ConsumerAffairs.com please visit our FAQ.

A while ago I took out some "Signature Loans" from Sallie Mae to supplement the Stafford Loans I got when I was starting a PhD a number of years ago (long since aborted). Total was around US$20,000. Well I had been paying on them for many years as I wasn't making that much as a university teacher in South Korea. Well long story short, came back to the states a couple of years ago and due to a number of reasons I had to file for bankruptcy this year and took a teaching job here in China. Well according to the law, these types of loans are supposed to be discharged in bankruptcy cases, however the clowns intentionally labeled them as "student loans" which they say can not be discharged in bankruptcy cases.
So now they are hassling me over here in China along with hassling my family back in the states. I keep telling them these were Signature Loans (heck on my account information page on their website it even says these loans were signature loans and when it comes to contact them it's at a different number than their regular student loans, in fact the account number is one of a private loan). I'm now having to go back to my attorney back in the states and get the case reopened because of this which will likely cost me more money in attorney fees. These are lying cheating *bleeps* who will stop at nothing to shaft you.

In my senior year of college I took out a private loan through Sallie Mae to help cover what federal loans wouldn't. I had to have a co-signer who was my uncle (never was really close to him but he was willing to help me out). I graduated; yay, and after 6mos the payments started to become due. The amount was too high so I called Sallie Mae, explained the issue and they were able to lower my payments for almost 2 yrs. During that timeframe I lost my job; but was still making my payments, and my loan was transferred to a company called Navient. When the payment plan was getting close to coming to an end I received a letter saying to call in and restart the program.
By this point I'd found another job; however, not making even a fraction of what I was making before. I explained the situation to Navient and offered to pay a lower amount just for one year while I paid off some credit cards and I would be able to pay more than what the minimum payment was. They told me "no" because according to them I had the ability to pay the minimum amount or my co-signer could help. My co-signer called in and stated he wouldn't be able to help and was told there was nothing they could do because my balance was lower enough where if I made the minimum payment: $396, I could pay the $12,000 balance off in 3 yrs. At the time I was only making $23,000 a yr, I have a child that I provide for, household bills and additional student loans that I was and am paying. I was able to borrow the money for a couple of months but it got to the point where that ran out. So the loan went into to collections.
At this point I'm receiving 2-3 letter a month saying "call us. We're here to help. We can discuss payment options that will help." I called in, explained the situation; however, was told at every avenue there was nothing they could do. On top of the letters, I'm getting emails and phone calls all saying "give us a call to discuss payment options that can help." I called again at the end of October, finally got a person who was willing to help. I offered to pay $150 a month until February or March of next year until I was able to pay my credit cards off and apply all my payments to them. She said "I find a plan where you pay $125 a month and we set it up on automatic deduction". They deducted the first payment on the 17th of November. Everything was good until 2 weeks ago I received a letter in the mail saying they denied my payment because the co-signer has the ability to help and they didn't receive the required documentation from him.
How does that work? He can help but you haven't gotten his paperwork showing that he actually can. By this time my uncle isn't answering my calls or his sisters. I called Navient again and explained I'm trying but I'm not getting assistance from either side. The lady stated she understood and would re-submit the plan for review and at the same time try contacting my co-signer. A week later I get a call from my "Account Manager" saying they denied my plan because my co-signer wasn't responding. She stated she would try reaching out to him again by mail and telephone and then the plan would be submitted for review again. Well I didn't hear anything from Navient for about a week. Last night I get a phone call and they are telling me the exact same thing: "what have you guys been doing for the past week?"
At what point do you realize this person is trying and we should try to meet her halfway. Nothing. This person is telling me that they are going to continue to reach out to the co-signer and once they have met their due diligence submit the account to the managers to have it approved because "they don't want the loan to go into default. They are trying to avoid that. There's a light at the end of this tunnel". How long is this tunnel because this has been going on for a year now and I don't see a light. Well I get a call today from my account manager saying they have canceled any options for re-payment and if I don't pay $200 and some change by January 1st my loan will be in default. They are refusing to negotiate anything to get this loan out of default despite my efforts; but the account is still set up on automatic deduction to deduct $125 on the 17th of this month.
How do you cancel my payment plan but still want to take a payment out of my account. This is ridiculous. I'm trying. All Im asking for is a couple of months where you get a payment. Maybe not what you're asking for, but something and it's just "no". I regret ever going back and finishing school because I wouldn't have to deal with this. Sure I wouldn't have a career. Social Work $28,000 a year just started in July (no bonuses, no guaranteed raises, they haven't had a raise in over 5 yrs), that I love. I'm basically stuck because my uncle isn't answering phone calls and Navient isn't willing to help. I wish something would be done about this company because their business practices aren't right.

I got a loan out for about 10,000.00 through Sallie Mae. Sallie Mae was sued in a class action suit so they conveniently changed their name to Navient. Sallie Mae and Navient are one and the same. I have been paying on these loans for decades and the balance never seems to go down; however, my monthly payment continues to go up. My monthly payment used to be $165.00 now it is $386.00. Then suddenly I receive an email from Navient saying "new loan information". I go to the email and log in to see what is going on and suddenly Navient has a new loan from 2002 for Webster University. I never attended Webster University in 2002.
I couldn't find any paperwork on the site when I went to my account. If there is no paperwork with my legitimate signature then this would be fraud either by Webster or by Navient. I plan on getting a lawyer and suing Navient because I have not signed any loans with Navient for any money for education with Webster University so if they have anything with my signature on it then they forged it. BTW... you can file bankruptcy against school loans if you are unable to pay them. You have to find a lawyer willing to file it as it requires additional paperwork for educational loans. I'm seriously considering it.

I have been trying for 7 months to secure a discharge of my sons student loan and reimbursement for payments made since his passing. I have completely fulfilled all of Navients requests for documentation... Including certified mailings of certified death certificates. Yet every time I contact them for an update, representatives (located in philippines) tell me they never received, or another form is needed or they'll contact me via email with their findings!!! It's a constant run around!!! NO MORE! They are simply trying to avoid the loan discharge and reimbursement. Which is totally against the law. Death of a student is a legal and legitimate cause... as stated on the US Department of Education website. I will no longer call them and will be turning this over to my attorney. BEWARE, ANYONE CONSIDERING USING NAVIENT FOR A SCHOOL LOAN. They can not be trusted.

Per Navient letter (code **) received at my physical home location on 11/22/2016 I am still "seriously late" and Navient states, "I am in jeopardy of DEFAULT with signature loans 1841, 1858 and 1866." Keep in mind the letter is dated for 11/11/2016. I didn't get this letter until 11/22/2016. The letter also stated, "Navient has made several attempts to resolve my situation." It also stated, "that by paying a min. of 42.53 by 11/29/2016 I can delay loan default and allow additional time to work towards a more long-term solution."
I, Tina **, have been in contact by phone, online and fax with Navient several times this past year. My husband and I paid on the Signature Loans 1841, 1858 and 1866 (45.00) from PNC bank account online again on 11/23/2016 at 11:55 AM. Navient's Confirmation number is **. Today, 11/27/2016 I reviewed an email stating, "Navient wants me to pay them now." 1841 in the amount of $254.81. 1866 in the amount of $196.18. 1858 in the amount of $252.44.
Isn't this false communications on Navient's part? Deceptive? How am I going to prevent DEFAULT when I have been unemployed since January 2012? My husband is unemployed and only gets 360.00 net weekly. Our mortgage is 866.00 a month and we only get a 43.00 per month food allowance. I have 18 years of working experience and my husband has 23 years of working experience. I am 48 and he is 53. I am writing to file a complaint against Navient for deceptive practices. I have been making payments, communications and efforts.

I am a frustrated 20 year old college student and before I go any further, let me add that I am still enrolled and not even close to graduating yet. I am in more debt I could ever pay off in my lifetime and the next. I graduated high school in 2014 and a few months later, I enrolled in a trade college (not my ideal school but due to certain circumstances, I had no other choice). By the time the first quarter was coming to a close, I was already wanting to call it quits for how piss poorly the institution was run. I only took three classes and paid for my own textbooks with graduation money and my scholarships totaling $12,000 should have covered them so there was no need for two student loans to be taken out or even the Pell Grant to be touched (at least I thought).
By the time I was supposed to sign up for second quarter classes, I was in a car accident and was unfortunately able to continue but I saw it as my way out and immediately withdrew before financial aid could take any more money. Fast forward six months later, I've healed fairly good but I was still in no condition to be sitting in classrooms and doing clinicals so I enrolled in an online program for pharmacy technician and it was the worst decision ever! I only took a total of two classes and since the program totaled $1,500 for all nine months and they gave me three disbursements checks for each semester totaling $3,000, you would think student loans wouldn't even be a factor, if barely touched at all. So what does this have to do with anything? Well, bring it to present day.
I've left both of those institutions and enrolled in my dream one to pursue my dream career of nursing and I'm set to start in January. After nearly a year of being out of college and working two jobs, I think nothing of it. Suddenly, around September of this year, I get a phone call from my grandmother saying that she has received a letter from Navient saying that they have been trying to get in contact with me regarding student loan debt. First off, how they got her information is BEYOND me. Along with my father's when the only person reported on my FASFA was my mother. She hasn't gotten a letter yet. This completely blew my mind because at this point, I've never heard of this company or what they do. I was getting phone calls at work, all times of the day. Every time I go to my mail box, there's four plus letters from them saying the same things.
What I saw next, nearly sent me into cardiac arrest. I check my e-mail and it tells me to log-in to this site. After days of trying, I finally get in and I see that I owe a WHOPPING $12,842.28 to them for four student loans. I knew immediately something was wrong because I was always informed I couldn't have payments six months until I after I graduated. So I stayed on the phone for hours trying to get a hold of someone and when I finally did, I got terrible customer service and nonchalant attitudes. No one could explain to me where my debt came from or how it was so much. Every month, it increases and I haven't even enrolled in classes because I am terrified of compiling more on thus my dreams have been put on hold. My credit score has dropped immensely after working so hard to build it up.
I can't tell you how many times I have cried myself to sleep because I can't get my life on track due to something out of my control, knowing I couldn't pay it off even if I wanted to. I haven't begun payments because I know I am contractually obligated to keep doing so once I do and I don't have nearly enough income. What still baffles me is how A) Sallie Mae has just vanished and been replaced with this racket and B) The debt is constantly increasing and affecting my credit terribly.
After reading these reviews, I don't feel so bad and it really sucks to know that so many people are affected by these legal loan sharks harassing hard working people. I'm praying that by contacting a lawyer, they can tell me what actions I need to take. I'm hoping that by some small miracle, I don't have to pay a dime. My advice to anyone getting content from them is DO NOT make a single payment until you speak to a lawyer because once you take payments, it's a never ending cycle, even if you think you've paid it off entirely.

My student loans are held with Navient. I have opted of the Income-Based Repayment plan as I work for a non-profit and may be eligible to have my loans forgiven after 120 payments. Navient gave me a monthly payment amount based on my application for the Income-Based Repayment plan and I have been making such payments timely. So as I do from time to time I looked at my credit report on Credit Karma and noticed that my Navient loan balance had increased. I immediately went to the Navient site and logged into my account however I couldn't locate how the change in my account balance was calculated. I couldn't even find the previous month's balance. When I called Navient it was explained to me that the monthly payment that I was given did not cover the monthly interest that was being accrued therefore the difference was being added to my loan balance each month.
Here is my first problem with this explanation. Nowhere on any document that I signed or anything that I read about any of the various plans on how to lower your monthly payment does it explain that these plans will adversely affect your personal credit as the loan balance could increase each month if you do not at least cover the monthly accrued interest. My second problem is just making this payment is tough, very tough, and now my credit is being hurt. This is the epitome of living in a rat wheel. The whole student loan industry is a RACKET!

Sallie Mae, now Navient, has irreparably damaged my credit and finances. After graduating from college and not being able to find a job for close to a year, they refused to work with me to refinance my loans, despite my various attempts to work out a payment plan with them. Once employed, I resumed my payments, but they were too high as I am only 23 and an entry level employee. Again I contacted them only to be given the runaround, and when I finally spoke to someone of stature, they told me that the only way to refinance my loans was to default on them, which I did. Once I defaulted, I made another call to Sallie Mae and was able to get my payments down to $565.64. Fine. But upon recent inspection on my part, I found out that they've been taking more than the agreed upon amount totaling to $640.01. I'm now unemployed again, due to health reasons, and am virtually stuck.
I have no other money in the bank and am pursuing options in which to sue for at the very least, breach of contract. Additionally, when I first restructured my loans, they proceeded to ding my credit score so that it's decimated beyond repair because the payments that I was making were "late." There's no way they could have been late because they were scheduled to be taken out of my account on the 5th of each month as previously agreed upon. If their system is messed up, then why am I being punished for it? They've also harassed my relatives, none of whose information I gave out when applying for my loans, so they must have been mining data to figure out who to call.
Every time that I've tried to call them and straighten this out, I get the runaround and them telling me that my only option is to defer my payments, but to do so I have to pay an additional $150. What??? The people they've hired to run their "business" are completely unprofessional, incompetent, and inept; this organization should be run out of business for the plain thievery that they are allowed to inflict on American citizens. I am no longer interested in continuing to work with Sallie Mae/Navient now that they are literally stealing my money.

I have fully paid my Sallie Mae student loans back in 2005 and closed out my loan account with Sallie Mae. Suddenly in 2013 I start receiving harassing phone calls at my work phishing for my social security information and saying I owe them money. I get letters to my work saying I owe them money. I call to confirm Sallie Mae and my account is closed. How did Navient get my information if my loan is closed? Not one person has told me a balance value and this place is a scam. Very frustrating.

This is my first review for a company. I have never experienced such terrible customer service in my entire life. I originally took private loans out through Sallie Mae for college. I paid these loans while they were in deferment. Each time I called to work with them about my payments and payment options I got a different response. One representative told me that I was a year and a half ahead and no payments were due. Another representative said that my payments were another amount. When I requested different payment options, he told me there was nothing they could do. These high payments affect my ability to buy a home, and I have been unsuccessful in refinancing even with a 670 credit score. I really hope someone can do something about this company. I just feel like they are leaving everyone without options.

Several months ago I was contacted by a company to reduce my student loans. I was approved by the company but something about the company made me uneasy and I was reluctant to sign the paperwork until I spoke with Navient. I spoke with an individual at Navient and went through the phone application process and was told I qualified for the very same program to reduce my loan payment. I was told that I can go online to complete the paperwork and that the documentation was being sent to me by hard copy in the mail. I never received the hard copy and have been trying to contact Navient for months.
When I do reach Navient I get so far into the conversation and the calls are disconnected. I am getting nowhere with getting this paperwork and now am at the point where they are looking for the full payment to resume when I qualified for the program for my payments to be reduced. Help!!! I do not want my credit to suffer as a result of Navient not following through and providing legitimate assistance.

So disappointed in Navient! Their customer service is a big ZERO. You can't get ahold of anyone - they don't have any way to communicate with them, thus they get away with what they just did! Basically Navient decided to NOT send out payment coupons for the loans they have with people. In doing this they are making people be late (because in my case, I thought we had paid the loan off). You would think the same thing... No stub to pay from = no more payments. (NOTE: since 2003 I have been getting stubs from them.) So, to my SHOCKING surprise, the payment is now 2 months late, they have hit the credit report and added finance/late fees. After MANY MANY MANY attempts to get ahold of someone, I finally figured out how to log into their HORRIBLE website and say I am super late.
Well, they WILL NOT Waive the late fees - even though it's completely their fault for not sending a simple note informing me that no more payment stubs will be mailed EVER! Anyways, I paid off the entire load (including the ripoff of late fees and thankfully WILL NEVER communicate with them ever again. DO NOT USE THEM! They will not take care of you and will do everything to make it hard to make your payment. ROTTEN COMPANY! They need to be sold and close. Horrible management! I feel bad for all the students that will be stuck with this horrible & rotten company! The Government should not work with them and not allow them to deal with our bright youth!

I have paid my student loans religiously for 10 years. I recently started looking at the actual allocation and billing summary. Not only do they frequently apply payments to lower interest rate loans when I've requested and document them to go to higher interest rate loans, but payments "disappear", problems are not resolved in a timely fashion and I have spent every free minute the past several months try to fix "computer glitches" that result in more money in their pockets. They are unethical and borderline thieves. I am actively looking to take my business elsewhere, even if it means a higher interest rate loan.

I am incredibly frustrated and disappointed with the customer service at Navient. I never write reviews, but I felt in this case, it is warranted. Halfway through my school year in 2014 in California, my loan servicing company switched from Sallie Mae to Navient without my consent (I feel as if we should have a say in this?). Since I had already accrued 40K of loans in one year in the states, my Swiss husband and I decided to finish the rest of my master's degree in Switzerland, since it is only 867.00 a semester (amazing, right? That's how it should be...).
However, I have sent in a deferment request MULTIPLE times and receive a robotic response back, either by email or phone. 'You must submit a valid school code.' Um, OK. Switzerland doesn't have a valid school code because it is an INTERNATIONAL school. My counselor stated this in the letter he sent (twice, in two different letters) to their office. Suddenly, they've changed my account status and now it reads that I owe 460 dollars due in three weeks.
I am still in school, and without a job. We can barely afford food, let alone another 460 dollar bill! I have asked my counselor for two personalized letters to prove that I attend the university and yet I am sure Navient NEVER reads the full letter. All I get back are robotic responses, even though we have fulfilled the criteria listed on the deferment form. I call them and they say they will 'send in an inquiry,' but that never resolves anything either. The customer service department never seems to know what the heck is going on, either, and this frightens me, as I am sure my 40K loan will take a very long time to pay off and I will have to deal with the company for many years to come.
For goodness' sake, Navient needs to get a handle on their business. I find it mind-boggling that a company handling such large sums of money conducts itself with such blind recklessness. It is really a shame that we are thrown under Navient's rule without a say, and I feel for all of the comments below me, as many are in much dire situations than I am. I would have been in much better shape acquiring a loan from a private lender from my existing bank. I regret not researching other options when I decided to take out loans in the first place. I hope for all of us that Navient wakes up and listens to its customers, whether it be email, phone, or mail. These are our lives. We are incredibly grateful to have had the opportunity to go to school and we thank you for that, but please, please, wake up and pay attention.

My husband is paying his student loans using the employment based deferral plan. He was doing a regular payment of $25 and had authorized Navient to make automatic withdrawals for that amount. However since August 2016 the company took out unauthorized payments amounting to $500, $250, $500 and again $250 over a two month period. All complaints have fallen to deaf ears. They have the ** customer service. My husband has filed a small claims with the district court. You can also request a relief from Court costs. He followed this with a complaint on the consumer finance website under the Student Loan section. Here is the link http://www.consumerfinance.gov/complaint/. I encourage people on this website to follow suit. You can't let companies like this get away with this **. Please do your part towards getting justice. Thanks.

I have gone back to school later in life and I am still working towards my goals to achieve a higher pay level in my work. I was told because of my current age, I am in high debt collection. Navient is calling persons not on my loan for collection. Navient is threatening me. Navient is calling me multiple times daily. Navient is not recognizing I have full time status for college and that I am under Federal allowable time to be in college for full time status. I believe in our Federal System and I believe this Navient collection system is error and will not work with the working population to be able to satisfy college achievements, working achievements, and responsibilities by the way Navient ignores the Federal Laws they represent.

This place is unreal. They are nothing but crooks and thieves and it is embarrassing to be hooked by them. I woke up one day and Sallie Mae was gone and Navient had appeared. Instead of having my information automatically switched over, I had to re-enter it. I messed up on my bank account information and put one number wrong on the account #. Any normal, well run business will obviously not run my bank number because it's incorrect. I should have gotten an error message. Instead, they accepted the bank information and for three months I could not figure out why my payments weren't going through.
After those three months I called and they said I was locked out of my account. I said ok, well this is obviously just an error in my bank information, considering I haven't missed a payment in 10 years how about we just clear the whole thing up and take away any fees or penalties. Nope. They kept me locked out except for phone access for six months and did not rescind or change any penalties.

I have NEVER in my life had problems with my student loans until Navient took over my Sallie Mae loans. I have been trying, unsuccessfully, since last February to get an IBR due to unemployment. My loan came out of forbearance in Feb., and I filled out all of the papers for the IBR and mailed them in. I did not hear anything for 2 months and figured all was well. In May, I received my first bill. I called them right away, asked them why I did not get the IBR. Navient said they NEVER received it. I faxed the papers this time. 6 TIMES!! They state they never received it. I end up faxing the paperwork while I have a supervisor on the phone with me. They finally receive it. She tells me that I left off the last page of my tax forms. I send it again!! She says they received everything and the IBR is processing.
2 weeks later I get a call from them. New customer rep says the form I printed out (from their website) was outdated and needed to be the newest edition from last 6 months. How can the paperwork be outdated if I got it from their website? So now they want me to cross out old date and re-date paperwork and refax. So I did that. I got the customer service rep's # and his name. He tells me everything is processing and I will be getting an answer soon. Now they are calling me three times a day to ask me how they can help me with my loans since I'm late with my first payment. Say what?
I ask them if they read the notes on my account so that we are all on the same page and rep says they keep no notes on account! WTH?? How is it possible that they are still in business? I'd rather marry Satan than deal with this place any longer. I kid you not dealing with this place is making me rage. The reps barely speak English as well. So basically Navient scams people, lies to you, gives you the runaround, doesn't keep records of ANY KIND, and harasses you all day, every day. And yet the government does nothing. No one is investigating this sham operation? Of course not.

I have over half a dozen different student loans. Up until recently, four of them were with Navient. However, two of my loans were recently transferred from another lender (National Education). I had applied for renewal of my Income-Based-Repayment to my first lender shortly before my loans were transferred. Navient never contacted me about the IBR application, and instead took money out of my bank account at an unadjusted rate, resulting in nearly $400 of extra payment each month for which I had not budgeted.
When I called Navient to ask what had happened, they claimed to have never received the IBR application from the first lender. They told me half of my loans from the first lender were in IBR, but the other half were not anymore, and I would need to reapply directly to them. So I did. When I called back to expedite the application (as I had been told to do), I was told by a different representative that in fact *none* of my loans from the previous lender had been placed in IBR, whereas they had previously told me half of them were.
Realizing that these people didn't know which end was up, I called National Education to inquire about the original IBR application. After all, Navient claimed National Education had never sent it to them. SOMEBODY owes me nearly $800 due to this mess, and I wanted to know who. National Education assured me that the IBR application had been electronically transferred to Navient with all the rest of my loan paperwork. Which means that Navient either lost or deliberately misplaced my IBR application, thereby charging me an extra $400 in September and AGAIN in October.
When I finally received notification over the weekend that everything had been correctly processed into IBR, they also notified me that my request to withdraw from AutoPay had been processed. Except I never requested to withdraw from AutoPay. Staying in that program reduces my interest rate - why would I leave? When I called them to ask what the heck had happened, I was told they had taken me out so that my old Navient plus new Navient (old National Education) loans would not all process at the same time. Seriously?! Ask me first, you jerks! Don't presume you know what's best for me and then try to claim I asked for it afterwards!
I'm fortunate. I have a decently well-paying job, as does my spouse. We had enough money in savings that being robbed of nearly $400 in Sept. and again in October didn't cause us to miss a mortgage payment or a car payment. But if Navient is doing this routinely, they could cause people to lose their cars, or their homes. This is NOT acceptable and given the shady stories the reps are giving me over the phone, I am convinced they did this on purpose. I have had other loans transferred to other lenders, and nobody else has screwed up my IBR like this. I'm *still* waiting to hear back about the money I'm owed. This is BS.

Navient should be listening to their phone calls because they have rude employees. I received the answer, "That's not us," twice today followed with being hung up on. I called the two phone numbers on the two letters I received last week... but none of them can transfer me to the income based driven "Navient" number I needed to see if my application had been processed because I was told with the financial information given, once sent in my loans would be on hold for a year except the ones my two cosigners are already paying on. The first guy said, "Tell your cosigner to call us. We have some programs that may help him". I replied, "You've already told my father (we both received ups letters saying Navient would be taking us to court to take payment) they would be taking his 401k in Maine or his house if he didn't start paying".
I told the gentlemen that and asked if he had been making the payments, Correct? Yet he just said in his laid back don't give a crap I'm here for a paycheck attitude, "Tell him to call us". Frustrated that he would not give me an answer I said well hopefully trump or the president helps people like my family b/c my parents are both paying and my 5 year old suffers the most from this. I live in a basement and have made less than $10,000 this year. (BECAUSE I HAVE A CHILD AND CHILDCARE COSTS SO MUCH. I CAN ONLY WORK AROUND HER SCHOOL SCHEDULE AND THE HELP OF HER GRANDPARENTS, HER FATHER WORKS FULL TIME.) The employee felt the need to laugh and say trump has nothing to do with this phone call... What a rude jerk to laugh when student loan debt is tremendous in the billions. I wake up and I'm $15 in debt more with Navient.
I took out $60,000 starting in 2005 now I'm up to $105,000. That was just for 1 1/2 yrs in state and one associate's degree for $40,000 out of state. I finished the rest of college on my own paying as I went on a then $22,000 income and tax refund money. If Navient thinks I'll pick up phone calls from their rude inconsiderate employees who don't take their job seriously or understand the stress and financial burden student loans have caused they should not be there. I've asked many of their employees if they have student loans and they say no. They don't get it. They don't understand how is hurts our families, prevents us from buying a house or even groceries.
The second idiot I talked to I said right away, "Before I give you my information, is this the right number for the income driven payment plan?" He replied, "Not our department?" I said, "Well can you transfer me?" He said again, "Not our department." I said, "Well I just called a different Navient number and that wasn't it either, can you transfer me? How many different Navients are there?" And he said one last time, "Not out department," and hung up on me. The first phone number 1-855-211-0620, the second was 1-800-722-1300 both made around 915 am. Just dropped my daughter off to school, in a great mood but Navient employees ruin it like always.
If you want my money Navient process my income driven information faster than 3 weeks later and hire more employee like the gentlemen that told me all about the income driven information by apologizing to me, being considerate of my feelings and trying to solve the problem. He asked for my financial information and wanted to help. Any employee hired by Navient needs to toughen up their skin and learn the words "I'm sorry I'd like to help you". When a customer says I've gotten 35,000 in interest just say those simple words help us, do your job. If Navient is telling their employees if the customer on the phone is rude hang up... well Navient you wonder why you're not receiving any money because they do not care about each of their individual customers especially ones with children.
The president or someone will have to intervene with the student loan debt because it's sick what companies like Navient are doing... Sending letters out everyday, I get at least 5 a week stating how they want to help please call us, thank you but when you get one of their employees on the phone they hate their jobs and are unprofessional. PASS THE BUCK if you cannot handle a caller and apologize and tell usyou'd like to help. Disgrace of a company Navient is. Hopefully they sell my loans and I get a new company that hires better employees then previous Mcdonald employees. Burger King employees are more professional then Navient employees.

I had $7000.00 loan here or rather SM. I graduated in 2009 and started paying $83.00 monthly plus larger sums very often!!! My balance today is 6700.00!!! I inquired about the impossibility of my debt being that much after years of paying SM and Navient!!! I have paid $4000.00 but nothing on PRINCIPAL except $300.00!!! I hate to give them another dime. But they assured me that they would be reporting any missed payments to Credit Bureau and I DECIDED to pay! 8 more years debt will be paid in full. Liars... greedy... cruelly unjust with interest rates that are MAFIA type!!!

I never chose this company; my lender was changed and I had no choice in the matter. These people are awful! My loan was in good standing and I was making payments in full and on time. My co-signer passed away and they took the ENTIRE amount left on the loan from the estate. The people who could have received this money from the estate (who had nothing to do with my loan whatsoever) did not receive it. I called to reason with them and I was given the runaround before they finally admitted that I had no other option - if the money was in the estate, they were taking it. While this is legal, there are other loan companies that will release the deceased co-signer if the loan is in good standing, or give you other options. Navient gave me NO options. PLEASE, for your own good, go elsewhere for a loan. DO NOT get a loan from these greedy, inflexible people.

In 2011 my mom and I took out a 15000 dollar loan from Sallie Mae for college. I did not use the full loan and used about $13500 of it. I already had a huge amount of student loan debt through a different company (which was not giving out student loans that year) since this was the end of my 4 years of college. While in school they required us to make monthly payments of $25 of interest, paying almost $1000 in interest before I began paying on my loan after graduating in 2012.
After graduating and deferring for 6 month I owed sallie mae $16500. Last year my loan was switched over to Navient. When this happened my interest rate went up to over 10% without being notified and my payments went up. I've called them several times to discuss lower payments, deferring my loans and why my interest rate is so high. They continuously say that I agreed that I would and could make these payments after I graduated or I get an automated voice that is no help. My payoff date is 2027. I've been paying on this loan since I graduated, even making extra payments, and still have not reached the original principal of 15000, due to accruing $2000+ of interest in the small amount of time between getting the loan and beginning my payments. Along with the interest I accrue between payments. By the time I pay this loan off, I'll be paying more in interest than my original principal.
They also call you all times of the day and weekends and when you call back they tell you that you owe money and that you have to make the payment now or they will send you to a different department. I would never suggest getting a loan through this company. They do not work with you and there's lack of communication by a real person. I've tried consolidating my loans and remove this loan from Navient but because they are a private loan many companies will not allow me to consolidate with my other loans. So pretty much they scam you by high interest rates and get away with it, all because I wanted a high education so I could be successful and lead a normal life.

Be very careful with these people. I found a student loan on my credit report. When I called to talk to them about it, they said I had signed electronically. I asked them to email the note and application form that I had filled out. I was told that they had to mail it out because they are not allowed to email it. How odd is that? They claimed they accepted my signature electronically. A double standard. They seemed to care very little about solving this problem. The fraud rep I spoke with gave me erroneous SS# and date of birth. They act like they just don't care.

Where do I start with this scam of a place Navient!! Well first off I do not have student loan debt and this company continues to call and harass me about my fiancé student loans. I know he has been paying them yet this company wants more! I finally had enough of this harassment! I called and told Mr. Tim ** to stop calling my personal and my parents who are not on the debit and informed him that it is illegal to do so! He was awful to me but I held my ground. I called and called Navient and complained giving them the hard time they give me and my fiancé. When these awful customer service people would hang up since I was not very pleasant I would call them right back! I asked to speak with someone of higher management they gave me a name Bruce! Well Bruce with Navient and Tim ** I will be filing suit with customer financial protection bureau!
Also will hire a lawyer and expose you for the lying cheaters you are! I will call and harass you everyday. Which I have been and trust me they do not like it. I will fight the company because if we do not who will! This company needs to be closed. Everyone please if you are having issues don't let them win! Start by filing with the customer financial protection bureau. I am also putting together other complaints and information to send to senators like US senator Elizabeth Warren who had been speaking out against Navient. We need to pull together and show Navient that they cannot take advantage of us and the people we love. We can be heard and make a difference. I will not stop until justice is served!
Company Name:

Navient

Website:

https://www.navient.com/