Consumer Complaints and Reviews

Avoid like the plague! This has to be the worst bank I've ever dealt with. First off they don't send out monthly billing statements and their online banking doesn't work. I can never get a hold of a rep to fix it. So tragedy happened. Wife had a stroke. Lost her job. I missed a payment but then got it together and started making regular payments again. Got a call from a customer service rep. I told her the situation, and that I wanted to bring the account current in 3 months when I receive my tax return refund. The rep was nice, looked at my account, said I qualified for a deferment payment plan and then after 20 mins transferred me to loss and litigation. Not so nice rep there. She told me I do not qualify for any sort of deferred plan and that I missed two car payments 4 months ago. Making me almost 3 months behind.
I asked why wasn't I notified via mail or phone? She retorted, "What, you didn't notice the lack of payment in your bank account?" I said, "Frankly no!" I checked and those months I missed were right when my wife had the stroke. So, I probably missed them, I didn't deny it. However, a letter notifying me would have been nice! They don't send out anything! This feels like entrapment. What can you do. The guy that normally pays his bills gets screwed when he runs into trouble. They will be by to repo the car soon if I don't make a payment in 7 days, and then I need to call them back to file for a deferment plan. If they decide to honor it. Stay away from this bank at all costs!!!

Fifth Third bought my predatory-based mortgage, so I didn't have a choice in dealing with them. I had a balloon payment maturing in November and started trying to get it figured out early. When I called it to discuss, they either played stupid or weren't playing! They repeatedly said it was a second mortgage, but then acted like they weren't sure. They would send me from department to department taking approximately an hour of my time and giving no answer. I was current with them and with every creditor. After many calls, they told me my only option was to go through loan modification. I later learned from one of their senior loan officers that they had a program that fit me perfectly and THEY HAD IT AT THE TIME I WAS BEGGING FOR HELP.
They also quit reporting me to the credit bureaus even though I was current. Through my research, I have no doubt this was a deliberate tactic. Rather than go on and on about my last an mod, I will assume most of you know the games they play. I continued to make my payments, which they wouldn't take because they weren't for the full balloon pay amount. Needless to say, they have stalled long enough to destroy me financially because they reported me as in default. I asked their loan modification department each time if they had all documents they needed and they assured me that they did and it would soon be settled, only to receive a letter in two weeks that said I was denied because I hadn't sent in documents. I also would then receive letters from Gene ** saying I had done nothing to try to resolve the issues of my balloon pay. It would be the same with P Brian Moore.
I sent everything I had from them and responses in a registered mail. That is how I finally got to the Office of President. I began to deal with Sarah **, (Vice President of something). Still, nothing has changed. They continue to say they have everything except one thing. I send that one thing, they wait a week or two and then close my case and say they are missing a different thing. While I am sure I got further than a lot of people because of tenacity, it has done nothing to help me. If I had means to sue, I most certainly would. Look them up at BBB. It says A+, even though they had all terrible ratings. My only advice is STAY AWAY, PLEASE. Go with a local bank.

Anyone wanting to do a lawsuit against 53 Bank please contact me. I will participate. Email **. They don't care about their consumers' charge fees that don't make no sense. Even worst they don't deal with you directly. In my case, they dealt with the dealership for my car loan and never called me once before lending me the money. Long story short I got scam by dealership and 53 Bank failed to contact me before they accepted to have loan with me. I trusted the car salesman to get me a good bank which was huge mistake because he got me with 53 Bank which is not even located in my state. I cancelled insurance on my car and they are charging 1100 because of this. Ridiculous. Beware of car dealerships, professional scam artist, and 53 Bank. Plus I contacted the senator of my state with this issue. I should get a response soon.

Be careful when signing up. I signed up for a credit card that was suppose to come with a $150 credit if I spend over a certain amount, and 0% APR for 12 months for regular purchases and balance transfers. I was sent this offer in the mail and did it over the internet. So I was pretty surprised when I notice that I actually got charged on regular purchases, but still got the $150 credit and 0% 12 month apr for balance transfers. Now this is already at the point where I have spent money on it thinking I would have a year to pay it off before I get hit with regular purchases apr. I called in and they pretty much informed me that the offer I got
wasn't the one they came with the reg purchase 12 month 0%. I thought I had the letter for it, but threw it away a while back ago. So now I am basically stuck!

I used the inside ATM (not in a lobby but on the floor of the inside lobby) to get $500.00 out of my checking but I didn't see where the money comes out (UP TOP, I found out) (Not in front like the outside ATMs.). So clicked yes for another transaction thinking it does everything at the end. I put in my 360 debit card and heard a click and saw where the money was going back into the machine and I couldn't stop it. I notified a loan officer that was putting up a Christmas tree close by immediately and she said wait until next day to see if it debited acct. I said audit it now and look at camera photos now.
The next day it had debited my account and we filed and a provisional credit was given. They refused to audit the account then and I advised them to keep the camera footage as we were at an inside ATM machine but not in a lobby. Right in front of tellers, so I know they can see I didn't take the money. Without notice, they debited the $500.00 back out in 30 days and sent my account in a negative state. I called them and they said the machine balanced later that month. They never called me or got in contact with me at all.
I will need a lawyer to handle this. I closed all accounts with them and refuse to do business with them until I get my $500.00 back into my account that I left open with $1.00. I complained and they reopened the case but want to hold my money for thirty more days interest free. I am on Social Security only and they don't really care. There is something wrong here. I didn't take the money and saw it going back into the machine. How could a machine balance out? Had they done it right then before other people used the machine they would have seen the money was back in.
How do I know I can trust these reviews about Fifth Third Bank?
692,550 reviews on ConsumerAffairs are verified.
We require contact information to ensure our reviewers are real.
We use intelligent software that helps us maintain the integrity of reviews.
Our moderators read all reviews to verify quality and helpfulness.
For more information about reviews on ConsumerAffairs.com please visit our FAQ.

We paid off a vehicle with Fifth Third Bank in November 2016 and have to date not received a title. The title was held by the state of Texas as an E-Title. In order to get a certified copy of the title we would have to present the state with an original release of lien. We were informed by Fifth Third bank that their policy is to only fax copies of the release of lien, which would not provide us with an original. In checking with the state tax office, we were informed that Fifth Third bank had never sent them a release of title once the vehicle was paid off. In the meantime, the vehicle has been sold twice (which is legal as the title was/is held by a bank) and has been impounded by the border patrol for lack of metal plates when crossing the US border. To all other dealers out there: Beware when paying off auto loans held by Fifth Third Bank.

I'll make this short and sweet. I have a credit card with 53 bank. I have great credit, overall and never missed a payment with them since 2008. I had a balance on my card recently. I made a payment online and accidentally duplicated the payment. Not a huge deal, but this was a 500.00 payment. I called customer service to discuss. (A few calls later, and personnel) I was given the final answer that I must go into a branch to handle this. After going to branch, I figured all was handled. They were to leave 1 payment in place and refund me 500.00. Sadly, a bank can't refund via ACH (but they can take the payment of course). So I had to settle for a check payment via snail mail.
Exactly 4 days later I called to find out the status, only to find that they require 10 days before refunding the payment. The balance with the double payment is - $200 + dollars. They can keep one of the 500.00 payments, and anyone would assume they would be helpful and refund me my 500 dollars. NOPE, not 3 days, not 5 days but I have to wait 10 days. ARE YOU FREAKING KIDDING ME... I suspect this is because it's possible I cancel payment or dispute with my bank possible (Thankfully NOT 53 bank account). HOWEVER, there was nothing. It's been 9 business days, and my account shows a -$200 + balance still. Sometimes, one needs to look at the situation and adapt (maybe even deviate from SOP). I WILL NEVER REFER OR ADVISE THEM AGAIN. Note - Even left a message for the banking associate I spoke with locally. NO CALL BACK after 5 days.
I am sure I seem angry, but I can't believe how this was handled. Never in the world have I heard of something such as this. I have credit cards with other notable banks and have had the same situation occur actually (Though far less $$$ than 500 dollars payments). They did in fact transfer the funds back right away (But it was paid using debit). 53 doesn't permit outside accounts via debit, you have to use a bank and routing number like it's 1998.

I used an incorrect routing number when paying my car loan and was charged a $20 NSF fee. I asked Fifth Third to waive this fee as it was my first time receiving a fee and it wasn't a true NSF because the routing number didn't match the account number, so money never got debited from my bank account. I corrected my error and made the loan payment on time. Fifth Third refused to waive the fee. Many other banks give a one-time waiver to customers, I was not granted this courtesy by Fifth Third and am discouraged in their lack of customer service.

I have 3 accounts with 5/3. They charge their monthly account maintenance fees to the account with the LEAST amount of funds and at diverse dates, so they can charge a non-sufficient funds fee of $37 on top of the maintenance fees. They also reject payments to debtors due to "not sufficient" funds, however they still charge the $37 "overdraft fee" for something that has not been paid. On top of that, 5/3 has the unfair and fraudulent practice of paying the "highest amount" first, making the customer incur "unnecessarily overdraft fees" if the payments were paid as they arrived. I would like to bring my case to court. Looking for others who have had problems with this bank to make a class action lawsuit against this bank.

This bank placed a hold on my account and returned items when there was clearly enough money in my account to cover the debits. The return showed "error correction, debit in error," when the error is actually the bank's error. I am have been waiting on a call back from 2 supervisors by the name of Vernetta and Jeannie in which neither have returned my call as promised. I am beyond livid and nothing is being done but lies being told by supervisors that probably aren't supervisors to begin with. Please take your business elsewhere as this bank is horrible. I've had nothing but a horrific experience and my issue still isn't resolved. This bank is unprofessional and they do not take care of their customers! Think twice before putting your money into this bank!

Don't know where they hire people who do not know anything about their job. After 10 years of having a mortgage against my condo at this joke of a bank, received a flurry of letters that they need a hazard insurance from me. So went ahead and bought a condo homeowner insurance which covers personal property/liability and fixtures. Of course, the externals, walls and common areas are covered by the master association. As everybody who works with insurance knows. Except the Fifth Third Bank people who don't have a clue. So they are writing for a thousand's time to tell me now that because I have a loan of certain amount, they need me to pay for insurance that covers the whole amount of the loan. Unbelievable. They spend all money to pay the sales folks and don't have any back office to speak of. The ** service in the banking industry.

I just recently opened up a bank account with this ripoff bank based on the fact that I thought nobody could be worse than Bank of America. I was wrong. They purposely hold transactions to post at a later date even if they are done with a debit card using your PIN number. The fees are outrageous and when you call customer service they are no help whatsoever. I can't wait to get my direct deposit so I can close this account and be done with them. Anyone looking for a decent bank to go to don't look at Fifth Third. They are straight ripoffs. I wish I knew how to start a class action lawsuit against them. They need to pay back all the money they ripped off of people...

DORMANT ACCOUNT-I set up a small saving account of $510 for my young grandchild. I received quarterly statements. I did not get a quarterly statement for the 3rd quarter of the year and when I did get the statement for the 4th quarter. When I did finally get a statement, I realized that I had been charged a fee for a dormant account which then generated another monthly service fee. The monthly service fee was assessed when the account balance was less than $500. By the time I did get a statement I had been charged $75. I was told that they were not required to send a notice to dormant account which may be the FDIC regulations. However, I would think that they were required to send a notice to me prior to the account become dormant. Nevertheless, this is certainly a poor business policy. I guess interest rates are down so they need to rip off their customers.

I have a car loan through this bank. They did not process my payment because it was not the full amount, including insurance that they added, which doubled my payment. My car has been insured since day one and has never had a change to it. This was an excuse to get more money. Long story short, they repossessed my vehicle and would not release it until I paid the insurance fees or proved my insurance had not changed. My insurance sent them a declaration page a couple of times on day 1. It took them 2 and a half weeks to remove those fees. Meanwhile, my car was still repossessed, and I was left without a vehicle the entire time. When I picked my vehicle up from the repo lot, it had been damaged. This bank had been a complete nightmare to deal with. Every single time I called, I would get a different story and a different amount owed. DO NOT trust this bank. I do not understand how they are still in business.

My advice is that no one, EVER do business with this bank who wishes to protect their own sanity and assets. I could fill up this page with great examples of how completely frustrating and incompetent this bank is - in training its employees to give correct answers, in taking responsibility for their own errors, in setting up user friendly online services or solving the simplest of issues when they arise without having to explain your problem to as many people and departments as there are dollars in your account. BUT, instead I'll just use ONE EXAMPLE and refer you to the other complaints herein regarding this bank. You should get a pretty clear idea from the volume of complaints here.
In short: I closed my checking account. Prior to this closing, I set up an automatic draft, initiated monthly from my 5/3rd checking, to an External account, to be deposited in the 5/3rd checking account, and these funds were then be used to pay an equity line also held with 5/3rd Bank. I was told by closing the checking account, ALL External transfers or ANY business related to the 5/3rd checking account would also end - so the draft would stop, since the account was closed. Makes sense, right?
BUT, because I already had problems with Fifth-Third ANY time I had contacted or done business with them, I was adamant that they confirm this MANY times in the conversation to close the account. Yep- they repeatedly said, closing the account was ALL I needed to do. Next thing you know there's an email alerting me to the initiation of a draft request from 5/3rd Bank to my External account - which of course is going to transfer back to a nonexistent account.
So, I called. And I'm told just to ignore that email, ignore that draft attempt. They say they can clearly see the account is closed on their end, so even if the draft attempt did result in money being taken out of my external account - and by the way, they had no problem seizing money from my External account, and had no additional input in how to stop it from happening even knowing they'd have no place to put the funds. (So, are you getting this? They don't have a problem with taking my money from an account - just letting MY MONEY roll around in cyberspace for a while and I'm just supposed ignore how completely unnecessary and WRONG that is, not to mention the effect in my other balances! Unbelievable!) "Just don't worry. It's all going to become a wash. Nothing Else for you to do. It'll work its way through our system. I however was not as certain.
Next comes the email that the draft was unsuccessful - as we all know it would be - and alerting me that this is a real problem! (Yeah. No kidding.) I call again. Same - nothing else to do, ignore the emails. But they keep coming so finally I just tell my external bank to put a Stop Payment in anything Fifth-Third is trying to draft out if my external accounts.
Next - I get a bill from Fifth-Third with a $35 charge for those drafts they attempted to grab and put in my closed accounts. So, I call. I said this is the short version, right? Okay - so abbreviating - I explain the issue to Person 1, who has to transfer me to the actual loan department, I explain to person 2, but he actually is in the wrong loan department. He transfers me to Person 3, but she knows the issue because Person 2 kindly explained it so I didn't have to go through that AGAIN. She removed the $35 charge.
But SHE can't stop the draft requests from continuing, "And in a those calls Ma'am, no one explained you have to call the Automatic Payment Department to stop those drafts?" (Argh!) So, now I must talk to Person 4. Person 4 stops the draft requests. Person 3 removed the charge. Person 2 realized it was the wrong department. Person 1 transferred me to the wrong person. An hour and a half of my life GONE (because of holds and repeating myself umpteen times).
Did I mention the home-equity line took SIX MONTHS TO CLOSE, because they kept asking me for the same documents I had already sent, until I finally just kept the file of documents I knew that they would PROBABLY be asking for again in about three weeks? Or, that once I had actually gotten the 50k equity line, I quickly learned one can only draw out $2000 at a time/per month! (WHAT? Even though I had contractors in my house that were asking for $10,000 at the end of each stage if the works completion?)
Or that the 5/3rd loan representative who recommend THIS loan knew how I intended to use it! Or that he was fired for not providing me with all the disclosures and info I needed or was entitled to by law (and which if I had had, I wouldn't have processed to get the loan at all)? Or that despite their more or less acknowledging I was pursuing and had in fact entered into a loan under the false impression the rate would be lower than what they finally locked in - they refused to adjust my rate or let me out if the loan or restructure it? Or that that took 6 phone calls (with no result and a different reason for the problem every time) before I finally had to physically go to a branch to draw out the funds I needed for the purpose of remodeling? Just don't. Don't EVER do business with this bank.

Had an account (2) checking and savings at this excuse for a bank. Came into branch to close accounts, however they only closed savings account not checking. I then get a statement from bank that they took out my money because my account was dormant. They took everything $100.00. Am a senior citizen and can't afford this. Anyway, they never notified me that they were taking my money. They said that they "don't send statements to dormant accounts". Duh. How was I to know they were stripping my account on a monthly basis? Duh again.

We have had nothing but trouble with this bank since we opened our account. We have had our checks rejected, debit card rejected and checks held causing NSFs, causing us embarrassment and loss of our hard earned money due to their NSF fees THEY CAUSED and then kept! Mind you at the time of the check rejections there was over 20k in our account! I highly recommend anyone and everyone, CHOOSE ANOTHER BANK! This one inept and potentially unethical.

We have a number of ACs with Fifth Third and due to the balances are some kind of "preferred" customer. Various personal bankers at Fifth Third (they come and go a lot) have tried to convince me to try their special MC, more points, etc. than what I have been getting from Chase. It was clear, I only redeem for cash, a credit to my CC. The first cycle, we got 5,131 points. Doing a quick and dirty computation to what I would have received from Chase, which would have been about 4,000, seemed pretty good on the surface.
When I went to redeem, it was another story. If I get a statement from Chase and say it has 5,131 points, I can immediately redeem $51.31 as a credit to my CC. No constraints other than a 2,000 point or $20.00 minimum redemption restriction. Fifth Third only offers redemption in $25 increments. When I tried to redeem $50 with Fifth Third, it wouldn't allow it. Got busy, and said, "The heck with it, will do it next month."
So next billing cycle with 8,000 plus points, tried again. I did, but it took 8,000 points to get a $50 credit. In short, 100 points with Chase is worth $1.00. A 100 points with Fifth Third is worth 62.5 cents for cash redemption purposes. 5131 points with Fifth Third is worth about $32. 4,000 points with Chase is worth $40. Live and learn, back to Chase. The bad or sad part is I truly doubt the PB lady knew she was doing me a disservice. They are trained, or semi-trained, to hawk the cards and other services, they probably know nothing about the backside.

I am a CPA with 28 years experience. Currently retired, I review my three daughters escrow account adjustments annual and rarely have an issue. This year I have had considerable difficulty with Fifth Third bank. The adjustment is two fold, one is for increases in payments made out of escrow and the adjustment if those payouts (property taxes, insurance, etc) increase. The second piece is the cushion the bank can legally maintain, two months of average payouts. The next year projection shows updated payments into escrow and estimated payouts identifying any month where the cushion is not projected to be achieved.
The difficulty is that the letter firstly projects the escrow balance at the end of the current year and the next year projection should begin with this amount. Sometimes it is off a little if the bank receives updated information. My daughter's beginning balance in the 2017 projection was $334 lower than the ending balance in the 2016 projection, creating a month with a $368 shortage in cushion.
My only question, which Fifth Third could not explain, is why the amount decreased. They told me the difference was due to an increase of $80 in property insurance. When I stated that this did not account for a $334 difference, they were rude and inferred that I was stupid since there was no other way to explain the difference. I eventually was able to calculate what they did which was to make a small adjustment of $37.55 for changes in insurance and decrease the beginning 2017 balance by exactly the amount of the November 2016 payment into escrow.
I have emailed this explanation to them since they will not return my calls and am mailing a letter asking them to revise the escrow payment amount. This has been extremely frustrating and when I believe they have understood that there is a problem I have been put on hold or told they will call me back. The last person I dealt with was a supervisor in their mortgage department who refused to give me her last name (first name Jamie) was rude and insulting. My concern is that this is a new practice of theirs and will generate cash of hundreds of millions if not billions of dollars and inflate their capital and surplus reporting to the federal and state government in their annual statutory reports.

This company is awful with Customer Assistance and communication of dispute.... On September 16, 2016 I withdrawn money from Chase account, which is at the opposite corner of Fifth Third Bank which I am with both companies. So I walk to fifth third after withdrawing $300.00 to pay my credit card with Fifth Third. So I go through the drive thru and deposit my money into the ATM machine. The whole entire machine went blank.
I called for assists at the machine and the bank teller (Shannon) tells me "Sorry we've been having glitch issues with those machines about a month or so." I stated to her "I just deposit 280.00 into it and I'm trying to pay my credit card. What am I suppose to do now?" She states for me to come in and she'll pull up my account information to see if it deposit. She checks the system nothing has yet been posted so she says calmly, "Check it in a few hours and if it doesn't post check it tomorrow." So I'm like "Okay can you put the rest of what I have in my hand into my account?" So she does it and afterwards gives me a receipt and a piece of paper with the the ATM Dispute number and the BC#.
I check the next day no money posted so I give a call to the dispute claims department I give full details as to what happened and she tells me my money will be put into my account in 24 hours. Let's just say I never got it and she put my dispute in on the wrong date which was (September 17, 2016) which it suppose to have been (September 16). I had to wait up to 45 days for information about my case just for them to have did a audit on the wrong date and I never received a statement that I have been denied by email nor mail so on November 4 I have to put in another dispute in at the same location in person.
I had the Dispute representative on phone & the bank tellers across from me explaining what happened that day to the dispute representative. I was told it would take 14 days. Guess what? It took up to 21 days and I still got denied even with written statement from the Lead customer service representative who was there when all of this had taken place and I was told that even with a written statement that I wouldn't receive my money. But I'm receiving constant back to back calls from representatives about me making a payment towards my account. But yet I have no written statement that I still have been denied on neither case yet.

We wanted to open an investment account with 5/3. I had talked about this with them for some time, arranged for money to be transferred, etc.. They keep messing up - missed an appointment, did not make a copy of legal documents, etc.. Now, they say they are wondering if this account is the best for us? Are they kidding?

Recently made a check deposit (on a Friday) from another institution through 5/3rd's mobile app. I was advised through a letter received a week later (the next Friday) that the deposit would be held for 10 days (from the date of deposit). However, the check had cleared the institution from which it was written and the money withdrawn by 5/3rd on the next business day (a Monday). However, 5/3rd would not credit the deposit to my account until the 10 days had passed.

Since I have purchased my car 4 1/2 years ago, not once have they sent a statement in the mail. Recently I had a few family emergencies pop up, second car broke down, death in family etc. Because I had paid my car payments late, I thought it was no big deal, and didn't think I would have to have a car repossession added to my list of setbacks. Well they repossess my car before I even get out of bed the day after Thanksgiving! Conveniently they were closed on the day they took my car. There was NO way to know where they took my car or anything since it was a holiday weekend. I had to drain my bank account to get my car back. The repossession fees were close to $700! For the next three months I will have higher than normal car payments that they will deduct from my checking account at their leisure. I had to miss a day of work to get my car back, so this creates another set back.
Because they drained my bank account with their enormous fees, I am unable to pay my electric bill, phone bill, water bill, car insurance. I just recently lost my mother. They take my car drain my bank account. Now I am left in the cold without electricity or water for who knows how long. I understand the payment was late, and take responsibility for using my money on attending a funeral. For them to not send any warning or phone call, not even a knock on my door is not only unethical, it is downright evil. I regret doing business with them. If you never intend to have an emergency, and will never be late this may be the bank for you. If you are a real human and have occasional emergencies, or ever have to be late on a payment, please stay far far away.

I have been with Fifth Third Bank for about a year now. And about six months ago I started somehow over drawing my account. Or so I thought! They have been taking out $111.00 dollars out of my account every single time I got to a 20.00 dollar balance! I am a truck driver, I don't make that much money and they steal from me. What I don't understand is that when I called them to get an understanding as to why they are taking that much money from me, they said because I keep over drawing my account! Which is a lie! I have kept track of my account every single day! These people are thieves! Do NOT I mean do NOT choose this bank, just whatever you do. Don't because they'll steal your money too. I'm getting rid of this bank as soon as I get home!

When I moved to a state that did not have Fifth Third branches, I tried to close my accounts. It has been months, and I still cannot close my accounts successfully. Because I was out of state, I was told I had to send paperwork directly to the branch. I received the papers in the mail and promptly sent them back. I waited about a month, and never received confirmation that the forms were received, or a check for the remaining funds I wanted to liquidate. Following that, I emailed the bank several times to follow up. For more than a month, I went back and forth trying to close the accounts to no avail. I then learned that I could liquidate the funds via an external transfer. If my balance was exactly at zero, they could close the accounts online without the need to work with the local branch. However, as soon as I did that, I incurred significant overdraft fees - one fee was $50. There were others as well.
In addition to the overdraft fees, I incurred several months of fees for not having the minimal balance. I realize those are the terms I agreed to when I opened the account months ago, but given that I had been trying to close the account for months (and that was the reason for a low balance), I find those fees excessive and unfair. I am extremely frustrated with the process. Now, I have incurred a significant amount of fees and still have not successfully closed the accounts. I will never, ever, do my banking with Fifth Third again because of the challenges doing banking online, the lack of customer-centered customer service, and the excessive, unfair fees.

My father banked at Fifth Third, and lucky for him he didn't know that they would refuse to allow my mother, his widow, access to his accounts. It has been over a year, and they have refused to even send a statement or tax documents to my mother. In fact, it took over a year for them to admit an account existed, despite the fact that I traveled across the country to provide a certified death certificate in person as they demanded. And they now want my 80-year old mother suffering from dementia to do the same. I don't know if they're incompetent or if they're thieves, and it doesn't really make a difference. It is sad that in a time when big banks are gobbling up most of the smaller ones that one of the few remaining regional banks is treating customers far worse than its larger competitors. I would think twice about choosing to deposit money in this bank.

On Nov 09, 2016 was using my debit card to withdraw funds 200.00. Balance was over 4000 dollars in account. When card was entered message said security violation and card was confiscated by machine. Went in to bank, manager Steve said since it's not a Fifth Third card that I would have to contact Brink's. There was no help in retrieving my card. Was told to cancel card and get another from my bank. Could not retrieve funds from my account. Had to cancel my card and of course all of the accounts associated with the card. Fifth Third does not know their own policies and could care less for a positive resolution of my complaints. Could not retrieve card or withdraw funds from my account. Would not return my card even though I had all positive forms of identification verifying my person. Do not trust Fifth Third.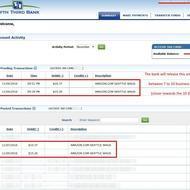 To those who own a Fifth Third Bank 360 card there is an issue going on. I purchased a power supply board for a TV (Ordered September 15, 2016 - order # ** for $71.49) from Amazon.com. All this that I am going to write, is because I have contacted Amazon and Fifth Third Bank 3-way calling. When you purchase something at Amazon.com, Amazon then contacts the bank to obtain an authorization. So, the authorization is approved, the part is available, Amazon ships the part, and after the part is shipped, that is when Amazon charges the card, not before. The bank then debits the money for the purchase, but here is where the problem starts. The bank also hold the same amount, which is the authorization for 10 days, so if you had $100 in the card, the part cost $80, you are suppose to have $20 left on the card, but it's not like that.
Since the bank is holding the $80 for the authorization, you are now negative $60 (holding the $20 + $60 that you are supposedly owe, and you cannot use the card to purchase anything less than $20, because you are in the negative amount. Remember, you are in the negative number because the bank is holding the authorization process. Calling Fifth Third Bank is USELESS and FRUSTRATED. Not only that, when I called Fifth Third Bank, since the REP was not able to do anything, she got pissed off and after about 15 minutes on the phone, she said "Since there nothing that I can do, have a nice day" and hung up (I was FURIOUS). The bank blames Amazon, and having Amazon on the line as well, they say everything shows correctly. The bank is the one holding the authorization and the bank WILL NOT release it for 10 days, NO MATTER WHAT.
Update: It happened again. I do a lot of purchases from Amazon, and again, Amazon shows everything correctly on their end. I purchased two items from Amazon. One item amount was $15.30 and the other item amount was $10.37. ORDER # ** for amount $15.30. ORDER # ** for amount $10.37. I have attached the bank information where it shows what I'm talking about. Amazon contacted Fifth Third Bank and asked for authorization and it was approved. Amazon already shipped the items, so it will show debited under Posted Transactions, but take a look at the Pending Transactions, it is showing the hold for $10.37 and $15.30.
Those two amounts will be release in 10 days, but my question is WHY in 10 days if Amazon already charged the card? So, I am STUCK with the negative amount on the card, until those two amounts are released. Unless, I transfer some money to it, then I will have a positive amount, and when the authorization releases, then you will have more money on the card, but in the meantime, you got no money there.

I requested a new debit card almost 3 weeks ago. They took the 10 fee out on the 24th of October. Was told 5 to 7 business days. As of yet no card. Every time I call they tell me that since it's under my wife's name (my account) they cannot tell me anything. Today a personal banker from the bank told me that she was going to order a new card be sent to the bank itself that my wife should have her card within 2 to 3 days. Will see...

Been depositing to my checking account from my PayPal account for years without any charges then today I deposited $65 to my checking account from my PayPal account and got charged 45 cents. Really now you start charging me for depositing money into my checking. Been doing this for years no charges. I guess they wanted to try to find a way to make new money. I guess the house wins every time. Now you get charged eBay fees then PayPal fees, now Fifth Third fees - guess everyone wants to drink from the well.
Fifth Third Bank Company Profile
Company Name:

Fifth Third Bank

Website:

https://www.53.com/