Consumer Complaints and Reviews

Since I have purchased my car 4 1/2 years ago, not once have they sent a statement in the mail. Recently I had a few family emergencies pop up, second car broke down, death in family etc. Because I had paid my car payments late, I thought it was no big deal, and didn't think I would have to have a car repossession added to my list of setbacks. Well they repossess my car before I even get out of bed the day after Thanksgiving! Conveniently they were closed on the day they took my car. There was NO way to know where they took my car or anything since it was a holiday weekend. I had to drain my bank account to get my car back. The repossession fees were close to $700! For the next three months I will have higher than normal car payments that they will deduct from my checking account at their leisure. I had to miss a day of work to get my car back, so this creates another set back.
Because they drained my bank account with their enormous fees, I am unable to pay my electric bill, phone bill, water bill, car insurance. I just recently lost my mother. They take my car drain my bank account. Now I am left in the cold without electricity or water for who knows how long. I understand the payment was late, and take responsibility for using my money on attending a funeral. For them to not send any warning or phone call, not even a knock on my door is not only unethical, it is downright evil. I regret doing business with them. If you never intend to have an emergency, and will never be late this may be the bank for you. If you are a real human and have occasional emergencies, or ever have to be late on a payment, please stay far far away.

I have been with Fifth Third Bank for about a year now. And about six months ago I started somehow over drawing my account. Or so I thought! They have been taking out $111.00 dollars out of my account every single time I got to a 20.00 dollar balance! I am a truck driver, I don't make that much money and they steal from me. What I don't understand is that when I called them to get an understanding as to why they are taking that much money from me, they said because I keep over drawing my account! Which is a lie! I have kept track of my account every single day! These people are thieves! Do NOT I mean do NOT choose this bank, just whatever you do. Don't because they'll steal your money too. I'm getting rid of this bank as soon as I get home!

When I moved to a state that did not have Fifth Third branches, I tried to close my accounts. It has been months, and I still cannot close my accounts successfully. Because I was out of state, I was told I had to send paperwork directly to the branch. I received the papers in the mail and promptly sent them back. I waited about a month, and never received confirmation that the forms were received, or a check for the remaining funds I wanted to liquidate. Following that, I emailed the bank several times to follow up. For more than a month, I went back and forth trying to close the accounts to no avail. I then learned that I could liquidate the funds via an external transfer. If my balance was exactly at zero, they could close the accounts online without the need to work with the local branch. However, as soon as I did that, I incurred significant overdraft fees - one fee was $50. There were others as well.
In addition to the overdraft fees, I incurred several months of fees for not having the minimal balance. I realize those are the terms I agreed to when I opened the account months ago, but given that I had been trying to close the account for months (and that was the reason for a low balance), I find those fees excessive and unfair. I am extremely frustrated with the process. Now, I have incurred a significant amount of fees and still have not successfully closed the accounts. I will never, ever, do my banking with Fifth Third again because of the challenges doing banking online, the lack of customer-centered customer service, and the excessive, unfair fees.

My father banked at Fifth Third, and lucky for him he didn't know that they would refuse to allow my mother, his widow, access to his accounts. It has been over a year, and they have refused to even send a statement or tax documents to my mother. In fact, it took over a year for them to admit an account existed, despite the fact that I traveled across the country to provide a certified death certificate in person as they demanded. And they now want my 80-year old mother suffering from dementia to do the same. I don't know if they're incompetent or if they're thieves, and it doesn't really make a difference. It is sad that in a time when big banks are gobbling up most of the smaller ones that one of the few remaining regional banks is treating customers far worse than its larger competitors. I would think twice about choosing to deposit money in this bank.

On Nov 09, 2016 was using my debit card to withdraw funds 200.00. Balance was over 4000 dollars in account. When card was entered message said security violation and card was confiscated by machine. Went in to bank, manager Steve said since it's not a Fifth Third card that I would have to contact Brink's. There was no help in retrieving my card. Was told to cancel card and get another from my bank. Could not retrieve funds from my account. Had to cancel my card and of course all of the accounts associated with the card. Fifth Third does not know their own policies and could care less for a positive resolution of my complaints. Could not retrieve card or withdraw funds from my account. Would not return my card even though I had all positive forms of identification verifying my person. Do not trust Fifth Third.
How do I know I can trust these reviews about Fifth Third Bank?
633,951 reviews on ConsumerAffairs are verified.
We require contact information to ensure our reviewers are real.
We use intelligent software that helps us maintain the integrity of reviews.
Our moderators read all reviews to verify quality and helpfulness.
For more information about reviews on ConsumerAffairs.com please visit our FAQ.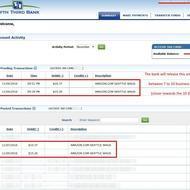 To those who own a Fifth Third Bank 360 card there is an issue going on. I purchased a power supply board for a TV (Ordered September 15, 2016 - order # ** for $71.49) from Amazon.com. All this that I am going to write, is because I have contacted Amazon and Fifth Third Bank 3-way calling. When you purchase something at Amazon.com, Amazon then contacts the bank to obtain an authorization. So, the authorization is approved, the part is available, Amazon ships the part, and after the part is shipped, that is when Amazon charges the card, not before. The bank then debits the money for the purchase, but here is where the problem starts. The bank also hold the same amount, which is the authorization for 10 days, so if you had $100 in the card, the part cost $80, you are suppose to have $20 left on the card, but it's not like that.
Since the bank is holding the $80 for the authorization, you are now negative $60 (holding the $20 + $60 that you are supposedly owe, and you cannot use the card to purchase anything less than $20, because you are in the negative amount. Remember, you are in the negative number because the bank is holding the authorization process. Calling Fifth Third Bank is USELESS and FRUSTRATED. Not only that, when I called Fifth Third Bank, since the REP was not able to do anything, she got pissed off and after about 15 minutes on the phone, she said "Since there nothing that I can do, have a nice day" and hung up (I was FURIOUS). The bank blames Amazon, and having Amazon on the line as well, they say everything shows correctly. The bank is the one holding the authorization and the bank WILL NOT release it for 10 days, NO MATTER WHAT.
Update: It happened again. I do a lot of purchases from Amazon, and again, Amazon shows everything correctly on their end. I purchased two items from Amazon. One item amount was $15.30 and the other item amount was $10.37. ORDER # ** for amount $15.30. ORDER # ** for amount $10.37. I have attached the bank information where it shows what I'm talking about. Amazon contacted Fifth Third Bank and asked for authorization and it was approved. Amazon already shipped the items, so it will show debited under Posted Transactions, but take a look at the Pending Transactions, it is showing the hold for $10.37 and $15.30.
Those two amounts will be release in 10 days, but my question is WHY in 10 days if Amazon already charged the card? So, I am STUCK with the negative amount on the card, until those two amounts are released. Unless, I transfer some money to it, then I will have a positive amount, and when the authorization releases, then you will have more money on the card, but in the meantime, you got no money there.

I requested a new debit card almost 3 weeks ago. They took the 10 fee out on the 24th of October. Was told 5 to 7 business days. As of yet no card. Every time I call they tell me that since it's under my wife's name (my account) they cannot tell me anything. Today a personal banker from the bank told me that she was going to order a new card be sent to the bank itself that my wife should have her card within 2 to 3 days. Will see...

Been depositing to my checking account from my PayPal account for years without any charges then today I deposited $65 to my checking account from my PayPal account and got charged 45 cents. Really now you start charging me for depositing money into my checking. Been doing this for years no charges. I guess they wanted to try to find a way to make new money. I guess the house wins every time. Now you get charged eBay fees then PayPal fees, now Fifth Third fees - guess everyone wants to drink from the well.

I would never imagined to have run into a problem such as mine until now. Have been with Fifth Third Bank for almost 5 years now and have never been late on any payments. As a matter of fact, we pay a little extra each month so it ends up being a 13th pmt for the year. I had made a payment in June 2016 via billpay and it was short $15.**. Received a notice from them that it was "past due". Called in and rep was not able to resolve so I talked to a supe. He figured a solution that he would shift the extra payments I've been making to make up the difference. It would be backdated to the June pmt and all would be fine. Two months later, I received a notice that the account is past due for 2 pmts. Now mind you, the mortgage payment goes out like clockwork via billpay. AND I have never been late on any of my credit accts since establishing it when I was in college over 25 yrs ago!
Called in and finally got a supe and she assured me it would be resolved to my satisfaction. Weeks go by but no word. Called in and left messages. Finally talked to her and she says since there is no record of the call I had made. They would not honor what they promised to do and let my account show 2 mths late!! Talked to her manager and he kept going in circles. Didn't care about my stellar payment history or believed me when I told him that HIS supervisor would take care of it when I originally called in back in June. Now I am left to dispute this inaccurate reporting on my credit and finding out that it's dinged me almost 100 points! DO NOT DO BUSINESS WITH THIS BANK!! TRUST THESE REVIEWS.

I have never in my life walk into a bank and the tellers be so rude and make you feel so unimportant. Today I walk into a fifth third bank in Charleston WV and it was terrible. The tellers makes you feel like you're on their time. I thought maybe it was just the bank in Detroit, so I couldn't wait to get back home. Then I found out it's just fifth third, period... They make you go through double doors that lock you in which I feel is unnecessary. It's those miserable employees people. They know that is robbie fifth third. I have been to every fifth third in the Charleston WV area and they are all the same - you're on their time. I ** hate Fifth Third. Can't wait to go to another bank Can't leave yet but soon... Thank God I will never have to see those rude ** people again...

I transferred money from my GoFundMe acct to help pay for transportation and moving expenses. As I am a single, disabled mom of an autistic disabled 19 yr old... The money $329 (as it was $360 but GoFundMe charges to pull $$) transferred to my checking acct and as soon as it did Fifth Third Bank pulled it to pay my Easy Access Acct as they said it showed as a "direct deposit" and there is nothing we can do. I DIDN'T KNOW IT WOULD SHOW AS DIRECT DEPOSIT! They didn't care!!!

In 2012, my mother had a stroke. After a very difficult year with her in rehab and needing constant care, we found a wonderful place for her to live. She went to Sedgebrook in Lincolnshire, IL. Within Sedgebrook was a branch for Fifth Third bank. Because she could no longer drive, we thought that opening up an account for her there would make her life easier. Because she was having trouble writing anything (she also developed Parkinson's), I told her I would help her with her banking. I drove her to the larger branch in Lincolnshire and we set up a joint checking account so that I could help her write checks if need be.
She received a debit card that was also a credit card (she did not want the credit card, but they sent her one anyway). While I thought that was odd, she seemed ok with it and we never thought anything of it. A few months after that, I received a Fifth Third credit card in my name. I did not want another credit card, so I shredded it.
On January 3rd of this year, Mom passed away. As you can imagine, I had many calls to make to cancel credit cards, shut down bills etc. My husband and I chose to keep her checking account open for several months, as we knew she had some automatic charges and we didn't want to close it until we were sure that everything was paid. In April, I called the Lincolnshire branch of Fifth Third and told them that I thought we should close the account, as there hadn't been any new charges for a long time. They said they would close the checking account, but that I had to call a center on the east coast to close her credit card out. It took me eight calls to get in touch with the person that was evidently the only one I could talk to. When we finally talked, he said it would be closed (I had to fax a death certificate to him).
A few weeks later, I received a credit card bill with my name on it (not my mother's at all) with late fees and interest. I called the local branch and asked them to explain what this was for, as I had never opened a charge card and had never charged anything. They told me that there had been a charge that had come in from Blue Cross Blue Shield that had created an overdraft of $47 and that they had charged the money to Mom's account. I called Blue Cross, who apologized for their error immediately and sent a refund for their charge.
Then I called the bank again; I spoke to the manager there, who apologized profusely and said that it was just a matter of poor timing, that they had charged overdraft fees to Mom's credit card because her checking account was closed. Since he was the man who opened the account for us in the first place, and who I went to see when Mom passed away, I was surprised that they had done this. However, I was too exhausted to battle it because he told me if I just brought over a check for $47, he would make sure everything was handled and finalized with all accounts closed. So, I took time off work and drove a check over.
Here's where it gets worse. A few weeks later, I get a credit card statement again, but this time with my name on it and late fees and penalties. I call Fifth Third bank and speak with an agent who apologized profusely and promised that he would reverse everything and we would never see another charge again. He said they sometimes have issues with their systems not understanding what needs to happen. He also confirmed that there hadn't been any purchases on that card since my Mom passed, so it was clear they were charging interest and fees on other interest and fees with no actual purchases. I believed it was finally over.
The next month, I get another statement with new fees on it, again to my name. I call again. An hour later, the woman I spoke to said, "Oh I see the issue, the first agent didn't correct this properly." She tells me she feels bad, that I should never have to go through all this and to be patient, that it's all fixed. Skeptical, I hang up with hope that the ordeal is over.
Next month, SAME THING! More fees and interest. I call again, this time I can't control myself. I started crying in frustration because it keeps happening. This time it's a young man who I ask how in the hell this happened anyway, since I never filled out a credit card application, I never activated an account and I never charged a thing. He told me he could see that was true and that it shouldn't have happened. I asked him if they had a habit at Fifth Third of just opening accounts for people. He said "Absolutely not." I then said "How did this happen." He said he didn't know but it was clearly a mistake and he would fix it.
GUESS WHAT??? I just got another statement with a charge of $1. I called, spoke with an agent who transferred me to another agent who said I needed to write a letter. So I do. Today, I'm looking at their response that said that they had Conclusive evidence that I conducted the transaction. What transaction? For $1? On a card I don't even have and HAVE NEVER USED???
They go on to say that "Unfortunately, based on this information, we are unable to approve your claim, and no adjustment will be made to your credit card account. Payment will be due in accordance with the provisions of the cardholder agreement." In other words, they will once again continue this insanity and charge fees and finance charges on a card I NEVER OPENED and have NEVER USED and have been promised FOUR TIMES that they would close it. I feel like I'm going crazy. My credit score is an 835. I have never experienced anything like this. They are going to impact my credit and I can't seem to do anything about it. Please, please help me. I've never felt so helpless. All because I wanted to help my Mom when she couldn't do anything for herself.
It appears that 1) they opened a charge card in my name without my permission; 2) charged fees and interest to that card that would have been my Mom's; 3) they've admitted EVERY time that all charges were a mistake; 4) I started this process in April and just got another statement. They will not close the account; and 4) they keep trying to get me to pay fees that they keep saying, when I call, that are a mistake and they promise each time to reverse.

Yesterday morning I happily walked into a Fifth Third Bank branch and paid in cash the payoff amount for my auto loan initiated in 2011. After 5 years of on-time and complete payments, I was excited to have the vehicle paid off and have my title electronically released so I could go to the DMV to print my title. I had two interested buyers looking to purchase the vehicle that afternoon.
I now understand that Fifth Third will not electronically release my title for a minimum of 10 business days. After discussions with the highest ranking position I could speak to on the customer support lines, and receiving timeline indications ranging from "this afternoon" to "at least 15 days" from different people along the chain of command, the supervisor indicated that this timeline of 10 days is in place to allow for processing time of the final payment. My final payment was made in cash, at Fifth Third Bank, with a receipt in hand and a printscreen of my account balance as $0. The supervisor then indicated that she could contact the collateral department to "expedite the process" but that this would be email communication only and could take several days to confirm whether not expedition was possible (negating any expedition potential).
I cannot believe that there is no internal communication capabilities that can produce faster results than 1-3 business days for response. I also cannot believe that there are no alternatives to this 10 day policy for payment processing, especially when paying off in cash. I have never experienced this kind of delay with any other bank. Due to the delay, both buyers are no longer interested because I can not produce a title.

I've had a car loan through this bank for nearly six years. I am nearing the final payment and it occurred to me that I've never, not once received a statement, not even an annual one. I called requesting a statement and was told they don't do that. So if someone were using a car for business there is no statement to claim the deduction. When I used my own amortization schedule, the interest rate I was quoted by the dealership does not match the payment amount they came up with. Are fees added to my loan without my knowledge? I'd have no idea since they were so uncooperative. I finally insisted they send me a statement and all I got was a payoff amount! Never in my life have I seen a more unprofessional finance company! My next car purchase will be financed elsewhere no matter how low their interest since I can't trust them. Don't deal with this pitiful bank!

I opened some business accounts and personal accounts with 5/3 in early 2015. To sum things up, 5/3 makes my negative experiences with my previous bank, (JPM Chase), seem like a picnic. Looking forward, this bank will hopefully face a worse wrath than Wells Fargo... (perhaps actual indictment?) In a nutshell, 5/3 seems to have raised the bar on the ways and the extents to which they can financially rape their patrons. In the short time I have been with 5/3, I have had a personal credit card account opened, without my knowledge or permission, incurred so many "overdraft fees on top of overdraft fees," that those I tell, think would be impossible. Nope, they got away with this, and more.
Additionally, I have been lied to and disrespected by numerous 5/3 representatives when I tried to gain resolution to any of the aforementioned problems. Seems like 5/3 is going to keep raping its customers until, or unless they get a major, million-dollar-smack from a consumer affairs advocacy, class action attorneys, the senate banking committee, and of course, Wall Street. Of course, prison time for the primary orchestrating Bank$tas of 5/3 would be great. Peace. :-)

I frequently would do cash deposits at the ATM since it was convenient for me. One day the machine shut down in the middle of my transaction. After about 10 min of waiting I went into the branch and they told me there was nothing they could do but if I call the dispute number they would see that the machine was over and put the deposit in my account. They credit my account that day and then a month later took the money back. I called. They told me that the machine wasn't off. I asked them if it would have given it to the person who came after me and they told me it was impossible. They could see me on camera doing a transaction, I know they could see in their system that I chose deposit.
After arguing with the Rep for 15 min (he basically called me a liar, that I could have just said I did a deposit) I asked for a supervisor who told me to reach out to the branch manager because they get daily ATM reports to see if he had something different than what they had. Well he did find that his report showed that the machine was off $40 instead of the $60 I deposited, which at this point I was willing to let the $20 go. Well, it's been almost two weeks and they received the branch manager documentation and they still haven't put the money in my account and every-time I call they have an attitude and tell me they have up to 14 days to resolve the matter.

I called to dispute fraud charges onto my account. It took 53rd 2 months to complete the fraud case. Meanwhile they advised me that a provisional credit will be given on the account during the investigation and that no need to make a payment will be required. After the 2 months they send me a late payment noticed for the same 2 months and reported me to the credit bureau, I have never been later in my life since I was 18 yrs old and on top of this they have charged me interest for the same 2 months that the investigation was going. It's been the worst banking experience in my life. Now I know why the name of the bank is made out of numbers due to the fact that this is how this bank operates. It all about taking advantage of the client and increasing the revenue, not taking in consideration the client needs etc...

This bank is money hungry. Don't waste your time trying to do busy with them! They will take a $3 charge and turn it into $50 instantly. They only give you 3 reverse charges. Saying it makes it fair. No! It does not. It makes them more rich! This company is a shame! Whoever owns this company should lose everything they are entitled to.

As I have been having issues with my computer, I chose to call the bank to make an "over the phone payment". After having given the representative all of my pertinent information (social, banking, etc) the phone went dead. I did not receive a call back from the original representative (Amanda). I called the bank back and spoke with Montez, who was nice enough; yet highly limited in his ability to assist me. The experience wasn't criminal, just highly incompetent by an organization in the "money lending" business. I would not use this bank again for any financial dealings based on this experience.

Fifth Third Bank kept calling at my home, when I pick up the phone automated recording will ask me to call a 800 number to discuss my account. So I called the bank. Apparently the check I had mailed about 10 days ago had not been posted to the account yet so I was late. The Customer Service woman was very rude and demeaning. Rather than trying to figure out if they received the check and not yet posted or what is going on she kept telling me that my account was late and her tone of voice implying that I was lying about mailing the payment. That is not how one treats a customer. I have auto loan with Fifth Third and once I'm done making my payment I hope I never have to deal with these people again. I will never do any other business with this bank and will not recommend these people to anyone. Very rude and demeaning to customer - this is not a good customer service.

I have an auto loan with Fifth Third. I missed a payment back due to switching from one place of employment to another that resulted in a pay gap. I called auto loss mitigation to get this resolved. Their office hours conflicted with my work hours so I requested we correspond via email, or if they called that they leave a message as to who was calling. Fifth Third was not leaving a message when they called until I requested that they do so. Even after I requested they correspond via email because of our conflicting hours and time zone differences they still did not do so, nor did they explain/state that they couldn't. After submitting the necessary forms and NOT hearing back from them I assumed everything was settled... until today, 8 months later when I receive a letter talking about a "serious delinquent" account.
I called the number on the form (collections) in which I spoke to a rude representative that repeatedly said "I can't help you". I asked about notes on the account, in which she responded "there aren't any". So to me, none of the discussion I had with whoever in January was documented, so of course no one responded to my emails. I called collections back and spoke with another representative who told me there were notes on the account, but none where I request contact via email...even though I was looking at the email I sent to the address given back in January. So here we are, an account that is now mysteriously 2 months past due, 8 months of late fees charged, little to no communication other than an automated call that may or may not leave a message and a "we can't help you" response. Why am I irritated with the calls?
Back up to when I first got the loan. Payment is set to automatically pay out of the 15th of every month, due date is the 25th. From the beginning I was getting calls around the 20th-25th of every month. When I called the number back (originally wondering who it was because no message was left), it was Fifth Third Bank saying my car payment was late. For about 4 months I would go round and round with them on the phone how the due date is the 25th and my bank sends payment out automatically on the 15th so it can't possibly be late, let alone be late when they are calling me BEFORE the due date. I was told they were taking "processing time" into account. Interesting thing about that, I received a message from my bank when the payment has been received by Fifth Third Bank, which is 2-3 business days after it is sent out, so about the 17th-18th of each month, so again, BEFORE the due date.
I stopped answering or returning the phone calls because of this, yet the phone calls continued every month. Fast forward to the first mentioned communication issues. I believe Fifth Third Bank to be a fraudulent company that is only interested in figuring out how to make more money through fees from their customers, whether a deposit account or a loan account. This is why the lack of communication to customers and internally. They are incredibly incompetent and rude.

So here's the story... I had some charges on my account in question, they were from some subscription that I had already cancelled, I called the bank and reported that these charges need to be reverted and checked into... they said they will revert the charges and also look into investigations as to why this subscription was not cancelled on their side, they reverted the charges, this was a few months ago. I saw the money show up in my account, it was about one hundred to two hundred dollars' worth of charges, so again, they got the money back to my account, but now as of September 10, 2016 @ 1:10 am, I go to deposit my work check into my account using their "take a photo" of the back and front of my work check.
When I log into my bank account from my mobile phone, I see these transfer charges, like 5 of them, for the amount of what the charges I had them look into previously, I'm looking at my phone like HUGH!!! So immediately, my mind says, "I wonder why they didn't give me a call, shoot me a text, or an email to let me know what was going on with my account." This bank is FRAUD works!!! DON'T BANK WITH FIFTH - THIRD. They just do what they want to your accounts just because you've put your hard earned money in their bank... If you bank with them now, empty your account, shut the account down and take your money elsewhere, you have options on who you bank with people!!!

Rip off. They overdraft me $75 for overdrafting 16. Really? Please don't sign up for 5/3. They will steal from you if you don't use the card.

This all started in January 2016. We had a substantial amount of money in this bogus bank full of liars and criminals. I'm not joking. We tried to get it out of this bogus bank to put in a bank in another state we were moving to. They said they had to hold the funds for a month to verify the money's origin. Now mind you the money has been in this bogus bank for 15 years. Now they have to verify the origin? Well after a month they still wouldn't release it. They kept telling us it was wired to us. We kept going to the bank and never a wire. This was going on for an extra month now. LIARS. They would constantly come up with lie after lie about why it wasn't released. We hired a lawyer. Now this is going on for six months with us having a lawyer. Constant lying about everything to the judge and stalling on releasing the money.
In that amount of time they were issued 6 contempt of court and we're now getting fines of one hundred thousand dollars a day and still wouldn't release the money. The judge was with us the whole way. 6 1/2 months into it the judge ordered them on a Friday to have the three VPs from the bank that were causing all this ** to be present at that Friday's hearing to face jail time if the money wasn't released before court started. Well they were there and nothing got done yet so they all went to lunch and we're to settle the matter after lunch. Well guess what. The three VPs never showed up after lunch. The bogus bank's lying lawyers said they all had to leave town for some reason. You can't make this cap up lol. The judge put out a bodily attachment on the three of them thru the sheriff's office for them to appear the following Monday to face charges and jail time.
Well over the weekend this bogus bank somehow got to the judge and come that Monday the judge dropped the 100 thousand dollar a day fines on this bogus bank and said the 3 VPs wouldn't be facing any punishment because they were all professionals. We got a hold of a detective agency and the judge was found of wrongdoing and was told to step down. Now a new judge has taken over and this bogus bank still wouldn't release our funds until 2 months later. 8 months of absolutely no money because of these liars and criminals.
Last year this bogus bank lost an 85 million dollar lawsuit to someone else for doing the exact same thing to us. We are suing for more. This bogus bank full of liars and criminals has also been convicted of mortgage fraud and out of a scale of 1 to 10. 10 being the highest was given a 1 by the bank is commission. If you have a substantial amount of money in this bank and have funds elsewhere you could live off of for a while we challenge you to try and empty your account from this bogus bank. They won't let you. But if you can put up with their bull for 7 to 8 months you will be a hell of a lot richer. We challenge you. See what happens. We can't believe this bogus bank is allowed to operate. Good luck. Keep us posted if you take the challenge.

I had an auto loan with them and injured my back and was out of work for 10 weeks. I tried to offer small payments but they stated that they wanted the entire balance due or they would repossess my car. So even though I was working and offering payments and would have the money in less than a week they repossessed my car anyway. Also their online system is impossible to deal with. I don't think this company will be in business for very long.

At the beginning of July I received a phone call from the bank that I had not paid my mortgage. I told them that I had never been late and why are they calling me. They starting harassing me. "When are you going to make your payment? It was due at the first of the month." Skip to my payment that I have been making and they have been accepting. I guess I pissed someone off because the next thing I know I received a phone call on August 3 saying I was 13 dollars short and they were reporting me to the Credit Bureau. They held my payment and did not call me until after the payment was over thirty days. What type of bank is this? Are they going under and desperate for money? I called and spoke to Jessica and the Manager Michelle - ** and I'm convince this bank must only hire rude people.

This bank must get some sick joy out of their messed up, ever-changing excuses for charging multiple overdraft fees. The rules should be cut and dry, but they are not. The "bank" uses their mysterious discretion for everything, and after you wait for 30 min-1 hour to speak to someone, they can never help you. They never know anything. All that they can say is that everything is up to "the bank".

I had my home financed through 5/3 Bank for several years. I refinanced with them at the end of last year. I have a fixed interest rate. I have my taxes and home insurance in escrow. When I refinanced, they added home mortgage insurance, which I did not have on the previous loan because of the equity I have in the home. They said the law had changed and I would have to pay it. Four months ago, they raised my payment $60.00 per month. They said my escrow was miscalculated. I caught that up and they added late charges because they did not know how to apply my payment. A month later they went up another $100.00 per month and when I make the payment they raised before, they don't know how to apply since I don't send the extra they keep charging me. There are enough complaints here to have this company looked into. By the way, their slogan is THANK YOURSELF LATER!!!

We initially refinanced our home with Wells Fargo, then they in turn sold the mortgage to Fifth Third Bank. Like most mortgages, there is a 15 day grace period. If our pay comes on the second and we pay then, we get harassing and threatening calls from them daily. JUST so we are clear, WE HAVE NEVER been late, and nowhere near the 15th day, but they treat us like dead beats, our credit is in the high 750's and yet we are treated like we are bums, God help you if you do not make that payment on time. Terrible customer service as well, DO NOT USE THIS BANK PERIOD.

Their customer service is horrible & apparently Fifth Third does not care. Every rep is demeaning, disrespectful, lacks knowledge & talks over the customer. Most requests to speak with a supervisor are denied with the excuse there is nobody else here you can talk to right now. The few times our request to speak with a supervisor was granted sadly they were even more demeaning, more disrespectful & just as uneducated. We have had our mortgage with Fifth Third over 3 years & have never been late with a payment. We are currently shopping for & will pay to find a new mortgage company solely because we literally cannot get anyone to 'look up' from the script they're reading, view our file & see Fifth Third alone has turned a very insignificant issue into an ongoing nightmare.
It started at the beginning of 2016 & was apparently handled. May 2016 a similar issue arose & after literally dozens of phone calls to Fifth Third & them stating our money is 'in limbo' or money 'has not been credited to account because an incorrect amount was submitted' by equity accelerator our bimonthly mtg company it cannot be posted to our account. We have asked Fifth Third to contact our bimonthly mtg company or we could all do a conference call but Fifth Third has refused stating due to laws they will not speak with them yet all the letters we receive from Fifth Third with Fifth Third letterhead only have one phone number which is equity accelerator our bimonthly mtg company's phone number.
Fifth Third has hit our credit, we've been charged at least one late fee & have overpaid our payment several times over the phone which is a $15 charge each time just to avoid them hitting our credit again. This ongoing ridiculous issue is still not handled on Fifth Third's end & They will hit our credit again August 2016. Remember we have NEVER missed a payment & all payments have been accounted for. We will be commenting on every public media site possible.
Fifth Third Bank Company Profile
Company Name:

Fifth Third Bank

Website:

https://www.53.com/